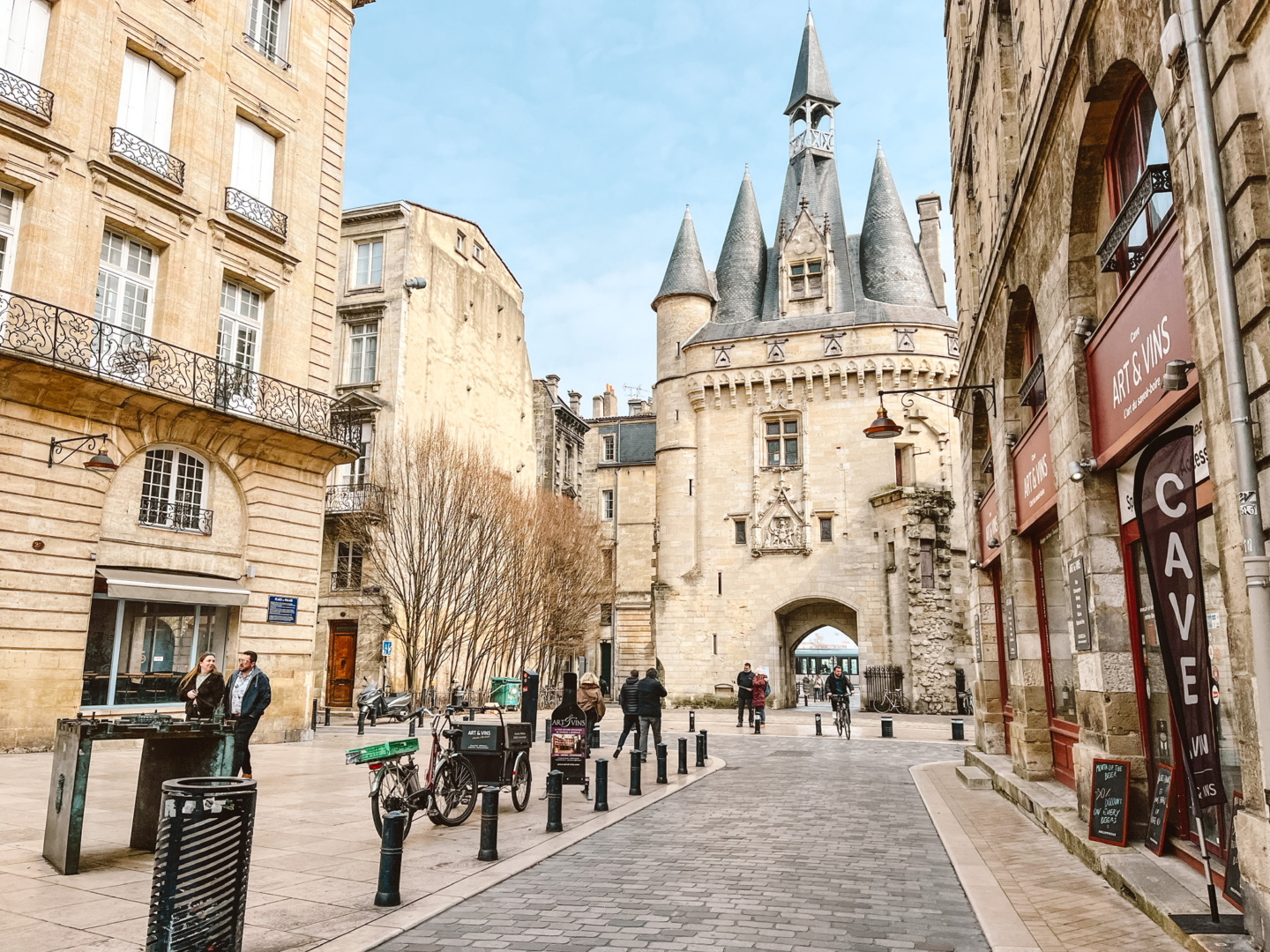 In March this year we flew from Manchester to Bordeaux. These were some of the cheapest flights I have seen in a long time and we would have been crazy not to book them. Not very often these days finding flights for £15 each. We were very much looking forward to seeing more of France and drinking lots of French wine.
With the cheap flights and using up last days of annual leave, 2 nights and 3 full days was perfect for Bordeaux. (Also could have done more days, as always).
We were so looking forward to spending some time in France. I can say know I know we will be returning soon. This city break was possibly one of the best foodie city breaks we have been on.
City breaks are one of my favourites, take a look at some other I loved below:
Four Days in Lisbon, Portugal
Three Days in Florence
Porto, Portugal
Stay
For this trip we booked a hotel – Hotel Konti

The hotel is a chic & arty in the Golden Triangle of Bordeaux, a mix of sophisticated design and eclectic vintage details.
This hotel was one of the cheapest we found in the area and was in an ideal location for us exploring the city. Everything is in walking distance to the hotel. It was also so stylish with very helpful staff for your time around the city.

Day One – Bordeaux
We arrived in Bordeaux at 8am after a very early start, this was ideal for a full day of exploring. We stopped for breakfast first thing – Cafe De Minuit which was very close to our hotel. The lady who owned the cafe was very helpful and we got coffees + pastries to fuel our morning. The best!!
It also looked to do a fab lunch later in the day.

From there we wandered around the main parts of the city seeing the spots I had pinned for later into our stay. It was very early and quiet in the morning. Wandering the city in the early morning was lovely and quiet.

At lunch we called by Le Michel's which looked so cute with its cute canopy and green chairs outside we had to stop. We sat outside and ordered wine onion soup + matchbox chips to warm up. The food was a much larger portion than expected and was absolutely delicious.

In the evening we went to a restaurant recommended by a friend – Brasserie Bordelaise which was so good. The steak was excellent and the service was also great. A lovely warm friendly place.
Later in the evening we visited Cafe Brun which is very close to an Irish pub. It was very lively served great drinks and cocktails to enjoy out evening.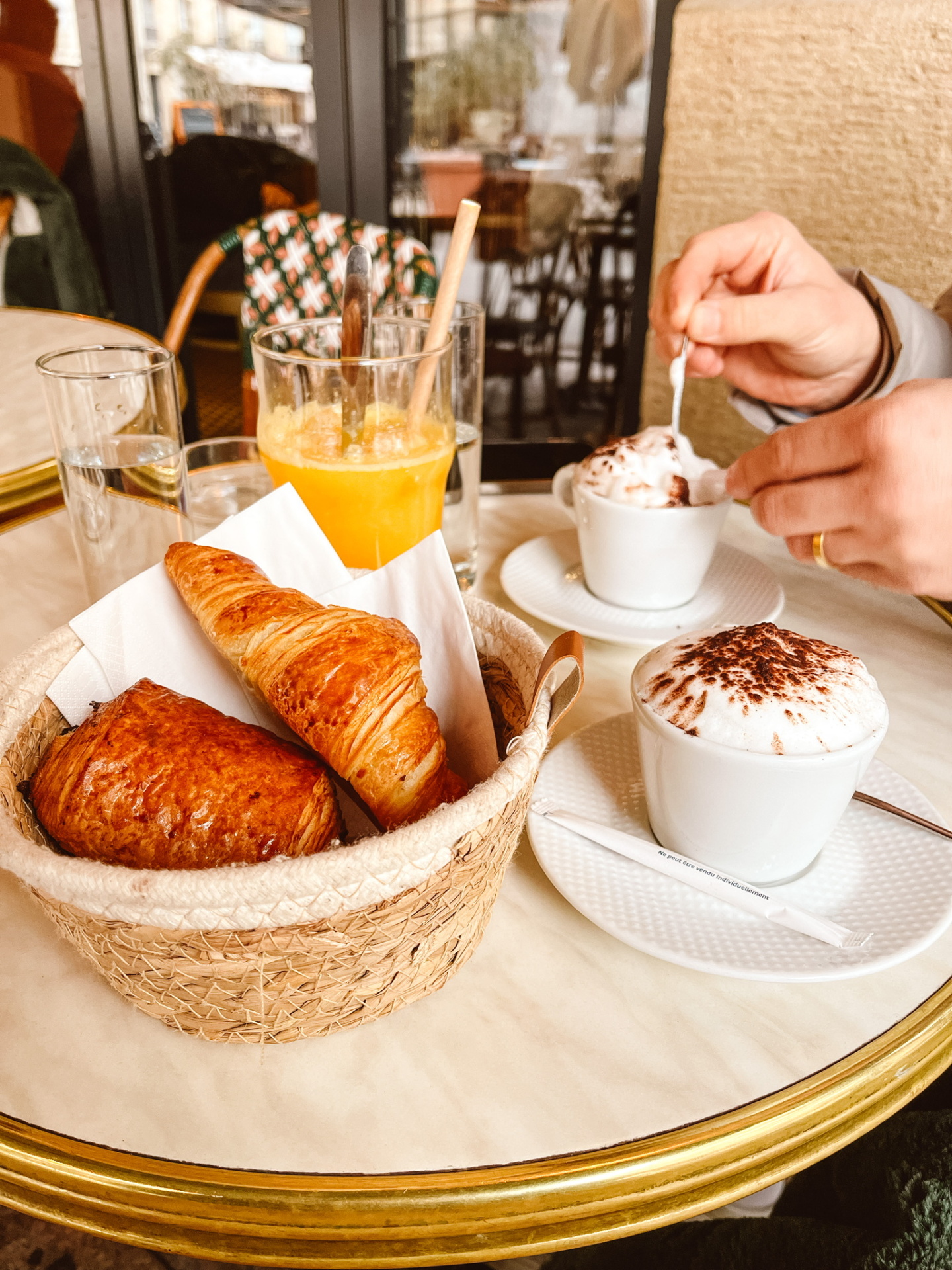 Day Two – Bordeaux
Starting the second day in Bordeaux with another epic French breakfast. I was all over the French stick and pastries with jam and honey. George enjoyed croc monsieur and coffee.
More wandering in the sunshine in our second day which was lovely, however still chilly.
We had lunch at Monzu for Neopolitan pizza, this was absolutely delicious. they decor of the restaurant is such a vibe too in a glass fronted building all bright vibrant colours inside.

Watching the sunset over Bordeaux from our balcony after a brilliant day. In the evening we set out for a light dinner and came across what became my favourites in the city. La Drolerie is a cute bar which was super warm after our cold day outside with great music wine and nibbles to order. There were so many options and we had the most incredible charcuterie board with our wine, we ordered more later.
* Highly recommend this bar if you are in the city for afternoon drinks or snacks.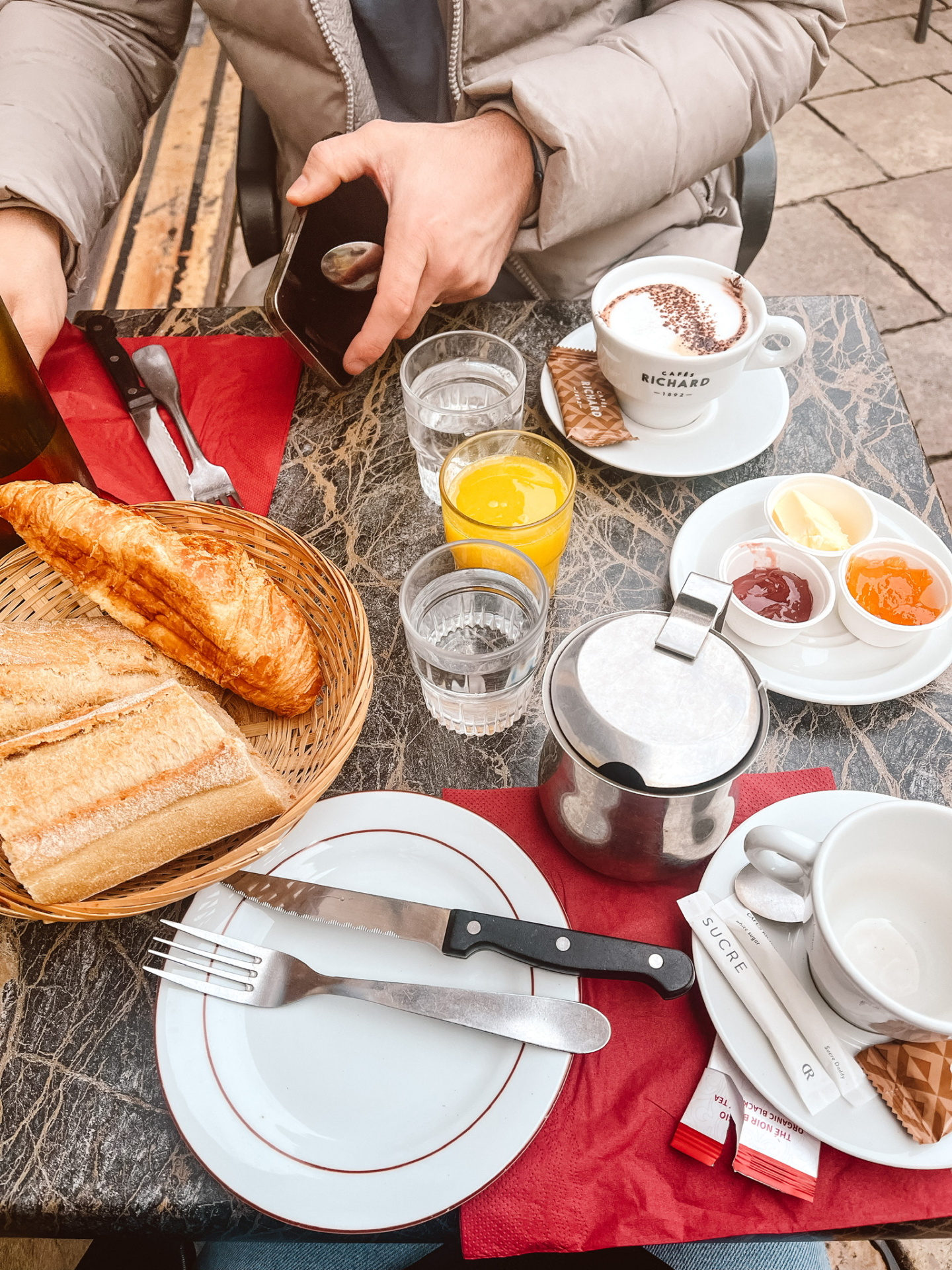 Day Three – Bordeaux

Our final day in Bordeaux enjoyed brunch in a sunny square at DS cafe. The brunches had so many options of drinks and meals I highly reccomend with seating inside + outside. As part of brunch the final bit was a banana bread which was possibly the best I have ever eaten.
After bunch, we decided to walk to the wine museum as it was lovely and sunny rather than getting a taxi or train. Cité du Vin is an interactive museum which you take your time around going at your own pace. It is very busy but everyone is moving along as seeing each exhibit.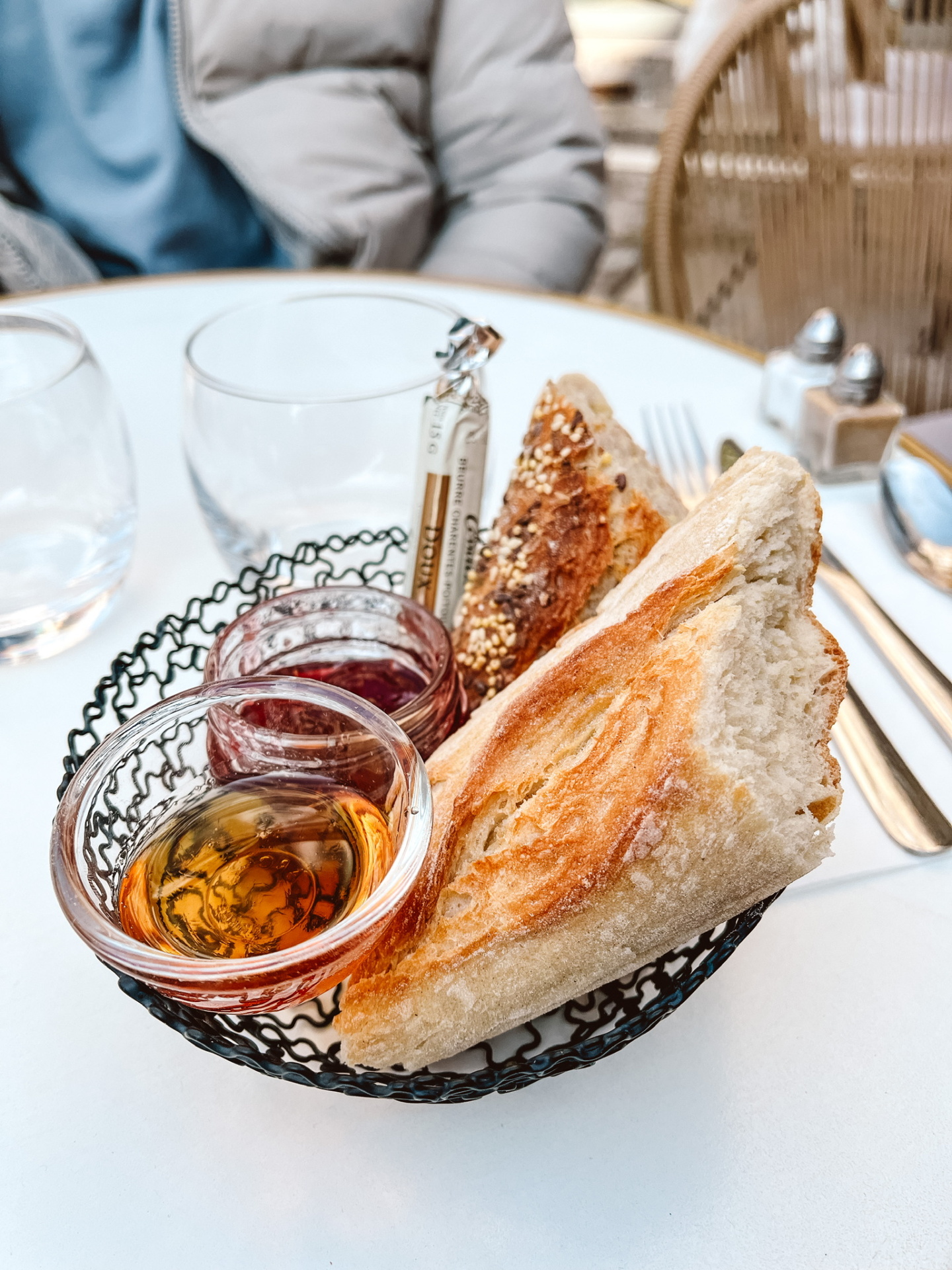 Do –
Wander around the beautiful city of Bordeaux and explore on foot
Cité du Vin -Through six universes divided into 18 modules, the Permanent exhibition of the Cité du Vin invites you on a journey around the world of wine and the vine, from Antiquity to the present day and over five continents. Come and discover how this universal heritage has inspired people and shaped both their life and their territory for millennia. 3000 m² await you for interactive, individual and collective, educational, immersive, dreamlike, multisensory experiences.
The visit ends at the Belvedere and includes a glass of wine from vineyards around the world.
Eat everything – stop at the cute cafe, brasserie or grab that glass of local wine wherever you fine yourself in the city.
Shopping -there are lots of high end and high street shops and boutiques to visit around the city of Bordeaux.
Visit a Vineyard – From Saint-Jean railway station, take a train heading to Verdon and alight at Margaux to spend a day discovering all of the wineries dotted in and around the train station: Château Marquis d'Alesme, Château Ferrière, Château Lascombes, Château Marquis de Terme and Château Pontac-Lynch, to name but a few.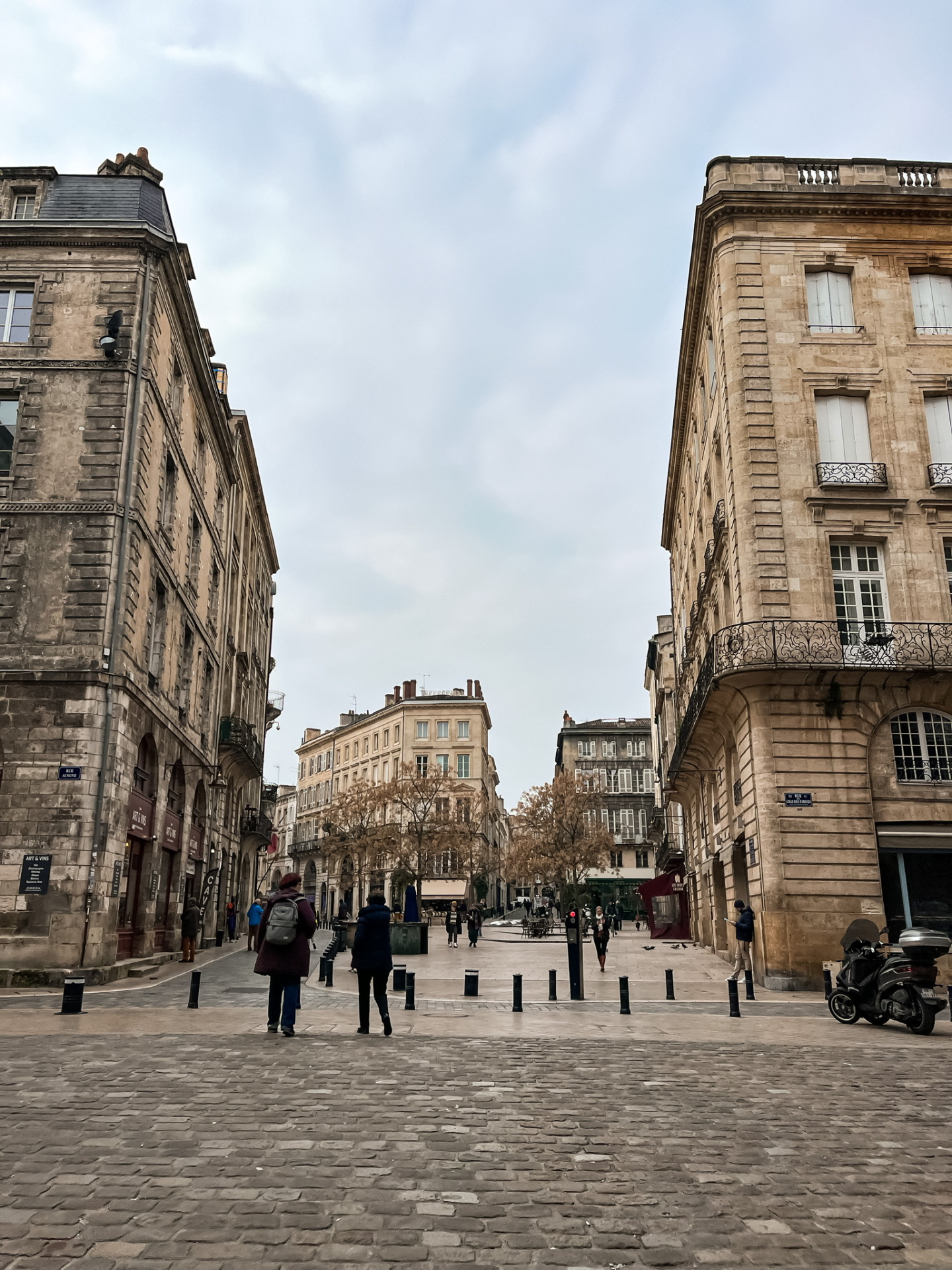 Eat
There are many cafe, brasserie's and restaurants around the city but these are the ones I ate at and enjoyed. We did not have a bad meal in Bordeaux, not quire sure I have ever eaten so well. One of the best foodie destinations I have visited so far.
Cafe de Minuit – French restaurant with indoor and outdoor seating.
Offering local French cuisine, perfect for morning pastries (which I can vouch for are delicious). Lunch also looked excellent later in the day.
This wine and cheese enthusiast, expanded the range from 60 to more than 100 cheeses to taste…

More than just a cheese bar, Baud et Millet is THE cheese restaurant in Bordeaux, with a cave with 100 cheeses and a cellar full of exceptional wines…
Unfortunately we did not get to visit here but it came highly recommended by a friend. I would advise to look into it and book prior to visiting to enjoy the experience.

Le Michel's
Classic French onion soup, meaty dishes & cheeses with Bordeaux wines at a busy bistro with a patio.

La Drolerie
Warm, convivial gathering place serving cheese & charcuterie boards with small plates, beer & wine.
Vibrant location with soaring ceilings & a stylish bar specializing in creative pizzas & cocktails.
A true institution, the unmissable home of real gourmets and francs drinkers!
À la carte, find the good and traditional taste of the southwest in this bustling gourmet address : regional pork meats, exceptional ham cut, delicious grilled beef and typical dishes of Gascony

Cafe Brun
A wide selection of beers in a cozy bar with artworks, wood paneling & bare floorboards.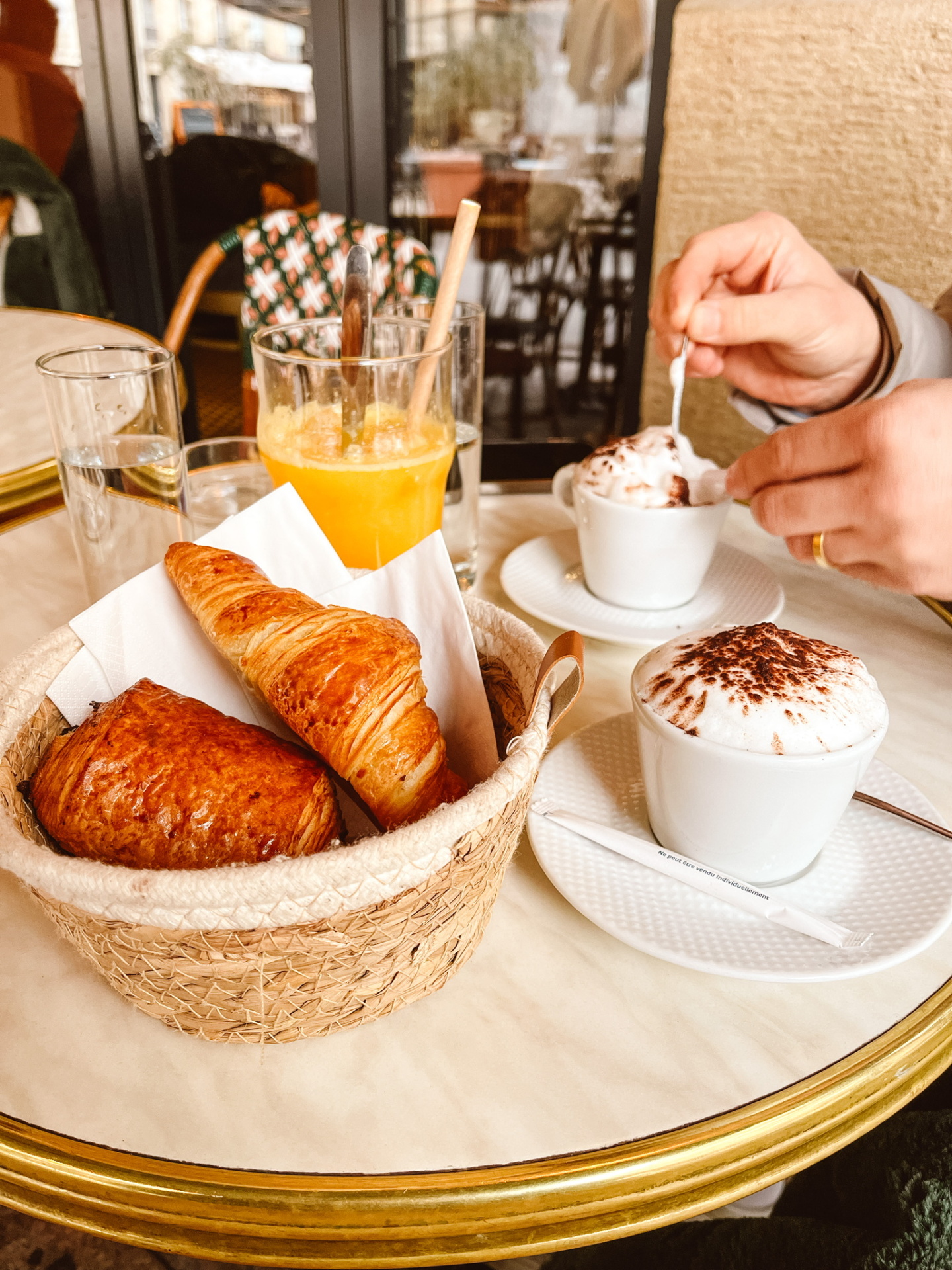 Thoughts on Bordeaux
Bordeaux blew us away, it was one of the best foodie city breaks we have been on to date. The food and drinks we had on this trip were one of the best. Although we only had 2 nights and 3 days we felt like we crammed as much as we could into our time in the city. I would highly recommend visiting if you are a big foodie and love cheese + wine like I do!! I would love to visit again in the future in warmer weather and get to visit a vineyard in the surrounding area.
Thankyou for reading

Bethan xx