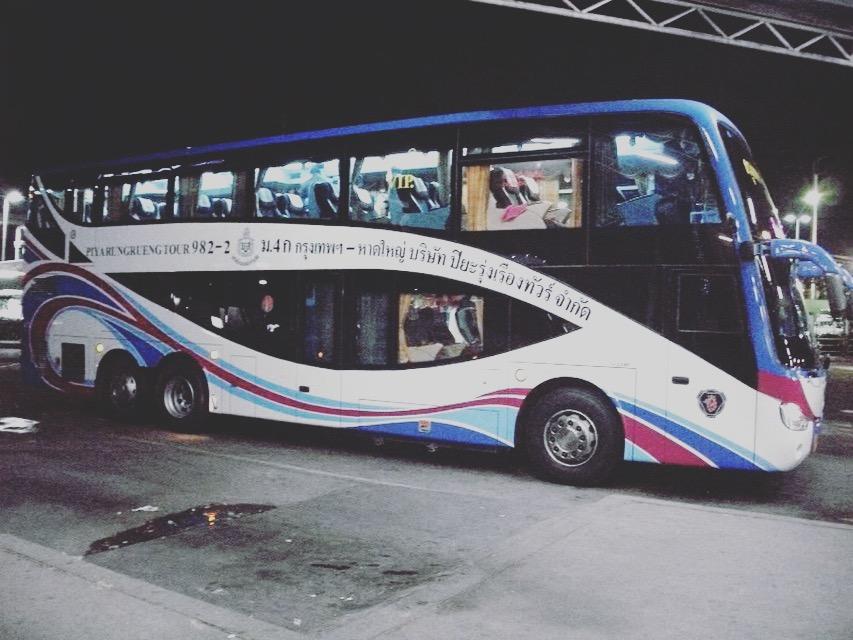 We had an amazing time backpacking round the islands in southern Thailand. With our visas fast running out it was time to leave Thailand. A perfect reason to see another country…Laos!
So far on our Backpacking Asia trip we had… spent three weeks spent sunning ourselves in the south (Phi Phi 1/2, Phi Phi 2/2, Koh Phangan, Phuket, Koh Tao). Find out what more there is to come here with our (rough)Itinerary.
Koh Tao, Thailand→?→ Vang Vieng, Laos
Our journey was taking us back to where it began – Bangkok! [Apparently you have to go back though Bangkok on route back up north].
On the top deck of the boat in Koh Tao we waved goodbye to the Thai islands (Koh Phi Phi, Koh Phangan) … Laos here we come!!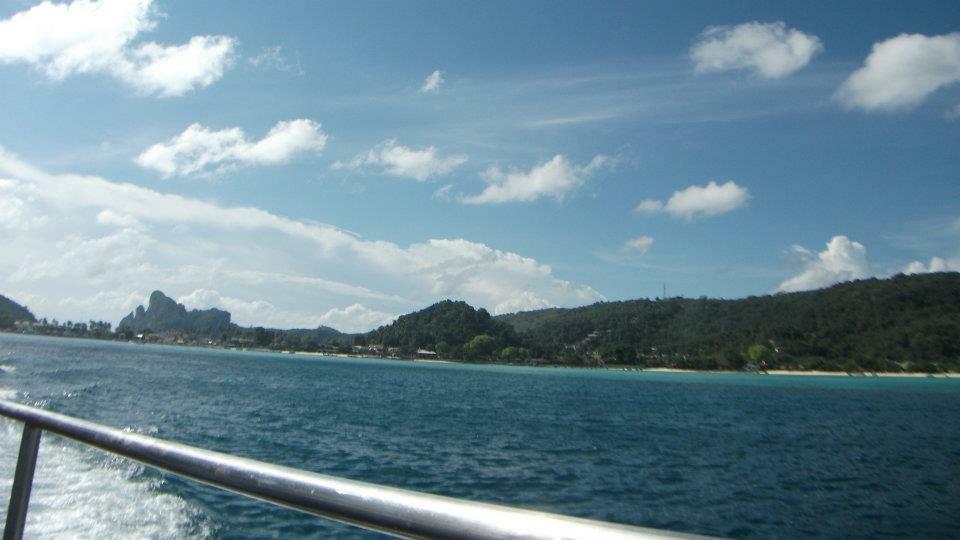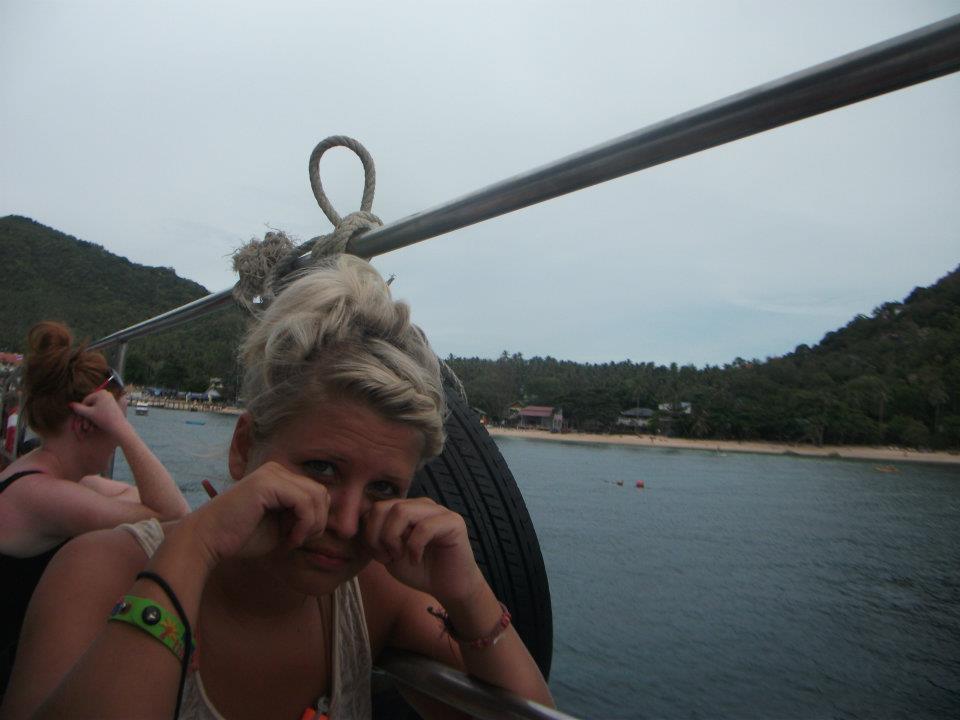 First Leg of the Journey
We landed in chumpion and had a long wait ready for our bus up to Bangkok. Needing to a few hours we had to make our own way from the port to the bus station we visited some roadside markets.
Buses in Thailand do not run to a strict schedule… Or that's what I have found. You turn up at a location and sort of wait around until someone somewhere decides ok we are now over two hours late lets go.
During this time we found the smallest place every to get some real local food.. As is in we practically sat in a Thai woman's living room and she cooked for us. There were three options of meals (no English) we guessed what ever sounded ok on the menu. Surprisingly I ended up with a chicken fried rice dish and it was amazing.
Armed with snacks, full tummies and books read for our 8 1/2 hours bus to Bangkok!
We boarded our 'VIP' bus and off we went….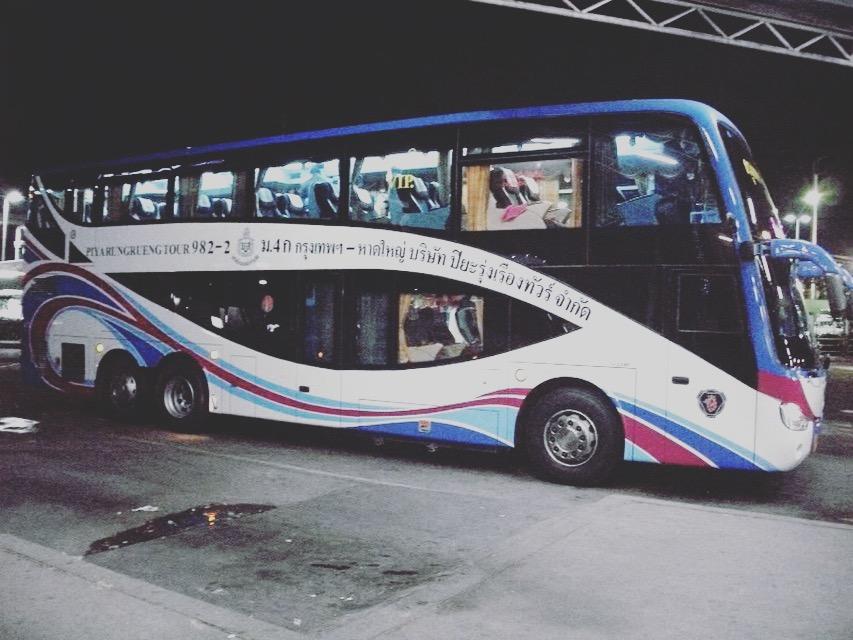 … I can honestly say it was the worst and 8 hours ever!! It was hot, sticky with mozzys everywhere.. Along with being unable to put my seat back! Thank god when we rolled in to Bangkok at 4:30 am!
Hello Again Bangkok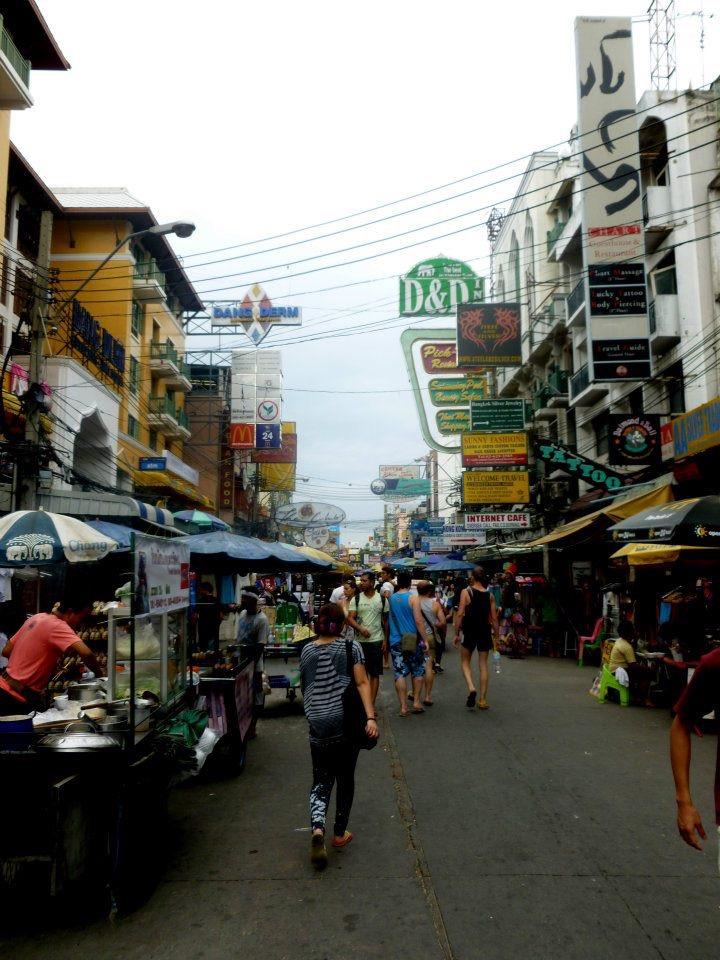 Our bags were dumped off, it was so early McDonald's breakfast hadn't even started yet!! …we were in McDonald's for wifi trying to find somewhere to stay and of course breakfast!
With the ridiculous hour we arrived we S T R U G G L E D to find anywhere, when I say that I mean EVERYWHERE. We walked in what felt like very place in Bangkok and everywhere was full or no one there (5am).
Eventually a little woman outside cleaning Lek guest house offered us her 'spare room'. This meant She had to kick her nephew (who was asleep in there) out (Awks)! There was no lock on the door, a shared bathroom between everyone and a double bed between 4 of us. It cost 60baht each.. £1.39 what a Bargain!!!
We grabbed a quick kip and dropped our bag at songserm travel agents who our bus to Laos was with.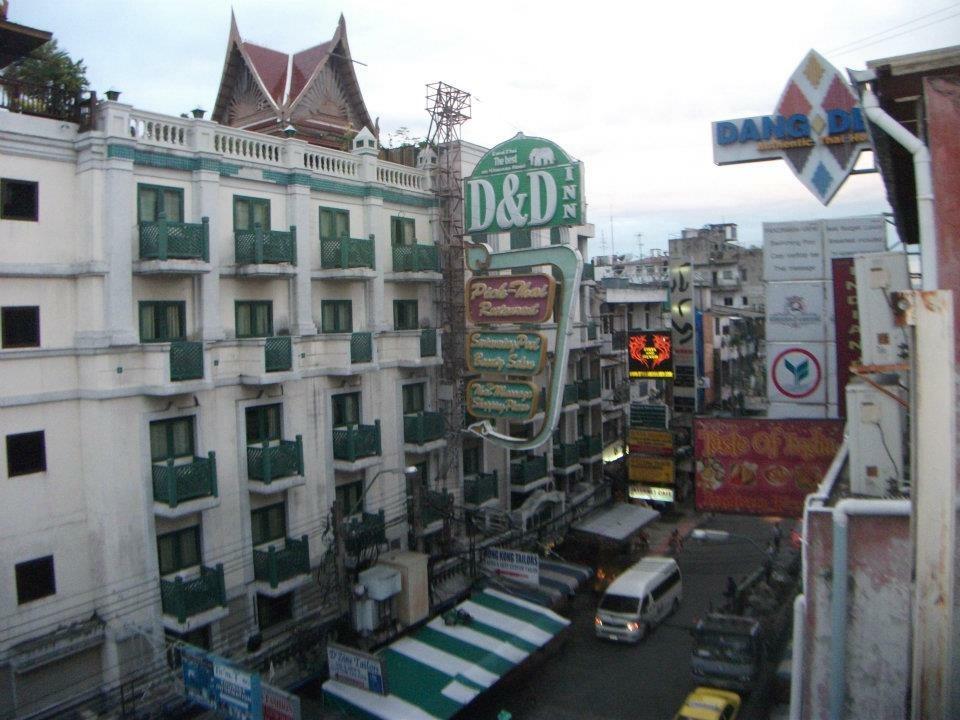 12 Hours in Bangkok
Becoming more familiar with Bangkok we wandered Khao San road and picked up some souvenirs – sunglasses, clothes, bracelets and got myself a braid (when in Thailand).
We went and bought our Visa's for entry to Laos.
We enjoyed a river cruise along chao Praya river seeing all of the little communities along the waters edge. We visited the floating markets which was amazing and I throughly enjoyed picking up little souvenirs and tasting thai cuisine.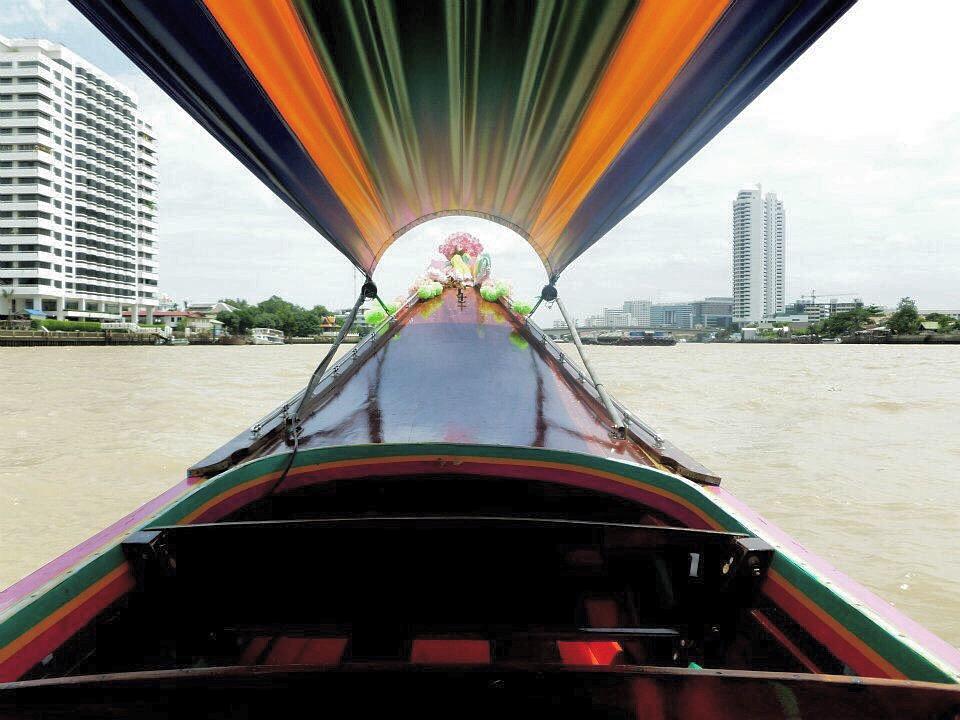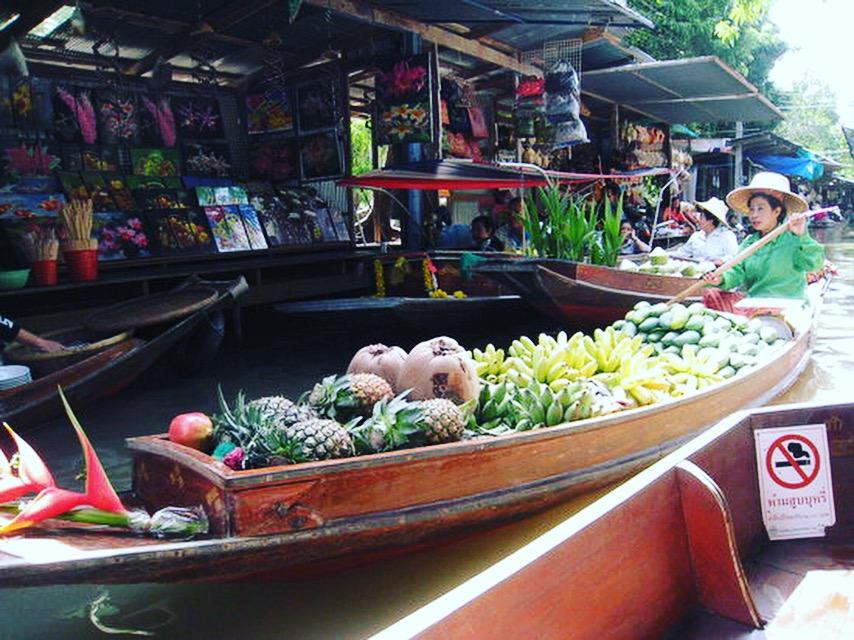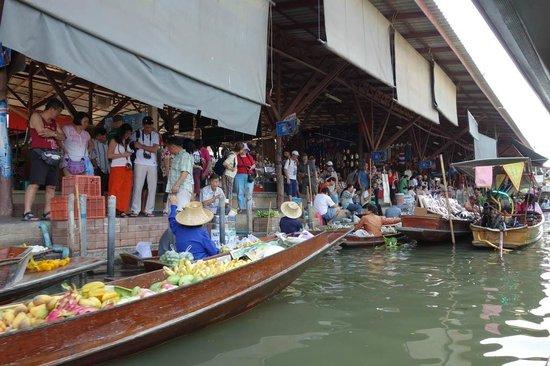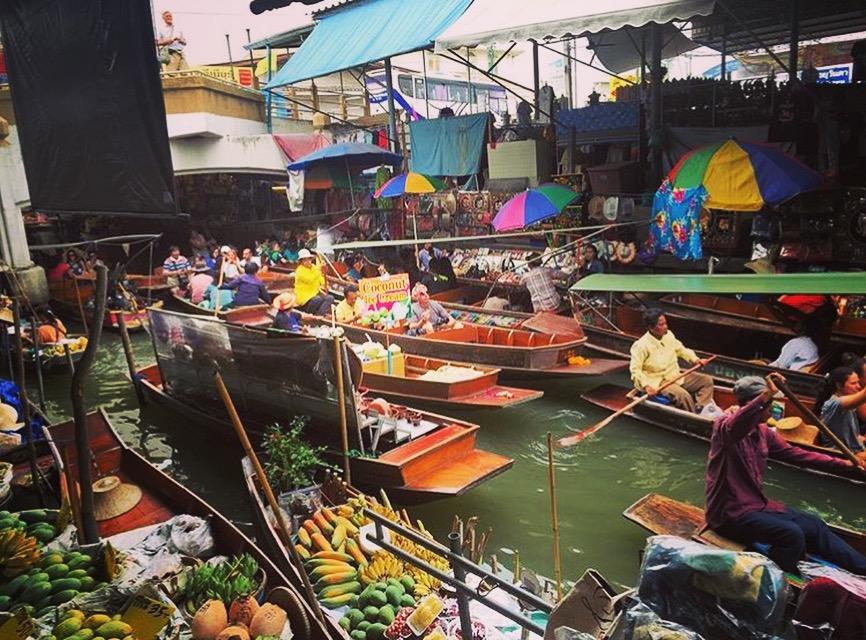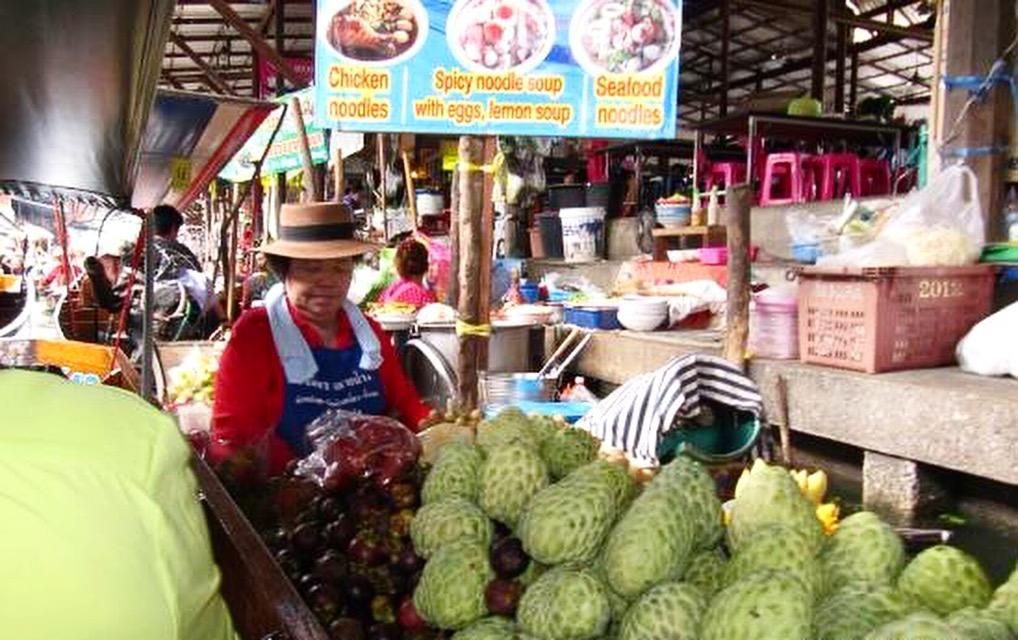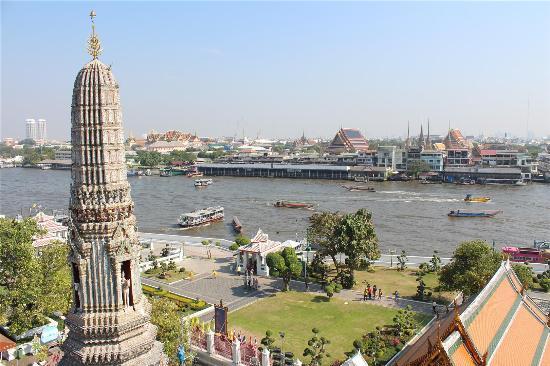 On route back we called at Wat Pho which you can get a lovely view over the river and see people on river cruises! Lovely hour spent here.
Returning to Khao san road for our last thai meal before hitting Laos! What better way than a truely traditional Pad Thai down a random back street some where?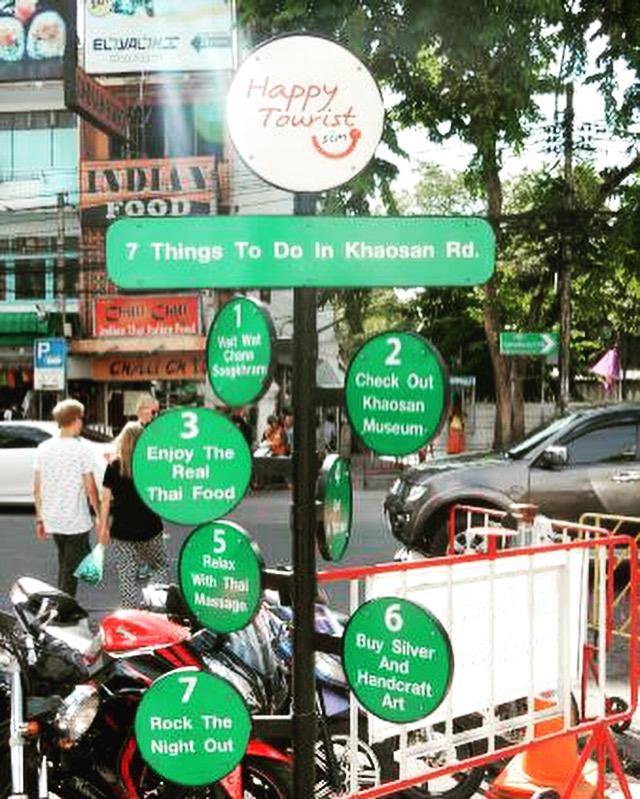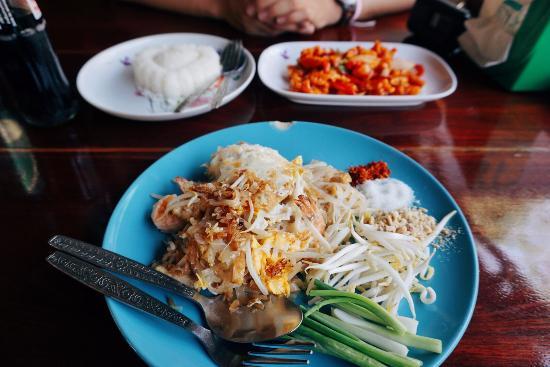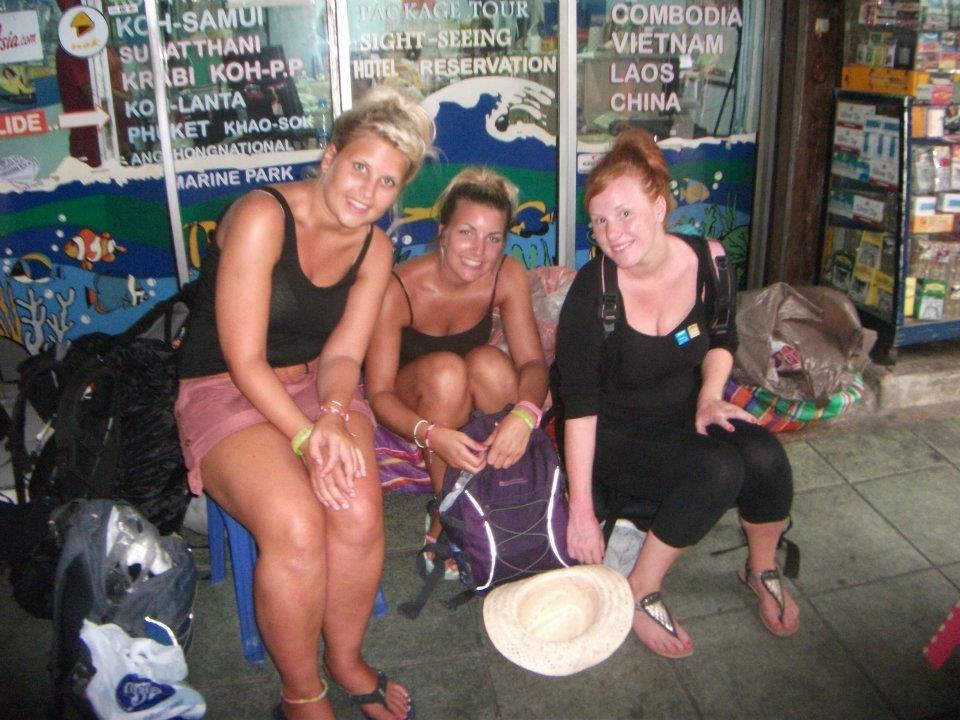 Thailand to Laos
We picked up our bags and waited for our next bus! Thrilled when it arrived it was massive with big seats that reclined alll the way back and were comfy! This bus even had a huge TV and when it went dark we watched a chick flick. The only downside was that due to this bus not having a toilet the bus had to stop every two hours. 11 hours we were on this bus the stopping meant that it was really difficult to get any sleep as people were constantly up and down to leave the bus.. and I was uber aware to keep my bag safe.
The first check point going crossing the boarder to Laos we got our visa's stamped. This meant everyone from the bus was hauled off into a shelter whilst this was done. It was very early, the sun was coming up.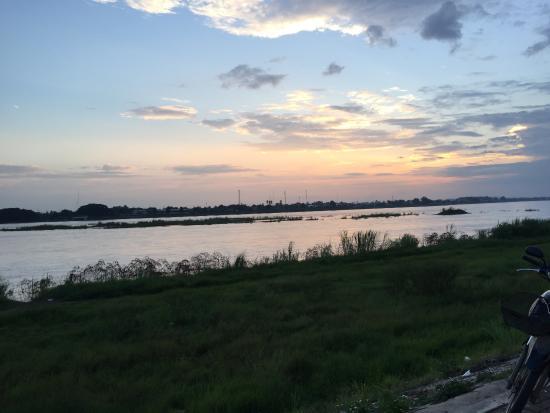 The next check point was not far behind the first where we handed over our thai visas.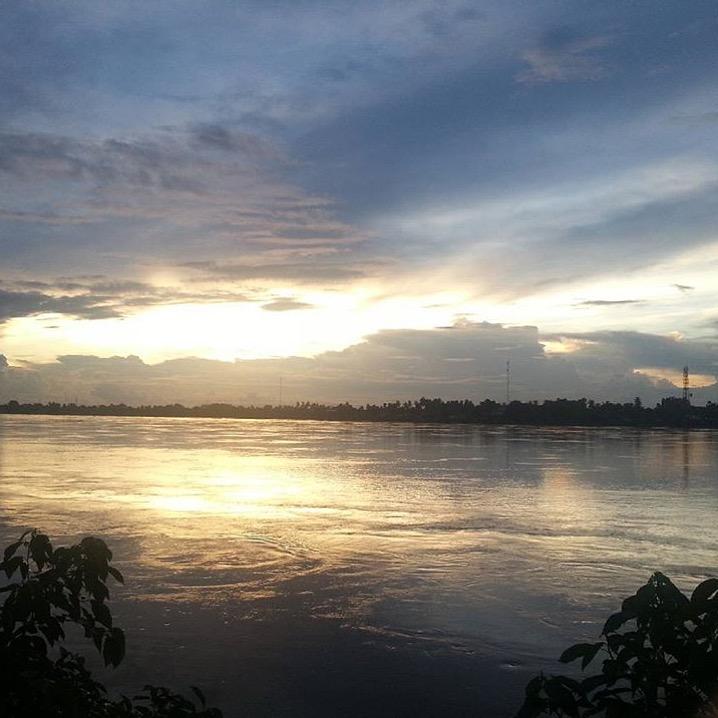 The final and last check point was getting out visa dates stamped.
Vientiane
Not wasting any of our very short time in Vientiane we saw the following sights…
That dam is a large stupa in the city! An impressive sight and a quick stop on a quick visit of the city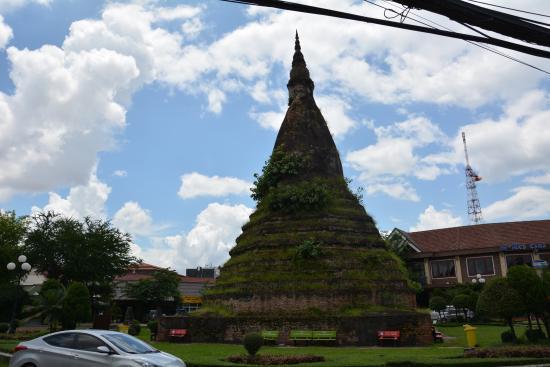 Patuxal is an impressive sight to see in the city built in memory of those who fought ssin independence of the city from France.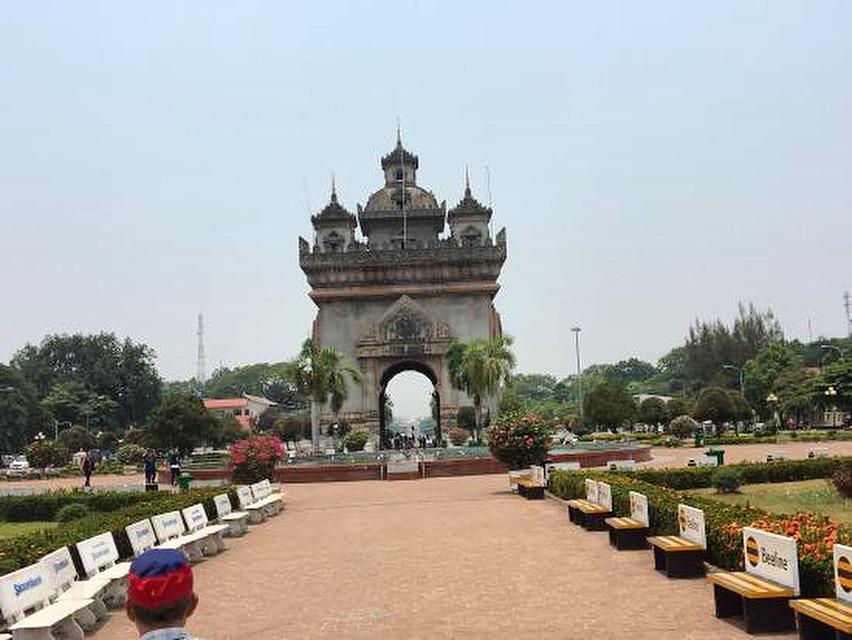 Wat si sekat is a truely beautiful sight a lovely temple and grounds totally worth the 5,000LAK to get in. It is famous for its wall of Buddha which is very impressive!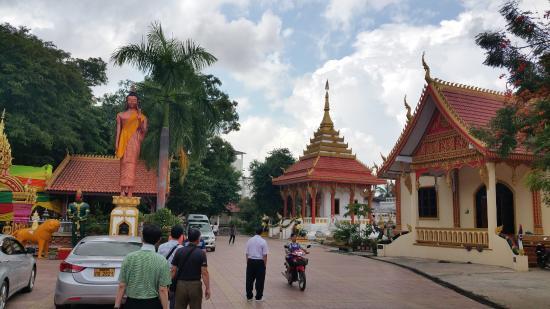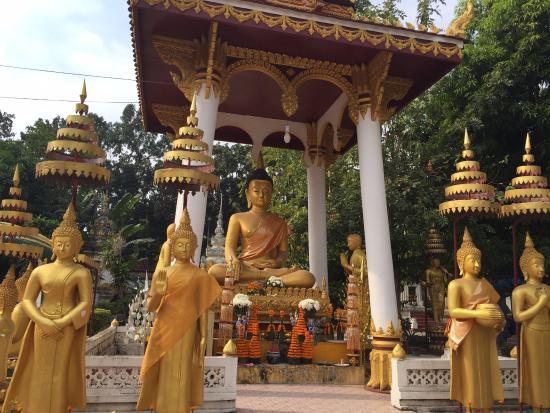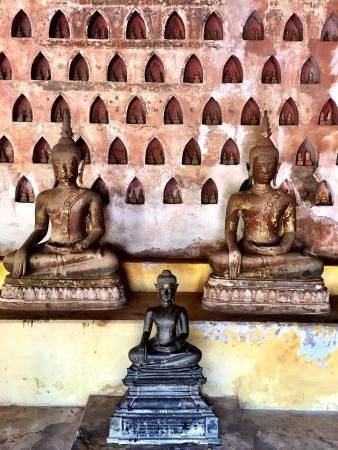 Pha that luang or 'Great Stupa' is a very impressive sight, it is covered with gold leaf and is a symbol of Vientiane!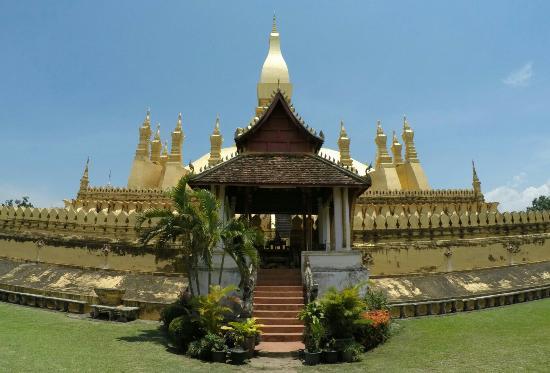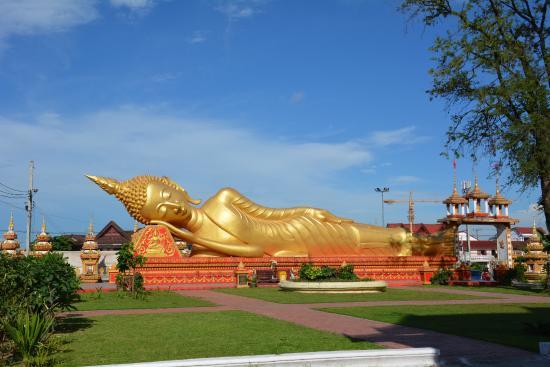 Buddha Park (aka Xieng Khuan) is a famous sculpture park with more than 200 religious statues including a huge 40-metre high reclining Buddha image. Highly impressive and I would recommend visiting!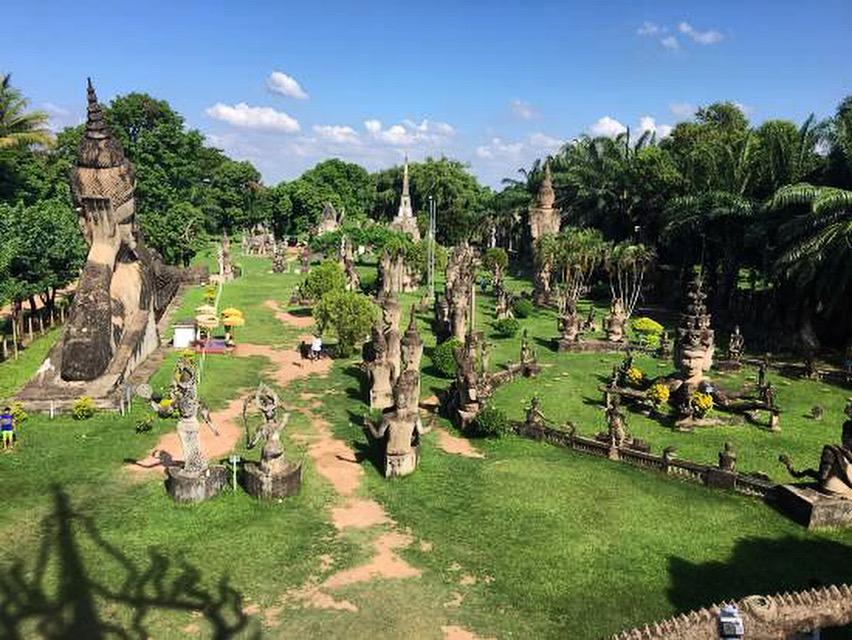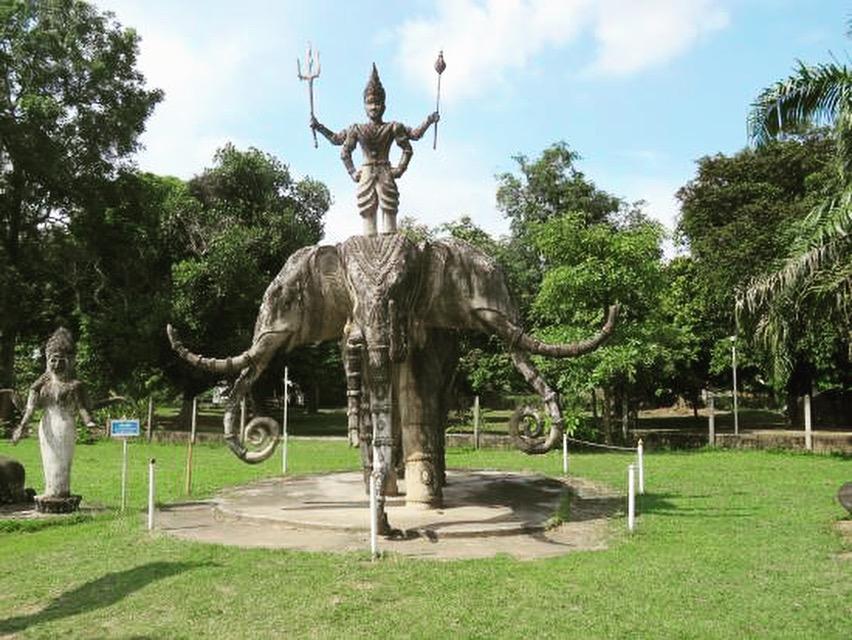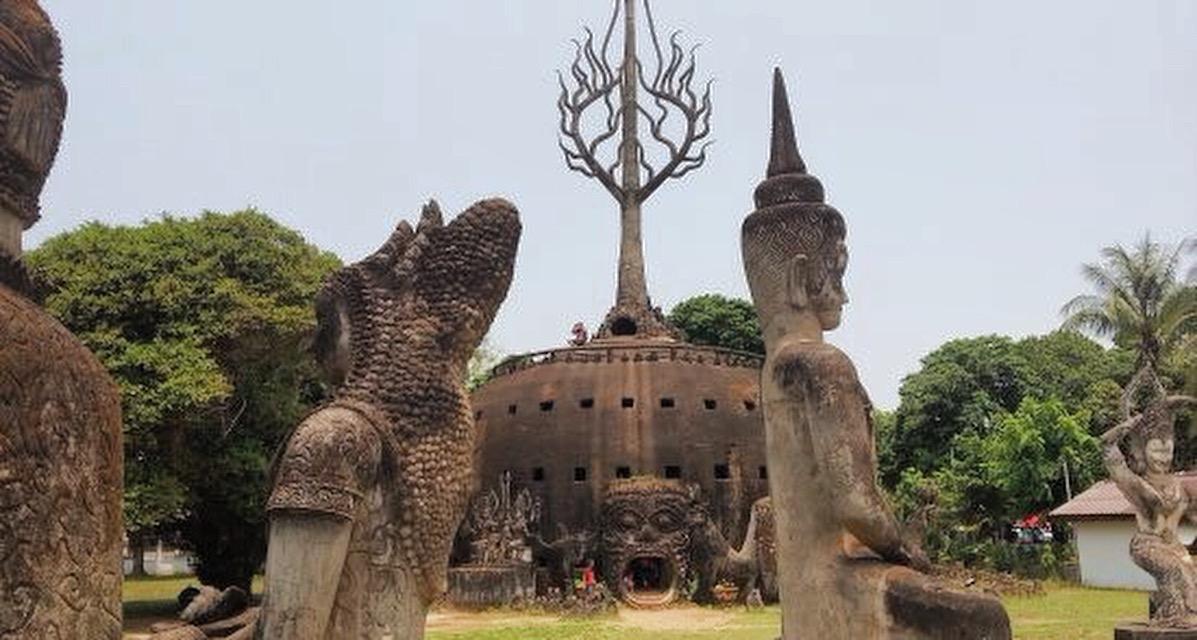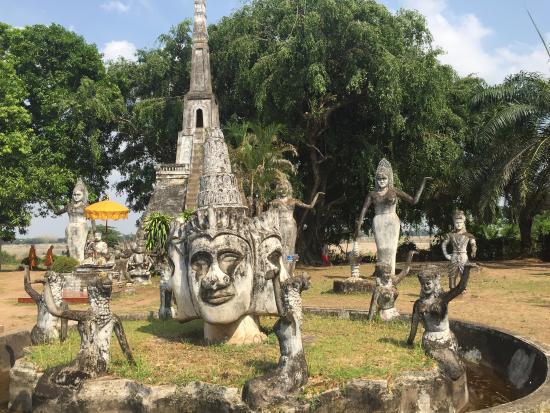 Our last and final bus to Vang Vieng… Now this was a death trap. There was a huge crack in the wind screen and squeaky chairs. The roads were the bumpiest and windiest I have ever seen. That and a psychotic driver beeping at people,cows, swerving pot hole and over taking everything on the road.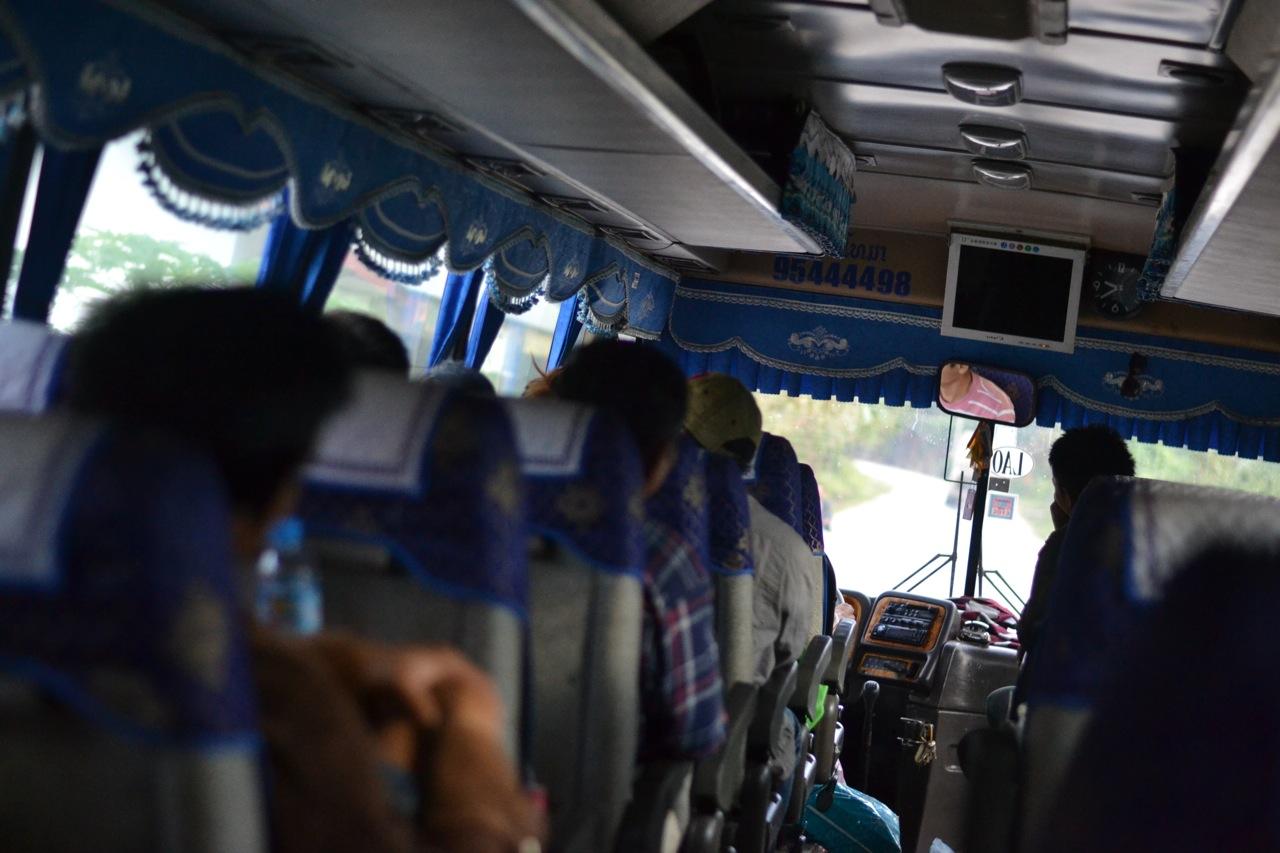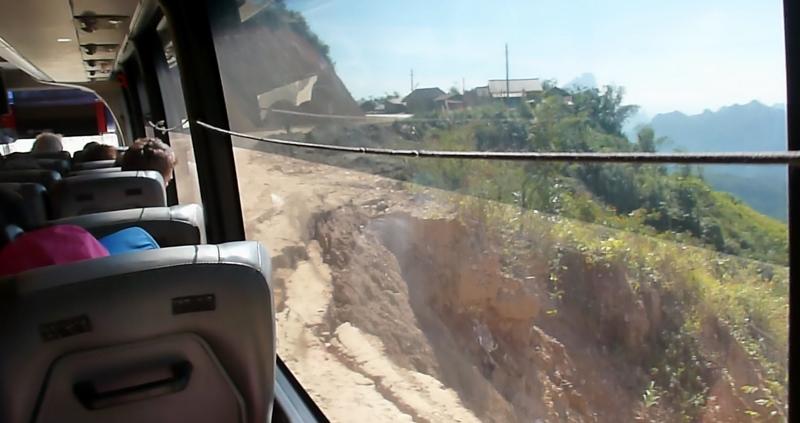 Managing a couple of short naps in before being woken thrown to one side by swerving a pot hole or lots of beep. It was very annoying and a very long four hours but we considered ourselves lucky to be alive when we rolled into Vang Vieng.
It was a long journey from Koh Tao to Vang vieng it took 23 1/2 hours by bus but for around £20 bus travel is definitely the cheap option!
---
Next post is Vang Vieng… reach about what we got up to in this party town…
---
Thank you for reading!
Bethan
xx