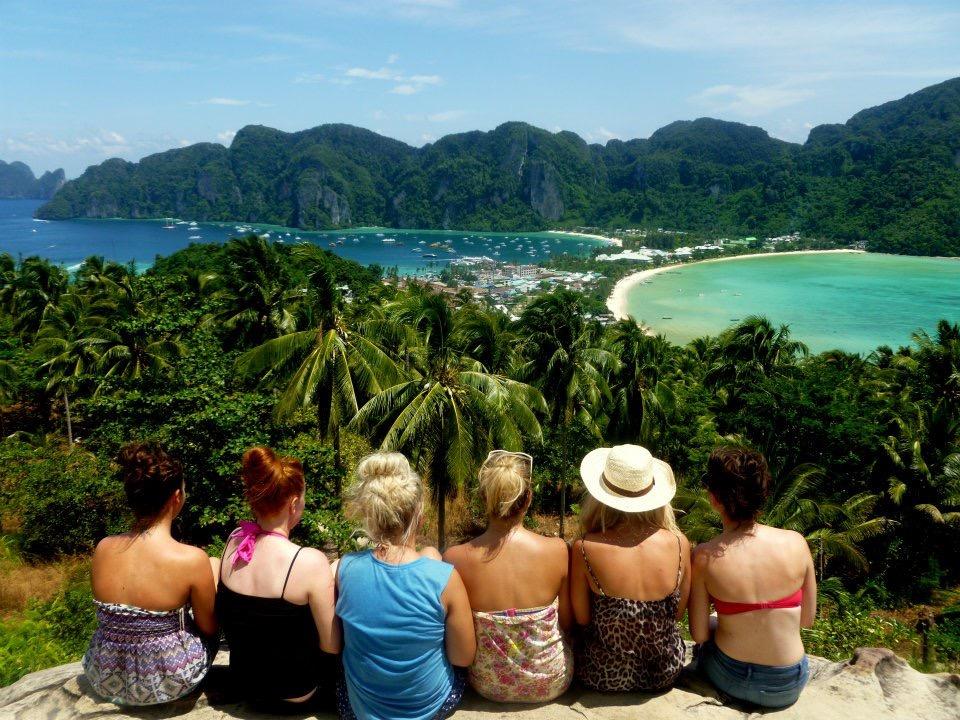 The second half of my time in Koh Phi Phi – read the first half here . I had to split the post because it was just too long – so sorry about that. There is more beach and island hopping, visiting Maya Bay, being ill and phi phi view point pictures.
So far on our Backpacking Asia trip we had… spent three weeks spent sunning ourselves in the south (Phi Phi 1/2, Phuket). Find out what more there is to come here with our (rough) Itinerary.
Part 2
Day 4- My Worst day in Thailand yet
From the minute I woke up I felt ILL, but immediately put it down to alcohol. Alcohol was not to blame… I had got food poisoning from salad the night before (me craving greens as I had only been eating rice). Not what you want when you are staying in a bamboo hut with just a fan to cool you down. After dosing under the fan trying to cool myself down to see if I felt any better…We had planned a boat trip around the island seeing all of the sights in a long tail boat. It was clear that I couldn't go – Cry!!! So my friends went without me! They went to monkey beach, snorkelled in the reefs and visited Maya bay and countless other sights. All while I lay dying on the beach unable to keep even an ice pop down.. I was a state!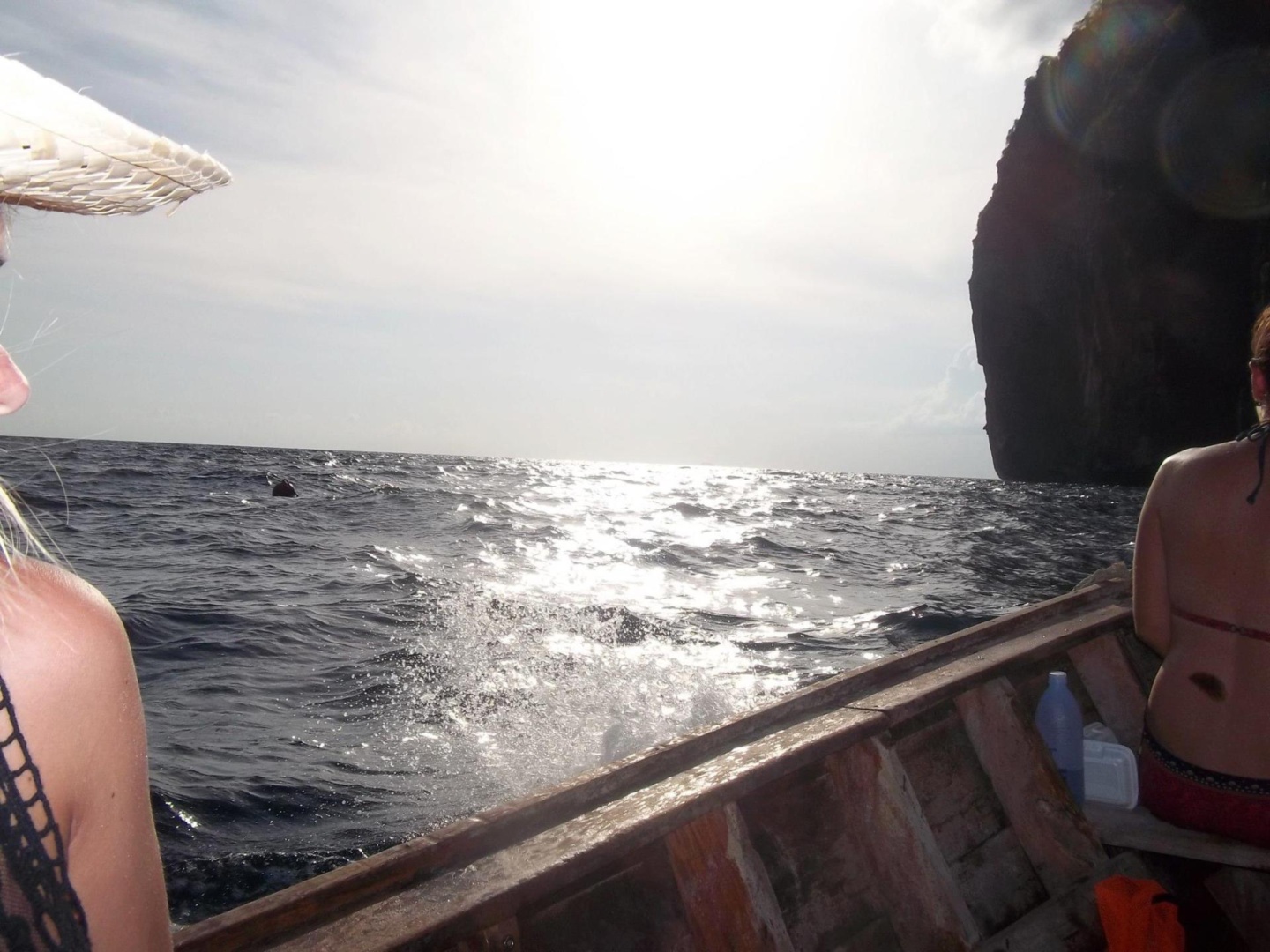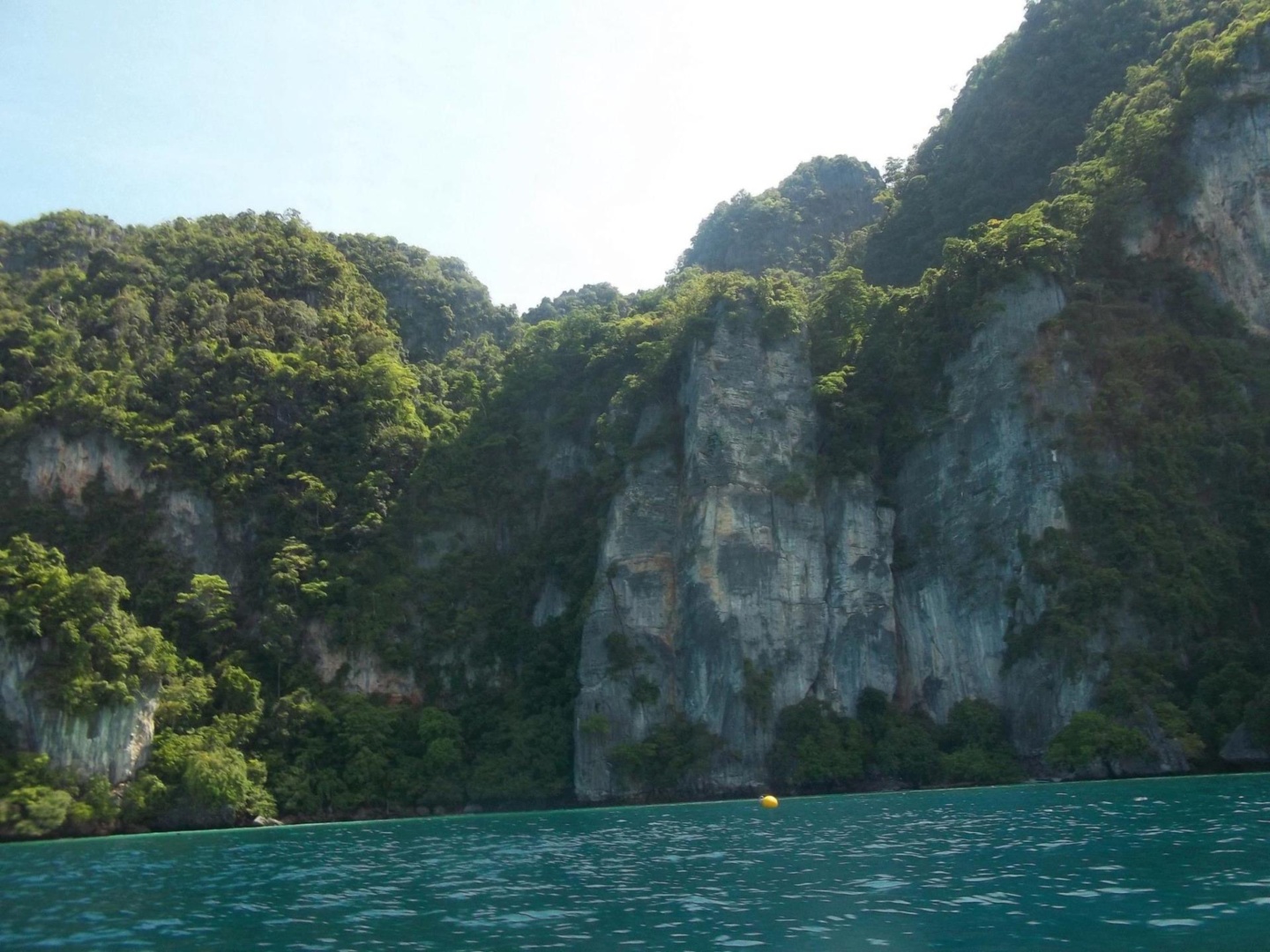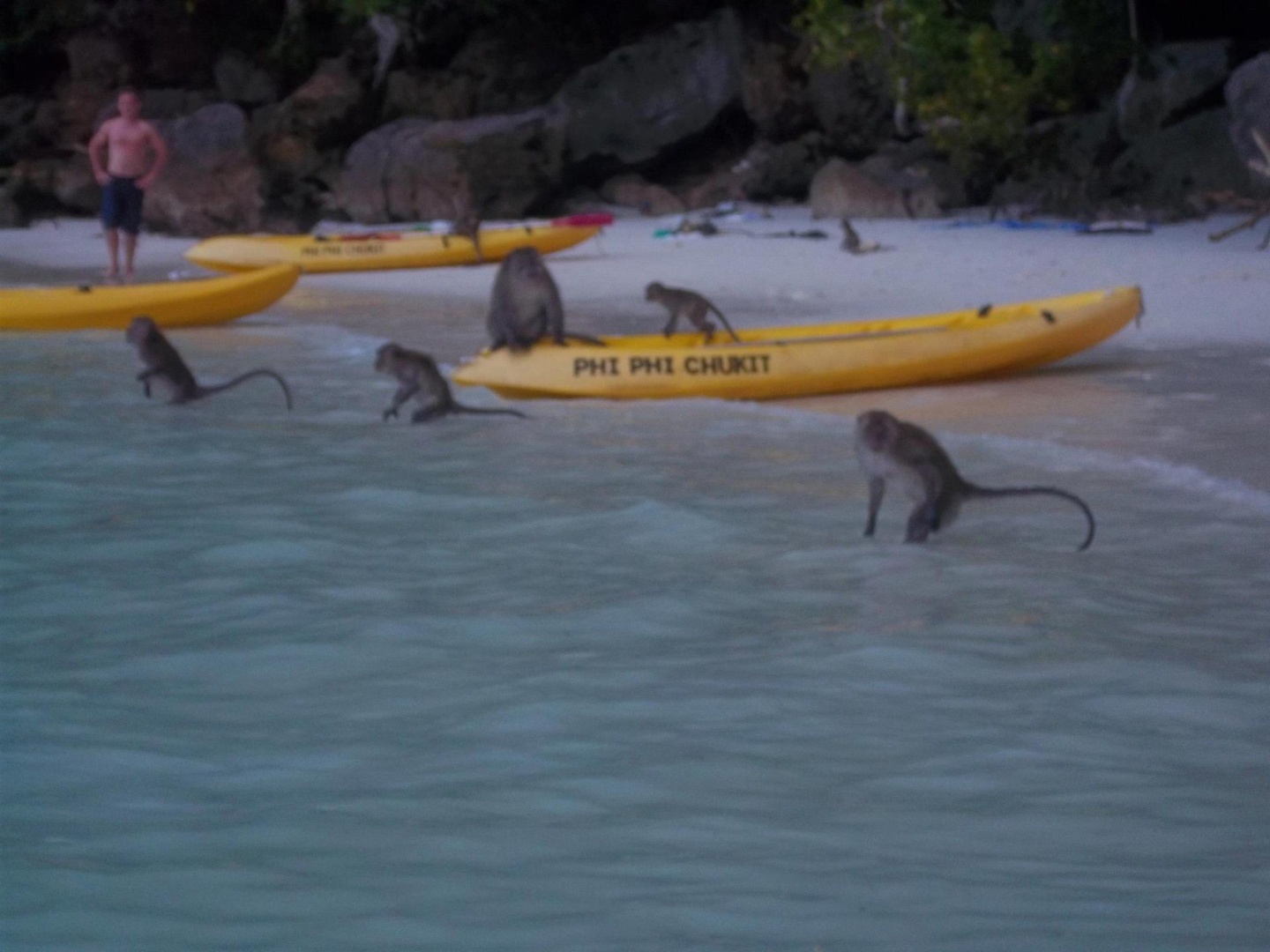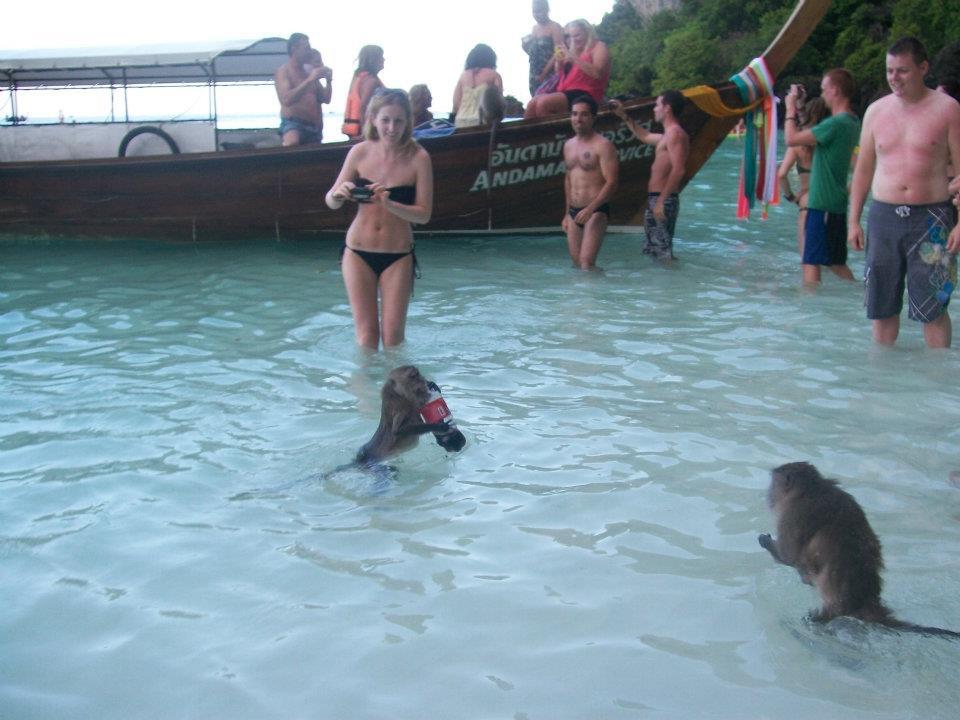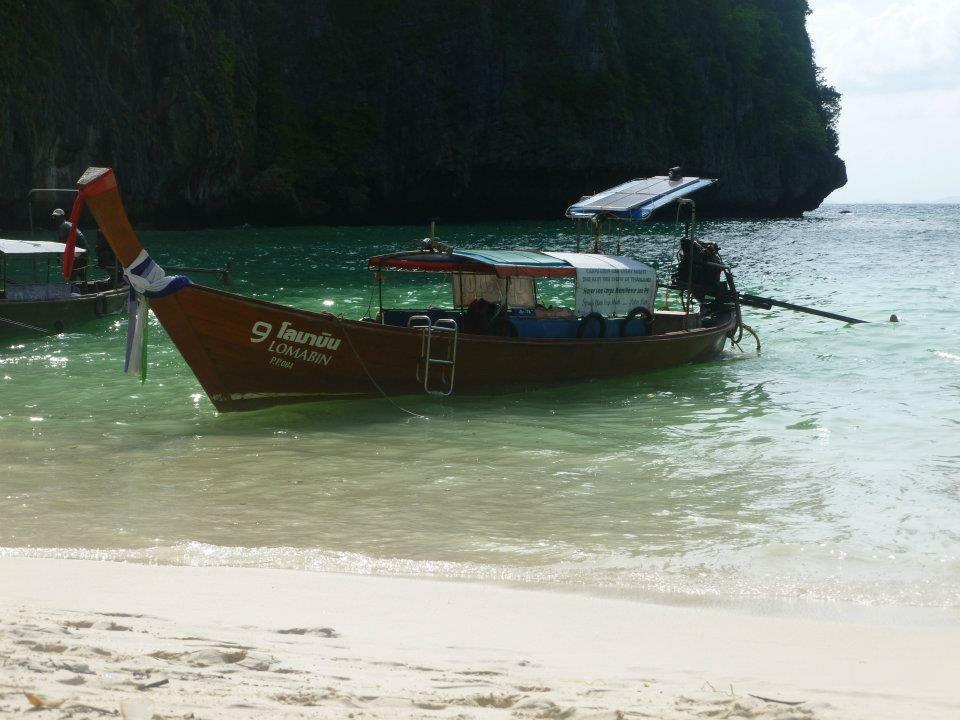 After an awful day and feeling really left out I refused to be bedridden so joined the rest of the girls and went for tea at a BBQ place. I ended up being sat outside because the smell of food turned my stomach.
But when they went out I joined them with my bottles of water- refusing to miss out. Pictured below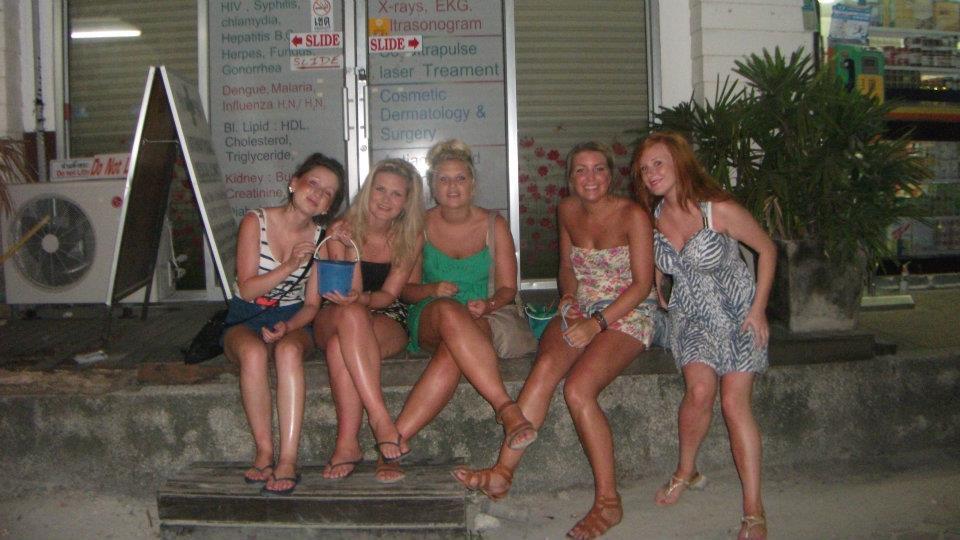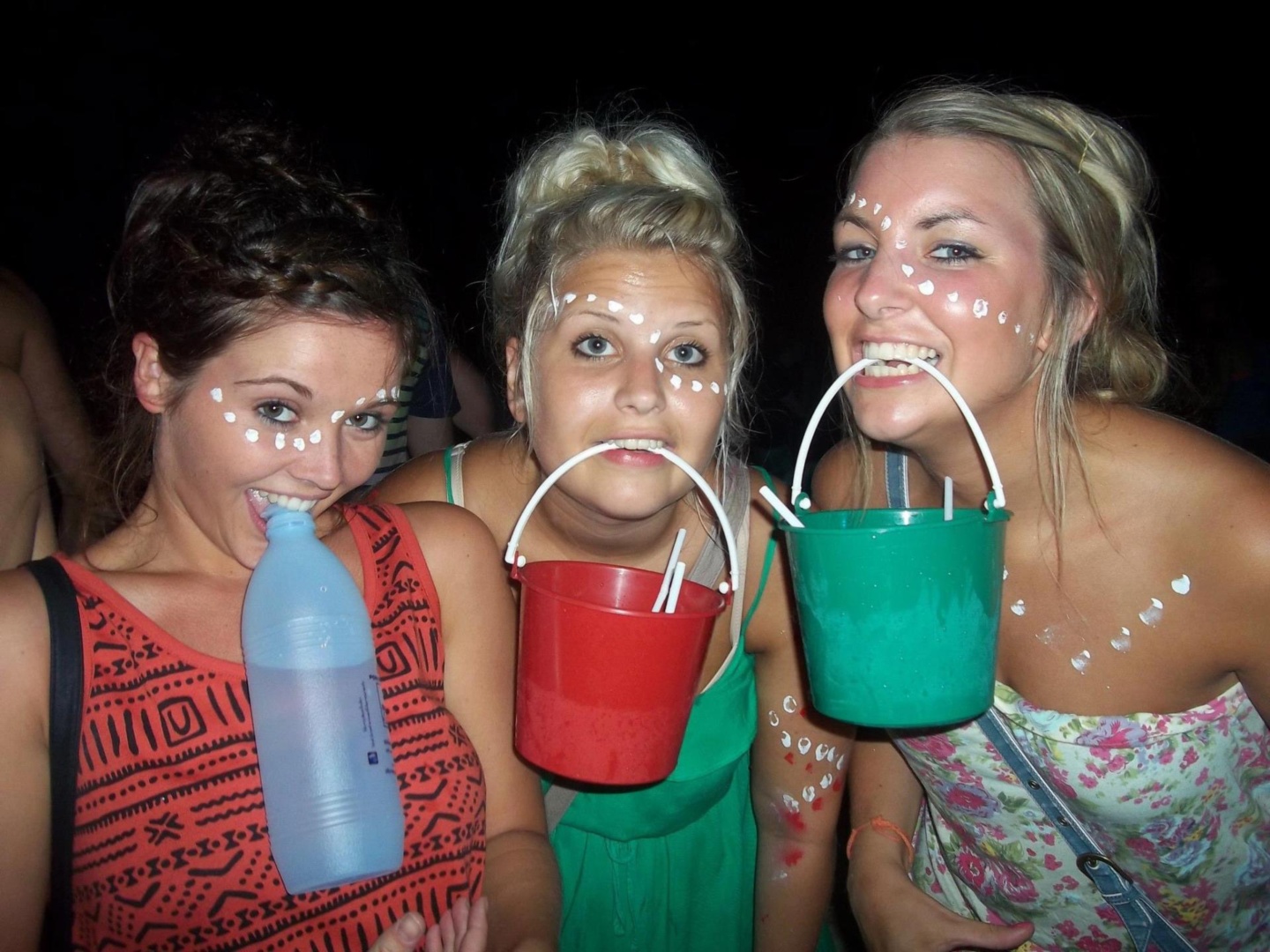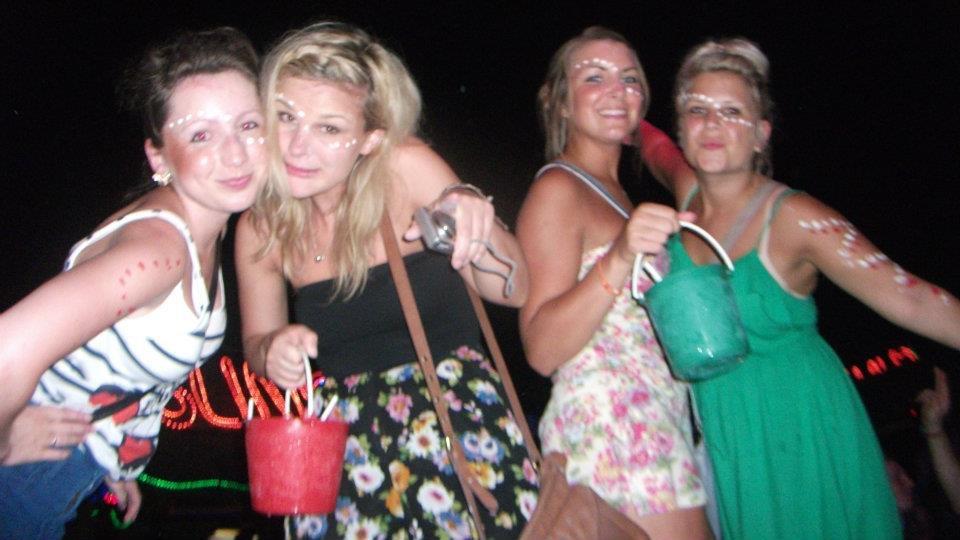 Day 6- Visiting Phi Phi's Famous Viewpoint and Kayaking
Still feeling so awful. We decided to moving hotels was best – due to the state I was in and being in bamboo huts meant that we had lots of critters in our three bungalows. Some of the girls had asked a couple of times for spiders to be removed by staff (they were massive). When finding five spiders tipped some of the girls over the edge we had to move!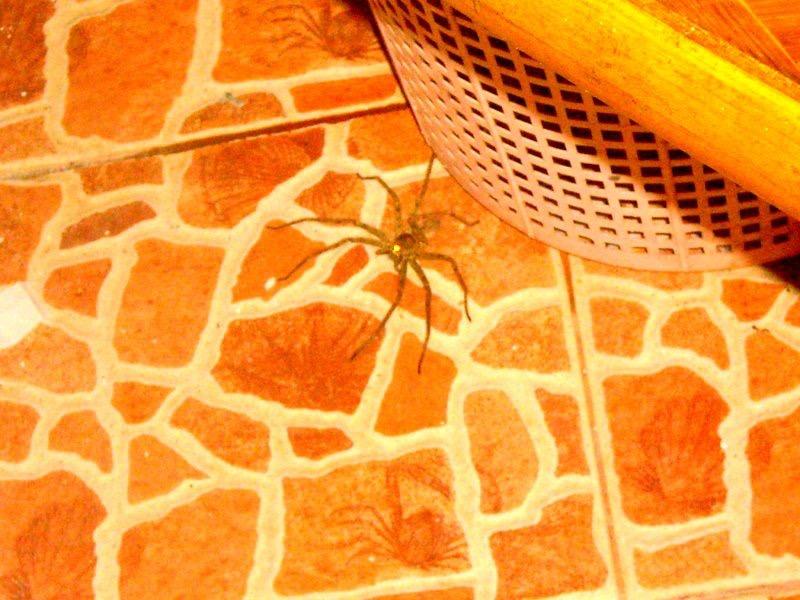 Kinnaree house phi phi was basic but nice and still close to everything we wanted (as it was like 2 minutes from where we were) but we had aircon!! Bonus!!
Next stop was breakfast – fueling for our trek up to Koh phi phi view point (I was still at this point still far too ill to eat).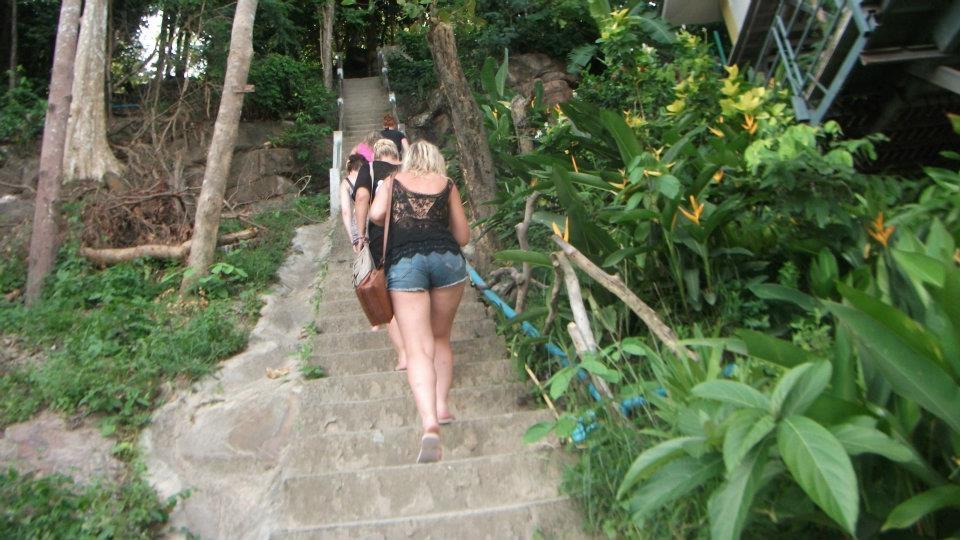 We picked the best (worst) possible time for a trek… 1pm (I do not advise this its farrrrrr too hot) there are three checkpoints on the walk up and the view gets better at each one. I am normally a fit person but two days of being ill and no food I was dying making the most of each check point.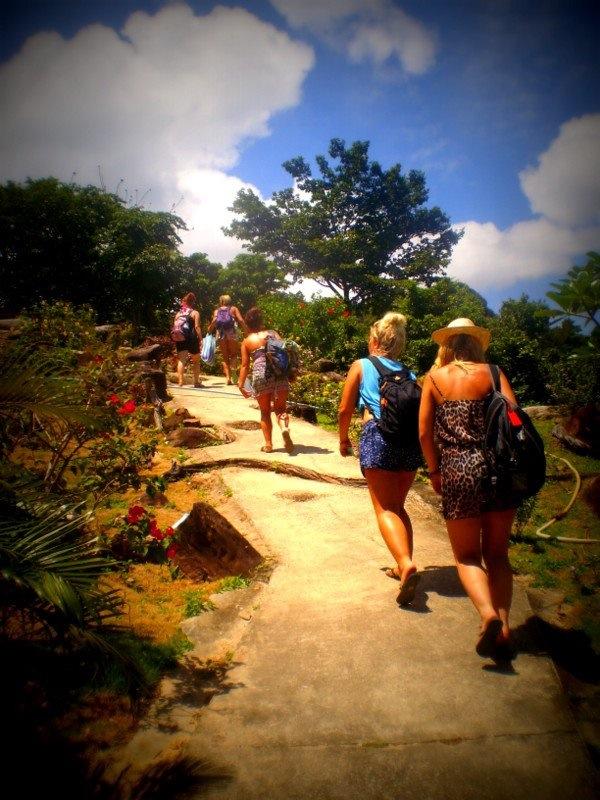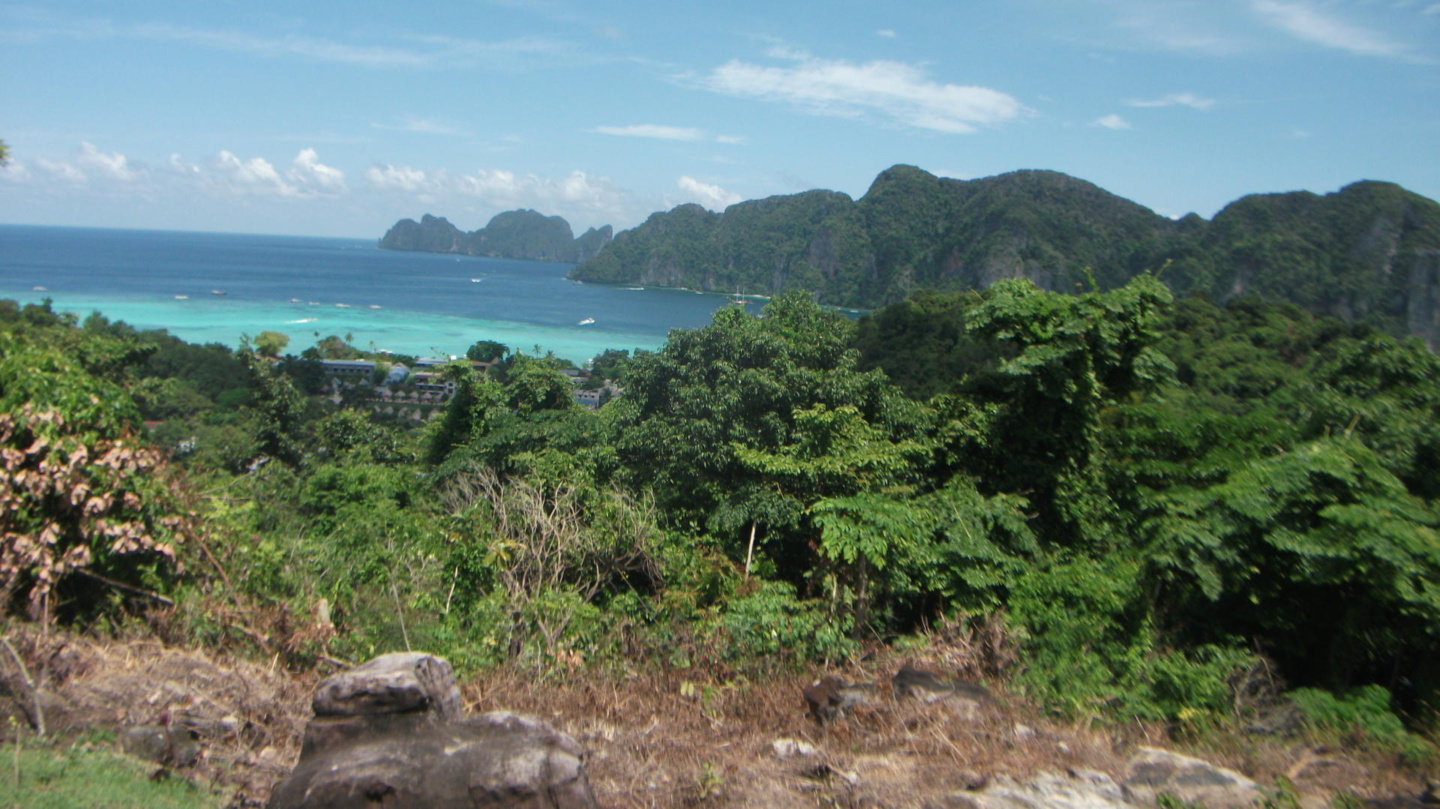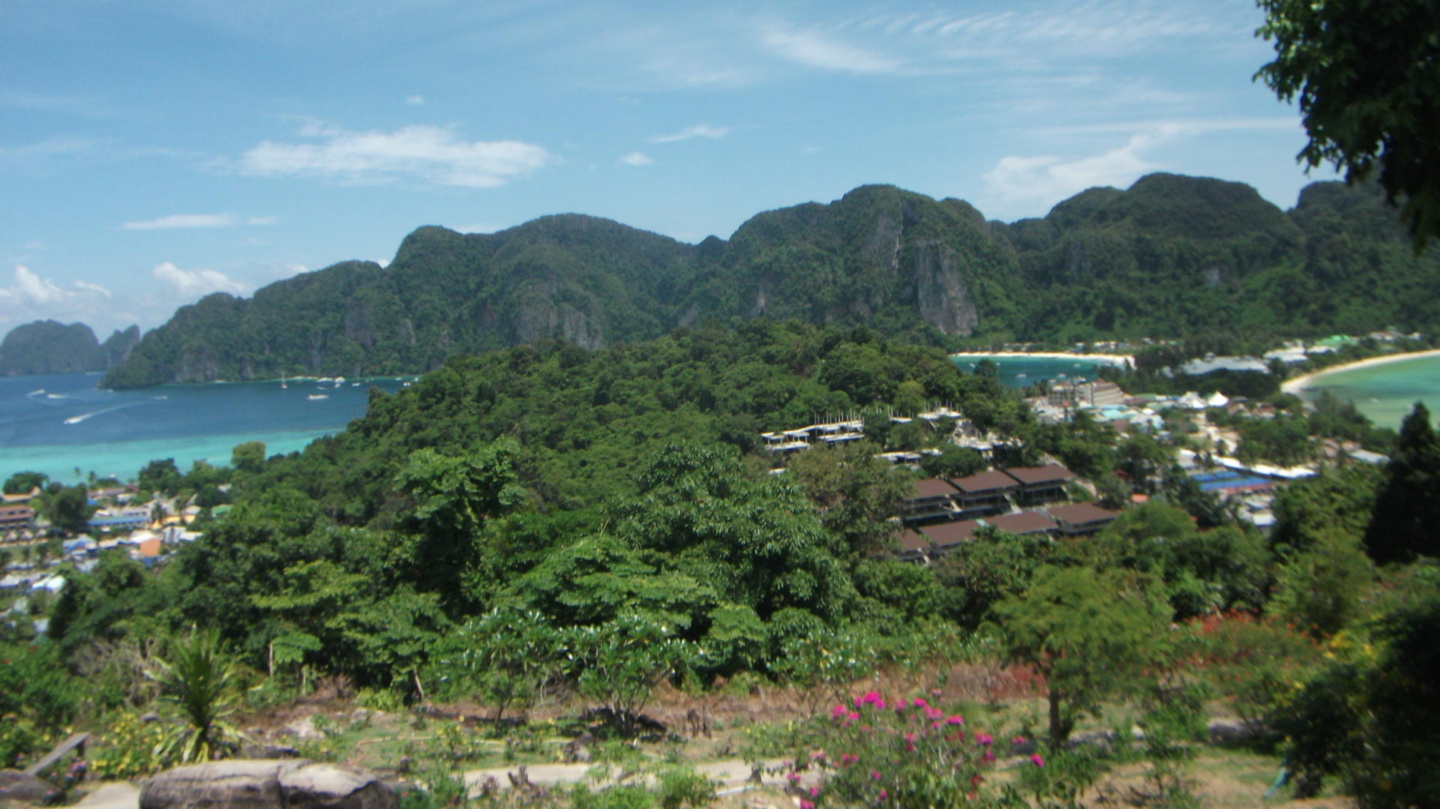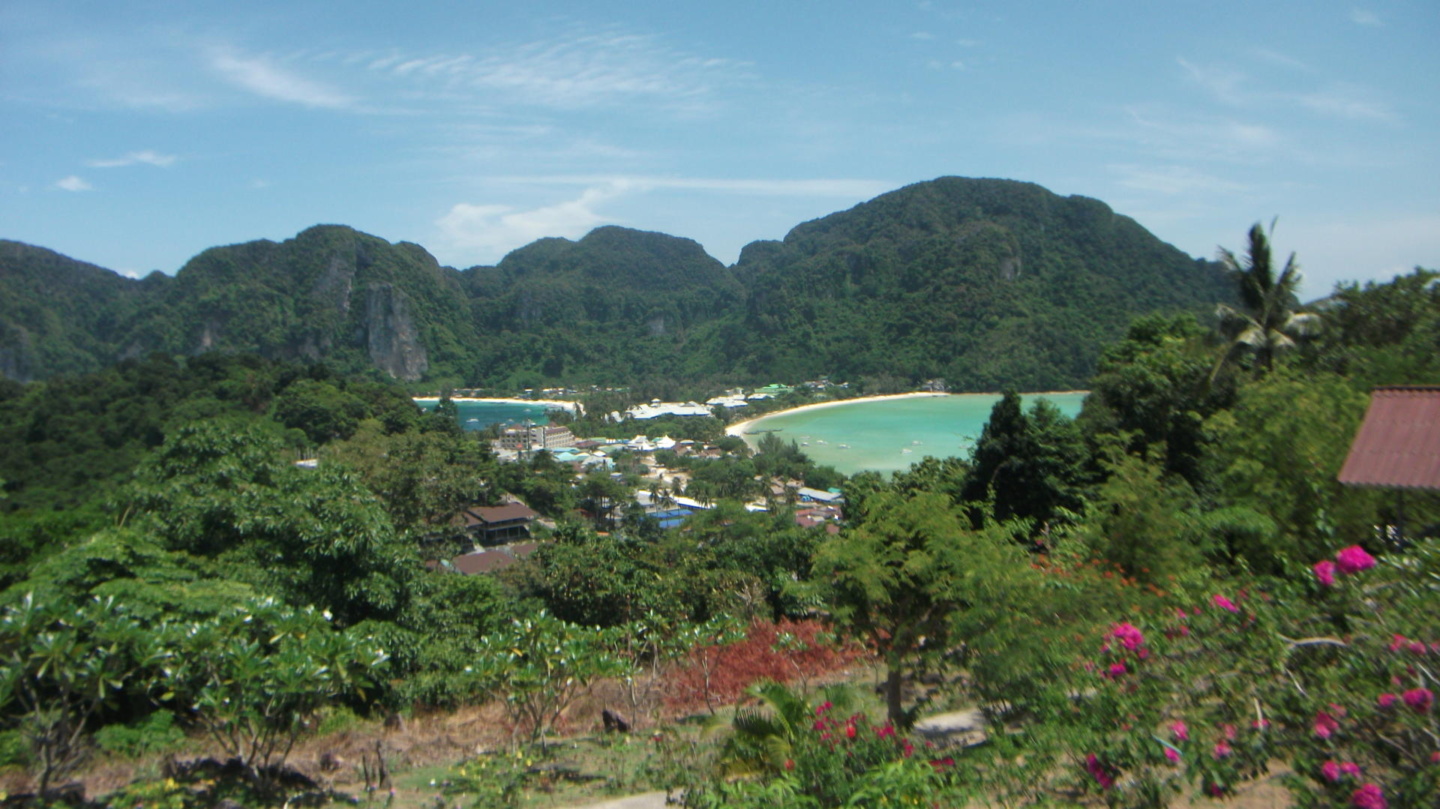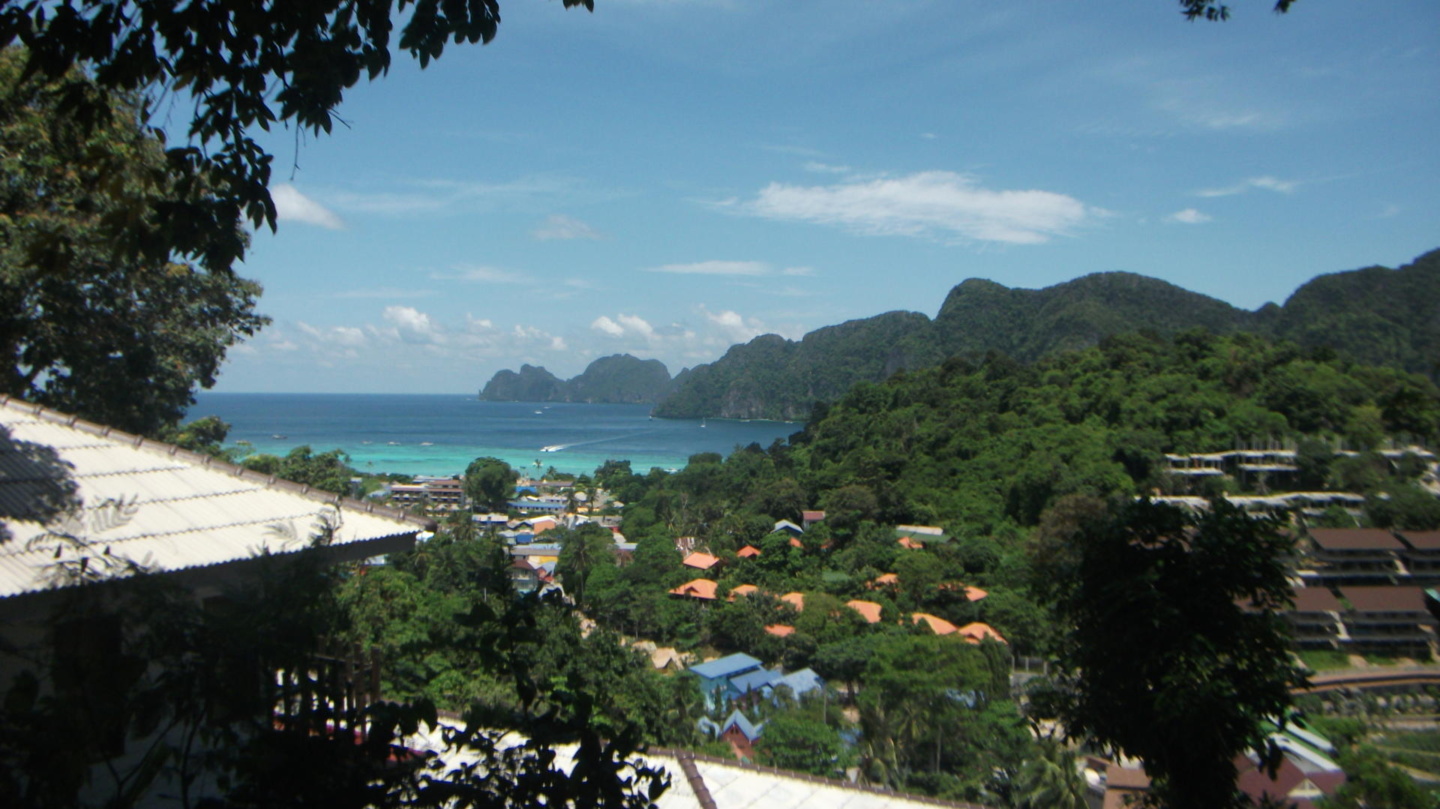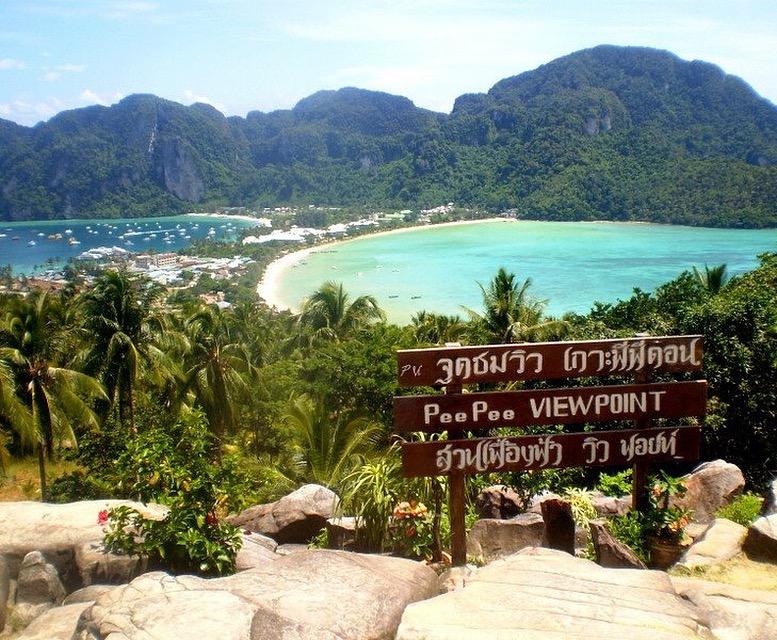 We made it, and got to the third checkpoint. Absolutely loved it! We took some amazing photos and had an ice cream before heading back down.
l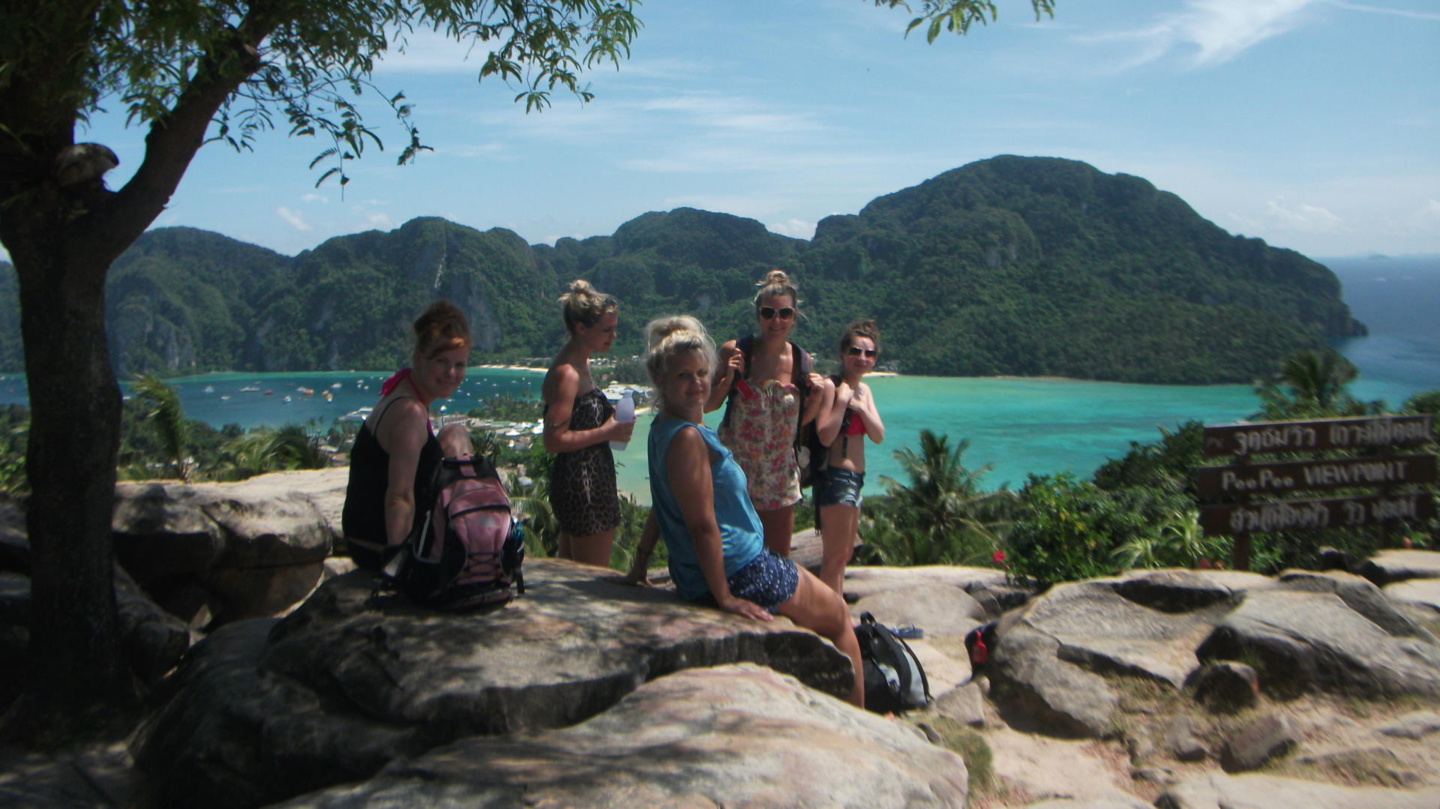 Ad
Continuing our adventure day, we rented kayaks for a small amount on the beach (you pay hourly- not sure on the hourly price). We paddled round to the next cove (which the girls had seen on their boat trip but wanted to take me) which was beautiful and so deserted with lots of cheeky monkeys on.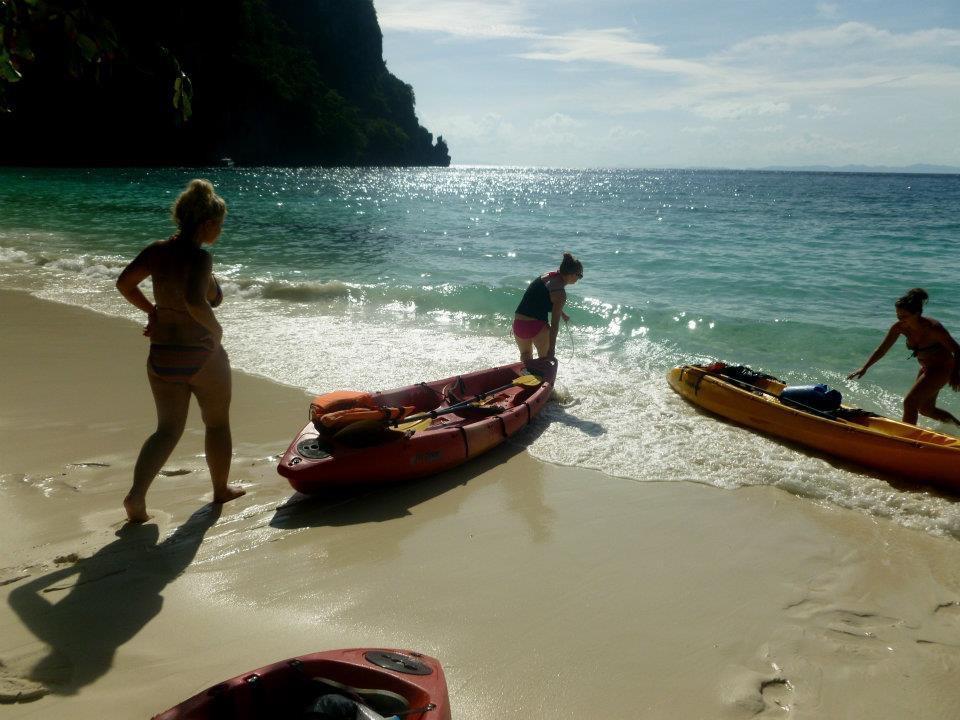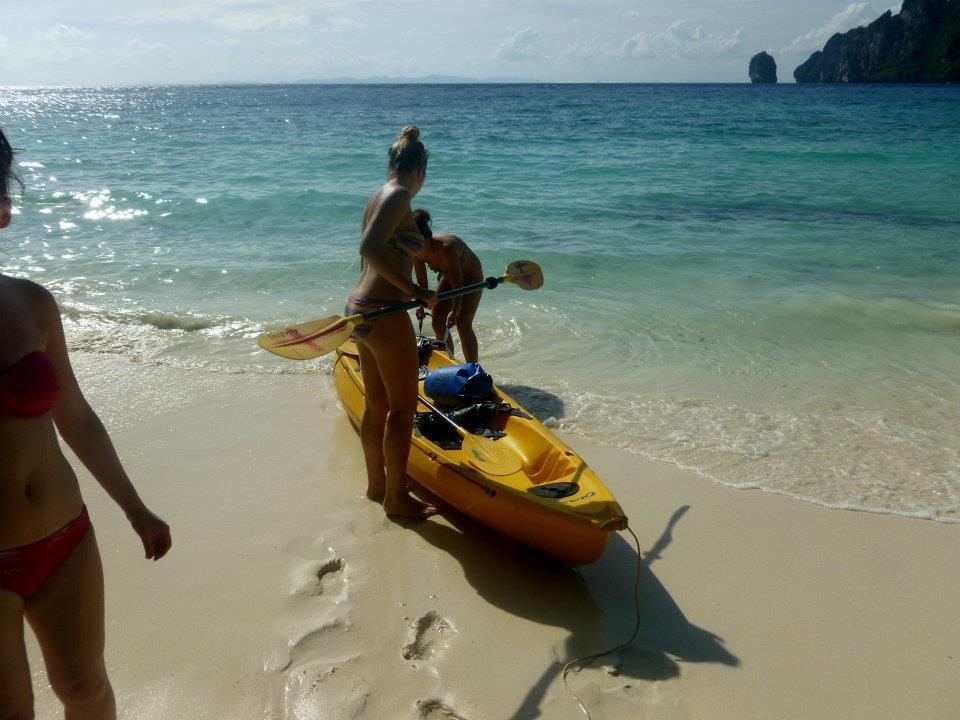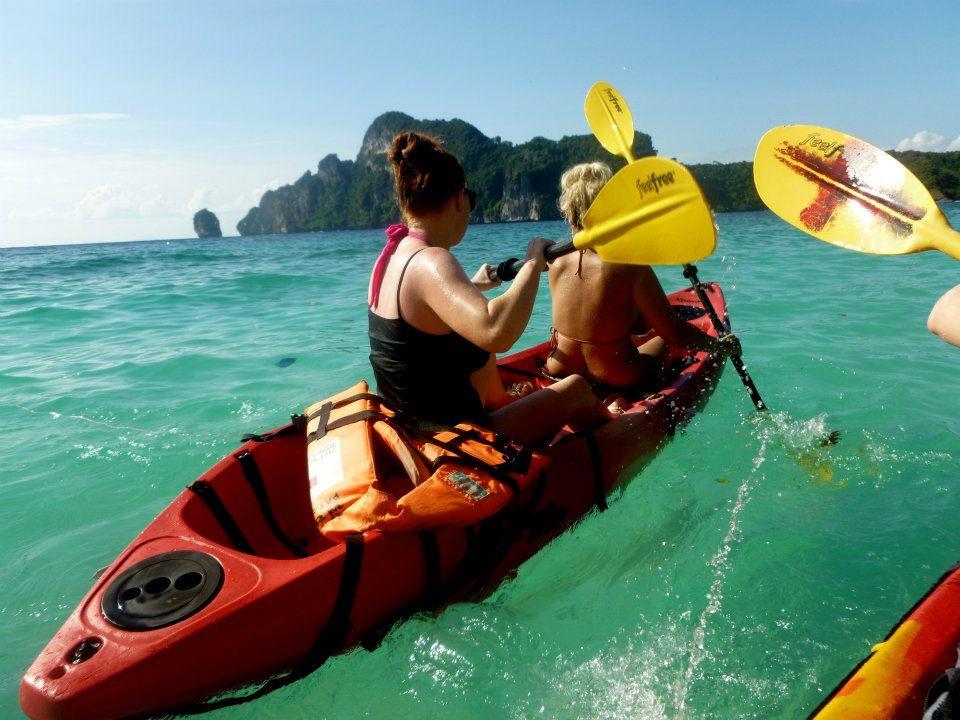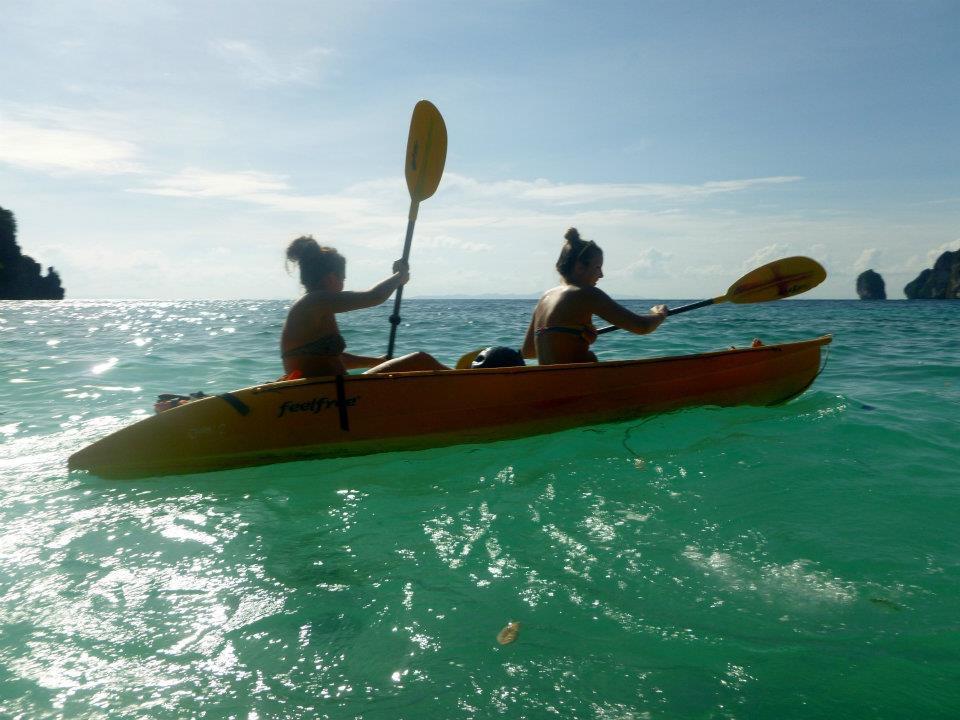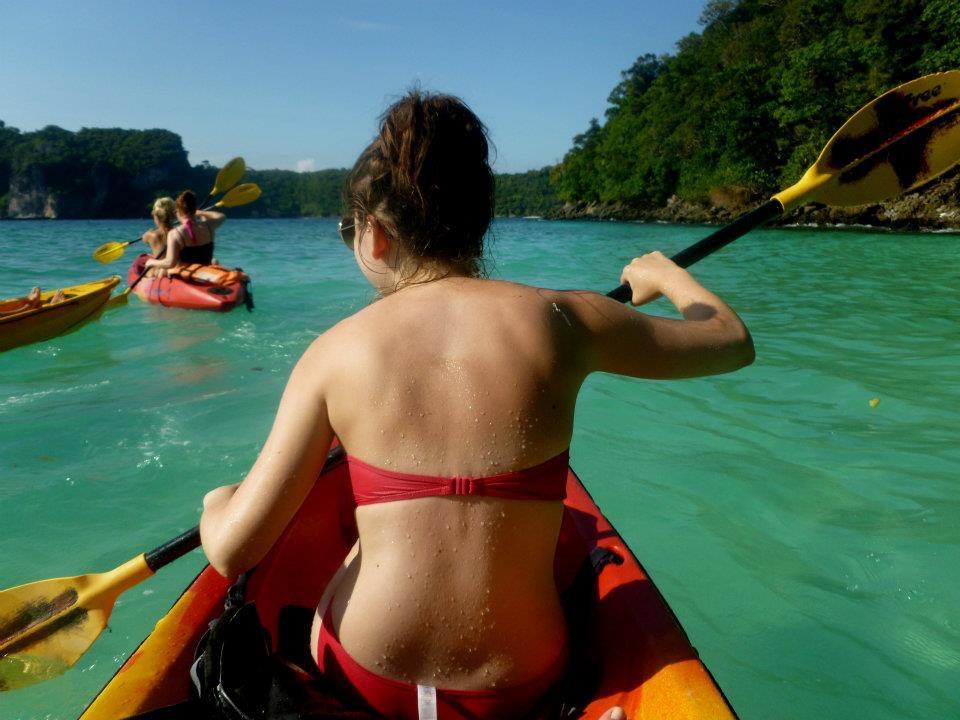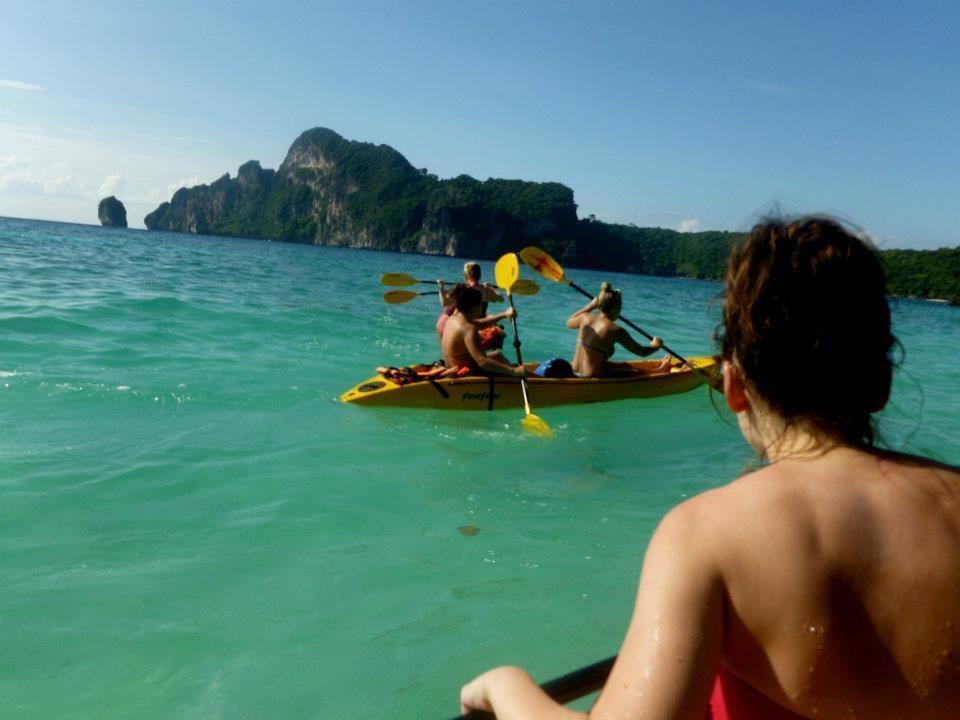 We left our kayaks and bag on the beach (lent to us by the man we hired the kayak from as it kept our things waterproof) and the monkey picked our money out and ran off with it. You have never seen six girls run like we did… Like lunatics towards a monkey! Had there been anyone else on the beach it would have been embarrassing!!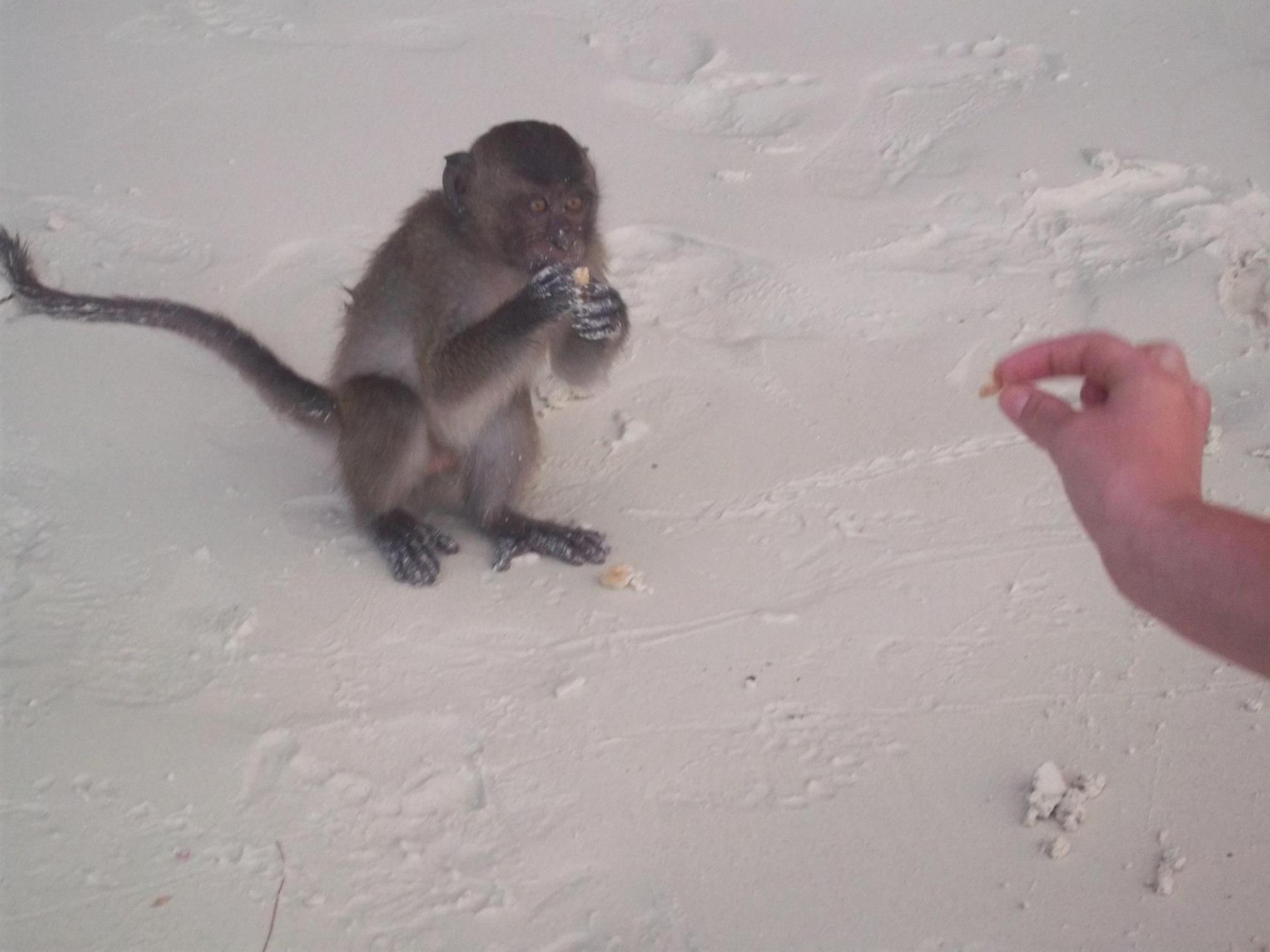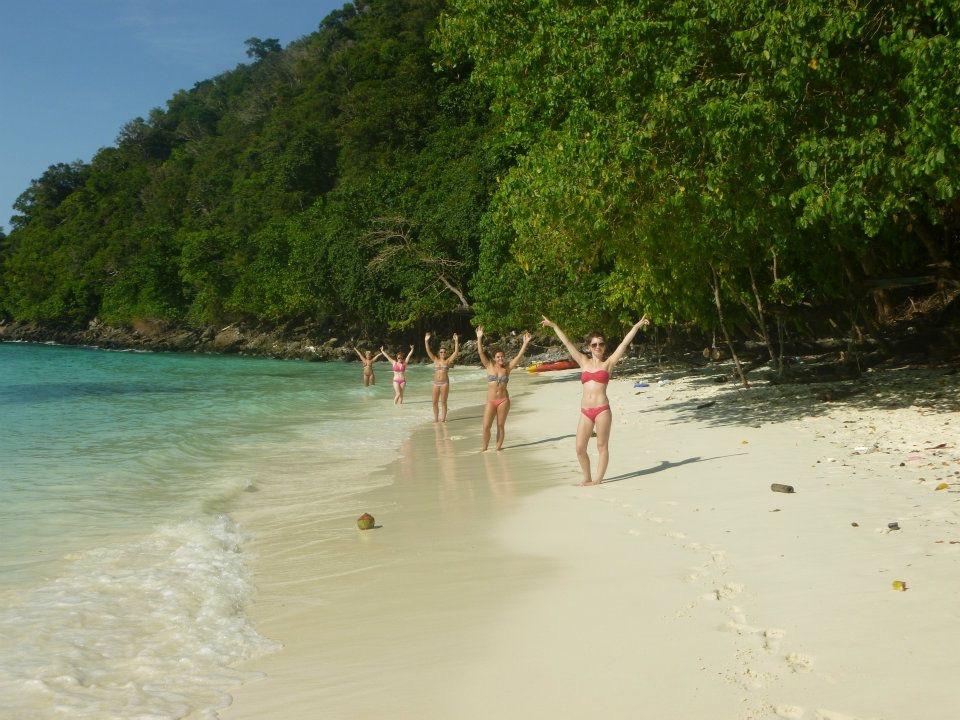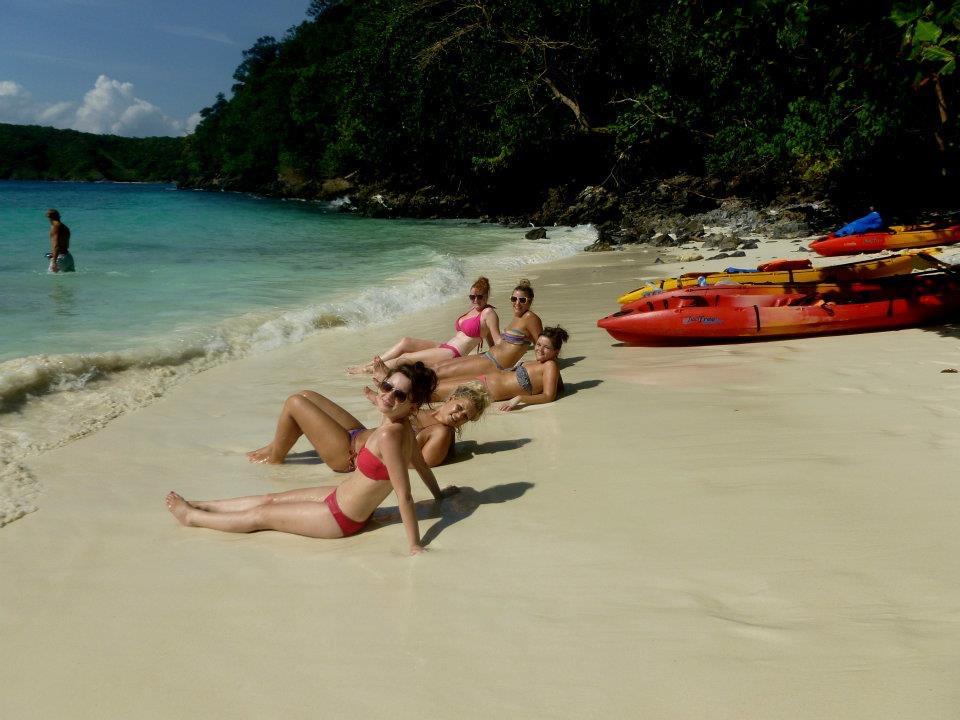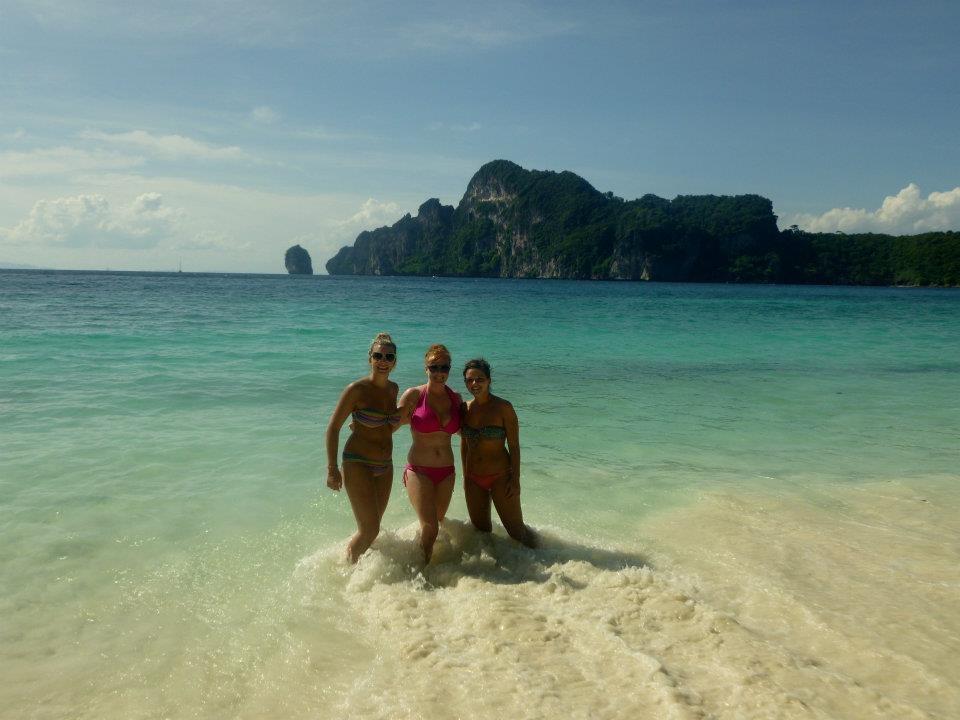 That night we went out to the Thai boxing. It was actually so much fun! I loved when they got people from the audience in to fight each other!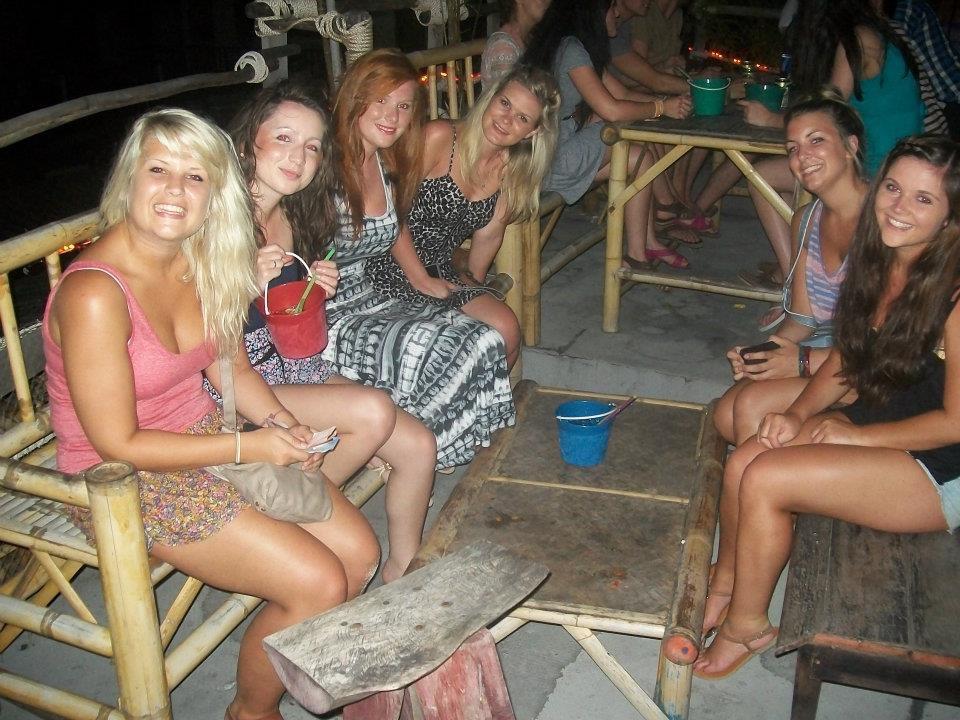 Still feeling ill that night I was still on the water… I actually recommend going out in Thailand drinking water… you can watch what everyone is doing! If you're the people watching type! I found it so comical watching people drunk, stoned and on mushrooms.
Day 7- Maya Bay
Waking up in THE coldest room ever (there is no winning with aircon you are either baking or frozen) plus mosquito bites – you didn't get that in our huts. Beggars can't be choosers though I guess!
Picking up some fresh fruit (becoming a daily occurrence) we jumped in a long tail boat and were off to Koh phi phi Leh so that we finally got to see 'The Beach'. Due to restrictions we were dropped away from the island and had to swim into the cove with a choice of climbing over the ropes or going through a tunnel (we wanted adventure… and we got it).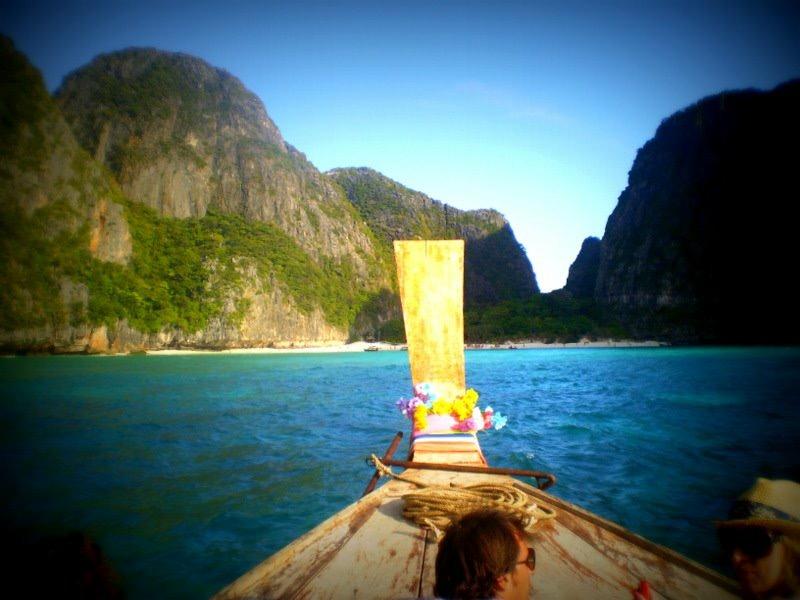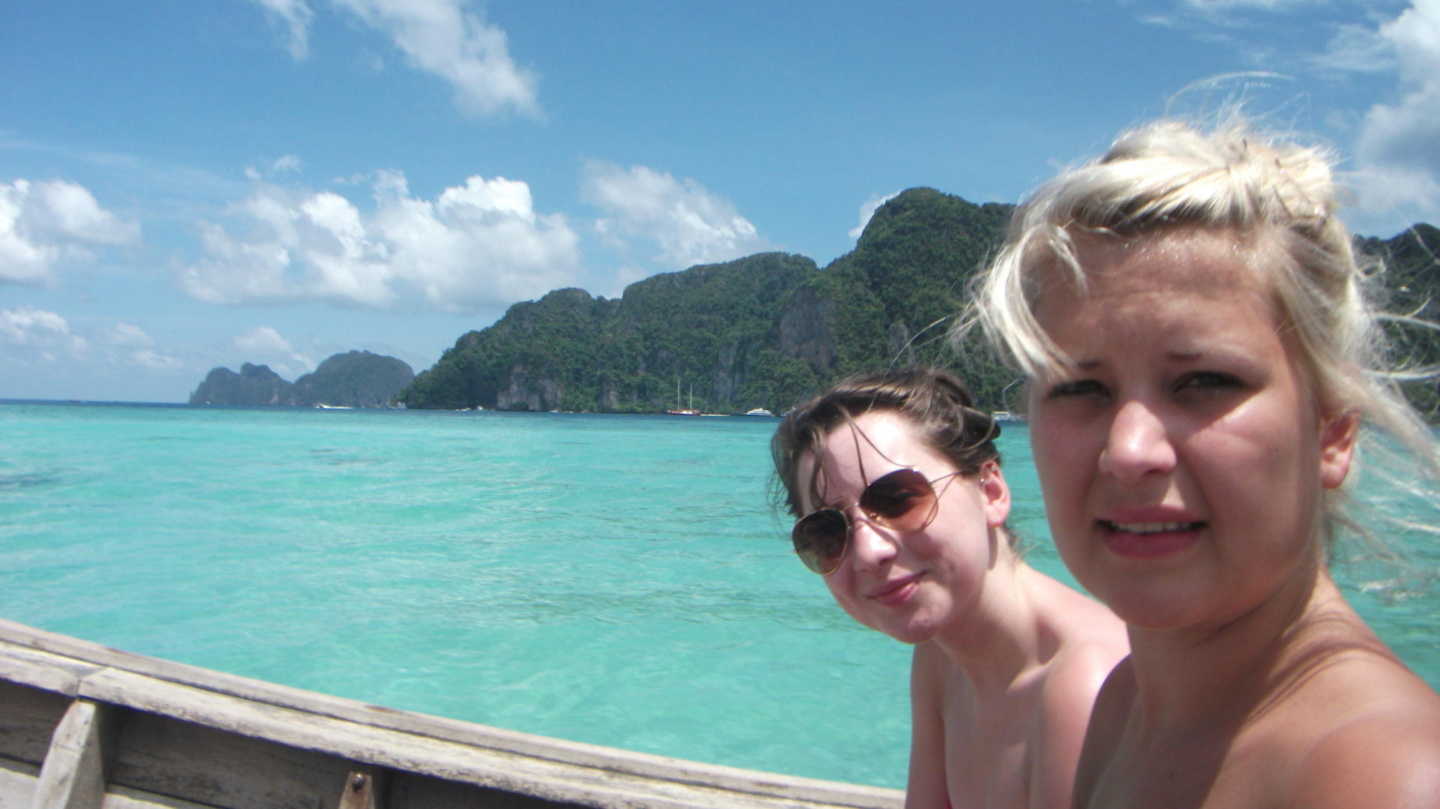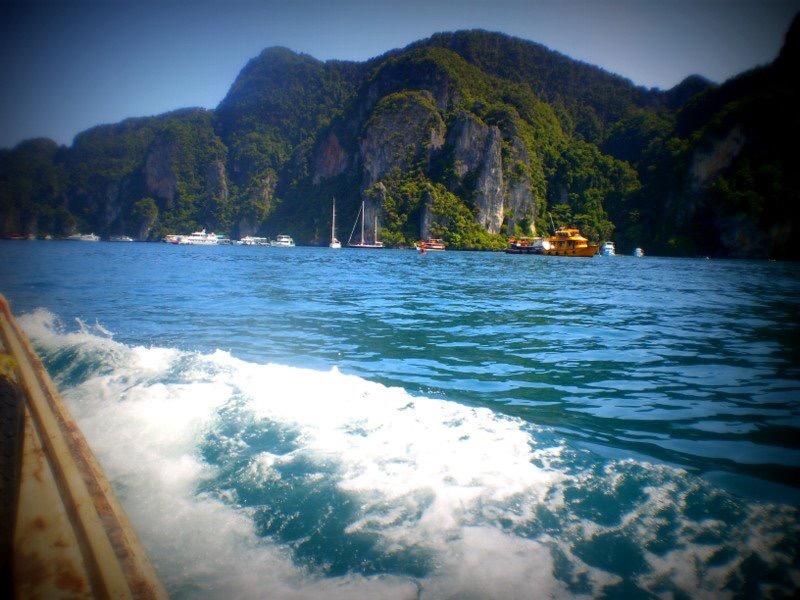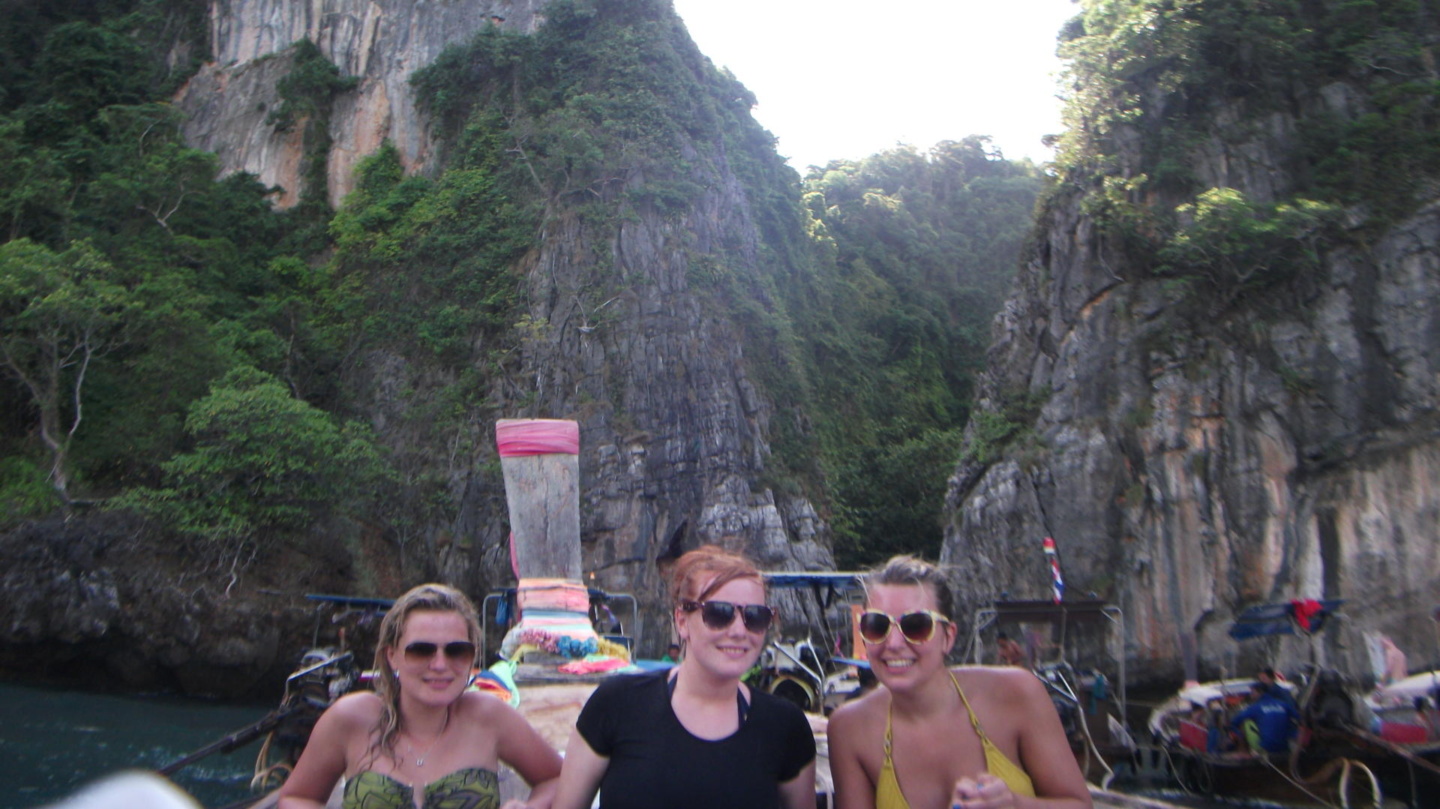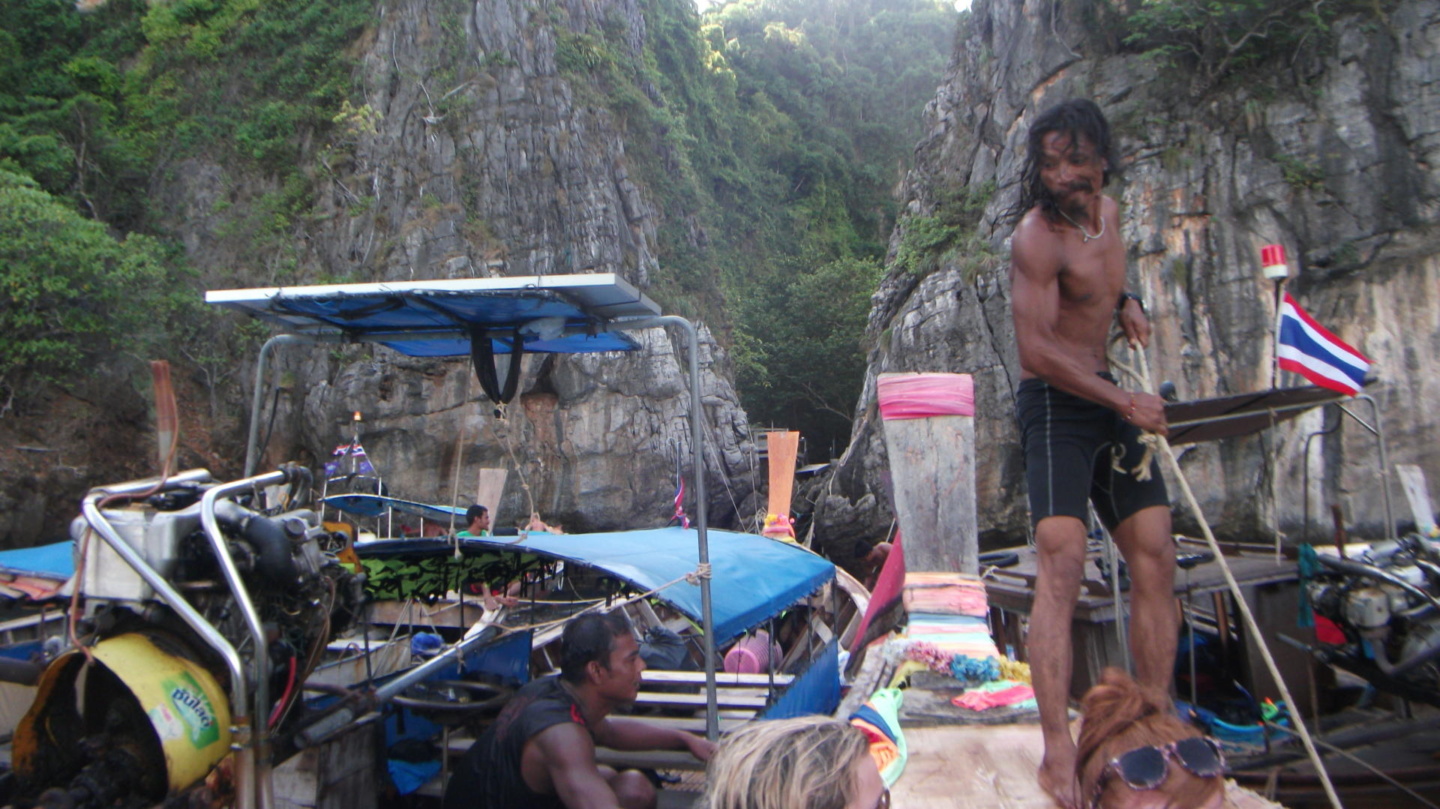 We did the 'coastal walk' which is absolutely tiny.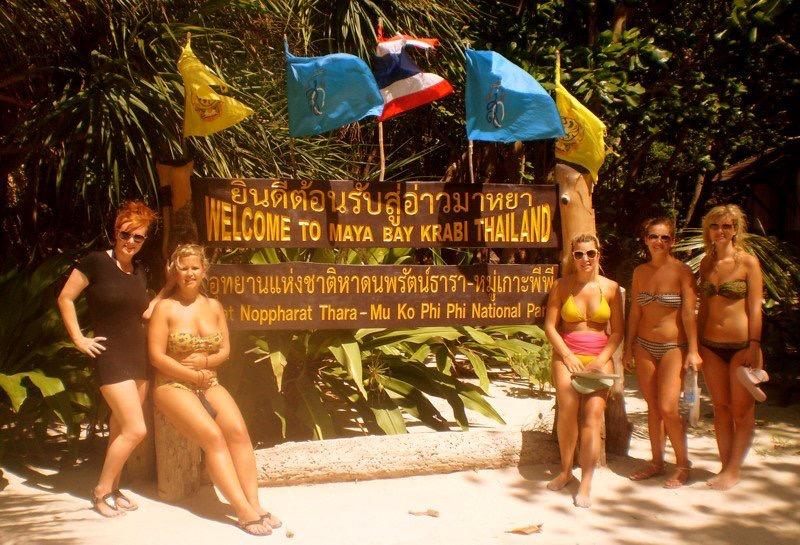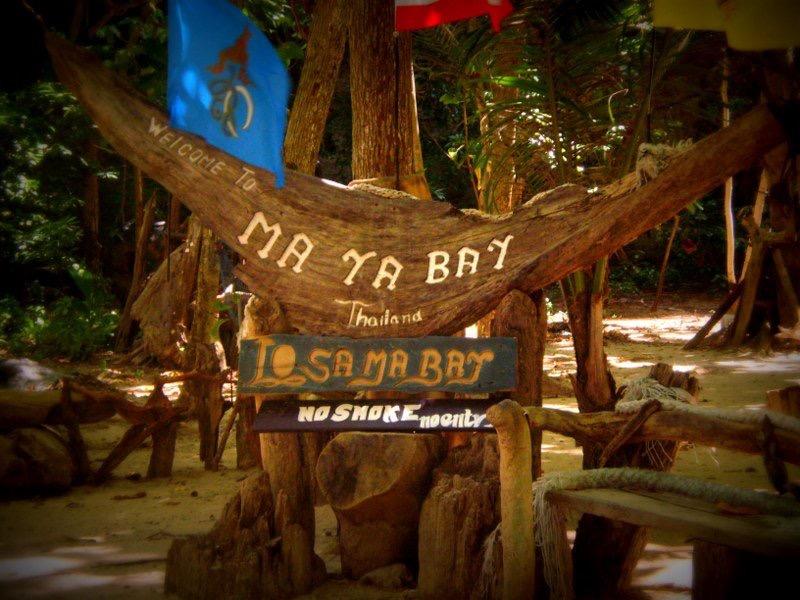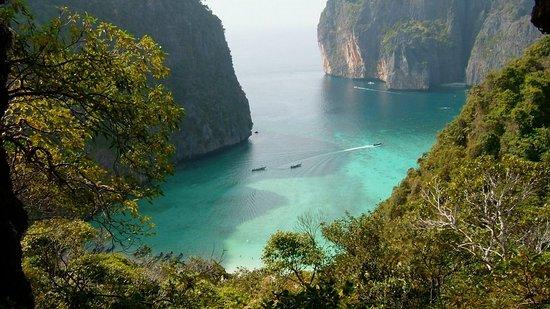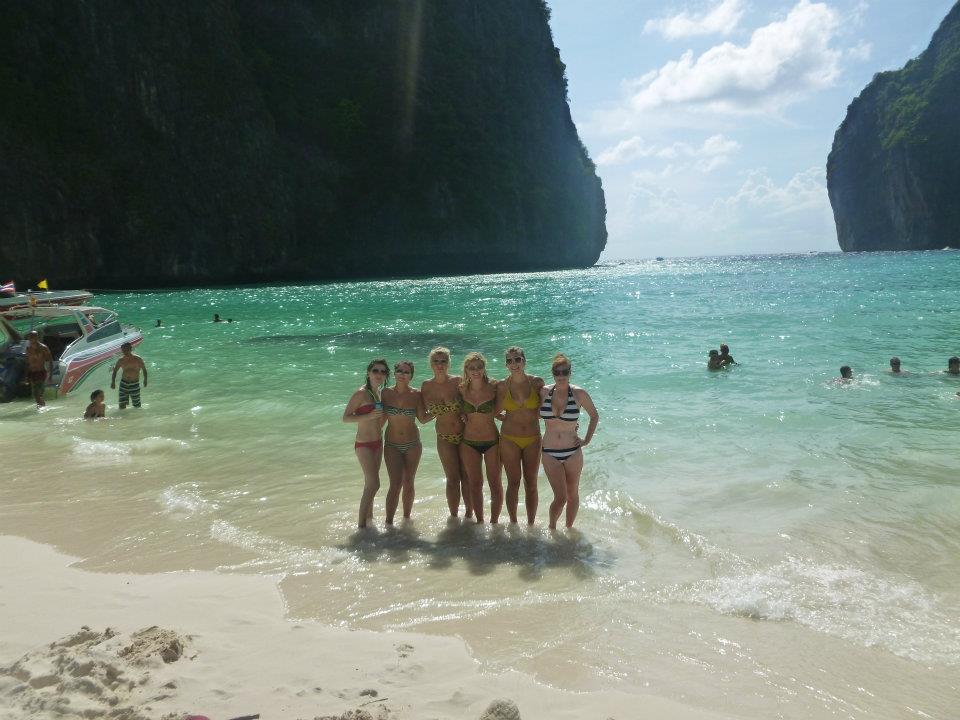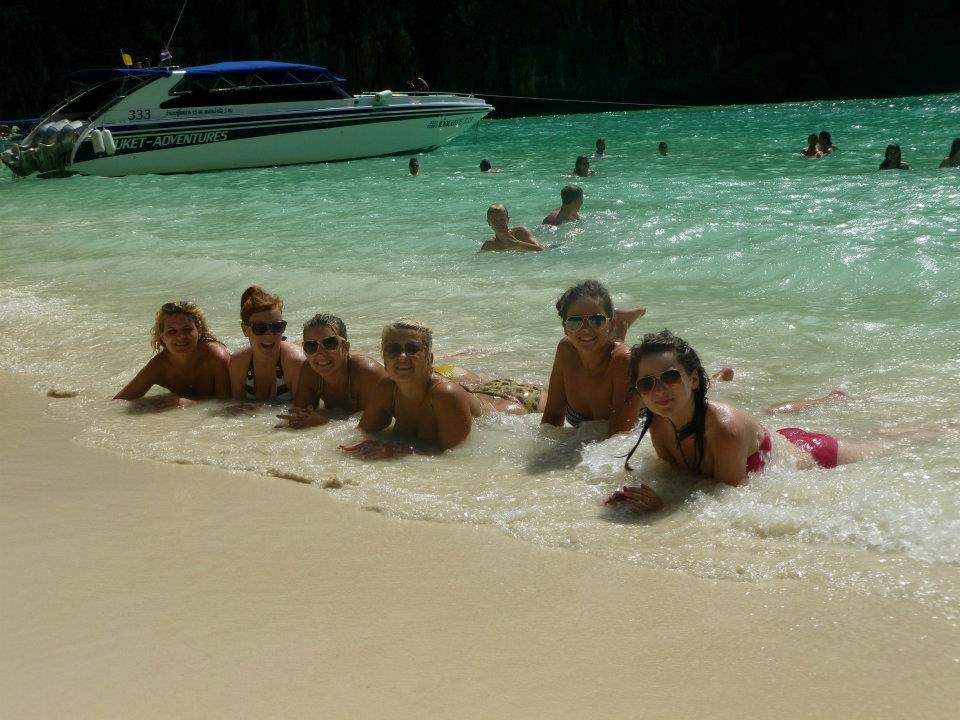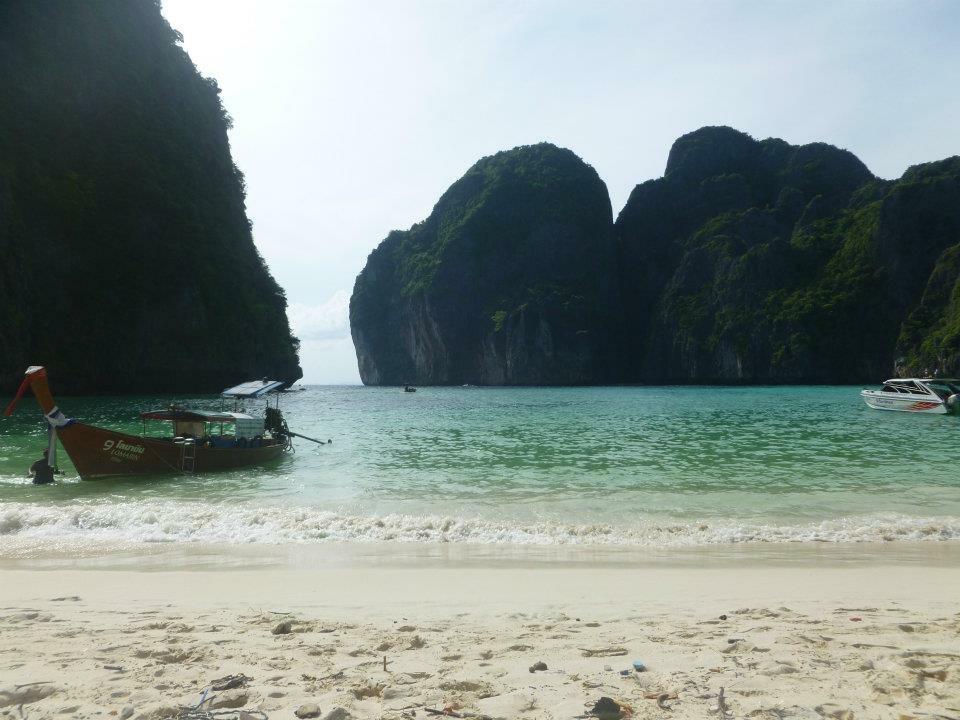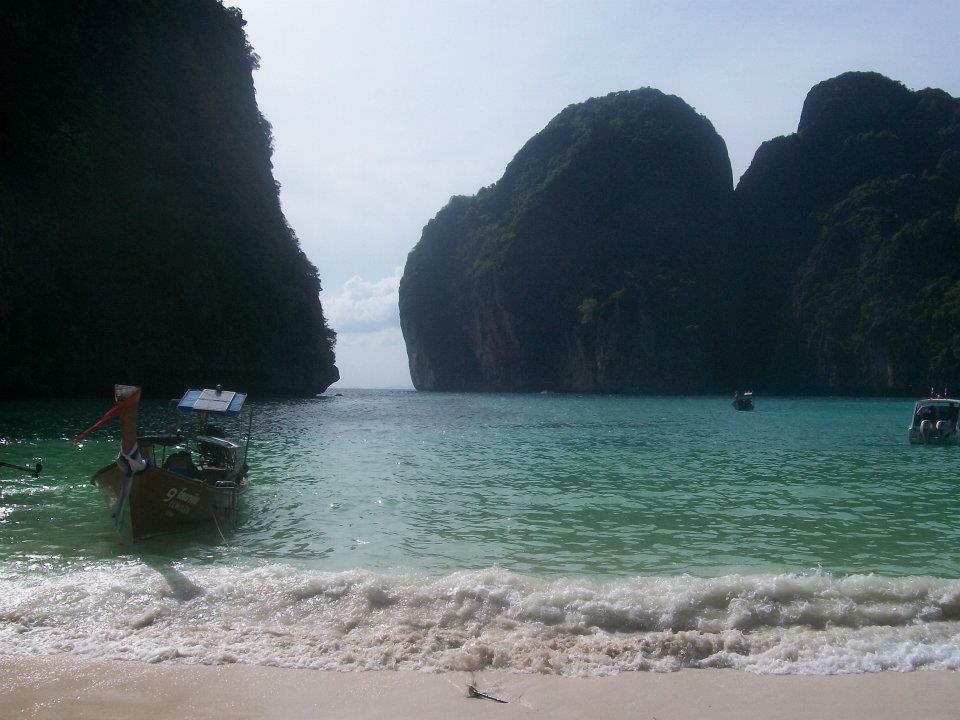 The beach in Maya bay is amazing (..aren't they all?) white sands clear blue water it was absolutely perfect. The beautiful Maya was spoiled for me slightly due to how busy it was, I much prefer a deserted beach. I would suggest going early in the morning to miss crowds. Boatloads of Chinese tourists kept coming and coming! (and taking photos of us – yes us! …cringe).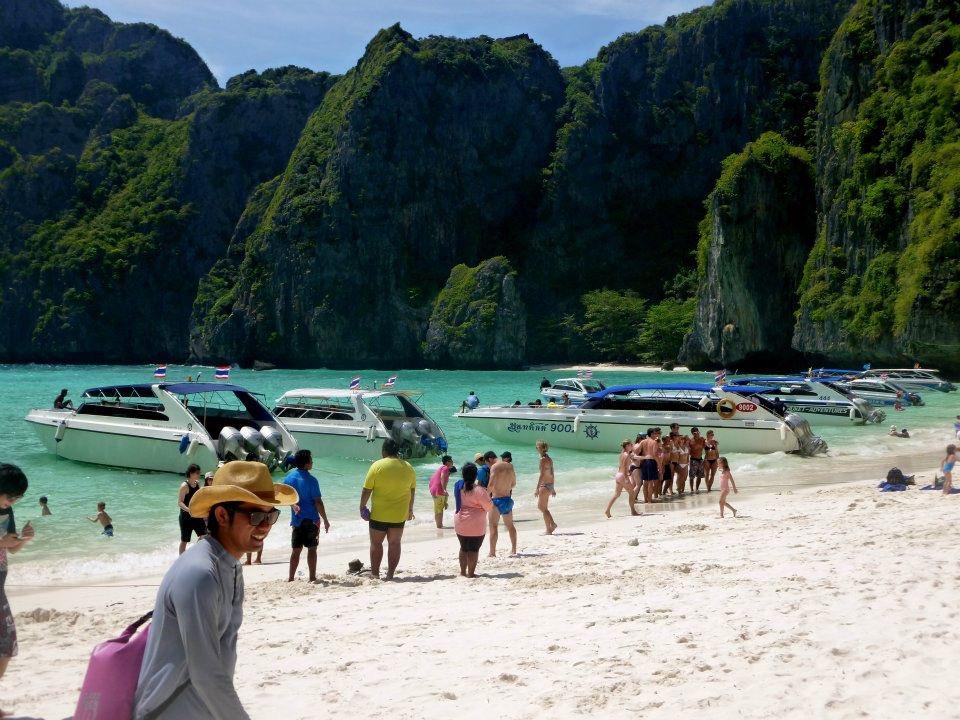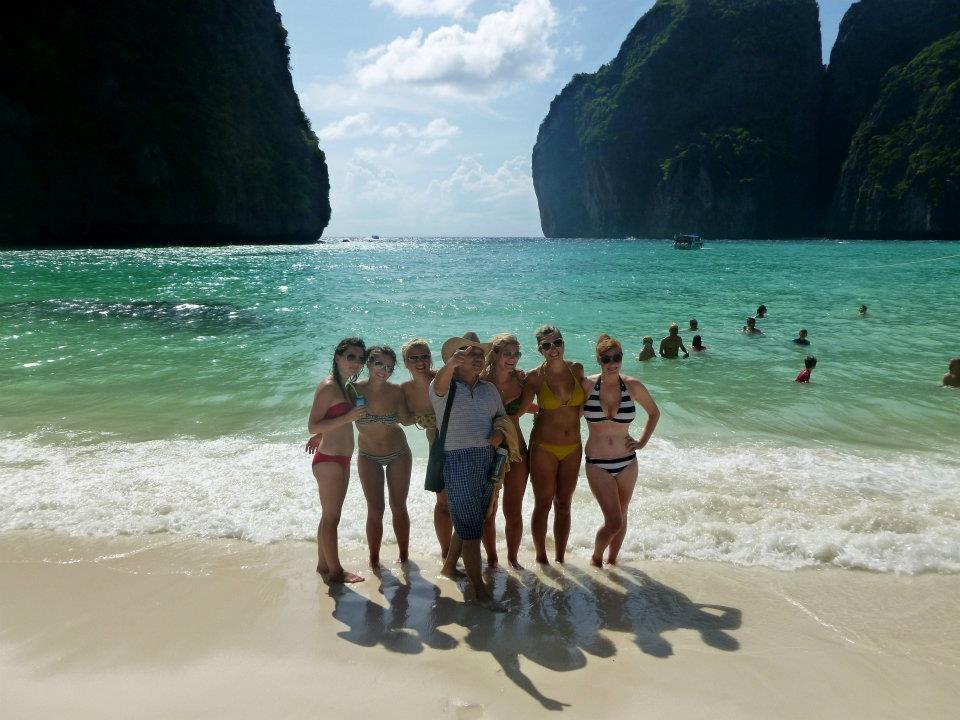 Getting off the island is a struggle also as you have to swim against the tide. If you aren't a strong swimmer this is a challenge. One of my friends struggled so much she had to hold onto me whilst I swam us to our boat (all of those swimming lessons paid off!!)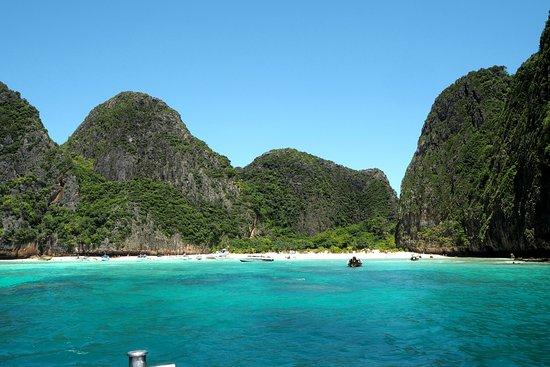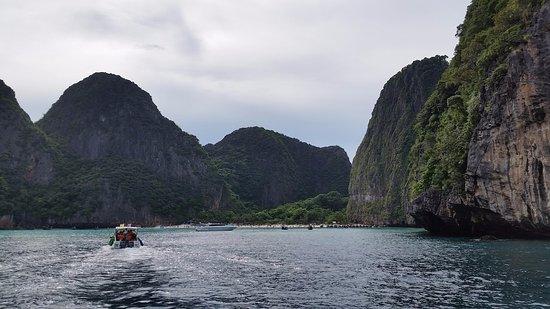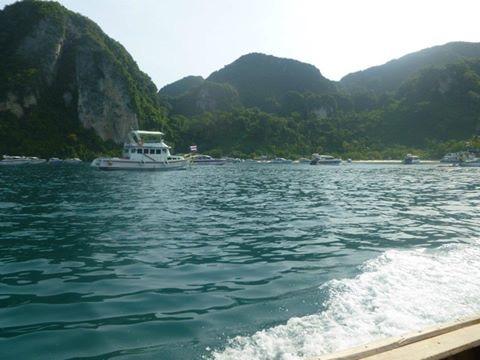 a
Wandering around the shops, then decided to go back to the view point we enjoyed so much the day before for sunset. Such a beautiful sight… One I will never forget!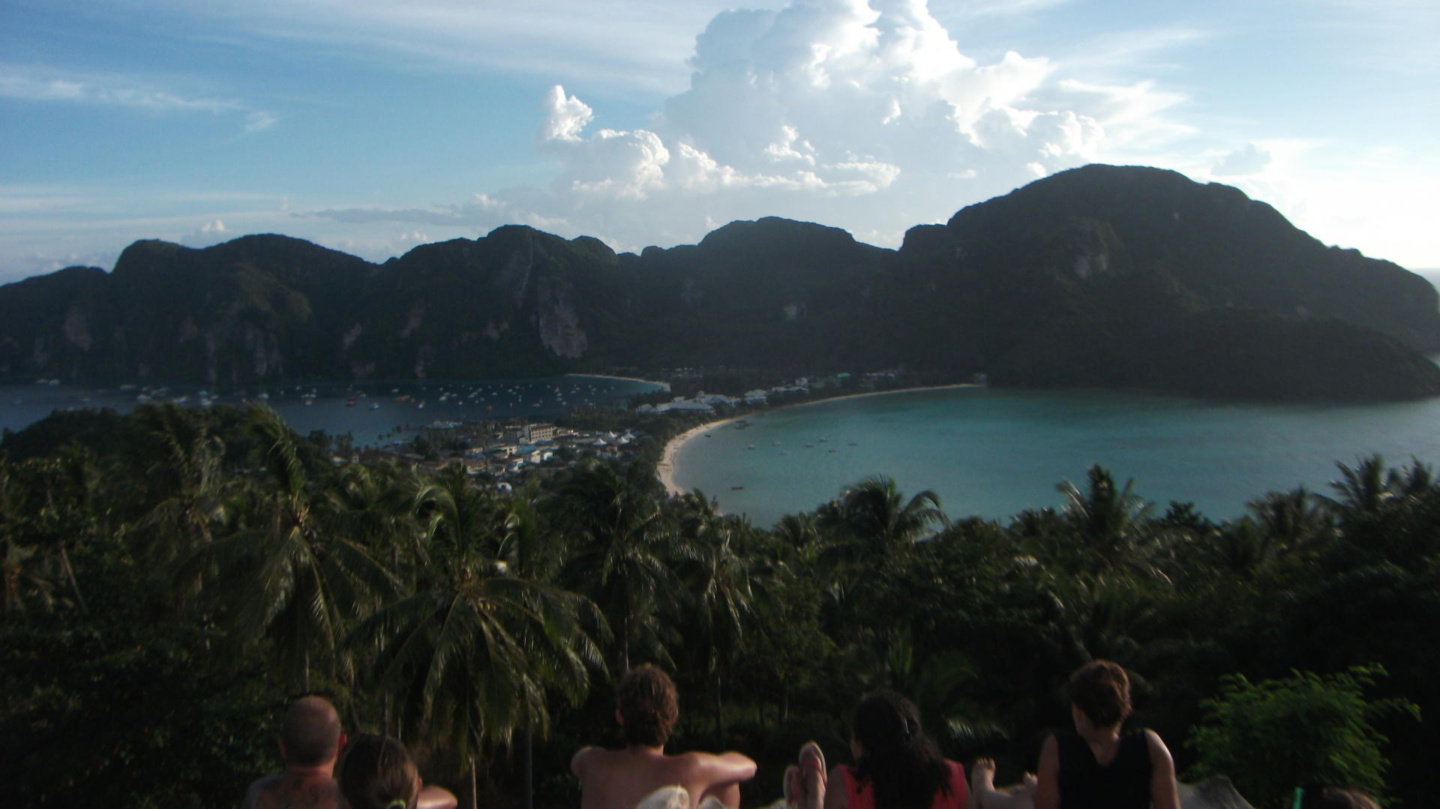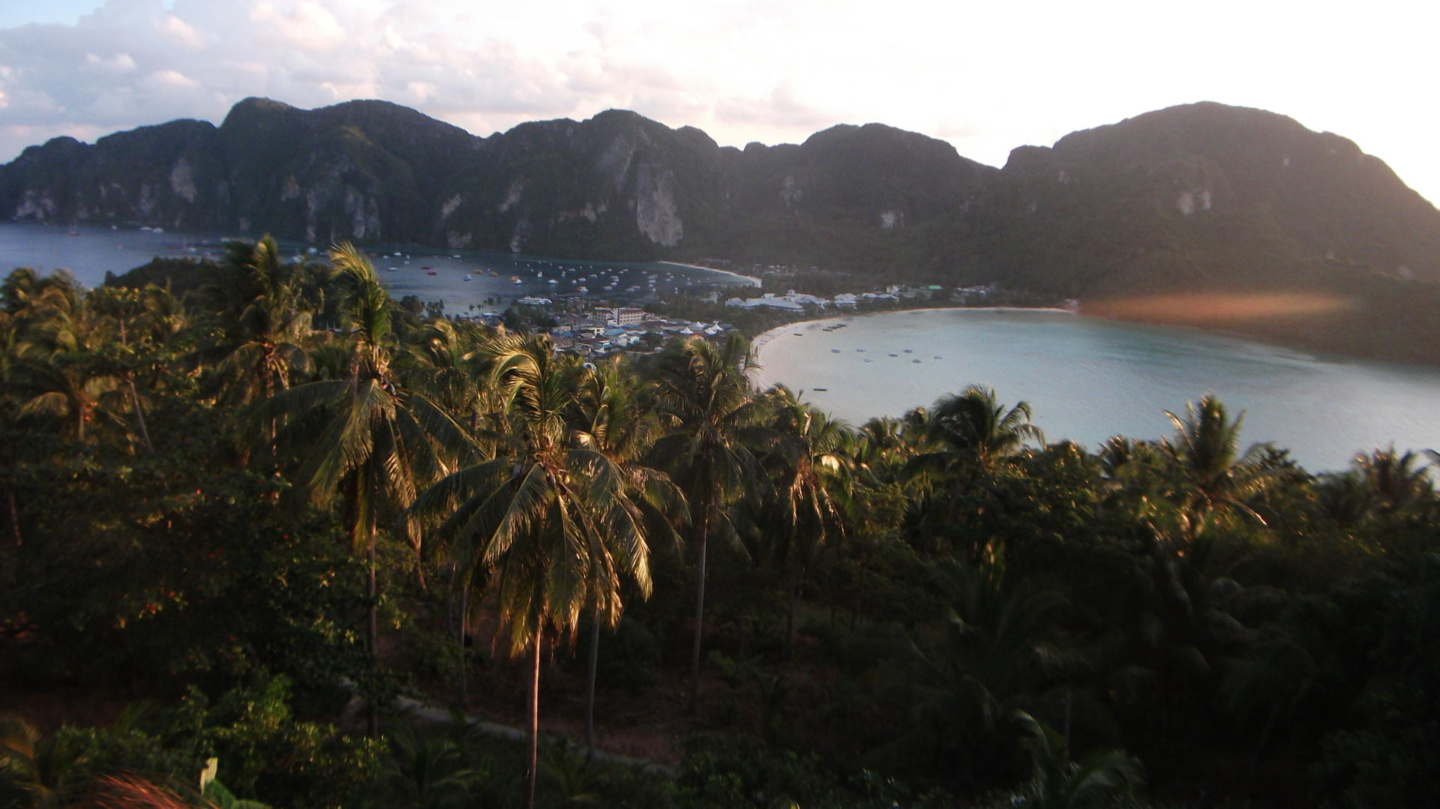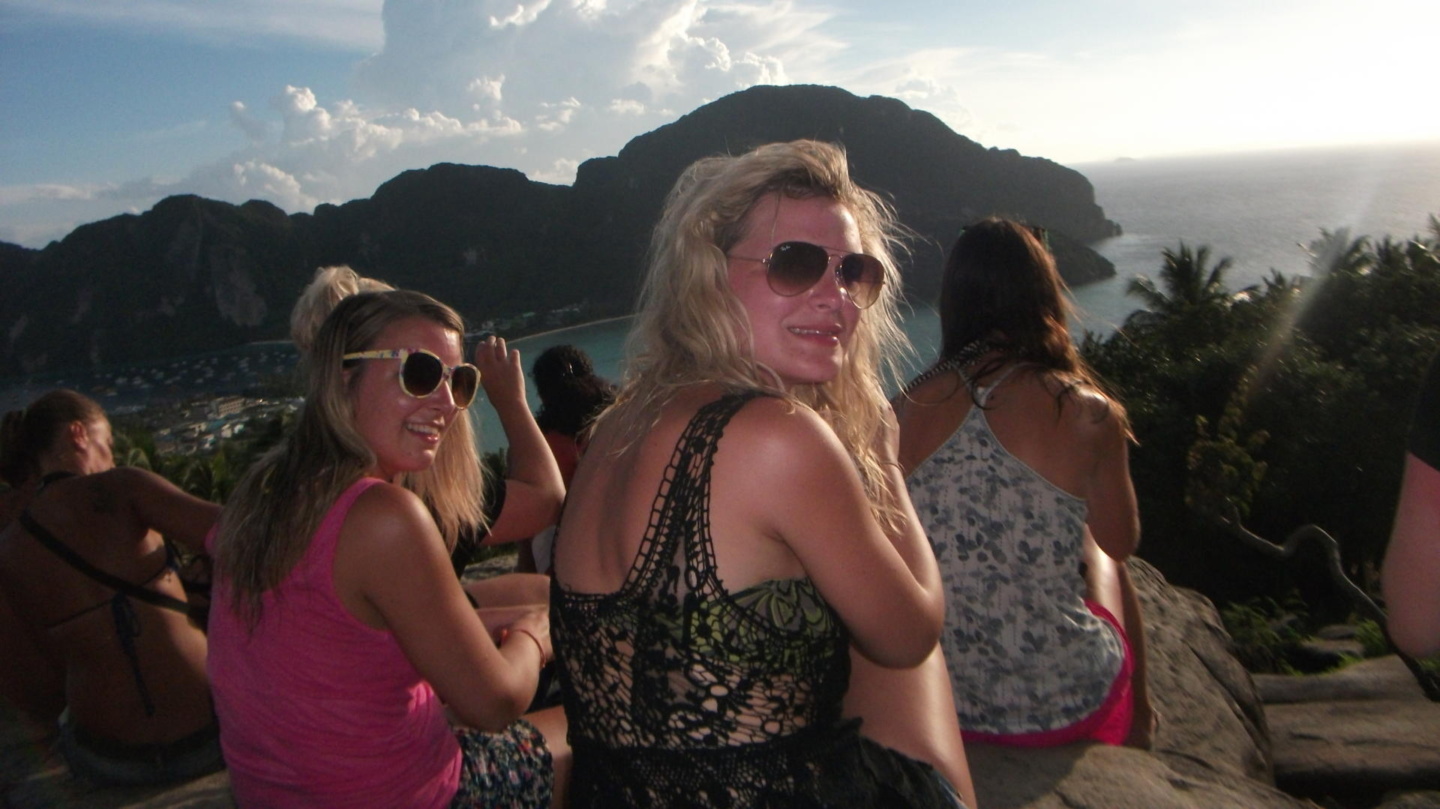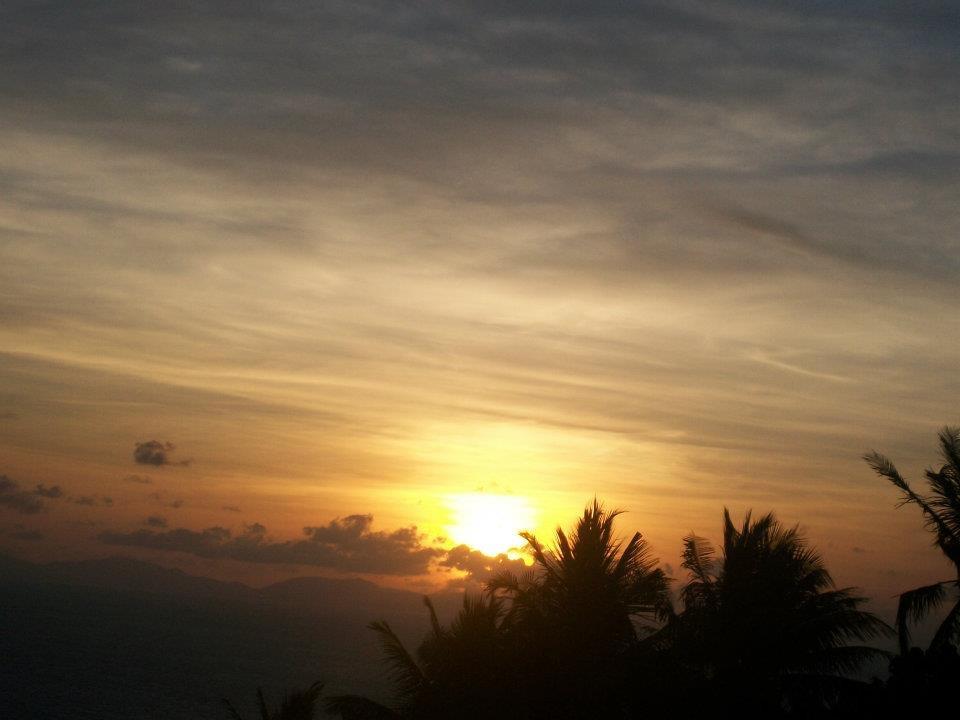 Walking down from the Koh phi phi's beautiful view point there is a lovely hotel where we stopped for an amazing Thai meal, Phi Phi Arboreal Resort.
Our last night in Koh phi phi was brilliant such a laugh (even sober). Dancing all night and jumping the fire skipping rope (don't get hit it burns). I don't think I could have been out in a better place! This islands vibe is amazing everyone friendly and there for a laugh such an easy going laid back life.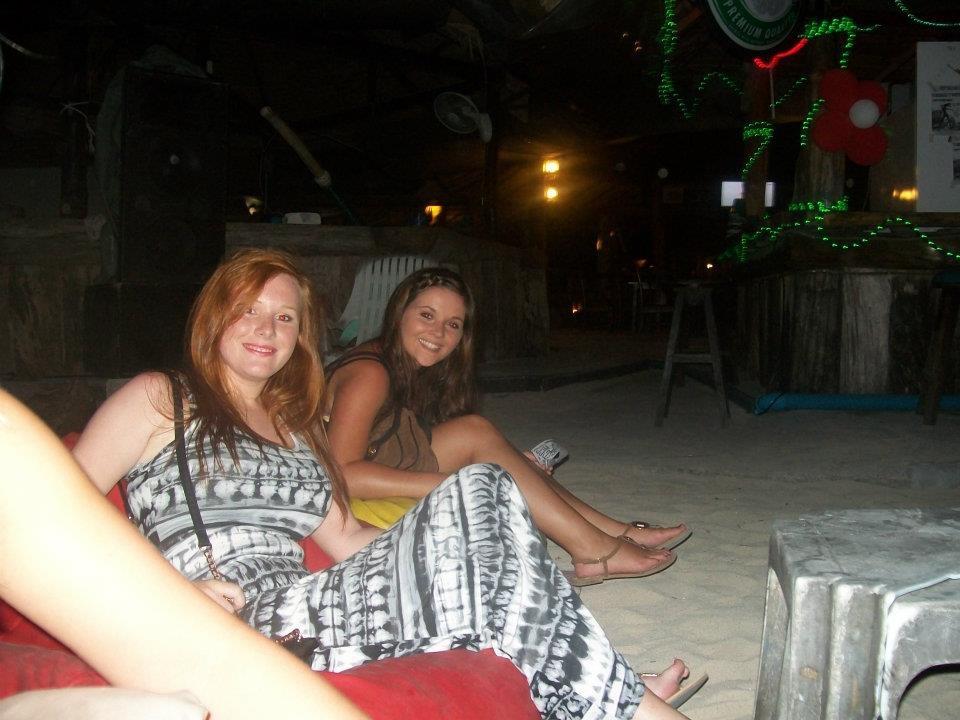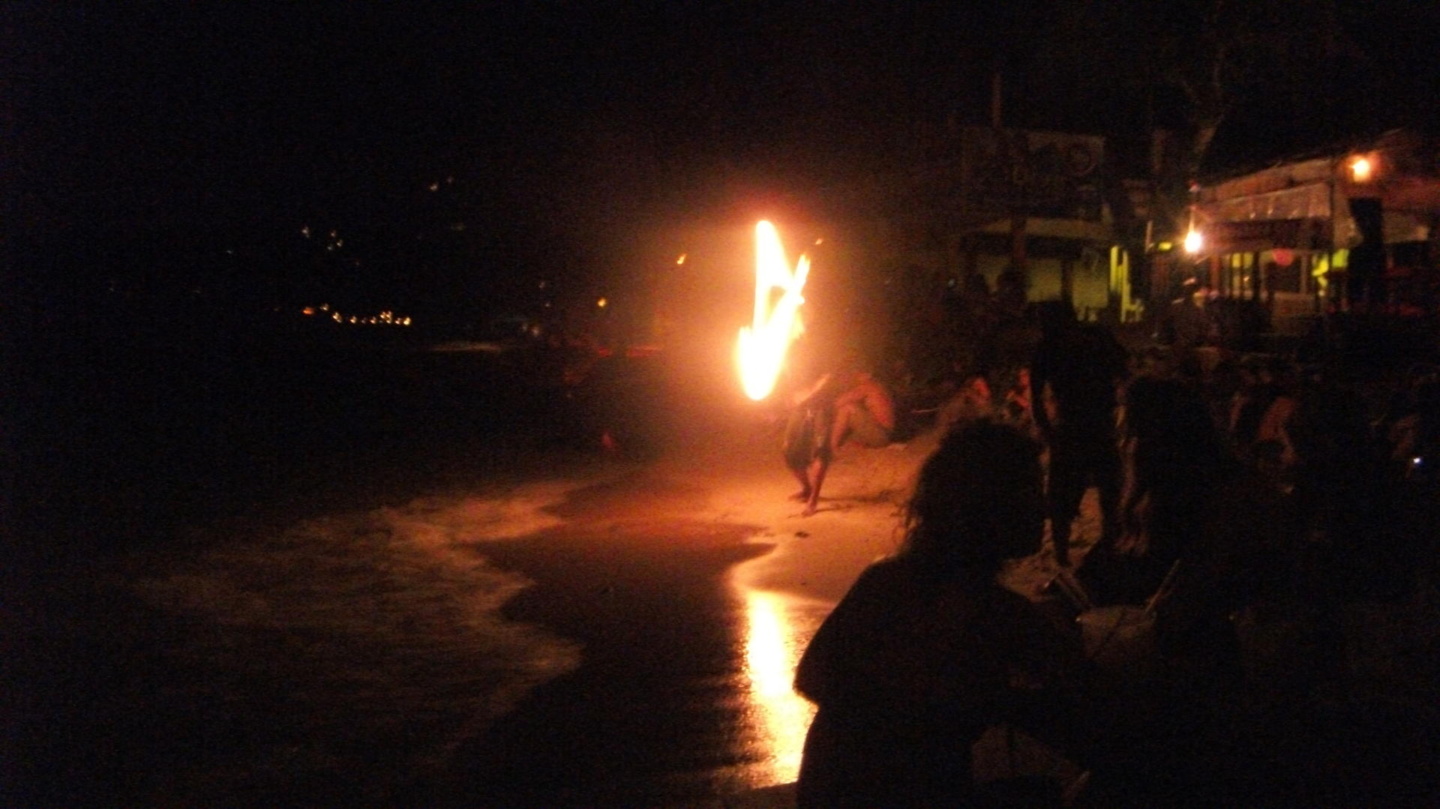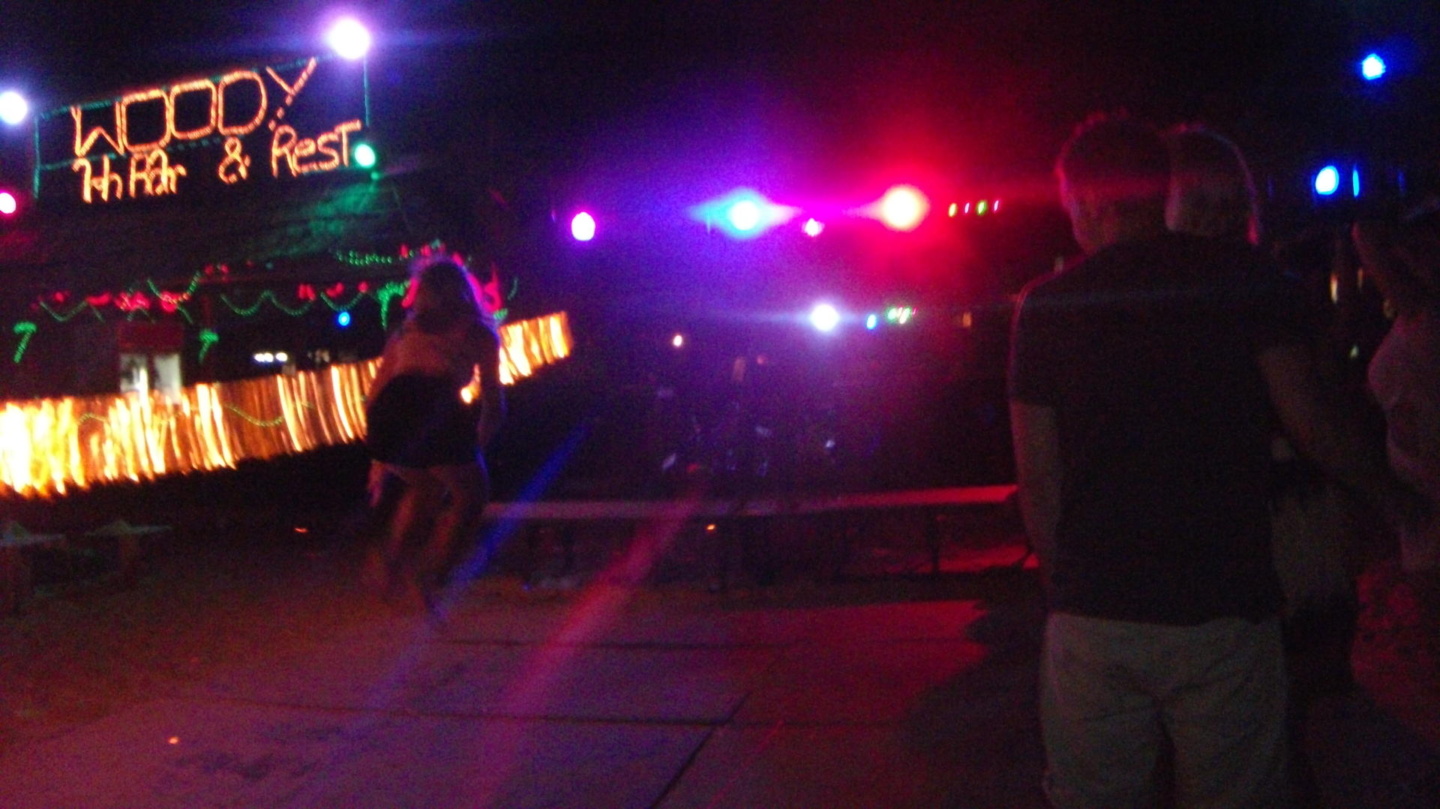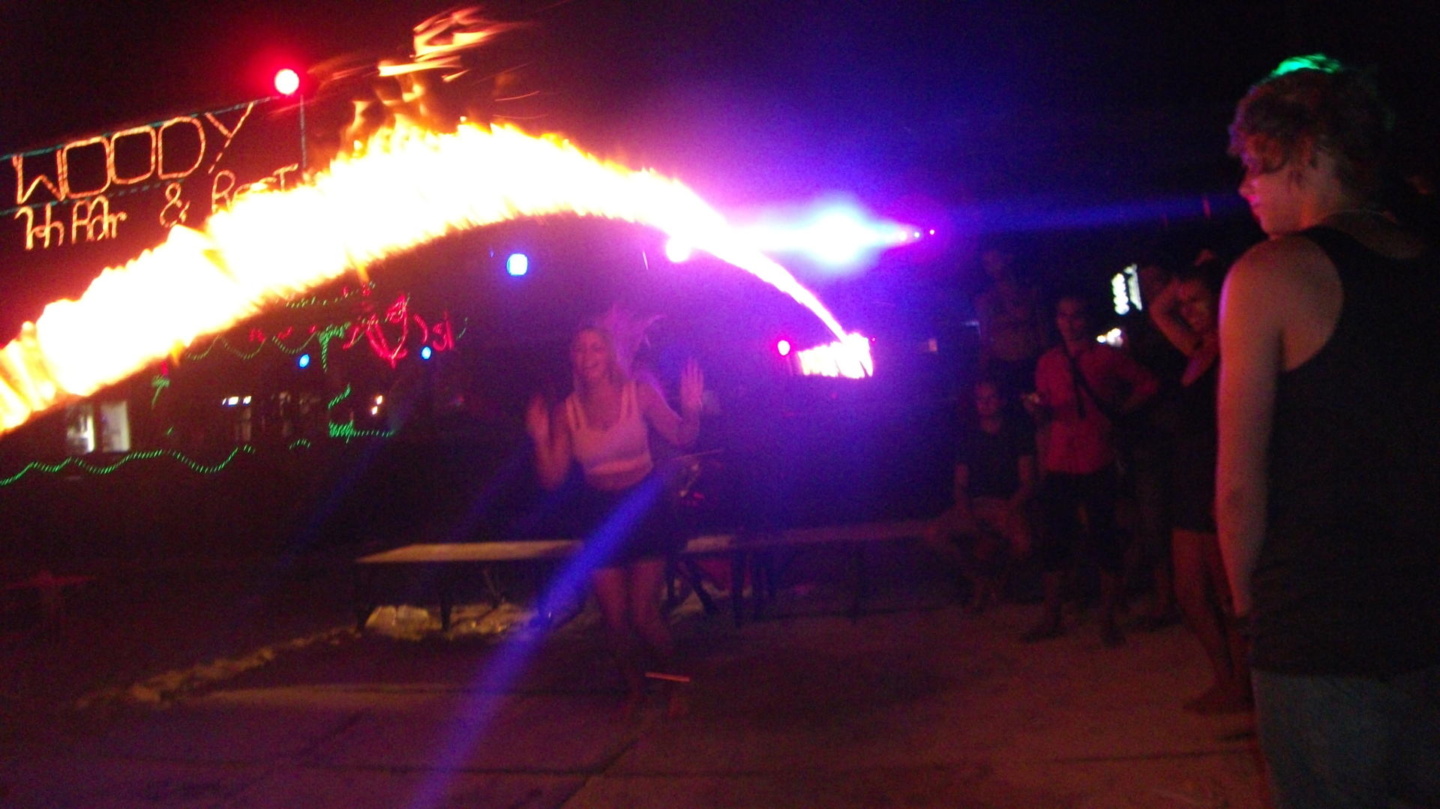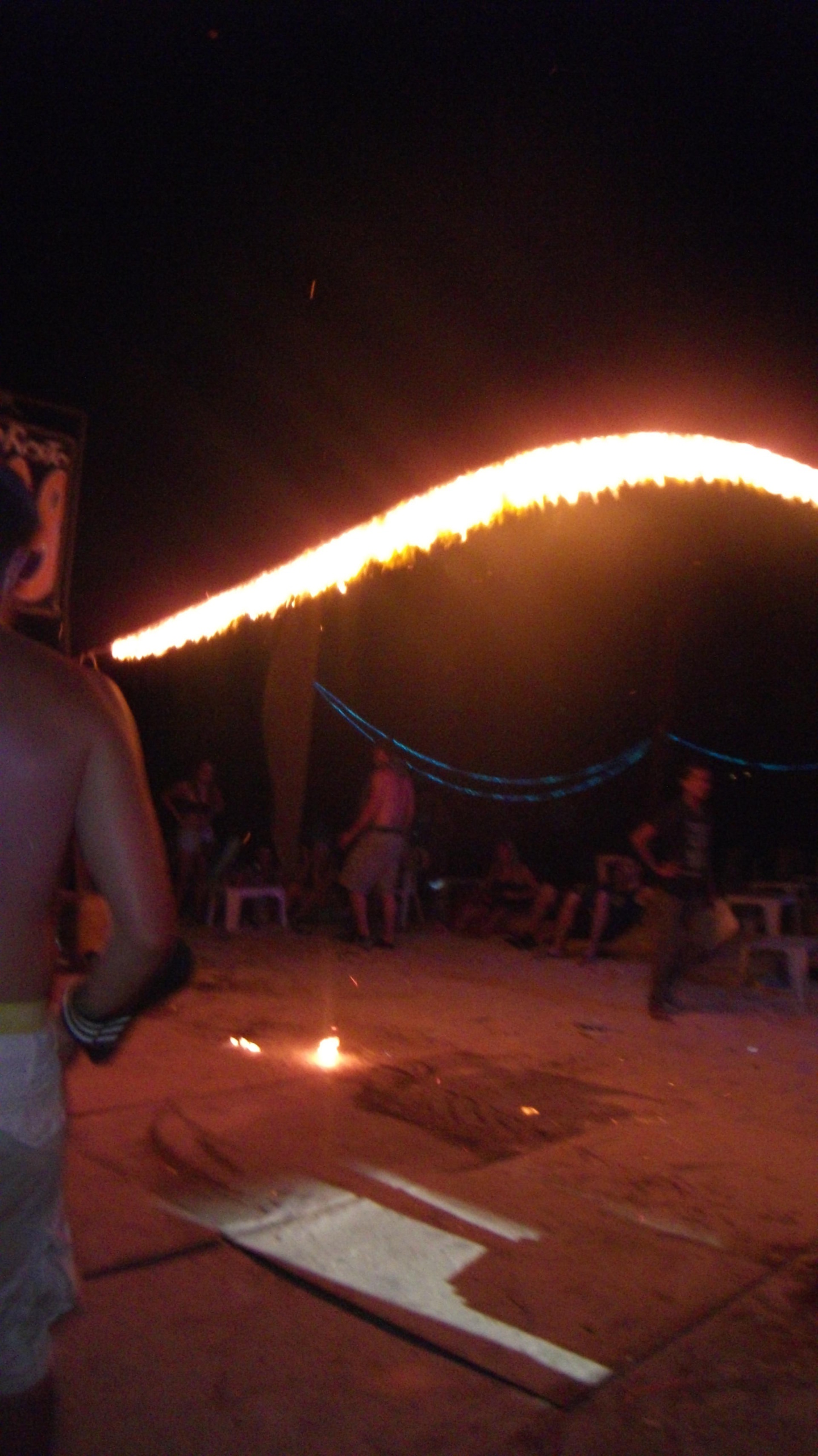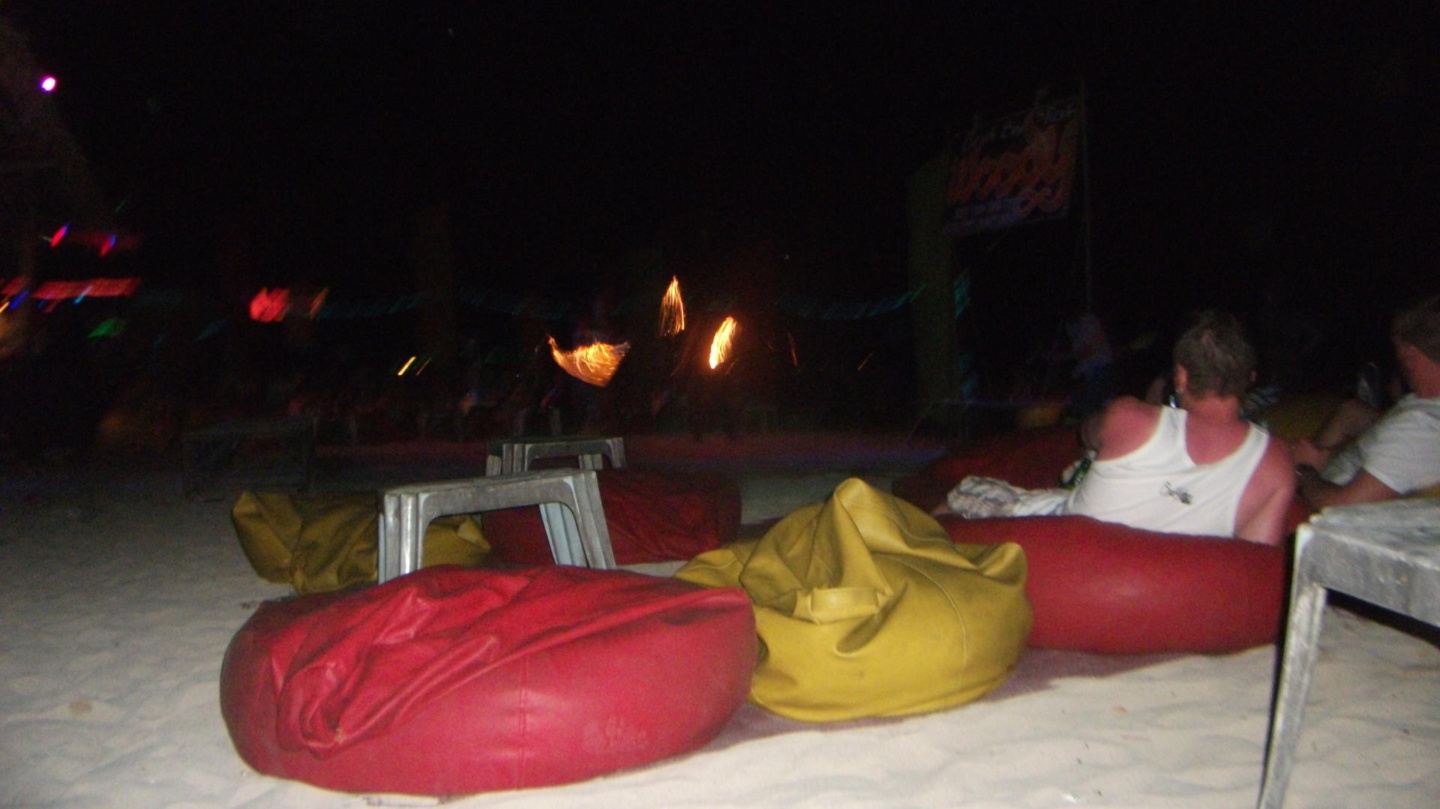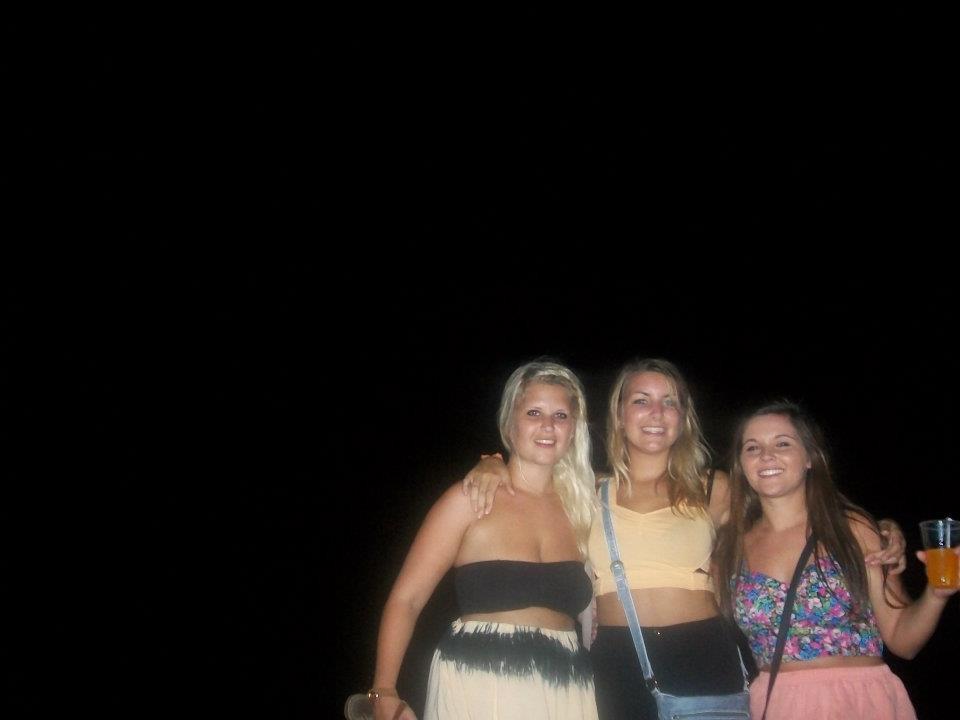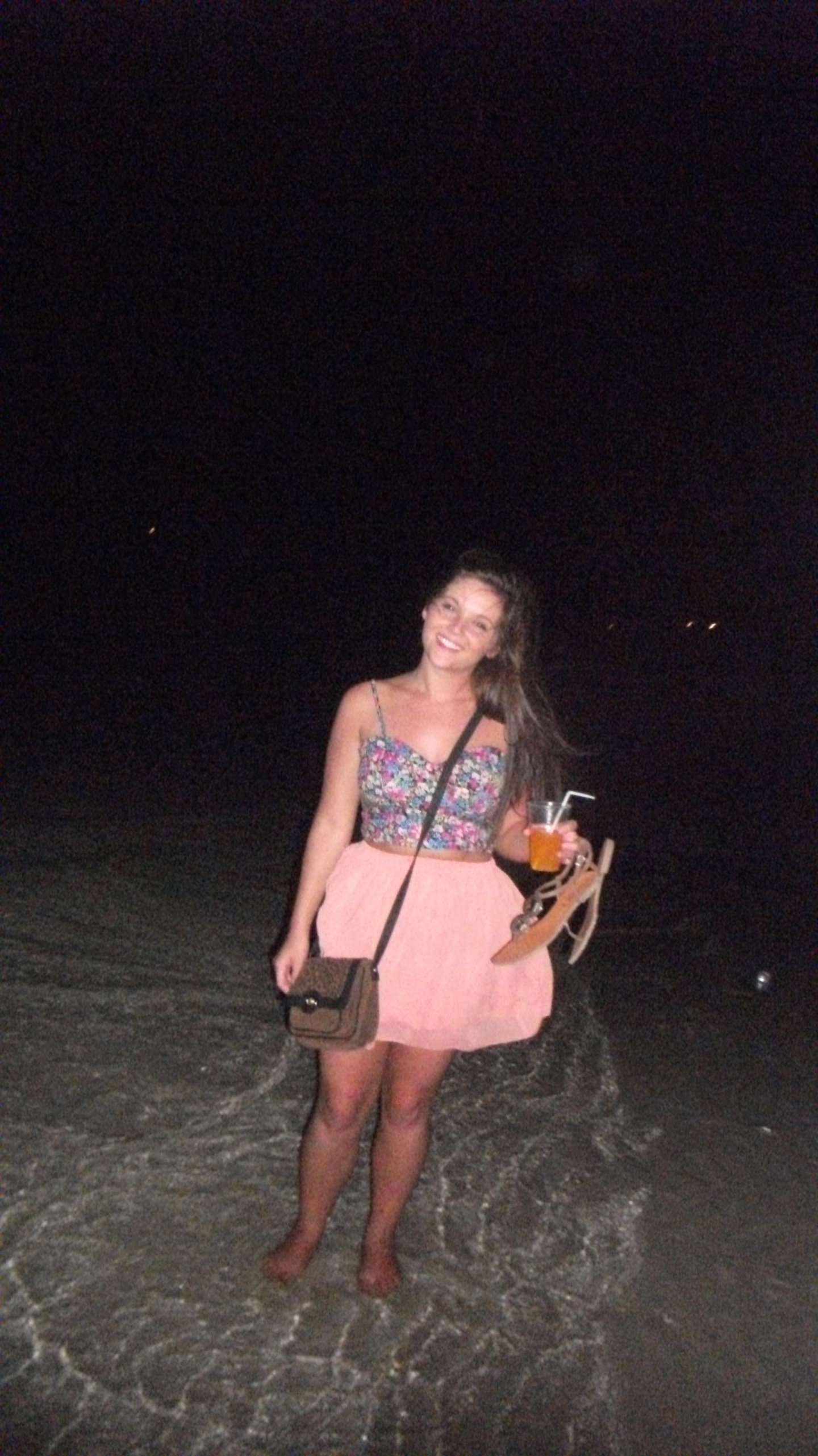 Day 8- Leaving Day
Our last day came around so fast, we were SO sad about leaving this amazing island but we had much more to come. We had done some washing and went to pick it up (beware items of clothing does get pinched). Making the last of this blissful place we chilled on the beach for the morning, before grabbing a sandwich from phi phi bakery for the road (highly recommended mine was amazing). We headed down to the port to catch our first ferry to Koh Phangan.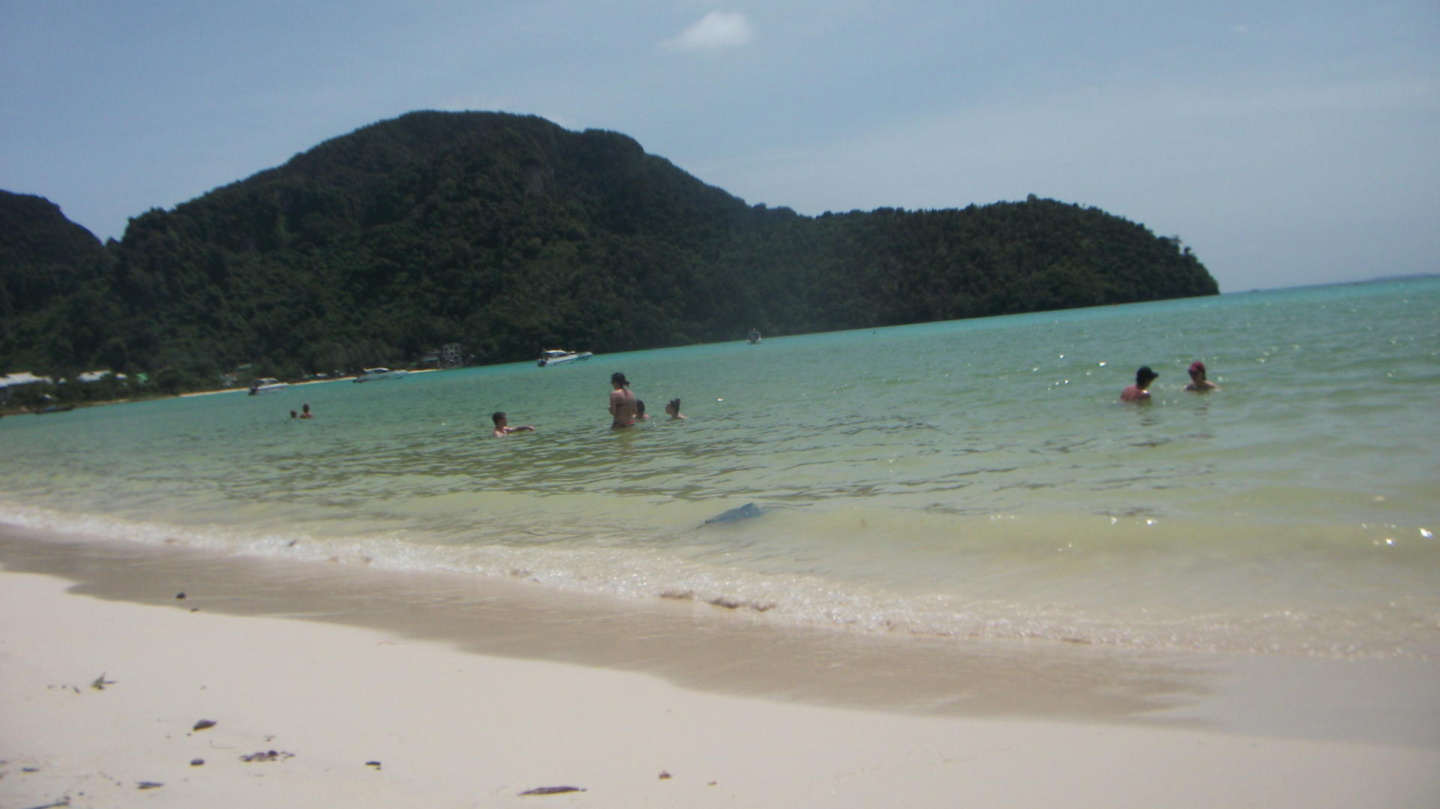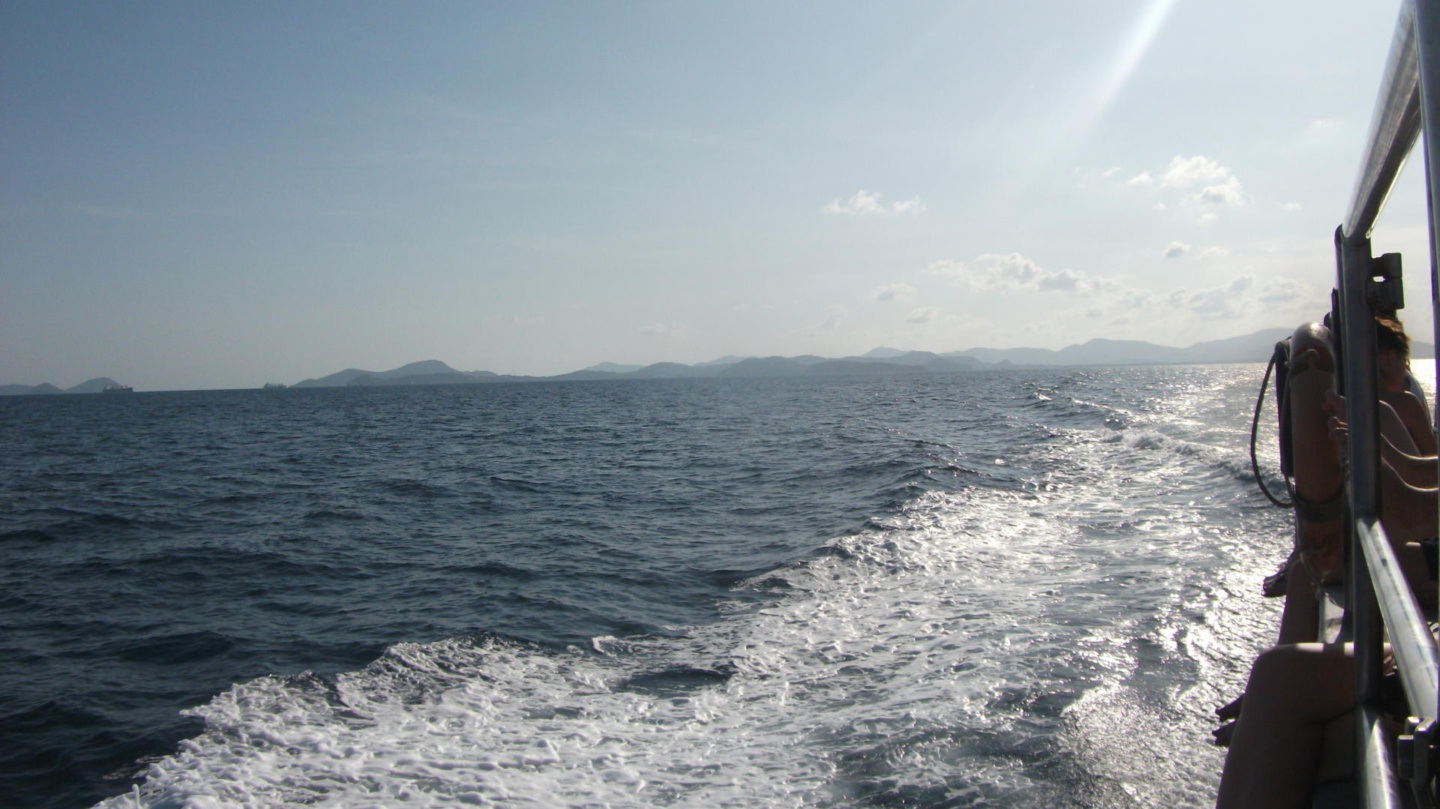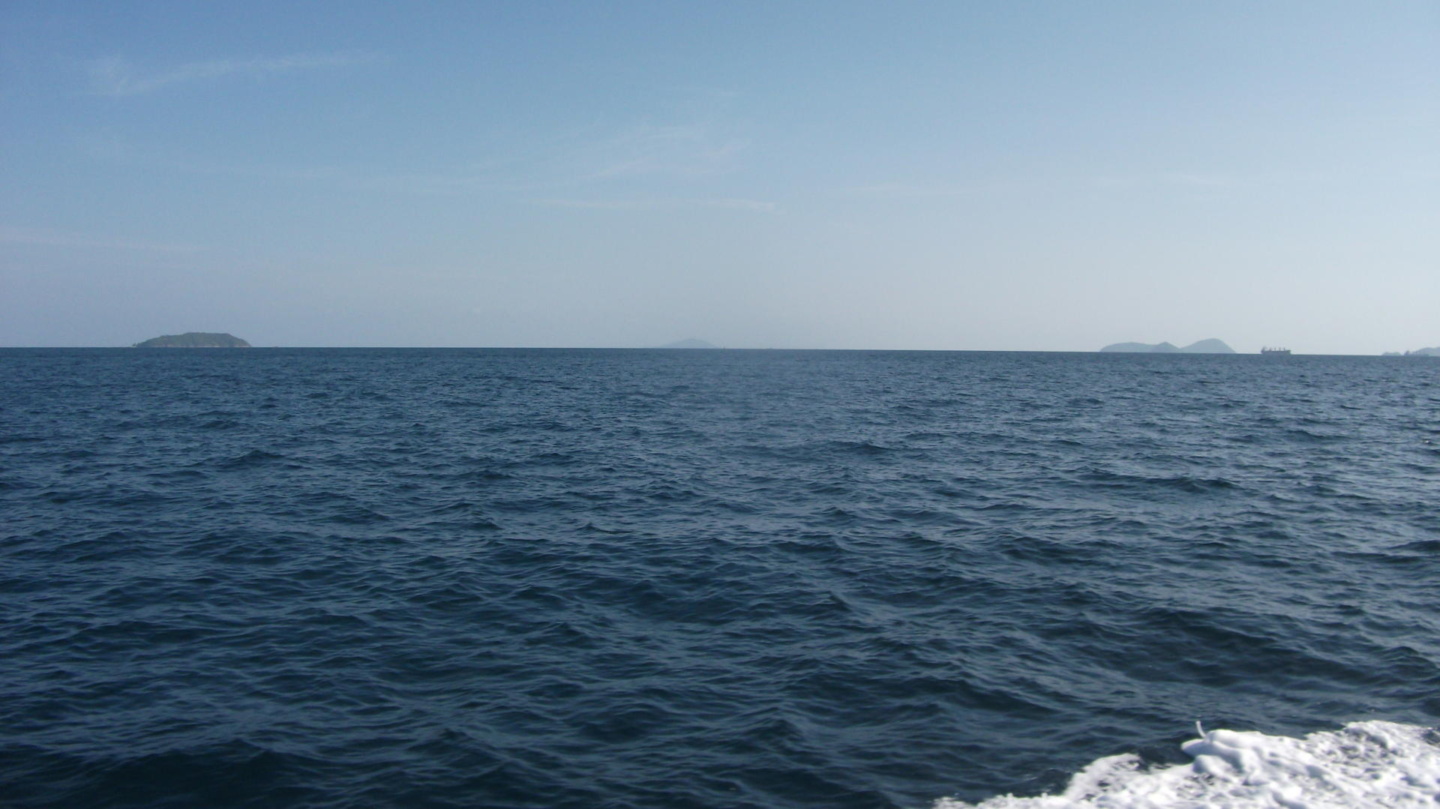 This island is incredible I had the best time here. It's not to be missed if you are going to Thailand. Whether you are there for a quiet break or wanting night life… this island has it all.
---
Coming up next… koh Phangan find out what we got up to in five days on the party island including full moon and discovering beaches…
---
What were your experiences of Koh phi phi? What did you get up to in your time there? Let me know in the comments below I would love to hear about your adventures.
Thankyou for reading
Bethan
xox