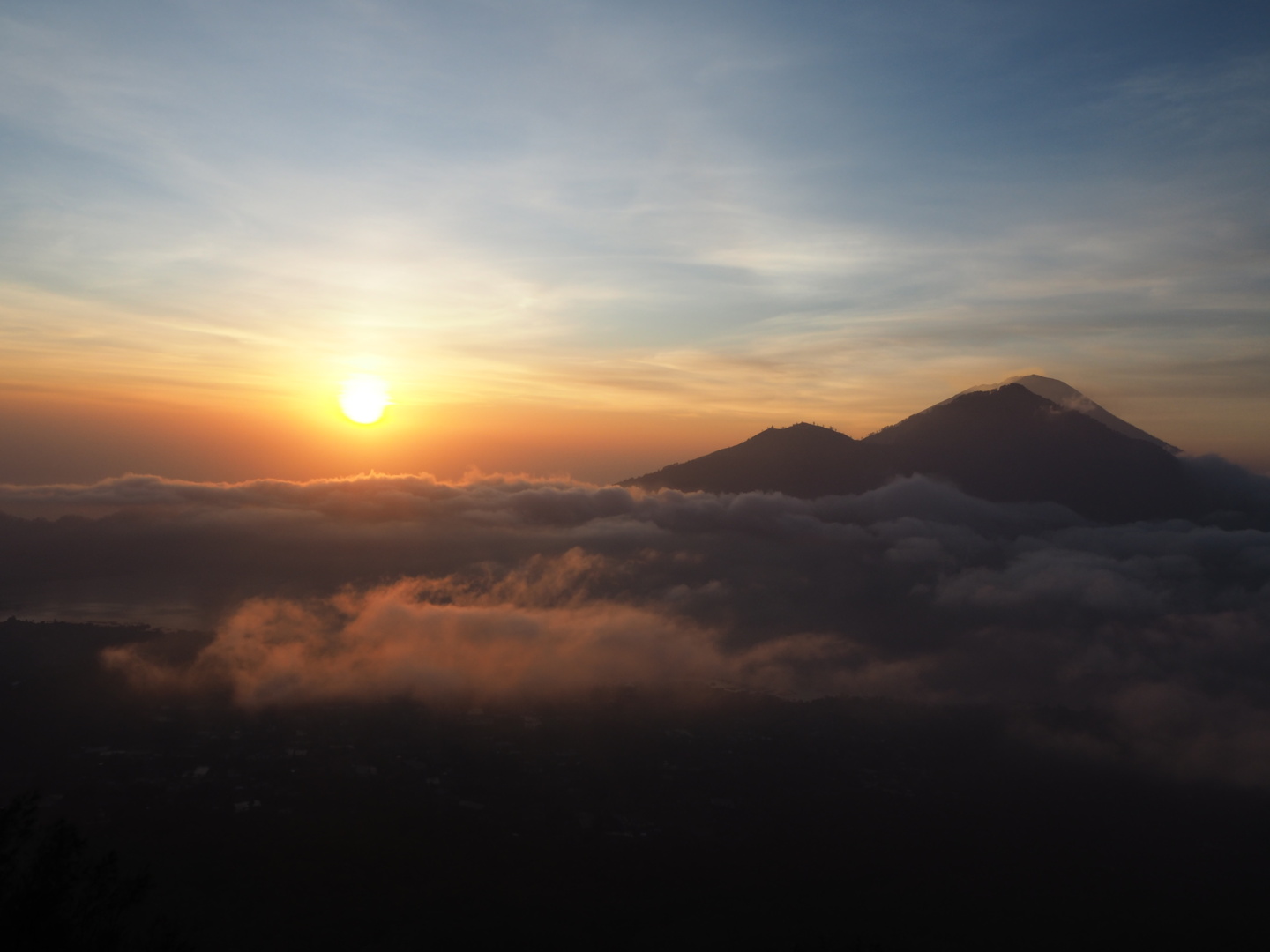 We arrived into Bali at 3pm and were picked up directly by the hotel. Our first stop of our trip was Ubud. I had read about the best way to organise transfer to Ubud from the airport. All advice was to arrange transfers direct with your hotel as some taxi serivces would not know where you hotel was around Ubud. So we opted for this as it was the most stright forward.
Where We Stayed
We stayed at The Kayon Resort, the hotel is set outside Ubud 15-20 minutes The Kayon resort is perched on Ubud hills side, surrounded with holy Petanu River. It is known for being more of a honeymoon hotel. It has just won lots of awards – the best adult only resort, best boutique honeymoon hotel, best honeymoon hideaway resort on Haute Grandeur. Wow they certainly lived up to all of our expectations I can honestly say it was one of the best hotels I have ever stayed. everything to the finest detail planned and prepared for its guests.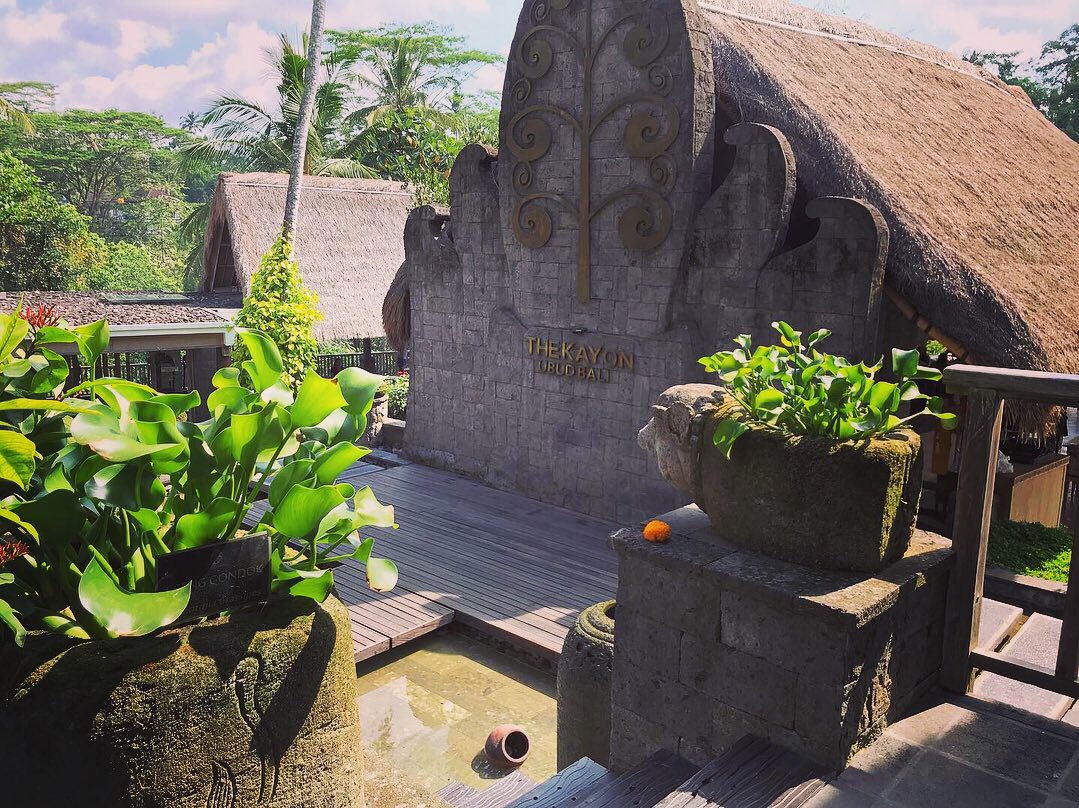 Day One – Arriving into Bali
We had the warmest of welcomes into our incredible hotel including flower necklaces and welcome drinks. Once shown to our room including a flowerbed and bath.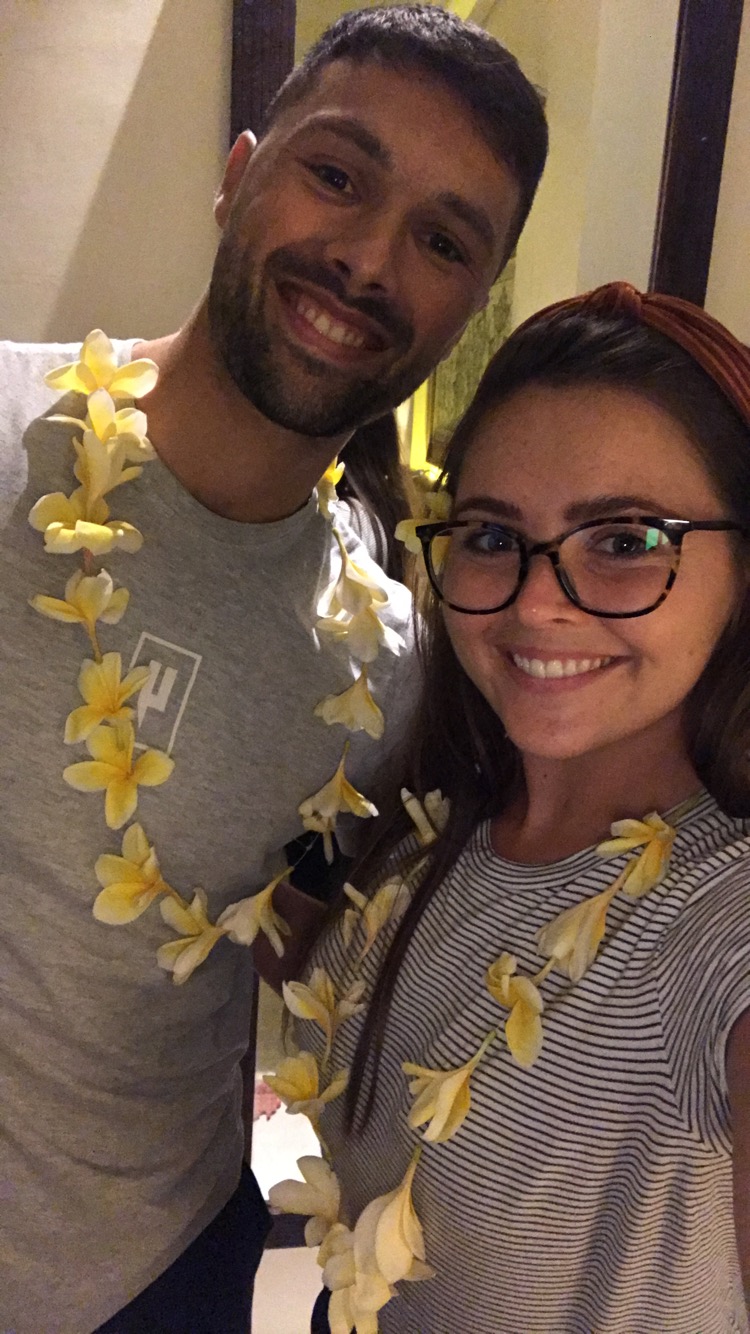 After refreshing after more than 20 hours travel we had dinner at the hotel and drinks. Our first taste of Balinese food was a good one everything was delicious. Spring rolls, Crispy duck and balinese chicken curry plus cocktails and beer 370kIndonesian Rupiah (£20).

After that it was back to the room to lay horizontal for a change and it was bliss.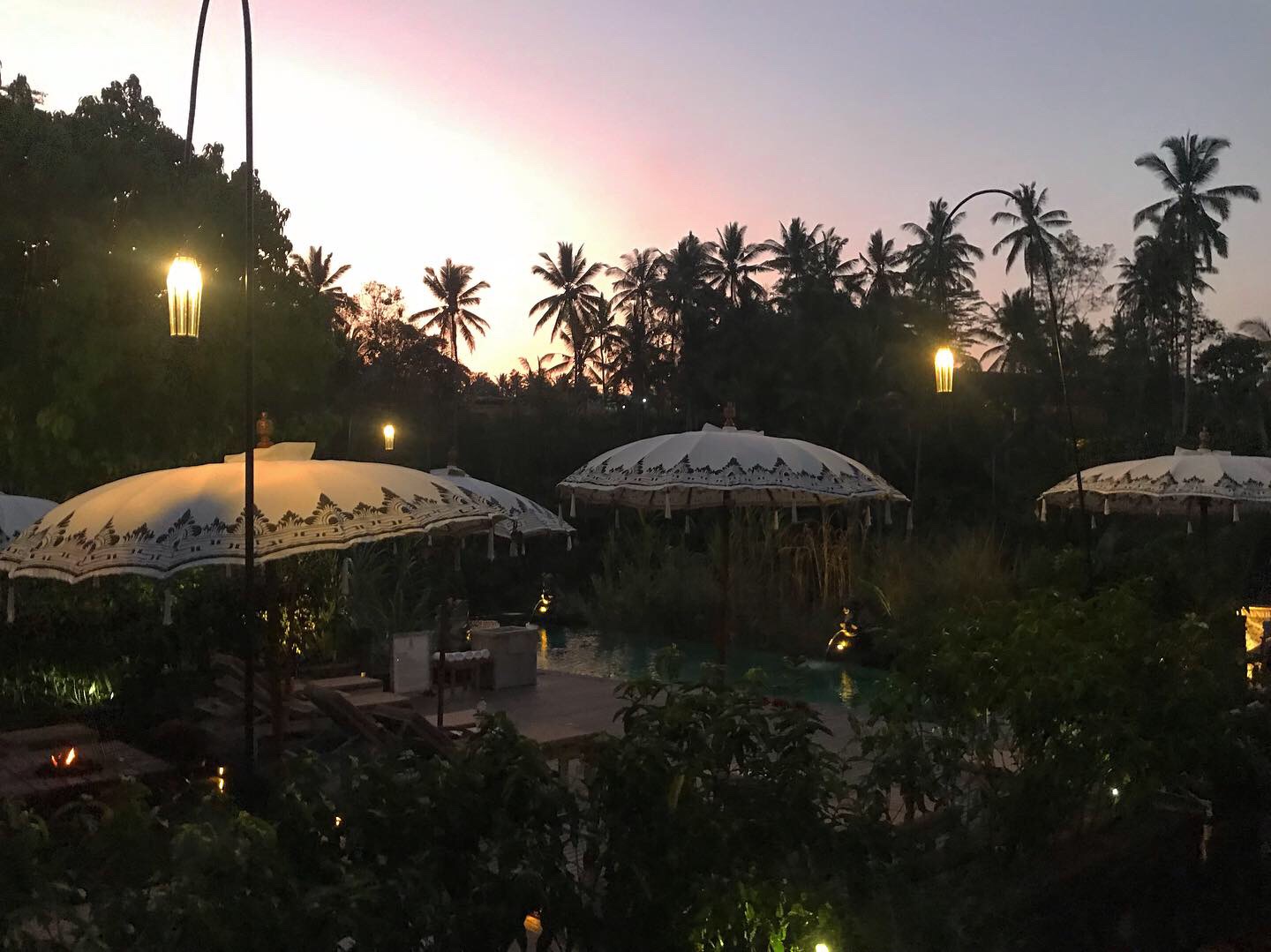 Day Two – Hello Ubud
After a great sleep and a lazy morning we had al a carte breakfast at the hotel and relaxed by the pool. Our hotel offered shuttles to and from the hotel to ubud centre every hour. Jumping on the next one to explore Ubud's centre.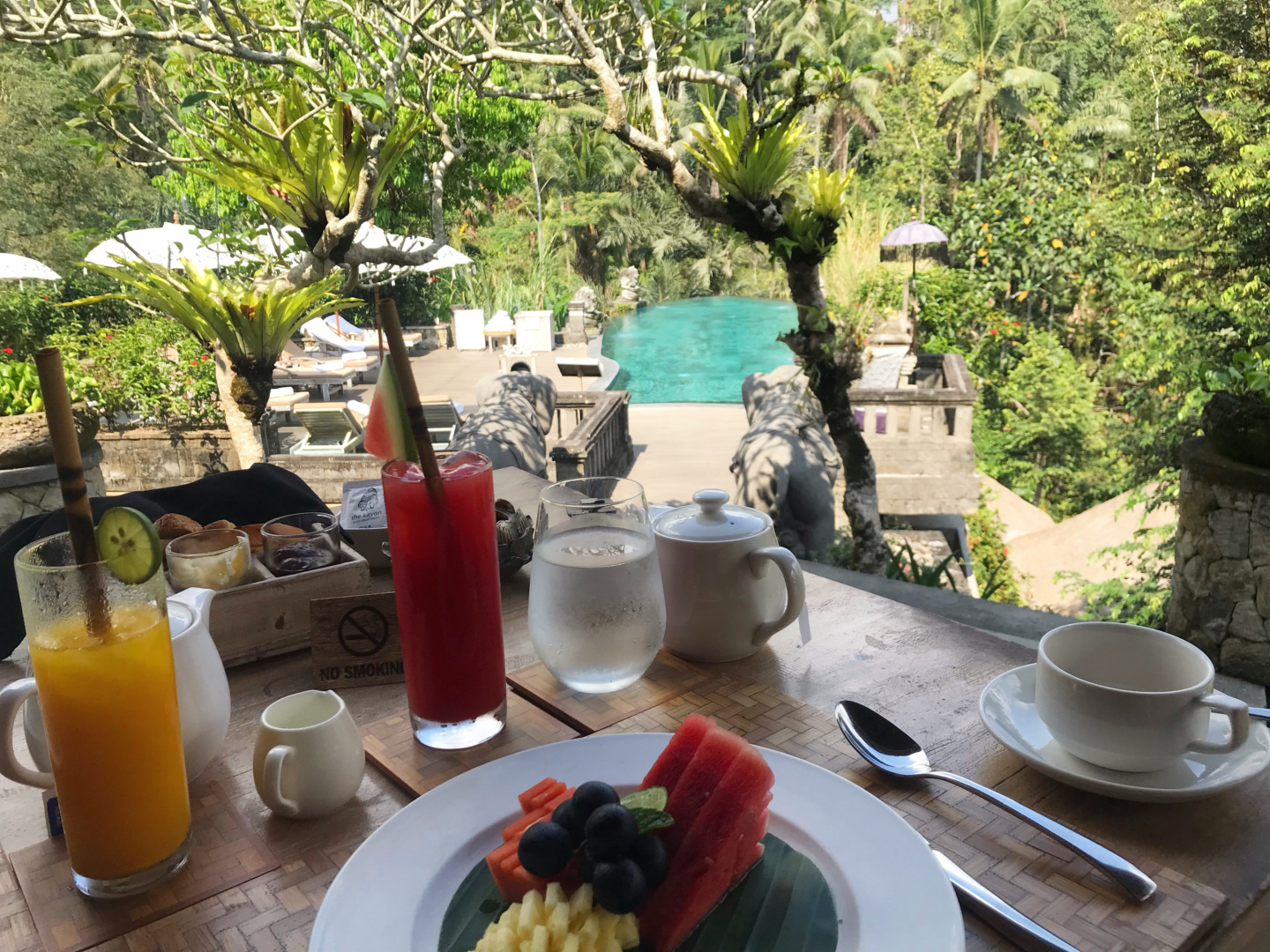 We had iced coffees in Hippy fish to cool off after a short wander in the heat. After this we had a wander around Ubud art market to browse all of the traditional art and handicrafts made locally in neighbouring villages; beautiful silk scarves, lightweight shirts, statues, kites, handmade woven bags, baskets or hats and homewear up for grabs.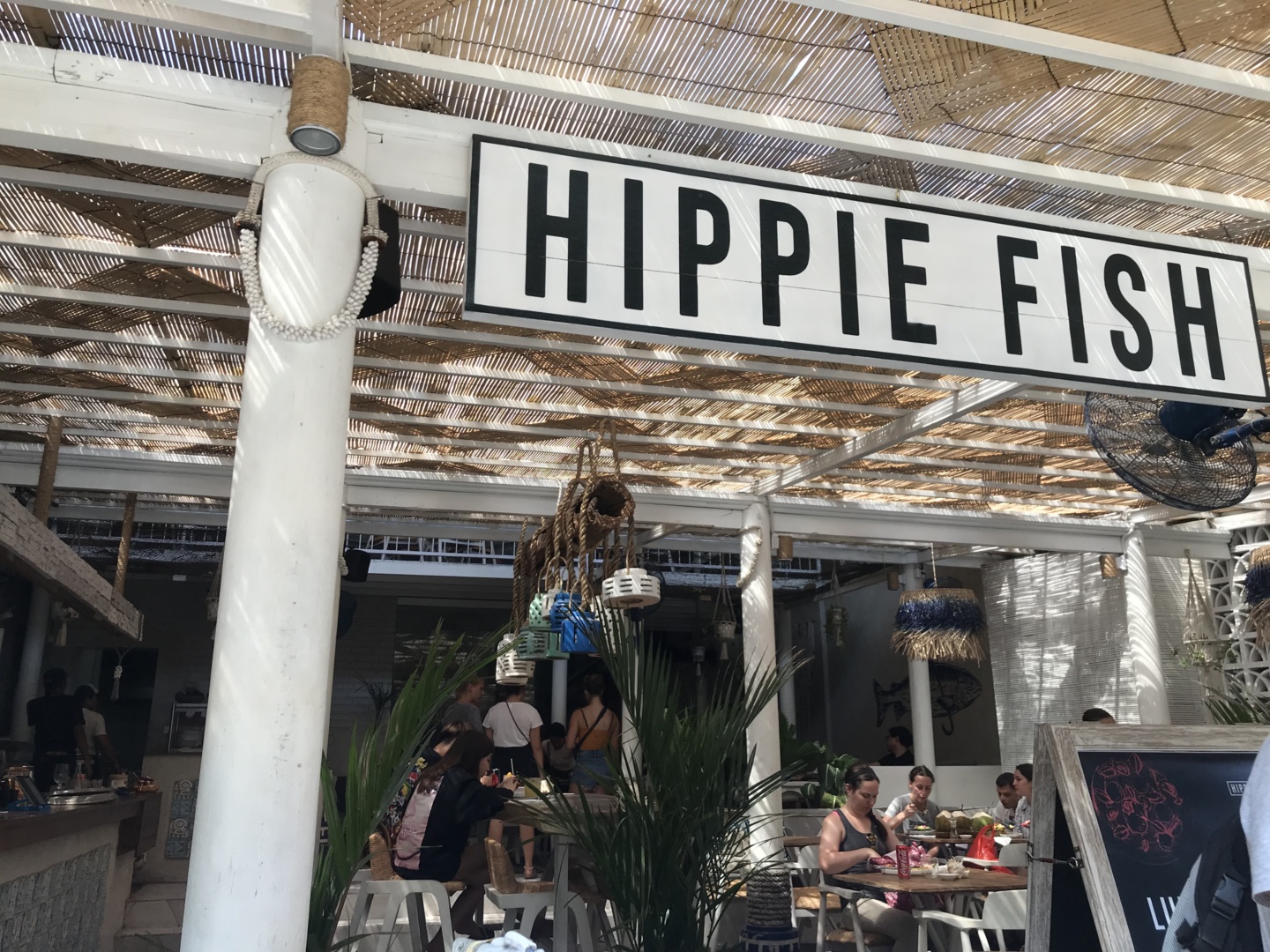 After a wander around the market we decided to do the Camphuan ridge walk. The best time to do this is early morning or late evening when it is cooler. We walked it in the midday heat and although totally do able it was very hot. There are lots of places to stop for a drink or refreshments if needed. We enjoyed a drink overlooking rice terraces.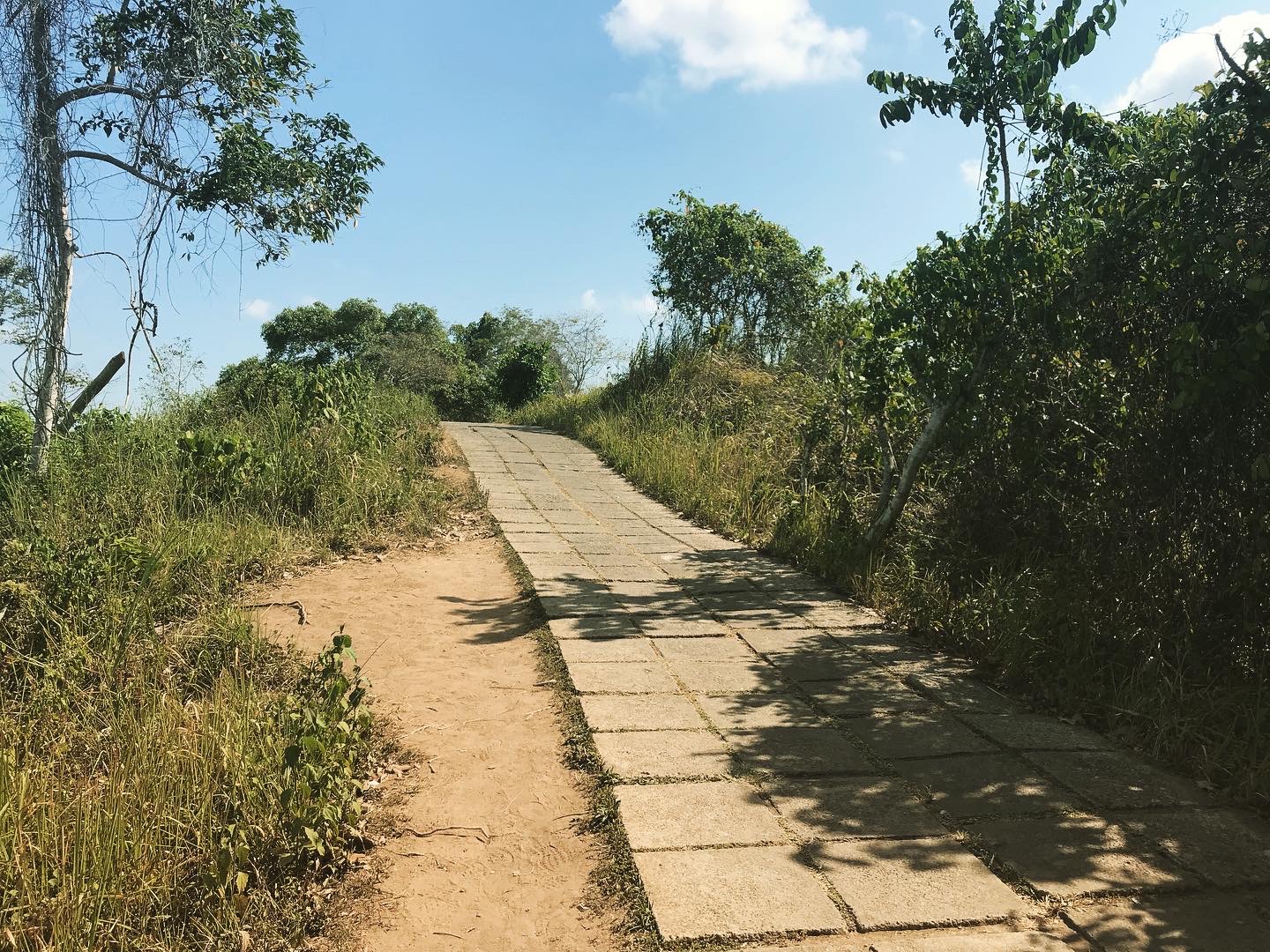 For lunch we stopped at Tacos Cantina for well, tacos. They did not disappoint I would highly recommend stopping if you enjoy a good old Mexican taco in Ubud.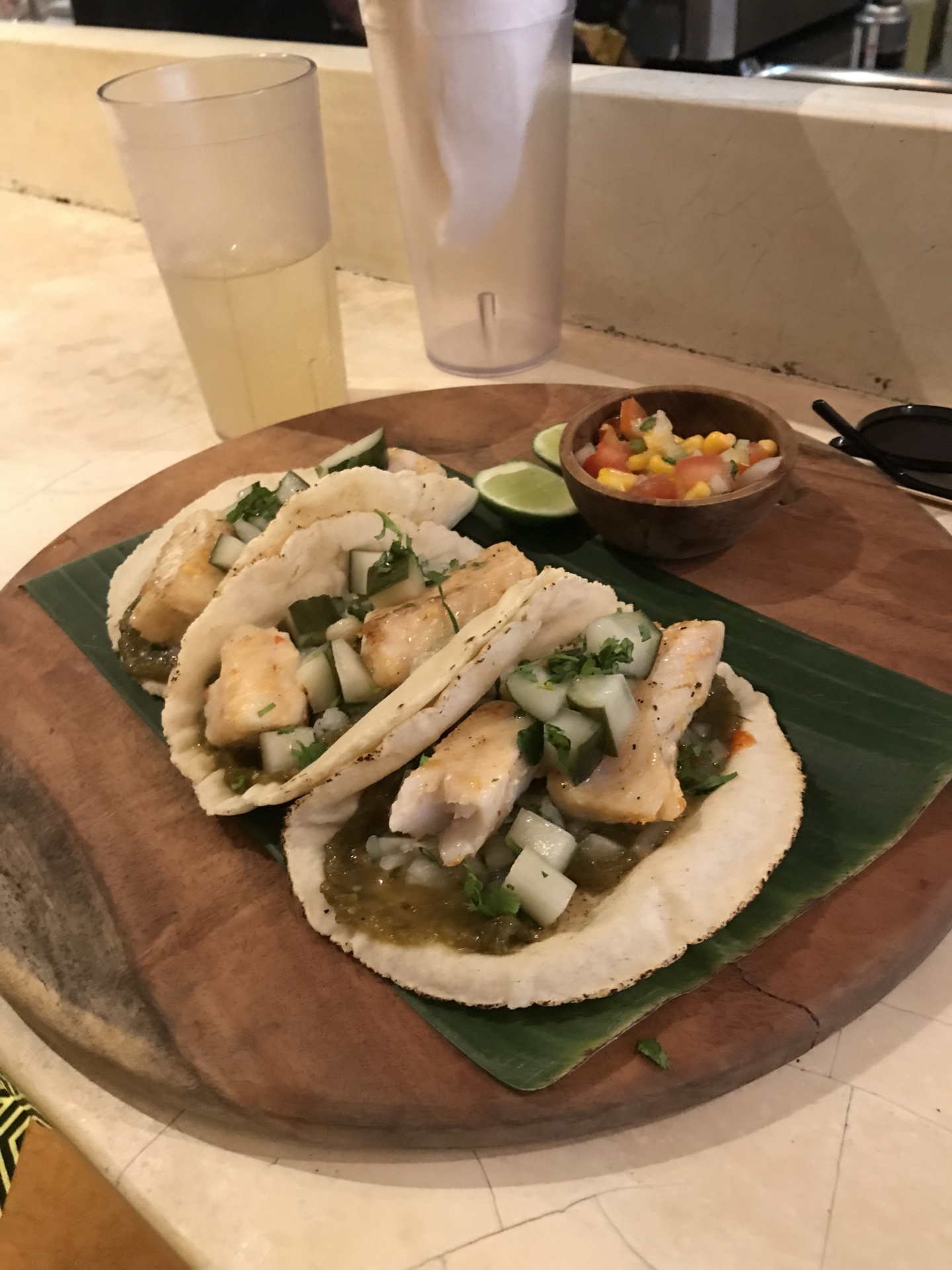 In the evening we had cocktails at Mingle for happy hour (until 9pm) and walked to The Copper Kitchen for dinner. Another of my finds on instagram that looked incredible and did not quite live up to the hype. Although the food was delicious it was just in the middle of no where from where we walked anyway.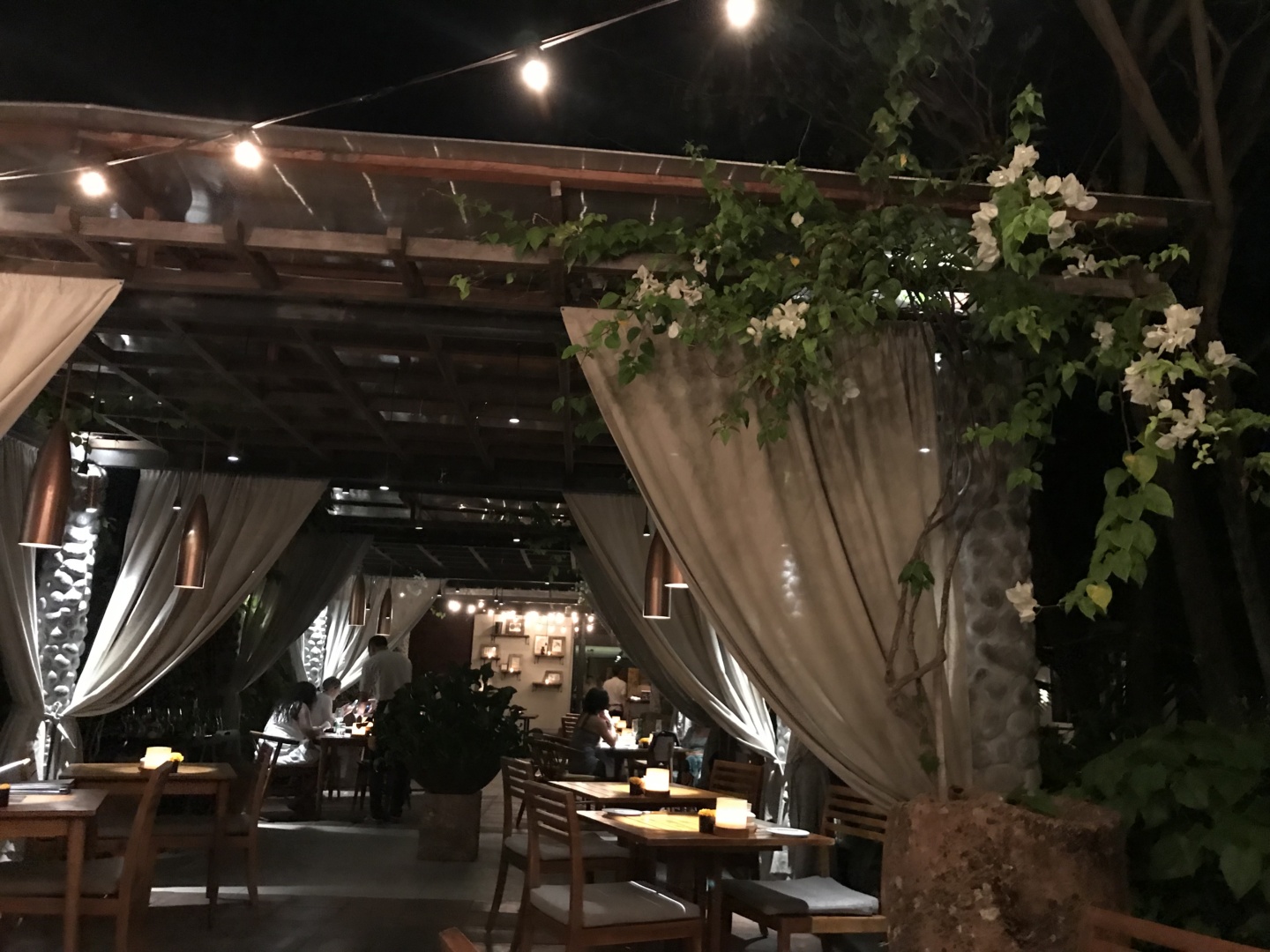 Day Three – Exploring Monkey Forest and Rice Terraces
Early bird catches the worm, I woke early and went to Yoga offered by the hotel. I loved doing this most days in Ubud I could totally get used to that. Jet lag was losing the battle it was time to get out and see more of our few days in Ubud. Another incredible breakfast to start the day. First stop of the day was to get into Ubud and explore more of what it had to offer. From our drop off point we walked to The Sacred Monkey Forest 80IR each to get in. I remember how terrifying monkeys are from our back packing trip in Thailand. Many people had clips on their backpacks to stop the monkeys getting in, they tend to jump on peoples backs with backpacks on – (be warned).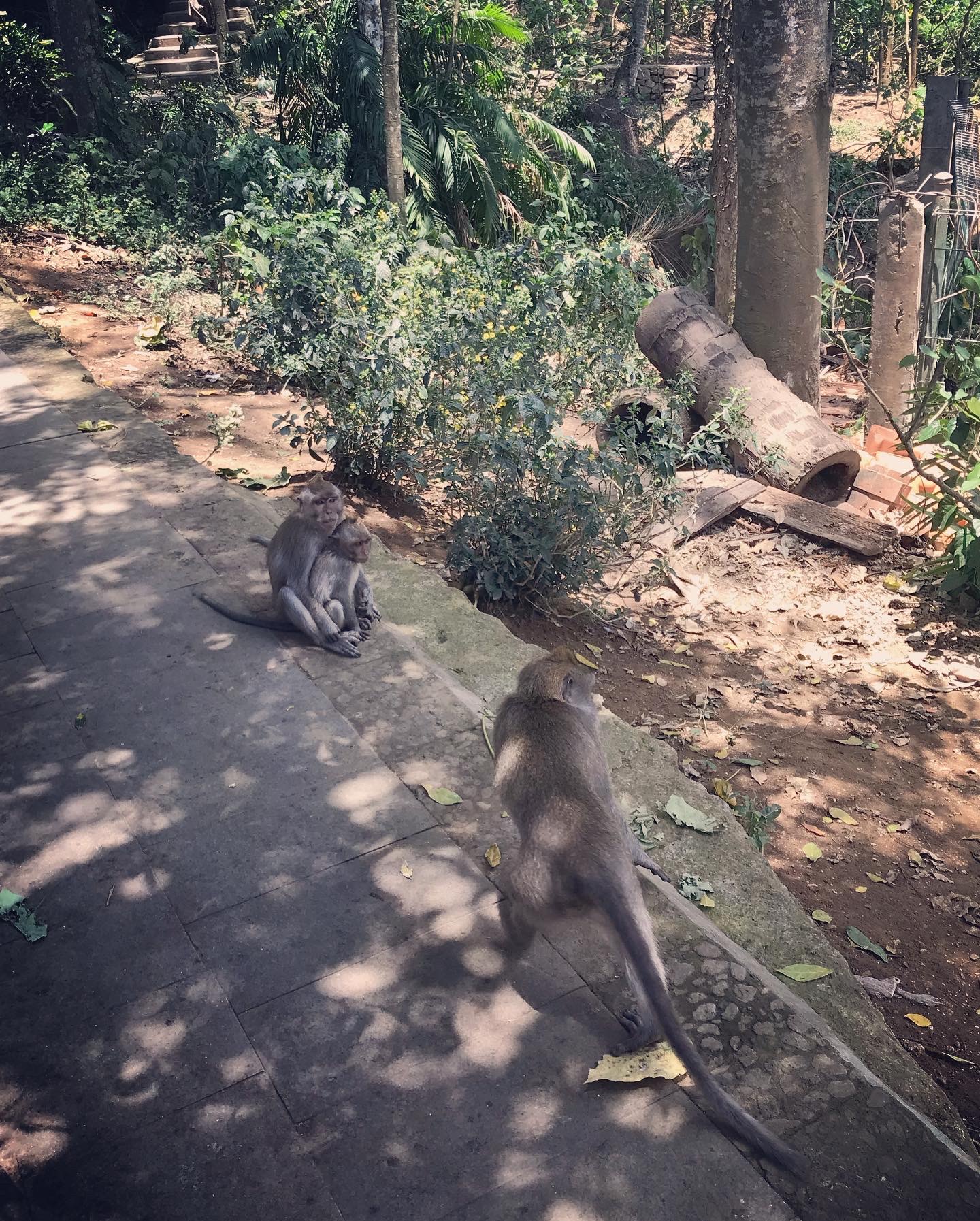 We were witness to monkeys jumping on people, stealing food, shiny objects and head phones.
The walk around was a very high stress environment (at any moment a money could jump on us) and exited at our earliest convenience, we stumbled across the cutest cafe having a soft launch – The Black Sheep Cafe. It was very cool in the way lots of Ubud cafes are trendy, I ordered a ABC G juice and banana bread and I still think about it now. It was delishious.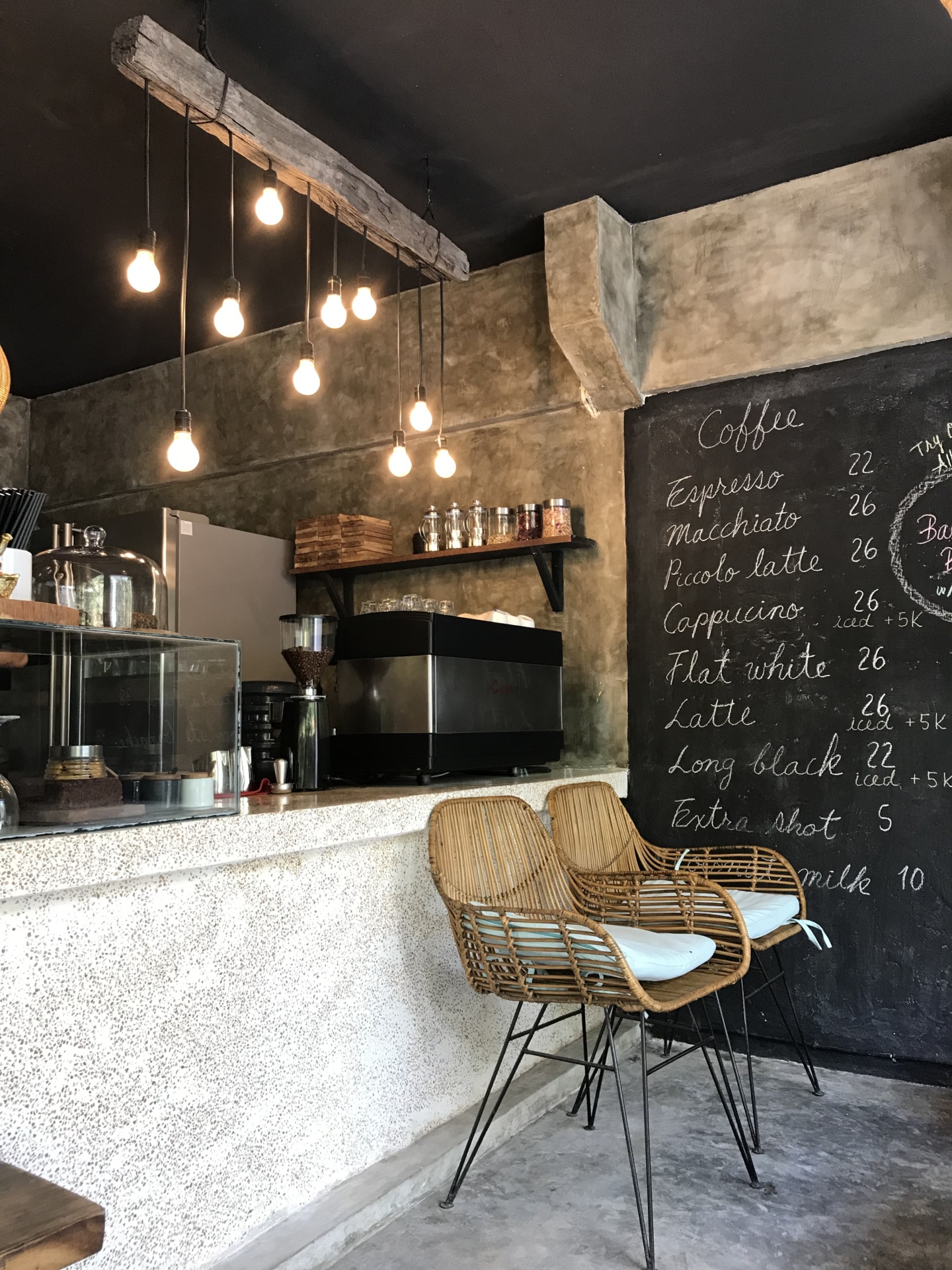 Al that walking around exploring side streets and looking in boutque shops it was time for lunch. We called at Atman Nourish for lunch, more fesh juices (we drank so many varieties all over bali) and Satay chicken to eat. An incredible lunch with with an incredible view to match.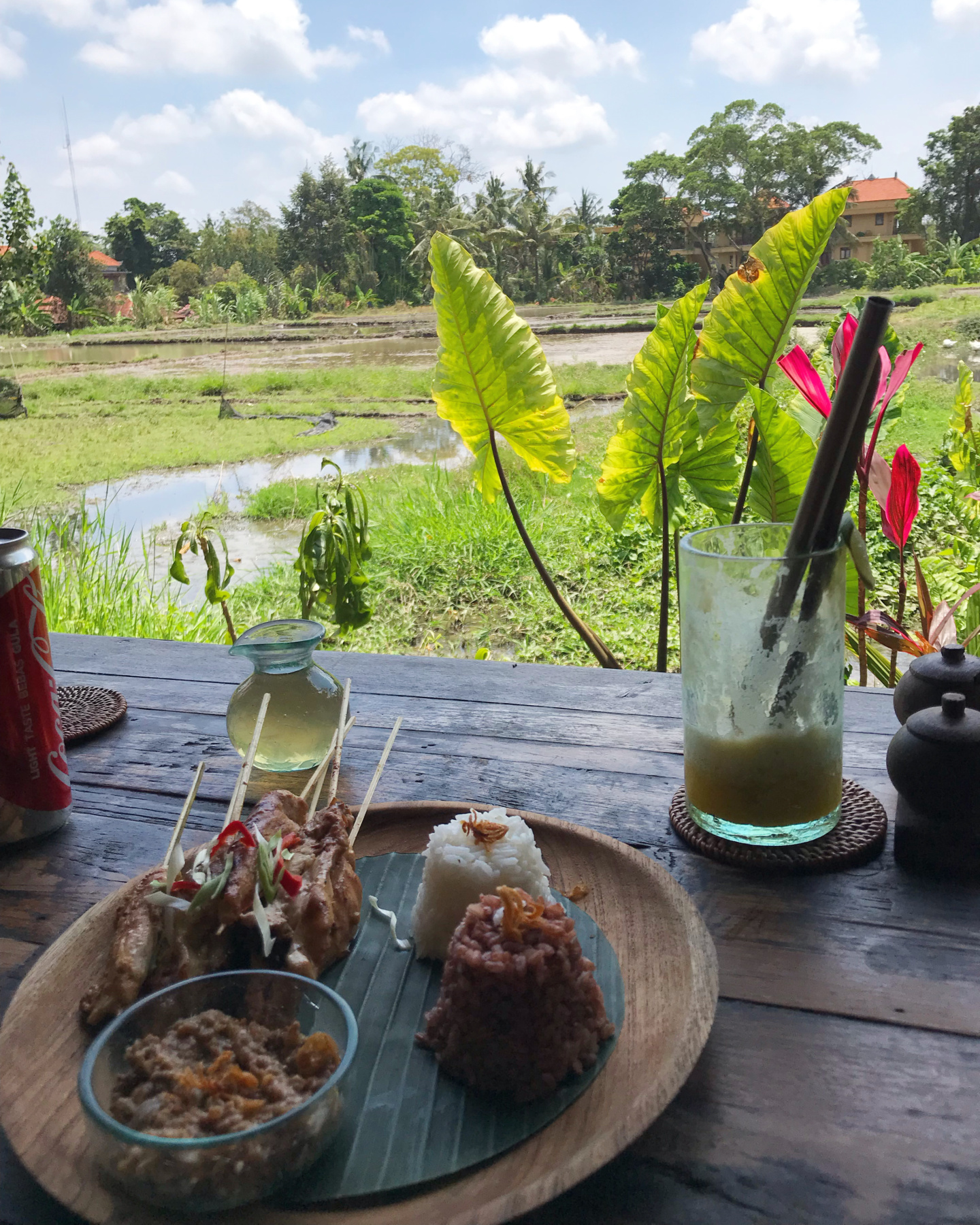 For the afternoon
A relax by the hotel pool as we had booked such an incredible hotel we felt like we really needed to enjoy it. After a relax by the pool we decided to viist the rice terraces as we would not have tie otherwise.
We got a taxi from the hotel to Tegalalang Rice Terrace, for 125k IR (£6). The entrance fee was 10k IR , it was busy when we arrived but here was still quiet places away from crowds. This is one of Ubud's biggest attractions so expect crowds. As you move around the rice fields farmers ask for 'donations' as you pass through their fields. We did not mind this as we just gave small amounts and it hopefully goes direct to the farmers.
My advice would be visit early in the mornings as sometimes the farmers are not out yet.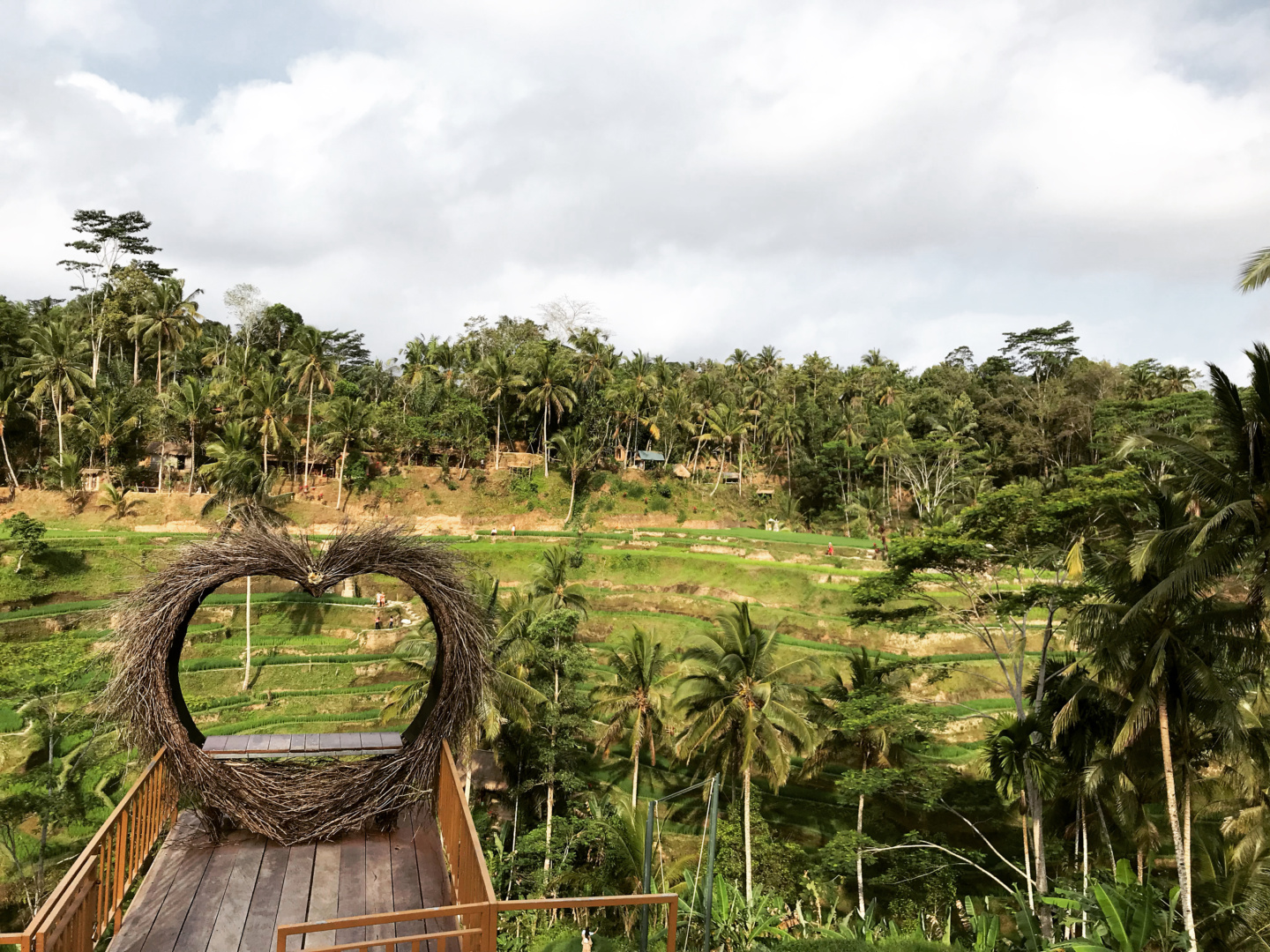 It is very busy as it is one of the biggest tourist destinations in Ubud. There are many bali swings if you fancy that also. Enjoy a drink above the terraces in the many bars with an incredible view of the terraces.
That evening we enjoyed a candle lit dinner at our hotel. We enjoyed the most incredible evening on the jetty of our hotel surrounded by petals and candles it was incredibly romantic. Five courses of amazing food.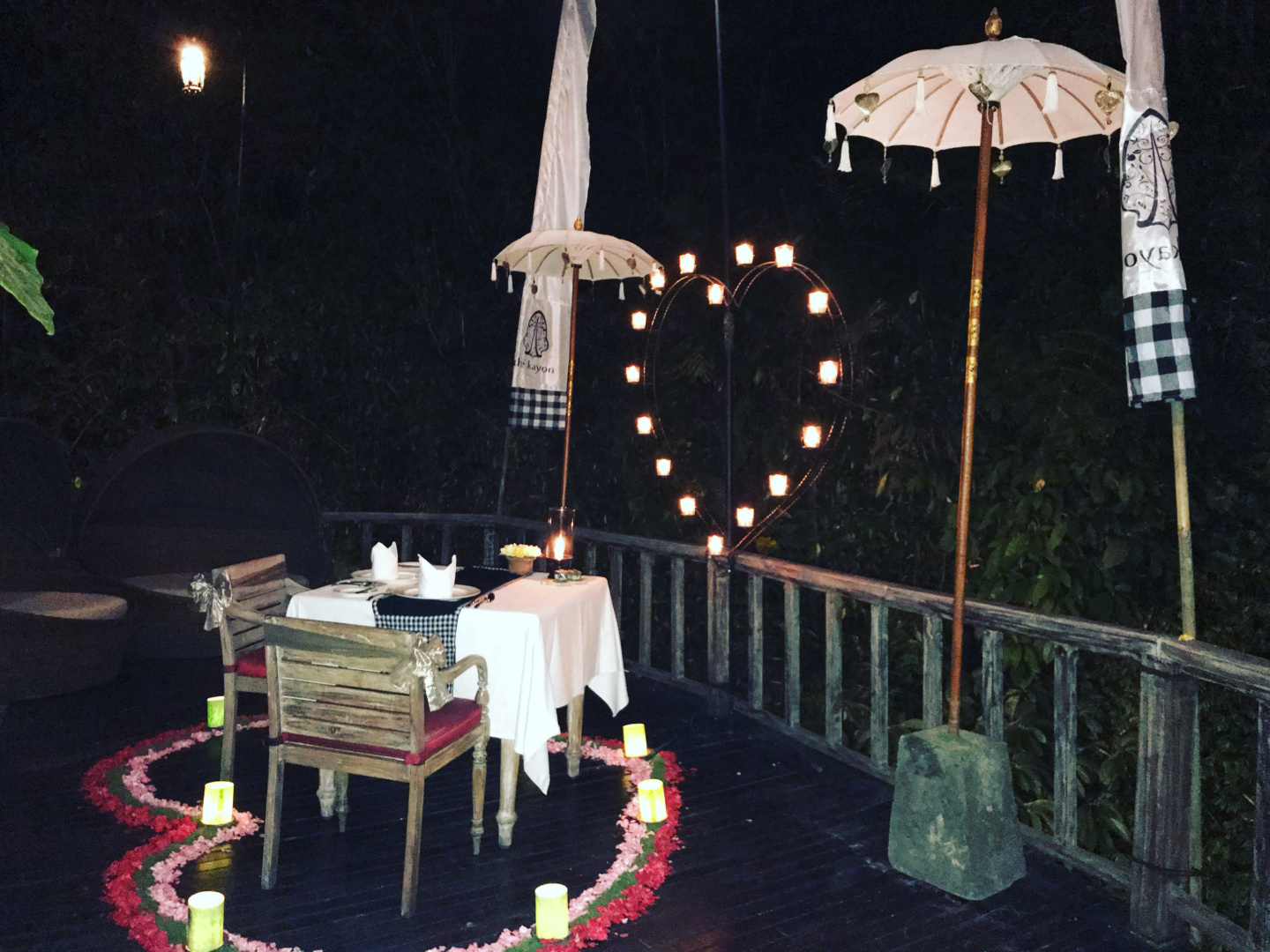 An early night much needed before tomorrow.
Day Four – Hiking Mount Batur
The previous day we had booked the sunrise trek up mount Batur direct with the hotel. It was 450k IR (£24) each. We had seen it around Ubud for around 300k IR (£16+) but thought we should book something with the hotel, they also prepared us a breakfast box for the morning.
Hiking Mount Batur is considered a Must when in Bali. Many people told me it was their highlight and not to miss it, perticually for a clear day.
There is a stop on the drive where you stop for banana pancakes and a hot drinks before meeting at base camp. Here you meet your guide, ours was a young lad named Agus who was 17. We set off the six of us in our transfer and Agus gave us torches.
Once the sun had risen we began the walk down, and wow it got hot!!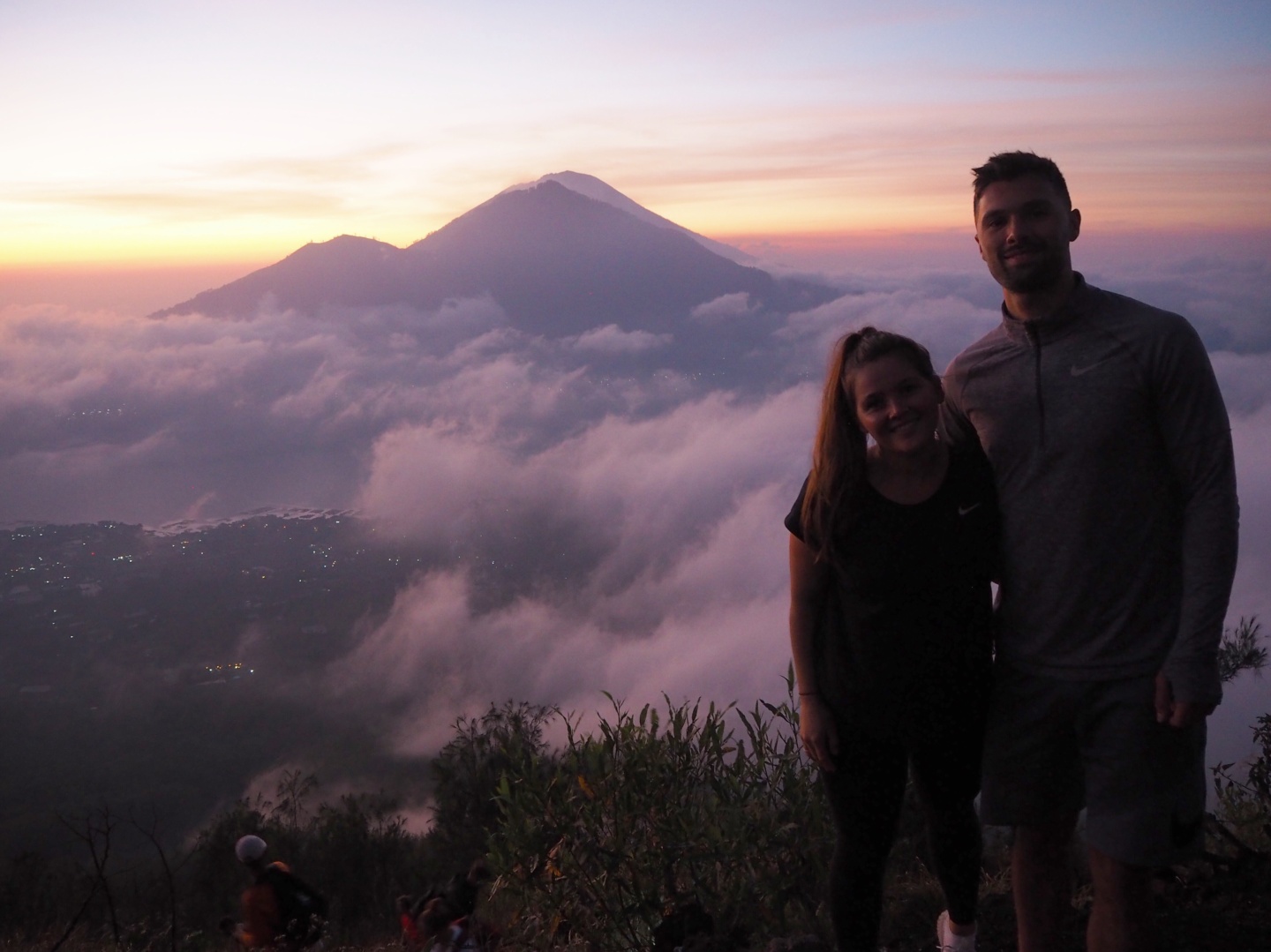 Once back at the hotel we showered and lay by the pool and had our breakfast, feeling like we had done a full days work at 9am.
In the afternoon we decided to head over to our sister hotel, The Kayon Jungle Hotel. This can just be visited for the Wanna Pool Bar (which is why we went). Designed to mirror the rice terraces to pool is terraced. We went for lunch and a chilled afternoon which was ideal. Totally different to our hotel which is catered to honeymooners and relaxation it was good to visit for the day. It was a lot busier than our hotel so it was nice to return to the peace of The Kayon Resort.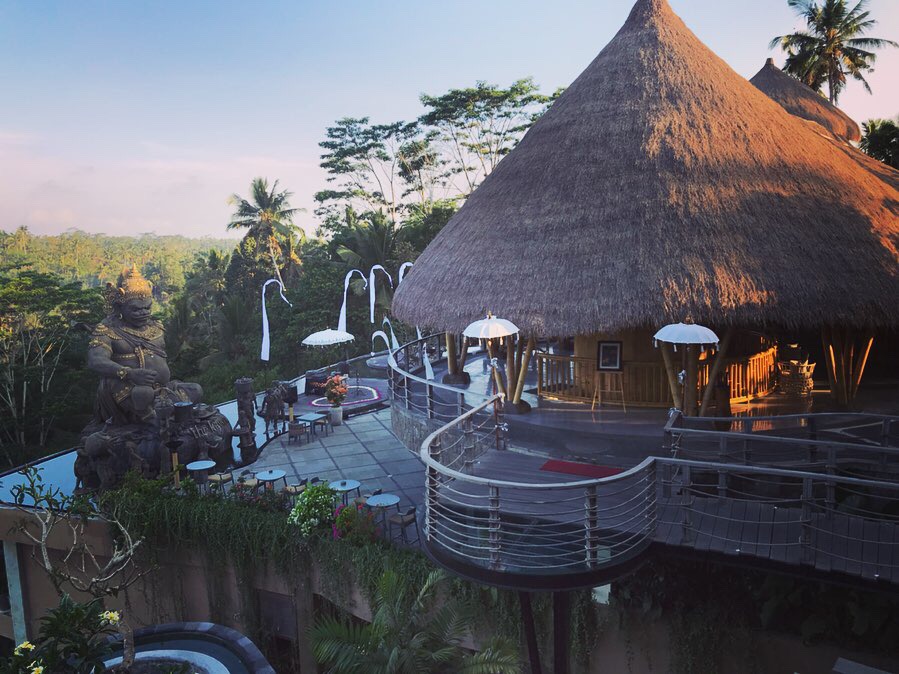 For the evening we went out to hippy fish as one of my friends had recommended it for food. The food was fantastic and the cocktails were great too.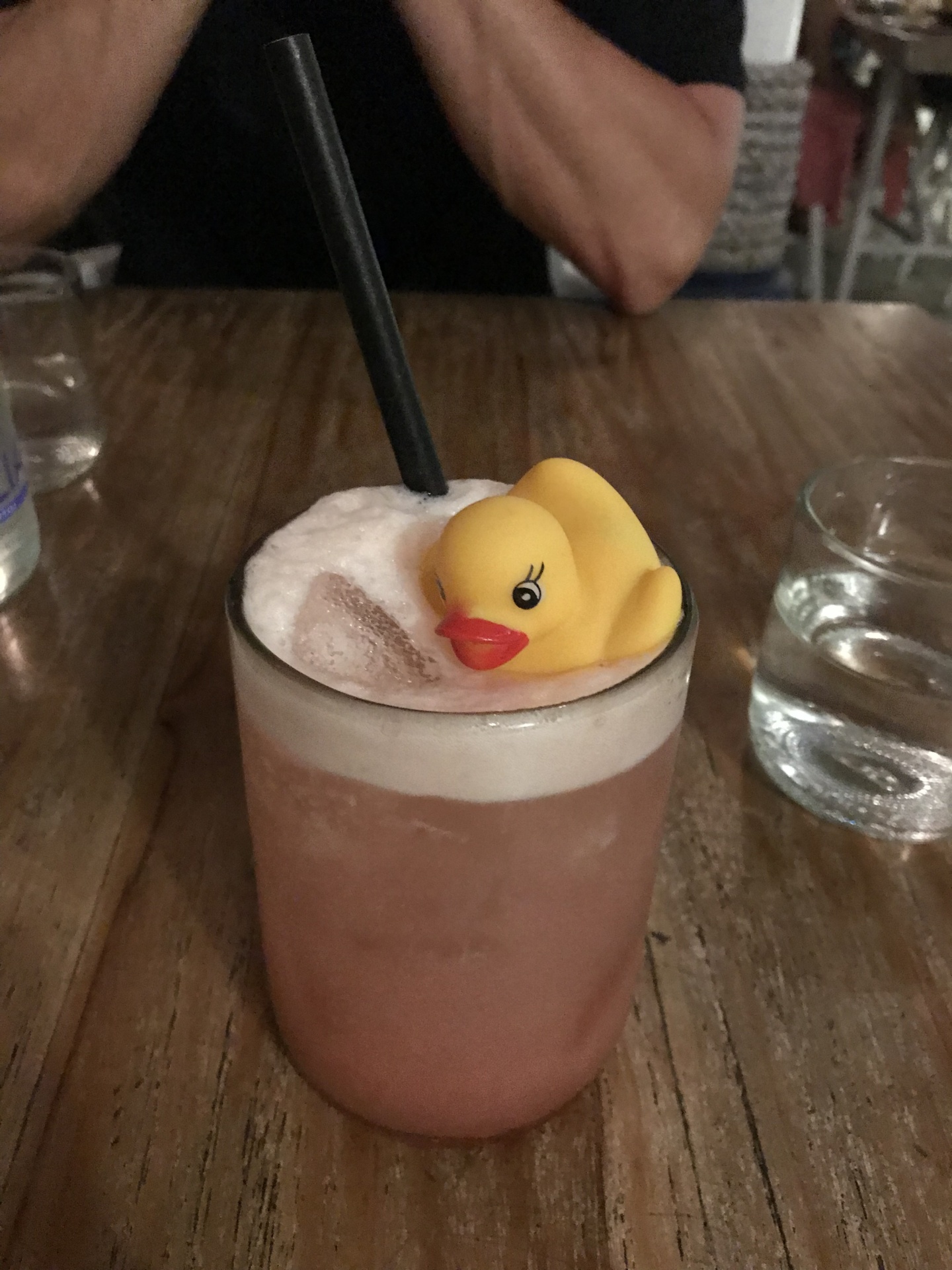 Day Five – Goodbye Ubud
On our last morning in Ubud I started it with a morning class of Yoga, it was 1-1 today as no one else came which was great. We had breakfast at the hotel one last time and made the most of its incredible offerings.
We were picked up at 11am for or transfer to Padang bai port.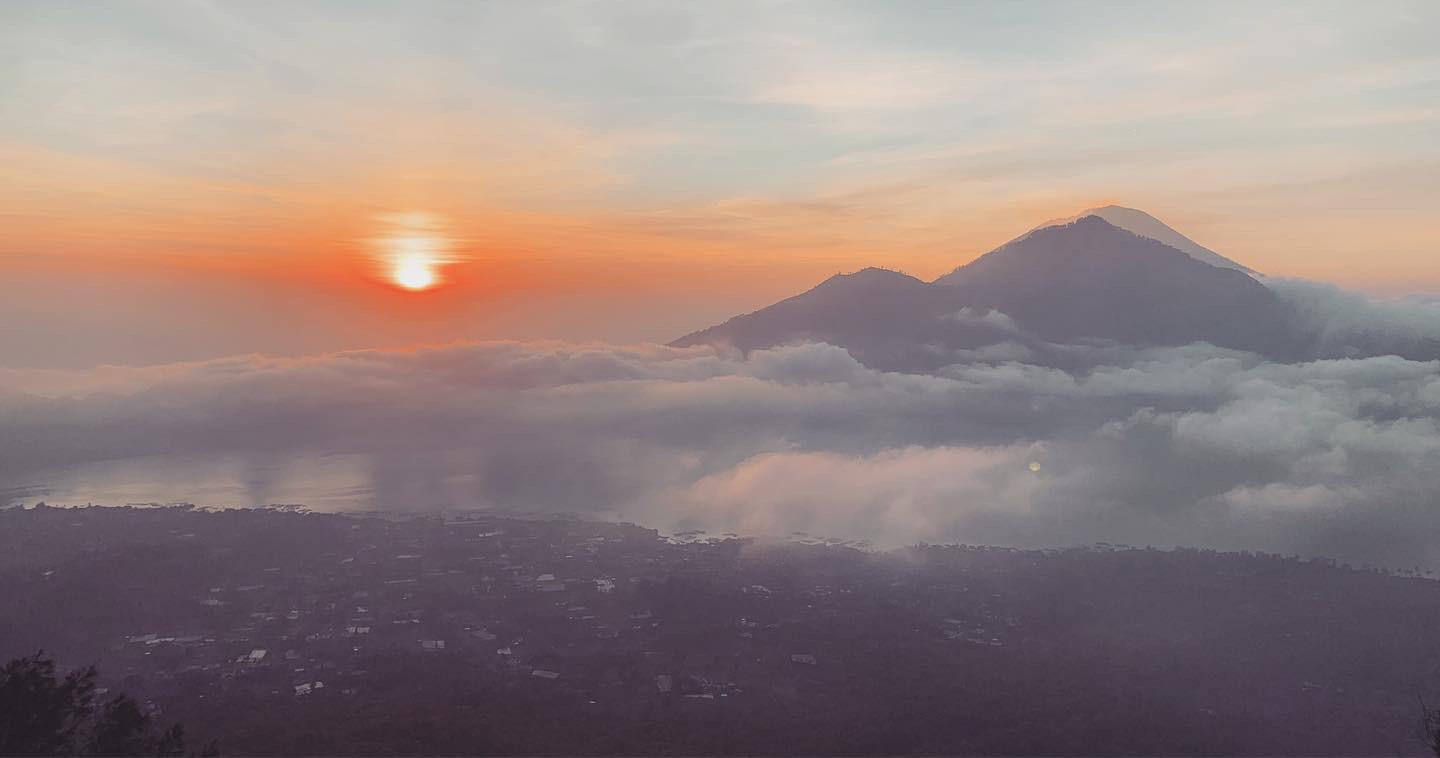 Thoughts on Ubud
We had an incredible time in Ubud we spent four days exploring and reocurpering post long haul flight. Trying to keep a balance of relaxation exploring is a fine one. We probably rested more than we normally would have due to jet lag. Our hotel was truly incredible and literally the best we have ever stayed, it was definitely on our minds to make the more of The Kayon Resort whilst we were there. Mount Batur was a serious highlight for me watching the sunrise was incredible. There is much more to see in Ubud and we would love to return one day and see more of its surrounding areas.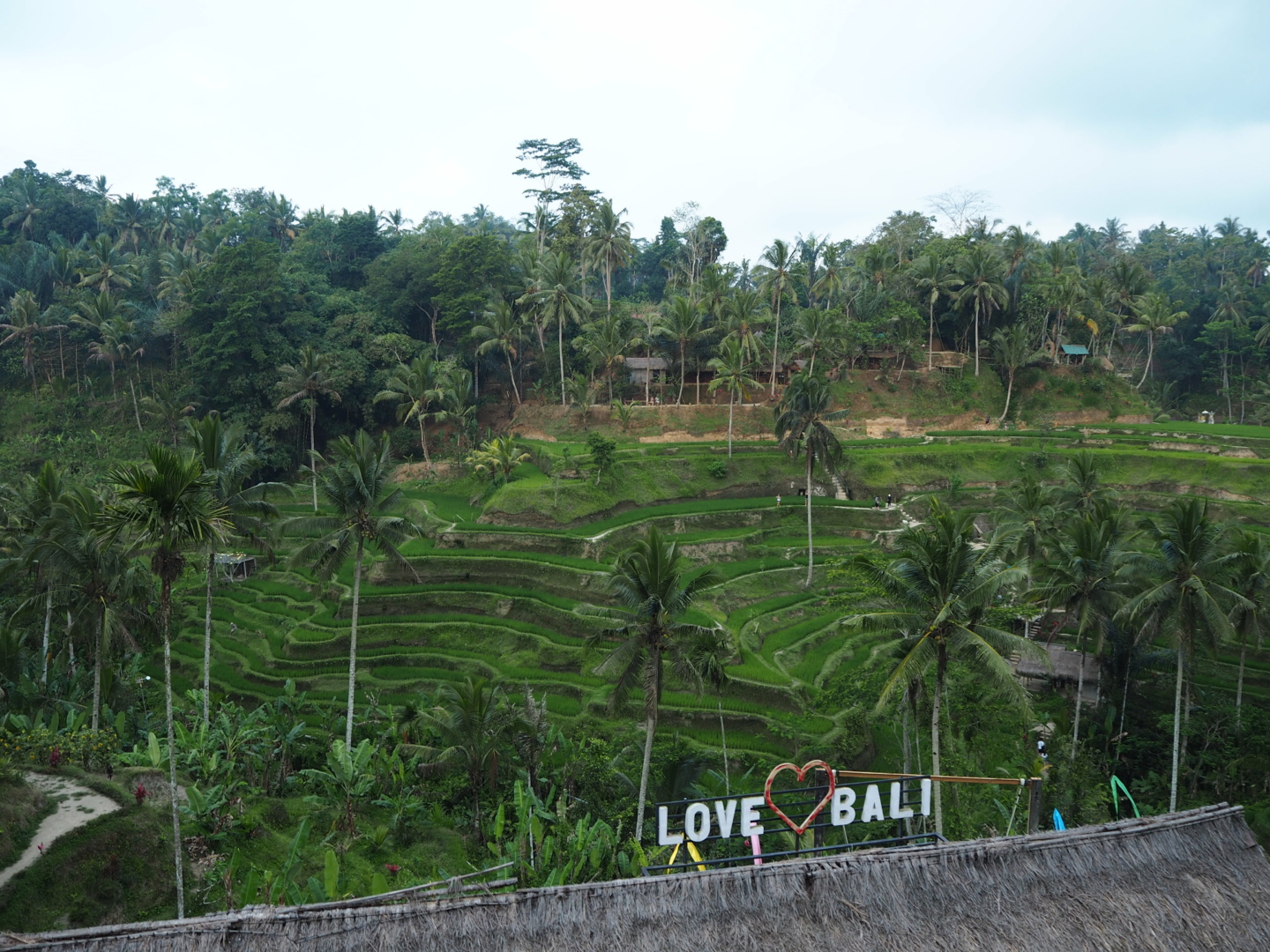 Thankyou for reading

Bethan

xox

Read were else we ventured too on our Bali trip:
A Two Week Itinerary
Four Days in the Gili Islands
Three Days in Nusa Lembongan