We booked our Day trip to Bohol through our hotel so it was probably a lot more than it would have been at the port. This was just easier than a 60 minute journey to the port to buy them. We didn't want to risk on the day. Tickets if you buy from the port are 500pesos (£7).


Read the rest of our Philippines Two Week Itinerary
Layover | 9 Hours in Hong Kong
Philippines | Three Days in Cebu

Our day trip to Bohol started with a very early morning up at 5am, so that we would have enough time to get the taxi to the port which takes about an hour but gave ourselves longer just in case.We had breakfast to go that the hotel has arranged for us at 6am.
A grab picked up up at 6 for our hour journey to the port (we had no idea it would take this long). Our grab got us there as quickly as possible and cost 460pesos (£6.50). Once at the port you need your ticket, pay the port fee 25pesos and check in. Each of these things we had to queue for and glad we left so much time.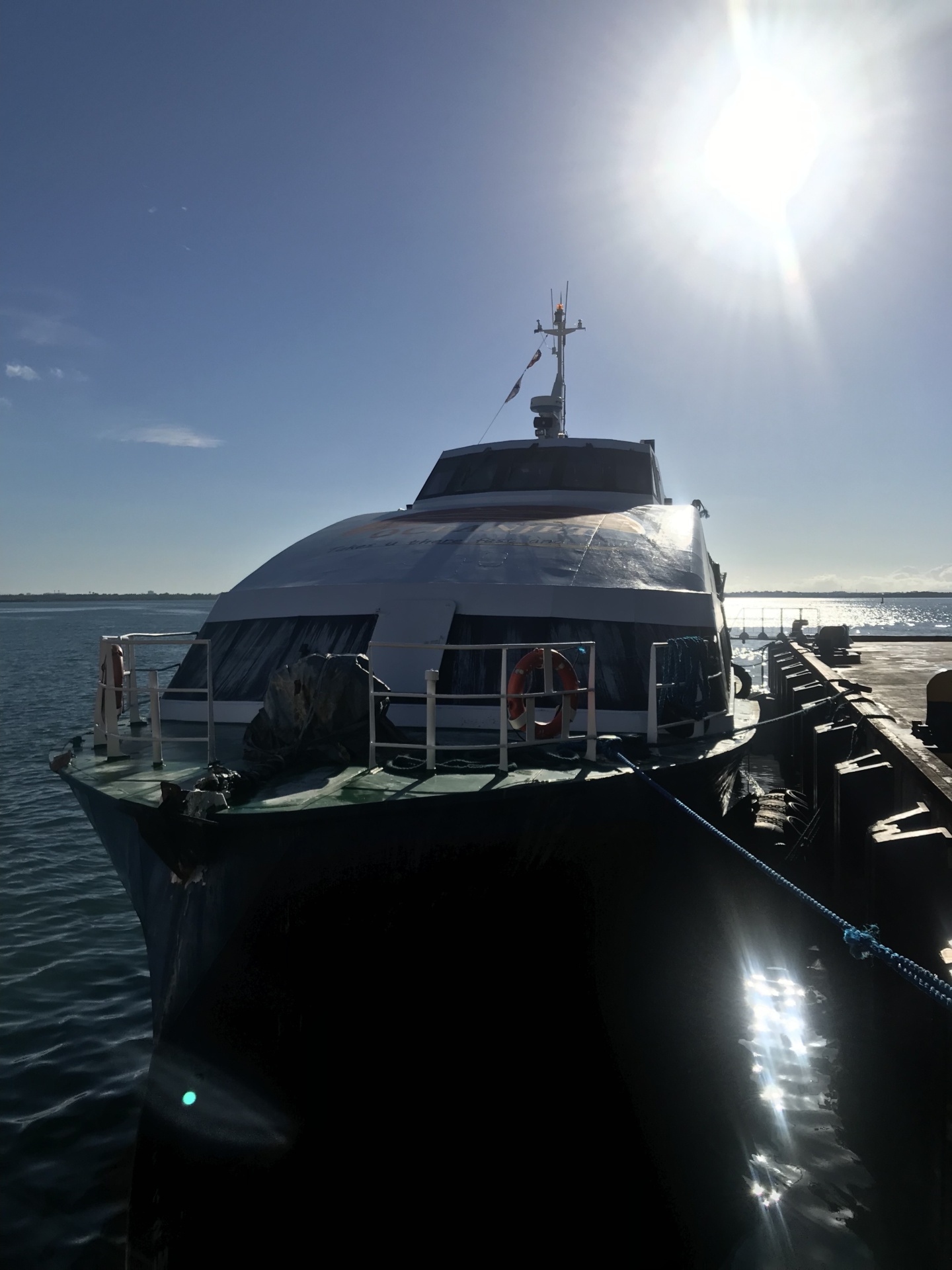 Our boats sail time was at 8am, we had enough time to get a drink and eat our breakfast before it was time to get on board.
**I would highly recommend bringing a warm set of clothes for this as I was frozen for 2 hours.

Ocean jet play films during the crossing, for us the Magical beasts. This was ideal and really made the time pass much faster. A lot of people just went to sleep however.
On arriving in Bohol I had a list of things I wanted to see and had already before arriving downloaded the Bohol map on my MAps.me app. (an app where you can download for when you don't have wifi).
We tried to negotiating renting a bike but as neither of us had got one before they wouldn't let us lol! Bike rental was around 500pesos with a 1500peso deposit. This was just outside of the terminal, I'm sure there would be a drop the further away you got.Instead we jumped in a tricycle 1500pesos to see everything we wanted to see. This included petrol which they can try to add on this later.
Our first stop was the visit the Tarsisers – 50pesos I suggest visiting the official one run by the Philippine Tarsier Foundation: the Tarsier Research and Development Center in Corella, Bohol (also called as the The Philippine Tarsier and Wildlife Sanctuary, in case you want to see their reviews on TripAdvisor). Here you can walk around the enclosure, where you remain quiet so not to scare them and guides point them out. They are very difficult to spot as they are so small, about the size of a fist. They always seemed so much bigger on pictures. Recommend stay is 30-60 minutes.

Next the chocolate hills – 50pesos The famed Chocolate Hills of Bohol are not only two but more than 1,268 cone-shaped hills – a very strange geological formation that has baffled a lot of geologists. The hills are spread over an area of 50 square kilometres or more and vary in size from 30 meters to 120 meters in height.once inside you can walk up to the 250+ steps to the top, there is some places to stop if needed. A lot of people stop to take pictures but the stairs can get busy so be aware.from the top of the viewing deck it gives you a 360° view one side the chocolate hills seem endless, the other is flat with paddy fields and other farming. A good sight to see whilst in Bohol there is also a restaurant where we just had a drink to get out of the heat for a while. Recommended stay 60 minutes.
The Manmade forest, I wanted to see the man made forest, we drove through it on route to our next stop. We did not stop as we were on the way to the final stop.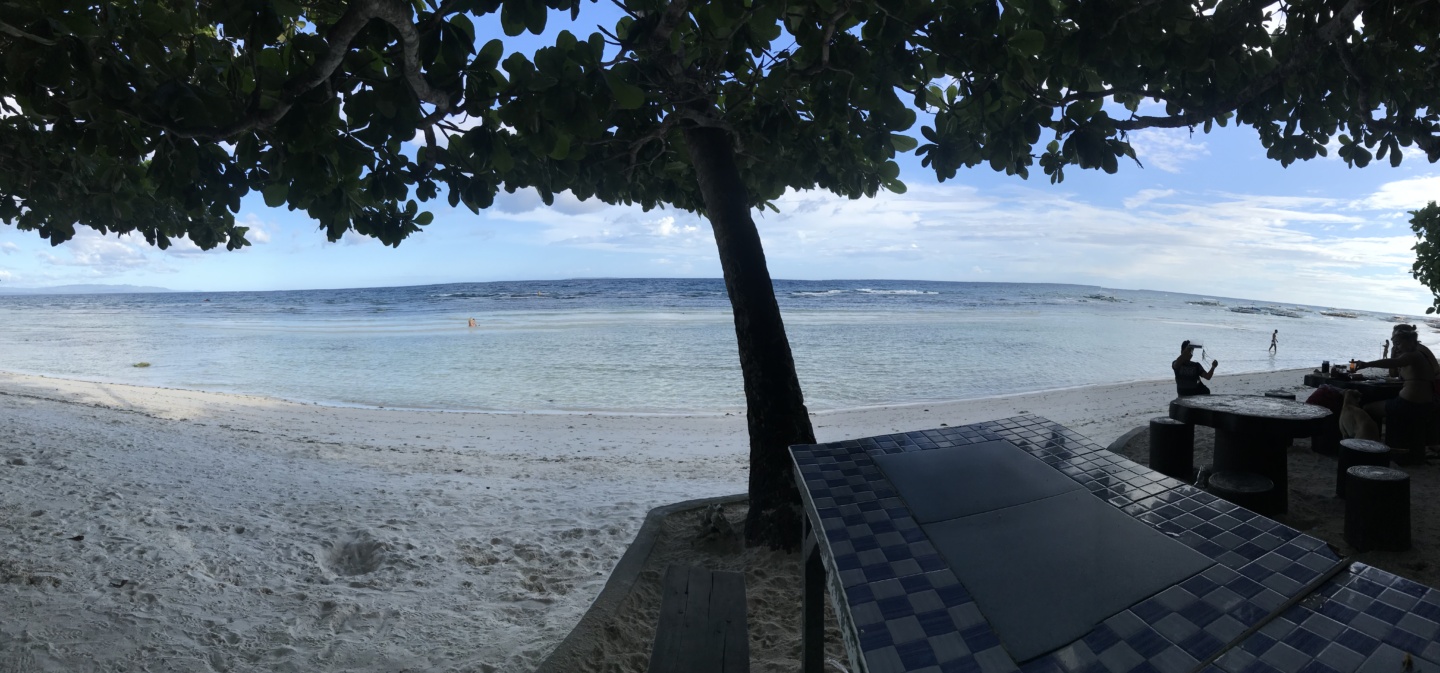 Our last stop of the day was well needed with such an early start and what felt like lots of charging round. We asked our driver to take us to a nice quiet beach where we could just relax. He did just that, he took us to the southwest of Panglao island. On google maps it was called white beach. and it was just what we needed. We sat in a little cafe and had some food looking out at the sea before taking a stroll up and down the beach before it was time to head back to the boat.
Other beaches I had a list of other beaches to try if you have the time;
Alona the main busier beach which is lined with hotels, cafes, and more. A good place to stop off for day trippers who want a bit more going on.White beach – which we did go to it seems.
Anda beach the furthest away but best I had noted offer white sand and the beach is clean and the waters unpolluted.
The journey back felt longggg a 40 minute drive back to the port, then waiting a good white for the 17:40 boat back. The boat was late which made setting off back late. Then 2 hours by boat watching another film and freezing, i ended up wrapping my towel around me.We ordered a grab from the port 500pesos. Once finally back in the hotel at 9pm, we ordered room service for tea. it was a long but amazing day. I would highly recommend this to anyone if you don't have time to go and stay on Bohol.
Thoughts on Bohol
Our day trip to Bohol was ideal day trip to squeeze in another island into our time there. Looking back we really should have stayed there, I had been out o the idea with moving on quickly though after arriving. I would highly recommend visiting the island whether it be or a day trip or a stay. The island is easy to navigate and an easy drive as the roads or the most part are tarmac as we saw.
Have been to Bohol? what did you get up to in our time there? Let me know in the comments below I would love to hear about it ↓
Thankyou for reading

Bethan

xox