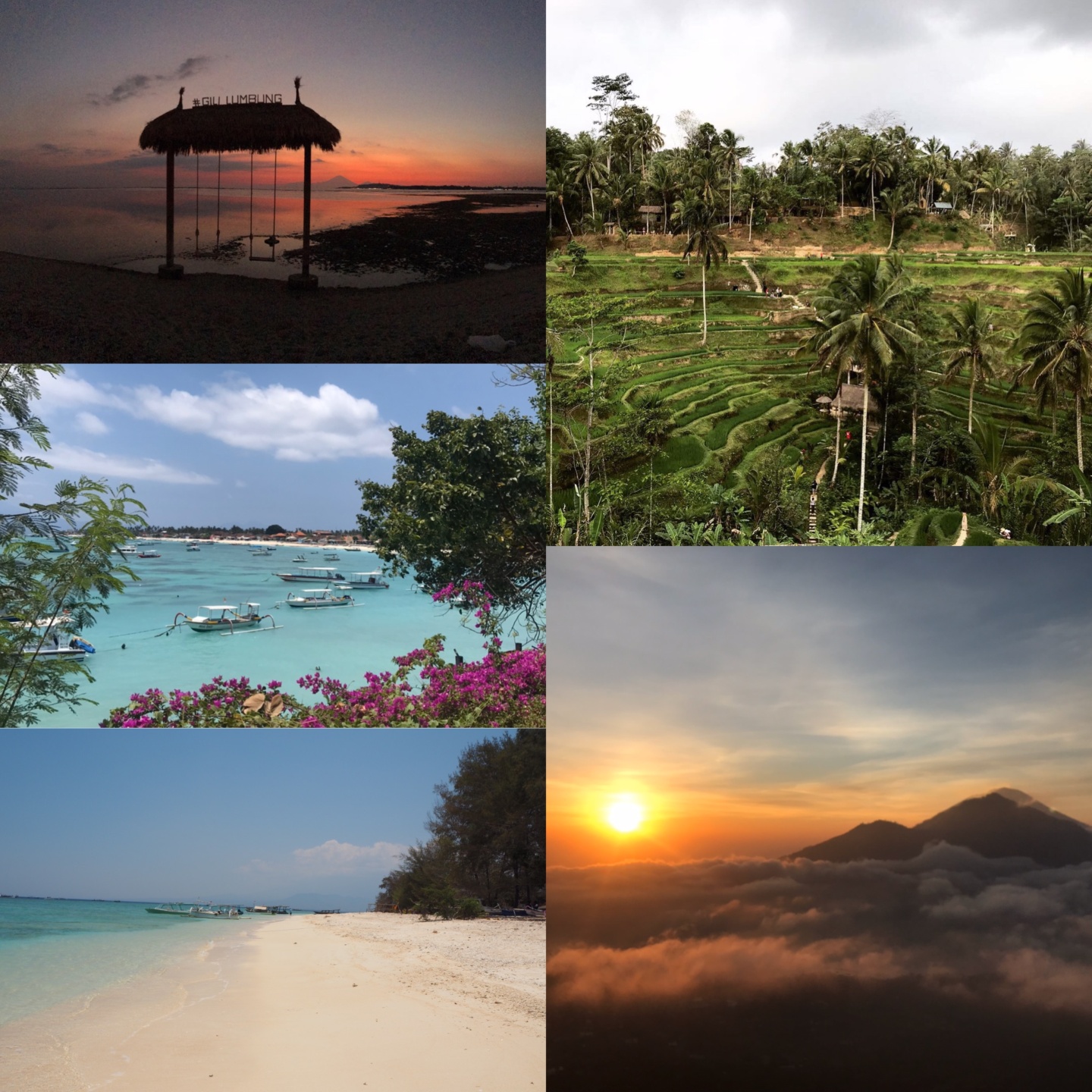 If you follow me on Instagram you will have seen that in October we visited Bali for the first time. It was a much awaited trip, we hadn't been away together for a few months as holidays with our friends and I had many hen dos with my friends. Our last trips together were to Italy- Florence (Three Days in Florence, Italy) and Iceland (Three Days in Iceland) back in April and May.
We were well over due some sun and time off work to just relax.

We had planned our trip so that we could have a relaxing time whilst also trying to see all the bits we wanted to. After I dragged George around the Philippines for 18 days last year, he wanted this one to be more relaxing. We tried not to jump from place to place too quickly so that we could do this.
We flew from Manchester with Emirates on the 4th of October via Dubai direct to Bali. Last year we had a layover in Hong Kong (Layover | 9 Hours in Hong Kong) which we really loved (and is still on my list to go back) but we wanted to spend maximum time in Bali.
Arriving into Bali
We arrived in Bali and had organised a transfer straight to Ubud direct with our hotel. I had read a lot about this and everything had recommended going straight wit your hotel so taxis knew where to go. This was perfect for us as bleary eyed after next to no sleep from 20 hours travel. It was so much easier knowing it was sorted, seeing our names on a board and going straight to our hotel no fuss.
Bali has so much to offer from waterfalls to epic beaches to rice terraces and amazing temples. It's the perfect place to go if you're looking for rich culture, epic views, and a relaxing getaway. Whether you're going for one week, two weeks, or three weeks, here's our itinerary
Everyone we spoke to who's been to Bali had recommended not under planning our time in Ubud. So we didn't we had four glorious days in the centre of Bali. Ubud has so much to offer from waterfalls to rice terraces and amazing temples.
We stayed at The Kayon Resort, the hotel is set outside Ubud 15-20 minutes The Kayon resort is perched on Ubud hills side, surrounded with holy Petanu River. It is known for being more of a honeymoon hotel. It has just won lots of awards – the best adult only resort, best boutique honeymoon hotel, best honeymoon hideaway resort on Haute Grandeur. Wow they certainly lived up to all of our expectations I can honestly say it was one of the best hotels I have ever stayed. everything to the finest detail planned and prepared for guests.
There are many things you can do with your time in Ubud:
Swing on a Bali Swing: If you're looking for that epic Bali swing pic, there are a lot of different places you can go. Many places at the sides of the road, rice terraces and many other tourist spots around Ubud.
Visit many incredible temples – visit any of the incredible temples all around Ubud. The temples closest to Bali tend to be a lot busier compared to the closer, best to get there early for a more peaceful experience.
Hike Mount Batur and watch the sunrise over Mount Agung, an early wake up but well worth it for the view at sunrise. About an hour drive from Ubud and a 1-2 hour hike to the top. the view was incredible and one of the most amazing things I did in Bali.
Tagalalang Rice Terraces: The best way to do it is to wake up early and get to the rice terraces for sunrise. That way you'll get to experience them all to yourself, it won't be quite as hot, and you'll have the best light for photos. Also, if you get there early enough, you won't have to pay the entrance fee. We visited later in the day and it was much busier and we paid fees but there were still quiet spots.
Campuhan Ridge Walk: Another sunrise adventure while you're in Ubud should be the Campuhan Ridge Walk. It's basically a park in the heart of Ubud with lush greenery all around. It's perfect for an early morning run or stroll where you can relax in nature and get out of the bustle of Ubud.
Spend a Day Exploring Waterfalls: You can not go to Bali and not explore the waterfalls. We suggest hiring a driver to take you around for the day and just spend one full day chasing waterfalls. Why not try Sekumpul, Git Git, and Bayunmala Twin Waterfalls, Tegenungan Waterfall and they were all absolutely breathtaking. You might also want to visit Nungnung or Aling Aling Waterfall.
Go shopping – visit one of the many boutique shops all over the city or visit the art market for souvenirs,
The Gili islands is often included in a Bali itinerary's due to it being close to Bali. It can take between 2-4 hours to get to the Gilli islands depending which port you leave from. It is 30 minutes off the coast of mainland Lombok which means you could also tie in this too if you have time. Visiting the Gilis was a must for us we love to island hop and pack in as much as possible
There are three islands to choose from;
Gili Trawangan – is the largest and most developed of the three islands and is known for it lively party scene. As it's the largest island and has more hotels, restaurants and things to do for tourists that visit.
Gili Air– This island is only a short boat ride from Gili Trawangan. It is a happy medium between Gili Trawangan and Gili Meno the perfect place for couples. It has things to do, some nightlife and bars and a relaxing vibe.
Gili Meno– I located in the middle of Gili Air and Trawangan and is the smallest and most remote of the three. It is a lot less developed and great place to get away from it all.
We spent two blissful days in Gili Air we had two days to relax and explore our way arounnd the island. With its beautiful clear waters, incredible sunsets and great happy hours.
We stayed at the Sunrise Resort Luxury Boutique Sunrise Resort is situated on Gili Air's East Beach. It has a great location – fine, white coral sand gives way to breathtaking snorkelling directly off-shore, accessible at both high and low tides which is unique on Gili Air. Within 30 metres of the beach, lies a reef teaming with colourful fish and turtles in crystal clear water. Perfect for swimming, snorkelling or diving
Things to do on the Gili Islands:
Hire Bikes and cycle around the island, Some of the areas are patchy for bikes and push bikes. For a small fee you can hire them from lots of places on the island or from your hotel which may be free.
Go Snorkelling – the east side of the island is known to be the best side. You can spot turtles in this area early in the mornings too. The best areas are marked out for you on the walk up the east side upwards from the Sunrise hotel.
Go on a boat trip– there are many boat trips to explore more of the Gili islands and neighbouring Lombok. We chose not to do this as we were visiting Meno anyway and only had 2 days.
Enjoy live music on the beach, Call by one of the bars along the beach and listen to live music at sundown or into the night. Gili Lumbung is a great place for a cocktail and live music.
Watch sunset – grab a seat on a beanbag at Mowies or Gili Lumbung at happy hour and watch the sun go down.
Watch a movie on the beach – Have a night off and relax on a beanbag and watch a movie even get some popcorn.
After Gili Air we decided to visit Gili Meno to experience more of the cast away experience. The island is located in the middle of the other Gilis so you can see each island. Gili Meno had a relaxing vibe and made you feel separated from the rest of the world.
We stayed at Gili Meno Escape – A small Island Boutique Resort offering stylish and luxury accommodation. Gili Air Escape offers 6 Deluxe Traditional Bungalows all of which benefit from wonderful views of our private onsite swimming pool. The resort is located in the middle of the island so a bit of a walk from the port but it was like a oasis when you arrive.
Things to do on Gili Meno:
Go snorkeling and Swim with turtles – there are snorkeling spots marked out on the island for you to do your own snorkeling tour. See the submerged statues and ship wrecks.
Go Diving – there are many diving schools offering diving experiences here you can go from half a day, full day or complete your diving course.
Hire a Bike – Like on Gili Air you are able to hire bikes and explore more of the island. Some of the island is hard to access on bikes however and is easier to ride through the middle of the islands.
Gili Meno Lake: Inside the island of Gili Meno is a saltwater lake and a mangrove forest. It is a peaceful spot for a walk or for reading a book.
Go to the spa – Take a spa day and relax but booking a massage or having some down time at Slo villas.
Watch the sunset – The sun sets on the west of the island make your way around there at least 30 minutes before for a good seat.
Nusa Lembongan is a small island, neighbouring with Nusa Ceningan joined by the famous yellow bridge. They can be both be explored by motorbike under one hour. However, it offers quite a list of great things to do to fill up two or three days.
We stayed at the Indiana Kenanga Boutique Hotel & Spa Is located right on Jungut Batu beach. The rooms at the hotels feature private gardens or pools, the luxurious rooms at Indiana Kenanga Luxury Boutique Hotel & Spa feature a mixture of French design and Balinese decor.
The decor of each room is gorgeous we loved our little villa. So luxurious waking up here each day.
Things To Do
Beach Hop – Not all the great beaches of Bali are located on the Bali mainland. The Nusa Islands have a handful of soft white-sand beaches great for sunbathing. Nusa Ceningan has stunning Mahana Point and Secret Beach. Lembongan beaches are Dream Beach, Mushroom Bay, Coconuts Beach, and Jungutbatu Beach.
Beach clubs at Nusa Lembongan – The Nusa Islands have beautiful beaches and the same goes for the beach clubs. Chill the afternoon at one of the many clubs and dip into their pool or the sea in front to cool down.
Ohana's is a great beach club to visit.
Take a day trip – Visit Nusa Penida for the day and swim with sting rays and see what the third Nusa island has to offer. There are many tours on offer to see Nusa Penida highlights.
Tour the mangroves on Lembongan take up a large part of the northeast section of the island and are one of the main activities. A boat tour which lasts for about an hour departs from the end of the road and takes you through the mangroves and to a few snorkeling spots.
Seminyak, Bali – Three Days
Seminyak is an area of Bali that is filled with upscale resorts and many luxury resorts. It is not an area that is filled with Balinese culture. It is more of a high end shopping area, beach clubs and lots of amazing restaurants, bars and clubs. There is a bit of something for every one.
This was an area we just decided to totally relax and enjoy the area we had booked, do some shopping and visit some beach clubs.
We booked an Air B&B here – Designer villa in the heart of Seminyak
It was so lovely to have our own space and totally relax with our own pool. It is easy to order food in with Grab and GoJek which seems to be what lots of people do.
Things to do:
Visit a beach club – There are so many on offer in this area to meet everyone's budget. Prices are elevated from other areas of Seminyak but we really enjoyed our beach clubbing day/. We visited Potato Head beach club, others; Mrs Sippy, Qu de ta, La Plancha.
Visit a market– pick up some souvenirs from your travels or presents for people back home. There is so much to choose from we love buying bits for our house from our travels. Markets:
Eat your way around Seminyak – There are many many places to eat around Seminyak for breakfast, brunch, lunch and dinner. We did not have time to eat every where on our list.
Drink coffee in Revolver– A boutique coffee house down an alley in the centre of Seminyak. It is styled like a saloon from the wild west. Simply sample the coffee or have bite to eat as they serve delicious food.
Go shopping – there are so many boutique cute shops around Seminyak selling everything from upmarket souvenirs, bags, home wear and clothes.
Visit many shops close by to Seminyak – visit one of the markets Love anchor market in Canggu.
I hope you enjoyed seeing what we got up to in Bali. We had an amazing time exploring and relaxing around this beautiful parts of Bali. There are lots of places to add in if you have more time or drop if you have less time and want to explore a place more.

Thankyou for reading

Bethan

XOX