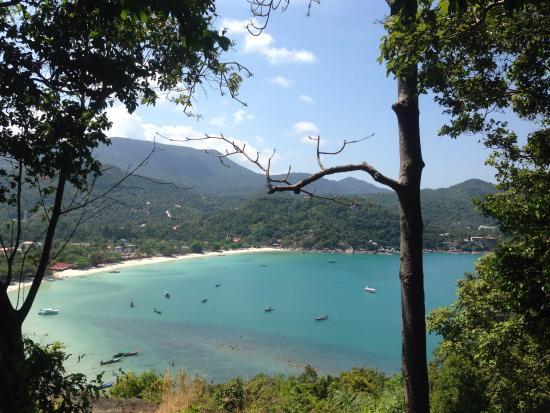 After spending a glorious five days on Koh phi phi during our five week trip. We caught a two-hour ferry on route to Koh Phangan for full moon (one of Thailand's best known parties).
So far on our Backpacking Asia trip we had… spent three weeks spent sunning ourselves in the south (Phi Phi 1/2, Phi Phi 2/2, Phuket,). Find out what more there is to come here with our (rough) Itinerary.
Koh Phi Phi →?→ Koh Phangan
Getting There – Phi Phi to Phangan
We napped most of the way at the edge of the ferry (danger falling risk). I did manage to get a couple of photos before nodding off however!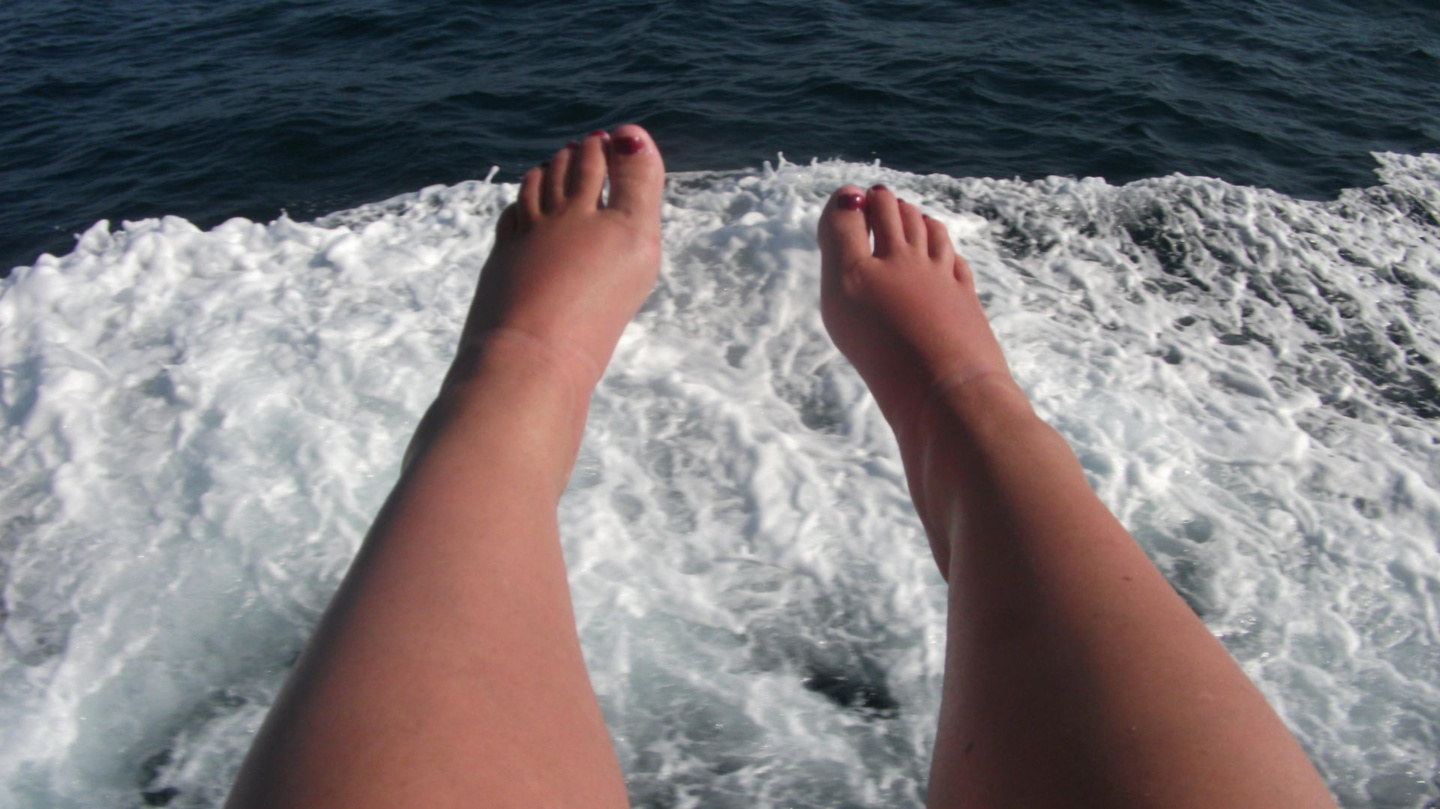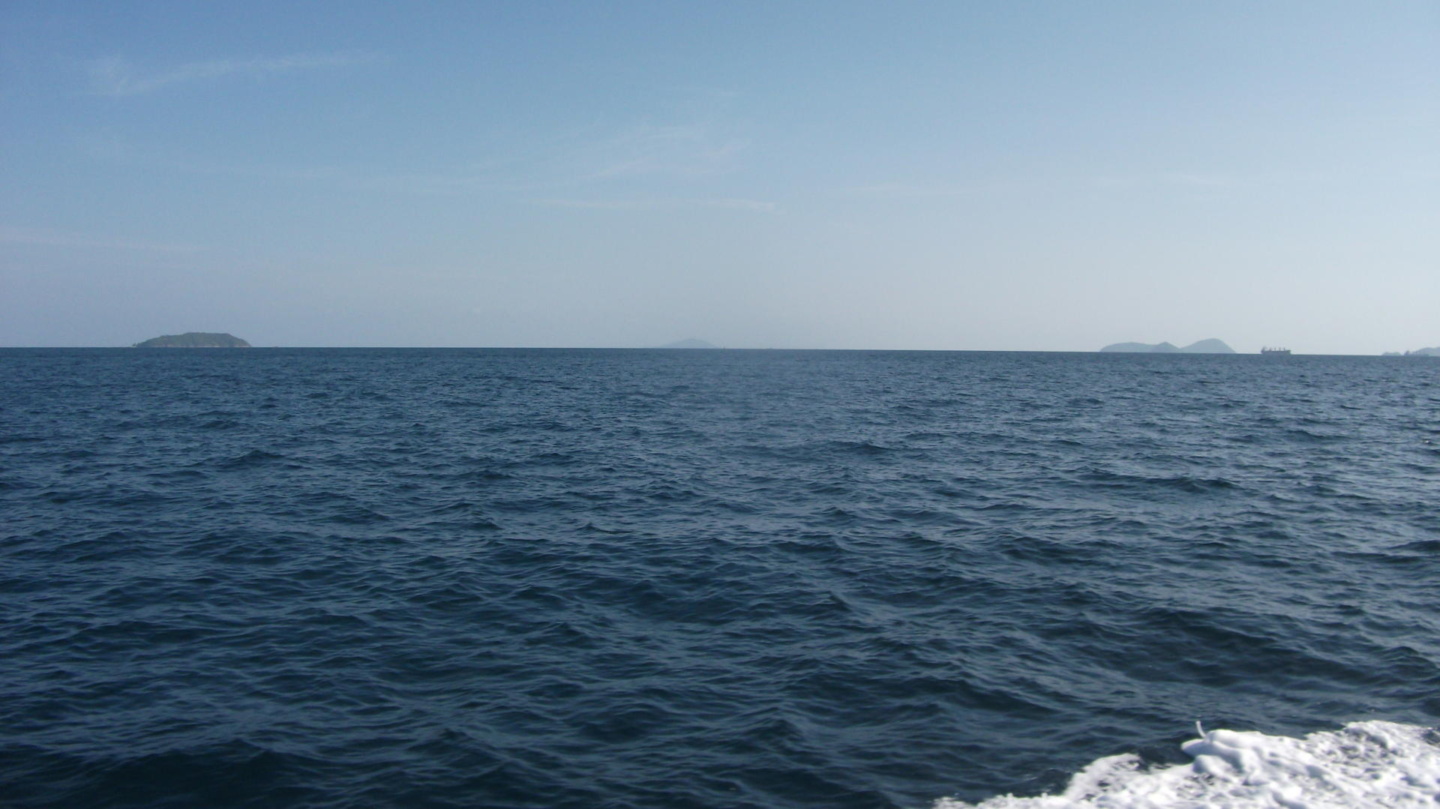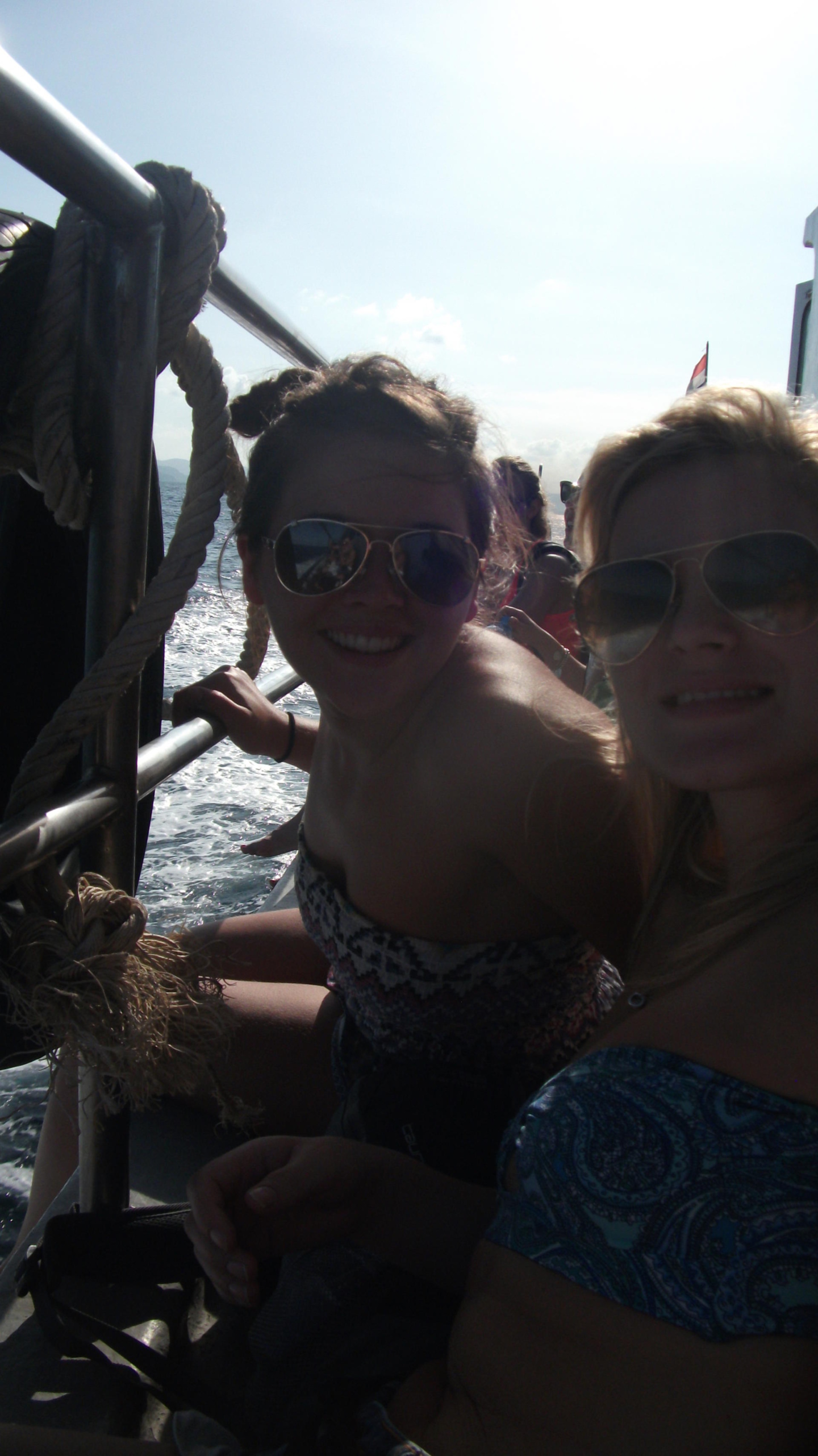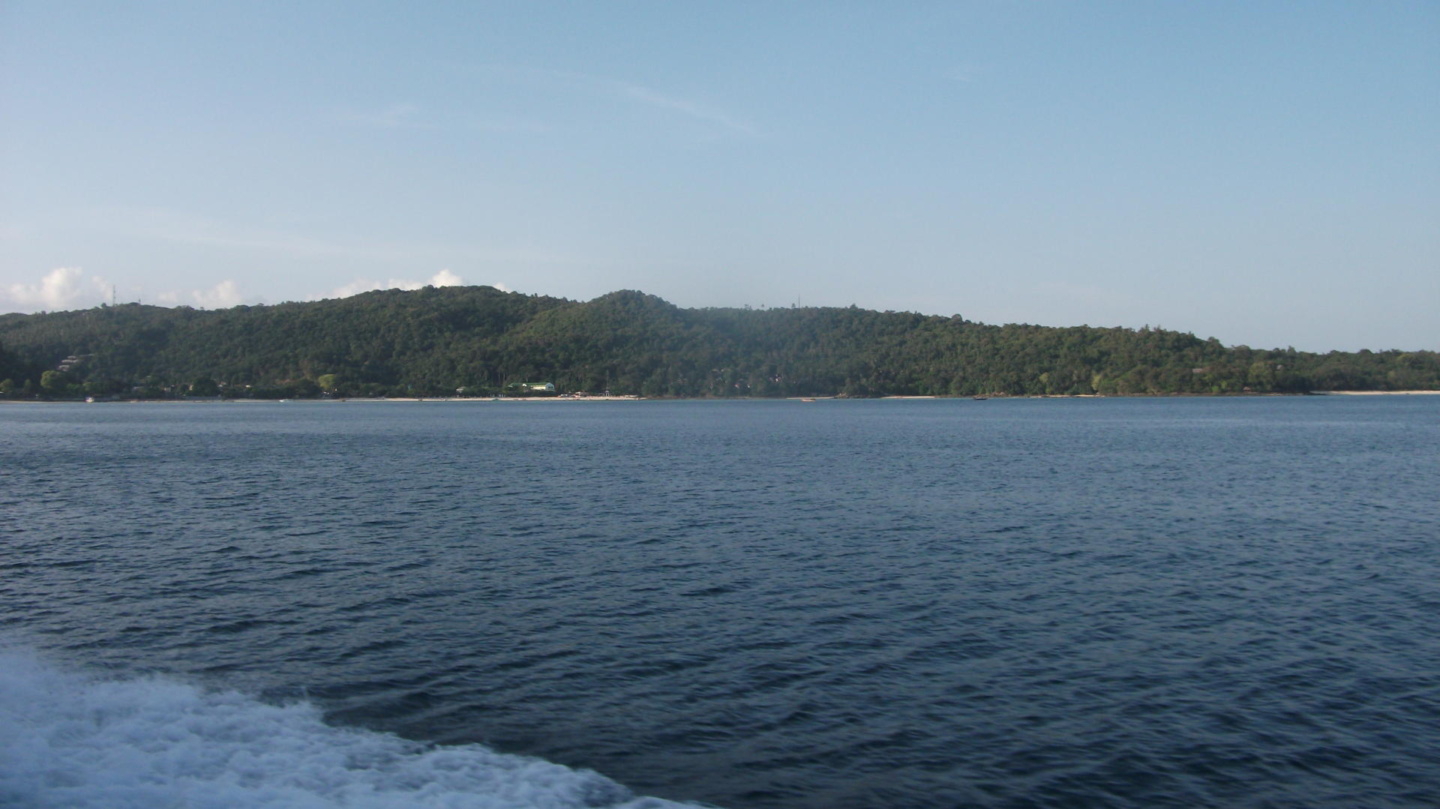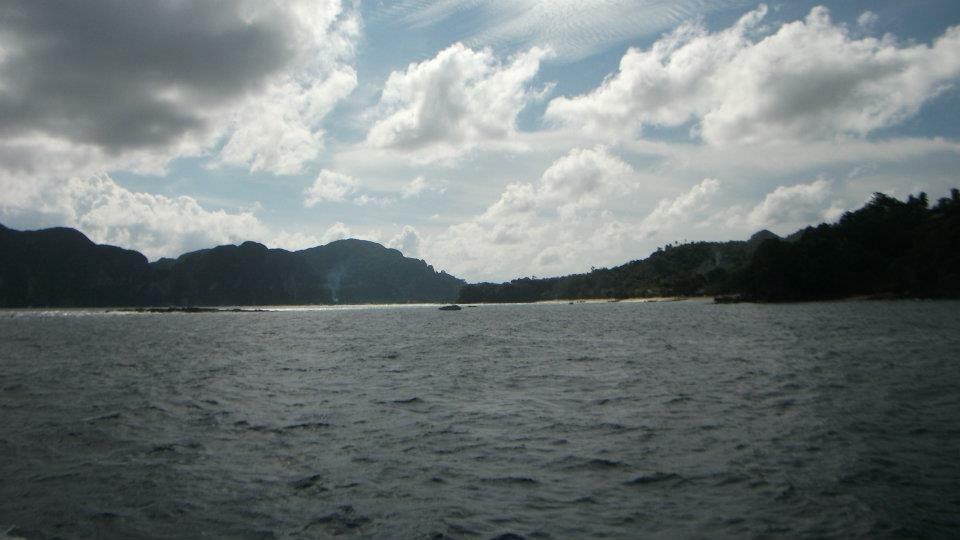 We arrived in Krabi and got a Tuk Tuk to The 'bus station'- basically just a roof where we waited for our bus to arrive. We had five hours on the bus ride with millions of stops… one of them where we possibly witnessed some child trafficking from our seats right at the front of the bus. Scary.
At the ferry port we grabbed some local food – ribbon noodle pad Thai – wasn't the best meal I've ever had but we were starved!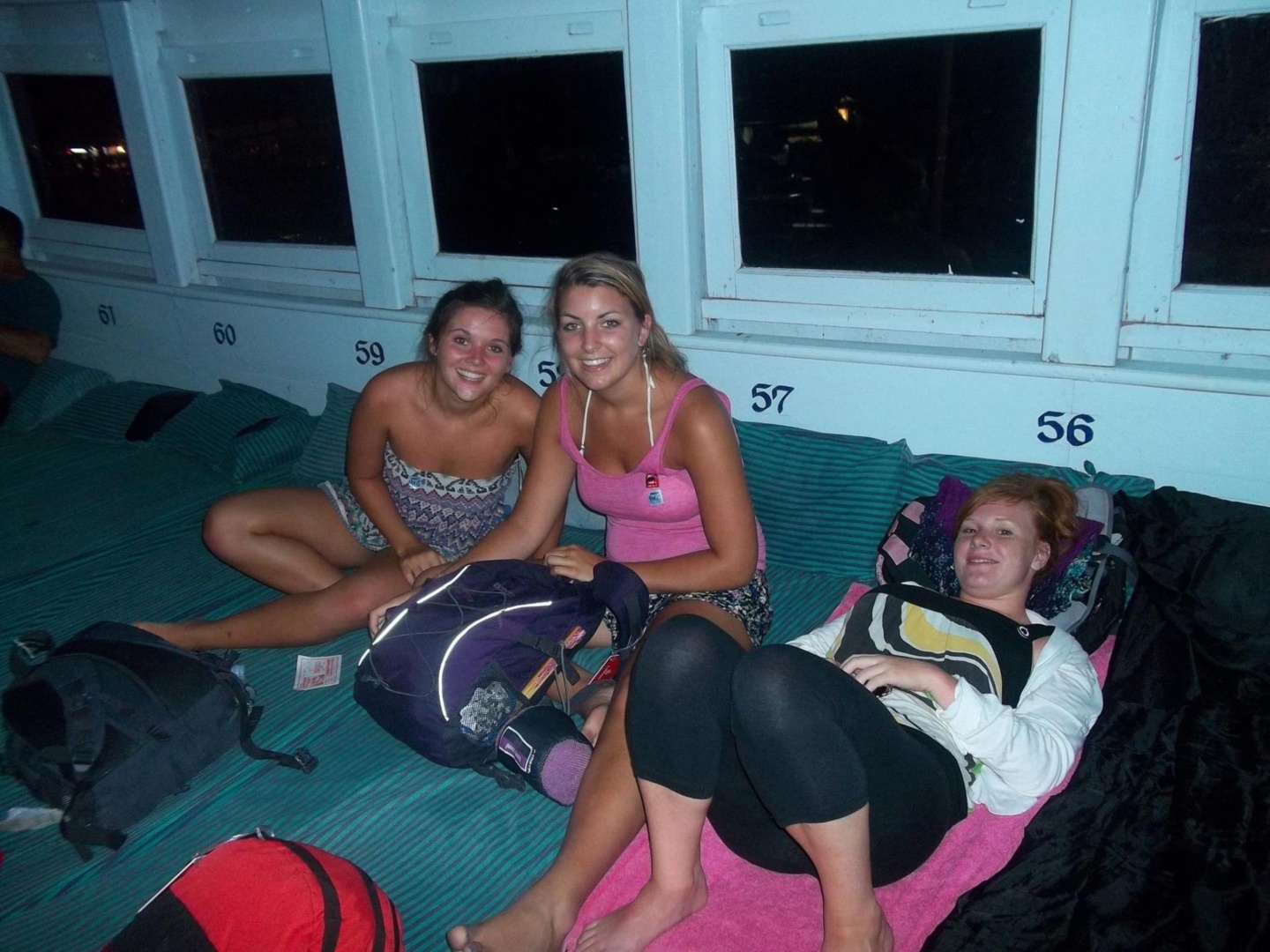 To save on costs we chose to travel on an overnight ferry to Koh Phangan. We had a little bed with a pillow like a brick! Luxurious as ever! We had 6 hours on the boat which luckily we slept for most of it.. I did wake up half way through to very very rocky seas… And quickly forced myself back to sleep so I didn't get sick!
We arrived in Koh Phangan bright eyed and bushy tailed at 5:20am. It's very easy to catch a Tuk Tuk here even at this time, straight to our accommodation (we had booked before coming to Thailand due to the full moon party meaning the whole island can be quickly booked up).
Koh Phangan
This island is renowned all over the world for its famous full moon party that lasts all night on sunrise beach. It can be found in the South East of Thailand in Thai Gulf and Surat Thani Province. This island has so much more to it than a party place it has some of the most beautiful beaches in thailand that I have seen. Most parties are around south of the island surrounding Sunrise Beach, mainly attracting a younger a backpacker crowd. The north coast is quieter offering white sand beaches including Hat Khuat and Hat Thian.
Where we Stayed
We chose Charung Bungalows booked through booking.com for around £80 for our room for 5 nights (you have to book between 4-7 nights due to it being the full moon party on the island at most places). It was a great location in Haad Rin right on the beach front, 350yards to the full moon party and 650yards to Haad Rin Nok. It's far enough so you get a good sleep but a short walk to get there.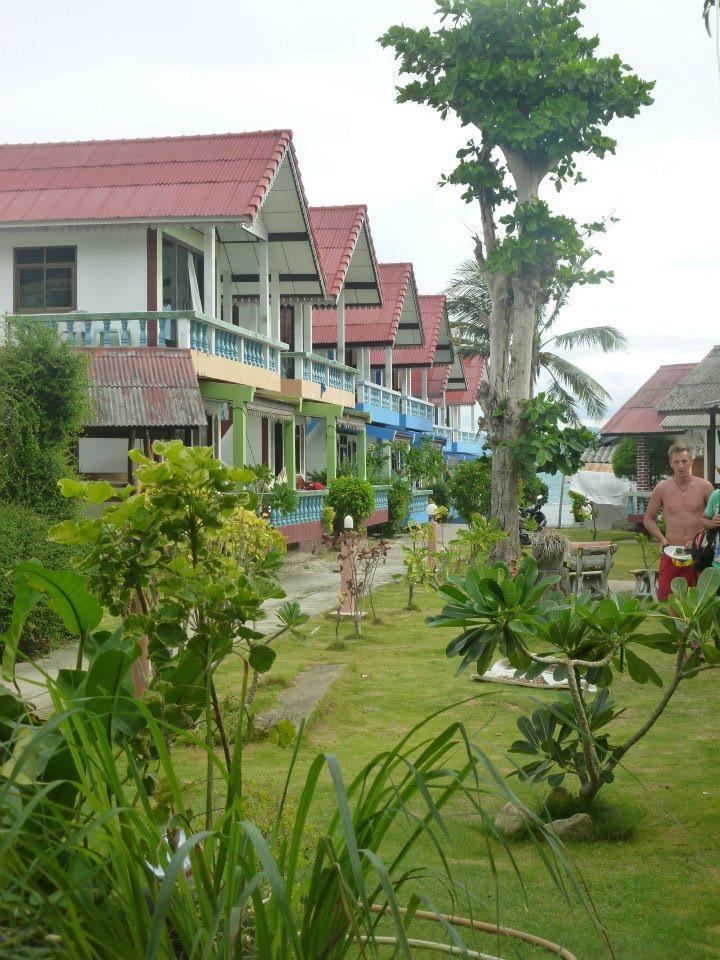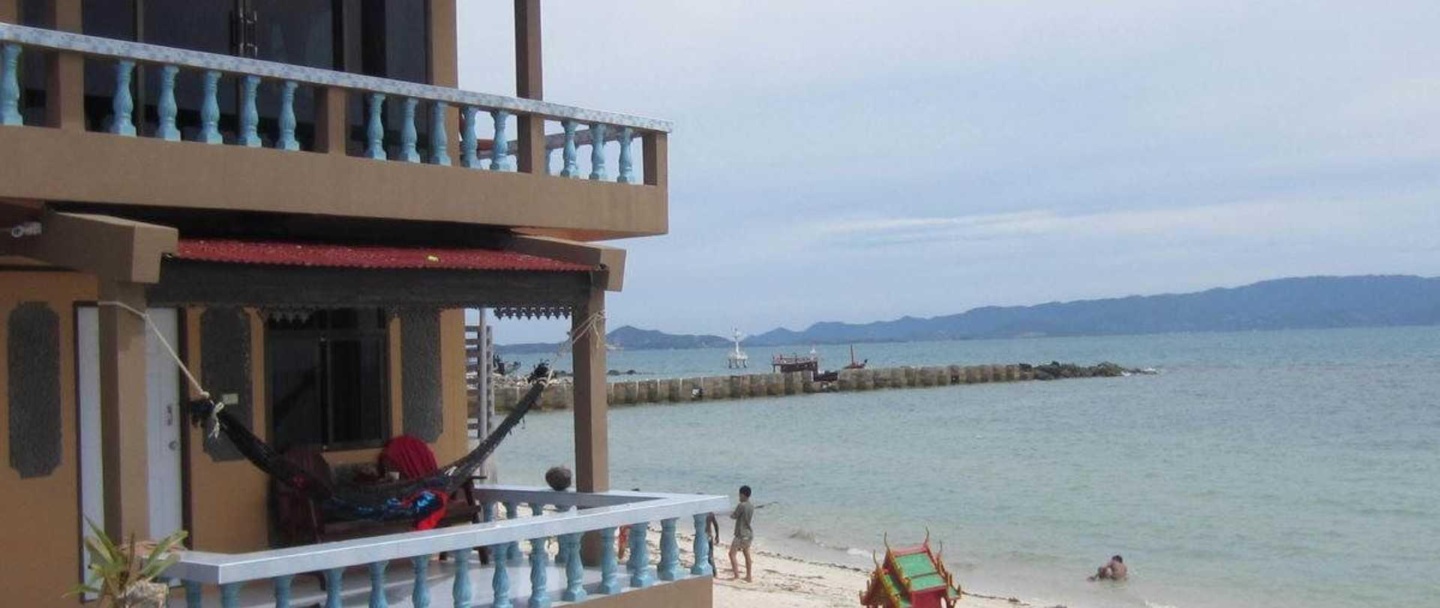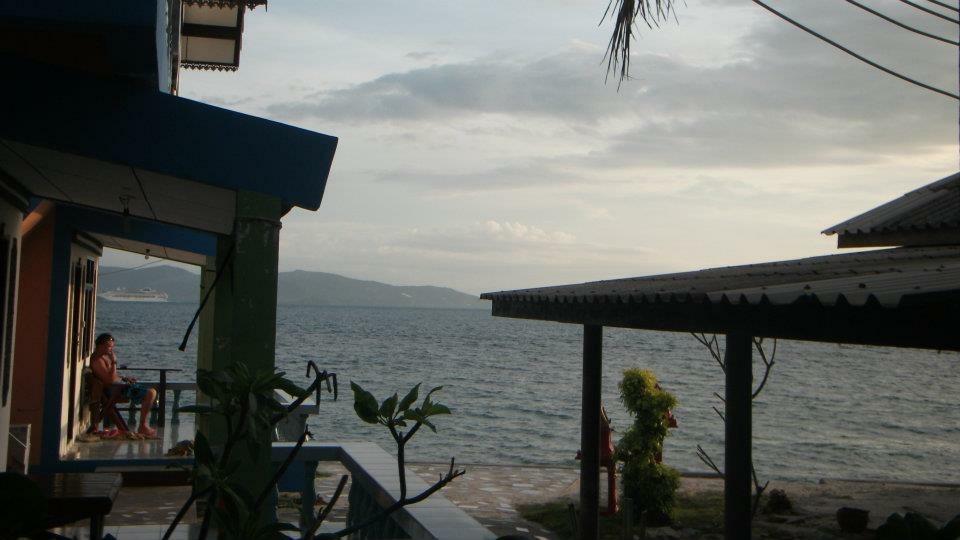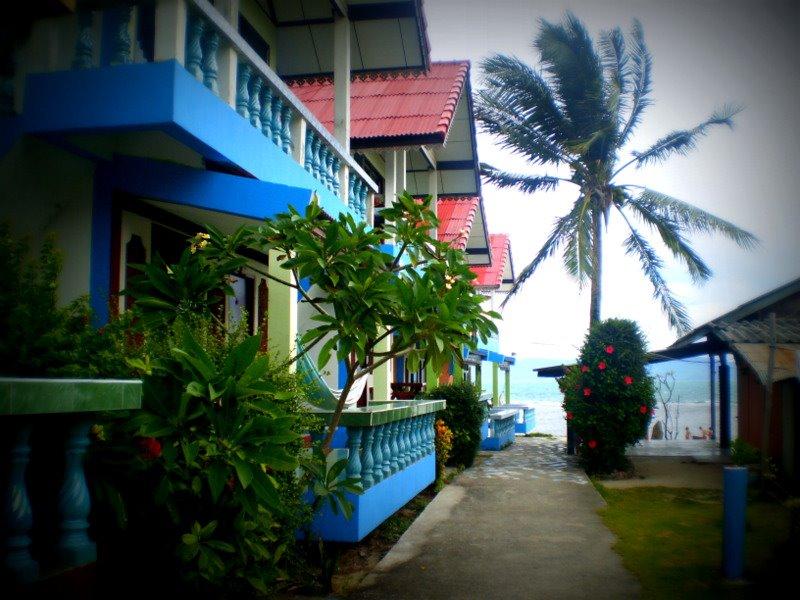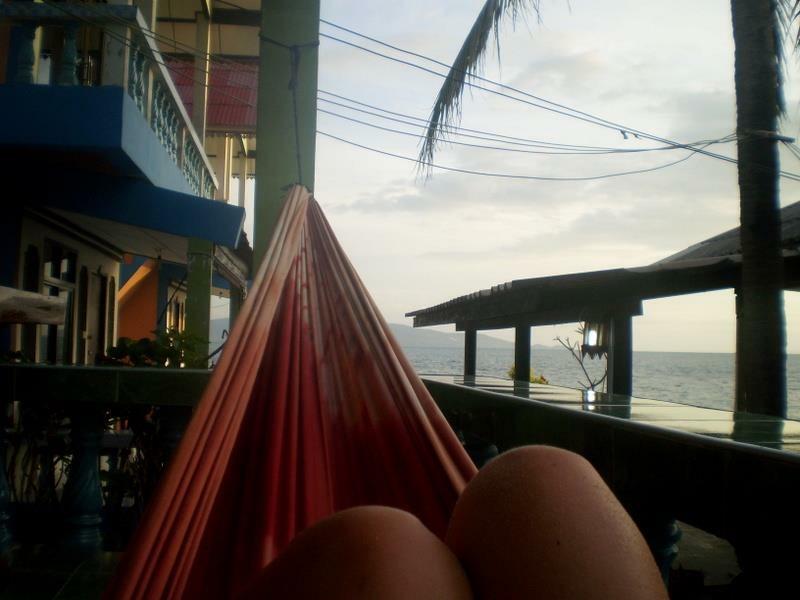 Day 1- Hello Koh Phangan
Number one priority head straight to the most popular beach on Koh Phangan – Haad Rin which is two beaches. Haad Rin Nok and Haad Rin Nai.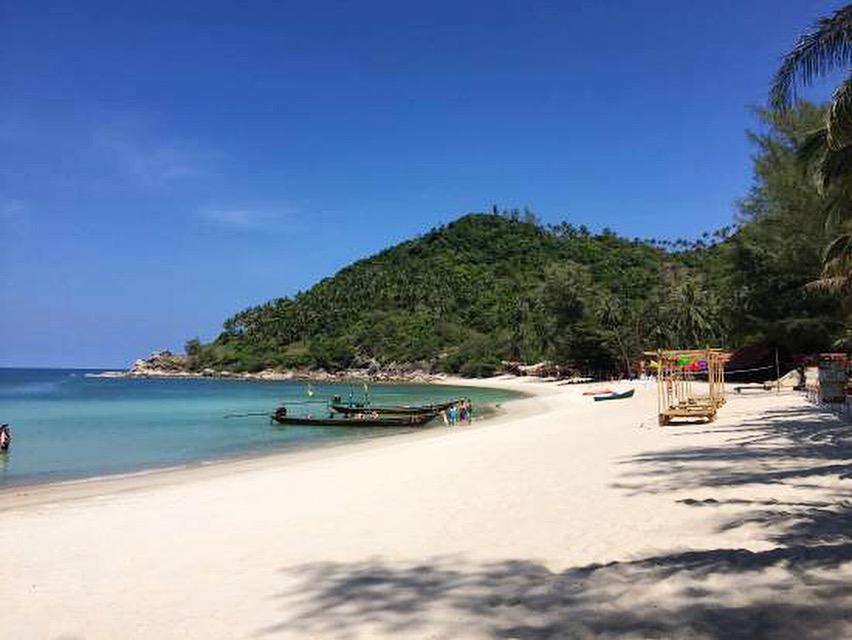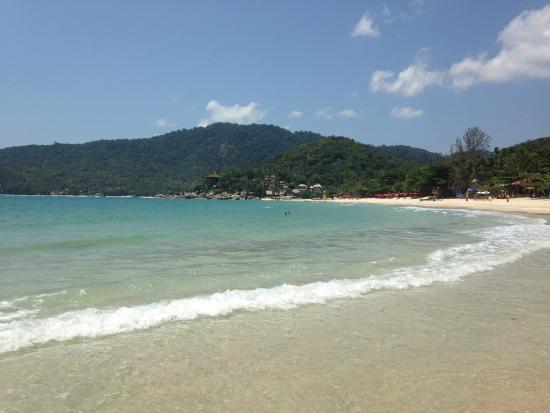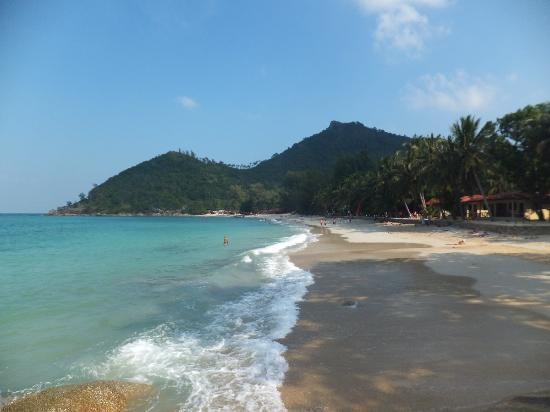 Had Rin Nok is on the southeast of the island and is one of the best beaches on Koh Phangan as it is both wide and has white fine sand. However, it's very popular and has large number of restaurants and bars with resorts located next to the beach. We spent the full day on another idyllic beach – perfect!!
That's night getting ready for our first night on Thailand's party island there was a huge power cut to the whole island. This meant the head torches were out and off we went in search of the beach. The beach was quiet but there were lots of lanterns that lit up the beach we grabbed a bucket and watched a storm happening out at sea! (unfortunately I dint have pictures with these on our heads on route to the beach!)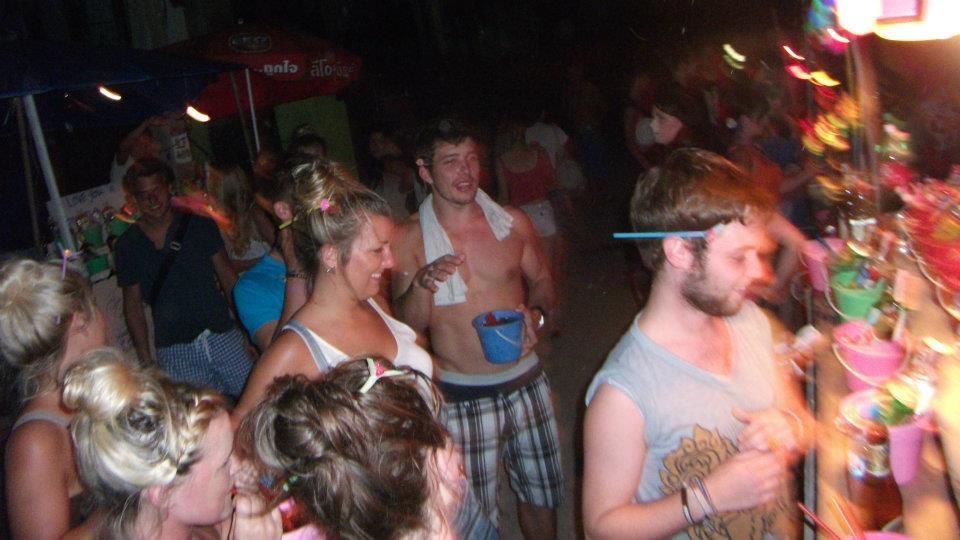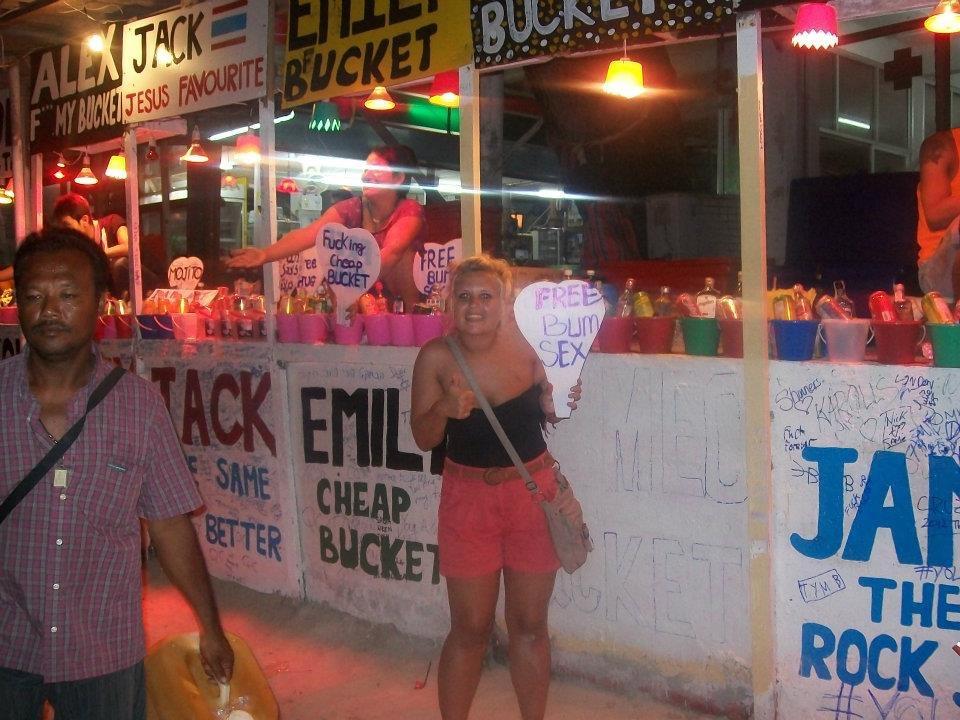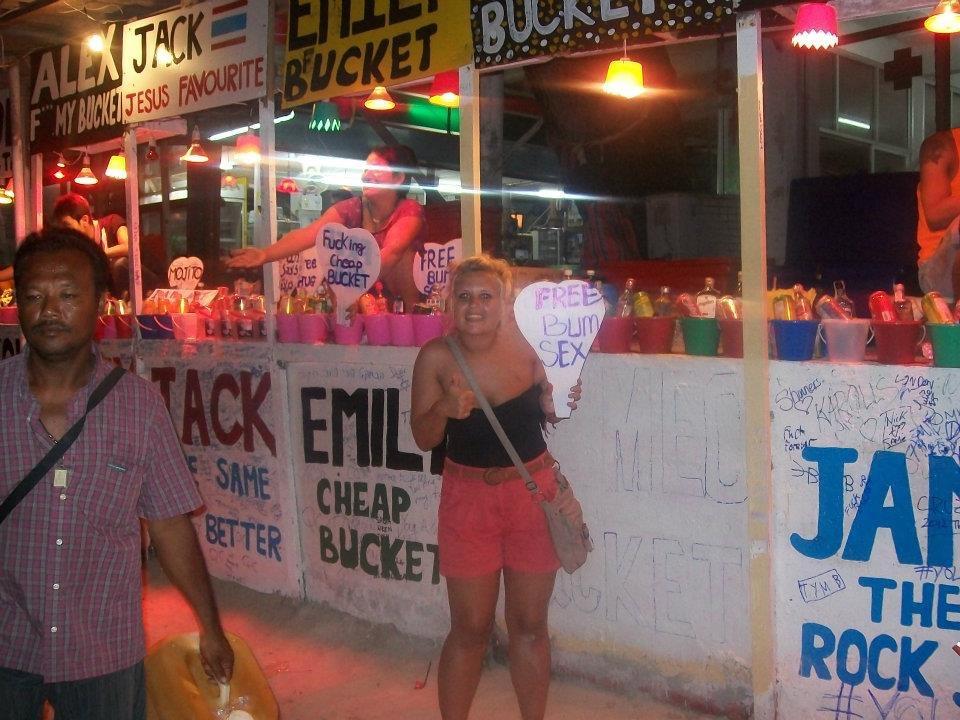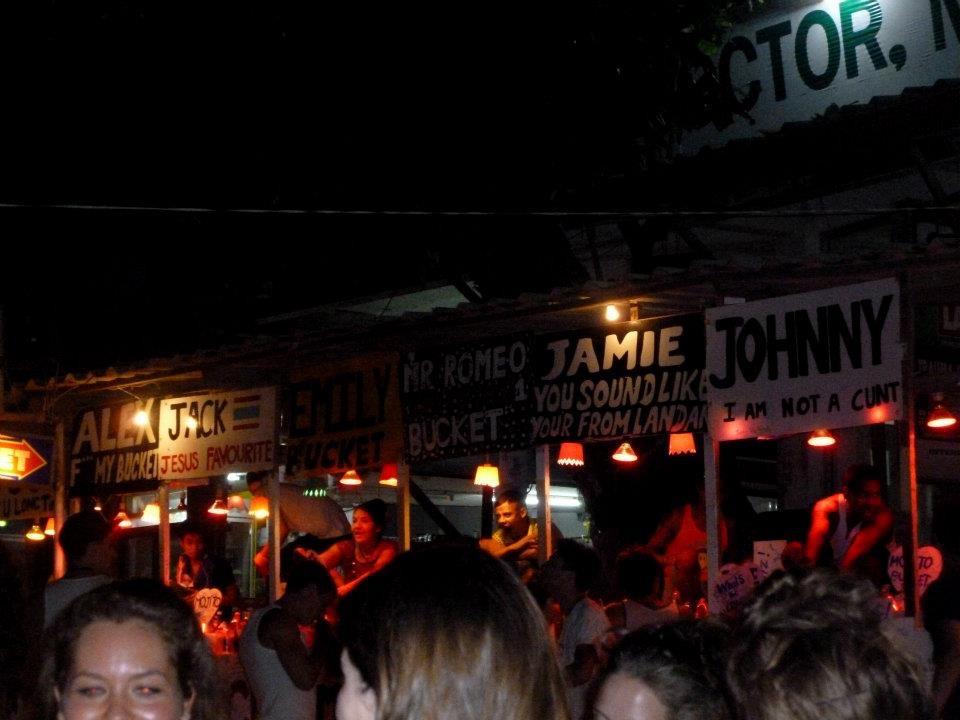 We met up with friends we had met from around Thailand so far (as a lot of backpackers flock to Phangan for the full moon party).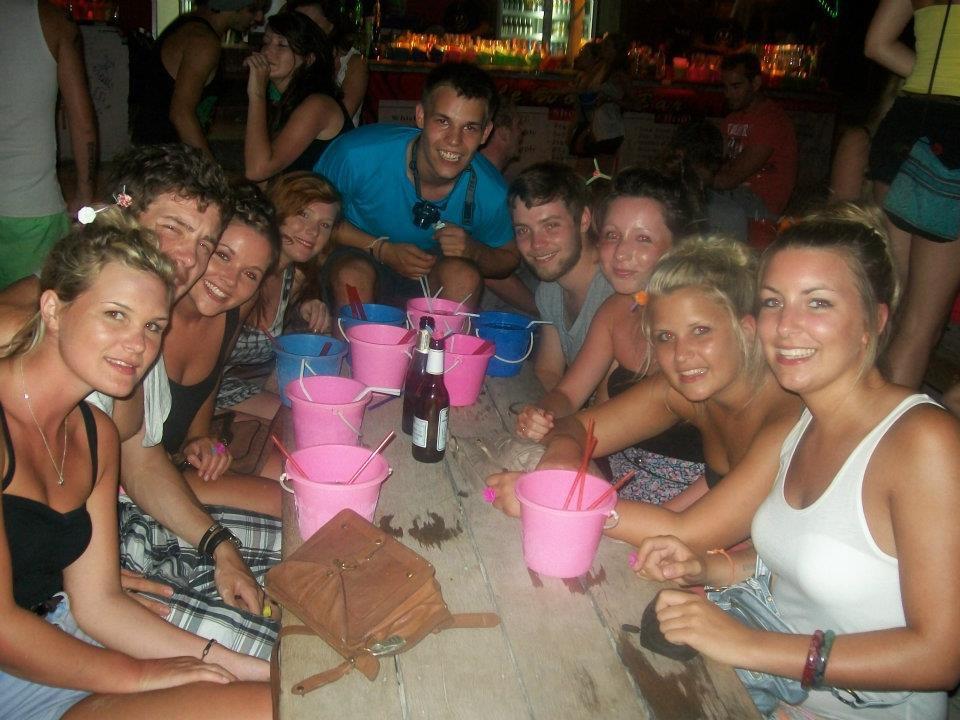 With no power we got a shisha at the cactus bar and a chilled night that escalated in to a heavy one! Of course as nights in Koh Phangan often do.
Day Two – Waterfalls
Grabbing breakfast by the beach we spent most of the day relaxing.
We visited Than Sadet waterfall which is a small hike through the rainforest and a lovely spot to spend some tranquil time here (waterfall can be disappointing in dry season, for obvious reasons).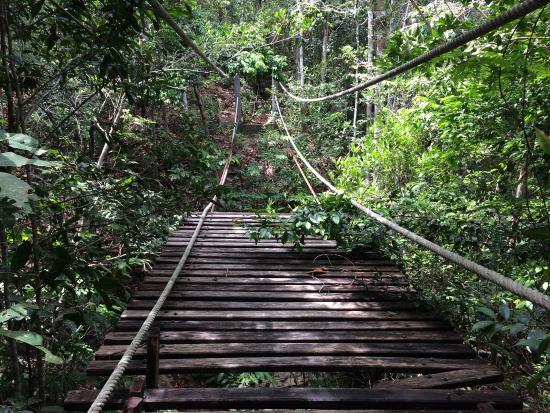 Later we met with one of my friend's sisters and boyfriend who had been travelling for the last three months. We caught a Tuk Tuk over to where they were staying that night up in the hills, at 'the shore resort'. Over full moon the price is around £120 for five days. There was a huge thunder storm on the island with torrential rain and it took us about 2 hours to get up there. This was due to our Tuk Tuk driver picking up far too many people to drop off on the way. We were so annoyed so paid half of what he charged us and actually ran off… it was hilarious but scary!!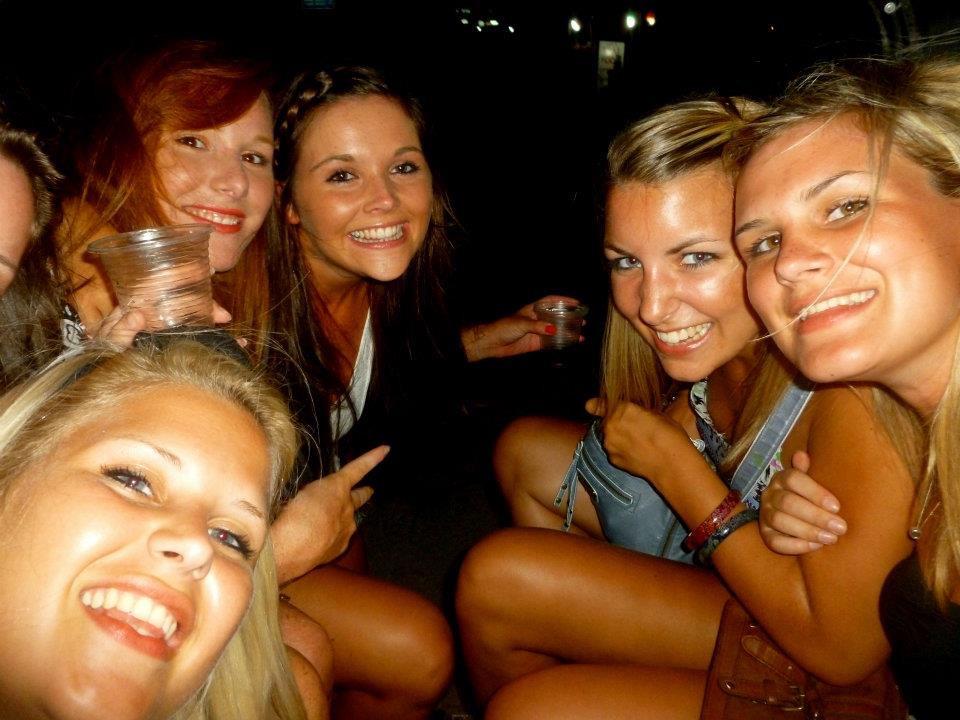 That night the build-up for full moon began with the waterfall party which was awesome!
After we came back down to Haad Rin we sat at some beanbags at the beach and just had a calmer end to the night. We saw yet again so many people we had seen around Thailand so far it was great to catch up and see where they had been.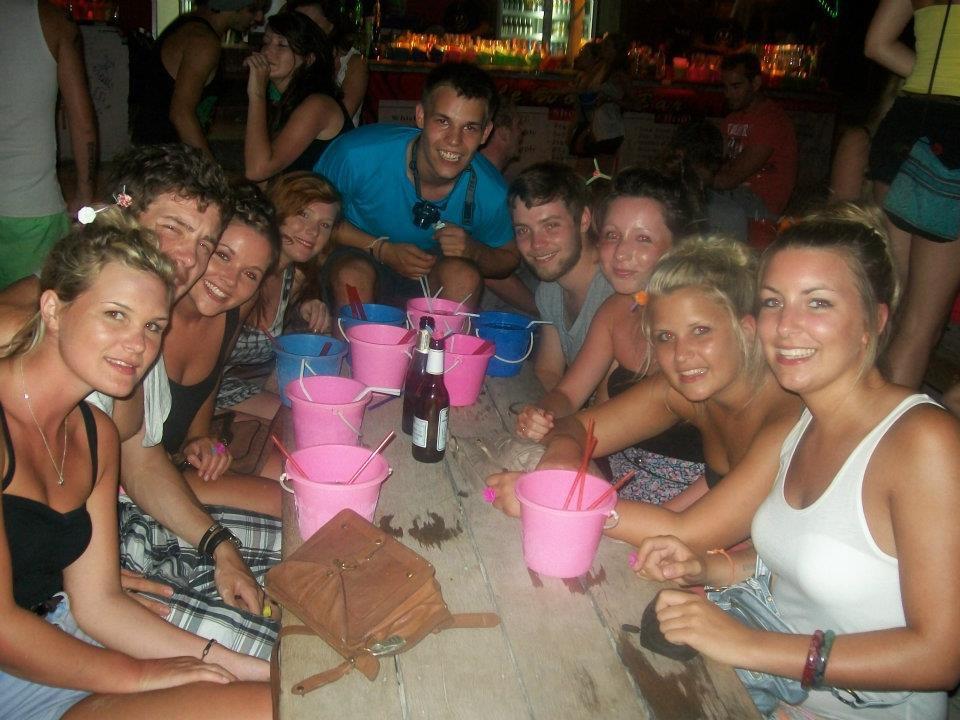 One of our favourite things after a night out in Thailand was a cheese toasty from the 7eleven on the walk home – this happened most nights in Thailand… like home from home!
Day Three- Full Moon Eve
In search of another beach we found a lovely cove nearby – Haad Salad it's called. It's a really quiet beach which isn't too big, with a couple of restaurants nearby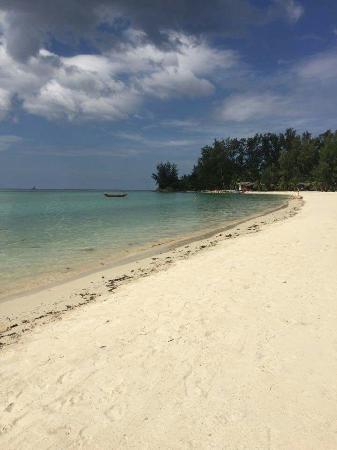 The water is so clear and the sand is white and fine! Just perfect for me. It is the idyllic Thai beaches like this which are my favorite.
we popped over to the next Beach Thong Nai Pan Yai Beach which can be hard to get to but the softly curved white sand bays surrounded by mountains covered in rich tropical rain forest make this place Idyllic.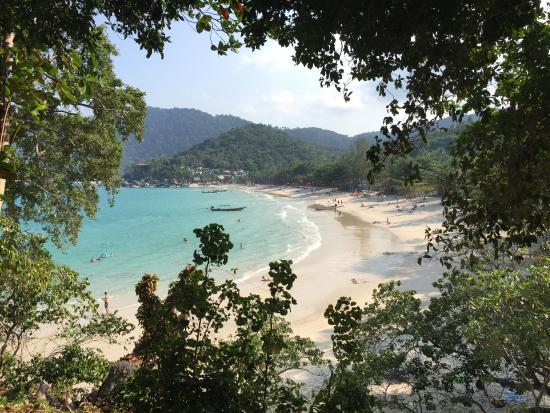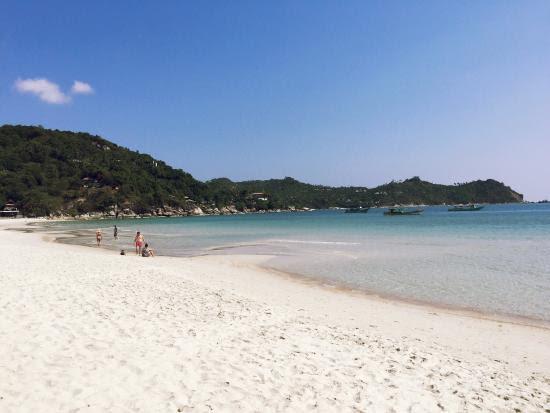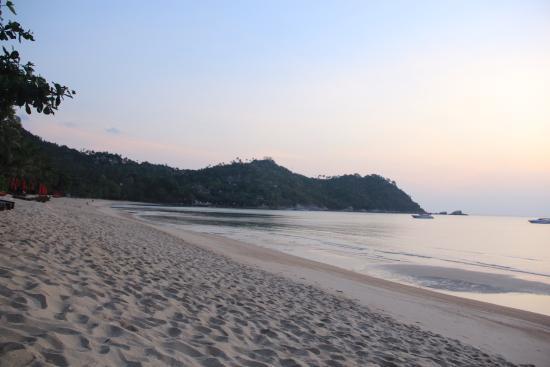 A perfect quiet spot to get away from the chaos of full moon. (By this point the island was almost full).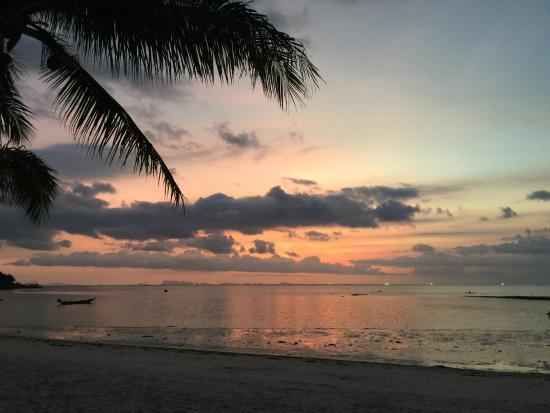 After the most blissful day we headed back to our bungalows to get ready. The eve of full moon we had been told can be better than the actual full moon party… so we were expecting big things!
We had a mental night going from bar to bar, a few tattoos later and losing some friends along the way. We ventured up to mushroom hill and the kangaroo bar where we sampled a 'special' shake. Normally we are quite against this type of thing but when in Thailand – prepare for a Bridget Jones moment.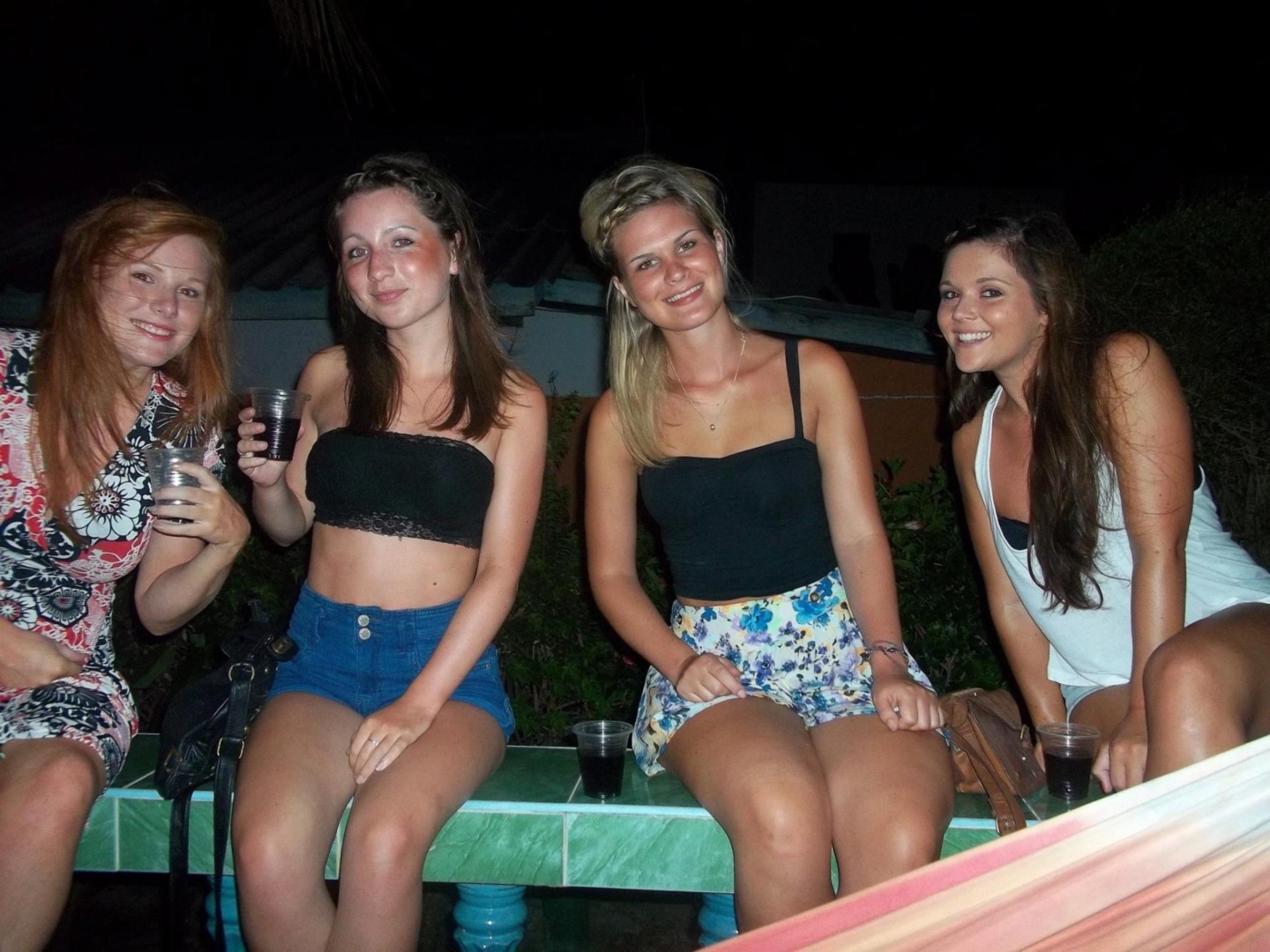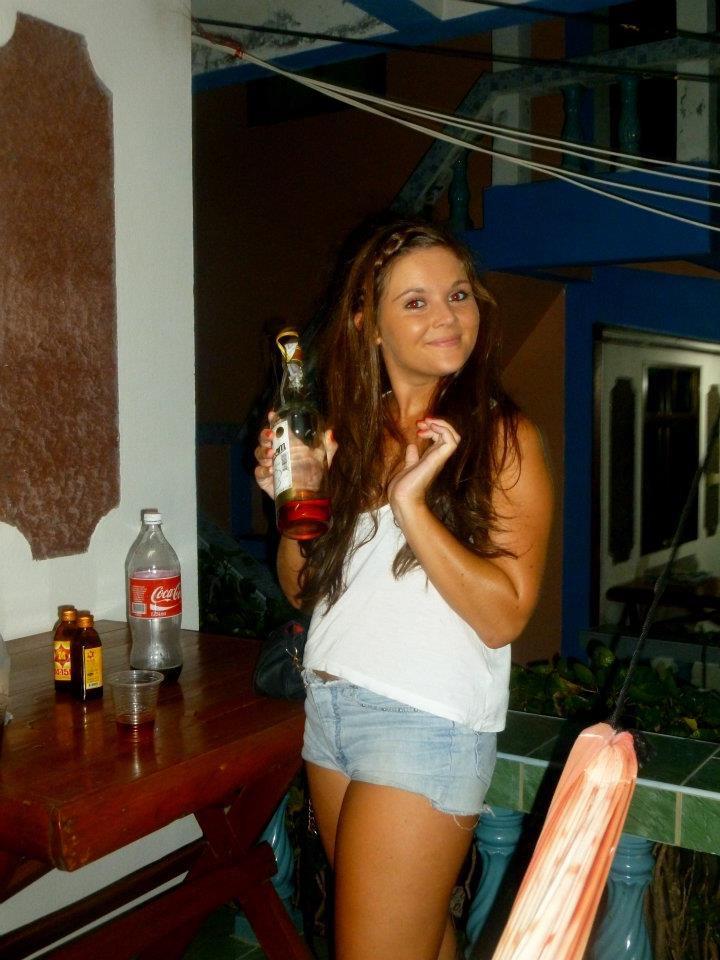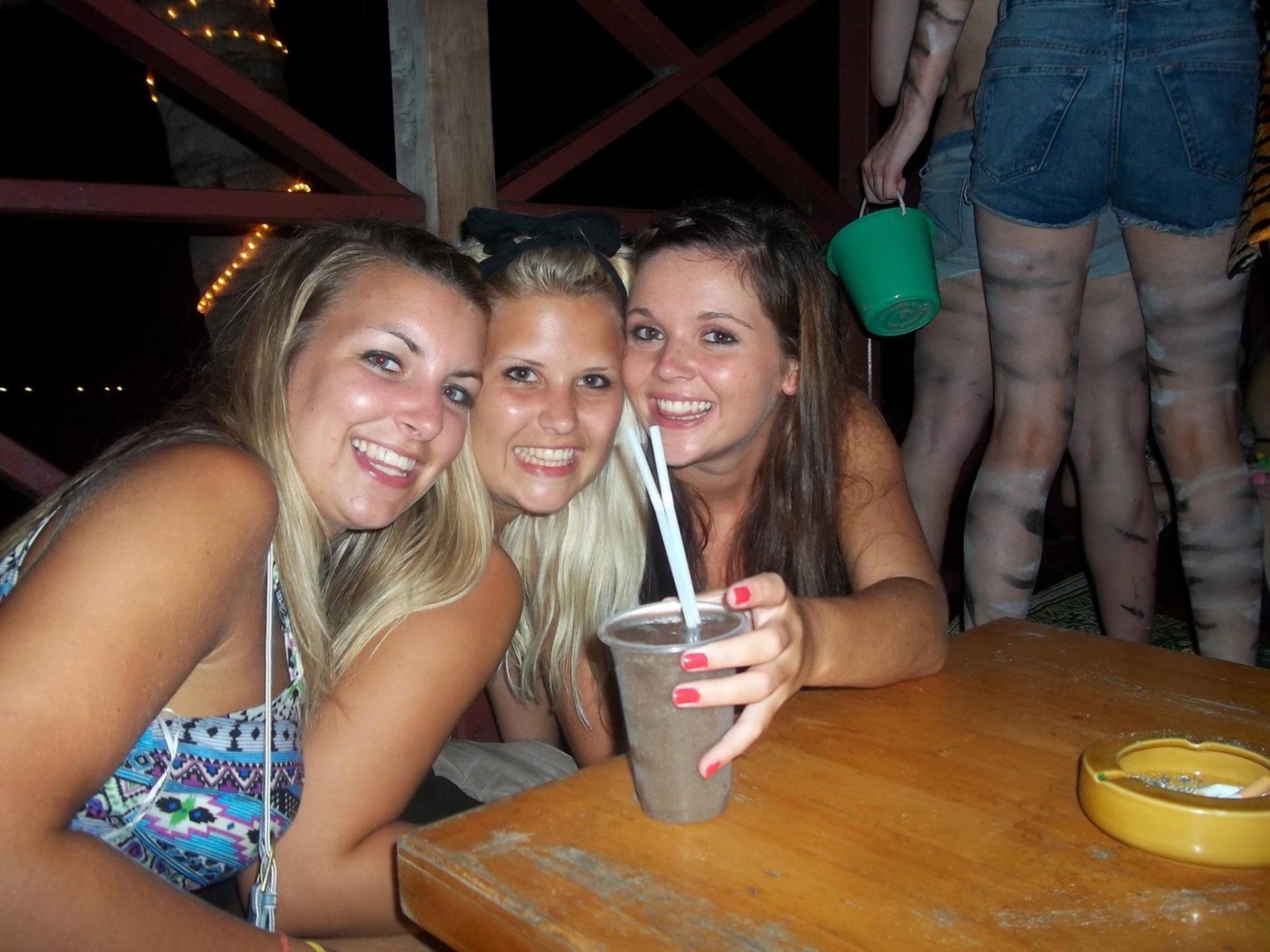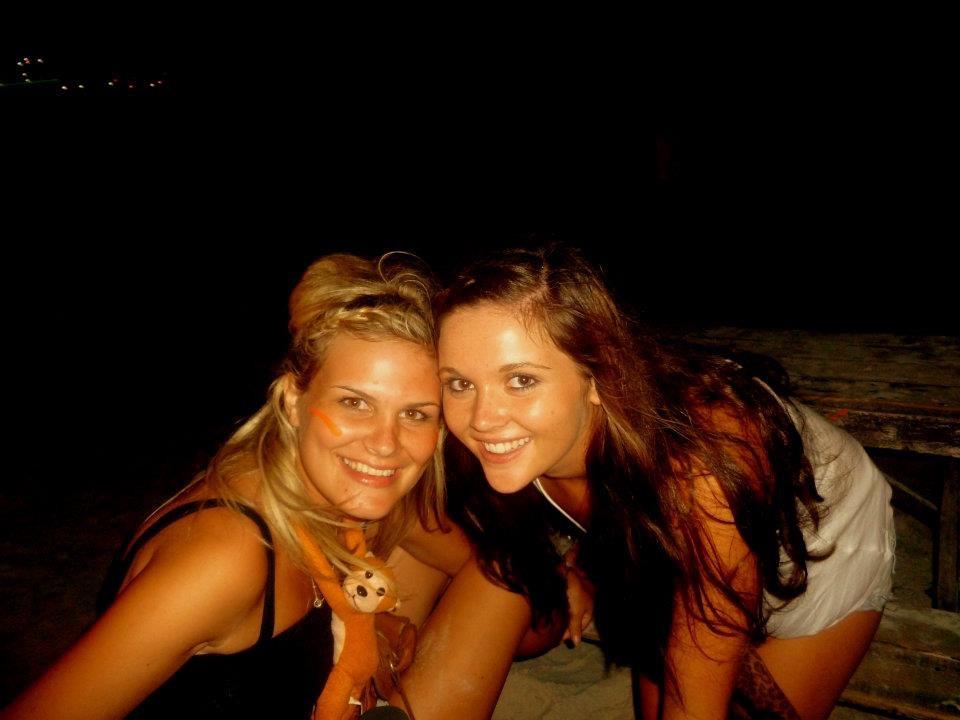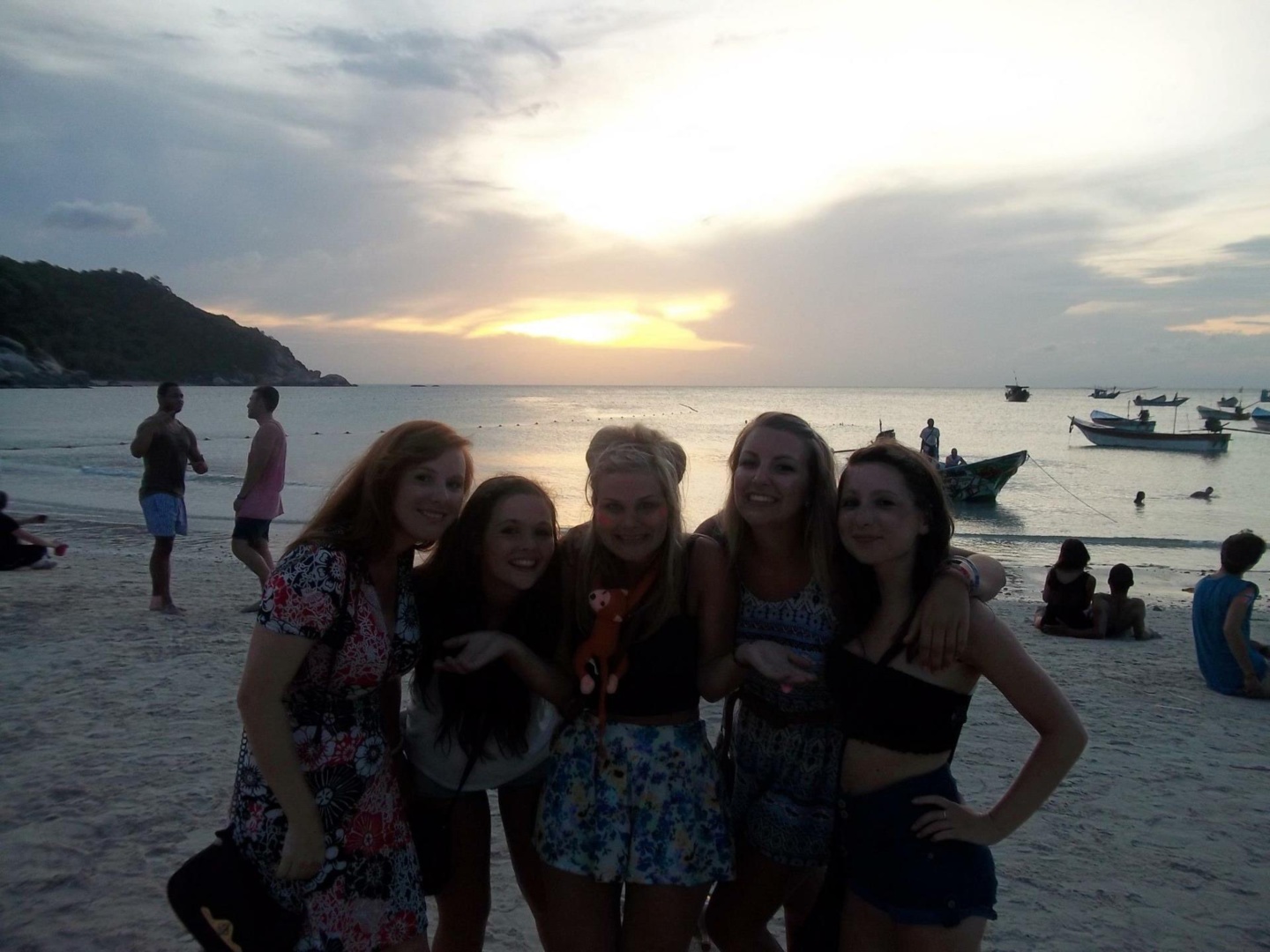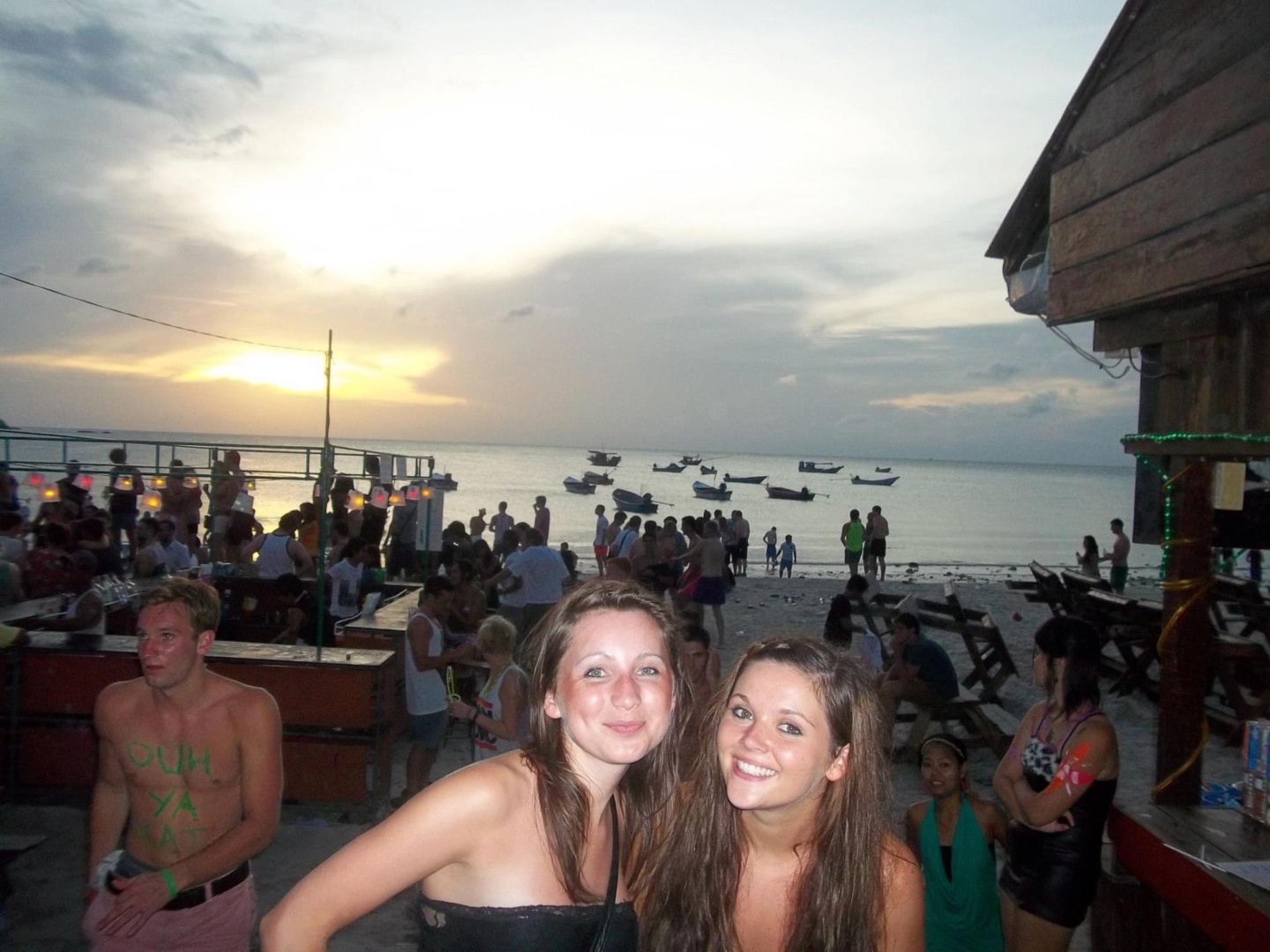 Nothing can quite describe the rest of the night… But we had a great time.
We met up with the rest of our friends and danced the night away on the beach until sunrise! I would totally recommend waiting this out as sunrise in Thailand is just too perfect!!
Day Four- Full Moon Day
After an eventful night we were ready for another chilled day on the island, but as expected the island on the day of full moon is super busy!! People had been arriving all week but with it being today it was noticeably busier!!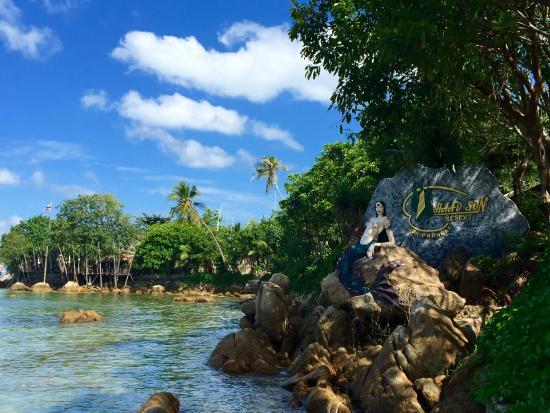 Off to a new beach this time and heading to… Haad Son (secret beach) on the west of the island. Perfect beach for a swim and even snorkelling but it can get quite shaded so we moved on later on.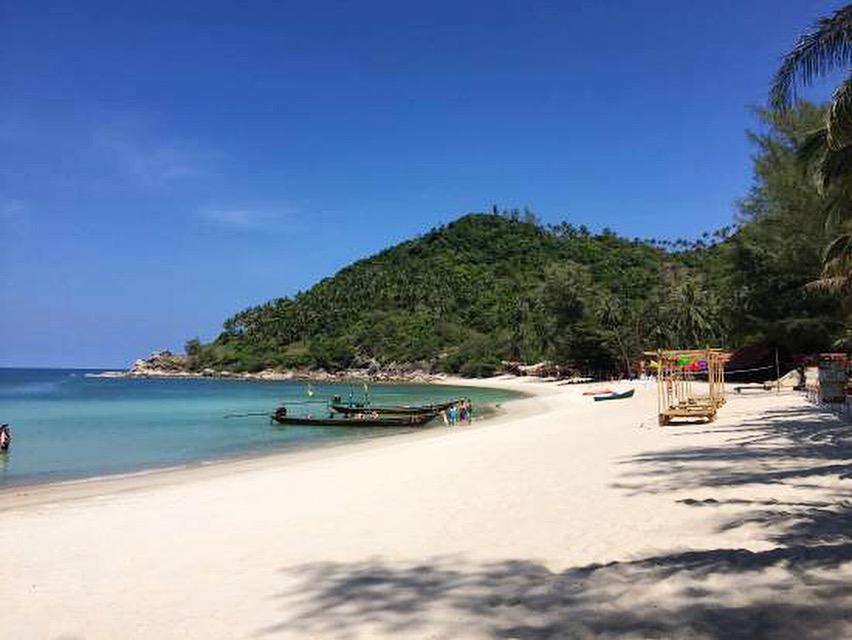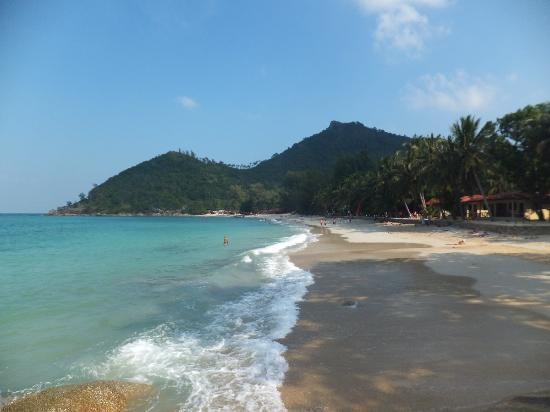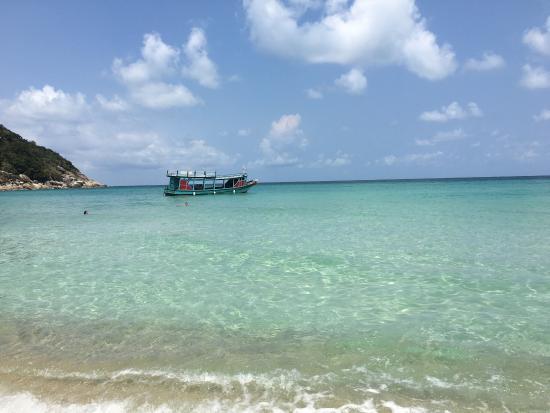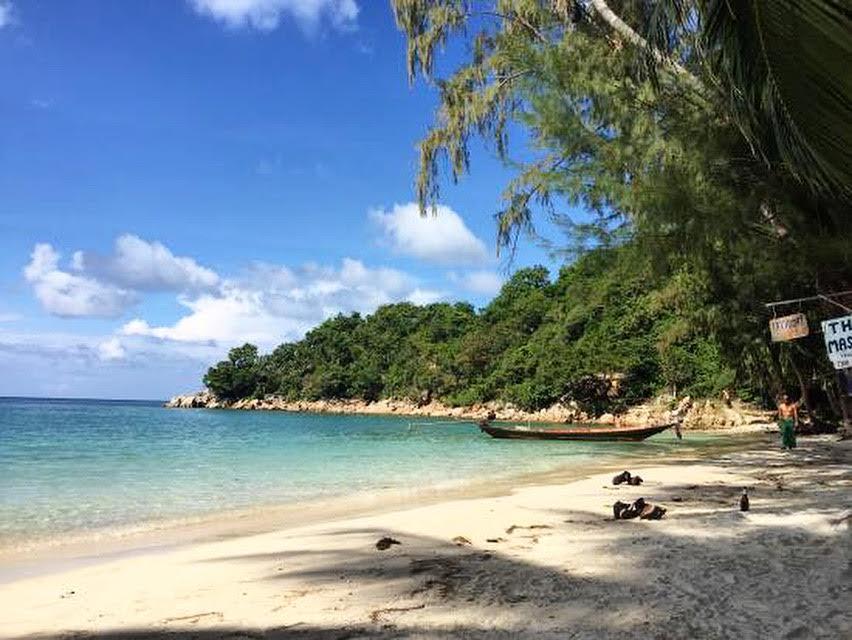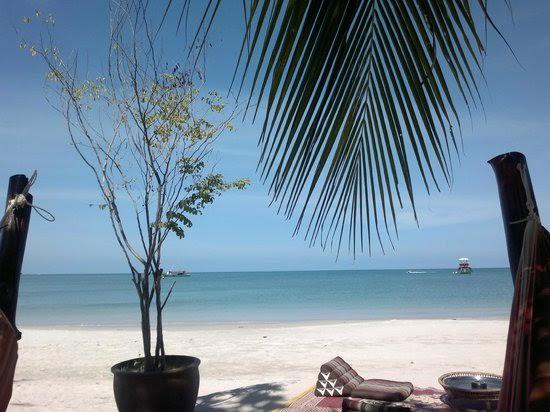 Haad Mae Haad- Bottle beach – best to get to by long tail boat. It's a famous beach but didn't seem too crowded which was lovely to spend the afternoon on.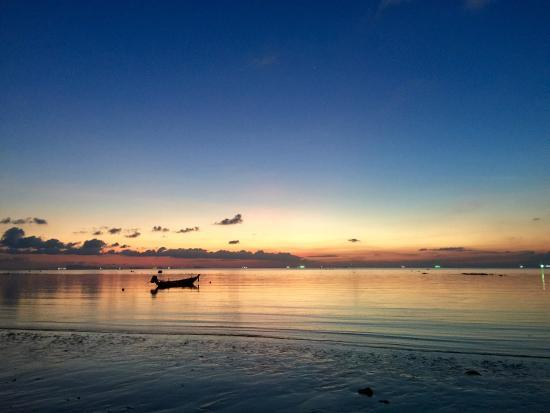 Day Four Full Moon Party
After a relaxing day of beach hopping it was time!! FULL MOON PARTYYYYYY!!
As the full on party is so well known I'm sure you will have seen photos but… We bought bright colourful tops from one on the local shops (of course getting a deal with 6 of us).
We got ready in our bright clothes, had a few drinks and out came the neon paints (you can pay to get painted if you like which isn't too expensive). It's fair to say we got a tad carried away … But that's what full moon is ALLLLL about! Pictures below…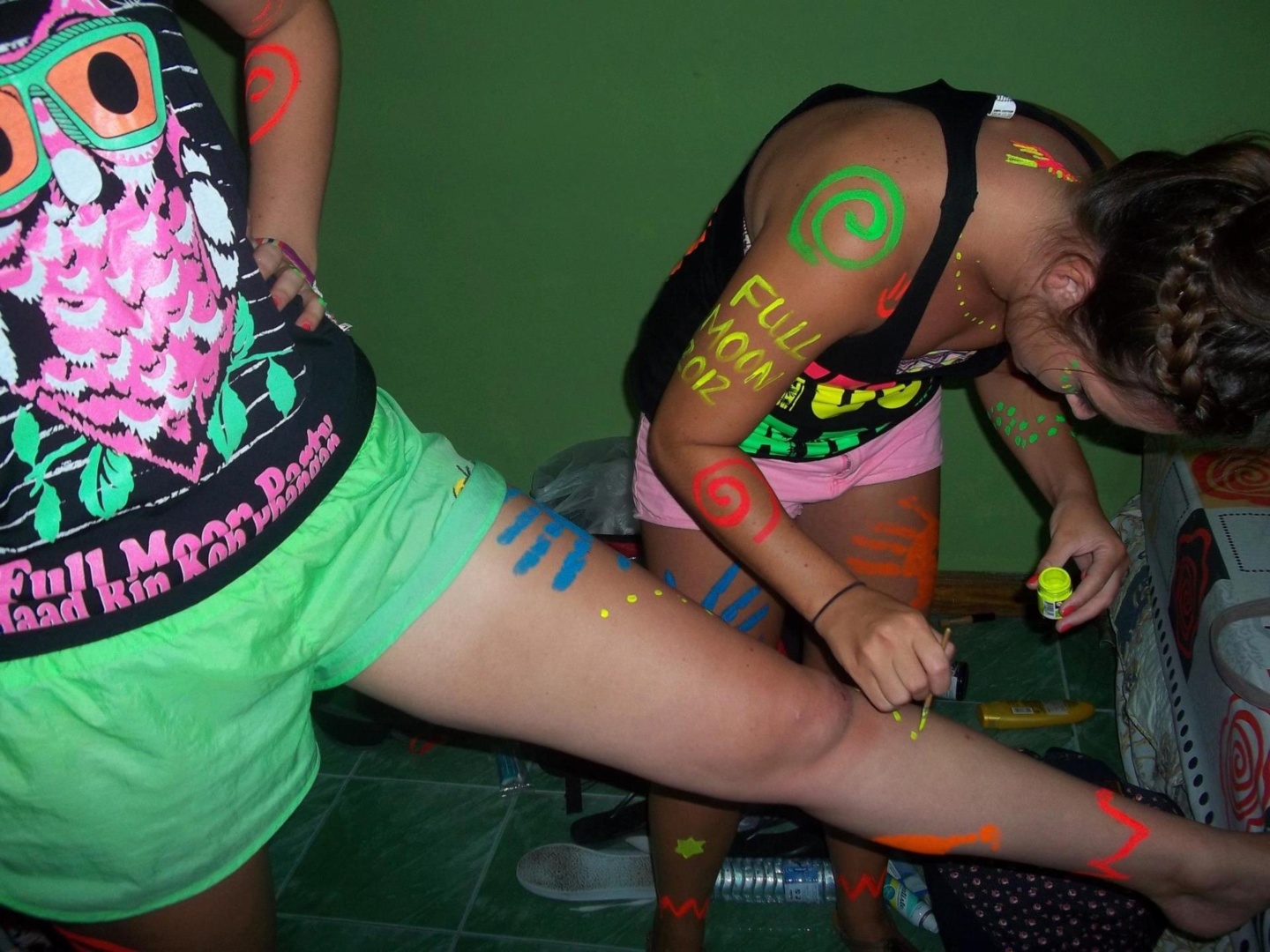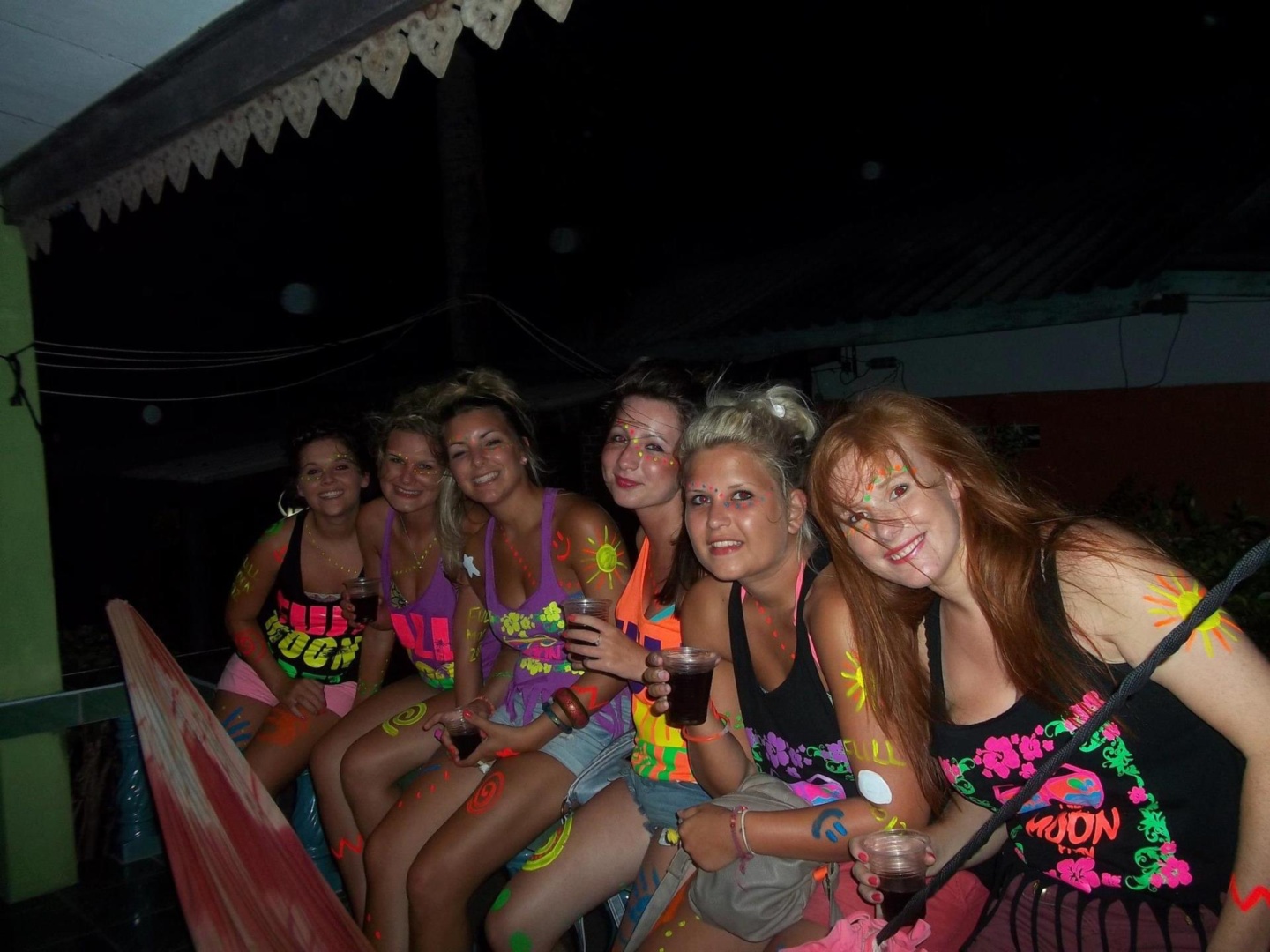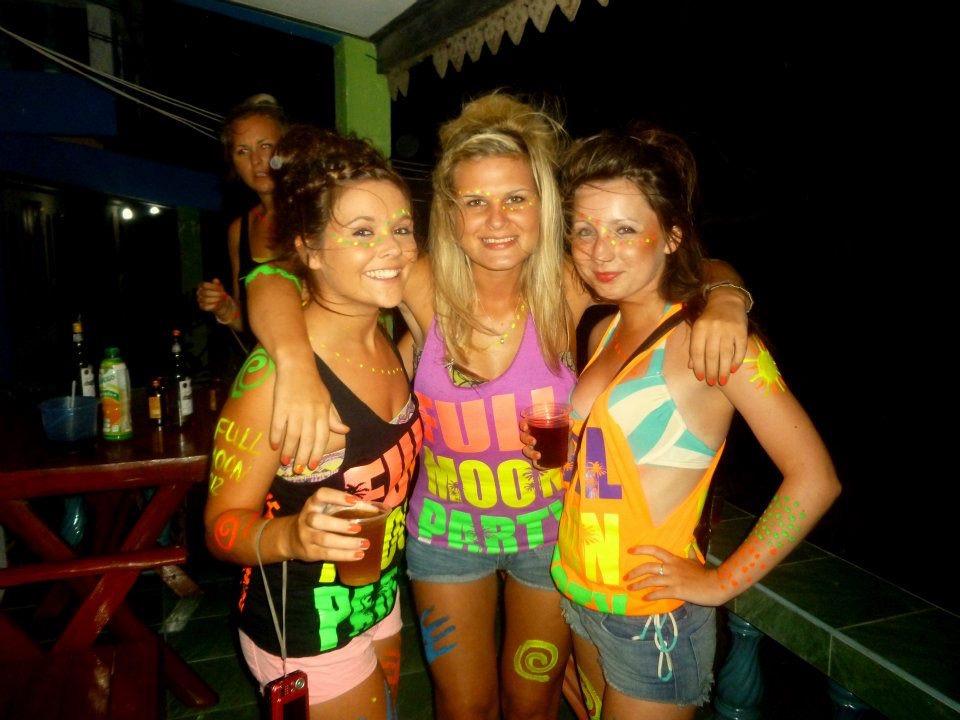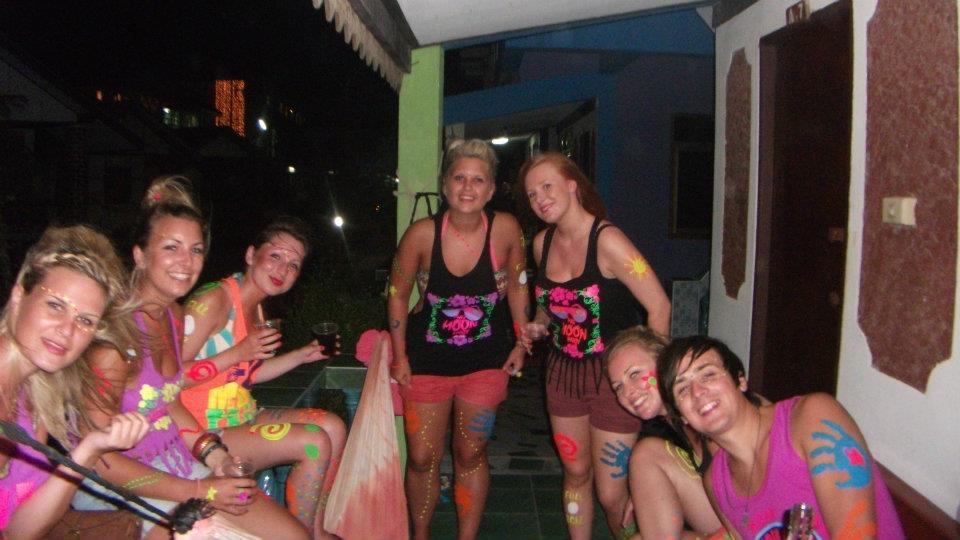 This guy cracked us up..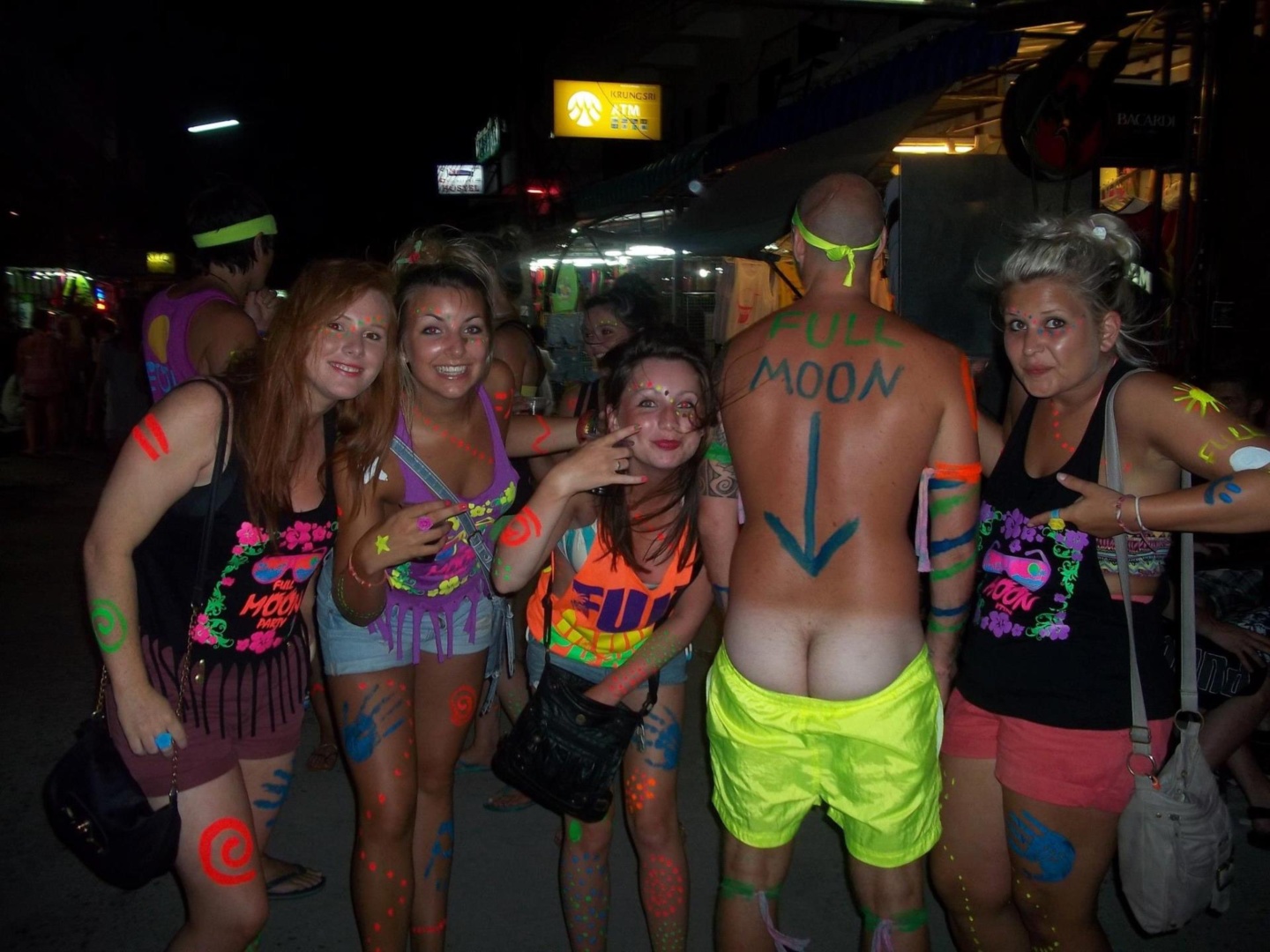 The full moon party lasts all night and is located in Haad Rin beach. It has eleven bars all with in house DJ's. There are many stands along the beach that sell drinks also.
The route from where we were staying to the beach was just amazing. Everyone in neon colours clothes and with so much going on! People everywhere having a fab time and getting painted at one of the many stands! The paint is better than what you can boy on the island as it glows (so you may want to take your own).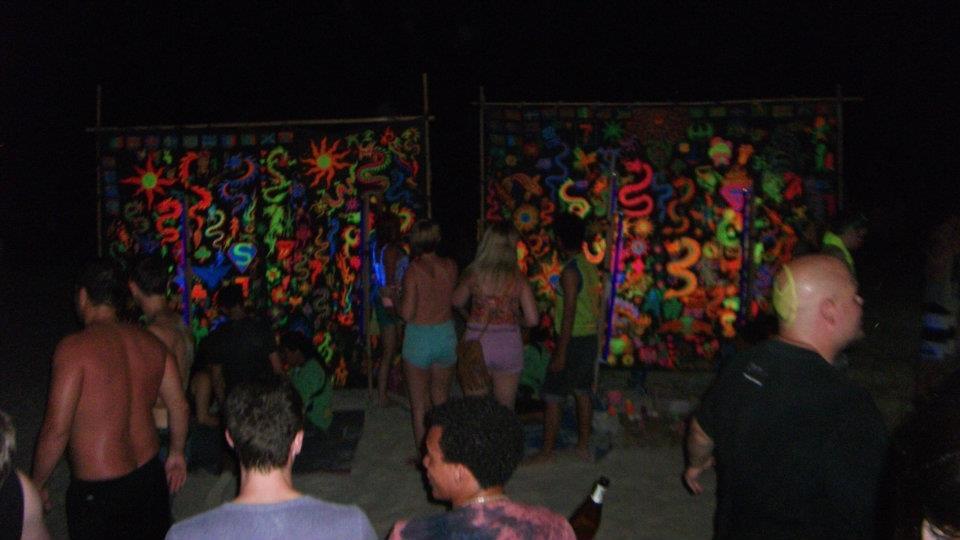 Starting at one end of the beach and literally worked our way down. Visiting all of the bars along the beach! We went down a big slide, jumped fire ropes and rings which are all the way along the beach (fun but VERY dangerous). It was THE BEST night! Such a laugh finding people we had met along the way and had the times of our lives!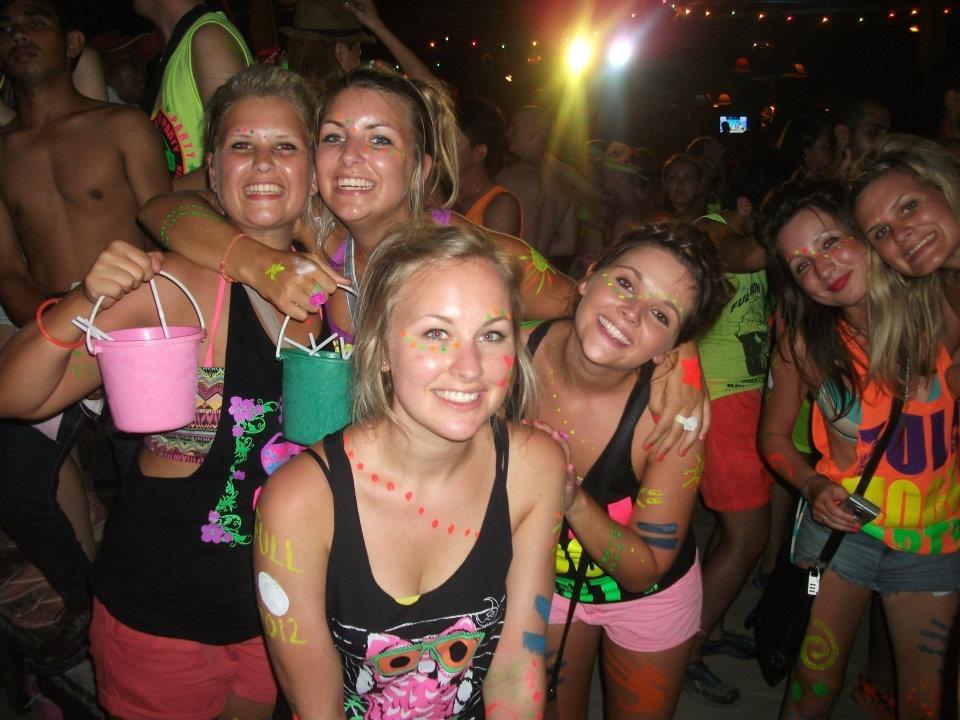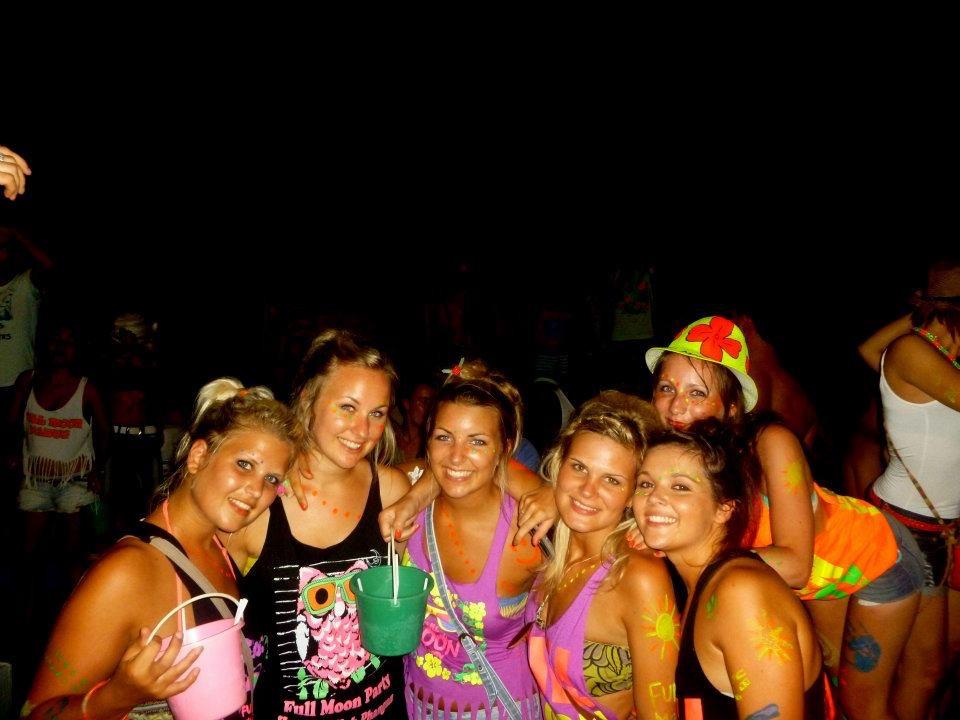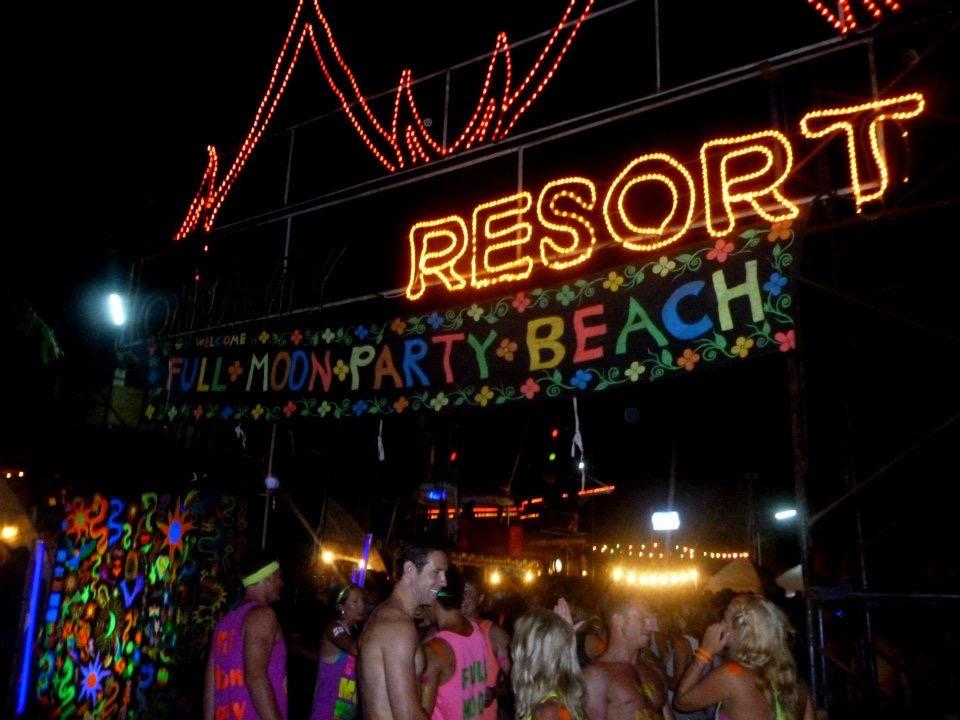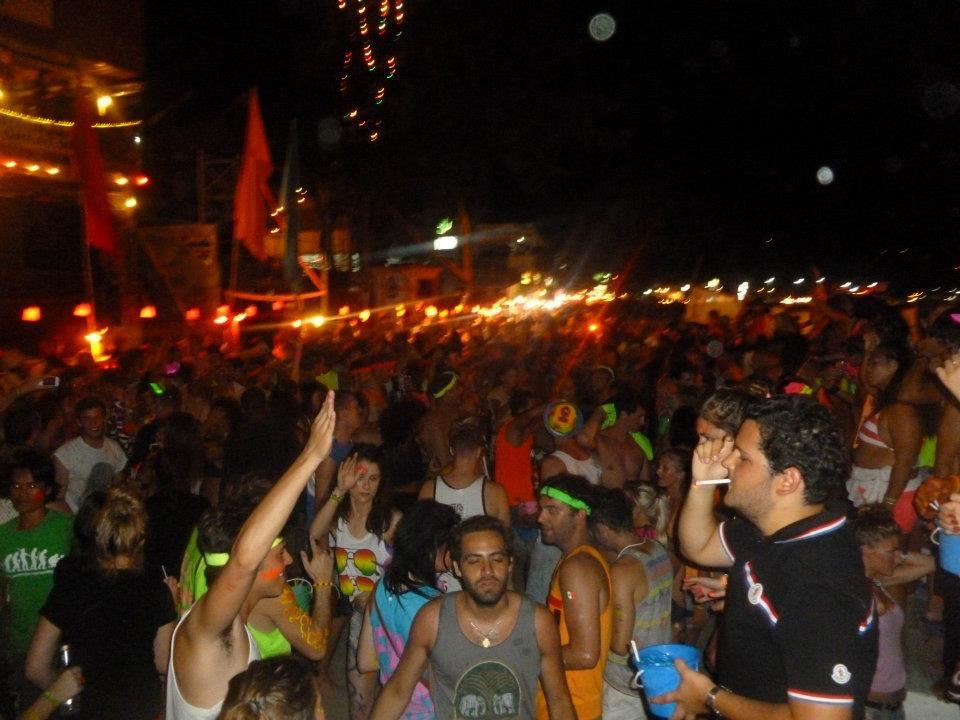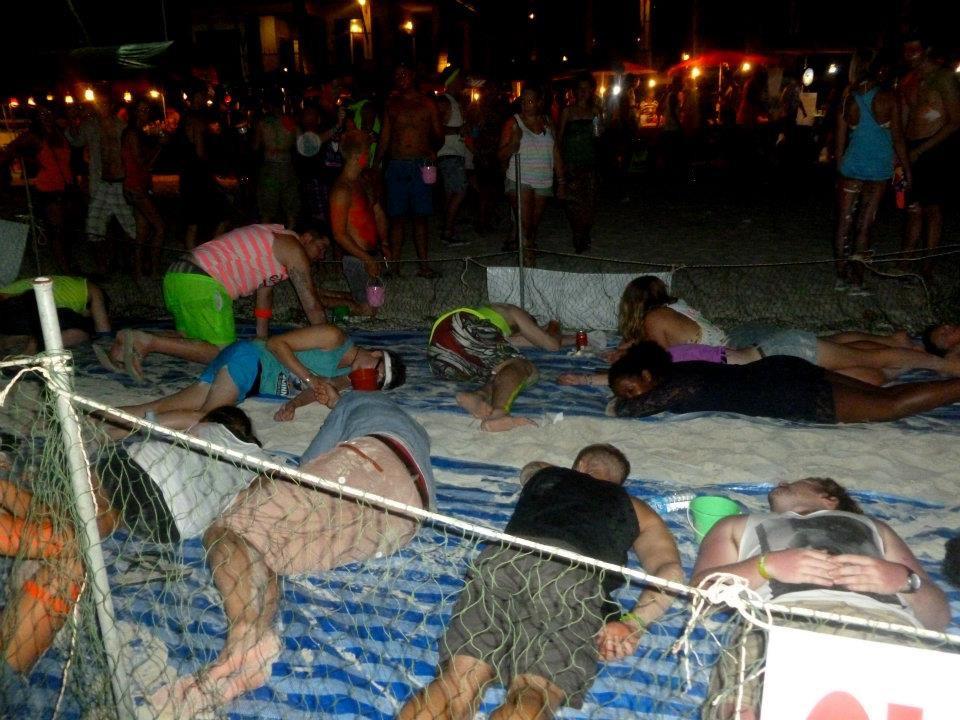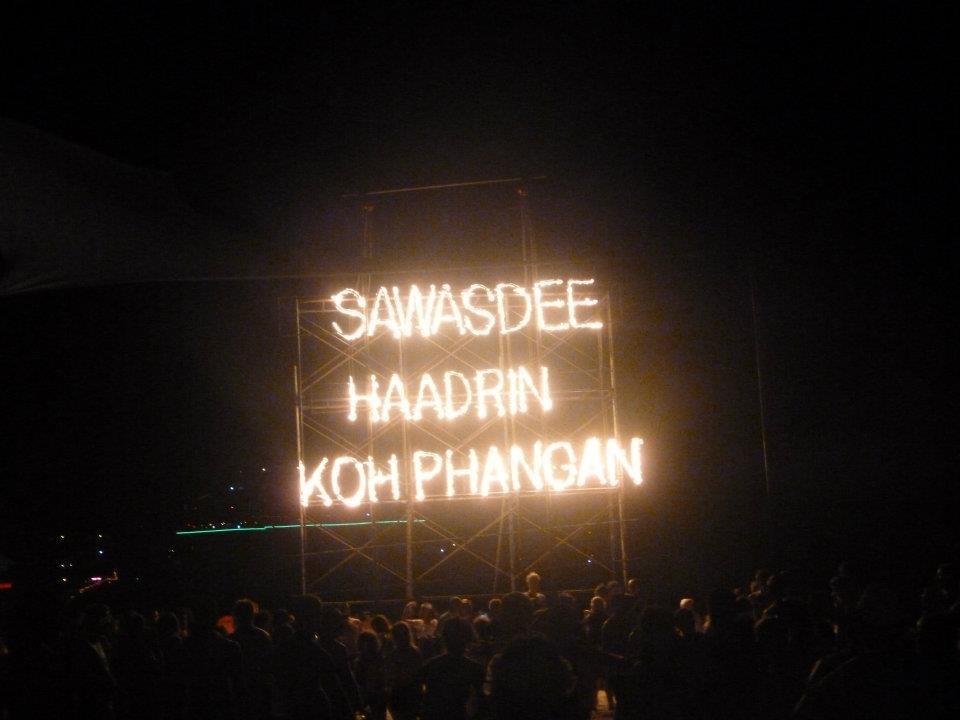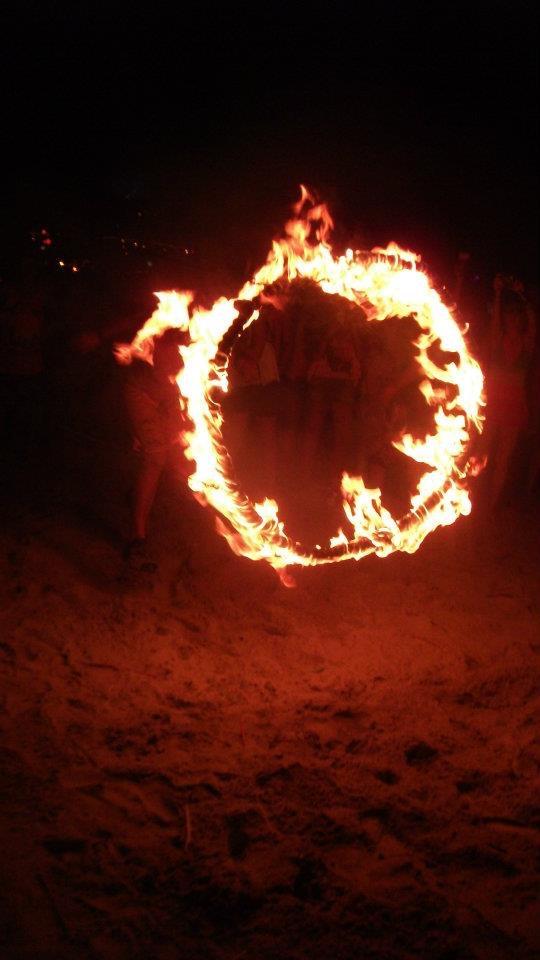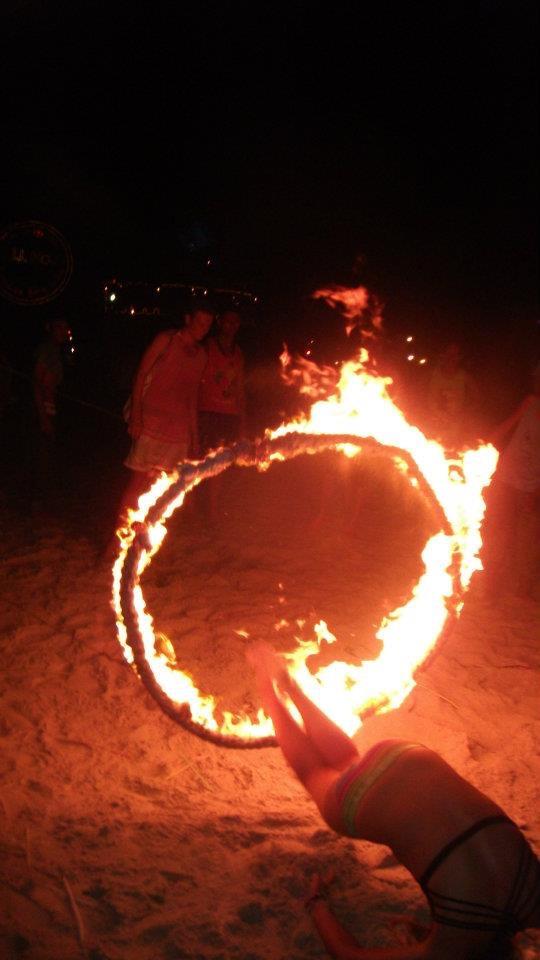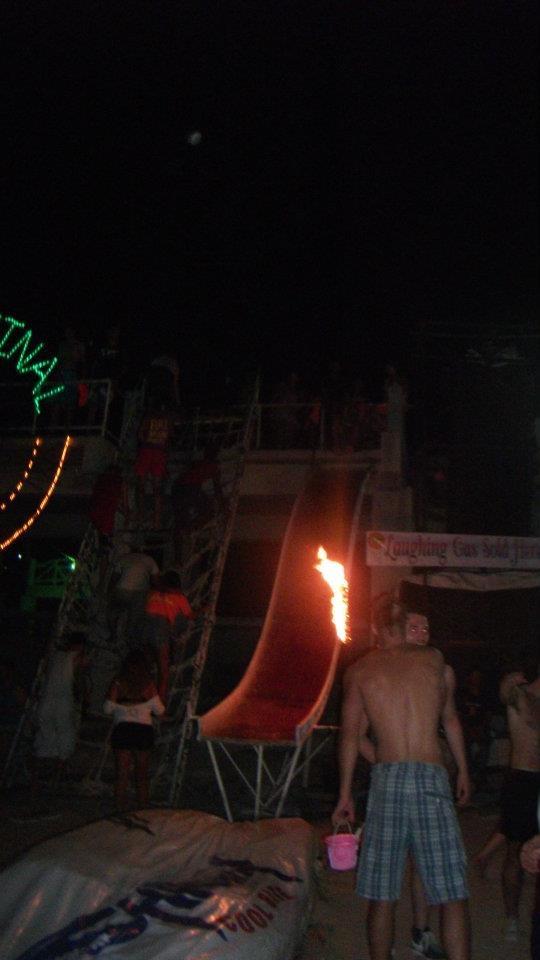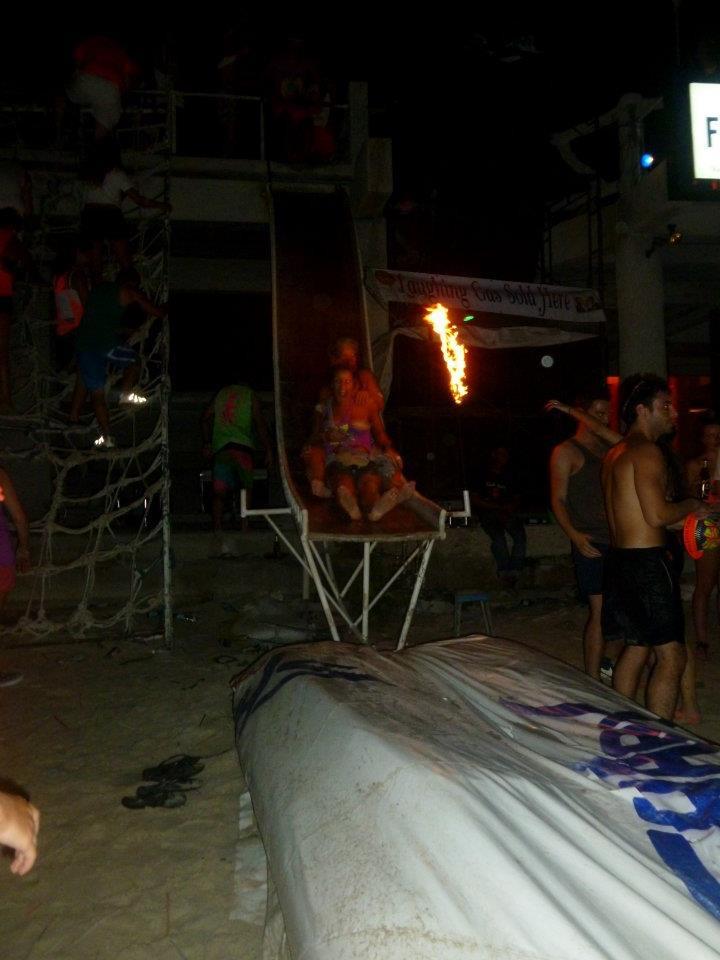 When the sun came up the beach was carnage buckets and straws absolutely everywhere… Not surprising really on a beach with 40,000 people!! Arriving back at our accommodation at 8am you know you had the best night!!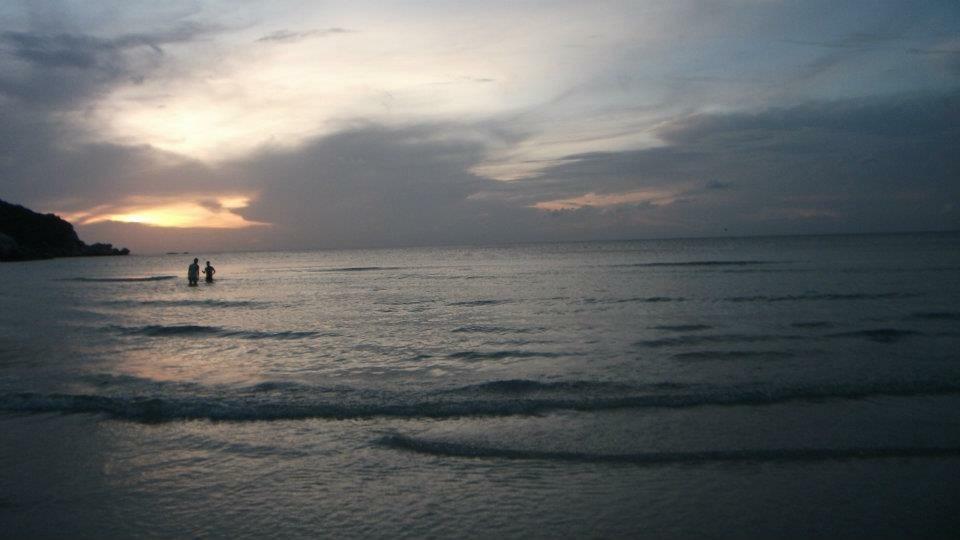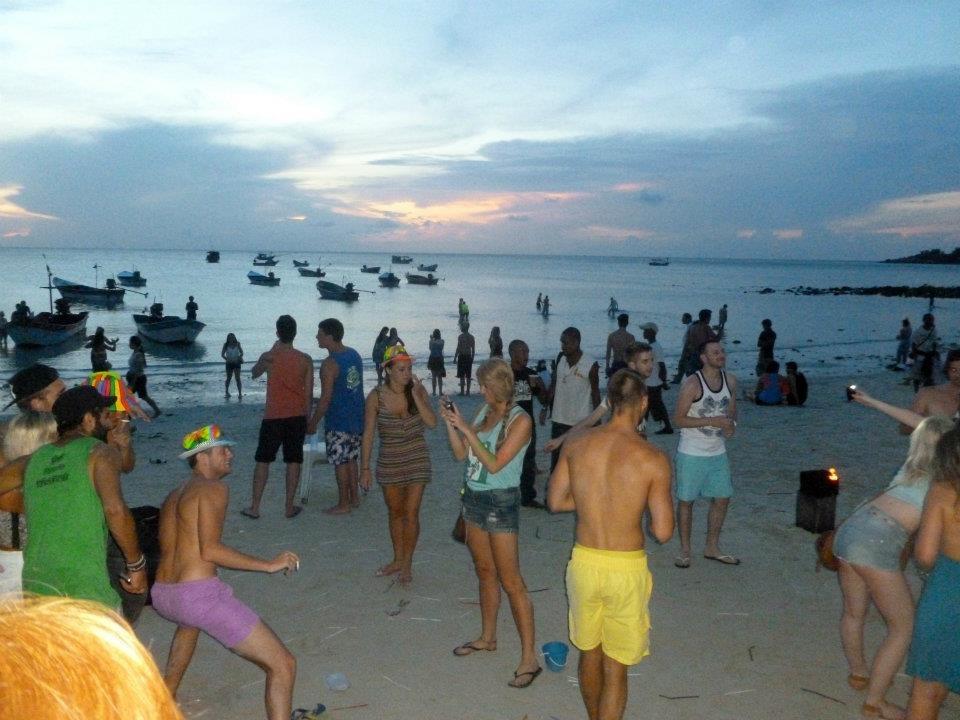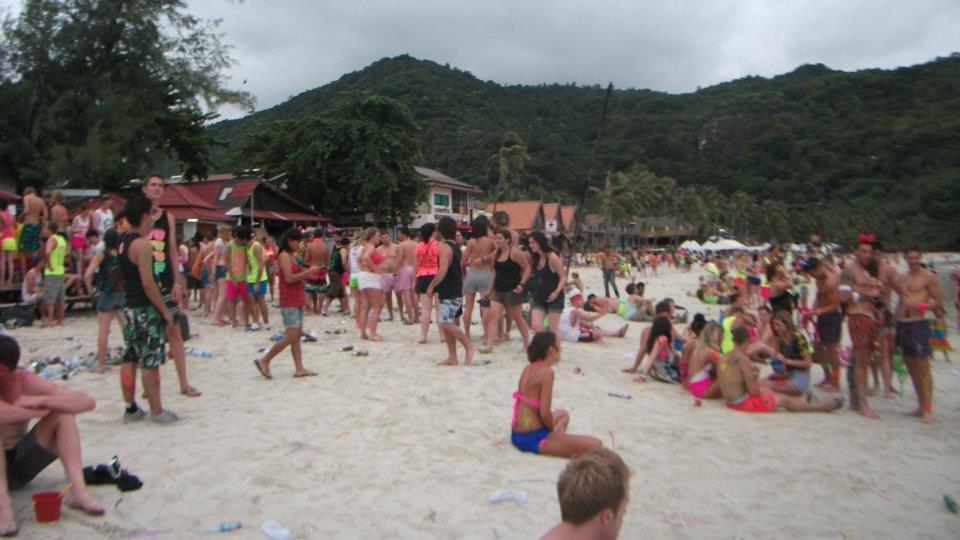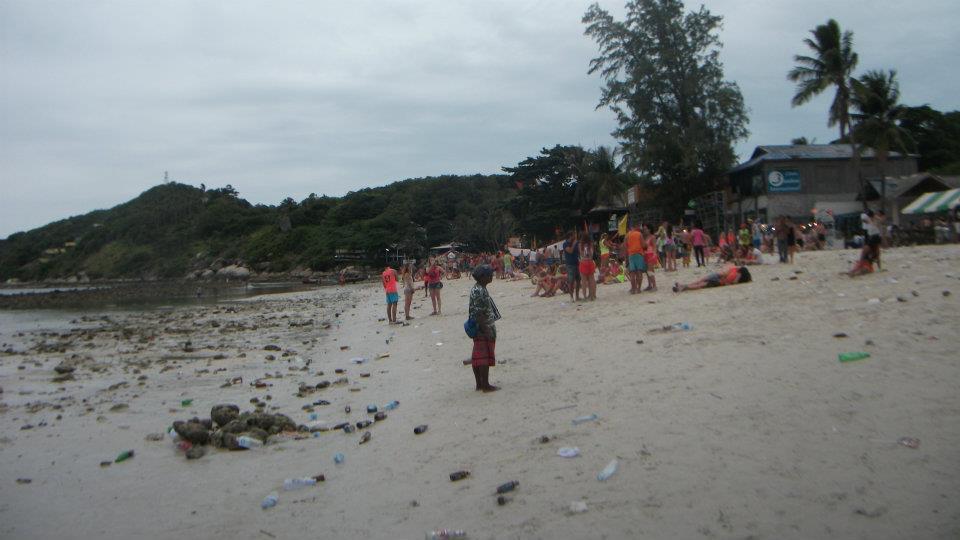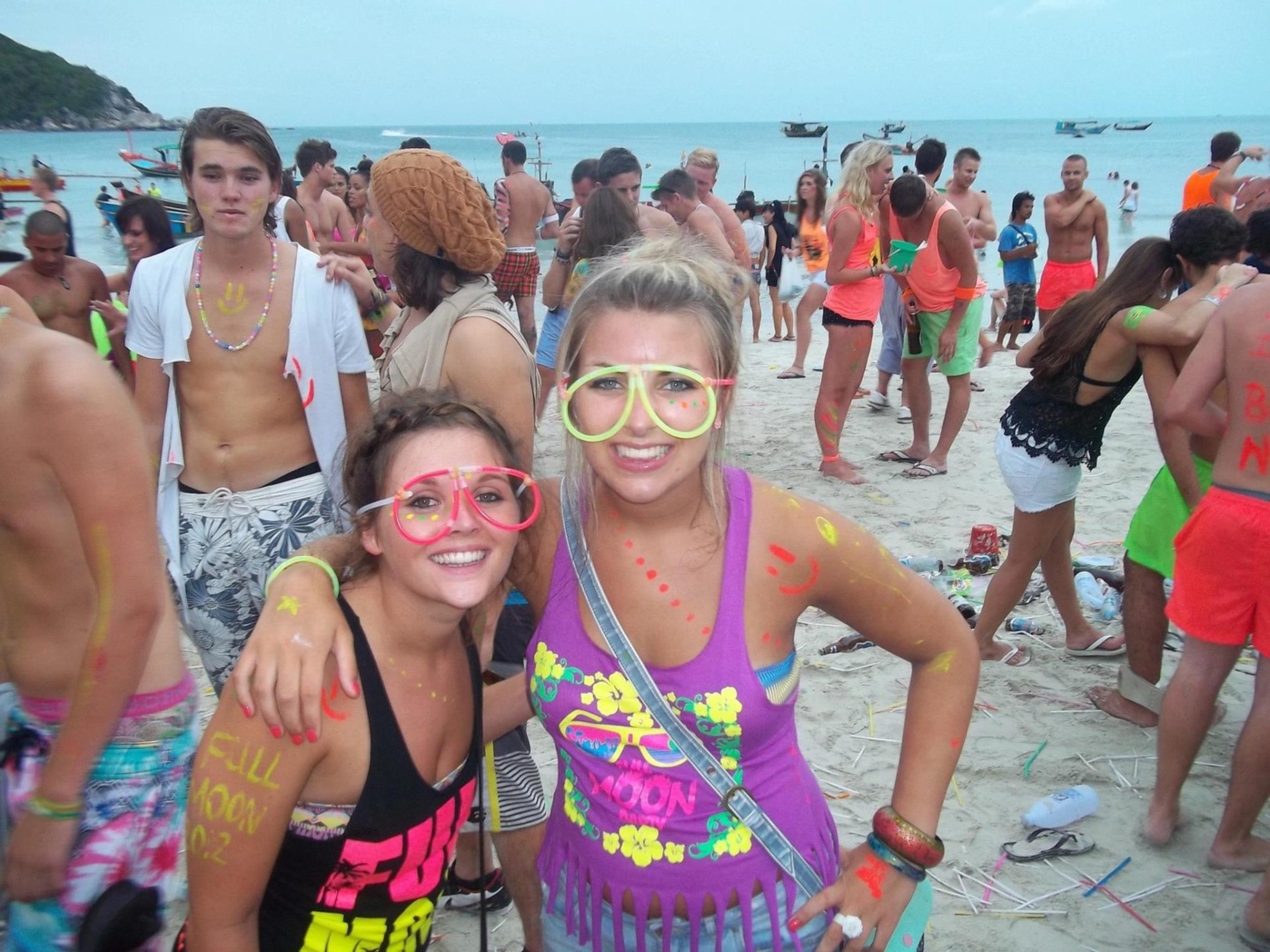 Day five – Last Night
I think it's safe to say the day after full moon is a quiet day in the island! Me being the early riser after two hours sleep I got up. I sat by our nearest beach on my own whilst everyone else slept in.
We went for a walk about the little town and watched a film in a bar due to a massive storm that had rolled in. At a local travel agent, we booked a speed boat to Koh Tao for the morning which was very cheap due to it being so close.
The afternoon spent getting beautiful photos at Haad Yao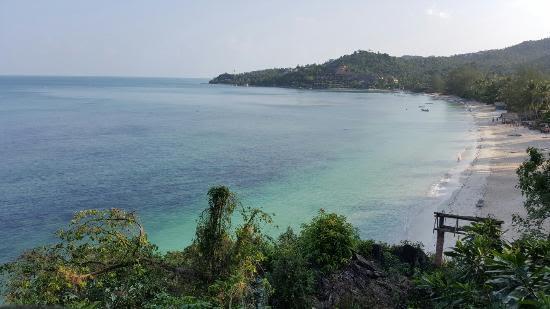 Two of our friends that only traveled with us for three weeks packed up to leave. So that they could spend their last few days exploring Chang Mai. They had booked a last minute flight for around £60 up there so that they didn't waste any time.
We spent our last night on the island with my friends sister before she carried on her adventures. A quiet night was definitely needed before our 7.30am boat.
Thoughts on Koh Phangan
A lot of people associate this island with just being a party island but it is so much more. It's beaches are some of the best I have seen. We loved our time on this beautiful island but it was time to get going and head to Koh Tao and see what it had to offer!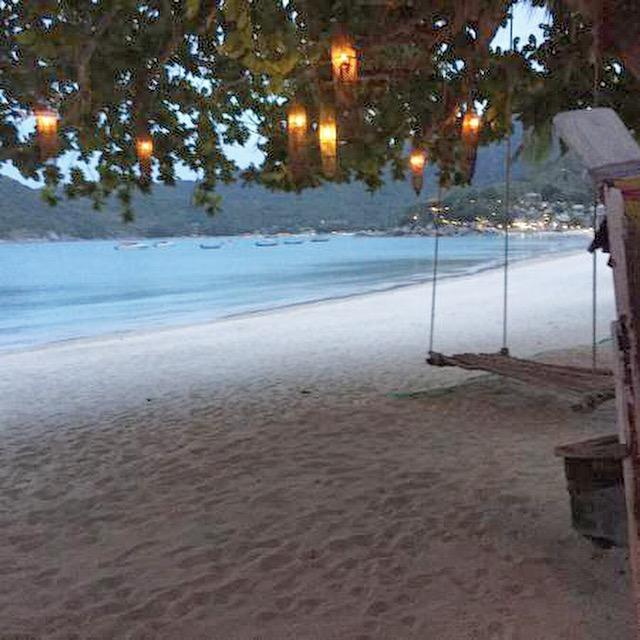 ---
Next stop … Koh Tao… read all about out time on this chilled out island and our scuba diving experience which was utterly incredible
---
Have you been to Koh Phangan what did you get up to in your time there? or if you are heading there soon let me know I would love to hear about it!!
Thankyou for reading!
Bethan
xox