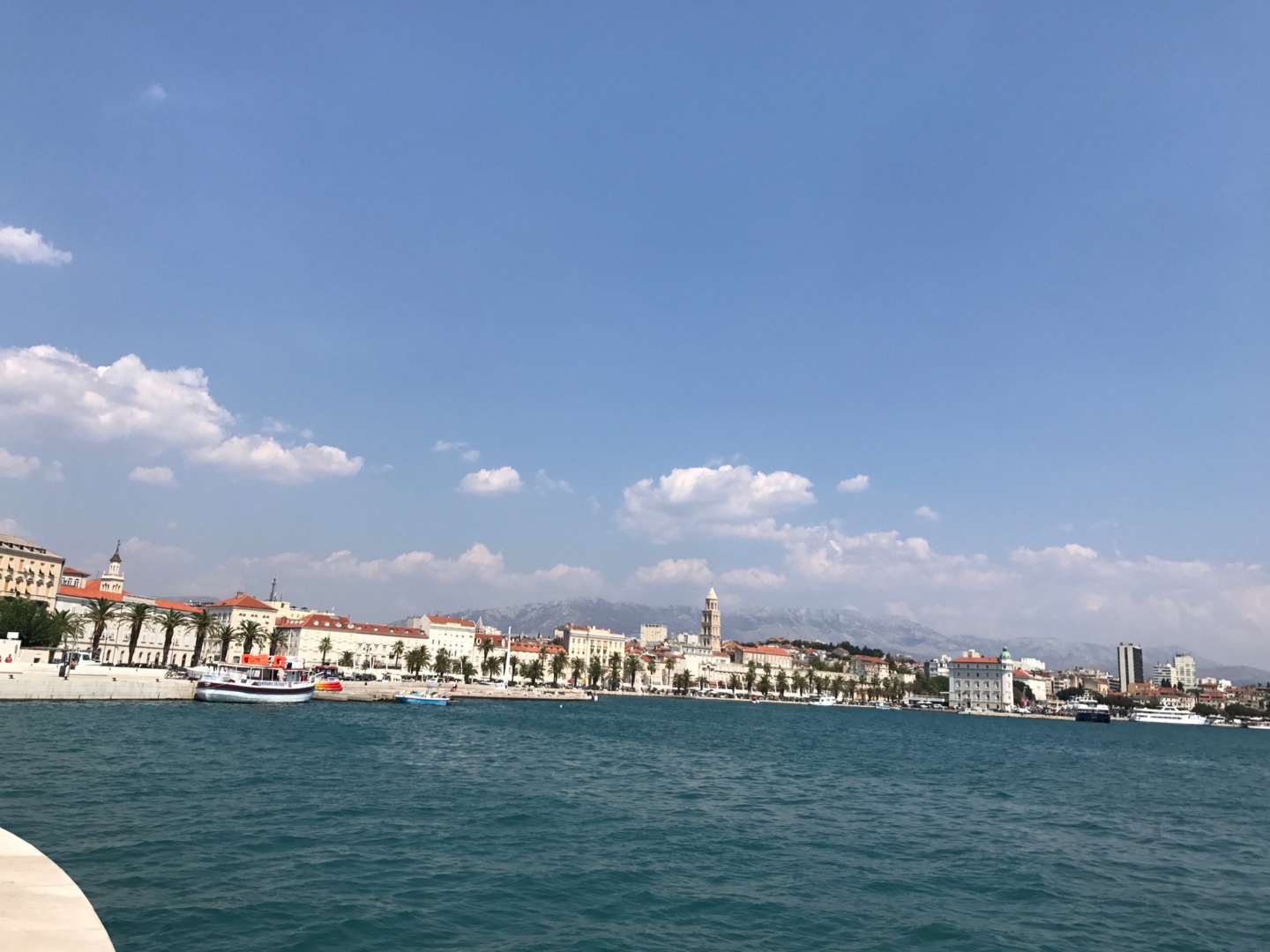 Those of you who have read my previous posts from this series. In August Me and George went on a road trip for Nine days starting in, Montenegro, Croatia and Bosnia and Herzegovina. On our road trip we had an amazing trip exploring new cities along the Adriatic Coast read our itinerary here.
To read more on our previous stops…
Stop Three: Split, Croatia
Arriving in to Split at lunch time from Dubrovnik, the journey had taken around 4 1/2 hours via bus. We had not picked up our car up yet as we were in the split area for three days with no need for a car yet… so no point paying for it.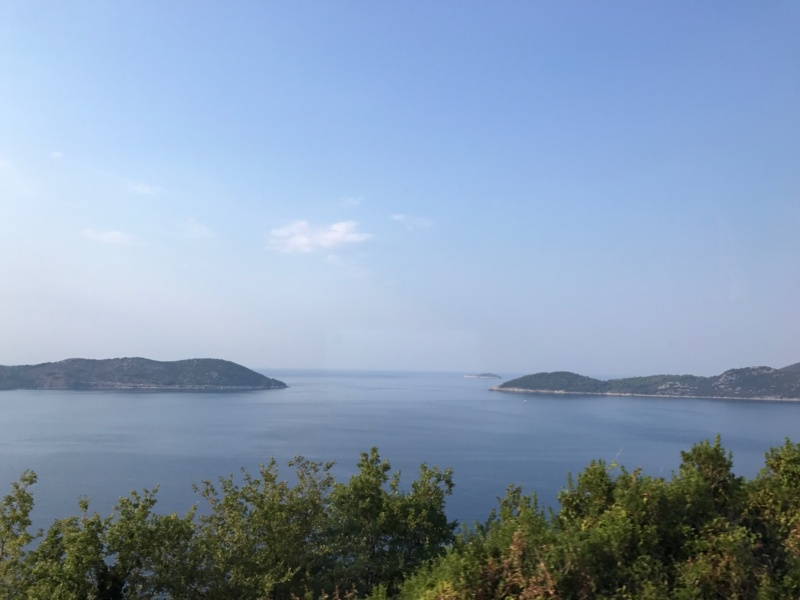 Our time in Split was divided into three due to plans for when we left we decided to stay for one night at first. Then go stay on an island for the night, then spend the night in again Split again. This made it a bit more moving about than we anticipated initially but eventually it worked out for the best when it came to leaving. Plus it meant we got to stay in two apartments on opposite sides of the city to see from both sides.
We located our first Air B&B only 10 minutes from the bus station luckily. The apartment-
Center roof Apartment Split
was exactly what we needed and a roof top terrace. It was centrally located and walking distance to everything we needed the area was close to the city market. If we had stayed here longer it would have been lovely to sunbathe on the terrace, unfortunately due to our short time in the city we spent most of our time exploring. We did enjoy a lovely breakfast and a few drinks on there at night however.
(This trip our first time using Air B&B and I can highly recommend it – get £15 off your first trip
Here
).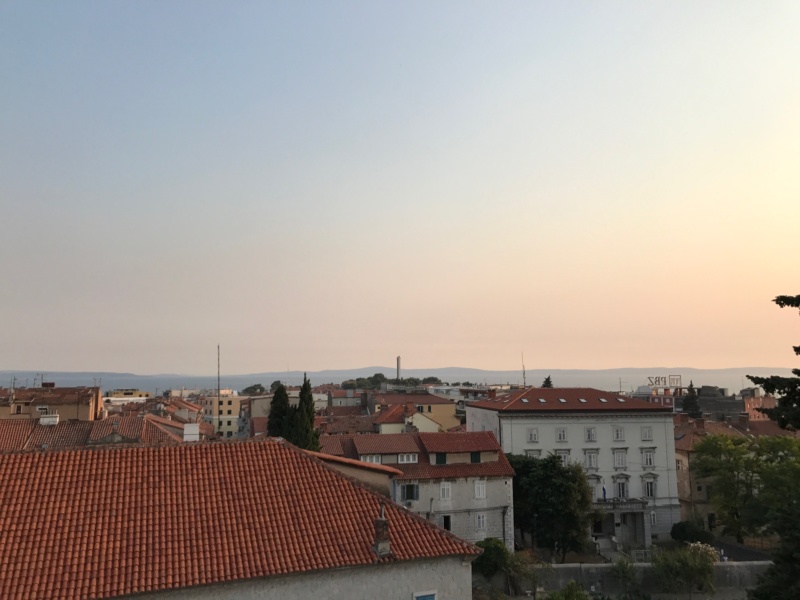 Day 1 – Hello Split
We set out for an explore of the harbour and started to explore the old town. Along the harbour I managed to capture the Iconic picture of Split that is in brochures. Heading back to the Old town, you simply cannot miss some of the sights there.
Underground of Diocletian's Palace Wonder at its construction and how this has managed to survive the passage of history. From an archaeological perspective, this place is amazing.This is now an underground shopping area that is jam-packed full of stalls I particularly enjoyed the jewellery stalls. I have to say that the quality was pretty good and there was lots of choice.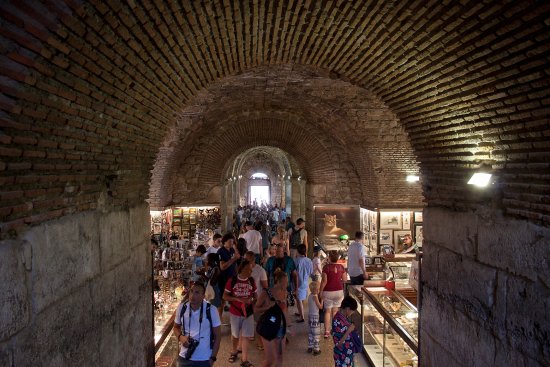 Diocletian's Palace Its self is one of the most imposing roman ruins in existence and where you will send most of you time whilst in the city of Split. Don't expect a palace,or a museum however it is the beating heart of the city. It has many narrow packed streets lined with bars, restaurants shops and many many people (especially in August). It was really interesting walking through the streets of the Diocletian's palace. There were even parts of game of thrones filmed there for those that are interested.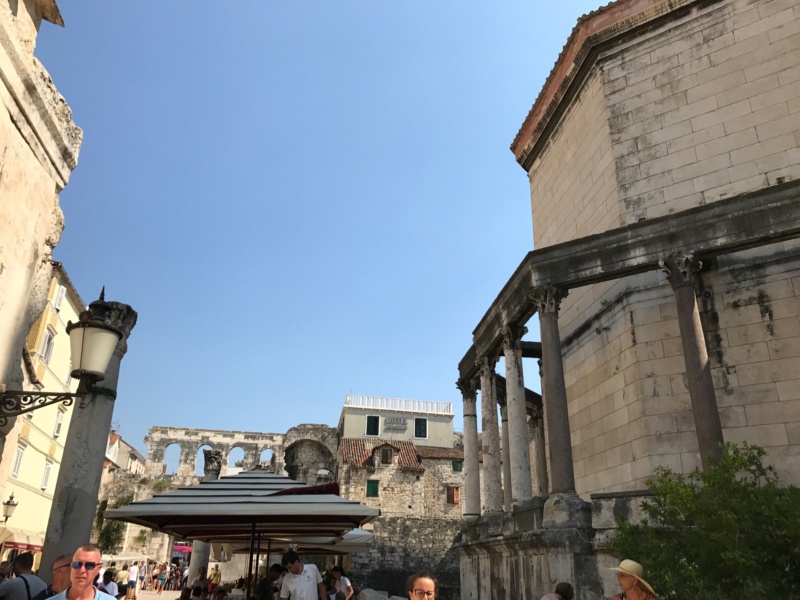 Narodni trg The Peoples Square. Grab a beer and watch the world go by. There is plenty of sights to see and this seems to be like a crossroads of shopping streets too. Worth a visit at anytime of day. It's a nice little square, especially in the early evening with a beer in hand.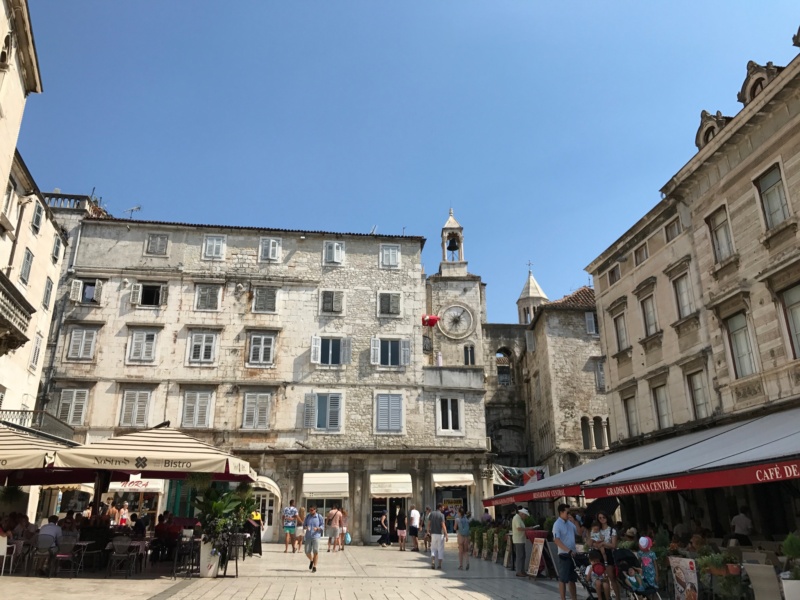 The City Clock is off the main plaza, outside the actual Palace walls. You are able climb the bell tower (for a fee) and see the brilliant views of the coastline but a scary climb. There are some great places to eat nearby.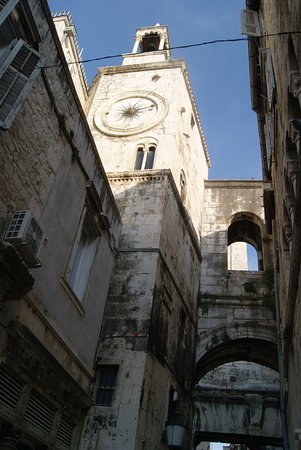 Walking around this area there is so much to see around and up above you
Cathedral and Bell Tower of St. Domnius is Split's octagonal cathedral and one of the best-preserved ancient roman buildings left standing today. You are able to climb the 190 steps to the top of the bell tower for a view over the city for a small fee.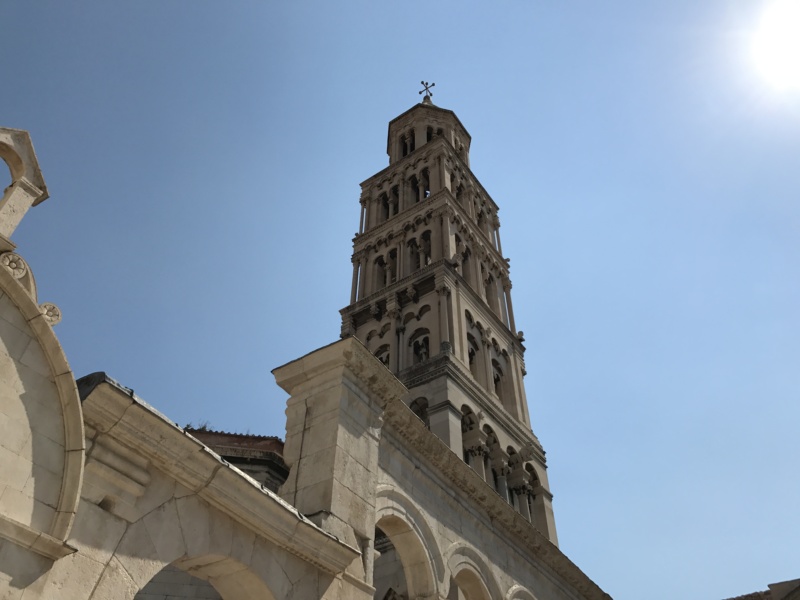 Riva Harbor While in Split, we walked up and down Ulica Riva many times admiring the harbor. It is beautifully decorated and has many benches and seating areas. Its a great place to relax from sightseeing or take a break from the heat, many people sit around at sunset. Lining the street there are many bars or places to eat.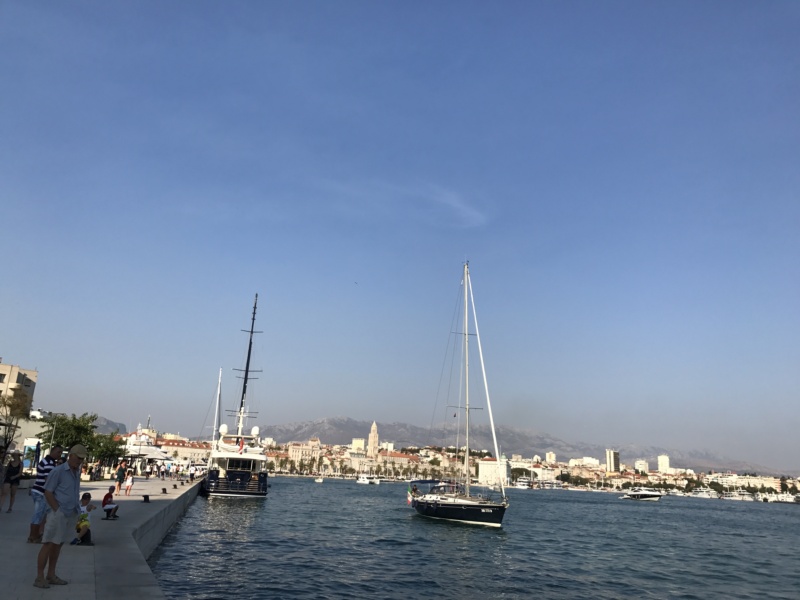 Time to Relax..
We walked to the beach past Bačvice, a small pebbled beach. It is not the cleanest or biggest beach but it was OK for the afternoon. We set up camp for the afternoon for a bit of relax after travelling and sightseeing. It was very busy being August we carried on walking until we found a patch of stones we could squeeze into- it was literally that packed!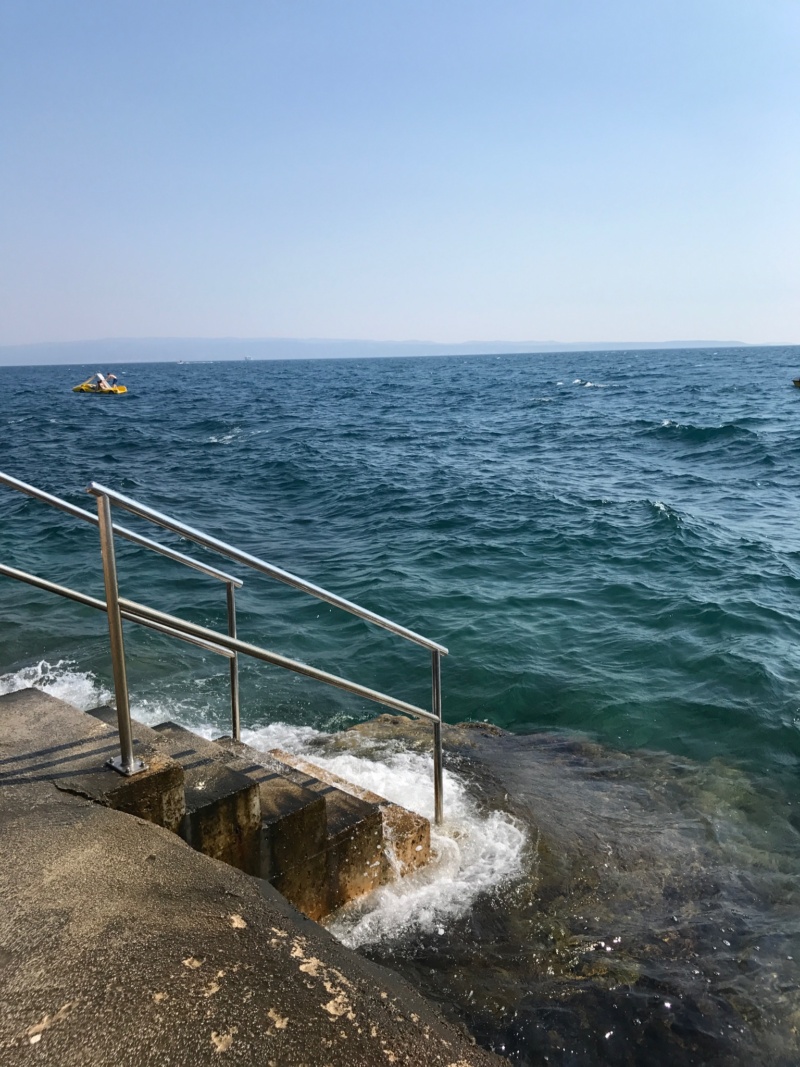 We had a lovely rest of the afternoon taking a dip in the sea and a relax on the beach. Buying a cold drink or two off the local sellers as well as a tray of watermelon fro a seller 20kuna.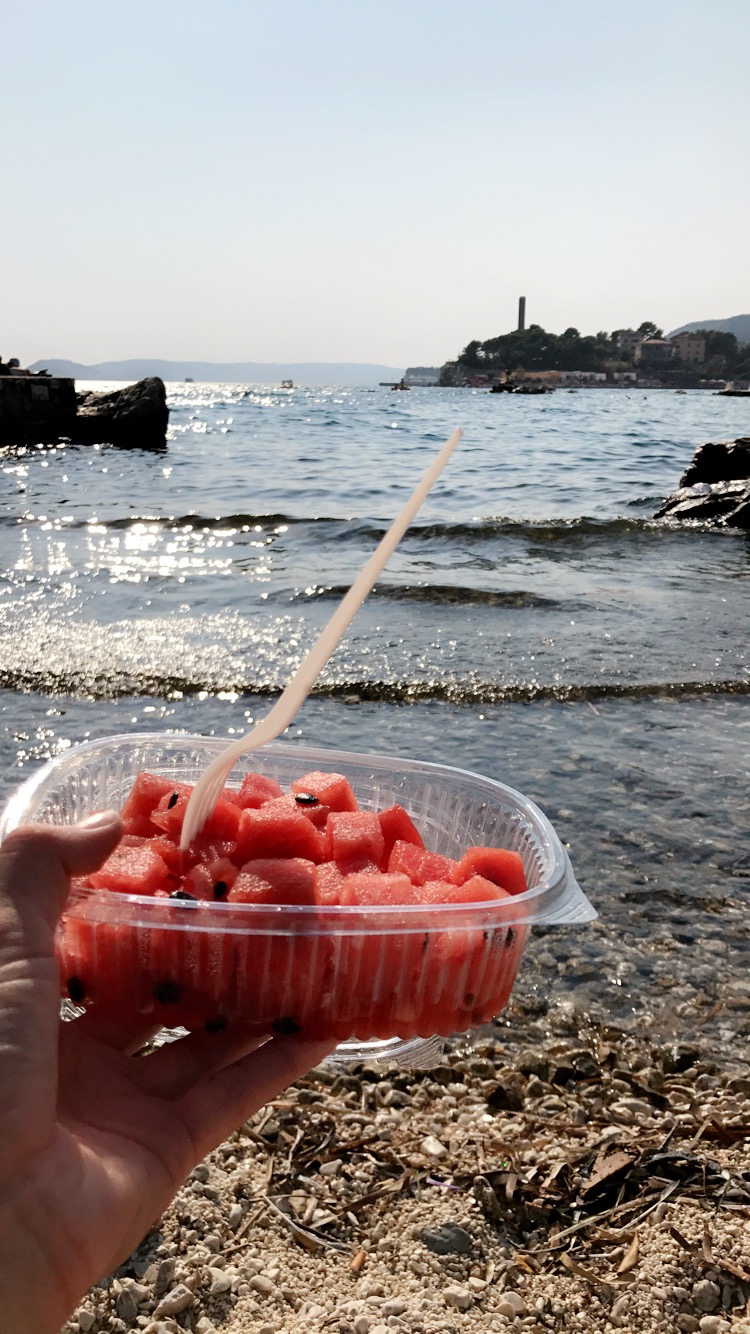 That night we had plans to meet up with some friends who were also in Split at the same time. They had done Dubrovnik, Hvar and Split. We met up for drinks along the harbour front in a bar, before going for dinner and an after dinner Shisha.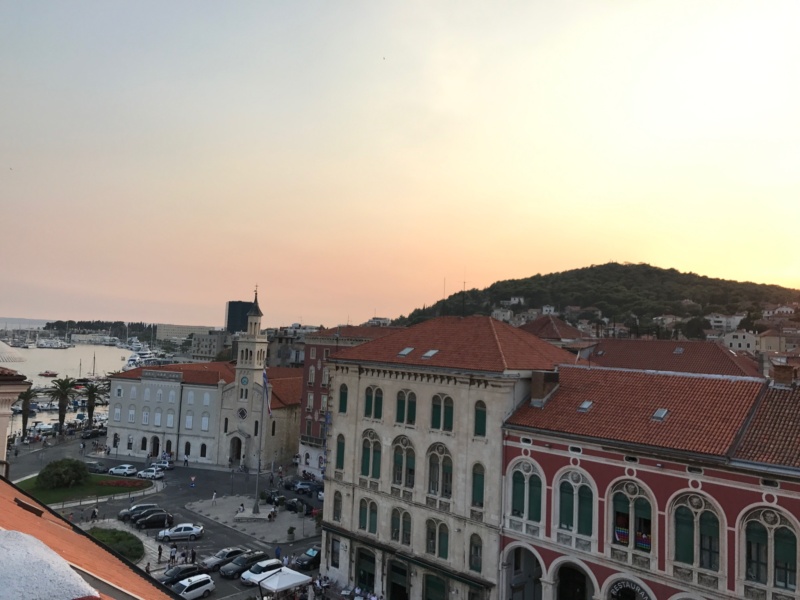 Day 2- Island Hopping
The next day was George's birthday so we decided to visit to Hvar for the night.. read that post here (coming soon).
Day 3 – Split
After a night staying on Hvar celebrating George's birthday we caught the ferry back to Split to enjoy our last day.
Our next air b&b was lovely our nicest yet.
Split Varoš Karuza Studio
This studio was ideal for us modern, light and very close to the old town. Our host was so helpful too she gave us lots of recommendations of things to see/do/eat!
(This trip our first time using Air B&B and I can highly recommend it – get £15 off your first trip Here).
Football was on in the afternoon United, it is always conveniently on whilst we are on holiday! So George watched it in a sports bar in the old town and I had a little wander around the old town and trying not to get lost.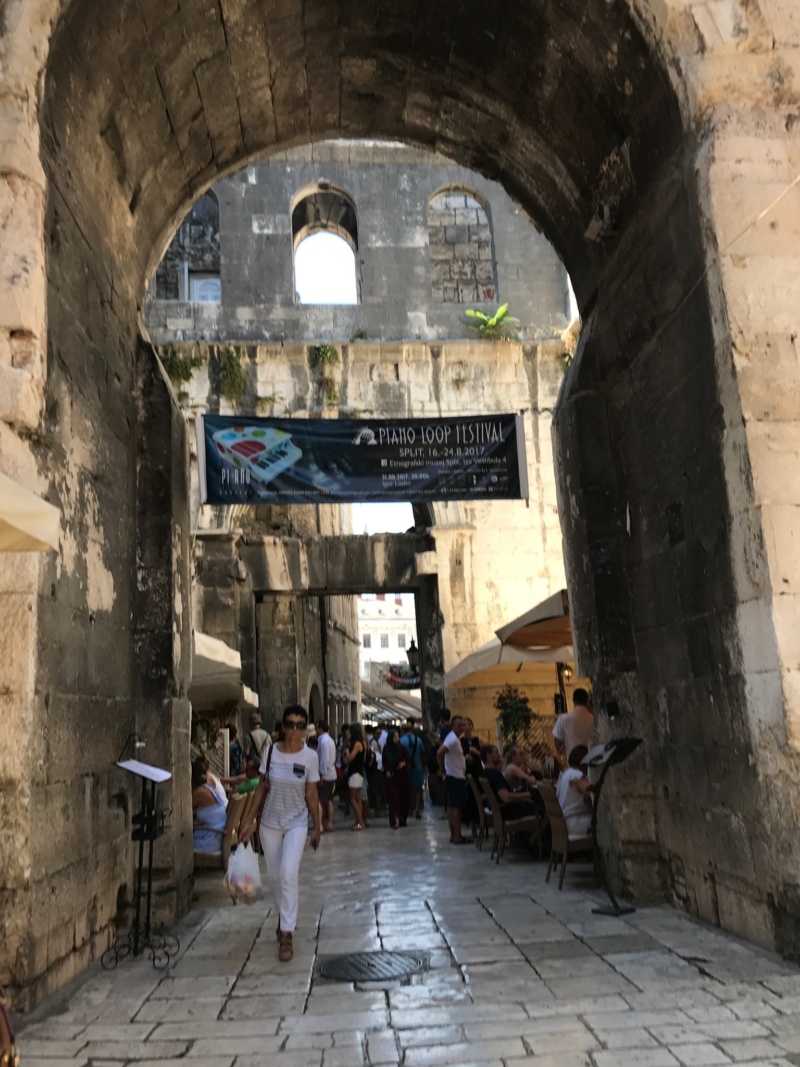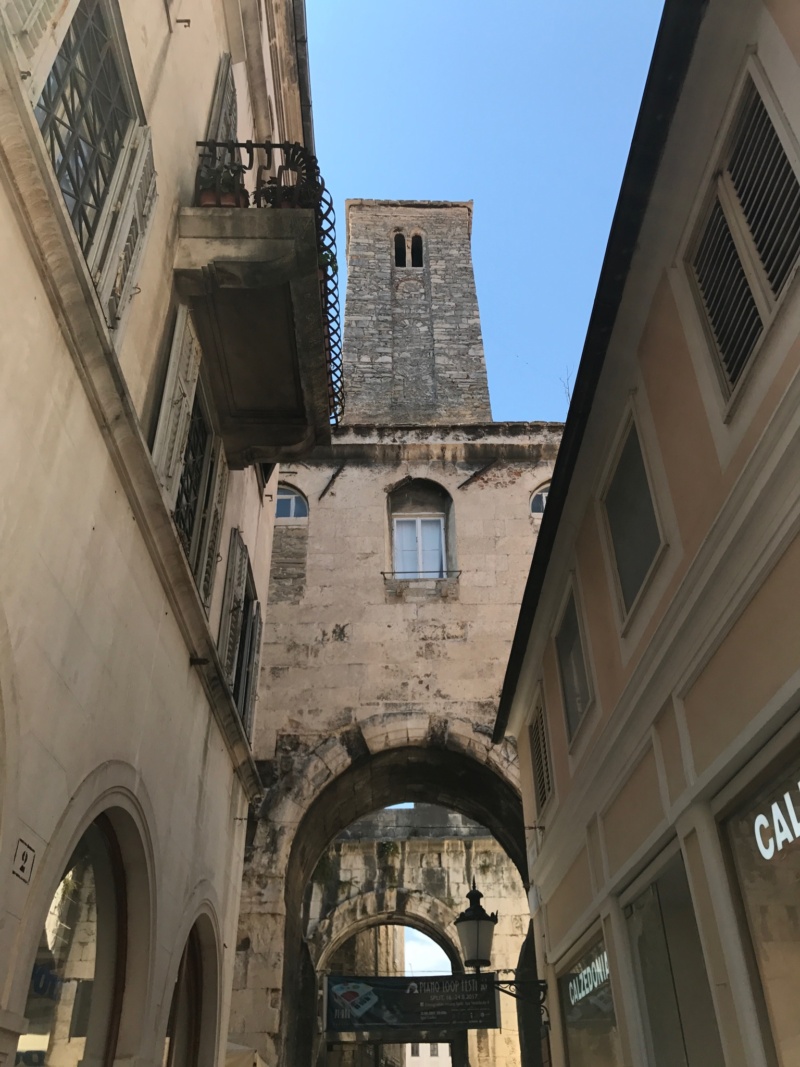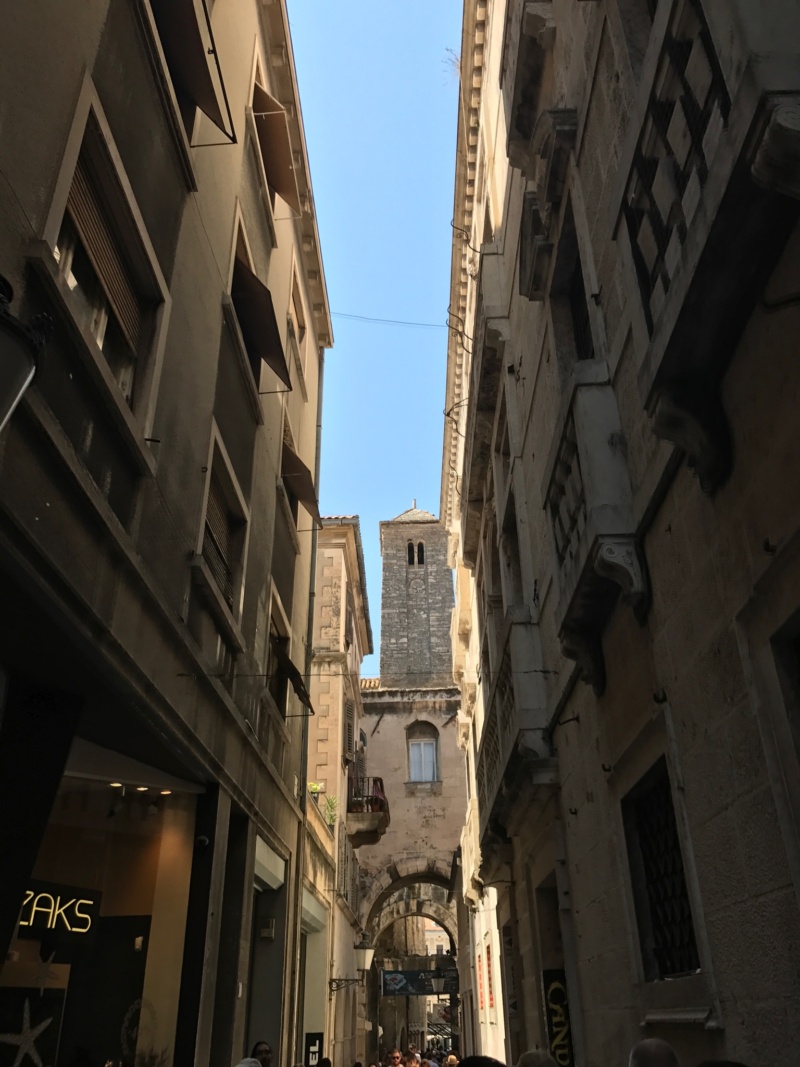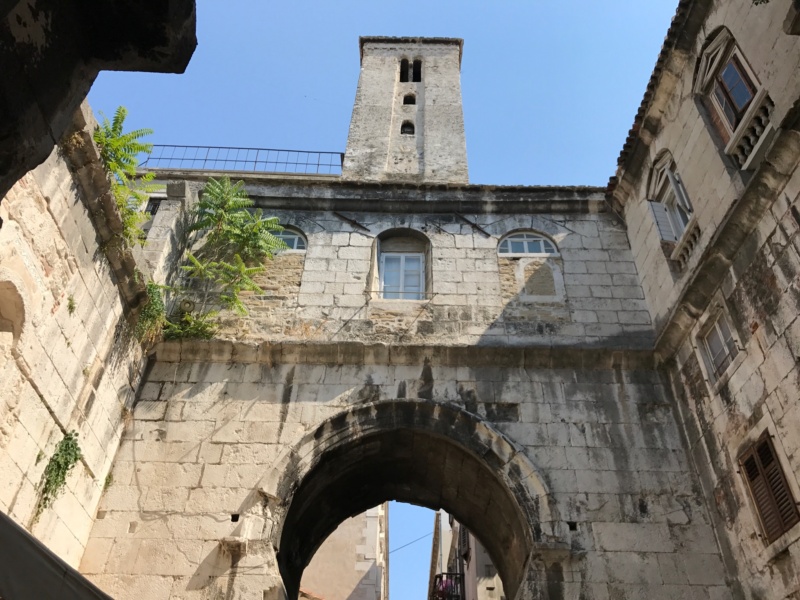 By the time football finished we didn't have enough time to go to the beach we wanted to. The one our host had advised was nicer out of the city to the far end of Marjan national park. We just went to the local beach Bay Ježinac, it wasn't great. Not when you think back to July In was on Incredible beaches in Aruba read about its beaches here-
Beautiful Beaches of Aruba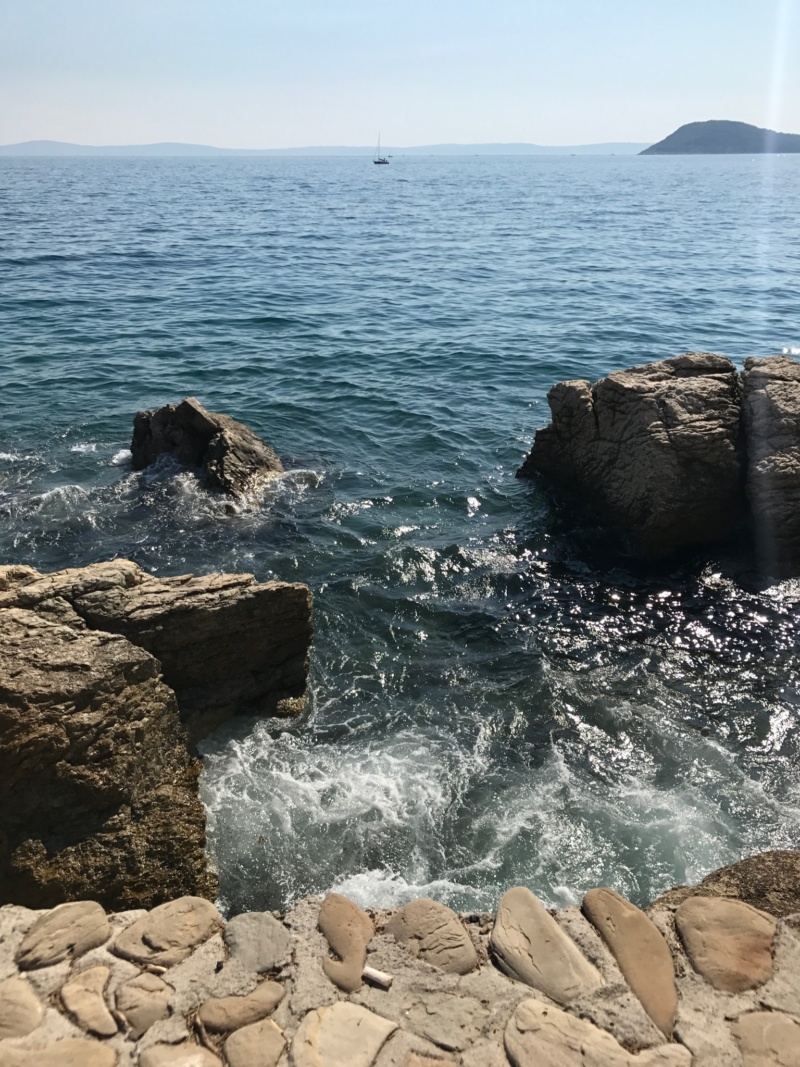 On the walk back we grabbed wraps and a slice of pizza before quickly getting ready for our last night in Split. We walked to the view point to see the sunset from Majan park a popular spot to see the sun set over Split.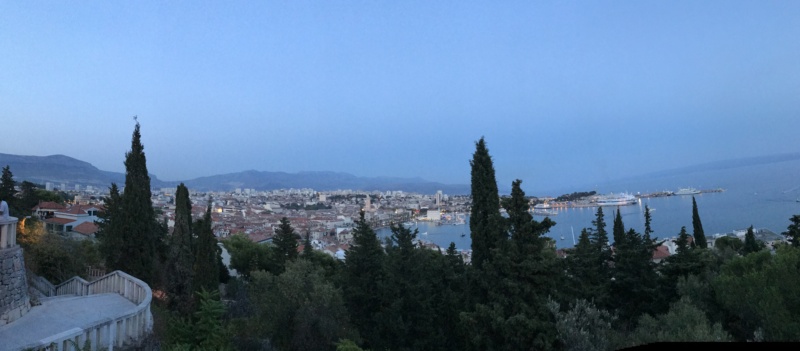 We stopped for drinks along the front for Gin and Tonics. Before going for a Shisha back to Shisha Bar AKTUELL. With an earl start and a long drive looming we decided to call it a night calling for room drinks on the way back.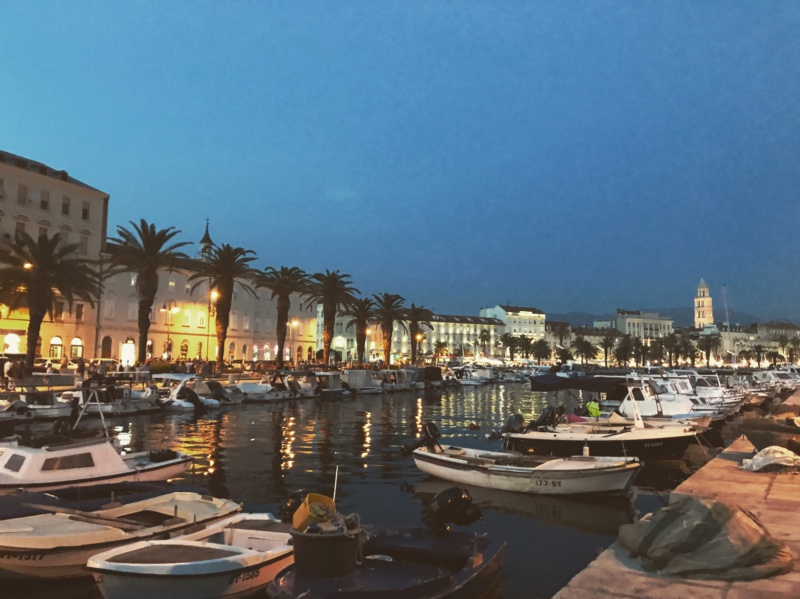 Thoughts on Split
Split was very busy at the time of year that we went. We found food and drinks prices where a little lower than that of Dubrovnik. Our time there was quite broken up and we could have seen much more in our time there. There is a fine line between racing around constantly and needing a it of a relax. I feel there is still so much for us to see in Split and I would love to return at a different time of the ear when slightly quieter.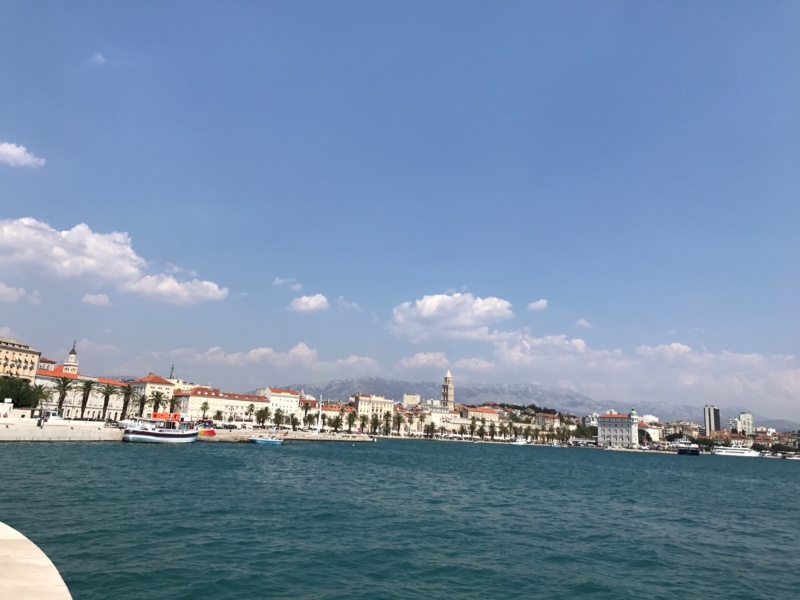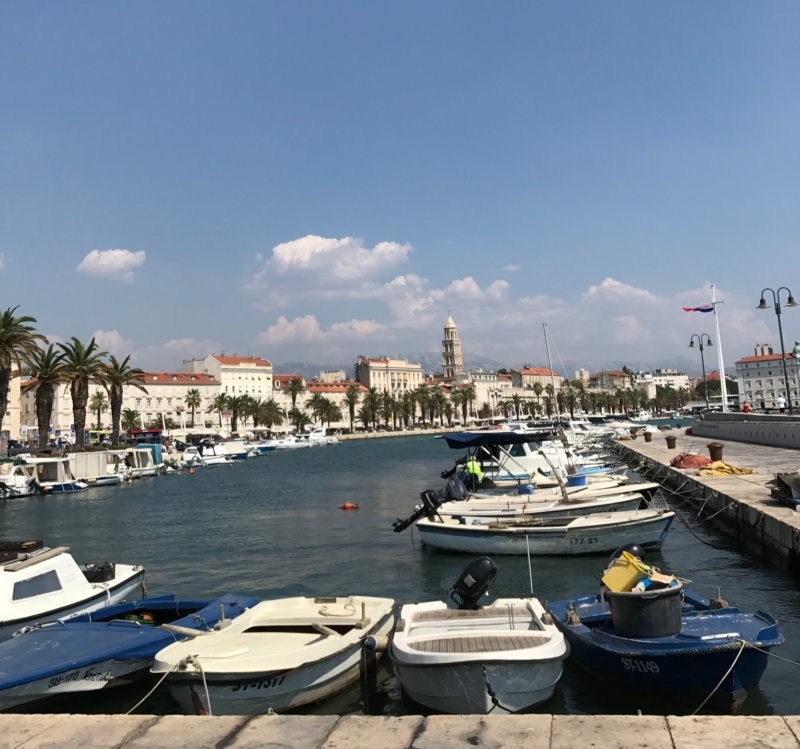 Keep your eyes peeled for the next post of the series – Hvar, Croatia for island hopping, more beaches and much more.
---
Thankyou for reading
Bethan
xox