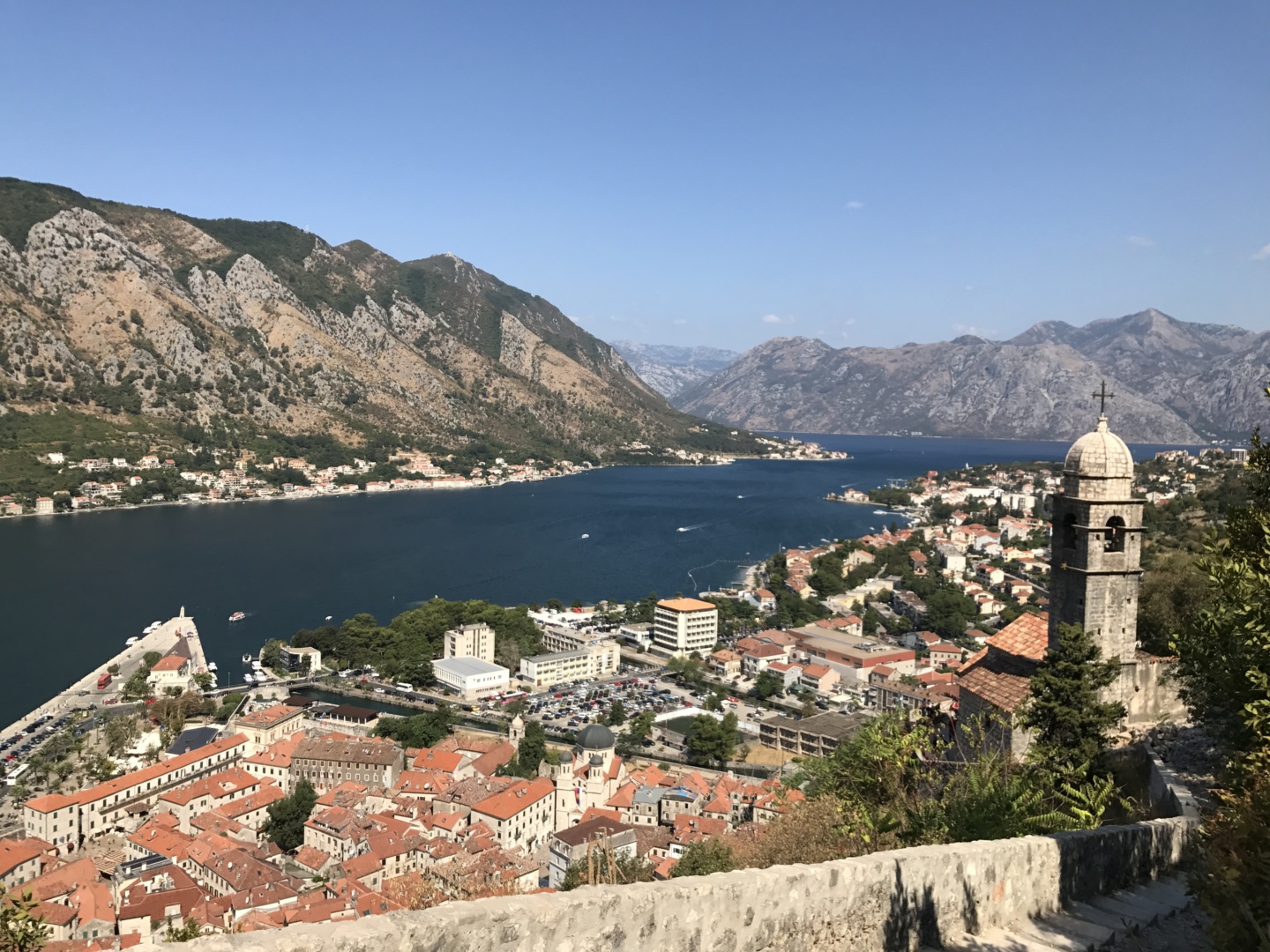 Here is the first of my series of posts from our road trip through Montenegro, Croatia and Bosnia and Herzegovina.
On the 13th of August we flew from Manchester to Tivat. Montenegro had never been a place I had particularly heard of or thought that I wanted to go.. until an EasyJet seat sale. We were already planning a road trip (read our
itinerary
) around Croatia so when cheap flights came up to Montenegro it got tagged on to the beginning of our trip as our starting point.
Once booked and I started researching and I was amazed I had not heard of this country sooner looking at the pictures. It was Kotor that was the most appealing and the neighbouring countryside that sold me on it so picturesque.
Due to time constraints we only really had time to see one place (any excuse to go back) I wanted to visit neighbouring towns Tivat and Budva. But whilst there I just wanted to see as much of pretty Kotor as I could and come back for the others later.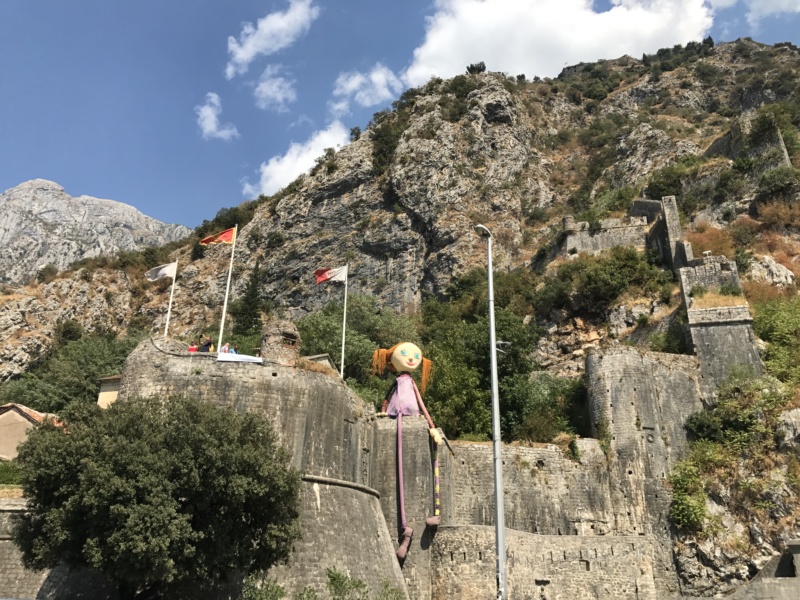 Kotor
Kotor is a UNESCO World Heritage site located on Montenegro's Adriatic coast. Set in the Beautiful gulf of Kotor and is beautifully surrounded by deep blue waters and spectacular mountains. Kotor's old own town is known for winding streets, squares, churches and cafe's on every corner.
We had no transport arranged for our arrival into Tivat. We grabbed a taxi from outside the airport straight to the old town €30. Stopping for a drink along the seafront whilst waiting for our Air B&B with a fab view of the bay.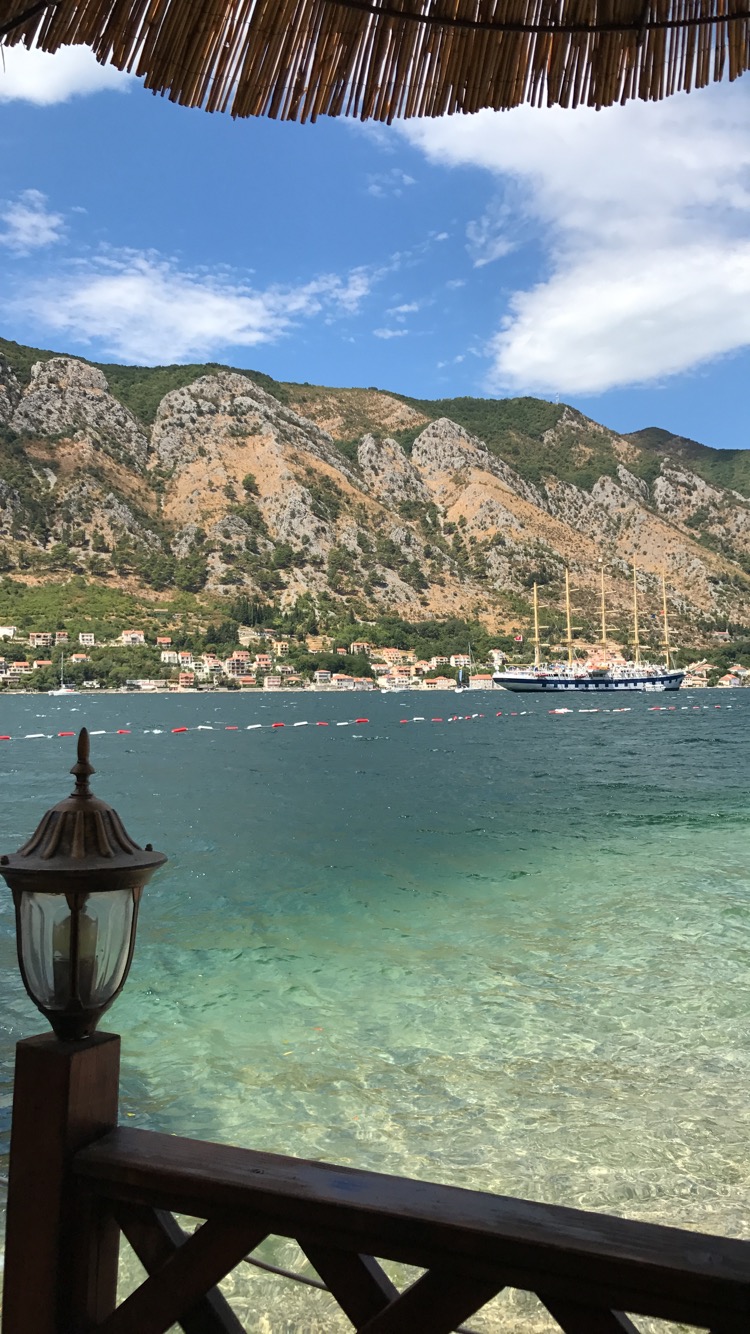 Where we Stayed
We were staying in a beautiful apartment in the old town –
KOTOR OLD TOWN STUDIO APARTMENT KARAMPANA SQUARE
. It was our first time using Air B&B and I can highly recommend it – get £15 off your first trip
Here
). Once located we dropped our bags and set off to explore our next city.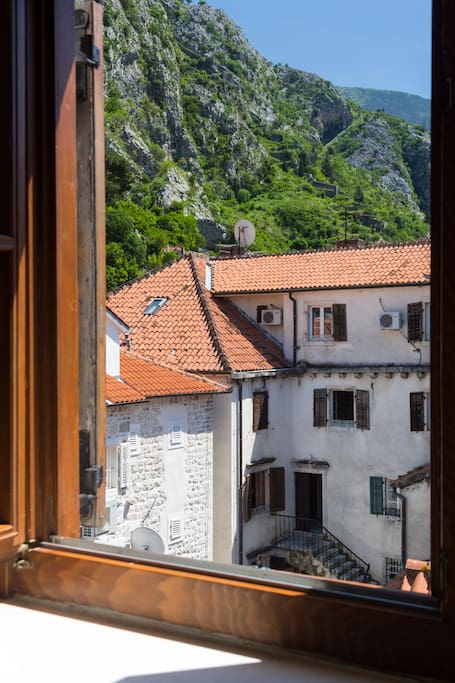 Day 1 Exploring Kotor
I had seen pictures, many pictures but Kotor lived up to all of my expectations. We spent most of the afternoon exploring the old town popping into cafe's for a drink or some ice cream along the way.
We had lunch at Pizaria Sara by the Cathedral of Saint Tryphon a yummy pizza whilst people watching in the square.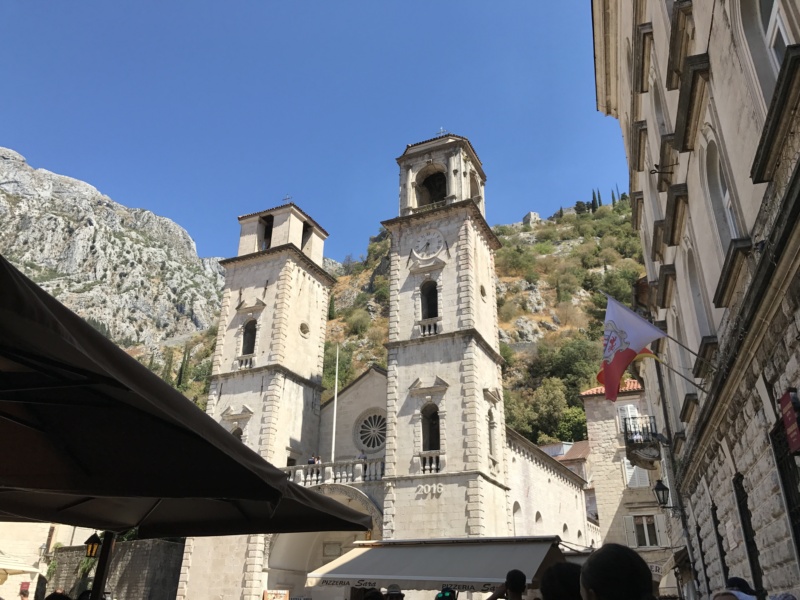 The Clock Tower is the first thing you see when you arrive into the old town when entering from the sea gate and is the centre piece of the whole old town.
The northern gate is another gate to the old town and not well used as the main gate. The gate and the walls along with the river and mountain present a pretty picture and its easy to imagine what it would have been like a few centuries ago.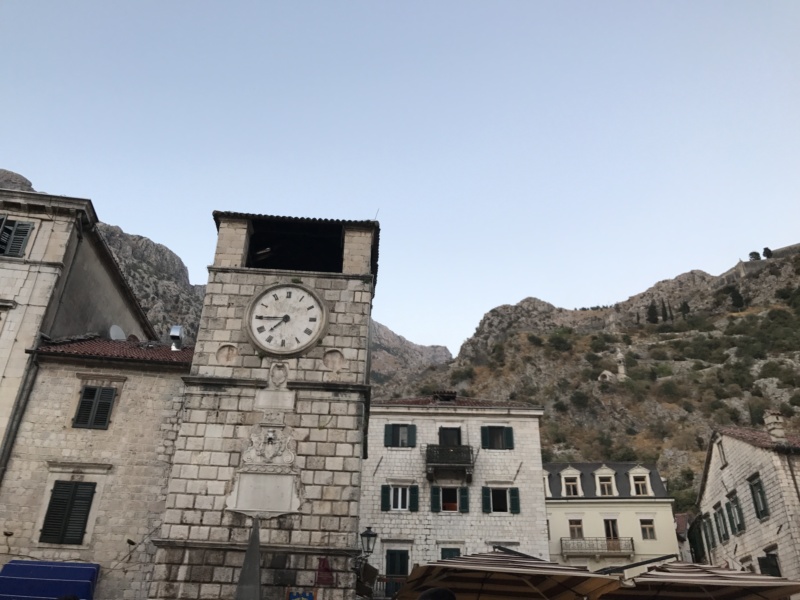 Outside the city walls..
During our afternoon exploring we left the Old town to see what was outside the city walls. We walked round the harbour to see what was on the other side a Galerija Restaurant a lovely upscale restaurant on the harbour. Unfortunately we couldn't go for just drinks and a view and it was fully booked for the night.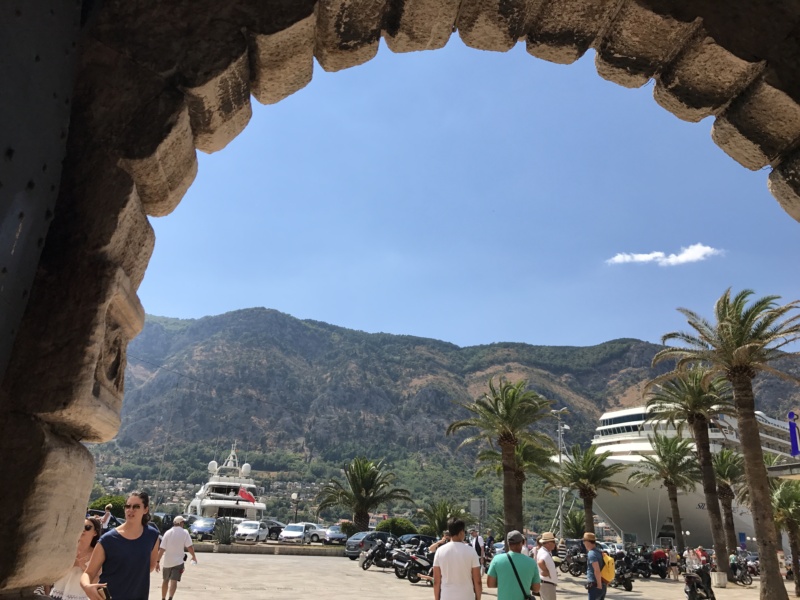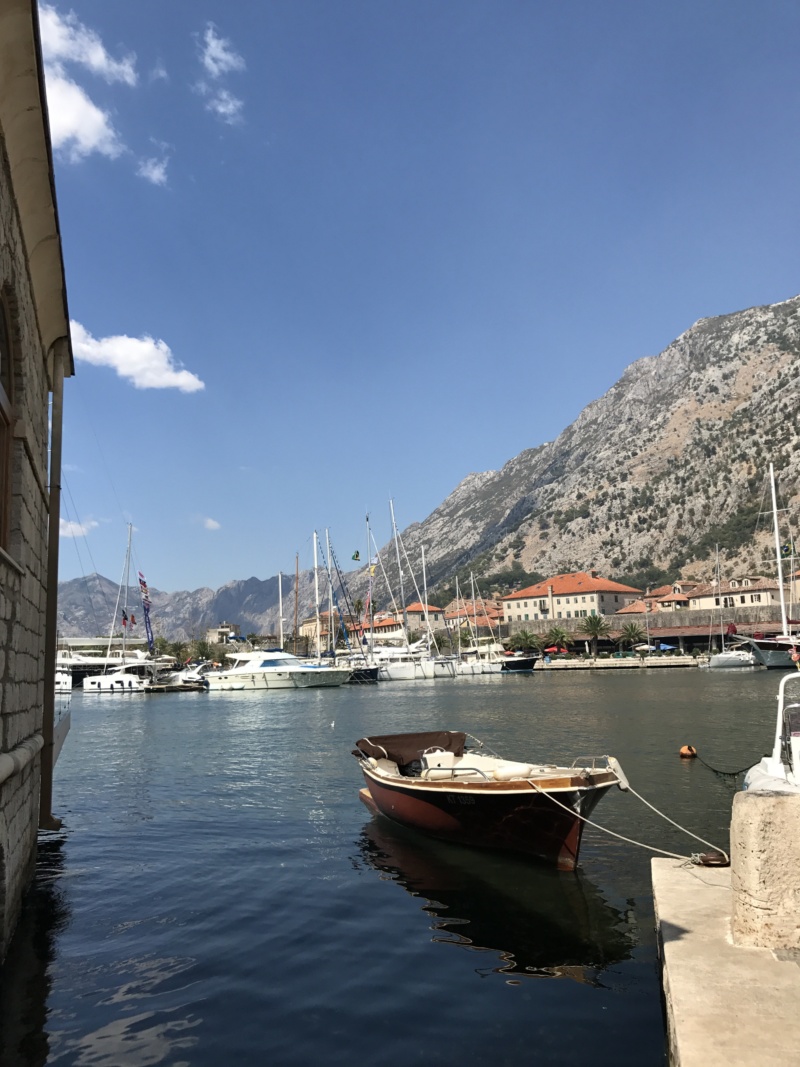 Outside the old town you can see the city walls with a view of Kampana tower. Continue walking and explore more of the Bay of Kotor, lots of boat trips are sold outside the city walls to explore more of the bay.
We didn't really have time to go on a boat trip but I would recommend If you can fit it in, it's a great way to see more of the bay.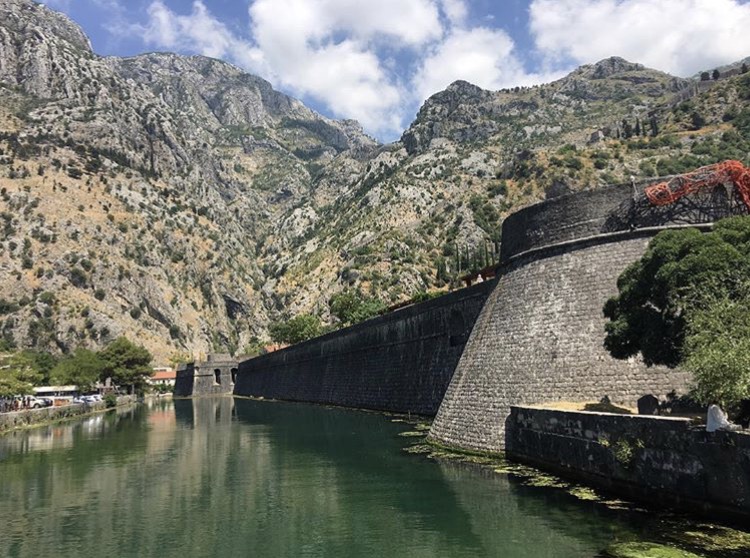 We stopped at the hotel
Hippocampus
as it had a roof terrace. It was nice quiet and we had it to ourselves which was nice to enjoy a quiet half an hour after the hustle and bustle of the old town.
After an afternoon exploring and an early start we had a nap before heading out into Kotor at night.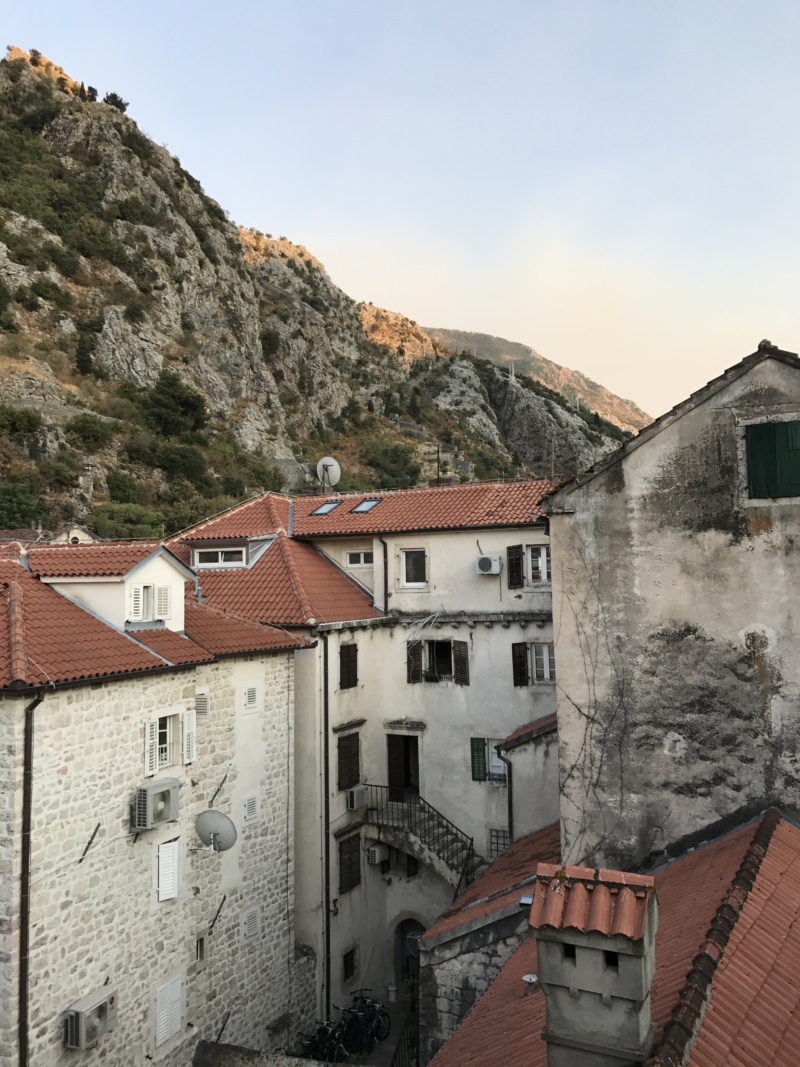 Kotor By Night
Our first call of the night after resurfacing was at the site of the city walls Kampana tower to the terrace at Citadella. Watching the sunset over the mountains was the perfect end to the first day of Kotor and start to our road trip.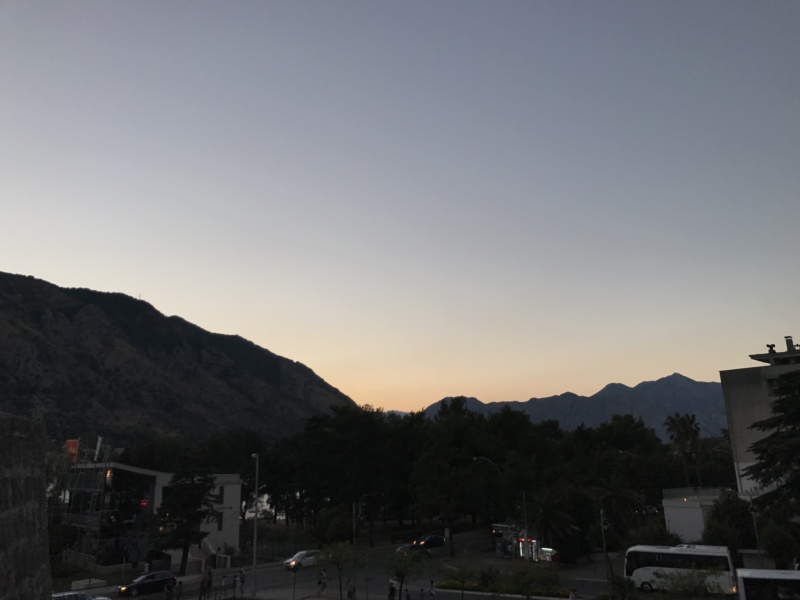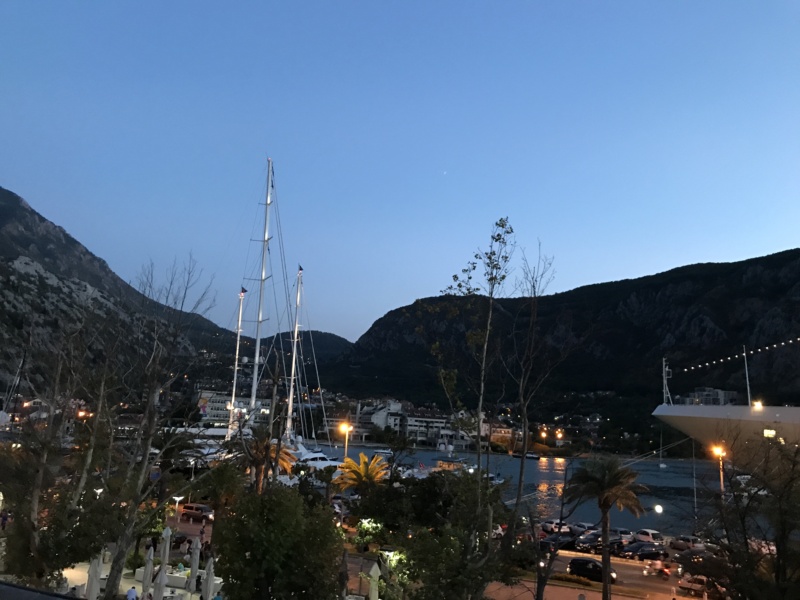 WE had the most delicious meal at Astoria Restaurant & Hotel (we didn't realise I was a hotel at the time). The atmosphere was fab there were local people playing music in the street. A gorgeous setting and the food was amazing. The meal was not cheap but with the setting it was lovely totalling £50.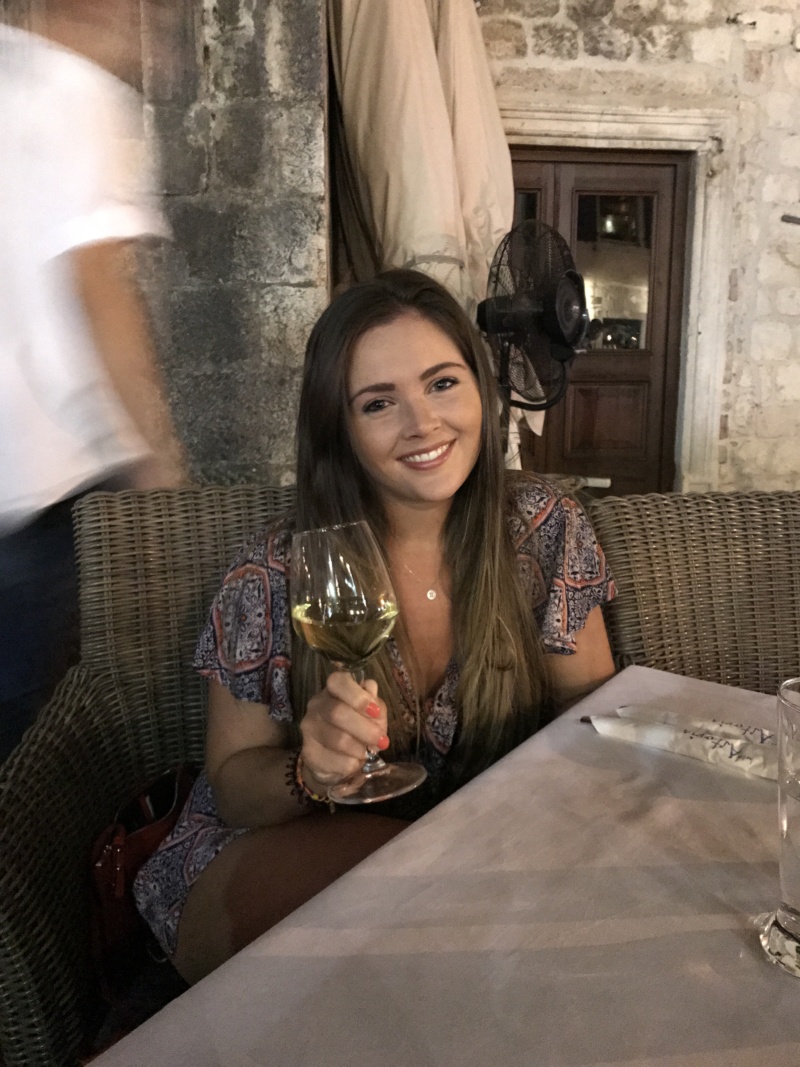 After our meal we called at Jazz Bar Evergreen for cocktails and jazz music. This was outside with a projector on the side of the building another fa location and reasonably priced drinks. Two Aperol Spritz and long island ice teas were €15.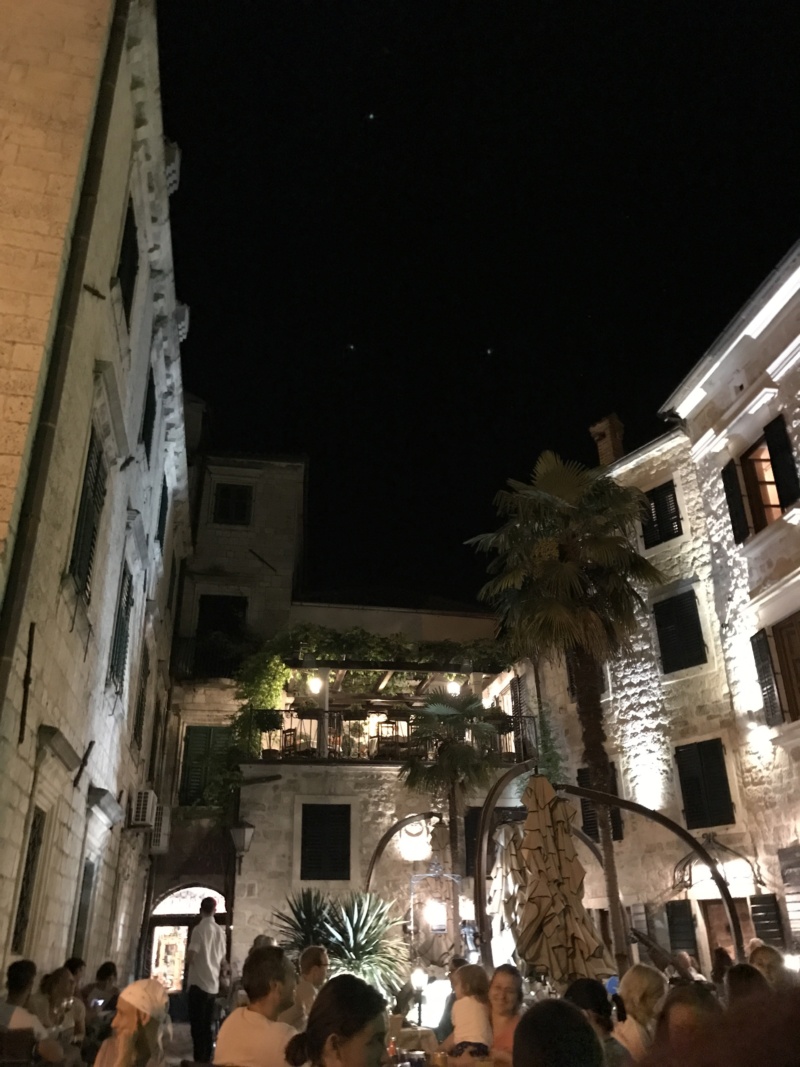 Day 2 Hiking and Beaching
Starting our second day early with a lovely breakfast before heading to the city walls. You will find the entrance right at the back of the old town a steep incline. It is €3 each to climb around 1350 steps. Some of the rocks are slippy and not all of the walk is stepped. People of all ages were doing it, Me in my sandals. Trainers were advised but if you don't have them I managed it fine.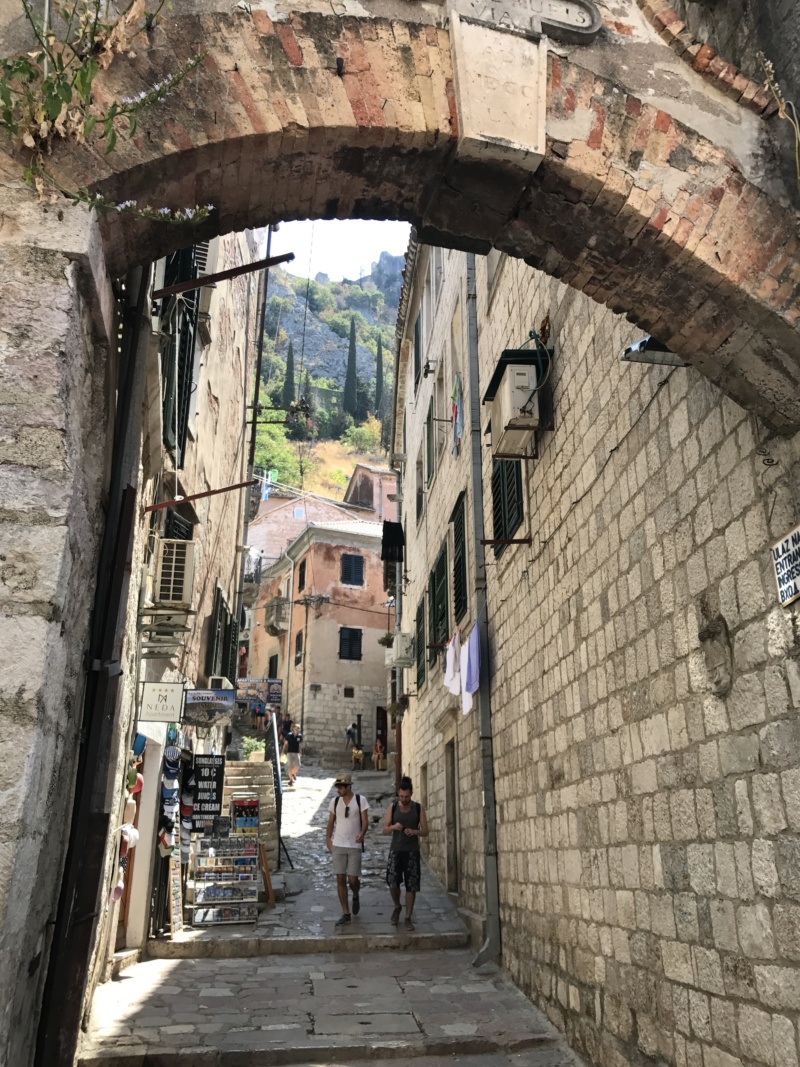 We set off at about 10am after breakfast, early enough for more than half of the walk being shaded. I advise doing it early as it's a lot harder work in the sun and heat.
On the walk the view is spectacular all the way up so you do not need to get all the way to the top. Some of my favourite pictures were from half way.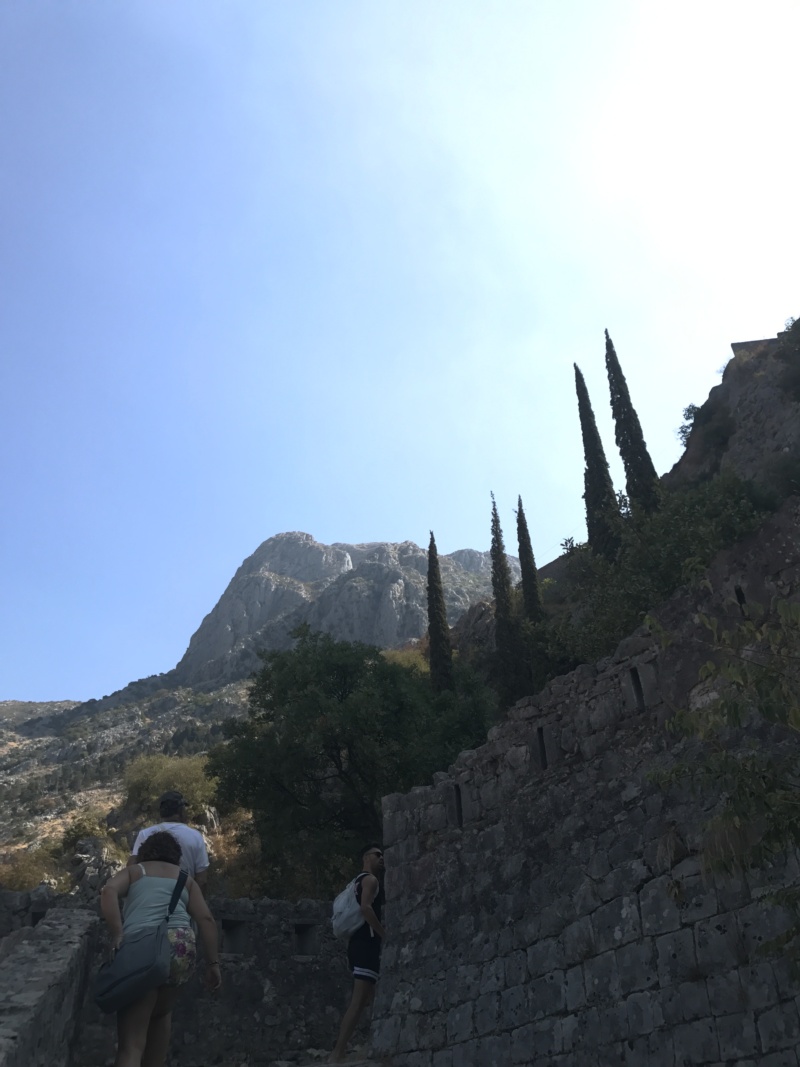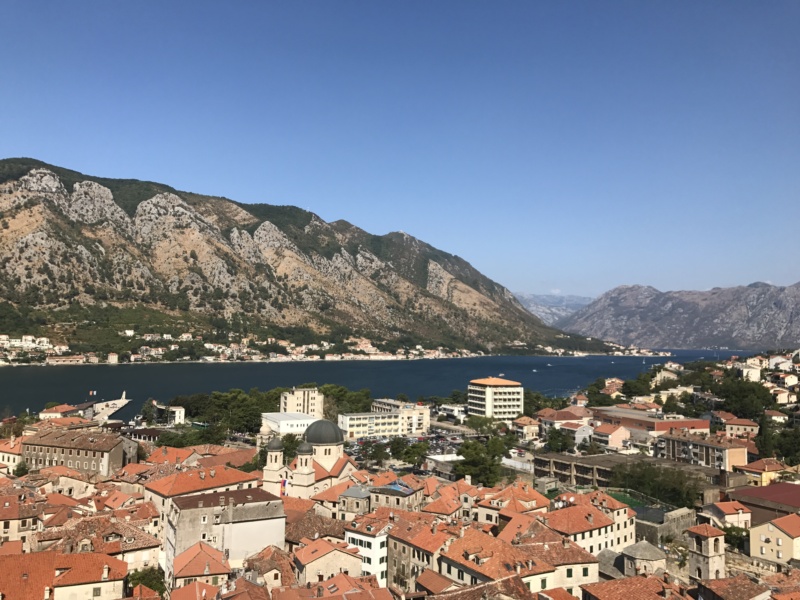 Some of my favourite pictures were from half way. People with small children were just walking to the church which is about half way up. carry on further the view just gets better…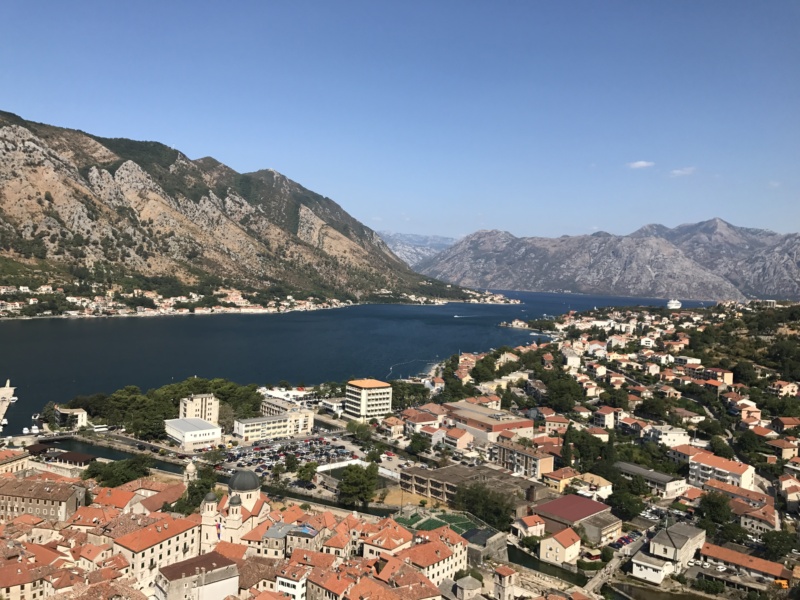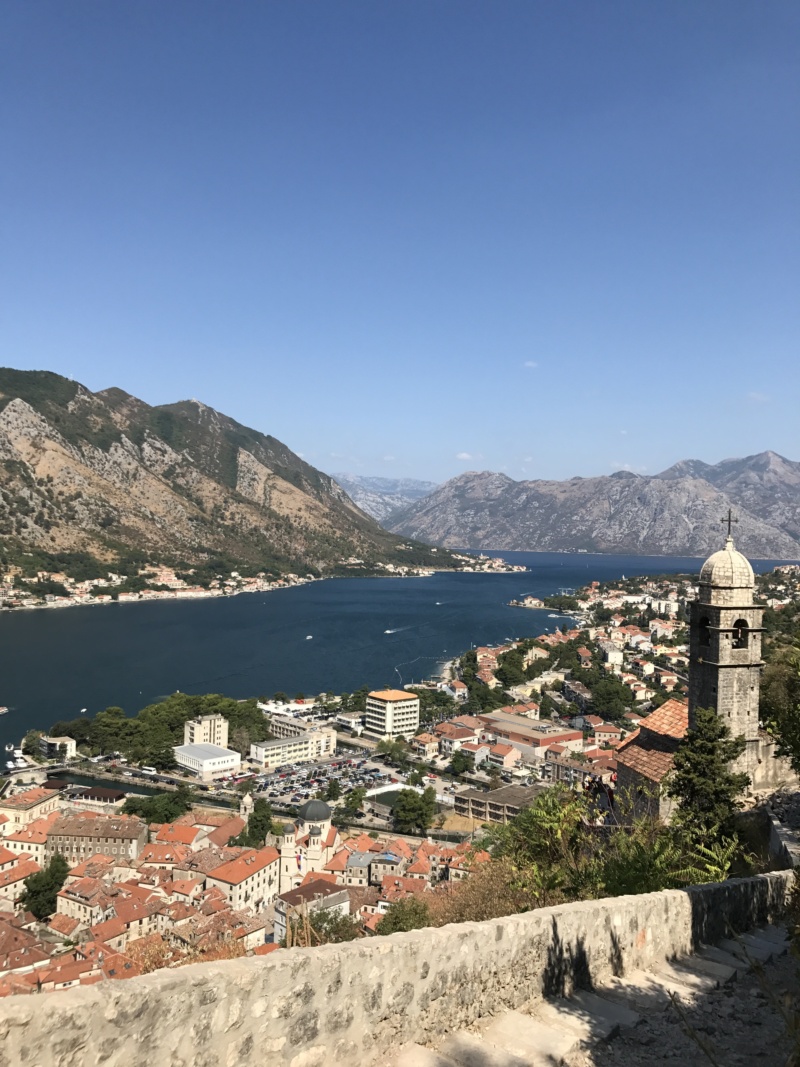 ..Take breaks on the way up to enjoy the view
**There are water sellers on the way up if you needed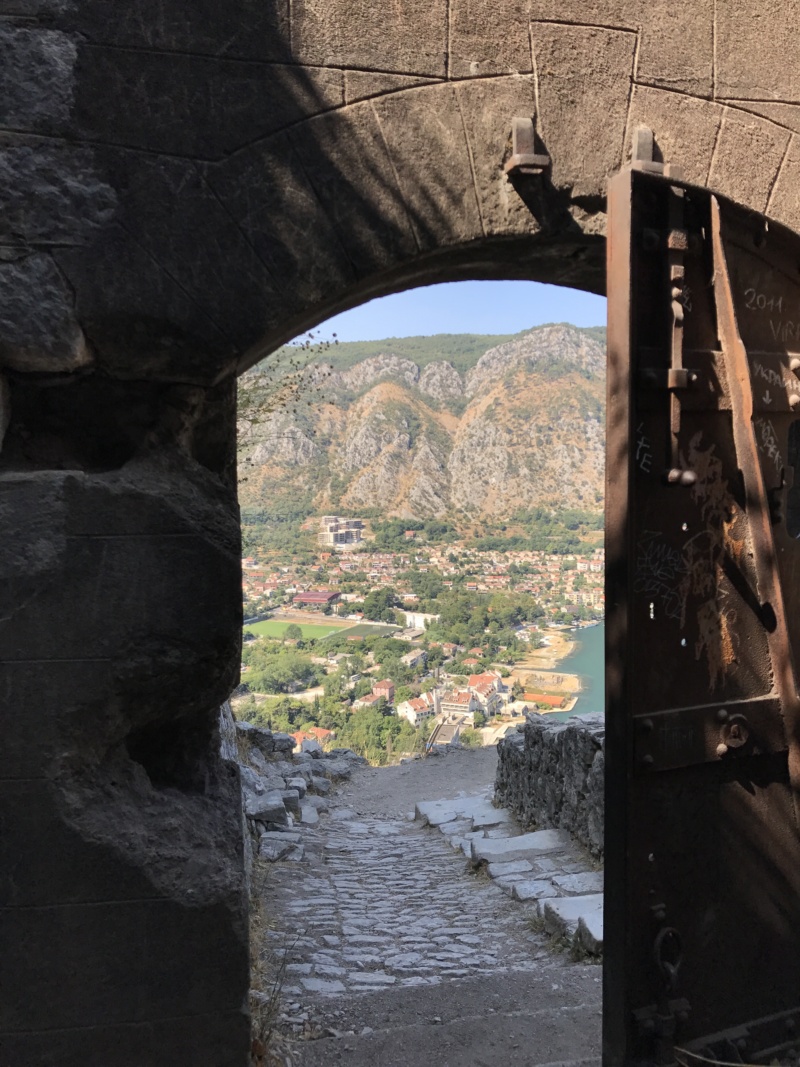 In total the walk took us around 45 minutes. At the top take time to sit and enjoy the view, lots of people were sun bathing.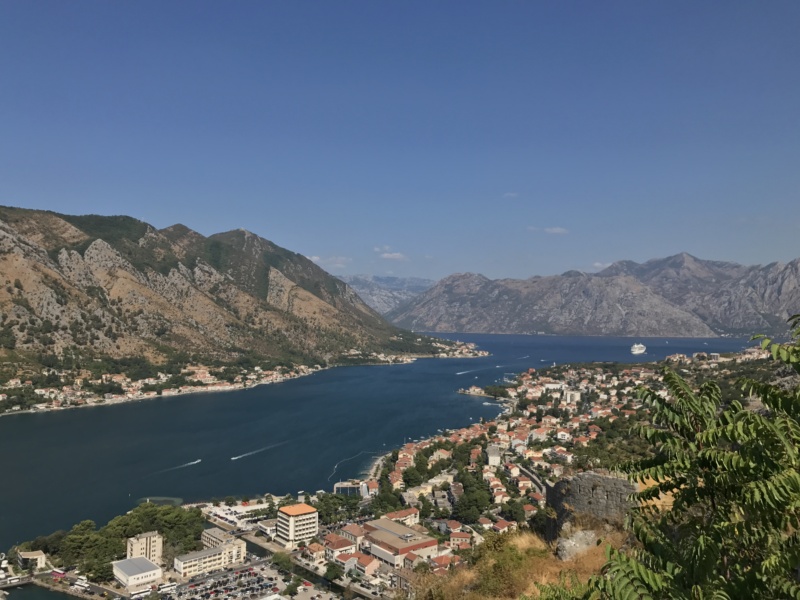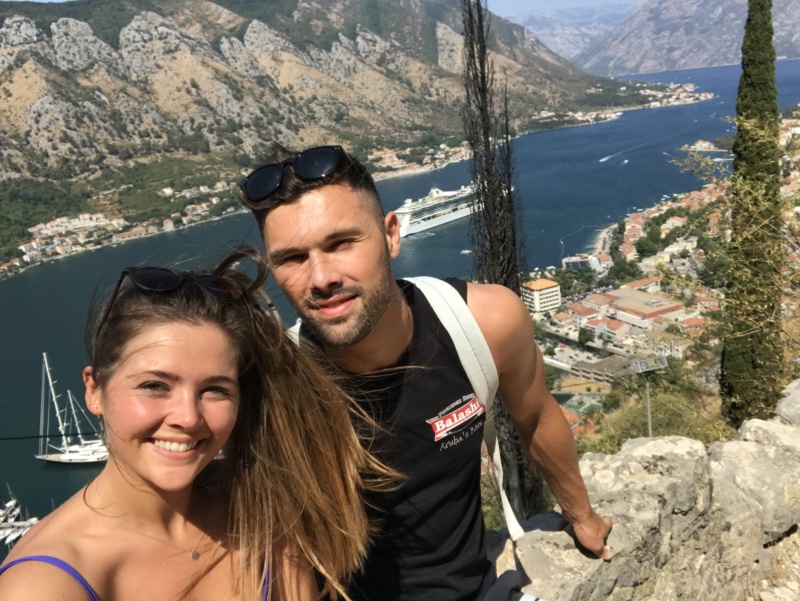 Time to Relax
After a morning hike we decided to spend our afternoon at the beach, Kotor's beaches are pebble but sun loungers line the sides. I would recommend buying one €15 for two sun beds and an umbrella was a small price to pay for comfort.
Our afternoon was blissful taking a dip in the sea every now and again to cool off, which was FREEZING by the way.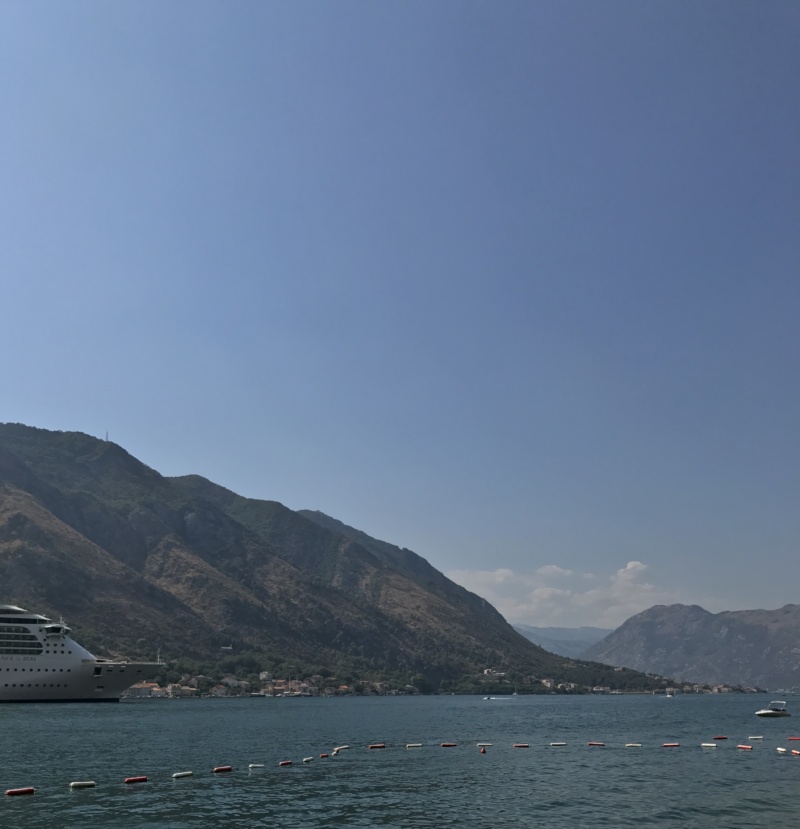 We had picked up sandwiches from a bakery for lunch, my top tip of keeping spends down.
It was a lovely relaxing afternoon. we decided not o go rushing around all the time on our road trip one day had to be a it more relaxed or we would burn ourselves out.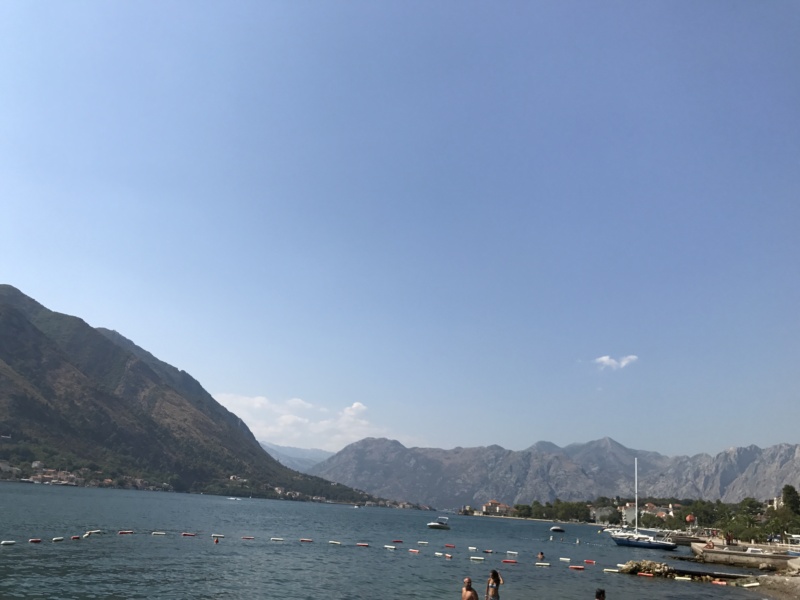 Before heading back to the old town we booked our us tickets at the bus station. Next destination this time in Croatia Dubrovnik.
Ready to enjoy our last night in Kotor.
Once ready we set out to soak up every last minute of Kotor we could. We had drinks at a bar next to our air B&B called Karapama Caffe.
Another fab meal at Restaurant CITY a fantastic meal of bruschetta, Olives, Prawns and a meat plate and a few drinks totalled €62.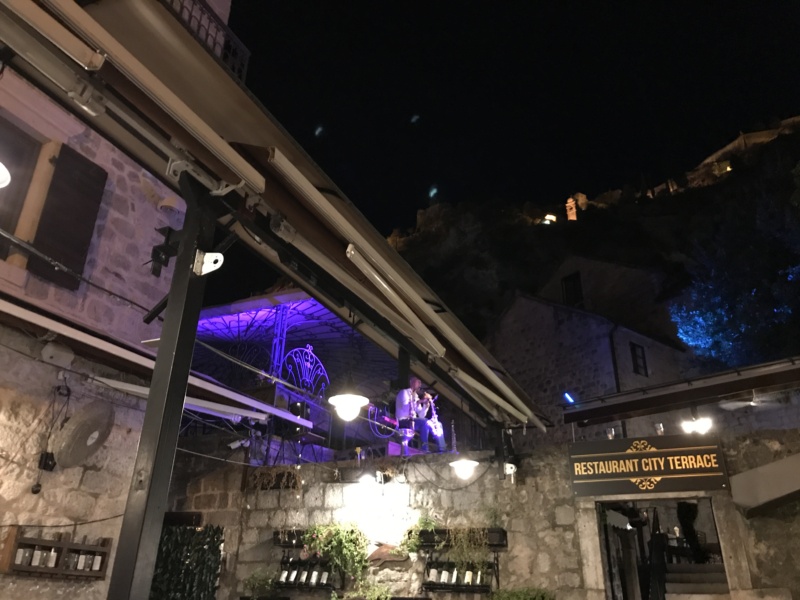 After an incredible meal we strolled through the old town calling back at Kampama caffe for more drinks and shisha. Another chilled and fa last night in Kotor having maybe one or two too many drinks, considering our early bus.
Quite honestly I did not know what to expect from Kotor when we first booked our flight there. It turned our however that Kotor was my favourite place we ventured to on our road trip. I loved the quaint old town, medieval buildings and general feel of this place. I will be back to Montenegro for sure to explore more.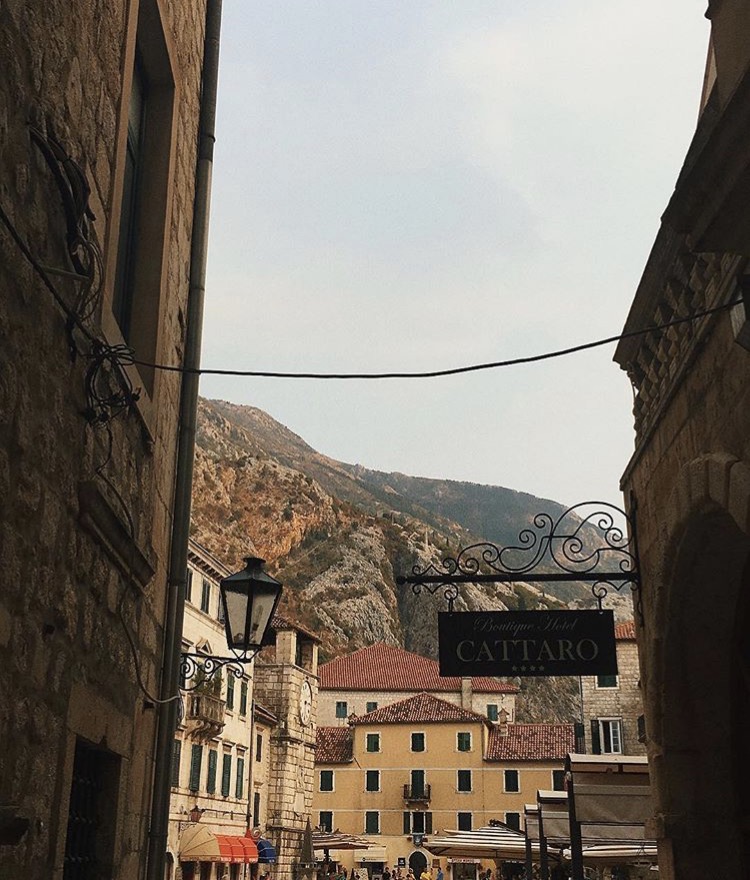 Have you been to Kotor, Montenegro? What did you get up to in your time there? let me know in the comments below I would love to know↓
---
Keep your eyes peeled for the next post of the series – Dubrovnik, Croatia.
---
Thankyou for reading
Bethan
xox