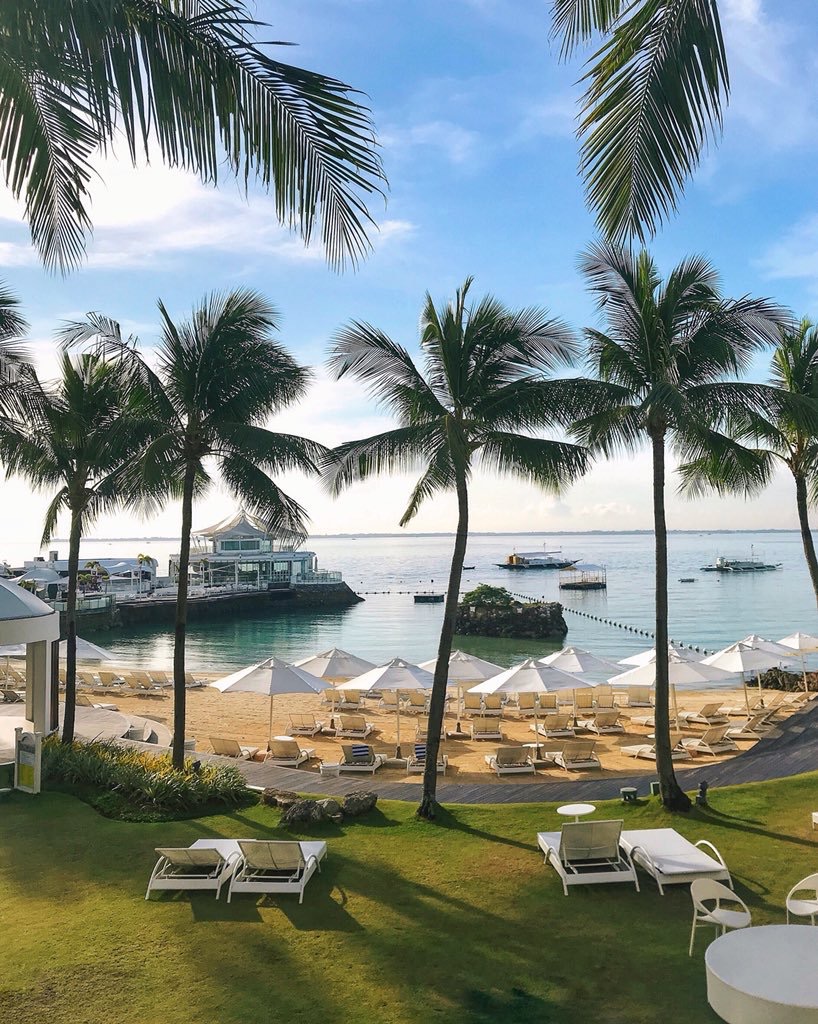 Our first stop in the Philippines was Mactan, Cebu. We decided to stay here after our long journey rather than moving on straight away. Here we visited markets, explored Mactan and loved every second in our hotel.
This also made it perfect as a jump off point to other areas on Cebu if you are exploring more of the island. As we were flying out of Cebu fairly quickly after we had to prioritise where we wanted to go. In the end we chose to stay on Mactan and take a trip to Bohol whilst there.

Other wise we would have headed South to Oslob or Moalboal or alternatively to the North to Bantayan or Malapascua island.
Read the rest of our Philippines Two Week Itinerary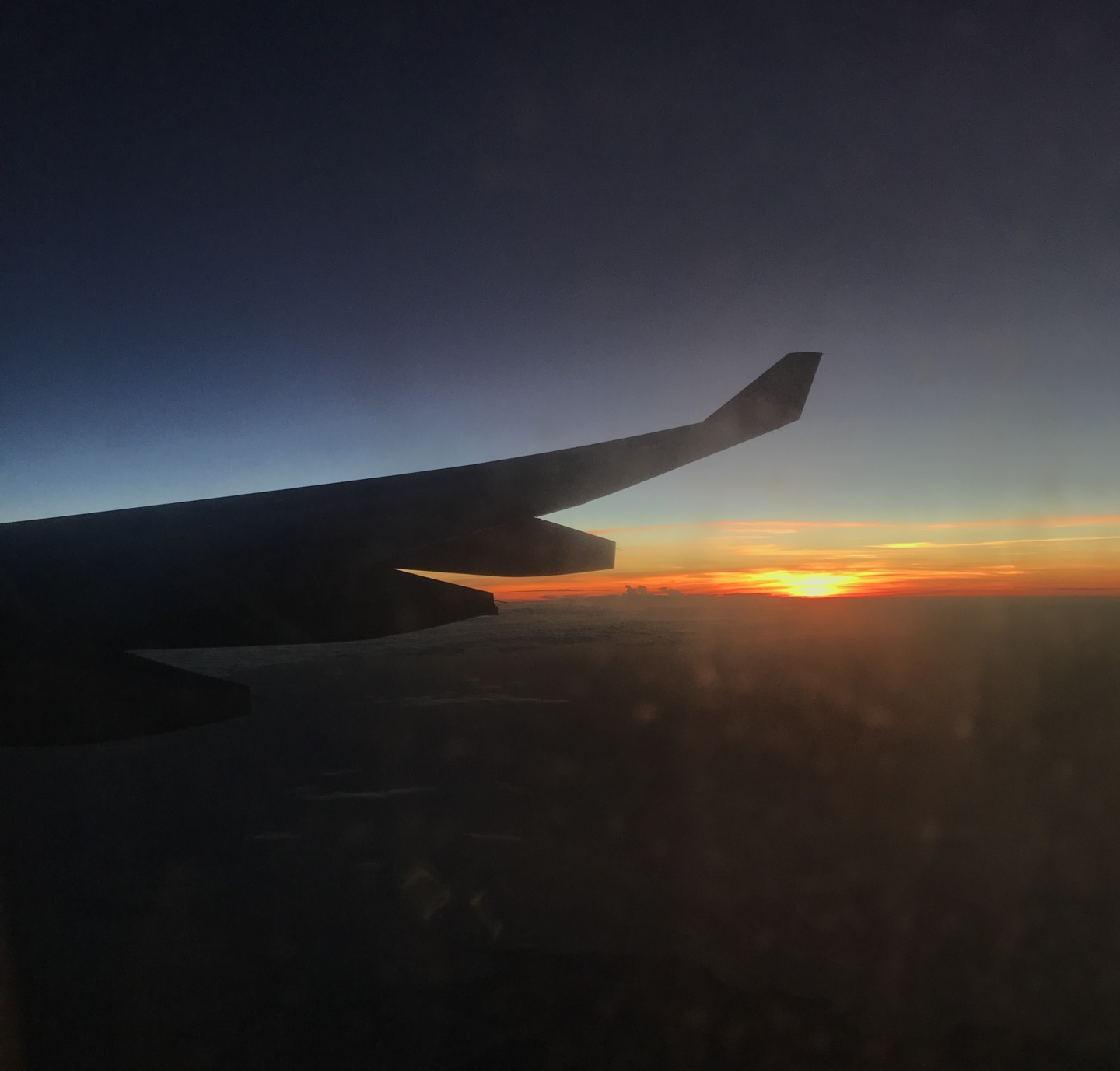 Our Hotel
The 5-star resort offers Modern décor and spacious rooms. Many of the rooms offer spectacular ocean views. Ours certainly did on floor 18 looking over the ocean. The private beach is lovely also. The breakfast at the sails restaurant each morning was amazing. Anything you could possibly want for breakfast they had, all well presented and delicious. Even fresh morning shots where handed out each day.The hotel also offers chocolate hour at 3pm a chocolate fondue.
Where we stayed Mövenpick Hotel Mactan Island Cebu home to the popular Ibiza Beach Club in Mactan.
Ibiza is best known for its nightly live performances and the award-winning selection of Balearic-inspired signature 15-course grill which features generous cuts of meat and seafood. The restaurant also has an à la carte and tapas menu.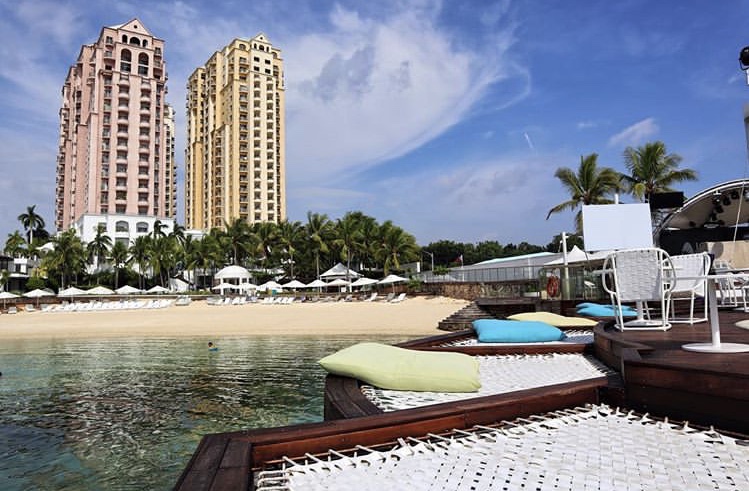 Hello Cebu
We arrived into Cebu at 6pm catching a taxi to our hotel (a white cab). to our hotel for the next few days. For three days we stayed at Movenpick Lapu Lapu (Mactan island) for three nights. Once checked in we freshened up and had a few drinks in out hotel bar downstairs. Prices in hotel bar a bud light and a wine 460pesos (£7).
Hello Cebu
After the most amazing sleep we had an incredible breakfast in The Sails restaurant. For our first morning we spent it on the beach for a much needed relax.
We did attempt to venture outside the hotel but got lost as there is not much around and just ended up walking around. The area once you step outside the big hotels is very poor. I had not read much about this is my research but was very prominent.

When exploring on foot, you'll have a chance to wind around small roads where you'll find street food available.
We did buy fruit and small things from them. Many food stands are run out of the front of a family homes where the cook has been making the same Sisig recipe for 30 years and is a true expert in flavor. This also helps to contribute directly to locals.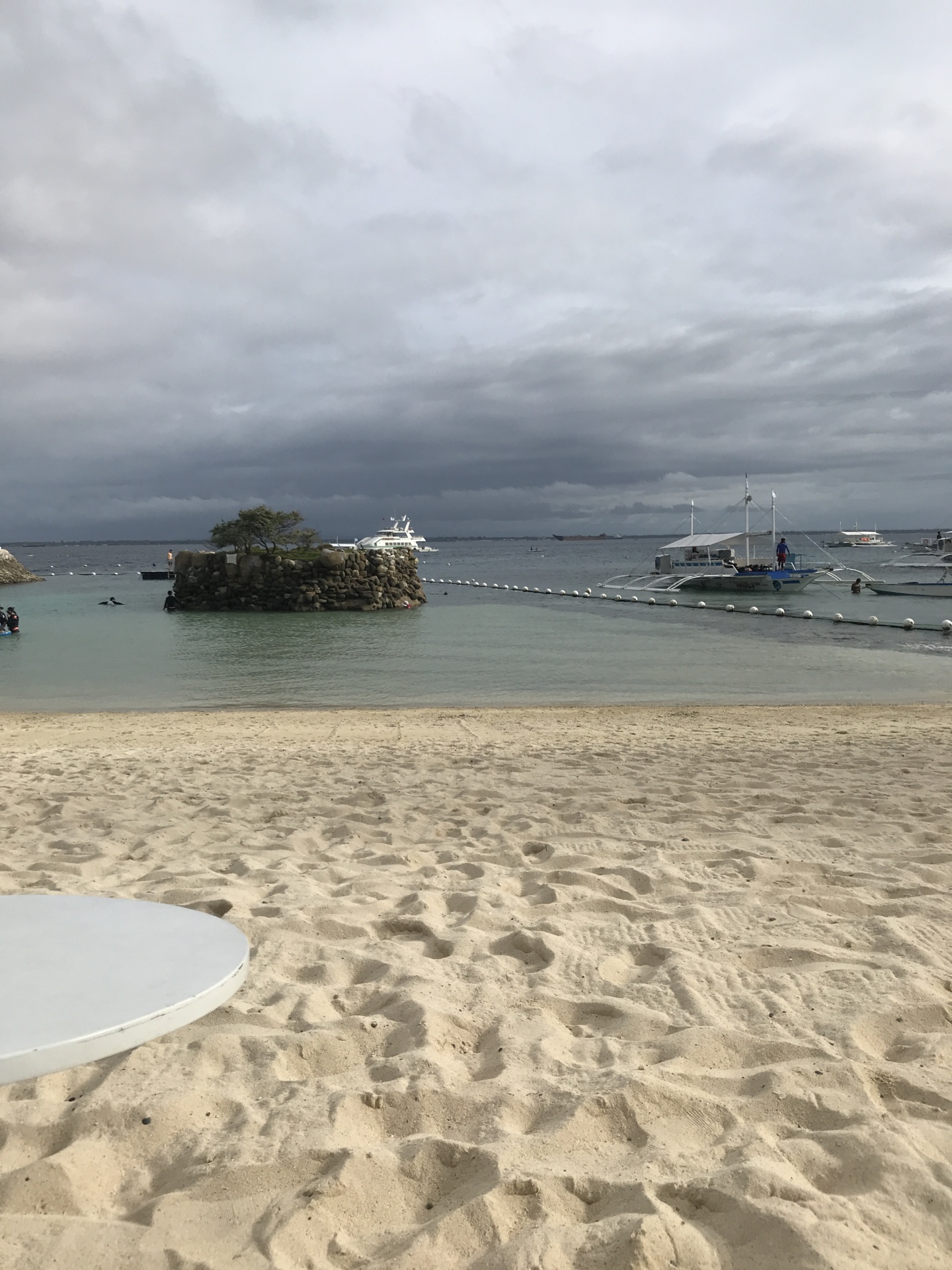 Lapu Lapu Statue – The Lapu-Lapu shrine is a 20 metres bronze statue in Punta Engaño, Lapu-Lapu City, Cebu, Philippines, erected in honor of Lapu-Lapu, a native leader who defeated Spanish soldiers 1521 Battle of Mactan. there is anice gardent to walk around and a few little stalls to buy souvenirs, which are elevated in price and can be bartered down.
Free to enter and a nice thing to do in the day.
For our time in Cebu we chose not to do anything like snorkelling or diving as we decided to wait for later in the trip. Lunch at the hotel and decided to book a day trip to Bohol.A neighbouring island of Cebu I had read much about and really wanted to visit. we booked our tickets for the boat with the hotel as this was just easier than a 60 minute journey to the port to buy them. We didnt want to risk on the day. Tickets if you buy from the port are 500pesos (£7).That night there was a big storm, we decided to head out and go to a resteraunt for tea. We chose the golden mango, which had good reviews for local food. we ordered prawns for starter which were lovely, I unfornutely didnt like my main as it was super spicy.
Day Tripping to Bohol
Our day trip to Bohol started early, we crammed in as much as possible. To get there we took a taxi (1 hour), ferry (2 hours) and saw as much as we could.
I would highly recommend this to anyone if you do not have time to go and stay on Bohol.

Read more about our day trip here.. (coming soon)
Other Things To Do in Cebu City
Ocean Dreamers Island Tours – which was located right next to our hotel. One of their most popular tours is the 'Three Island Tour' where you'll spend the day exploring the Olango Group of Islands off the coast of Mactan.
Scape Skydeck – is perched at the top one of the only tall buildings on the island so you have no obstructed views. Instead, you are looking down at all the neighborhoods as far as the eye can see and you get a clear view of sunset. this was on my list to do but we never got around to it as it was actually quite far from our hotel and the view from there was great too.
Basilica del Santo Nino – Very famous tourist spot in Cebu. Popular for the famous Miraculous Sto.Nino. Very historical, too. Recommended for those who wants to see the very rich history of Cebu. beside it is the Magellans cross which is another landmark.
Ayala Centre – The Ayala Shopping Centre was chock full of useful shops and restaurants. My wife and I found both the service and the prices very pleasing. The grooming of the landscape outside was also very attractive.
Taoist Temple– Perfect for a quick stop, with a peaceful atmosphere and wonderful views. Easily accessible, and there is an option to park directly at the top of the temple, for those not wanting to climb stairs. The stairs aren't nearly as bad as I expected, however. Within two minutes you've climbed to the top!
Tops Lookout– A short taxi ride from Cebu. Ask your driver to wait for you, the waiting fee is 2 pesos per minute well worth it. The view gets even better at sunsets. I would happily sit there every evening with a cold drink. 100 pesos for entrance is quite expensive since others only charge 50 pesos. Yes the view is quite nice and if you want to stay longer there are restaurants available.If you're a tourist you can hire a car or taxi for 1,500 to take you on a mountain tour, which takes you to Sirao Garden, Temple of Leah and Tops Lookout.
Sirao flower Garden – Entrance fee is 50php each. It's located in the hills overlooking Cebu (about a 20 minute taxi ride from the city centre). Every corner of this small garden is picture perfect.
I we had any more time we would have headed South to Oslob or Moalboal or alternatively to the North to Bantayan or Malapascua island.​
Our time in Cebu was spent relaxing and with a quick day trip over to Bohol. It was the perfect start to our Philippine adventure.
Thank you for reading

Bethan

xox