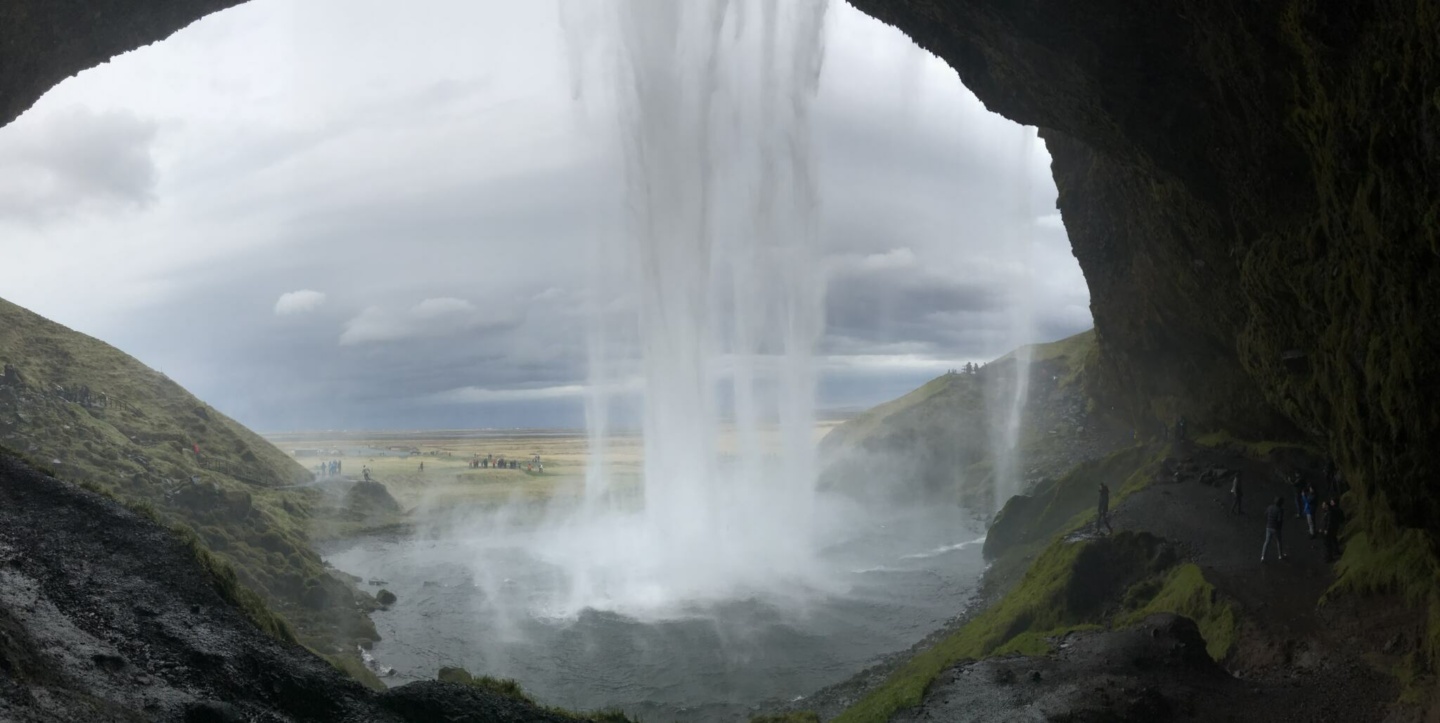 Iceland is a place I have visited before but George really wanted to visit. Whilst we were in the Philippines I got a price alert from Skyscanner that the prices were dropped. When I set the alert flights were looking around £120, these dropped to £64 I bought us light for Christmas and couldn't wait until Christmas day to tell George.
Iceland is not a cheap place to visit but I will try my best to share where we spent our money whilst on our trip. We are keen believers in spending as little as possible whilst doing what you want to in a new place.
Top Apps to have for Iceland
Maps.me – if you have limited data or just don't want to use it all on maps. Download this app and downloads Iceland and you can navigate with ease offline. (Perfect for those holidays out of Europe too with no data).
AppyHour – This app is ideal for finding all bars/pubs/restaurants offer happy hour drinks at cheaper prices. If you like a drink and don't fancy spending £10 on a pint I highly recommend this app to hunt out some new places. The best bit it filters to pubs nearest first.
Like a local – I always use this app in a new city finding little gems which have been recommended by locals. It can be somewhere for brunch or a bit to eat, best routes around the city to sight see, things to miss out and much more.
City Mapper- This app doesn't always working in all cities but it helps navigate your way around a city and the cheapest way to do it.
Day One – Hello Iceland
We had a very early flight from Manchester to Iceland. Arriving at half 8 in the morning. We picked up our car from the airport. We had booked for 4 days and it was around £108, with AVIS/Budget cars. We had read everywhere that getting a 4×4 was unnecessary unless going in winter time, we went in April. There is an option to return it empty just pay for the tank upfront our was £67.
So we had arrived, we had a car, what next?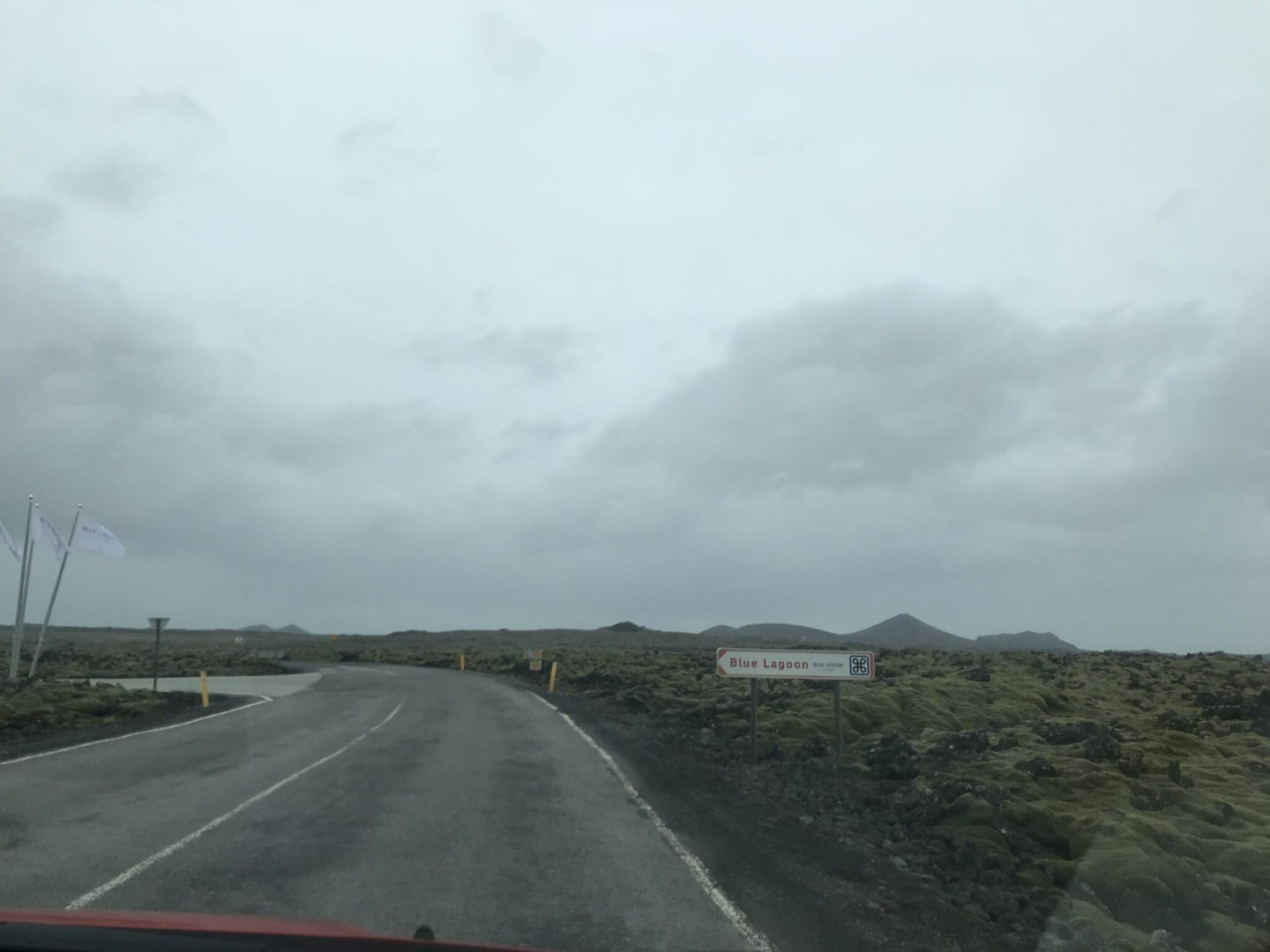 I had read loads of advice which way round to visit the blue lagoon. As its only 20 minutes rom the airport we opted to head straight there and have a relaxing morning. We had booked and paid in advance for the comfort package (£75 each depending on the time visited it can be slightly cheaper).
We arrived at ten in the morning and it was quiet. Included in:
The Comfort package From ISK 6 990
Silica mud mask
Use of towel
1st drink of your choice
Premium: Blue Lagoon From ISK 9 900
Entrance to the Blue Lagoon
Silica mud mask
Use of towel
1st drink of your choice
Second mask of choice
Slippers
Use of bathrobe
Table reservation at Lava Restaurant
Sparkling wine if dining
Luxury: Retreat Spa From ISK 79 000
Four luxurious hours at the Retreat Spa. Includes a private changing suite and unlimited access to both the Retreat Lagoon and the Blue Lagoon.
The Blue Lagoon
Our first drinks were cidres, perfect in the war water.(there are lots of water fountains too). Lots of drink options cidre, beer, smoothies, juices. There is also a couple of cafes and the Lava restaurant.
Drinks and food are charged on your wrist band which is paid as you exit. Our bill was £24 for one alcoholic drink and three smoothies juices and two hot drink at the end.
There are lots of areas in the lagoon to swim, chill out and explore. Try different masques included in the price of your ticket or purchase one you want to try and charge your wrist band.
There's lots of drinking fountains to rehydrate whilst swimming around so you do not need to buy water.
Enjoy a steam room or sauna before refreshing under the waterfall.
Or splash the cash and visit the spa or the restaurants.
Once you are finished up in the lagoon you are able to purchase skin products like face masks, creams and any products used in treatments. From here you are also able to buy souvenirs.
For lunch we enjoyed our picnic we had brought from the plane, a cheaper alternative to spending a fortune at the blue lagoon shop.
From here we drove to Reykjavik, it was my second visit to this city and I couldn't wait to return. My last visit was to see one of my best friends from school who moved back here, me and my sister stayed for three weeks.
Our Hotel – Skuggi Hotel
We had booked to stay at the Skuggi Hotel. We were looking for a hotel which included parking and came across this hotel. It was perfect with a garage free to park our hire car, walkable distance into Reykjavik and the bus terminal. The hotel was very clean and had a very comfortable bed and had a good breakfast in the mornings before adventuring.
Rooms were small but perfect for us, comfortable bed with a kettle to make warm drinks for when you get back from days out.
The hotel offered a happy hour each night which was great.
We spent the afternoon wandering around Reykjavik and exploring. We bobbed our head into shops and boutiques, had a nosey around the sights before stopping at a pub- Frederiksen Ale House
For a large nachos 4 beers, 1 coke and a ginger beer £32 (in happy hour, we used to app).
For the evening to ventured to a food hall – Hlemmur Mathol. The perfect place to get a quick bite to eat. We both had a Neapolitan pizza each and drinks it was absolutely delicious. Pizzas were 1700IC (£11) plus drinks a beer and wine (non happy hour) 2800 (£19).
The food hall offers lots of different options Icelandic, Vietnamese, Spanish, pizzas, soups and Mexican.
We did stop for another drink further into Reykjavik for another drink before heading off back to bed after an exhausting day.
Day Two – Driving The Golden Circle
What's The Golden Circle? Its a common tour or route taken around Iceland between three favourite natural attractions in Iceland; Þingvellir National Park., Geysir geothermal area and Gullfoss waterfall. The route is often taken as a loop rather than driving there and back its just under 230km 140Miles.
There are many tour company's offering all kinds of different routes around the golden circle at a variety of prices. The best price I found was on trip advisor.
One of the perks of driving the Golden circle yourself is that you can decide if you want o stay at one stop longer or cut one short.
The Drive is three hours, we chose to get up at a reasonable time and have a good breakfast before setting off. You may choose to go later in the afternoon or at the crack of dawn.
Before setting off we picked up our lunch for the day from Braud + Co a bakery near our hotel. Also picking up drinks and snacks from the super market.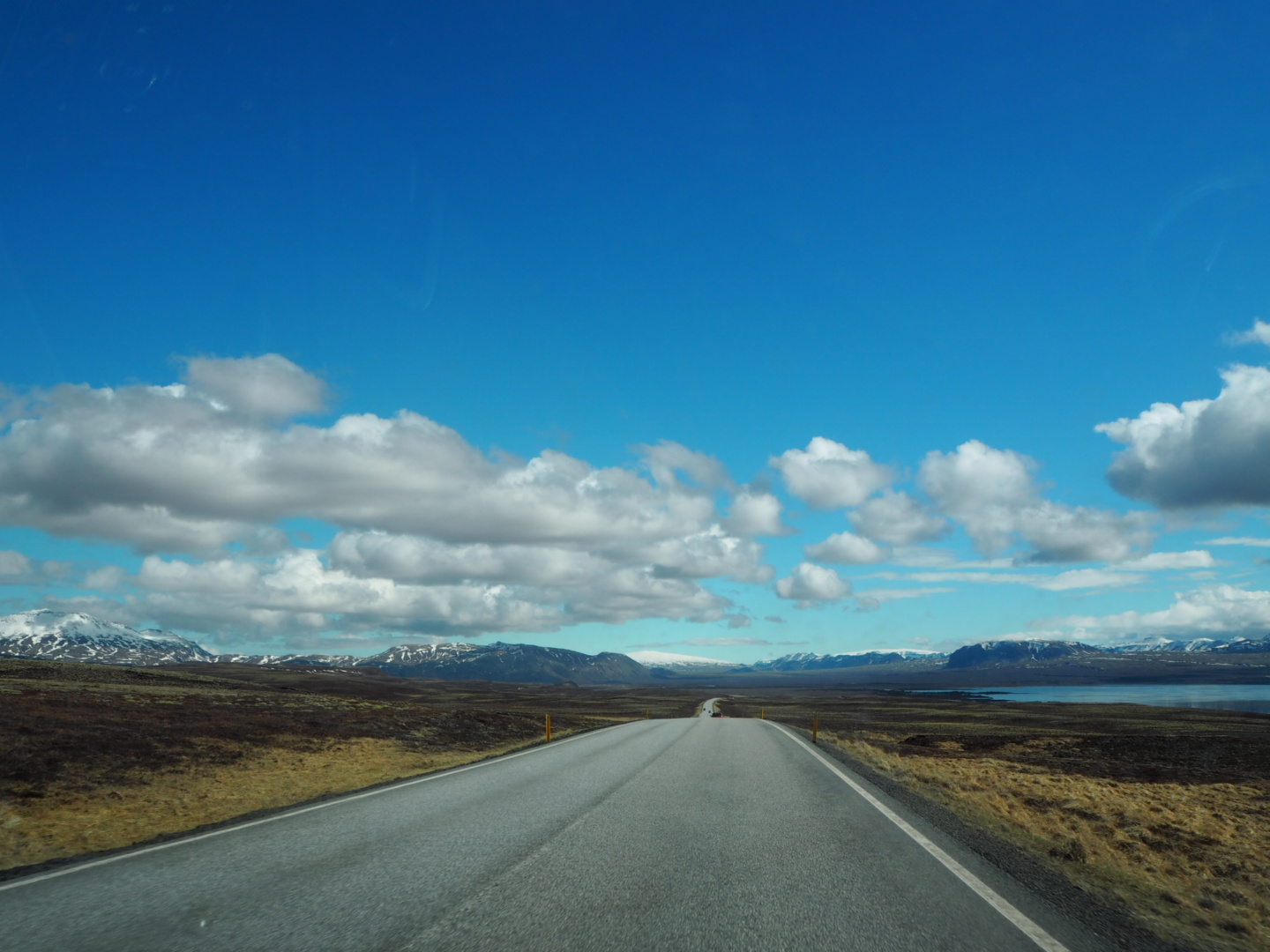 Time to go..
The views along the Golden Circle are incredible. Ideal for short-stay visitors, this scenic driving route through south-western Iceland features excellent scenery and major sites.
First stop was to the Þingvellir National Park.
We had a walk around the park up to the visitors centre and viewpoints and wandered around. The visitor centre has incredible views of the lake. We saw the Thingvellir Church, waterfall, There are several walking paths you can follow in the area, and you can easily spend a lot of time walking and enjoying this unusual and spectacular landscape.
You are able to dive between tectonic plates Silfra. The two tectonic plates– the North American and Eurasian– run right through this park. You can see the crevices left by the separation of the plates.
There are many activities to do here but I advise a visit just to see the vast landscape.
We allowed 1-2 hours here but it was very windy and started snowing so only stayed for around an hour.
Next stop was the Geysir
There is a car parking area and from there walk up to the Geysirs there are quite a few and can see them coming up with all the steam. We walked up got a perfect shot of Geysirs in action straight away. There is a café here grab a hot drink or something to eat and a souvenir shop.
Gulfoss
This is located close to Geysir. Gulfoss was the most powerful & massive waterfall we saw during our time in in Iceland. The multiple levels of fast moving volumes of water was a sight to see. Two options are available to view the falls: one from the canyon side above as well as a brief hiking path down to the mouth of the falls. As one gets closer to the falls, the path becomes more damp/wet due to proximity to the falls, so waterproof clothing & shoes would be ideal. is two viewpoints of this huge waterfall, form above or below. From below you can feel the force of it being blasted by the wind and spray. After a soaking we needed more warm drinks to thaw us out.
Kerid crater
we managed to pop into this one on the way back to Reykjavik. Not the ultimate highlight on the Golden Circle, but definitely worth the stop. There is a small charge to walk around the crater and down to the lake. From the top of the crater you can see for miles in every direction – recommended. It costs 400pp to get in from there you are able to walk around the crater and see lakes. A great stop for 20-30 minutes.
Heading back to Reykjavik, we thought the self drive Golden circle tour was great and easy to follow. We covered a lot of miles through the day, the most getting to the first stop and back from the last, made easier by this route being in a circle. There was quite a few crashes along the way. I'd read lots of advice before setting off about the dos and don'ts of the roads in Iceland, follow all advice. The weather was seriously bipolar as we saw every season in a day, although we are used to it being from Manchester.
Back in Reykjavik we went to Reykjavik fish for tea. It's considered a cheap eat on trip advisor. The reviews were really good. Fish and chips were 1800 each, plus a drink each it was £38. Not a bad price tag for Reykjavik. We did stop for a drink in Rekjavik before heading back to our hotel we were worn out from the days travels.
Day Three – Road Trip South Iceland
Up and out early for our next road trip. Breakfast at the hotel and coffees for the road and off we went to our first stop. The weather was. big change to the day before which was semi hit and miss nice weather. Today the weather was AWFUL freezing and pouring down. Just perfect for some stormy pictures.
Lava centre, We called in here on the road for a brief stop. it is free parking and free entrance with a cafe and souvenir shop. The LAVA centre features an interactive exhibition exploring the art and science of geology and the volcanic systems in Iceland Take a walk around and have a look at all volcanic activity over the last 48 hours. You are able to pay for the cinema and exhibition or as a joint ticket. A good stop to break up the journey through the south.
Waterfall number one Seljalandsfoss.
It was 400IDK to park at the waterfall. Not as large as the Gullfoss seen yesterday but still impressive. You are able to walk right up to the waterfall and along the path behind it which is spectacular. The walk out from behind the waterfall is a little difficult for people with mobility issues, they should turn around and go back the way they came. There is a makeshift toilet there and a small caravan that sells snacks and drinks.
Waterfall number two – Skogafoss.
Free parking at this spot also and some toilets. Parking is very close to the base of the waterfall. You either have the option of walking up 500 steps up to the waterfall and witness it from above or just walk to the base. We just walked to the base which was very impressive. Our photos unfortunately are very dark as by this point in the day bad weather was hitting but it was a spectacular view all the same. We left soaking and freezing, waterproofs a must if going close and your more wise than us).
From here you are able to continue the drive to the Town of Vik. A small seaside town only 50km in each direction. There are a number of small attractions in Vik with some local amenities. A lot of people visits for the black sand beach, the sea is rough so take care here. We decided freezing and soaked to head back to Reykjavik with a two hour drive.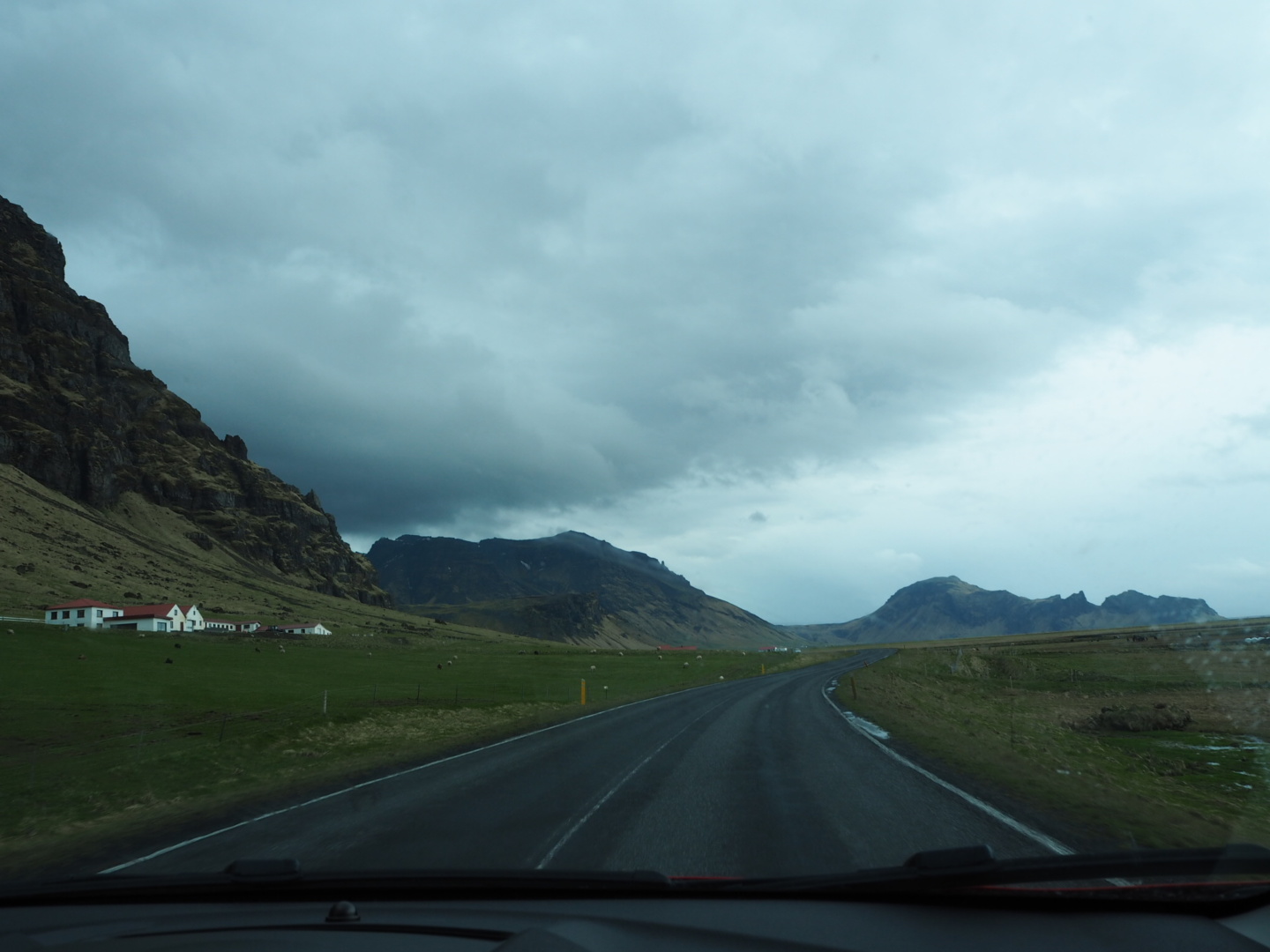 Its worth noting keep an eye on fuel levels as we were almost caught short running out of petrol and being over 30km from the nearest.
Once back in Reykjavik we stopped off for ice creams. Now I had these ice-creams years ago when I first visited Iceland food three weeks visiting family friends. I had to bring my boyfriend to try them as I ate them daily on my last visit.
Ísbuð Vesturbæjar
Once you've established what you want, your server will then ask for your preference of gamli or nýi ís ("old" or "new" ice cream, which is creamier). After this decision, the next step will be the most difficult of the day: do you want to dip your cone in sauce? Or, what mixings would you like in the þeytingur? Trust me when I say there are too many options from licorice bits to gummy bears, cookie dough to peanut butter, and even chocolate bars. If you're as indecisive as I am, though, you'll probably be going back anyway, so order your go-to flavours!
I had mine old ice cream dipped in milk chocolate and rolled in diam balls. The same as my favourite on my last visit and it did not disappoint.
£8 for two
For dinner we ate at the food hall again this time option for fish tacos (1800 for 3), amazing Vietnamese summer rolls and margaritas to wash it down.
After this we visited Port 9 a wine bar I found on Instagram. The bar was gorgeous and plush wine is not cheap at £10 a glass but it was worth it for a bit of luxury.
Thoughts on Iceland
We had a fab time during our three day stay in Iceland. Although we did not really spend much time in Reykjavik there was a few things we missed we had an incredible time. The whole trip was just so different to every other holiday we have been to. Driving around ourselves was so much fun just stopping where we wanted and leaving whenever we wanted. Food and drink is obviously expensive and we tried to keep our costs low by eating at more quick food stops than restaurant's and drinking at happy hour. We would definitely recommend Iceland and is totally doable on a budget just be mindful on alcohol and food which is where the prices hike massively.
Thankyou for reading

Bethan
xox

Have you been to Iceland? What were your best bits? Let me know in the comments below ↓