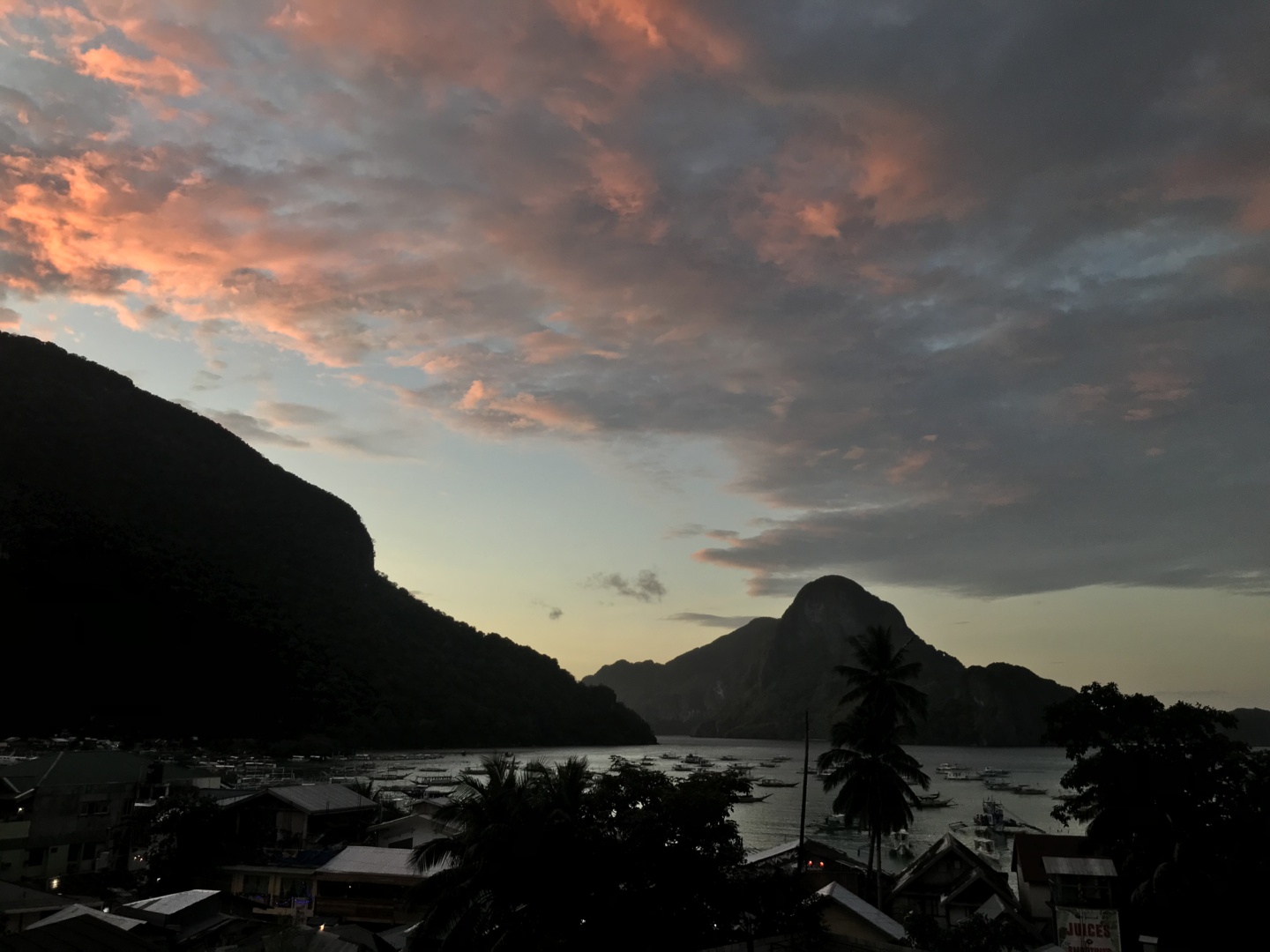 We spent one last quiet morning on Boracay before soaking in the last of white beach before pick up by My Boracay Guide.
Trike, boat, Taxi to the airport before our flight to our next stop EL NIDO!!
Read the rest of our Philippines Two Week Itinerary
Layover | 9 Hours in Hong Kong
Philippines | Three Days in Cebu
Philippines | A Day Trip to Bohol
Philippines | Three Days in Boracay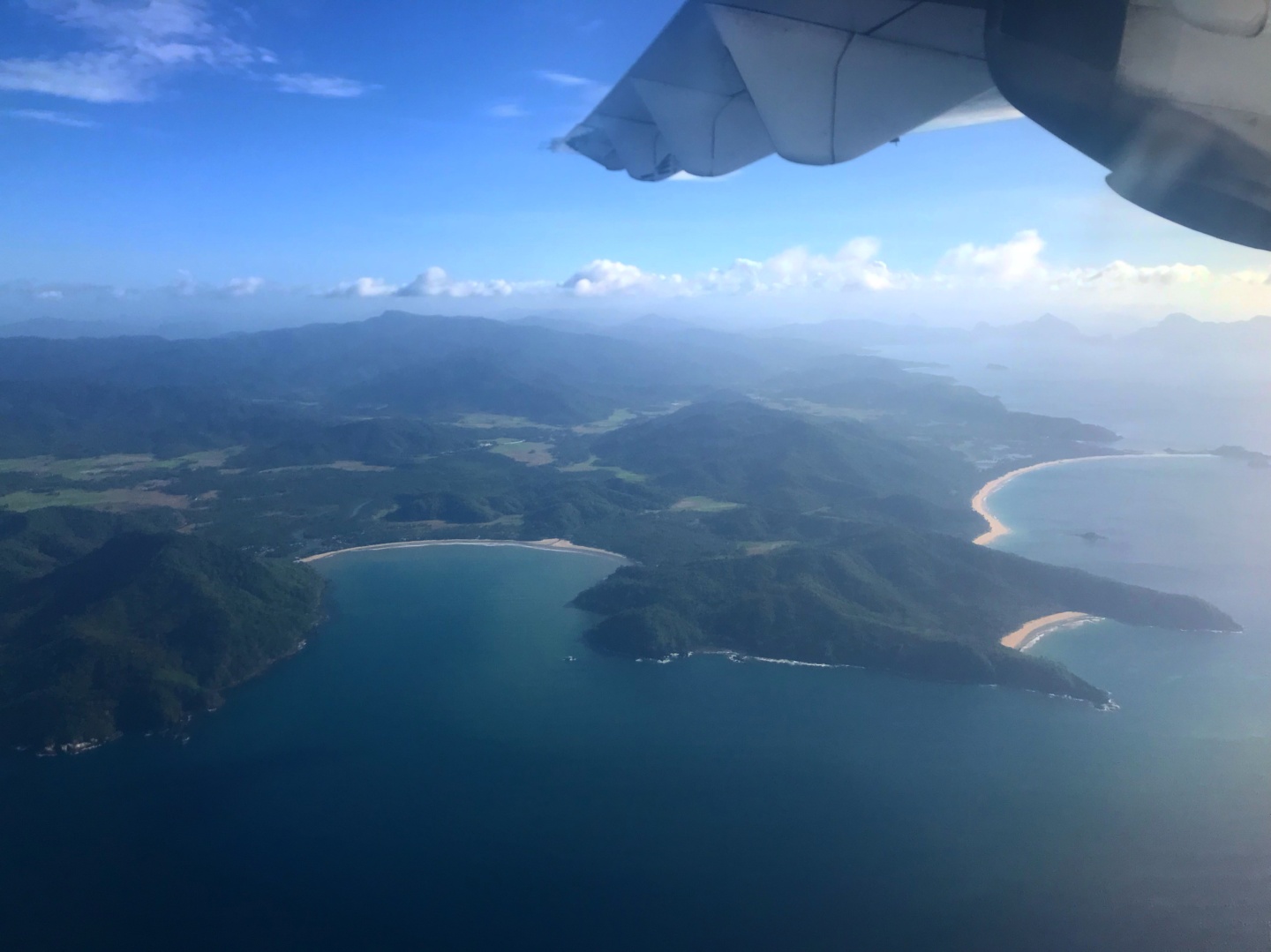 Arriving in El Nido
Our flight to El Nido was with Air Swift was great, they were one of the best airlines we used. It was a small plane, it was on time with good staff. I would highly recommend looking in to flying with them around the Philippines. They do not however show up on sky scanner, so go direct to their website. The flight from Boracay to El Nido was only 40 minutes.

From the Airport there are trikes waiting to take you to El Nido town. We caught one of these and they secured our suitcases on and off we went.
Where we Stayed
All hotels around El Nido came up very expensive for what they were when we were looking. Hotels in the area seemed to be either very low budget or very high end, there did not seem to be any middle ground between them.
In the end we booked the Cuna Hotel.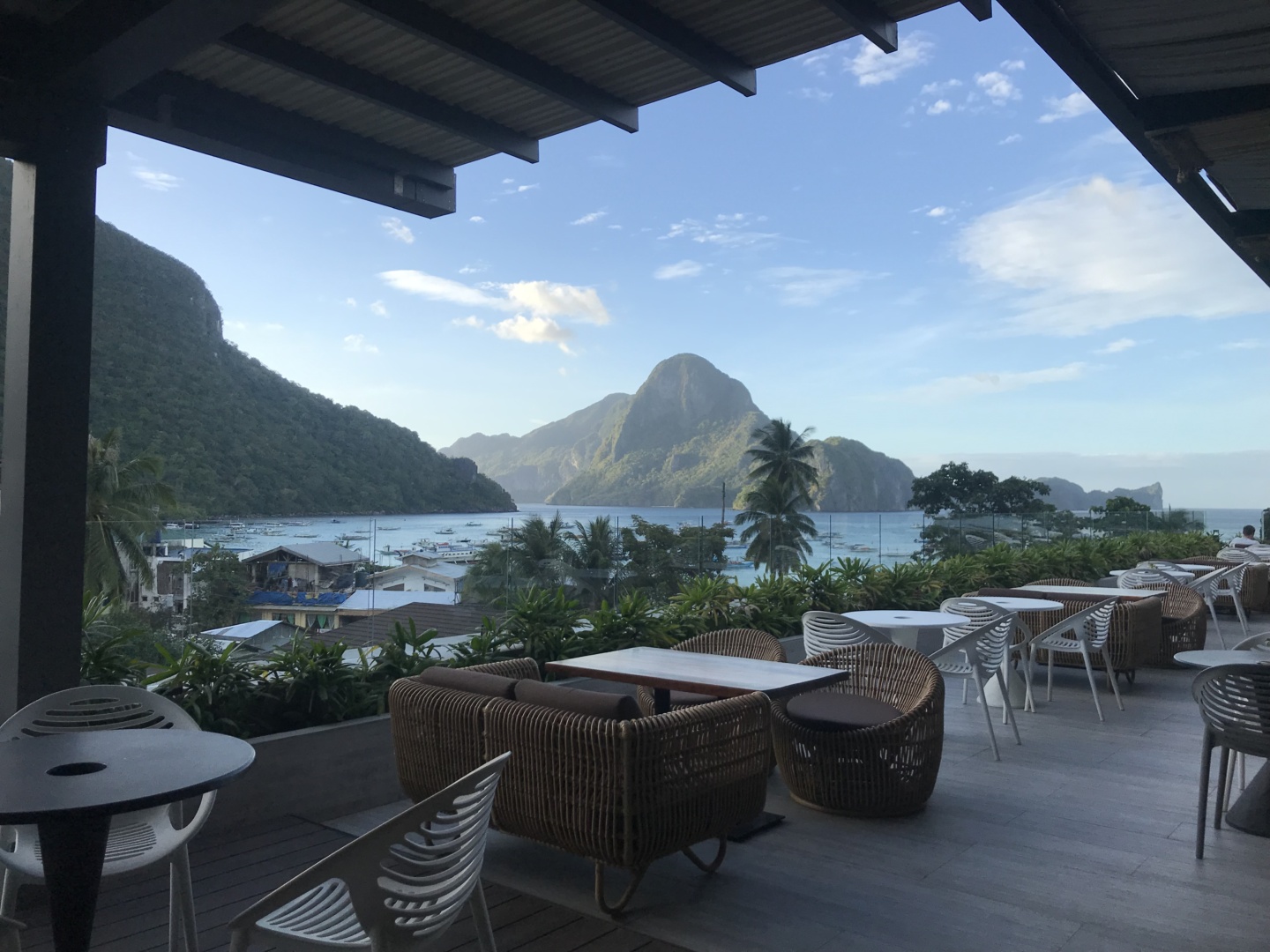 The Hotel is centrally located, a fair offering of breakfast service and the most incredible breakfast view. The best asset of the hotel, Scape Skydeck El Nido offering a great happy hour offering great cocktails.

They offer a lot of services to be able to book to visit all the beaches around and day trips with reception. We actually just booked these ours ourselves whilst walking around exploring the town.

Our room was small but suited us well, there is however only wifi in the lobby/reception area. Overall the hotel was ideal for the price we paid.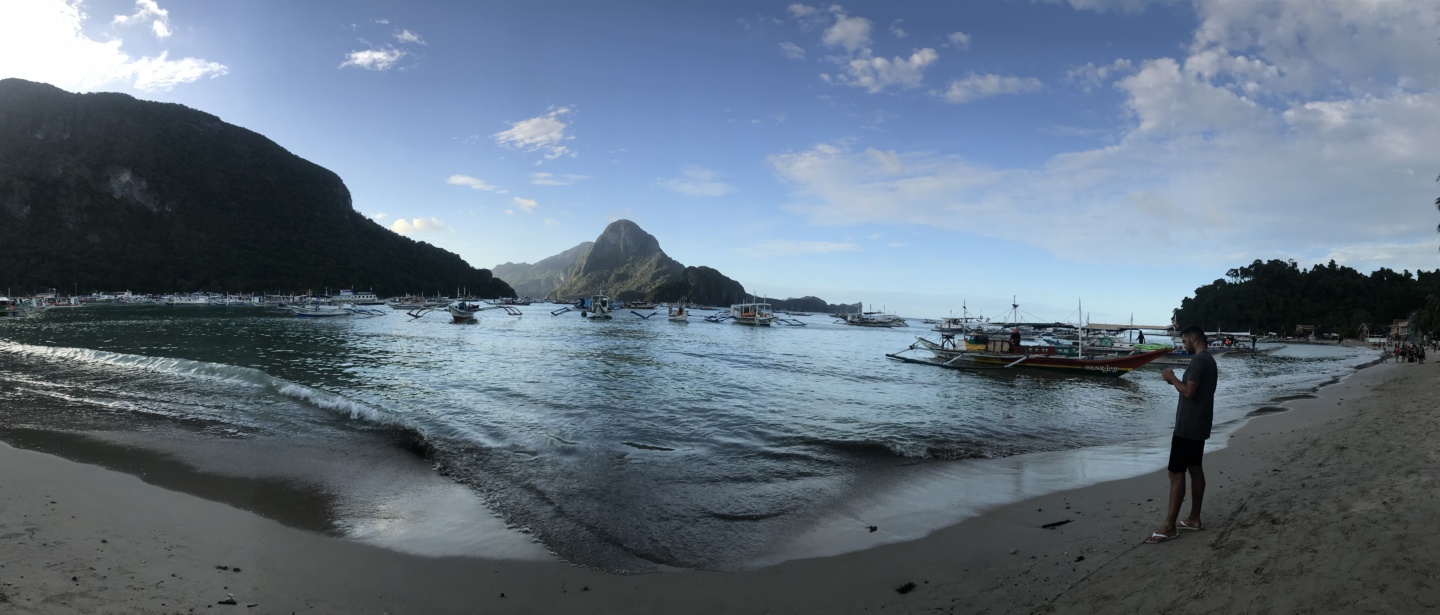 After a quick check in to the hotel, we took a short wander around the town before heading back to the hotel for sunset.

The cocktails on the roof were really reasonably priced and at buy one get one free even more so.
After quite a few Dissarano sours we ventured into El Nido to a bar called Sava. We came across it whilst walking down the beach, it seemed to have a cool vibe with good music with all bean bags around to sit on on the beach.
We had quite a few cocktails and beers plus ordered some food which was delicious.



Day Two – Exploring El Nido
In the morning we enjoyed our first breakfast on the roof. I could never get bored of that view it was truly incredible. It was safe to say breakfasts in El Nido were slow so to soak up all of that view.

Whist wandering more of EL Nido town we booked a tour around the island. There is so much to see around El Nido is known for white-sand beaches, coral reefs and as the gateway to the Bacuit archipelago, a group of islands with steep karst cliffs. There is so much to explore and see you will be spoilt for choice.


With El Nido you have four options of tours;
Lagoons and Beaches – Tour A
Lagoons and Caves – Tour B
Hidden Beaches and Caves – Tour C
Cadlao Island – Tour D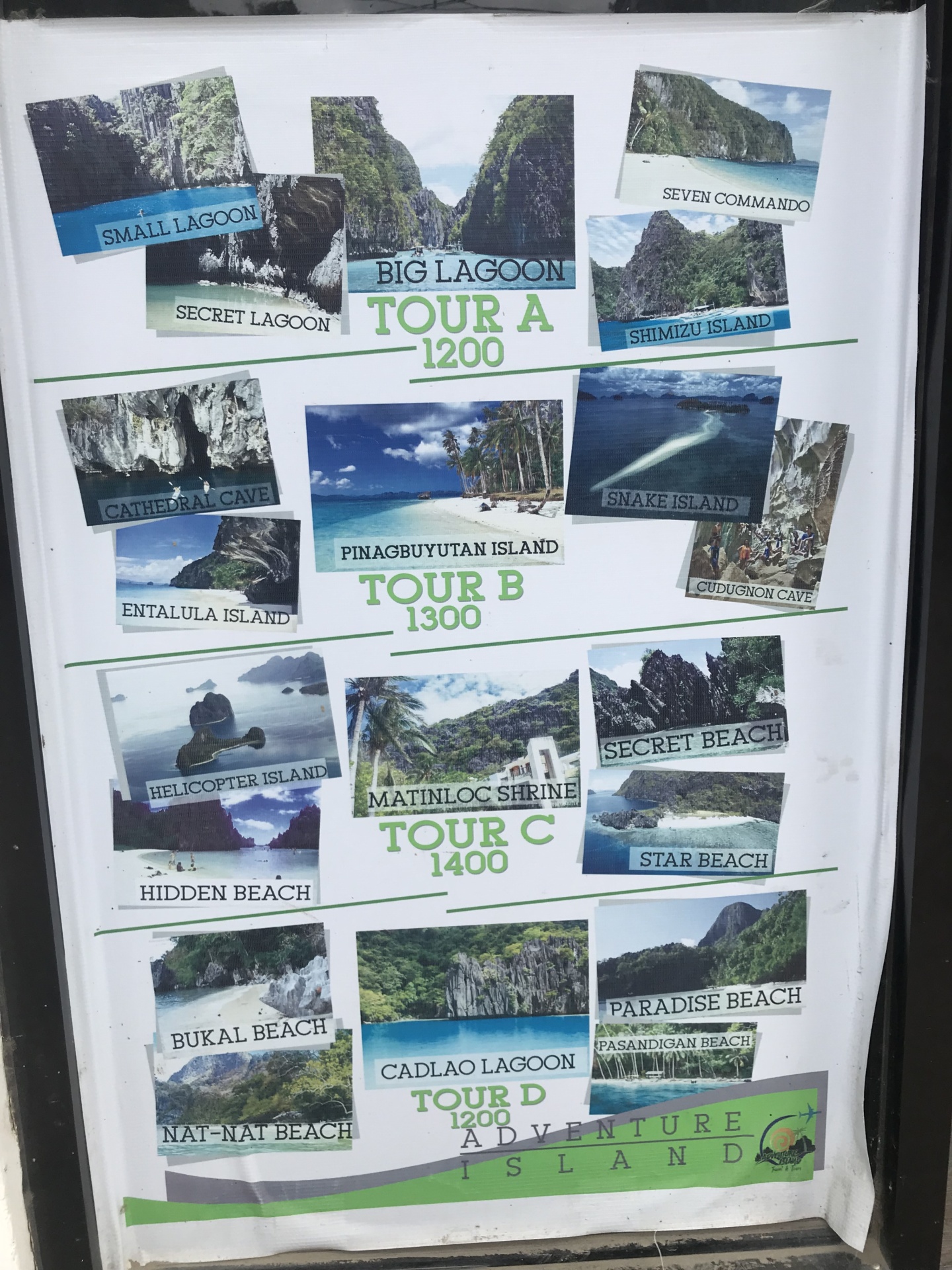 They are all the same price mostly everywhere we found and all offer the same routes. Unless you pay for a private tour which come at a hefty price tag (compared to Coron), on top of the boat hire you also have to buy your own lunch and pay for fees to get in. We chose the cheaper option and went on a group tour for the next day. This included five stops, including lunch and fees.
Tour A is the most popular tour so expect crowds. Also bottled water is not permitted and will be taken, the Philippines have more strict rules to do with being environmentally friendly that other places I have been to in Asia. We took our Chilly Bottles which are ideal or keeping drinks cool also and can §be refilled on the boat.
Once our tour was booked we looked in a few stalls and shops. We stopped for a drink in The Happiness Beach Bar, which is literally the cutest place. Bright and colourful with swings at the bar very instagram worthy.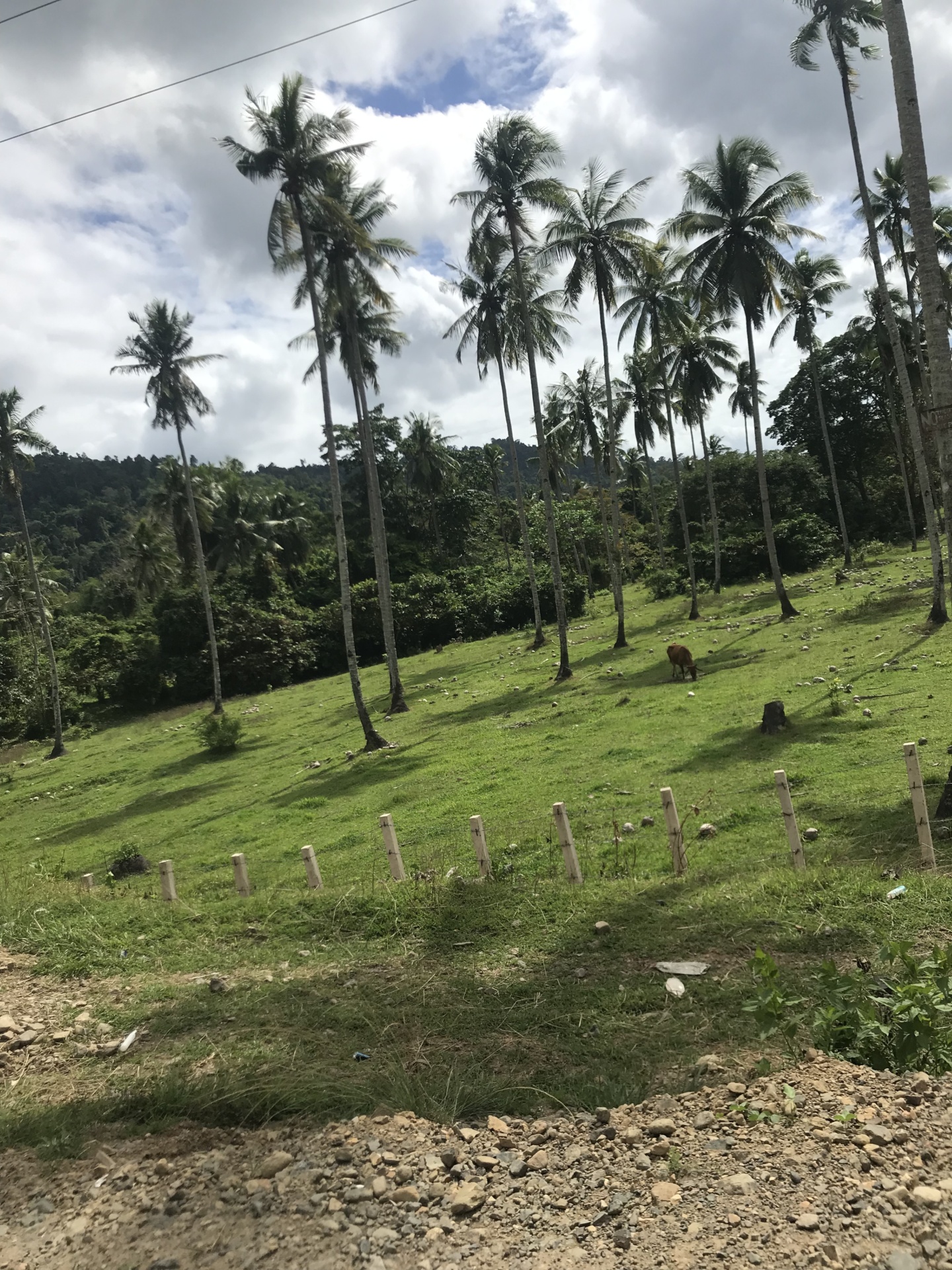 Then for the afternoon we caught a trike to Nacpan beach 1200pesos return. The driver sits and waits for you to come back when you are ready. About an hours drive from El Nido town, with mainly clear roads until you get to the beach. The beach is HUGE claimed to be One of the best beaches in Asia, Beautiful sand, beautiful water, had fun in the huge waves. The most important is not touched by human modernisation.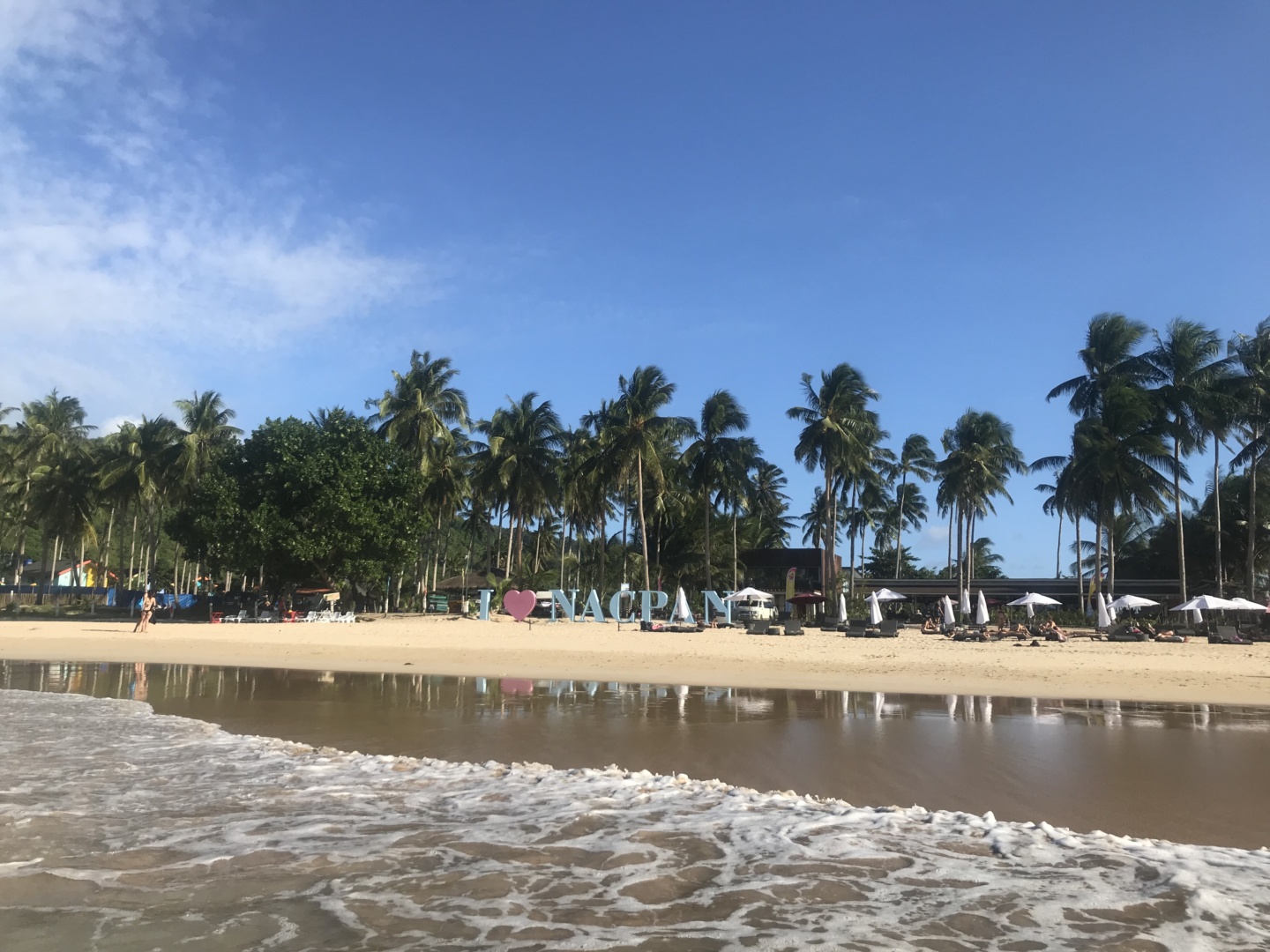 As soon as l arrived l realised hardly any shade, other than WAY back on the beach and under a few palm trees.

There are lots of options to rent chairs with umbrella's for the day or take shelter in a bar. The beach does not feel crowded at all which is lovely to feel like there are only a few people around.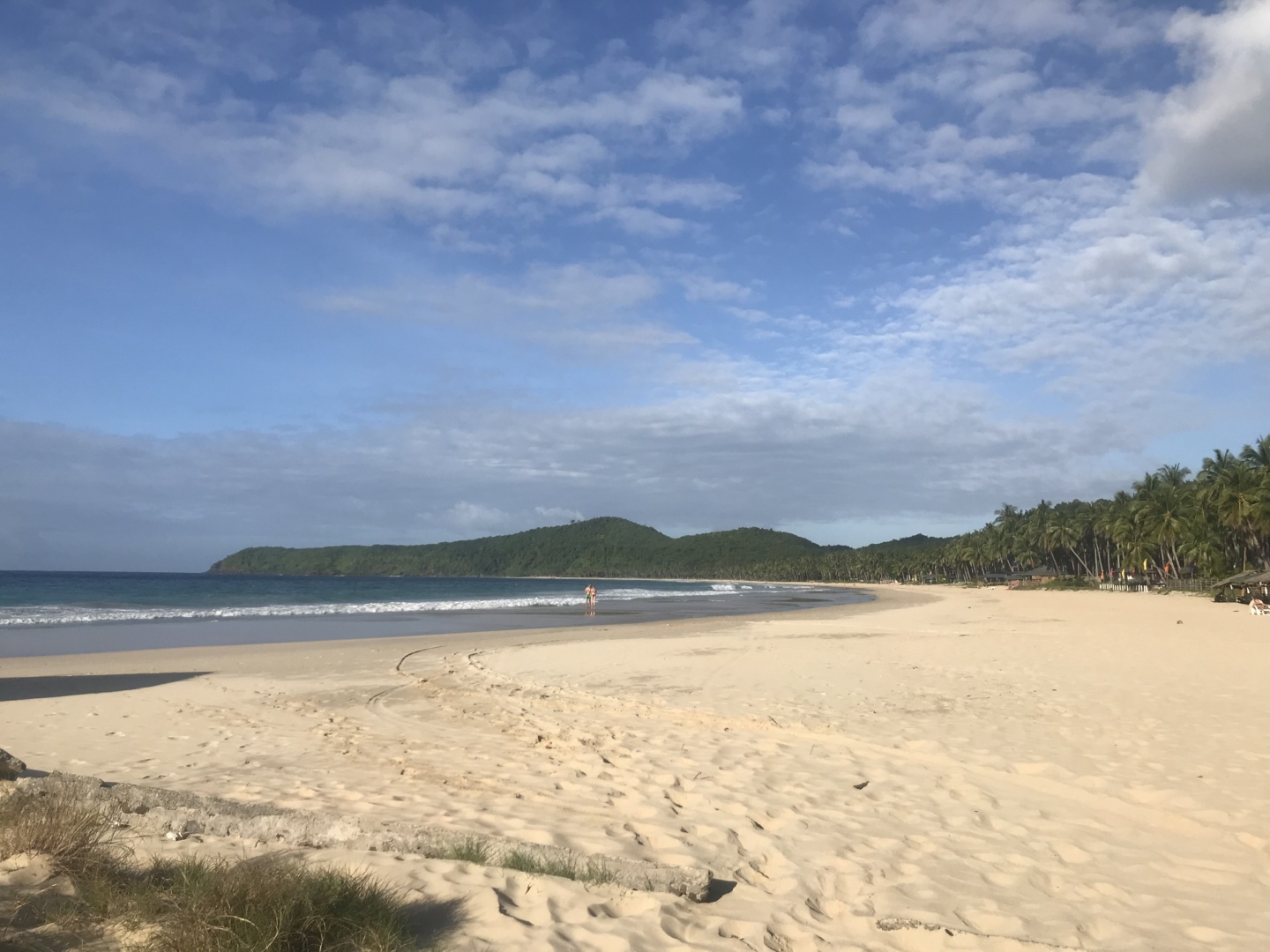 This area is so good, we have spent the rest of the day on this beautiful beach. We had an amazing day here just walking up and down the beach, relaxing on a sun lounger. There are a couple of Restaurants available there until 8 or 10 in the evening.
This was one of our favourite days in the Philippines.

Once back in El Nido town we went for dinner at the Greek restaurant Cafe Athena along the water (opposite The Happiness Beach Bar). The food and cocktails were delicious, it was also happy hour too so lots of margaritas. Happy hour here is until 10pm so more the merrier.



Day Three- Day Tripping (Tour A)

Another incredible breakfast again on the roof, still soaking in that incredible view. I would like to point out the the incredible did not come from the food its mainly the view.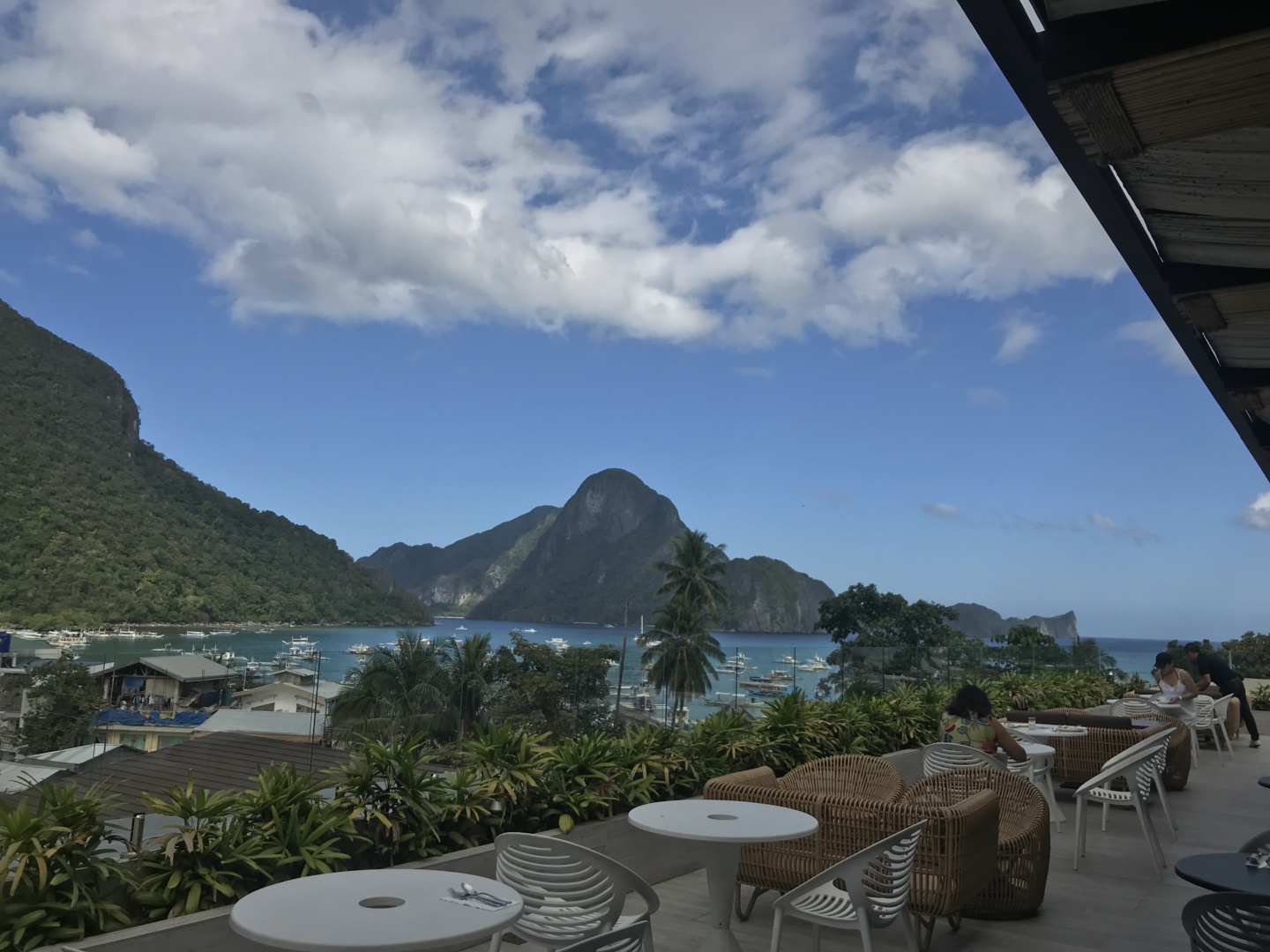 Pick up from the hotel for our boat tour was 9am. There was 15 of us on our tour, lined up ready to get on the boat. After quite a lot of sitting around and waiting we finally set off.
** I am not a fan of a group tour as I like to have the freedom to pick and choose where we go however as the price is much more in El Nido we decided to go for this option.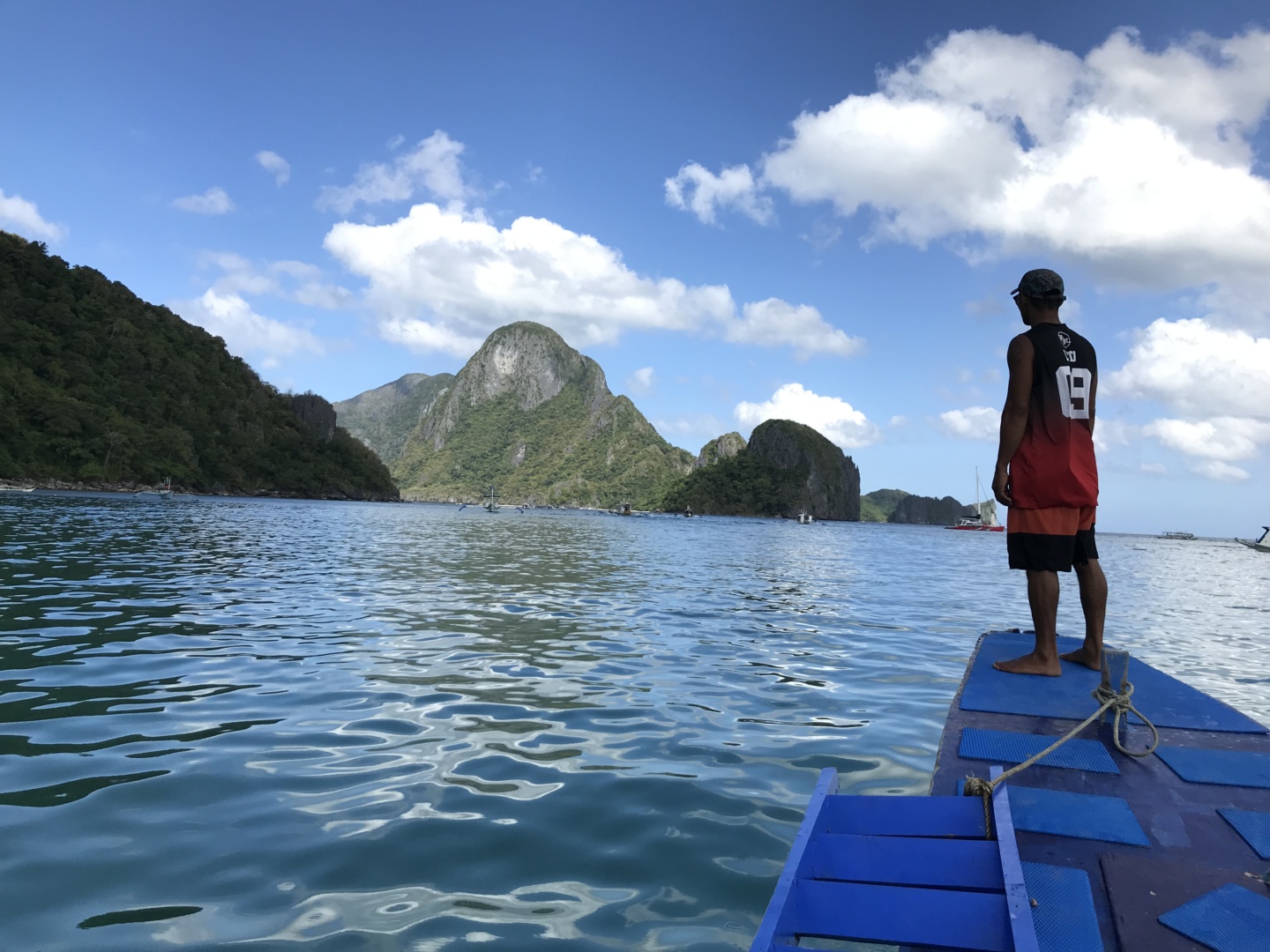 Stop One: Seven Commandos Beach
This is a beautiful beach on the Tour A island tour but it's packed with a lot of people and boats. Swimming is in the designated area only. There's a private beach around the corner if you can swim that far and back in the time you have for your stop on the tour. Food and drink are available on the island. Try a mango and rum smoothie while here (200 peso aka $3.83 USD).
The beach would have been even more impressive had we not arrived as part of a tour as at was so busy. But still sooo pretty. If you are able to visit this privately also and have the beach to yourselves, even more blissful when everyone leves.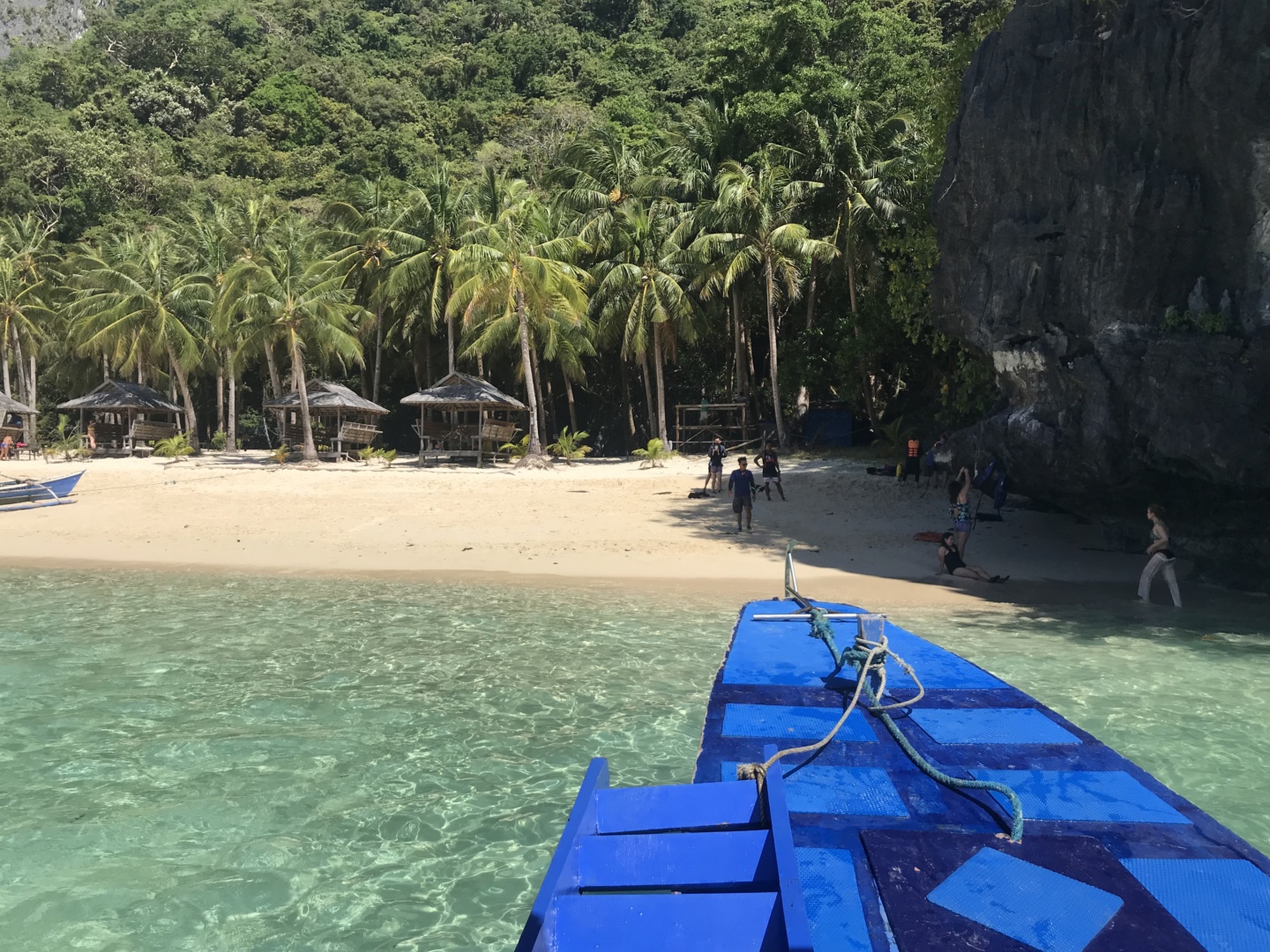 Stop Two: Big Lagoon
Yes, it's touristy but you won't regret visiting the Big Lagoon. Is suprising how many people do not go all the way into the lagoon here. They travel the neck of it but keep going and it opens up into a very large area, like a small lake. They are building some diving platforms, which honestly detracts from the natural beauty, but it is still a beautiful and quiet place to relax on a kayak. Worth asking your boat operator for and paying the 250p for the kayak.
Like me many would be annoyed with the change in law meaning you can only visit either big or small Lagoon in one day, however, the tour operators have time slots which mean when you visit it is not overcrowded. This is a bonus there was just our boat tour when we arrived at the lagoon.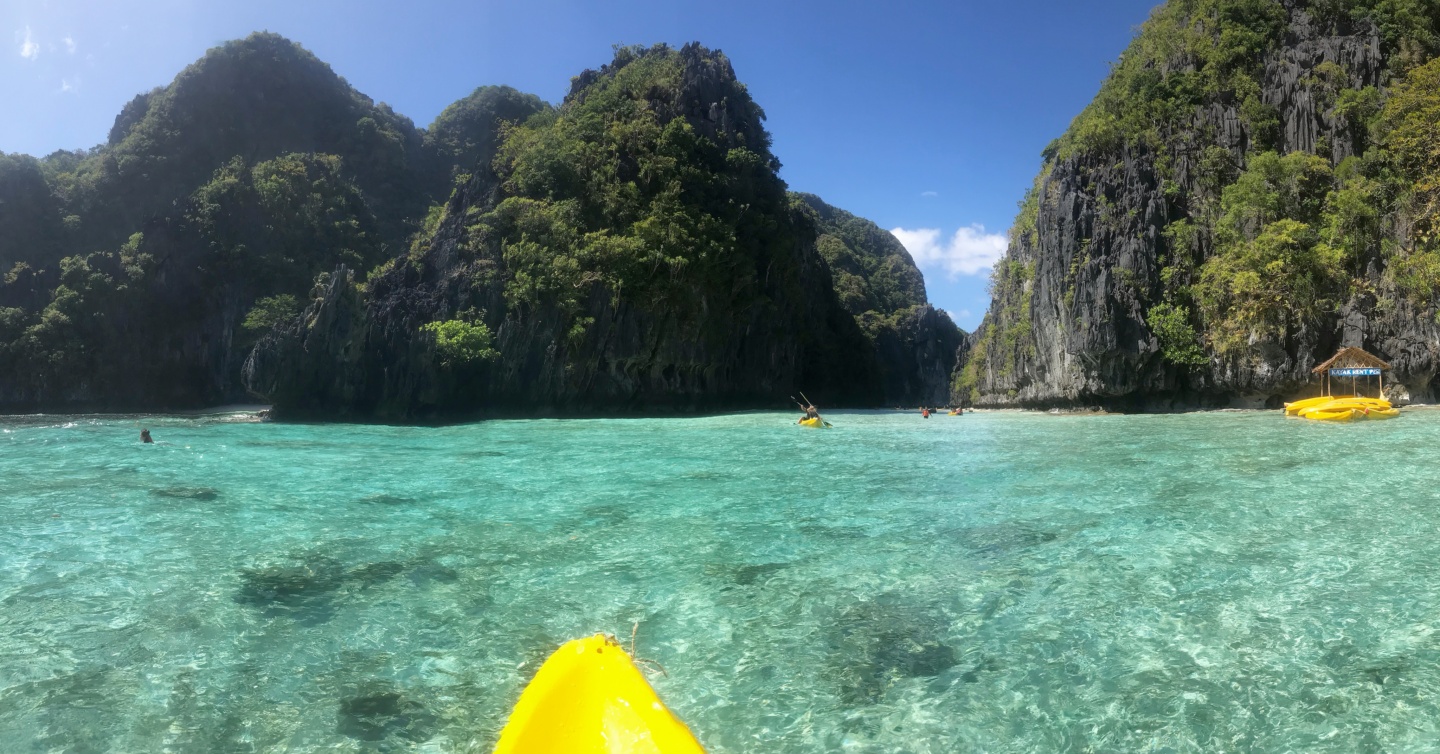 Stop Three: Payong-Payong Beach
This was our stop for lunch during our tour. We ate at the beach and swam around and explored for a short while. It is small and the place gives off a very deserted island feel. It can get busy here as lots of tours stop here for lunch. Lunch provided on the tours consists of rice, seafood, meat, fruits i.e. watermelon, bananas, and vegetables.
There are lots of photo opportunities here, remember to leave only footprints behind.
Stop Four: Shimzu Island
Our tour stopped here to snorkel, The boat stopped before the shore due to coral and you swim into the beach. The water is very clear you can even see through to the floor from the boat. It was a small beach to have a look around.

We came here after lunch, unfortunately it was in shade so many people did not get off the boat option to stay on the boat in the sun. It was a short stop due to this.
Stop Five: Secret Lagoon
Whilst this is pretty cool going through a hole in the rocks to reach a small pool of water, the water is dirty from the amount of visitors and there isn't much to see. The amount of people was ridiculous it was far too busy, make the whole thing a bit pointless really.

Although there is a beach next to it and that was beautiful compared to the so called 'secret lagoon' and in my mind it made this stop worth it.
The tour was great and we loved it. All the stops had been brilliant, if we do not count 'Secret lagoon'. The water was so clear and blue and the sand all white it was pristine. The lunch offered was lovely also which i though was surprising with he freshly barbecued fish.

For these day trips I would highly recommend bringing or buying water shoes. As there as there were lots of rocks and coral and getting to the beaches from the boat can be tricky.
For the evening as we arrived back earlier from our day trip for a quick change. Before heading to Altrove a chain restaurant (they also have a takeaway shop around the corner) in a couple of the islands it offers amazing pizzas and wine.

We had tried to come the previous night but always seems to have a huge queue outside, if you don't get there early.
If there's a big queue and you really it pizza there is always the Altrove shop around the corner, ideal for a chilled night after day tripping.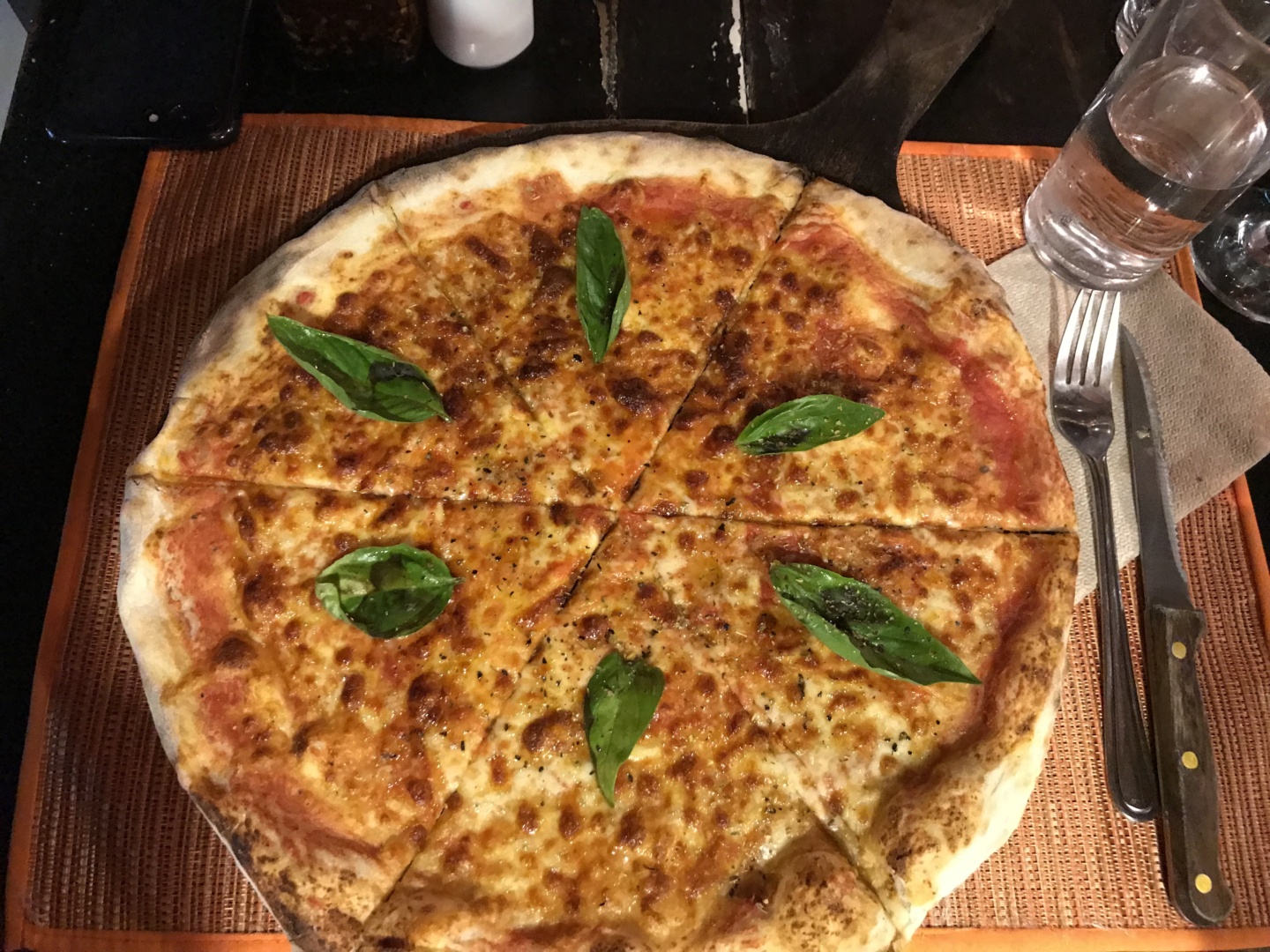 Whilst wandering some of the shops and stalls in El Nido we called at sticks and cones for the most amazing ice lollys. A must visit for a frozen treat, 100pesos each.
We went back daily, they were that good.
Day Four – Beach Hopping
For the day we had planned to save more boat trips for our next island. So instead we decided to beach hop around some of the other beaches around El Nido. For breakfast we decided to go to V&V Bagel for a bagels 250pesos each and ice coffees.

El Nido's boat trips are busy and expensive we decided to beach hopping was the best option to have a relaxing time on the beach.

Catching a trike from El Nido town after our yummy breakfast to Las Cabanas and Mirameg Beach. An area known for perfect sunset viewing (my favourite pass time).
From El Nido town it only took about 10 minutes to the new complex being built right next to the beach. It looked like there were lots of boutique little shops popping up there which would have been great for a nosey around.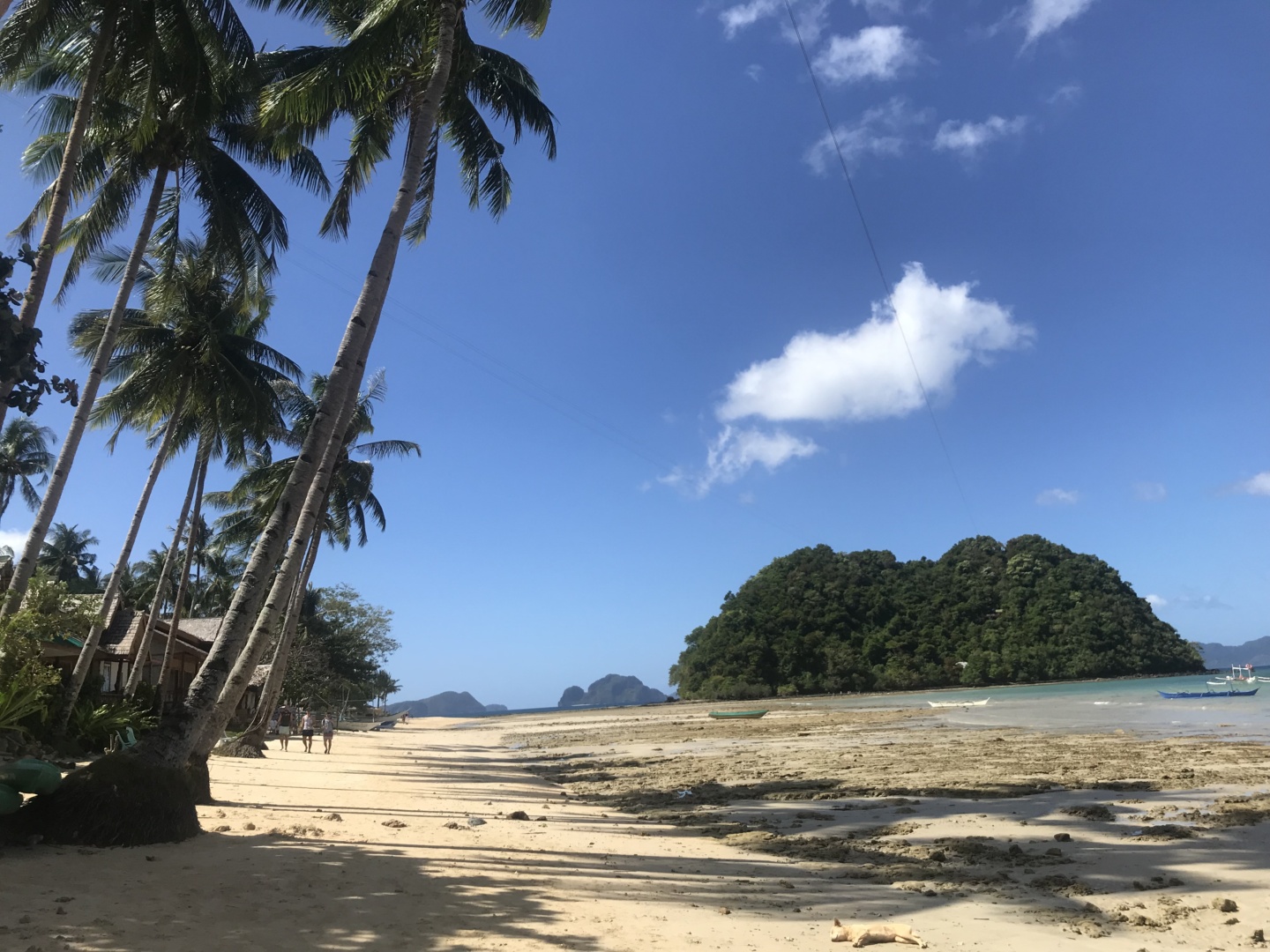 Once on Marimegmeg Beach we wandered along it and stumbled across a zip line (Palawan Zip line Adventure Inc). Decided to go for it for a fun morning activity before setting up camp on the beach for the day.

It was a long walk up to the zip line, like a vertical climb in flip flops and it was SO hot!!! but at the top it had an incredible view of Depeldet Island.
the zip line its self is a 750metre line from the mainland to Depeldet Island. (Anything for a viewpoint picture).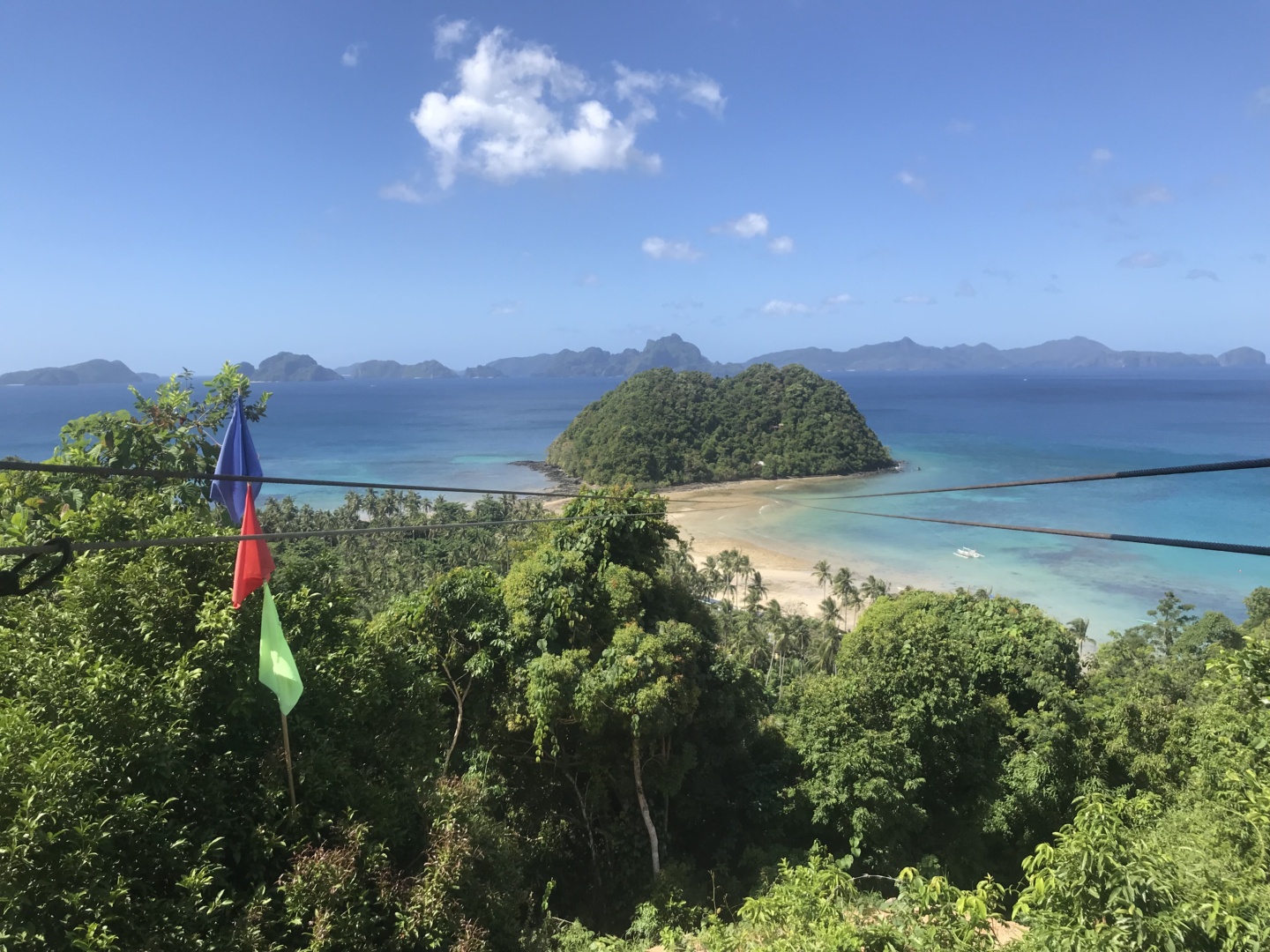 Prices vary depending how you want to fly:
Seated 500pesos (900 return)
Superman 700pesos (1100 return)

The View from the top was incredible!
(I was far too scared to keep my phone out whilst I flew)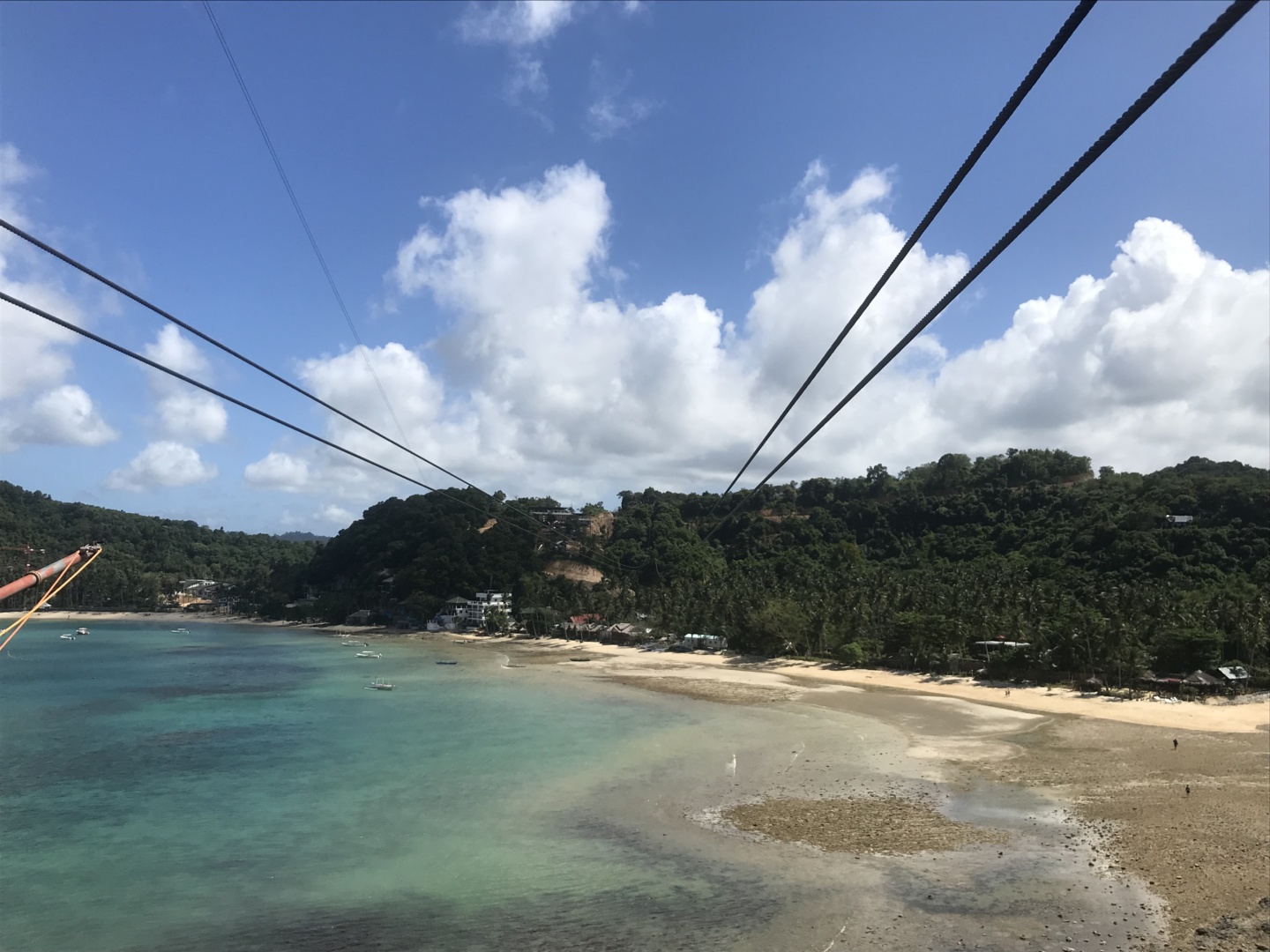 After flying though the air, it was time for a relax for a while following our exciting morning activity enjoying another beauty of El Nido.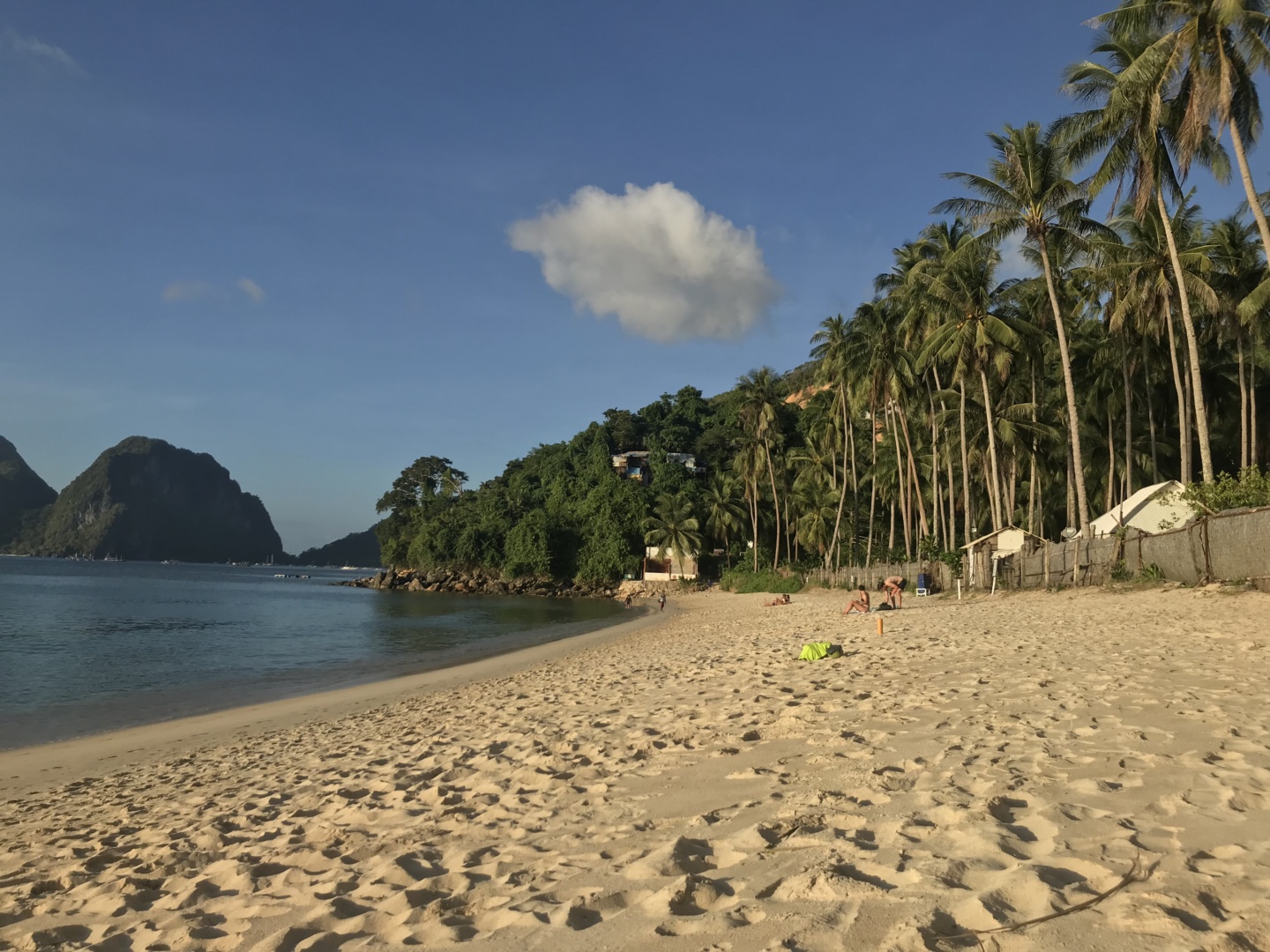 After a couple of hours lazing on the beach and dipping in the sea. We had lunch at Marimegmeg Beach Bar and it was amazing. Starting with a lychee mojitos and delicious food. I would recommend a visit here 100% another great day in El Nido.
We spent the afternoon after our lunch relaxing on the beach. Walking further down the beach it was quieter than directly outside the bars. IT was such a relaxing afternoon. One of my favourite things about Philippine beaches is that there was designated areas for smoking and not smoking, as a non smoker this was bliss and have not come across this in Asia before.

Later in the afternoon the sun began to set and the promise of a good sunset beach did not disappoint.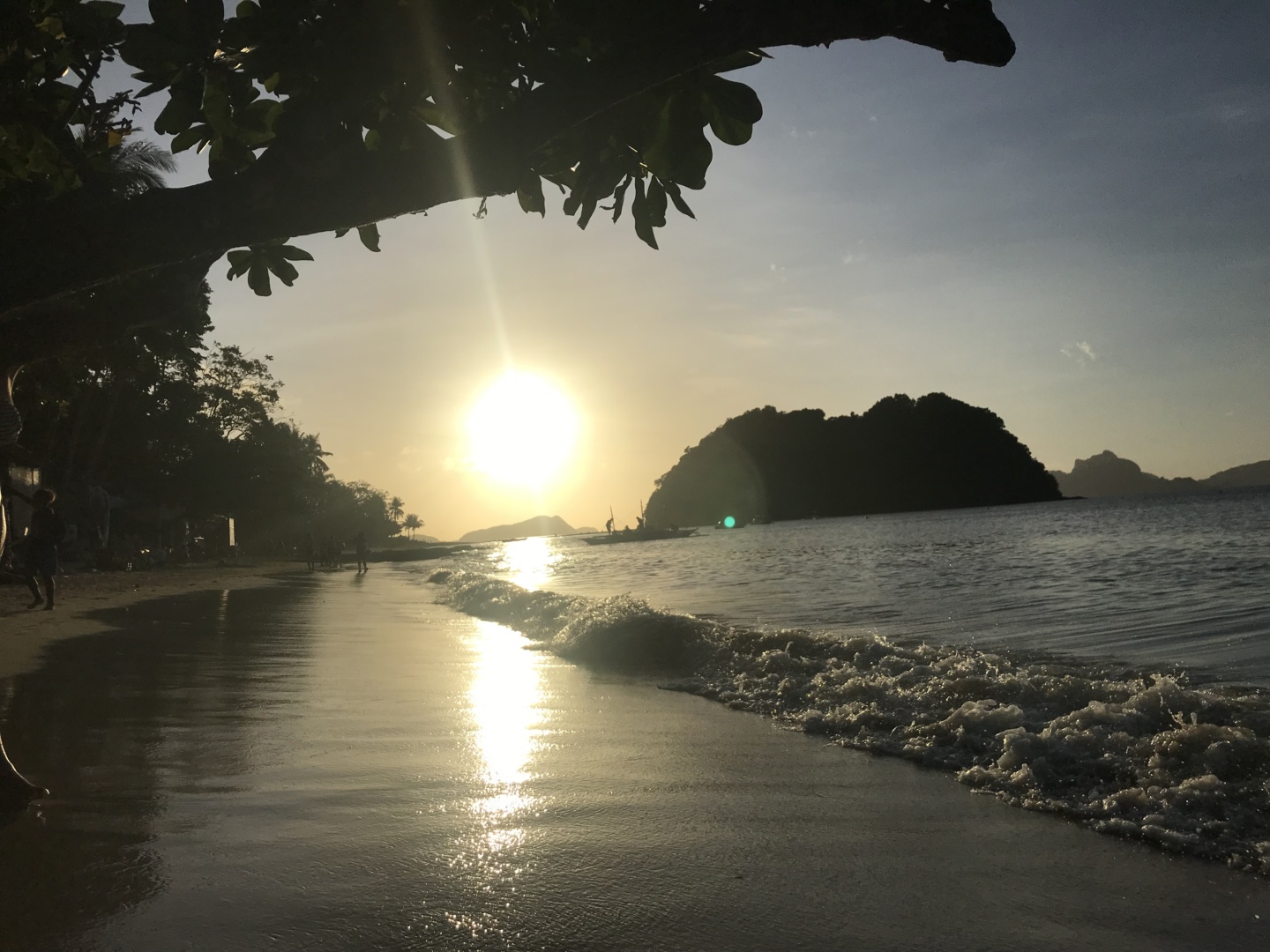 Before the sun was fully set, we walked up to Sunset republic bar (which was a lot further away than I expected). Although it was far we did see fantastic views on the walk over.

The bar its self was packed and had an incredible view of the sunset. We also ordered some bits of food here and had happy hour cocktails.
The food was cheap and for what I remember so were the drinks we got too.

There is also another sunset bar nearby Panorama Resort El Nido, which personally I think looks better as its more spread out and on the beach.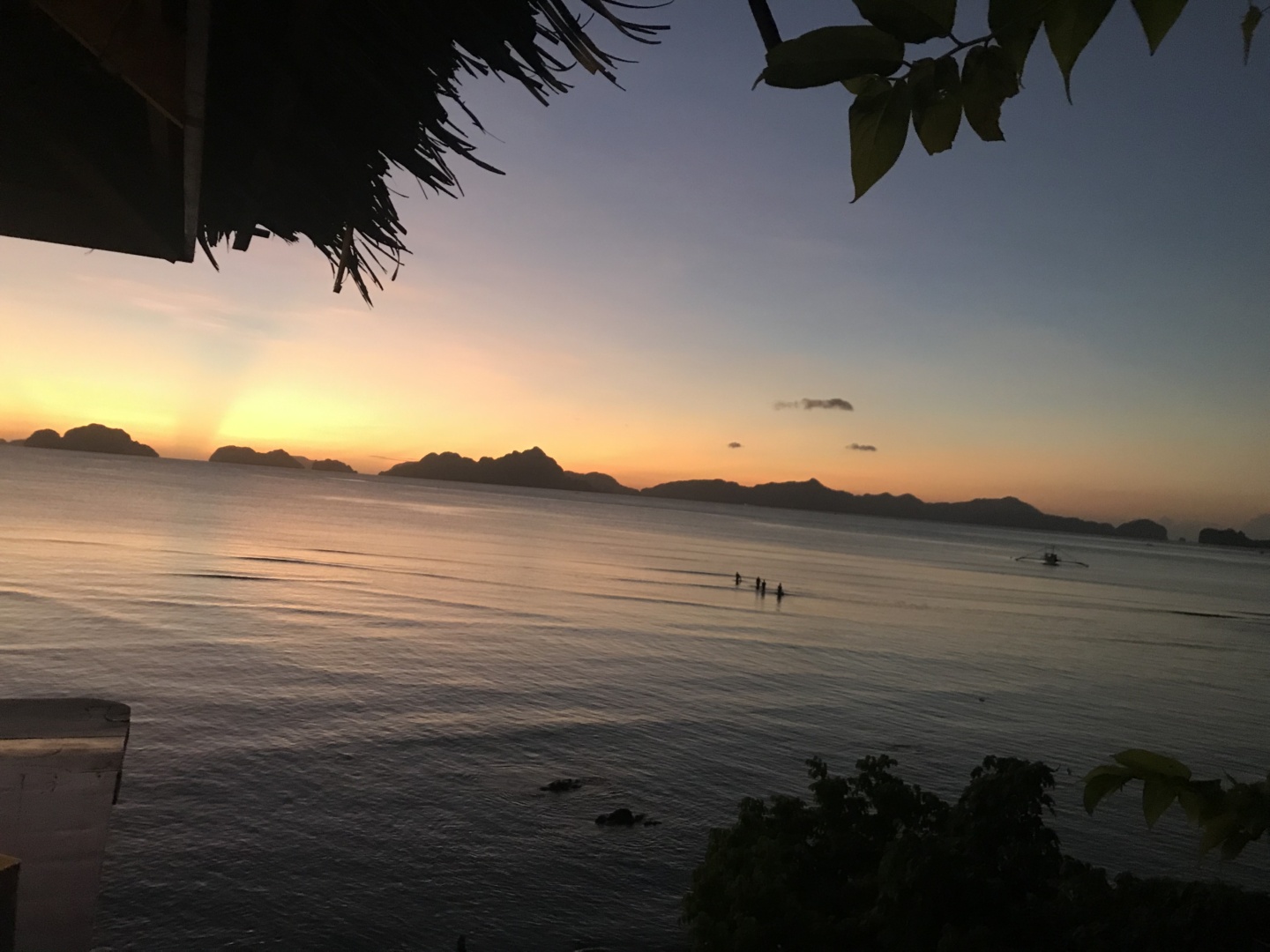 After this we just spent the evening wandering around El Nido Town and doing bits of shopping. There are lots of souvenirs and hand crafted bits on offer.

This was such an amazing day in El Nido so relaxing we absolutely loved it. My favourite day of all our days in the Philippines.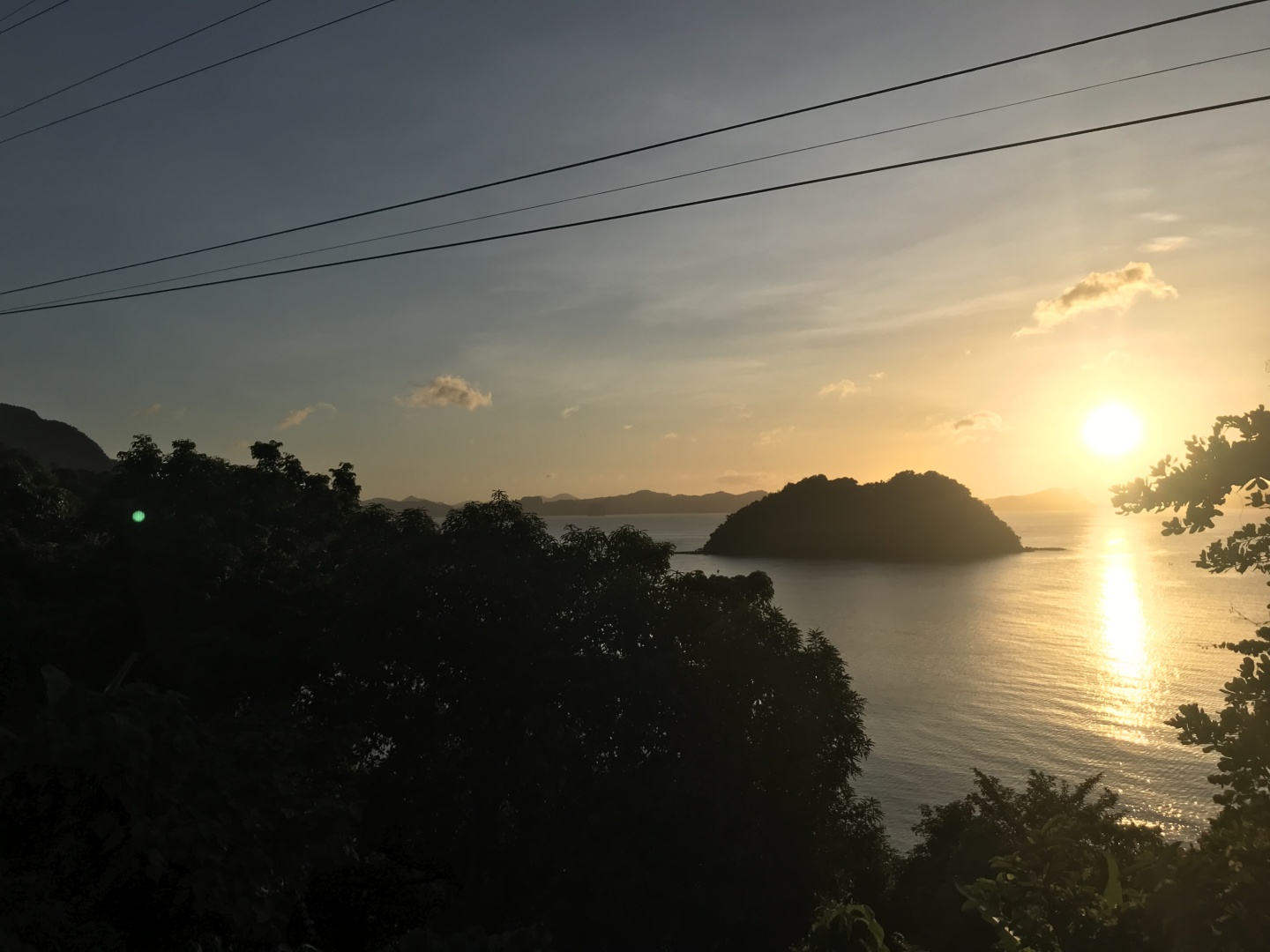 Thoughts on El Nido
Overall we LOVED El Nido I think was one of my favourite stops on our whole itinerary. We had a mixture of adventuring and relaxing and it was perfect. We loved our day trips and beach hopping we did here. I just loved the vibe of El Nido it really reminded me of Thailand. A chilled out place with friendly people, beautiful sights and perfect beaches. A lot of people said to me that this amount of time was too long in El Nido but it was perfect for us. El Nido needs to be on your list.
Thankyou for reading

Bethan
xox