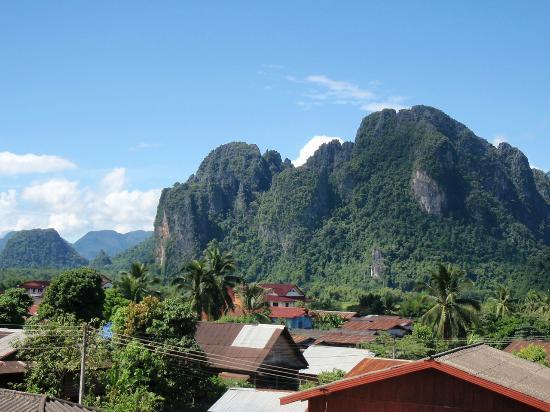 It had been a long journey from Koh Tao to Vang Vieng by bus, 23 1/2 hours (to be precise) spent on a bus. There was however two stop offs on route to Vang Vieng in Bangkok and Vientiane along the way which you can read here.
After spending three weeks sunning ourselves in the south of Thailand on a few of the many islands (Phi Phi 1/2, Phi Phi 2/2, Koh Phangan, Phuket, Koh Tao) it was time for a change of scenery…
Next stop →?→ Vang Vieng, Laos.
Vang Vieng
It is located in the Vientiane province around four hours north from the counties capital. Vang Vieng lies along the Nam Song River with a beautiful backdrop of cliffs and vivid green paddy fields. Vang Vieng is known for its previous party scene of tubing down the river and filled with badly behaved backpackers.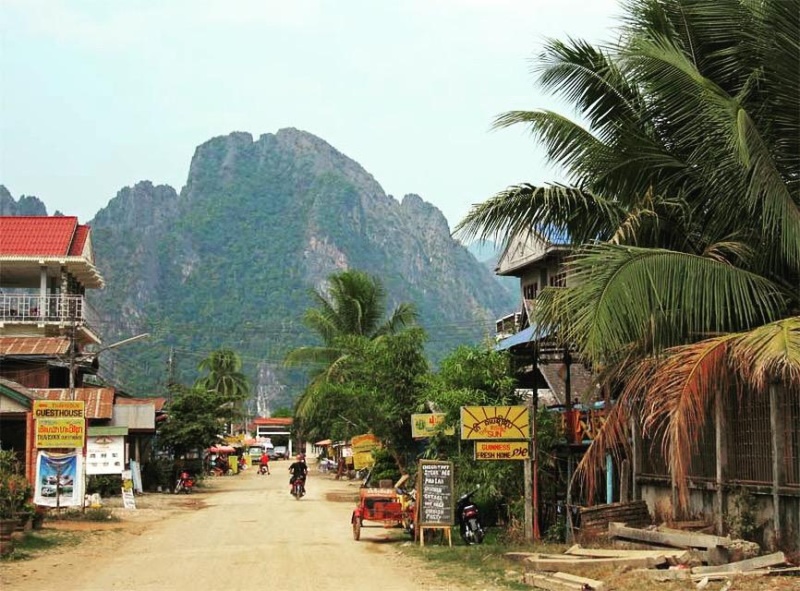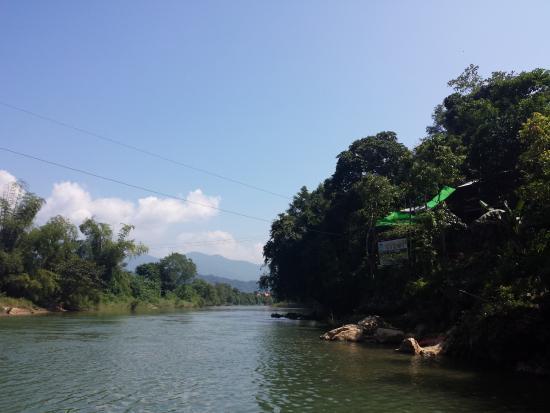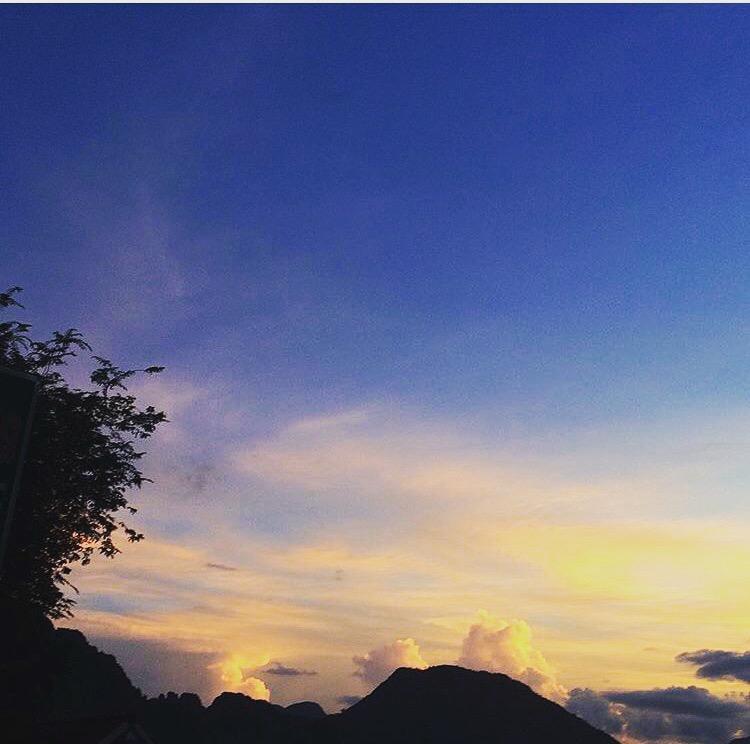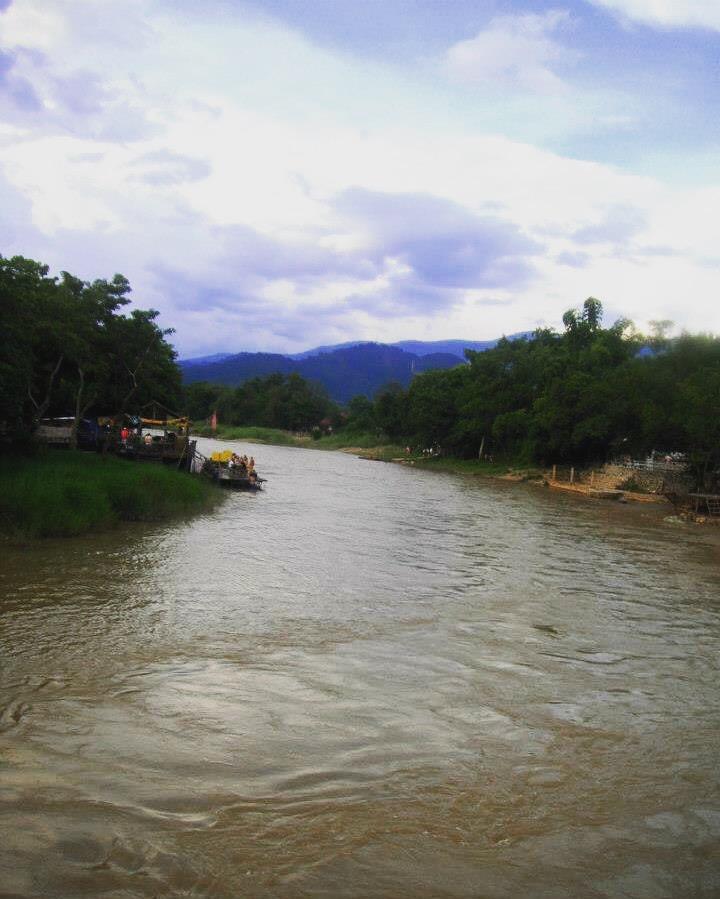 Since Vang Vieng has since begun turning its image around showing that there is more to the place than the stories people have heard. Many backpackers venturing here now come for sports; rock limbing, caving, kaaking the river, biking and yoga.
There are still reminders of tubing here however signs in the streets reminding people to dress respectfully.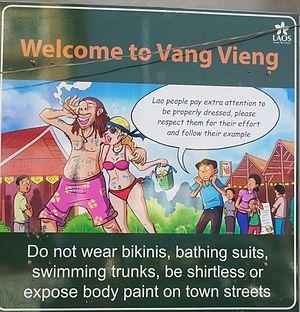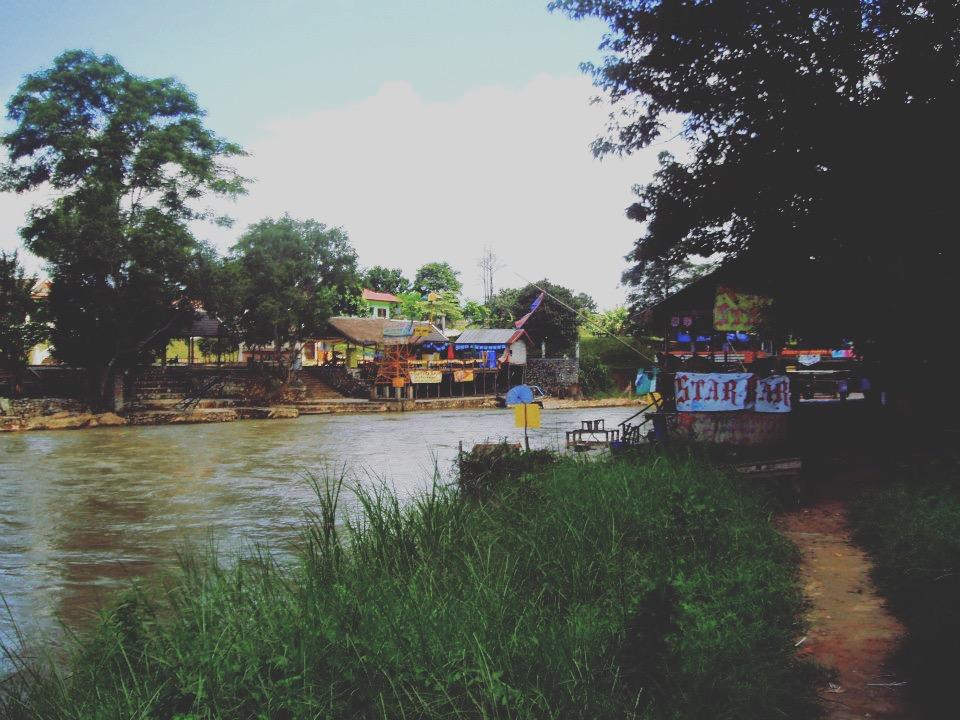 Where We Stayed
Vang Vilay Guest House It was a great place to stay central to everything, we stayed in a Dorm for eight people which was great as we got to meet lots of other travelers.
This laid back guest house was Ideal with a view that was just amazing all for around £15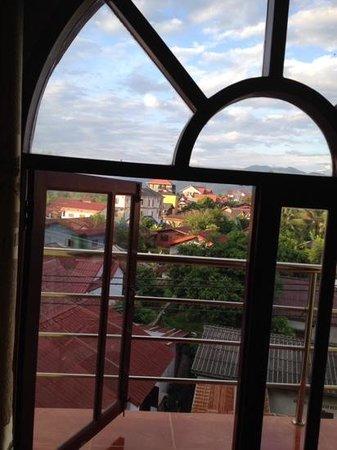 Other Places to Stay
A cheaper thanks chips accomodation for a very tight backpackers budget
With its great reviews it is a good contender for a shoestring budget.
Elephant Cossing Hotel
(slightly more up market option ) *** = £31 double standard, Deluxe double £37, Deluxe suite –
with excellent views
£67.
on the banks of the Nam Song River with stunning views over the limestone mountains of Vang Vieng.
I wish this hotel would of been in our backpackers budget as it looks incredible
What We Did
Whilst we were there, the town did have some reminents of a party scene left in Vang Vieng there is so much more to see in this town.
Blue Lagoon – was a great way to spend the afternoon (but it can get crowded). Different parts of the year the 'blue lagoon' can be murky but why not head upto the nearby cave and explore? 7km from the center of Vang Vieng town, visitors can hire a tuk-tuk.
Tuk Tuk price from town costs between 30-50,000 per person for a return journey
Entrance to the lagoon – 10,000 KIP per person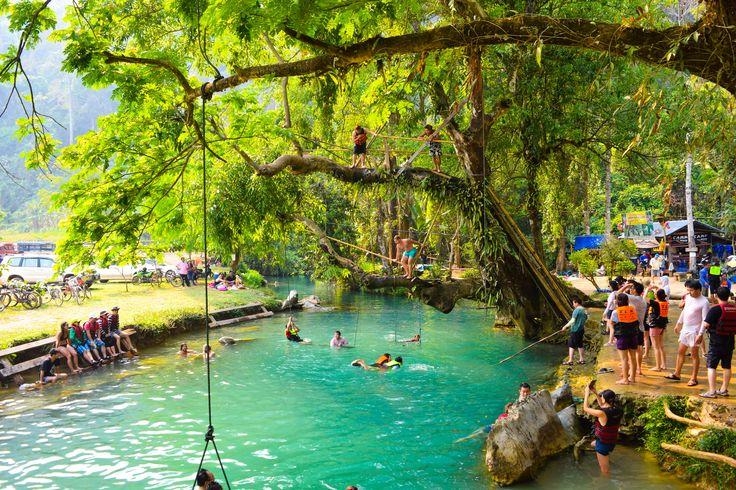 Waterfalls and Caving When I am away I love finding waterfall, they are so impressive and make for a great photo opportunity. Thailand a laos have many and I spent a great deal of time trying to catch the best photo.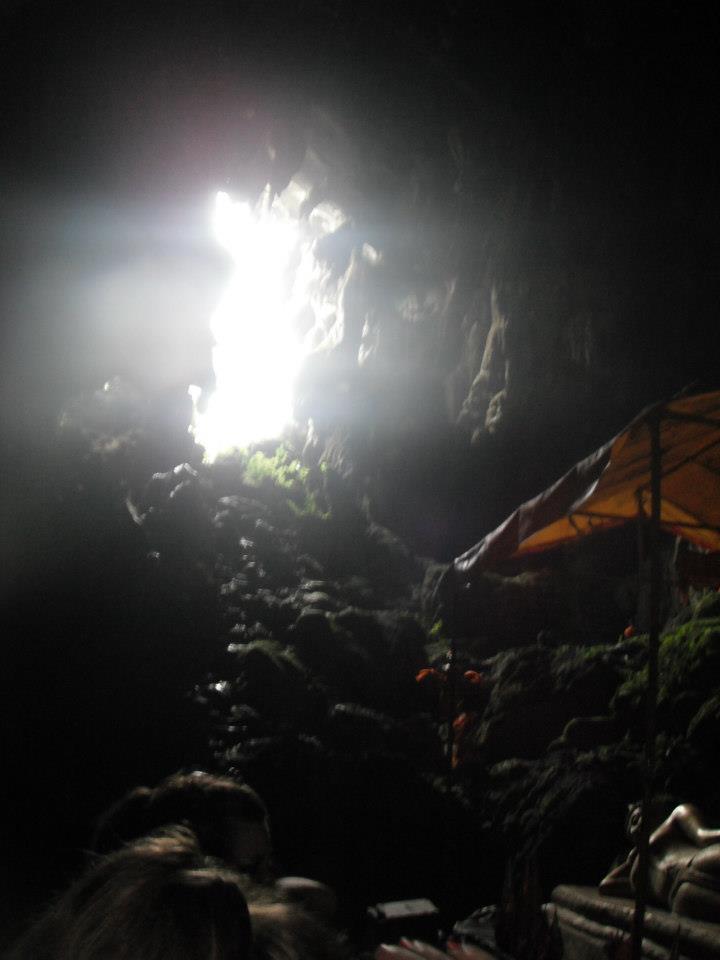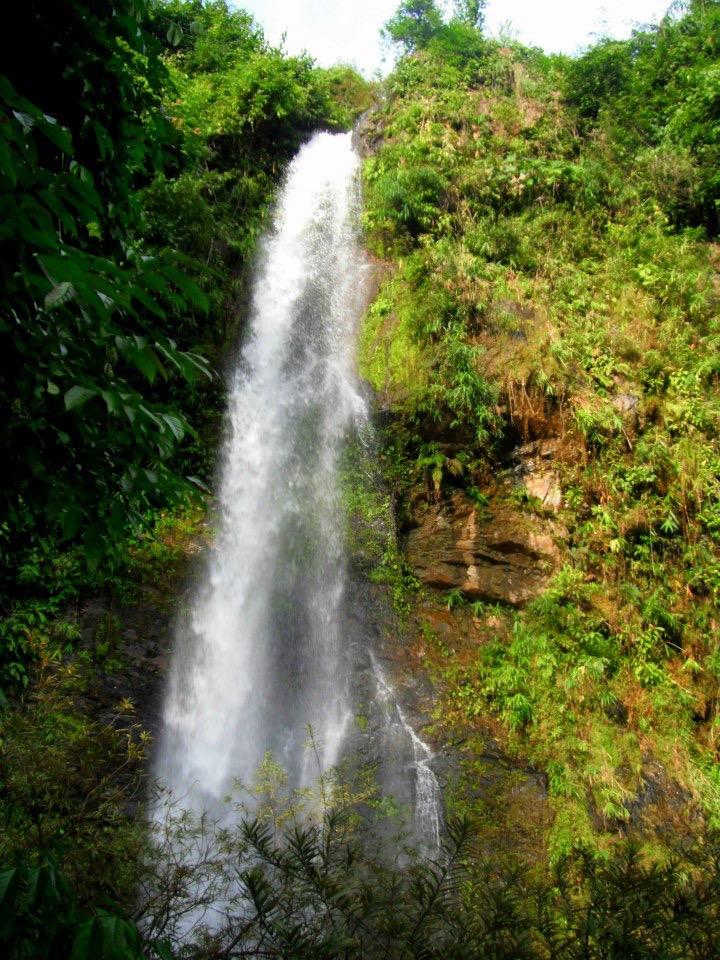 Hike
up to one of the many many view points -> view points on
Hobo Map
. Yet another great photo opportunity- goals right?
Renting a Bicycle was fun riding a bicycle to explore the town and surrounding area to explore the town at our own pace. Admiring the pristine beauty of the countryside with fertile paddy fields, and watch the gentle sunset scenery. Mountain bike 20,000kip, bycicle 10,000kip
I loved renting a bike and riding round this amazing place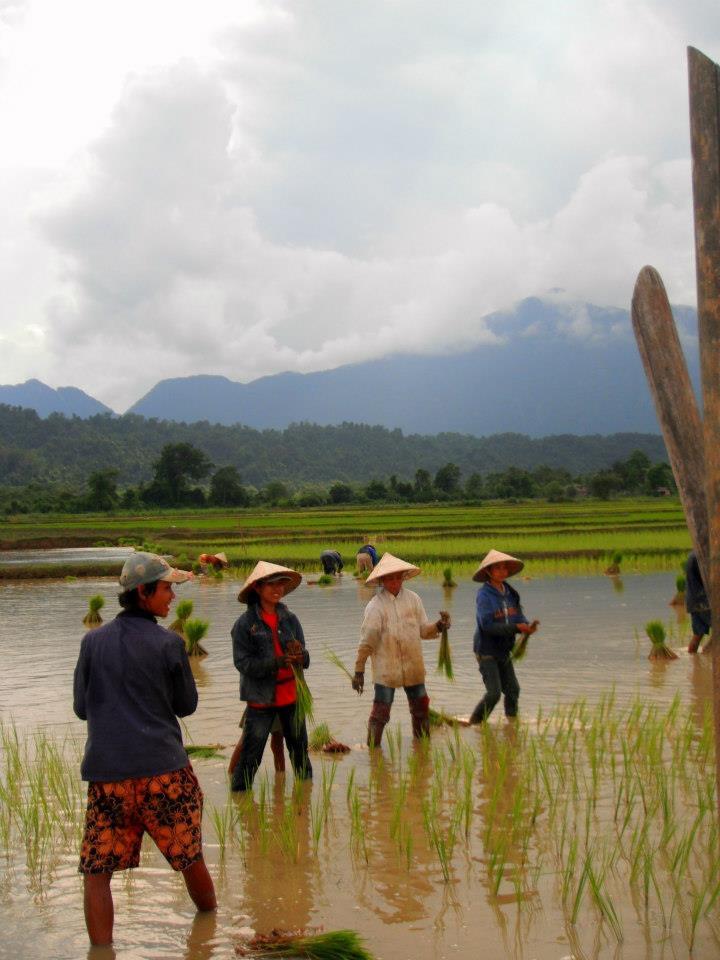 Canoeing down the Nam Song river, there are organised tours which can take you to various sights and other towns including Vientiane. Along the way, you have chance to relax with the cool space on the river and watch the breathtaking sunset in the afternoon.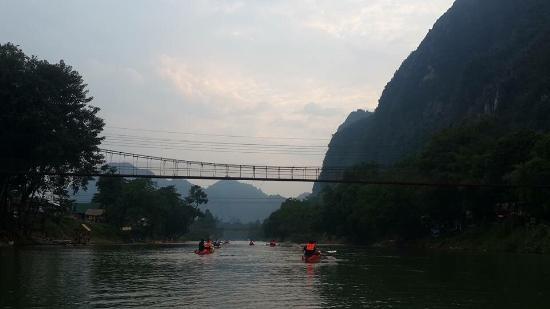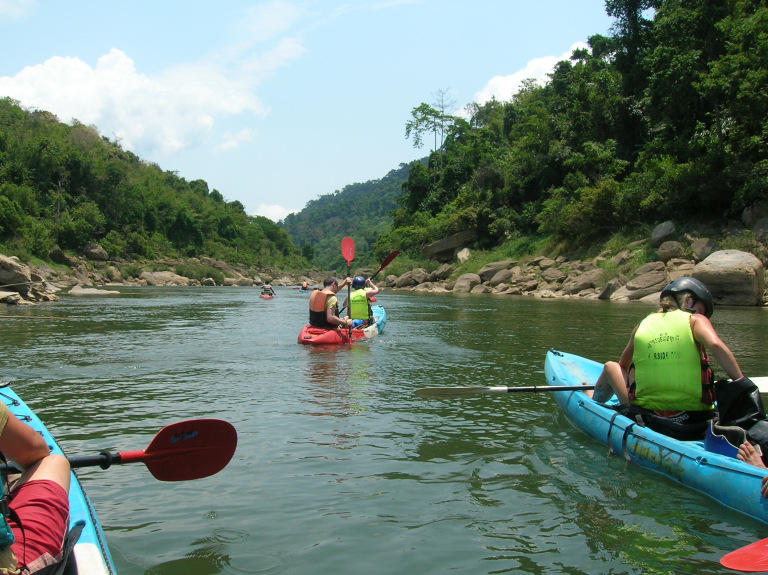 Relax by the River: There many places to top in town that offer cheap food and drinks and a great view of the river. Spend the afternoon enjoying a cold cold beer or a few drinks and enjoy the beautiful surroundings of Vang Vieng.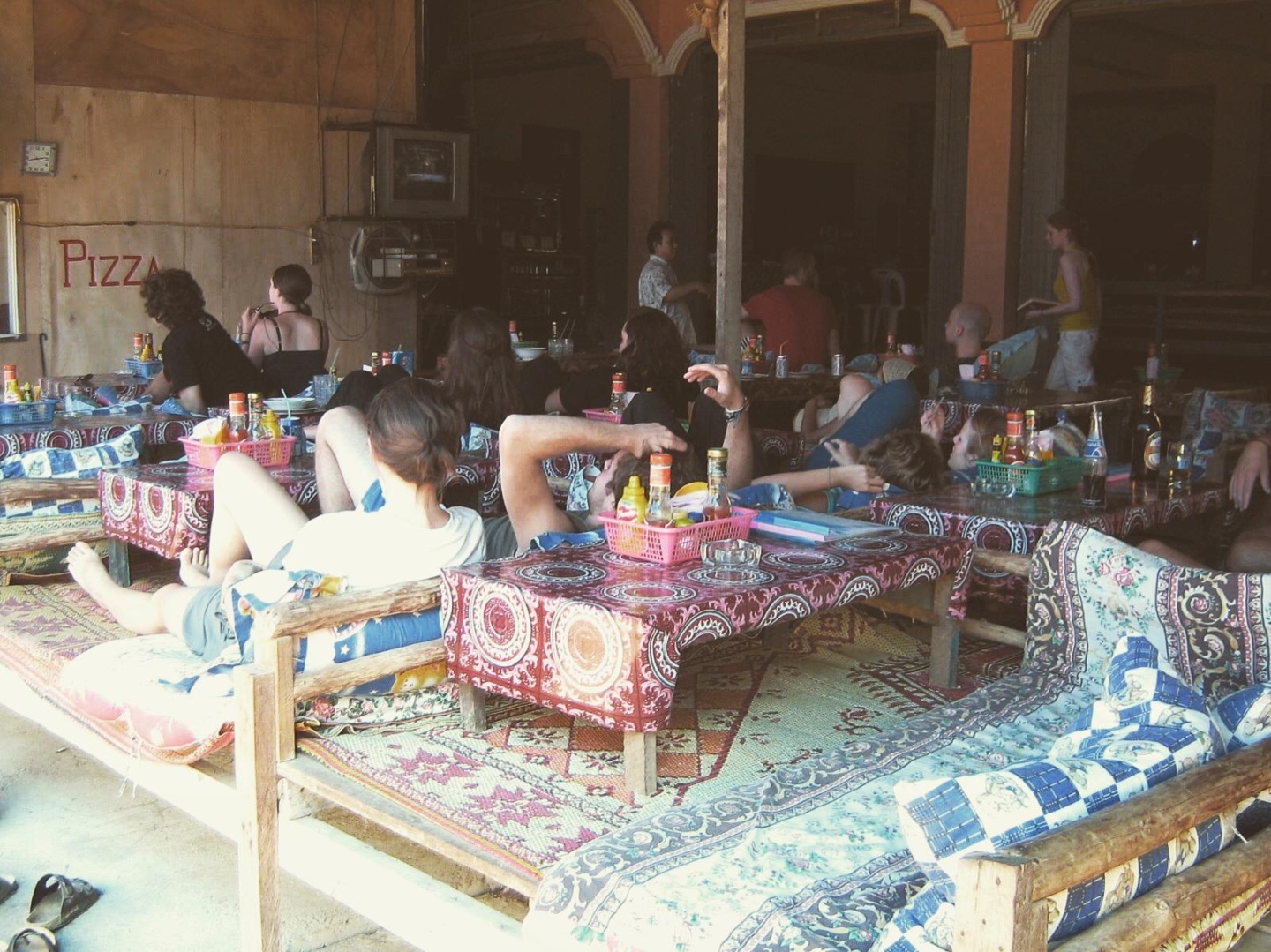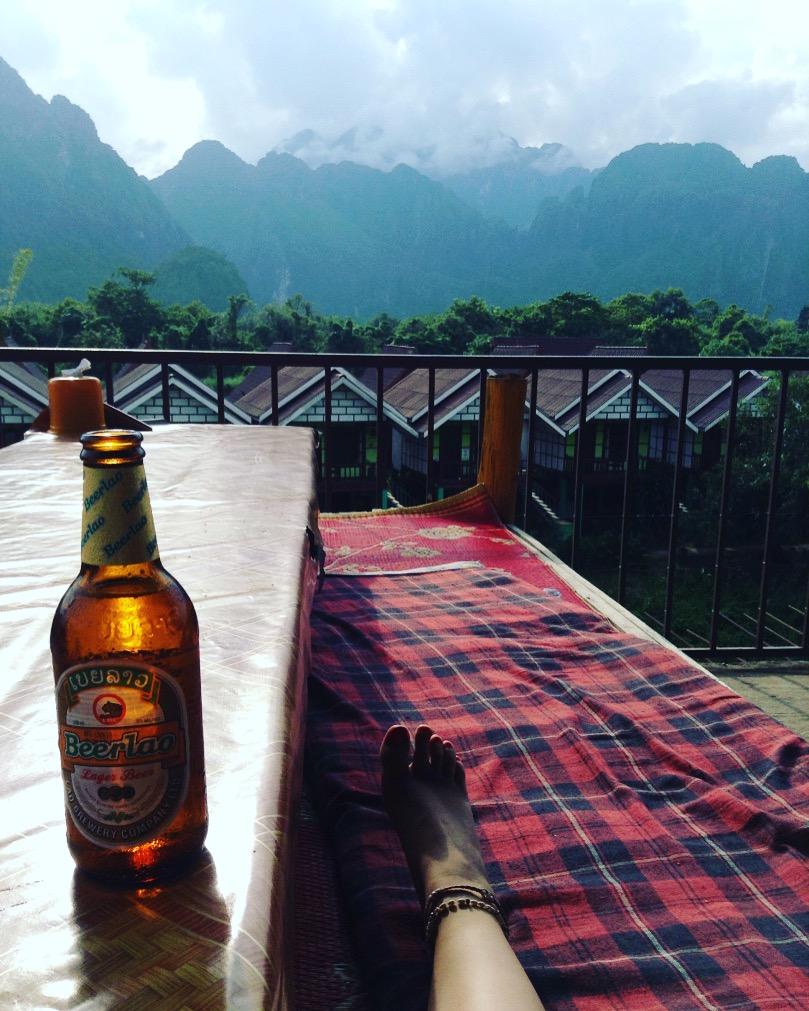 Other Things to do
Yoga
– Yoga is an up and coming thing in Vang Vieng see
YogaInVangVieng
for more info. The lovely Flo from
YogaWineTravel
taught at yoga in Yoga in vang vieng
(linked above)
as she does around the world. She has written a post about this very subject as she has taught courses of yoga in the town.
Elephant Cave (Tham Chang) one of the most famous attractions in Vang Vieng, was given the name because of its shape. Inside the cave, there is a massive stalactite-like a head of the elephant.
Rock Climbing– The limestone mountains in Vang Vieng are great places for rock climbing. Climbing gives you a sense of challenging and winning.
Local markets after experiencing some many markets in Thailand why not try one in Laos too? Walking around the Vang Vieng market, you will see the various foods, vegetables, and discover market-day or at night. Its a great to experience in comparison to thai markets trying new foods.
Hot Air Ballooning seeing Vang vieng from the gound in incredible but seeing it above I imagine is just too beautiful and definitely a different way to see the town.
Vang vieng
Our time in Vang Vieng was so fun and action packed! There was a lot of torrential rain (not something we were used to after three weeks in southern Thailand). We played countless games of beer pong in our favorite bar (which has since shut). It did however… get stormed by the army whilst we were there!!! This was one of the scariest things that had happened to me backpacking so far! Standing in a bar whilst being surrounded by army men with guns was slightly terrifying as for a short while we were not allowed to leave.
Other than this we enjoyed the scenery of this magnificent place, pictures just do not do this place justice!! I would go back just to sit along the river with a fruit slush in hand and admire the view.
We managed to meet up with a group of people we have met on Koh Phangan so that was good to catch up. As a lot of back packers generally take the same route it was good to see what others had been up to.
We had the bes chilled out and yet activity packed time in Vang Vieng and would definately reccomend visiting to try out some of the upand coming activities in the area.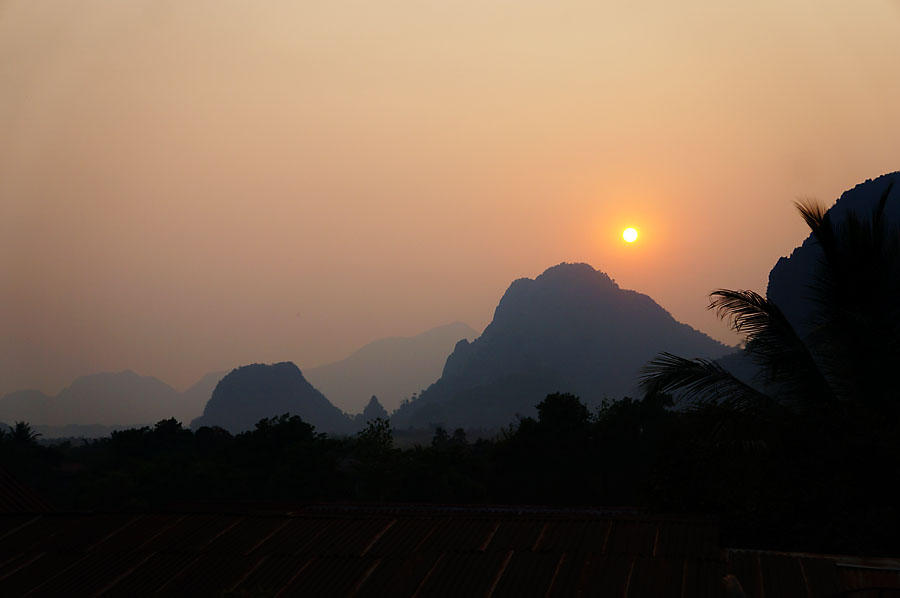 ---
Stay Tuned for my next post… Chiang Mai – Exploring our next city, Jungle Trekking, Shopping, Thai cooking and much more
---
Have you been to Vang Vieng? What did you get up to in your time there? I would love to hear about it in the comments below!
Thankyou for reading
Bethan
xox