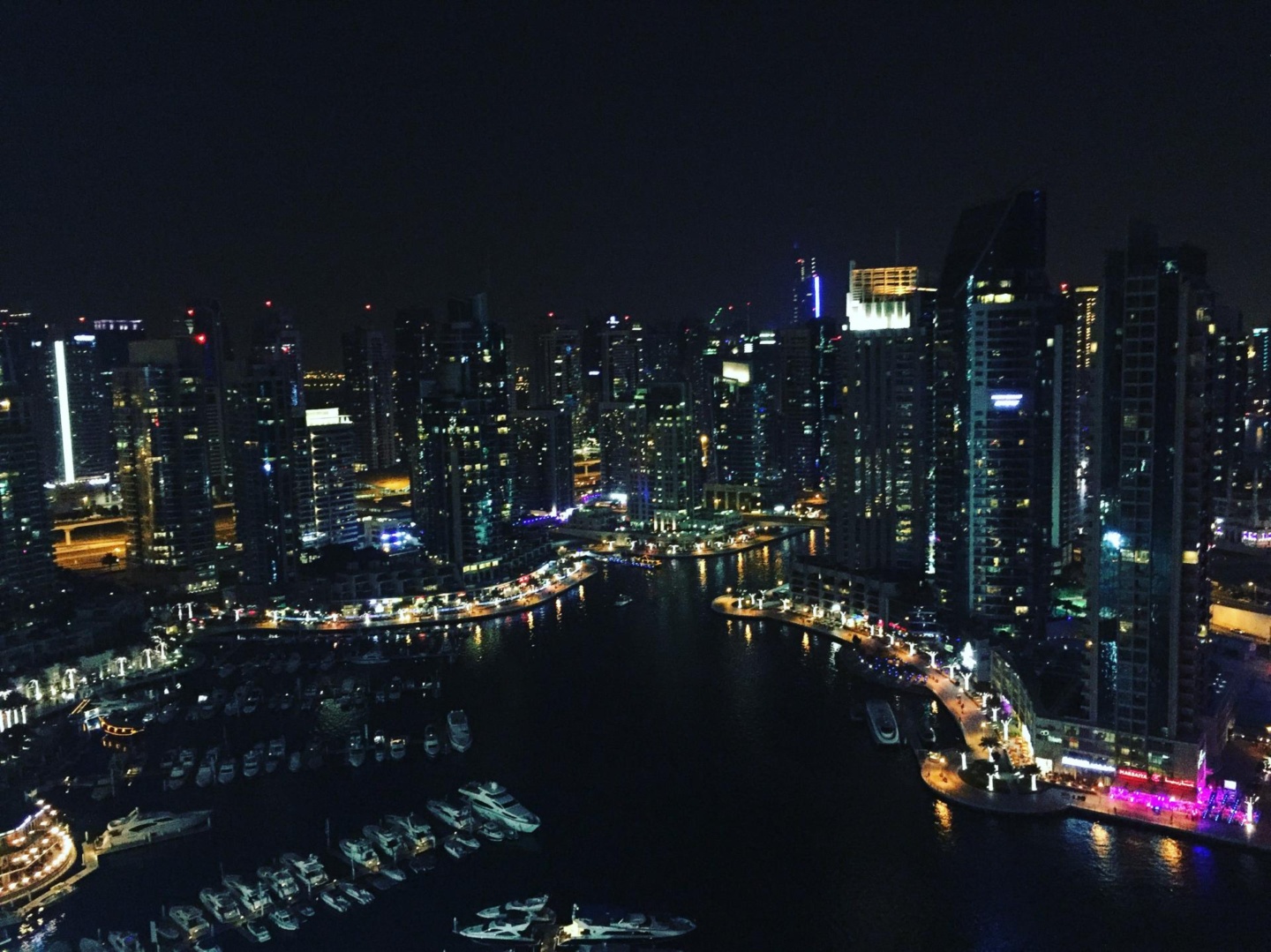 After a lovely first two days in Dubai visiting our friend who now lives out there (she planned our
Dubai itinerary
which was jam packed with top things to do). In our first few days in Dubai we enjoyed sunning ourselves at a beach club, zooming over sand dunes in a land cruiser Arabian safaring and hitting ladies night we had a blast! Read-
Dubai with the Girls Part 1

Now here are my next two days of what we did in Dubai!
Day Three – Atlantisssssss
Now this was a day I had been very much looking forward to!
Visiting
Atlantis Aquavenutre
on the palm had been one of my must do's in the city! I love water slides ever since I was a kid at water world back home!
Out of the nine of us who flew out there only four of us were excited.. we did not care!
About Atlantis
The Atlantis Hotel is located on Dubai's Palm Jumeirah Island and enjoys a private sandy beach, the 5-star Atlantis offers stunning views of the Arabian Gulf. It provides an underwater aquarium, swimming with dolphins opportunities and access to the Aquaventure water park and the Lost Chambers Aquarium.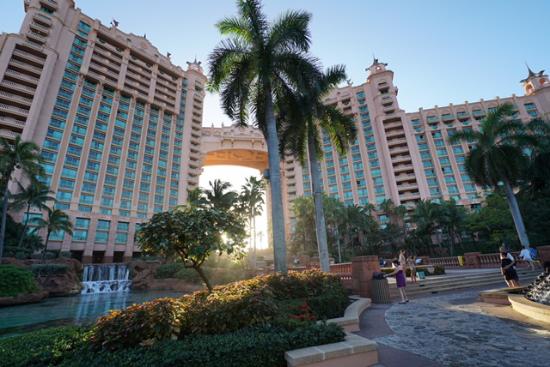 The lobby area where you can walk through is very impressive it has lots of shops to browse in.
Atlantis its self on the palm looks impressive you can spot it from a mile off! You can see below our drive up to to it.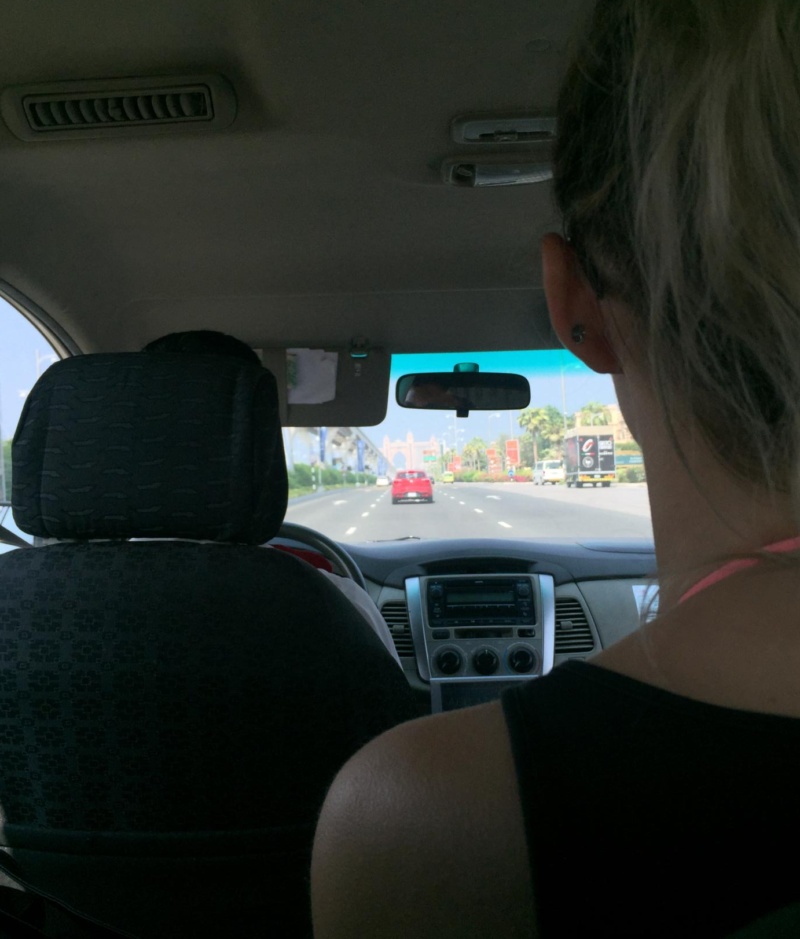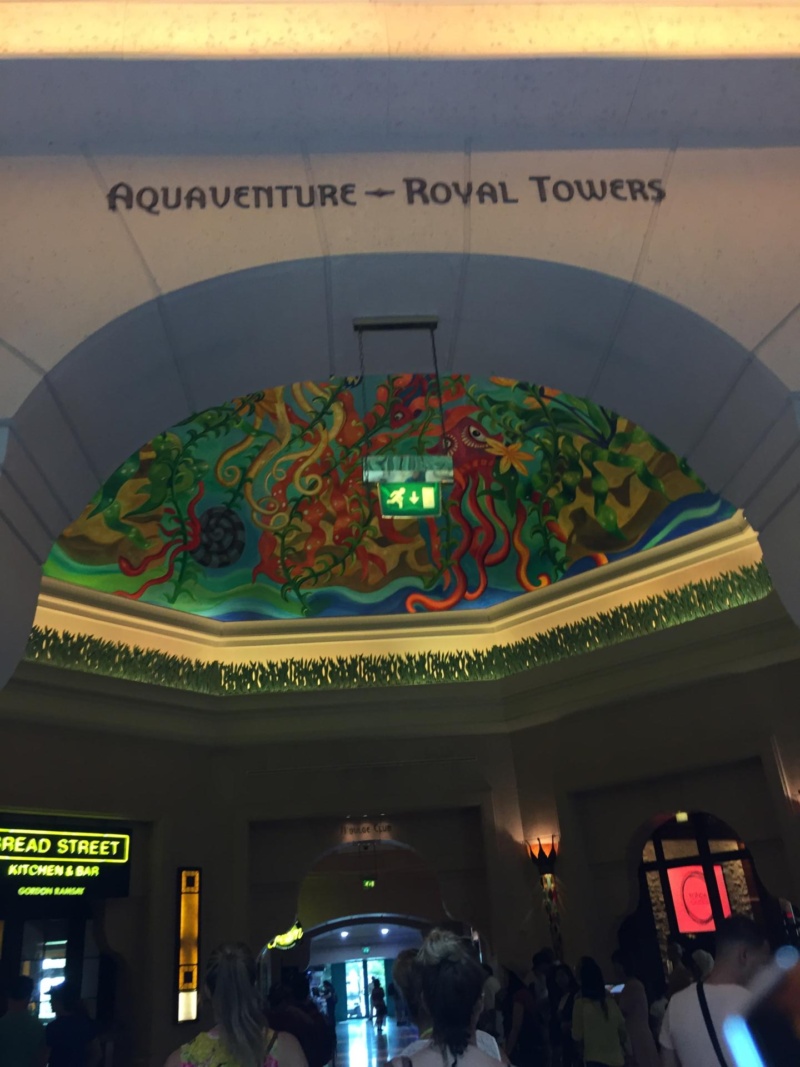 Atlantis Aquaventure
Atlantis's Aquaventure is a vast water park with zip lines, record breaking slides (some going through shark-filled lagoons), dingy slides, a huge lazy river & a splash area for the little ones.
Atlantis was very expensive BUT- then again it is on the palm… it is amazing though andddd your in Dubai so why the hell not!?!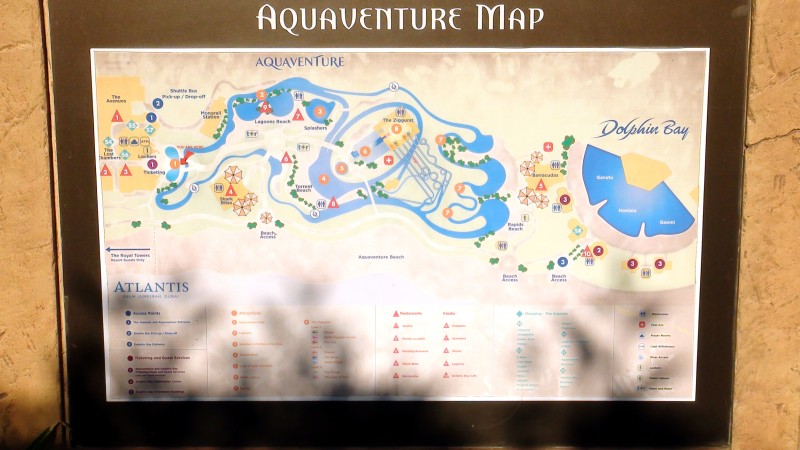 Arriving early to get in before a big queue there's a set price list for different variations of ticket prices. Whether you just wanted entry, entry with a locker and towel or adding on a lunch combo there were lots to choose from.
We were going to pay 360UAE = £80 for a ticket including a meal deal inside.
This was due to ease as we didn't need to carry money round with us. Then when it got to lunch time just scan our wrist bands. No bags needed and you can just get rid of our valubles in a locker.
It worked out well as in the end we got it cheaper (at 304 UAE) due to a couple of rides closed (luckily smaller ones all the big ones were still running).
In this big kids playground on Dubai's palm the four of us went on the biggest and best rides, tones of dingy rides, and even had a go on the lazy river.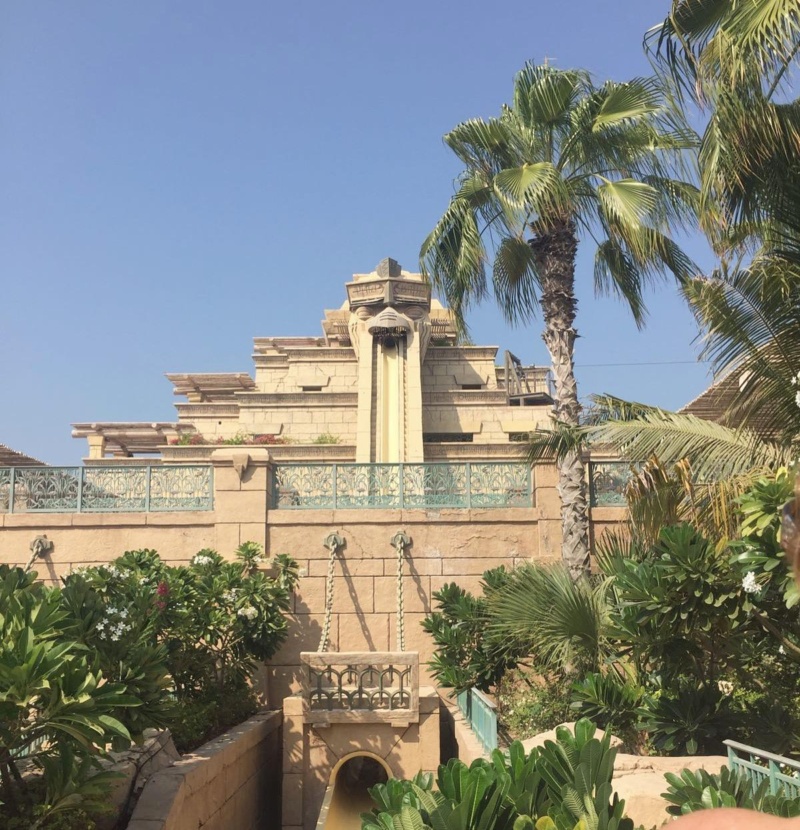 Leap of faith and Poseidon were my favorites and the two biggest in the park.
Leap of faith is otherwise known as the kamakasi and what is what Atlantis is famous for (see above) as you can see below it is a vertical drop and then fly through a shark tank at the bottom.. not that you can see anything as you fly through so fast and with water in your eyes!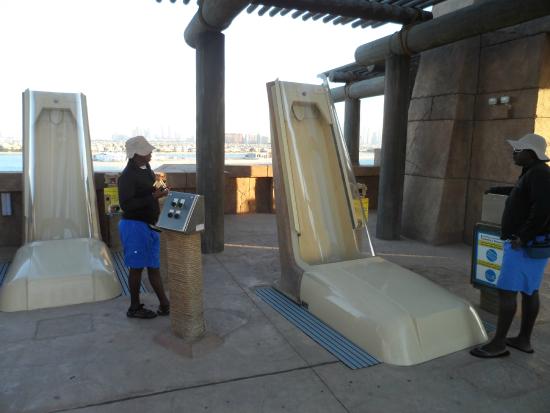 Poseidon is possibly the scariest slide I have ever been on!! It starts off by climbing into a vertical tube with a see through bottom. The tube then counts down, the trap door falls and you DROP!
Scariest ride EVER but it is soooo worth it!!
I would 100% recommend you go if you get chance! It was incredible!
If these big rides are not your scene then there are smaller rides either with or without a dingys.. Shark tank was one of my favorites. If you enjoy something calmer still enjoy the lazy river and even calmer than that the Aquaventure beach!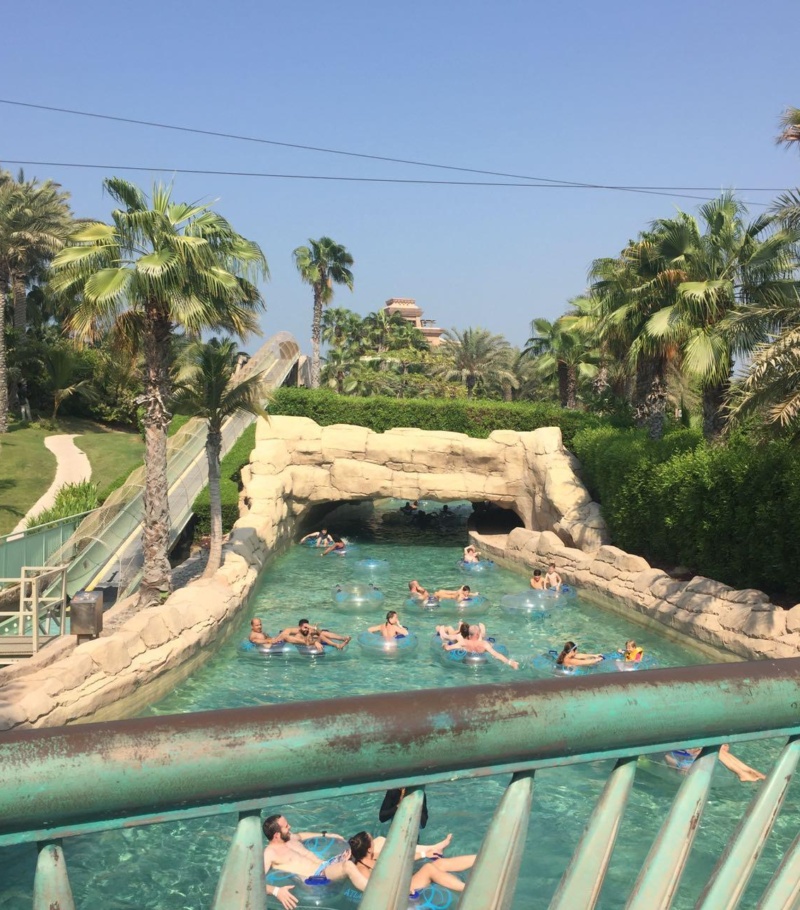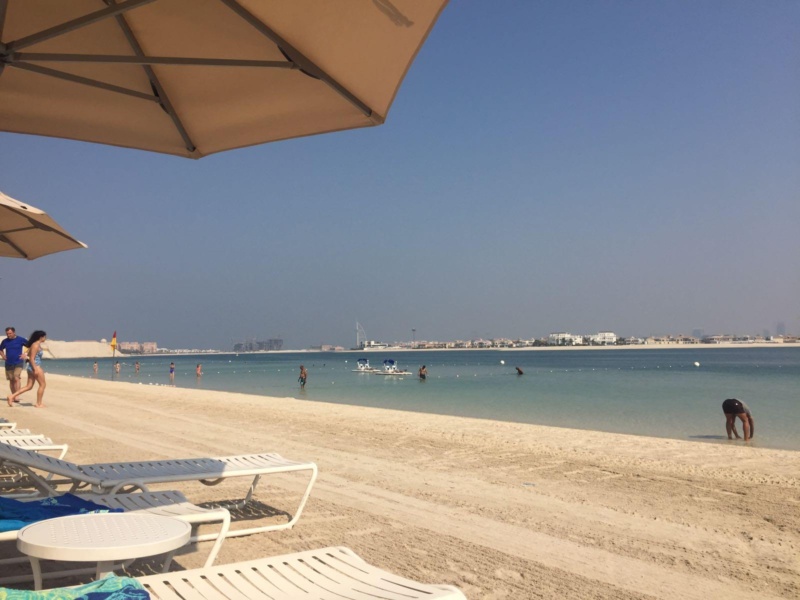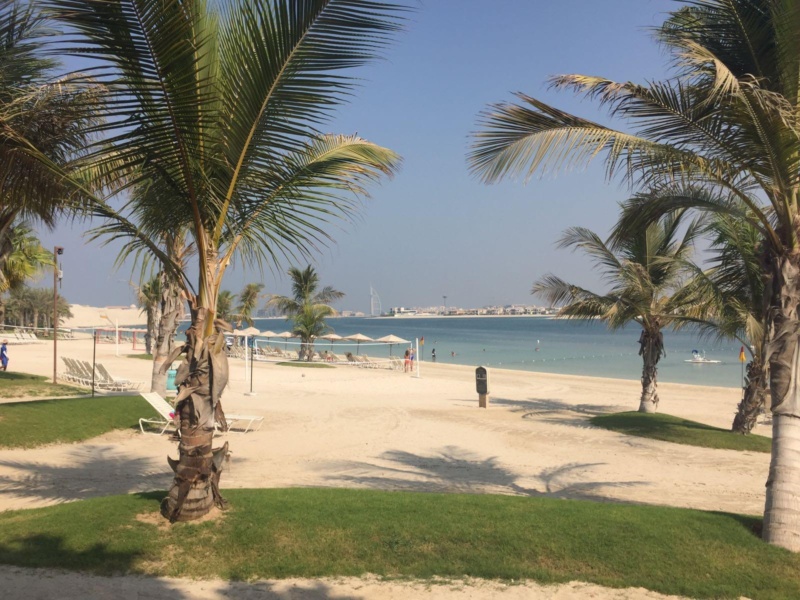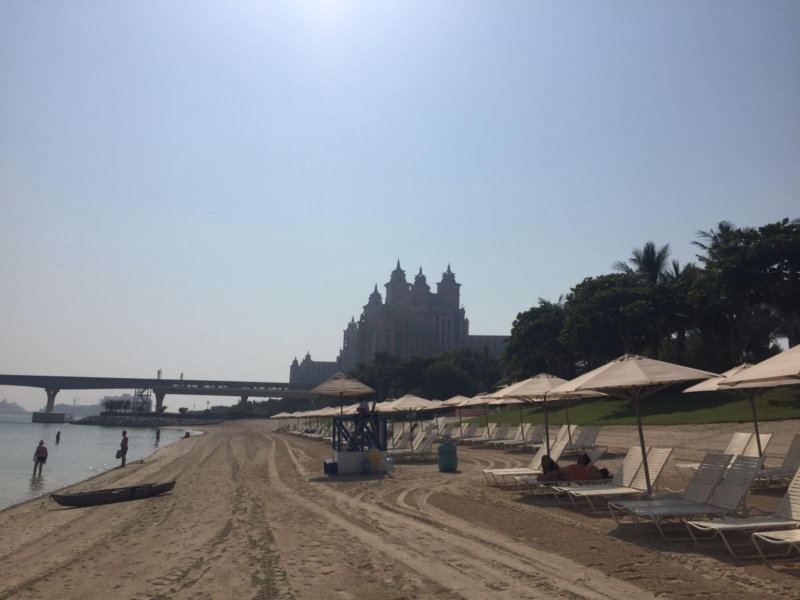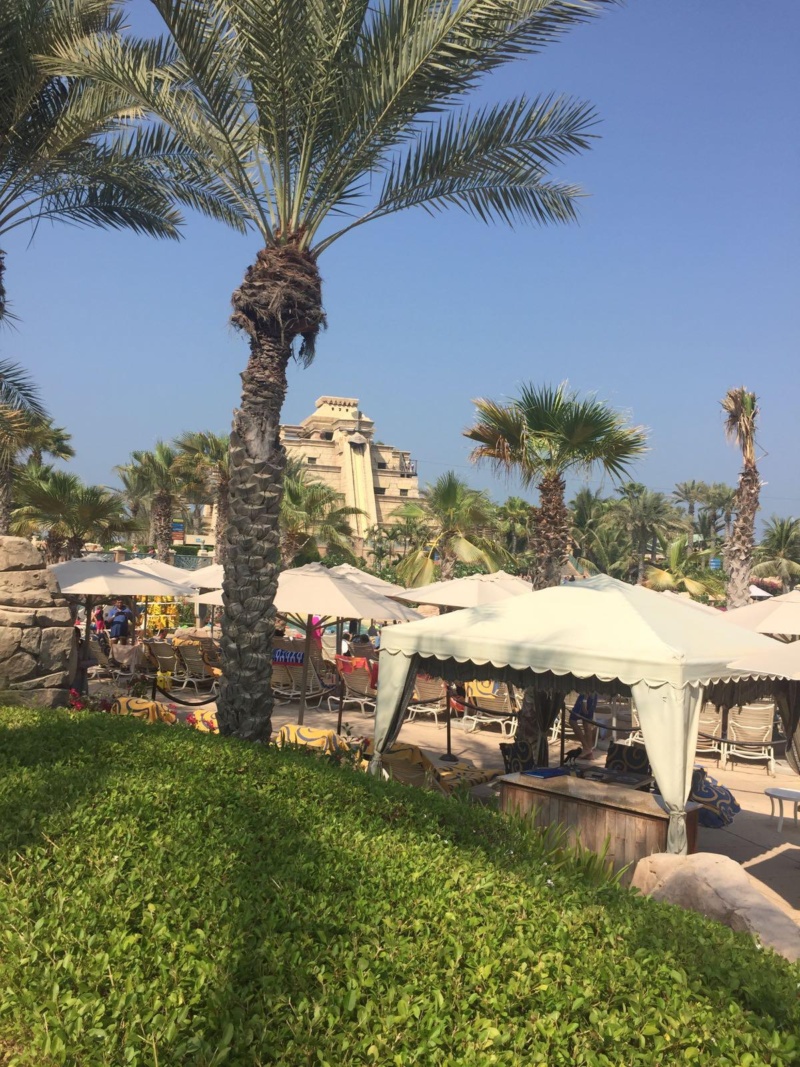 After going on every ride at Atlantis at least once it was time to head home and get ready!
We waited far too long for a taxi in the heat we decided to jump on the monorail across the palm. It worked out very cheap (around 15AEU= £3), fast and had a great view…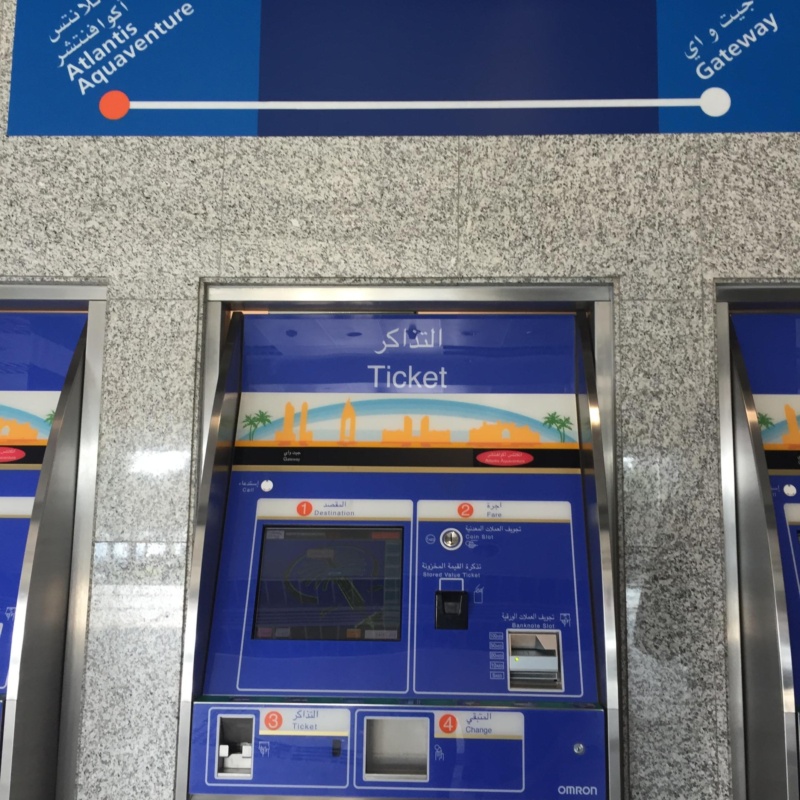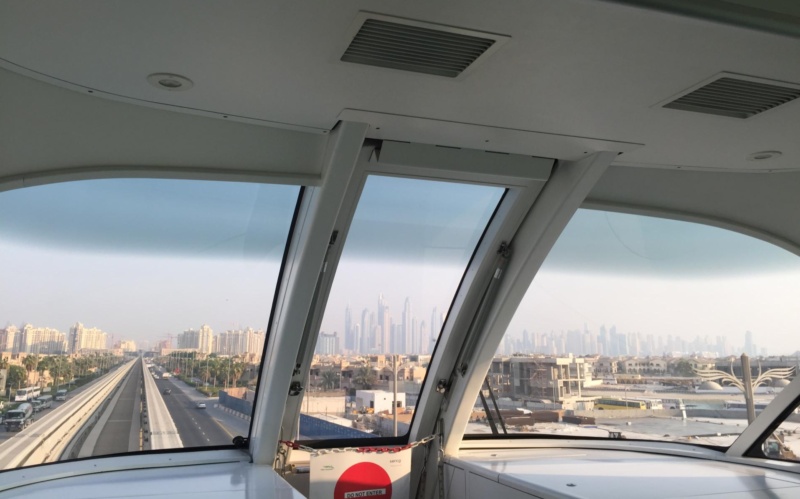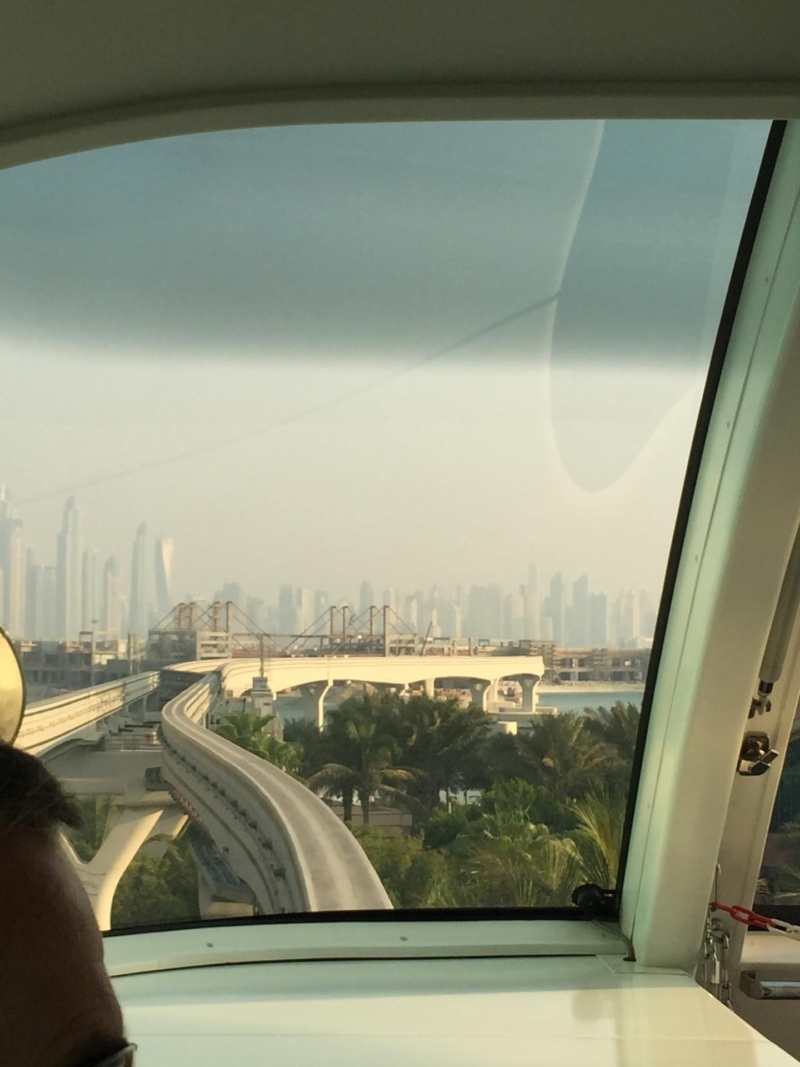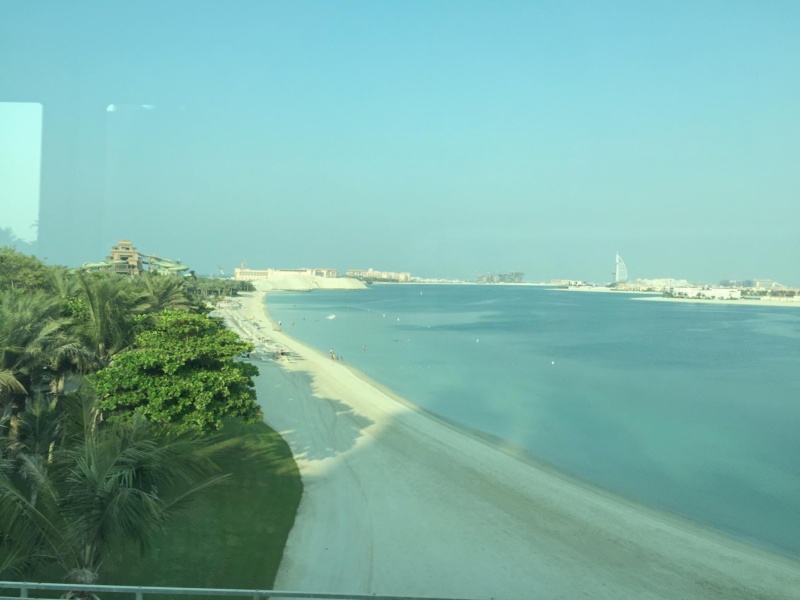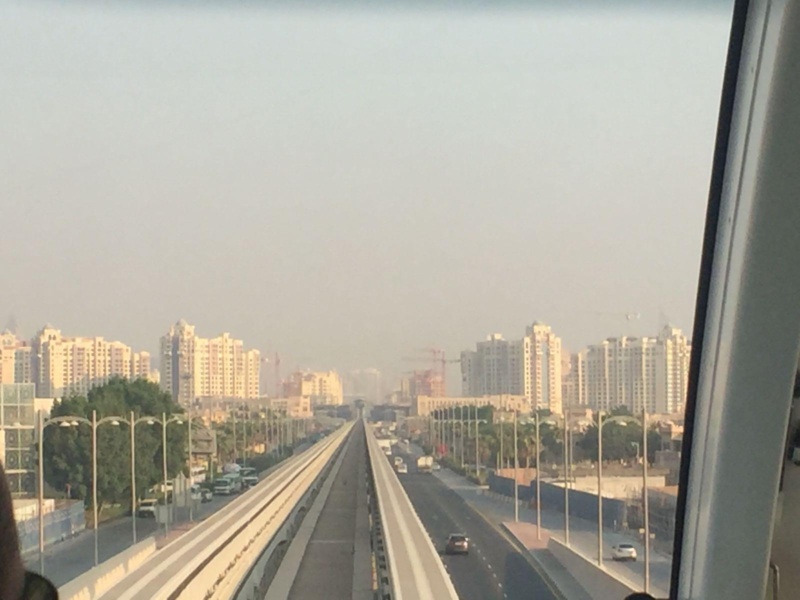 At the other side of the palm we caught a taxi there!
Be warned when arriving go outside and get a taxi.. as inside all there are Lexus taxis.. not cheap and we had to pay a 'standard rate' 80UAE (£17) for a two minute drive (…fail #2).
Night Three – Dinner and the Fountains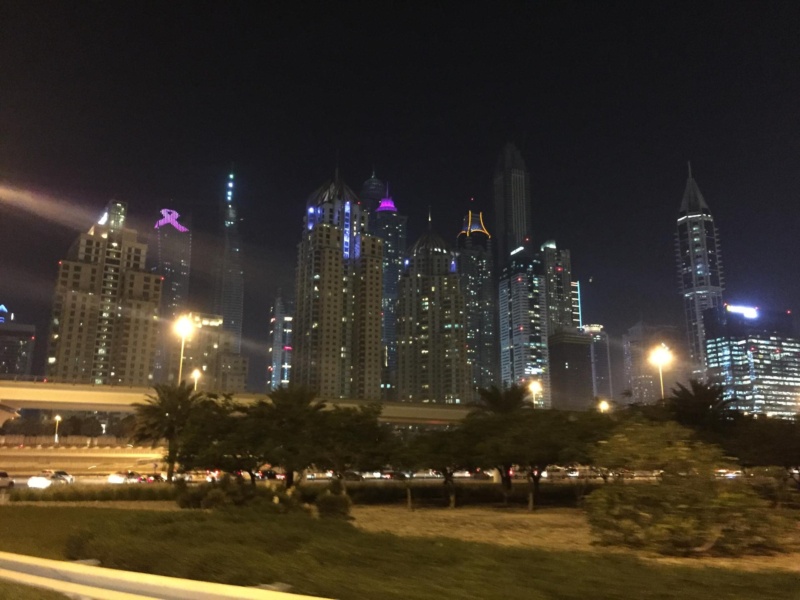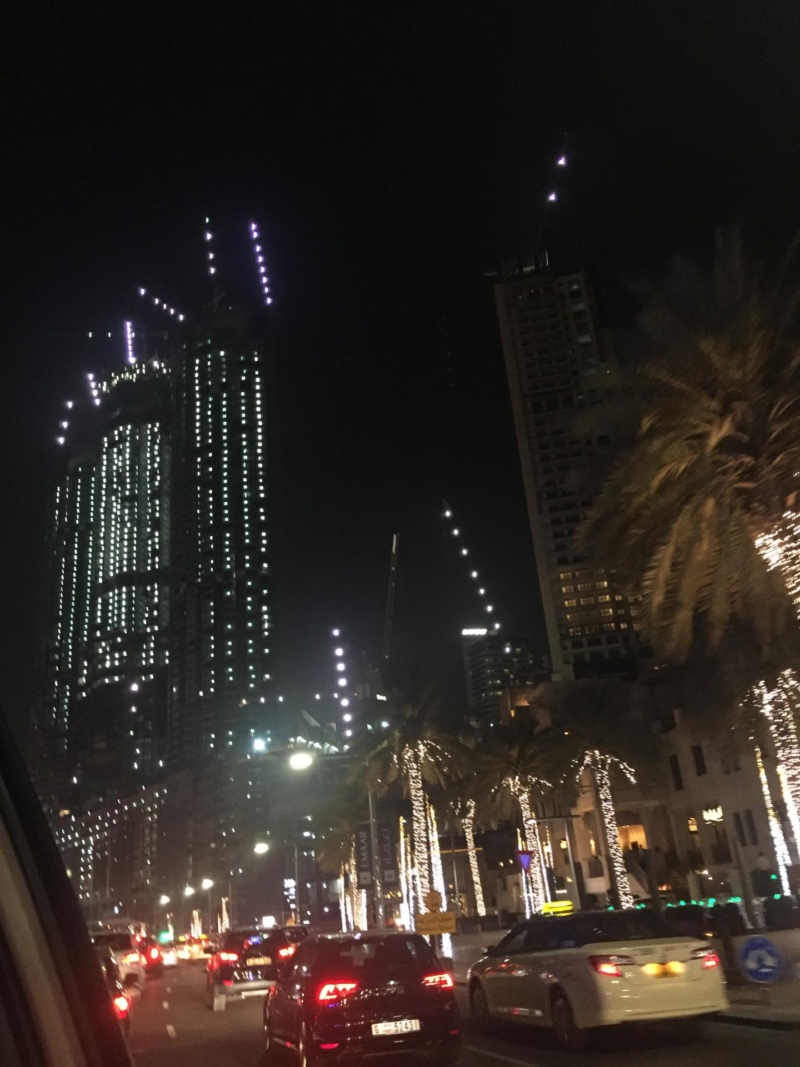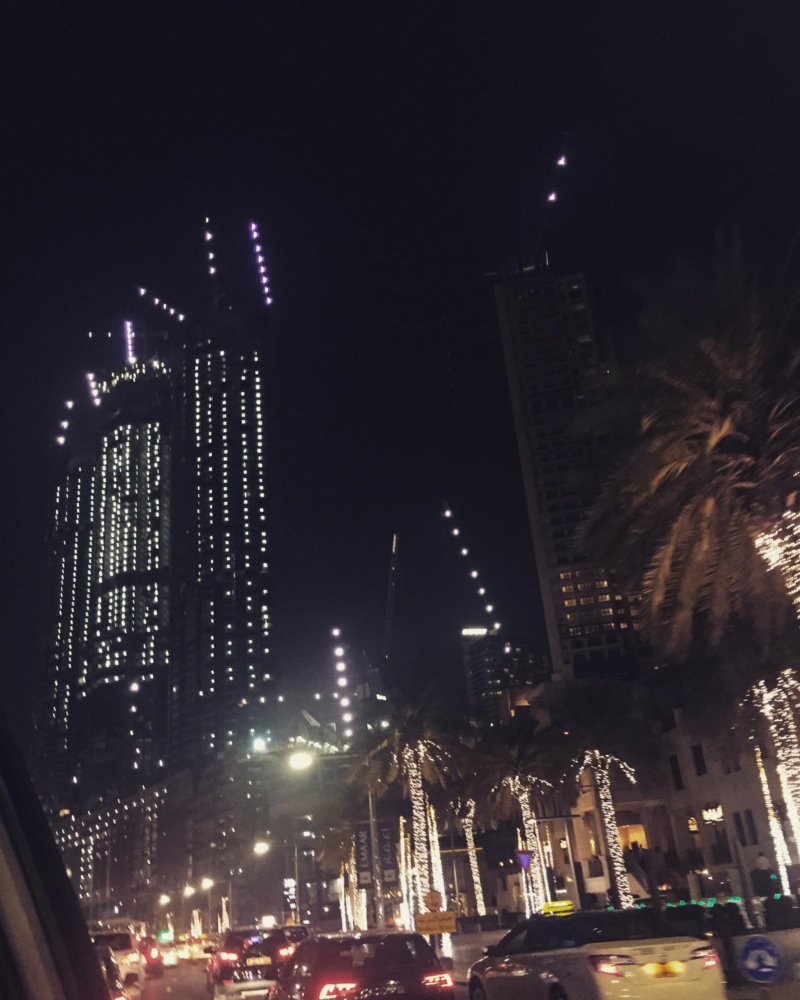 We ventured to Downtown Dubai and business bay. For a meal at
Serafina
an authentic Italian located inside Souk Al Bahar. It was from there we watched the fountains at the base of the Burj Khalifa!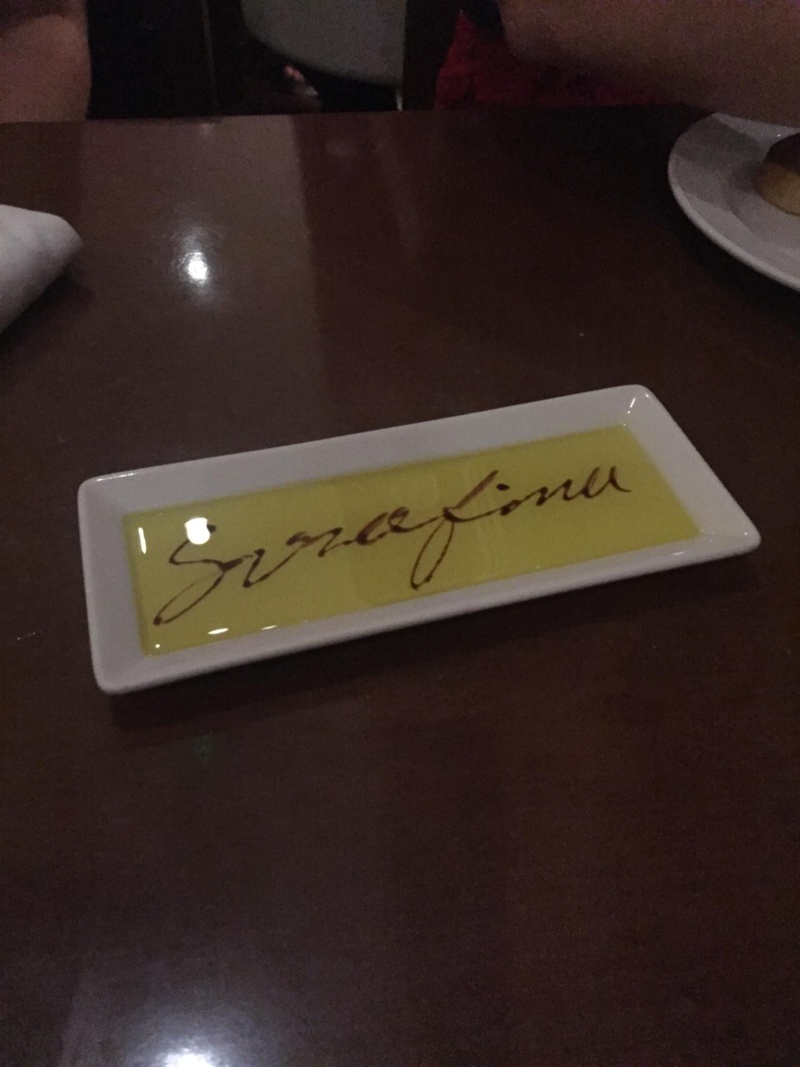 Our friend had Entertainer vouchers so that gets you discount in the top restaurants, cafés, nightspots, informal dining, attractions and services across Dubai.
It was also ladies night in Serefina surprise surprise, this meant three cocktails for 75UAE (£16). I recommend their watermelon daiquiri it was delish!!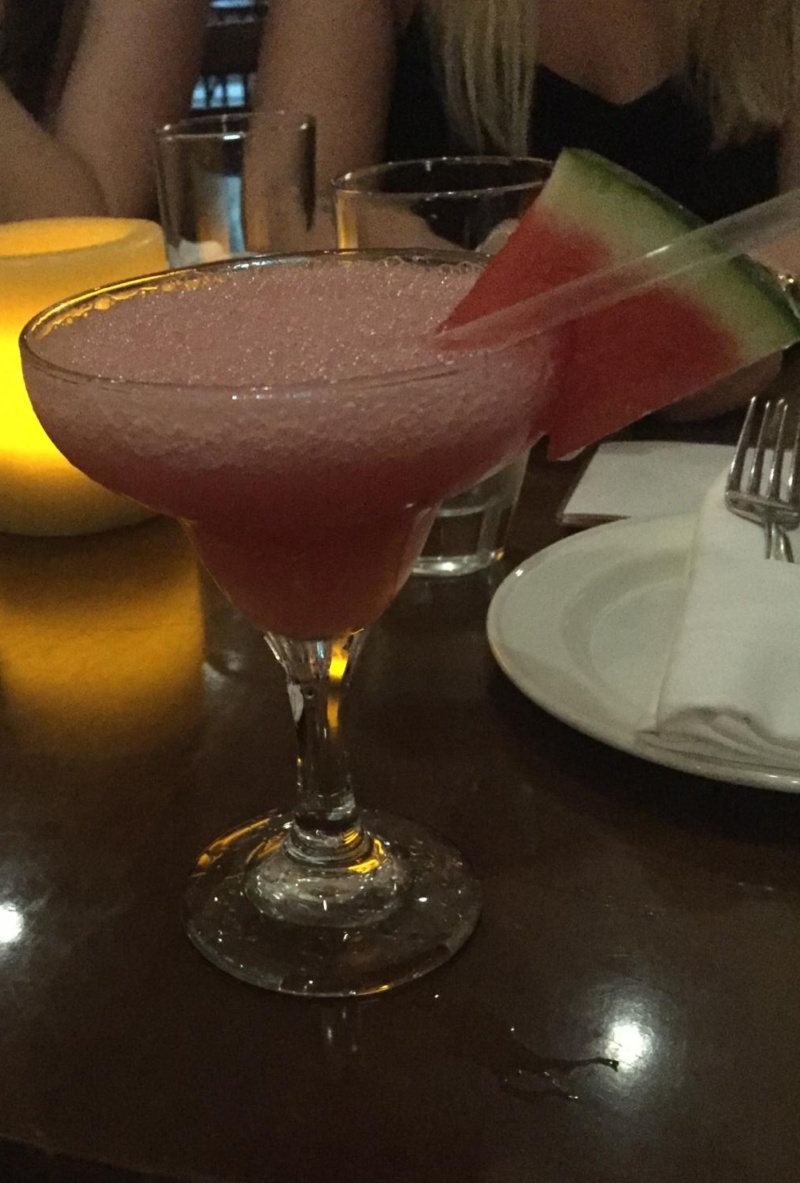 Me and my friend shared a pizza and pasta dish (we always do this as we get the best of both worlds). The food was amazing the only thing was that the pasta dish was tiny!! and I mean tiny tinyyyy!!
After a lovely dinner we sat out on the balcony of the restaurant and watched the fountain and light shows (..each time to different dramatic music).
It was a lovely way to spend the evening and get some great pictures too!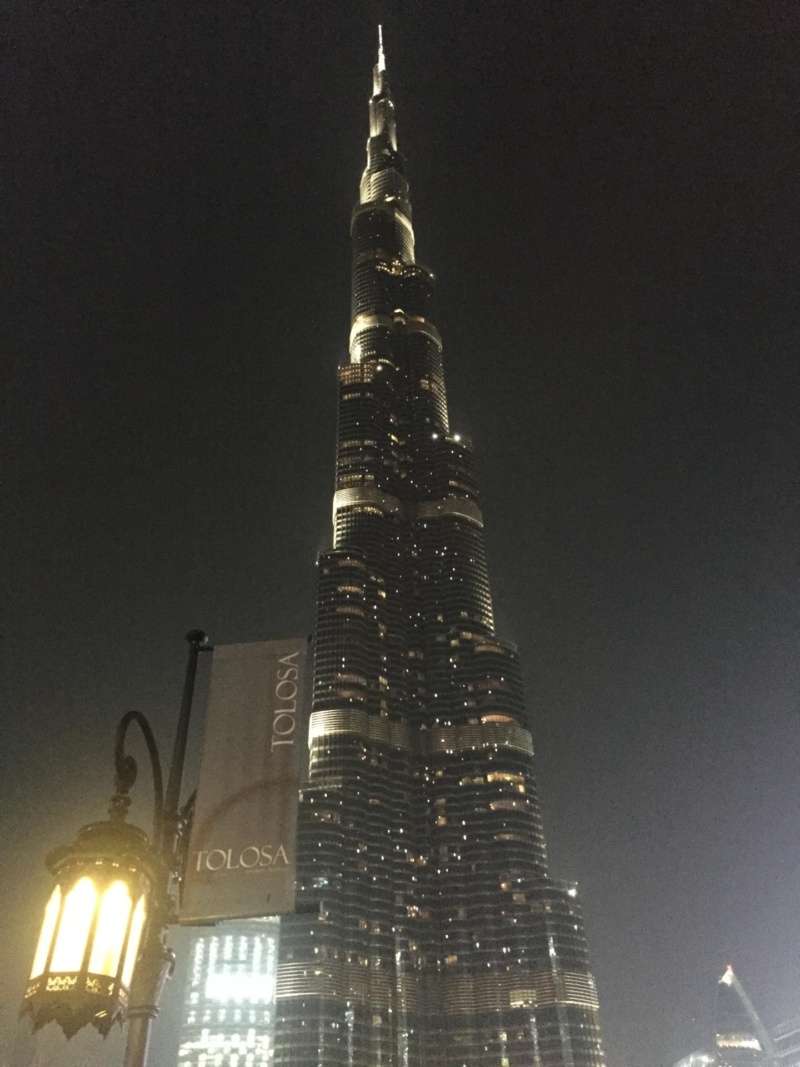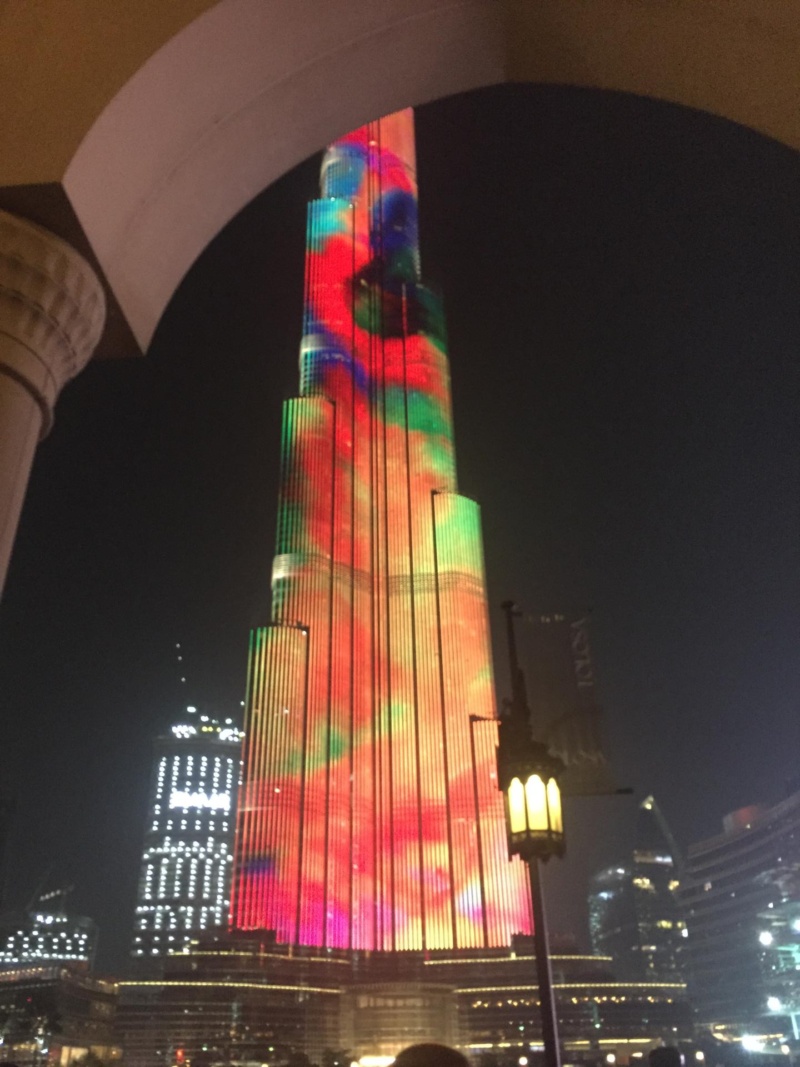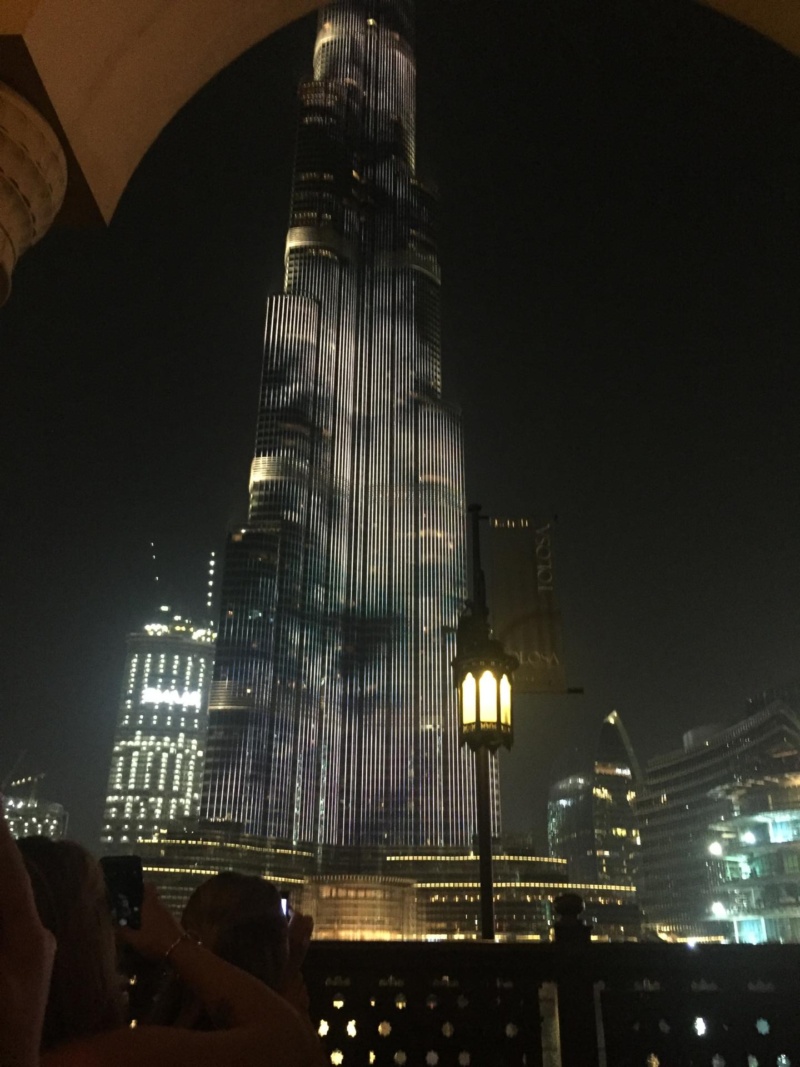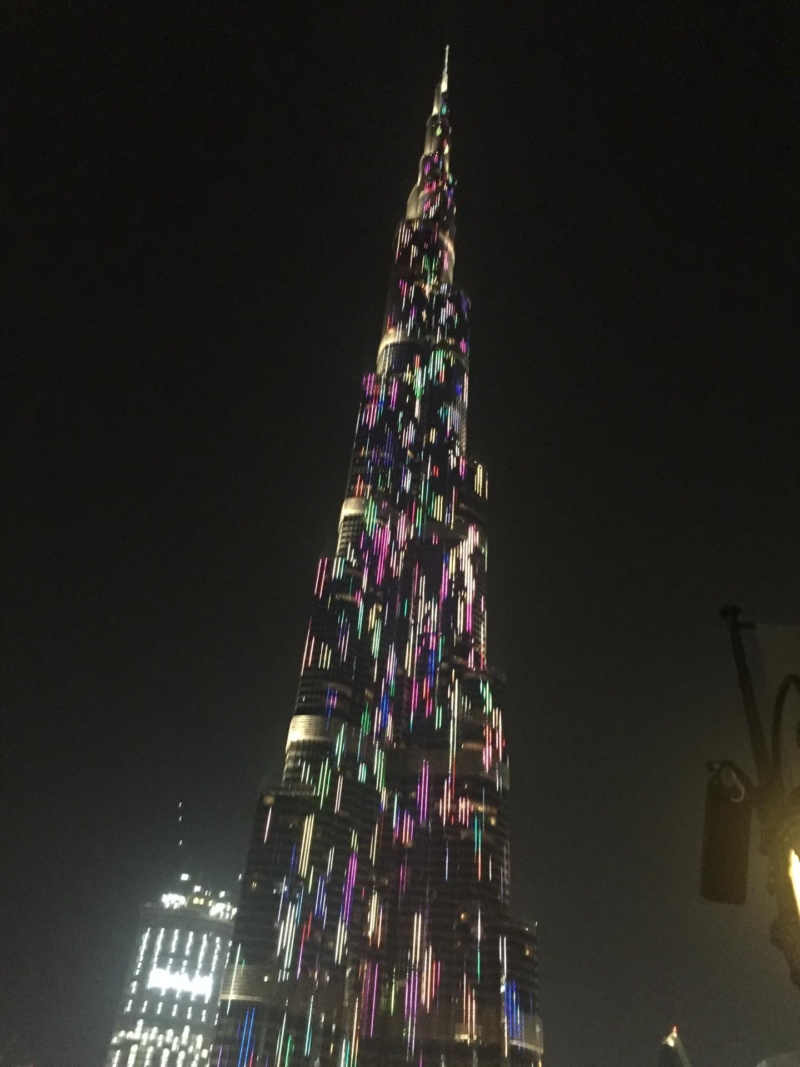 Highly recommend doing this it was so good!! The fountain shows and light shows on the Burj are every 30 minutes.
Next it was on to INKA for some Drinks at ladies night! Located in the Sofitel in Downtown Dubai it was the perfect place for some after dinner cocktails.
On taking a seat we were give drinks menus which we could order from either prosecco, spirits wine and a select few cocktails.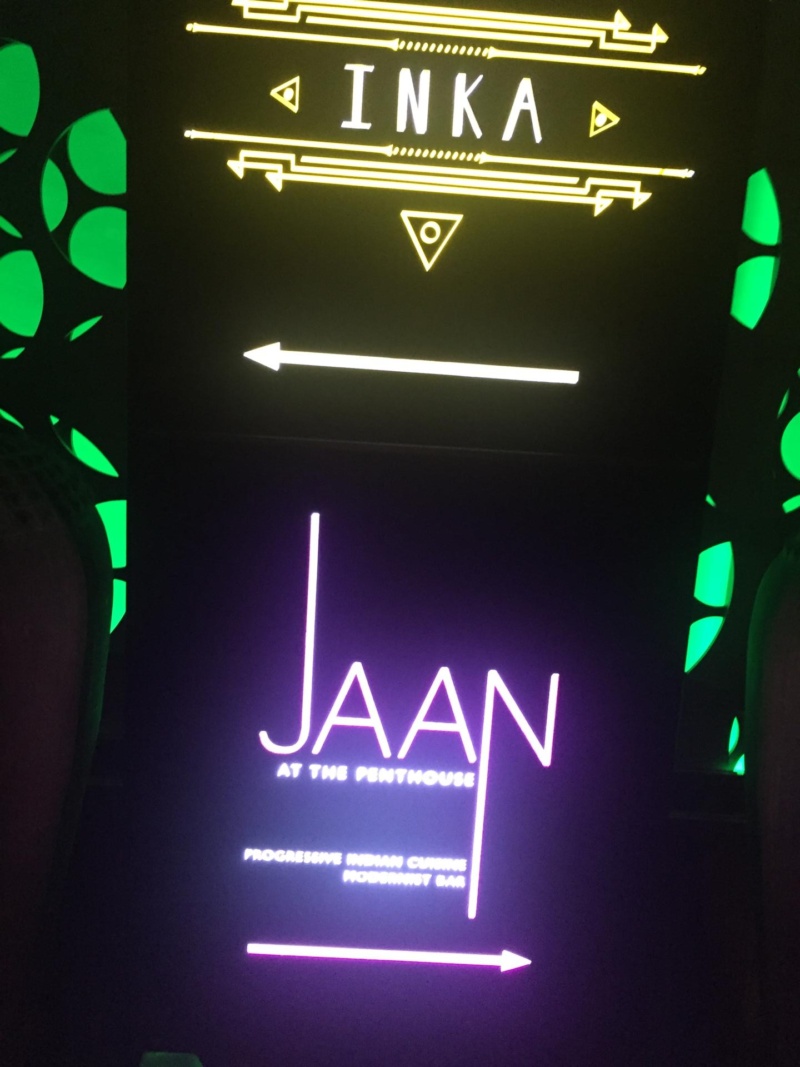 I went for Gin and Tonic and it was devineeee…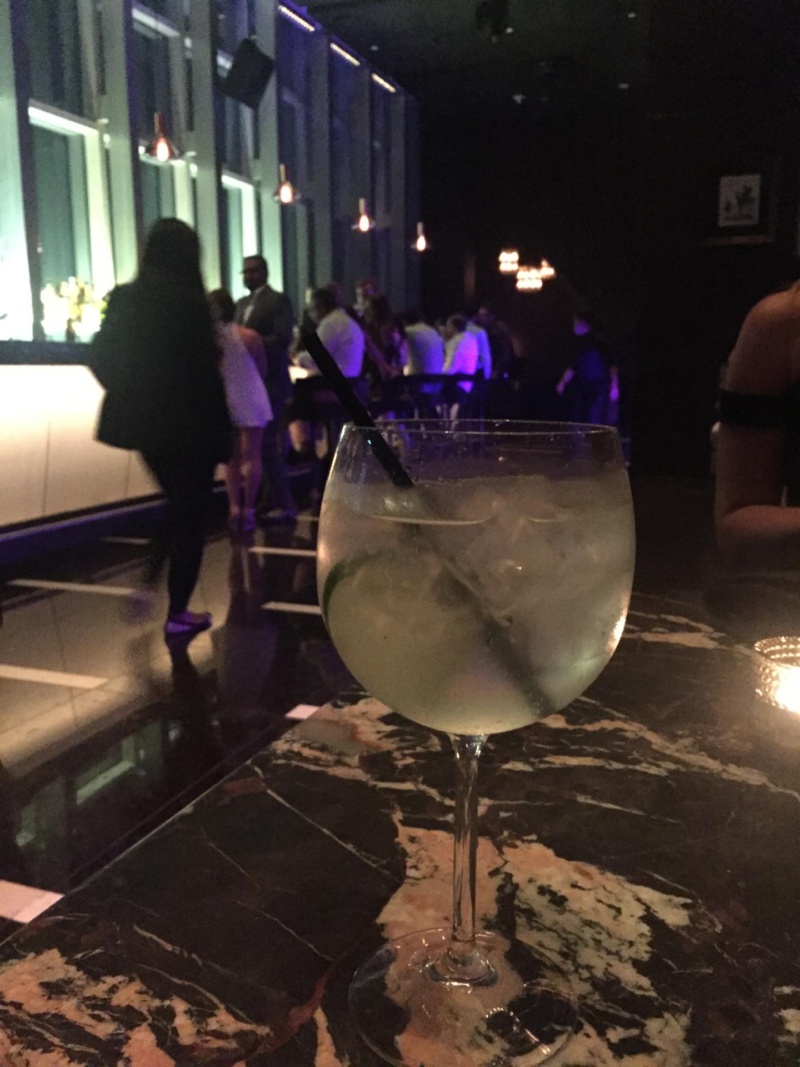 This evening was brill it was so nice to have a chilled dinner with the fountain show and then onto a nice bar.
Deciding that it was best not to have too much to drink before our big day the next day! We decided not to go out out that night and head back still it was past 1am so not exactly an 'early night'.
Day 4 – YACHT DAYYYY
This was a day we have been sooo excited for. We had a yacht highered for four hours to take us around the sights of Dubai and see them from the sea.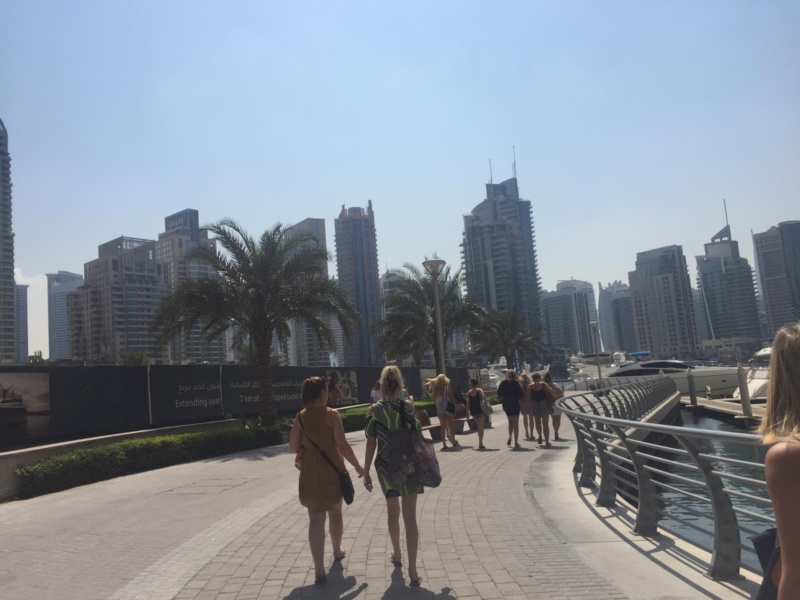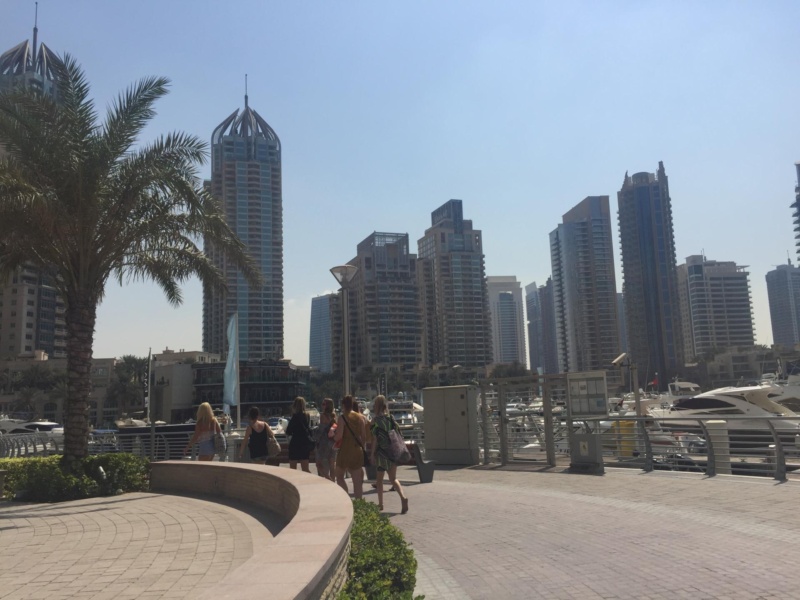 This private yacht allowed us to bring our own food and booze!
(becareful getting the alcohol there as you are not allowed with no licence)
We were advised to bring our passports with us for the day as we were out to sea they may be checked.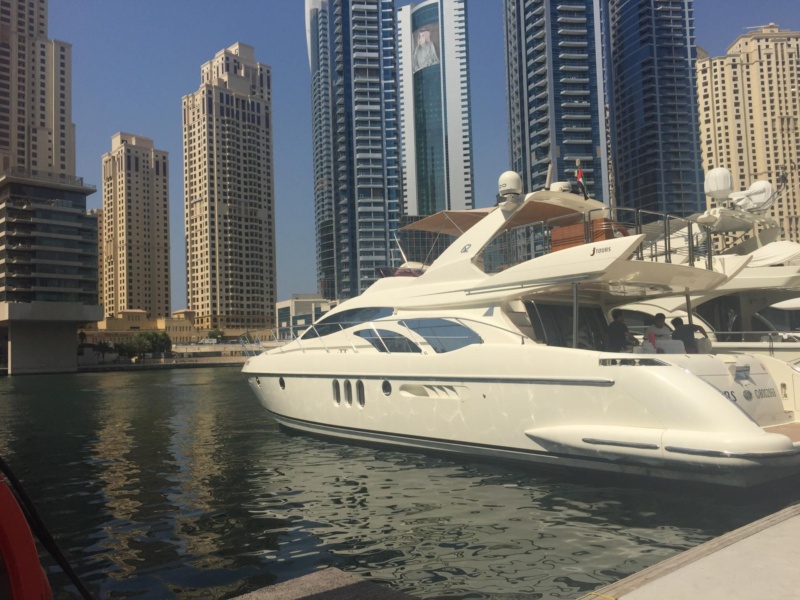 Piling on to the boat and set off out of the marina to explore Dubai by sea..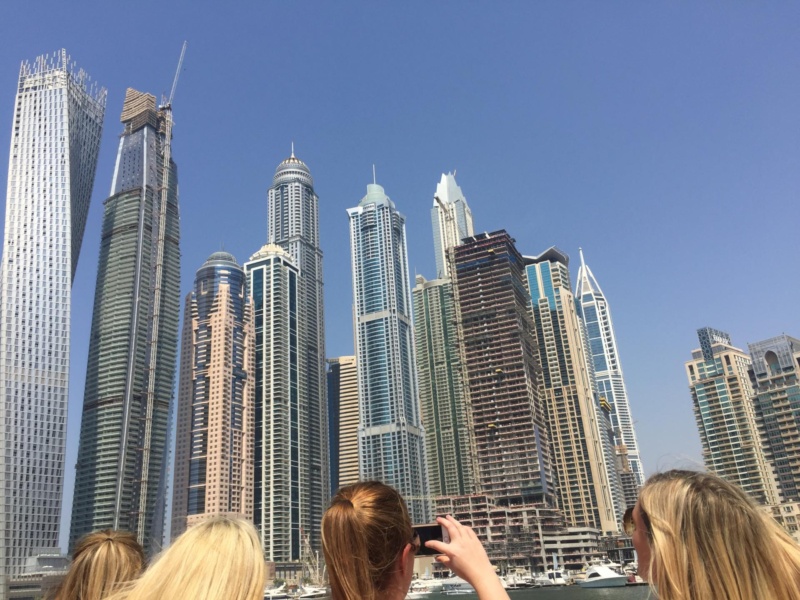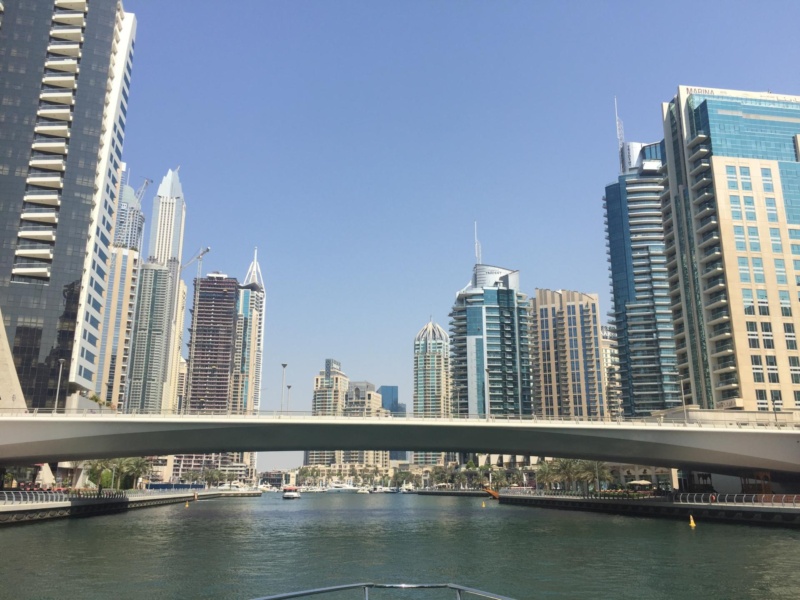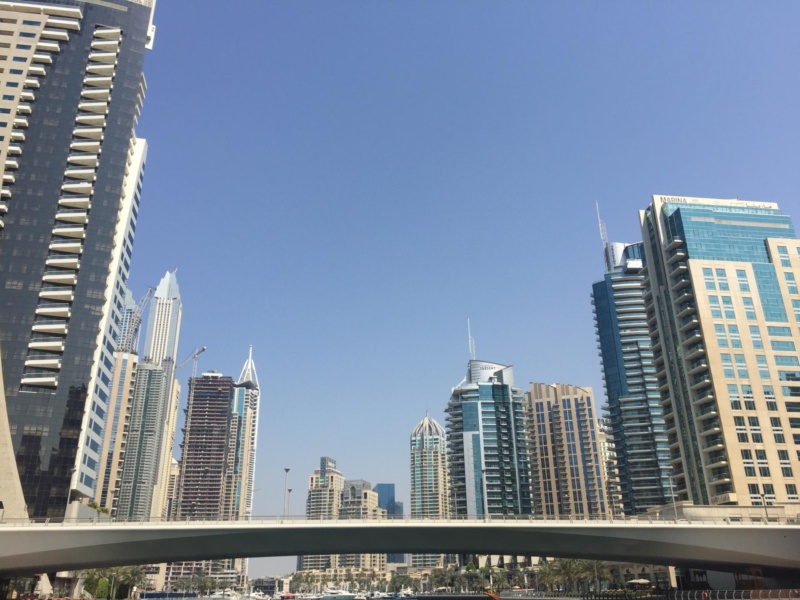 The view from the boat was spectacular! We enjoyed the sun and swam in the sea the perfect way to spend the afternoon! Why cant ever day be like that!!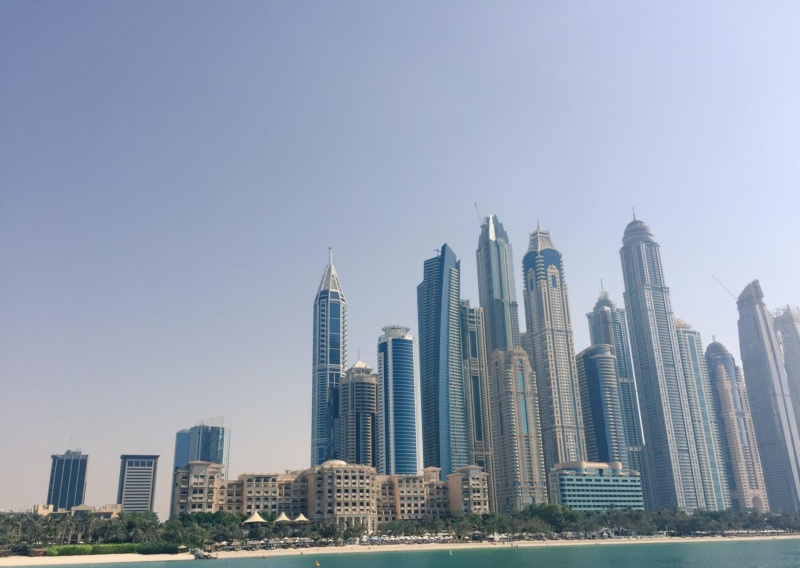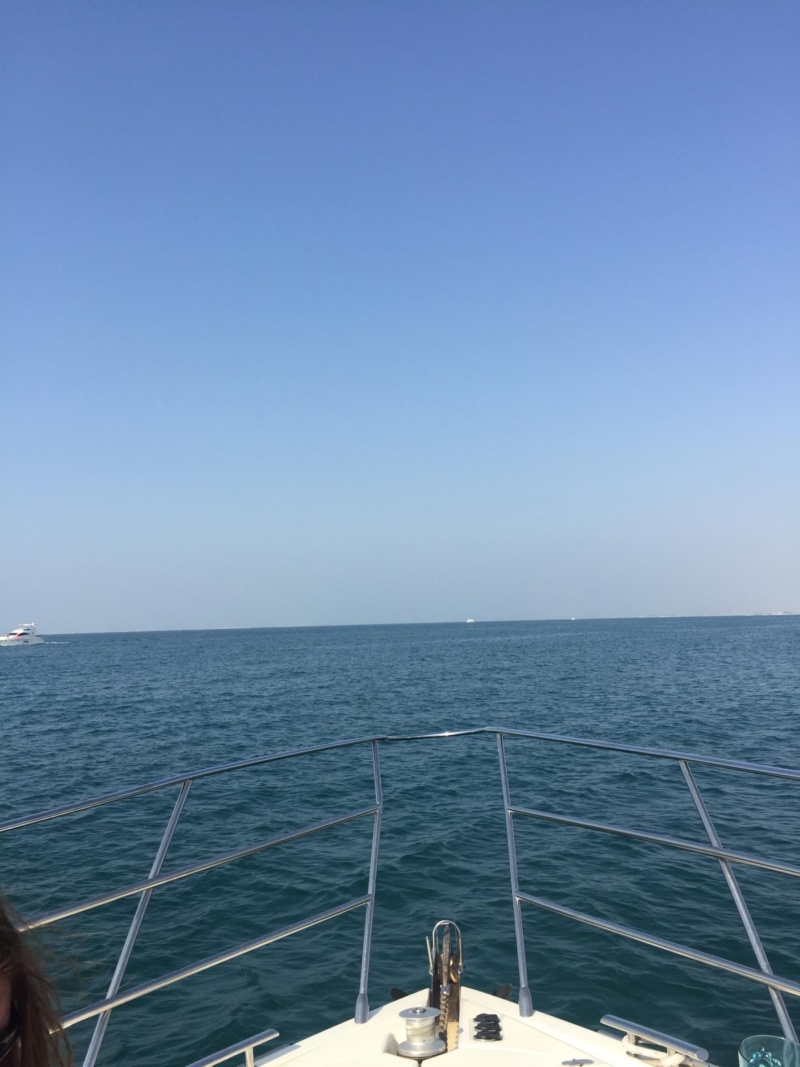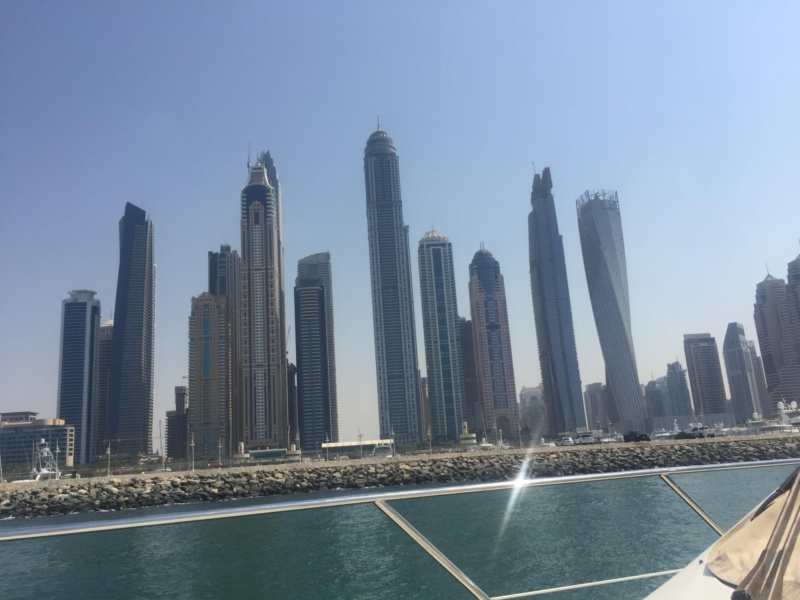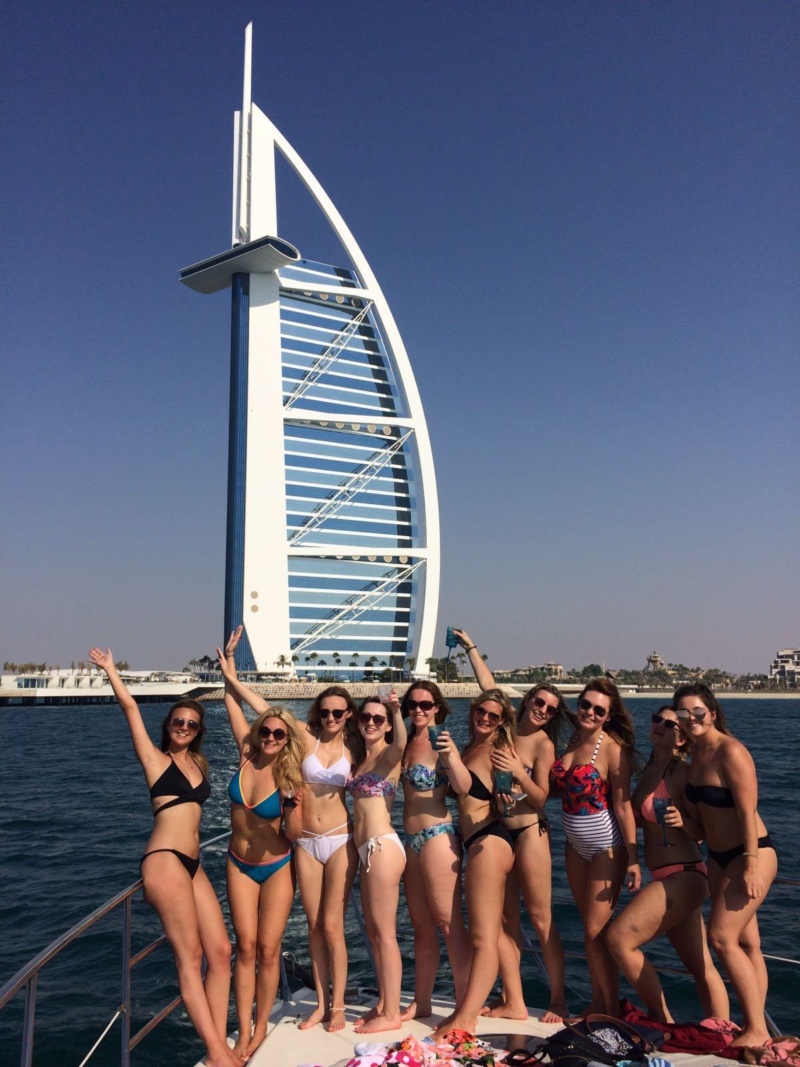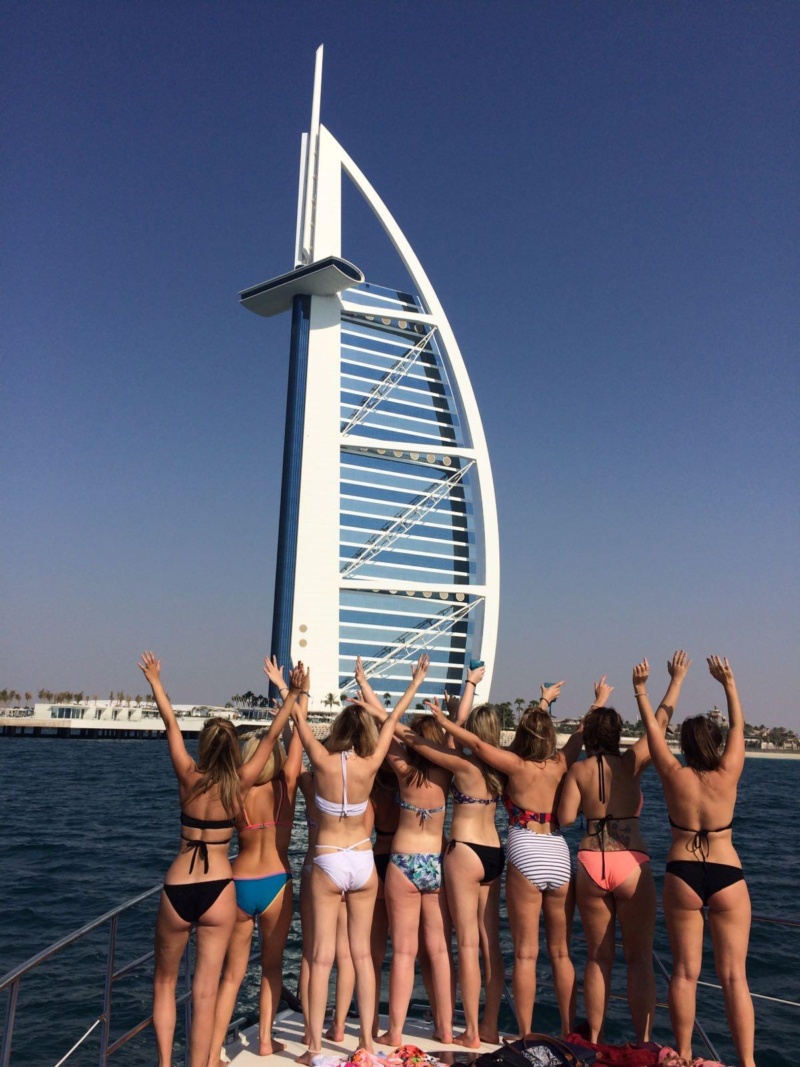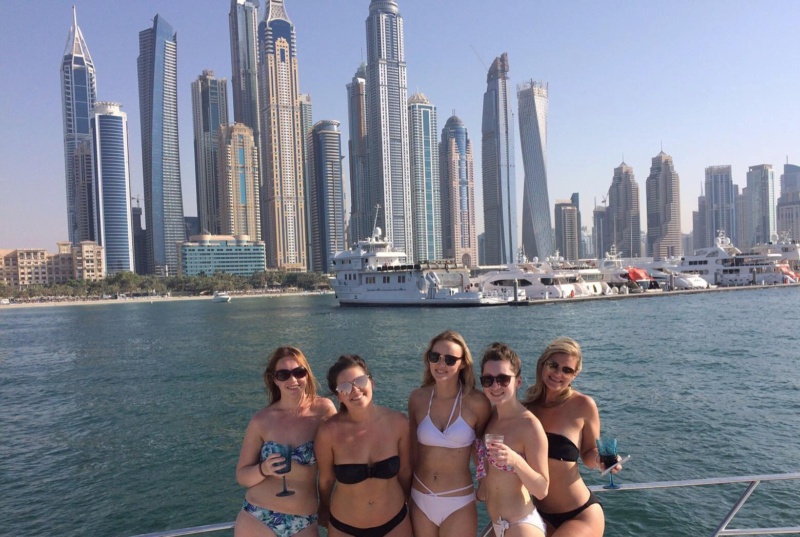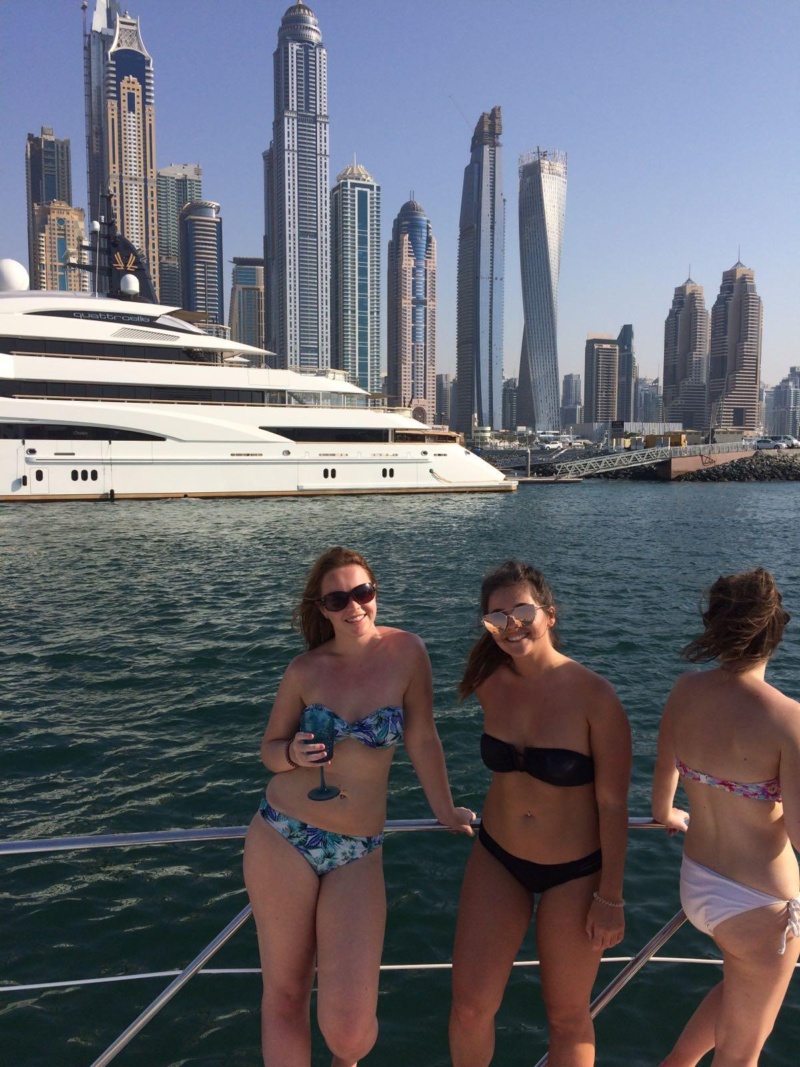 .. It was such a good day!! Definitely one of the highlights of our trip!
We even got to play on a jet ski..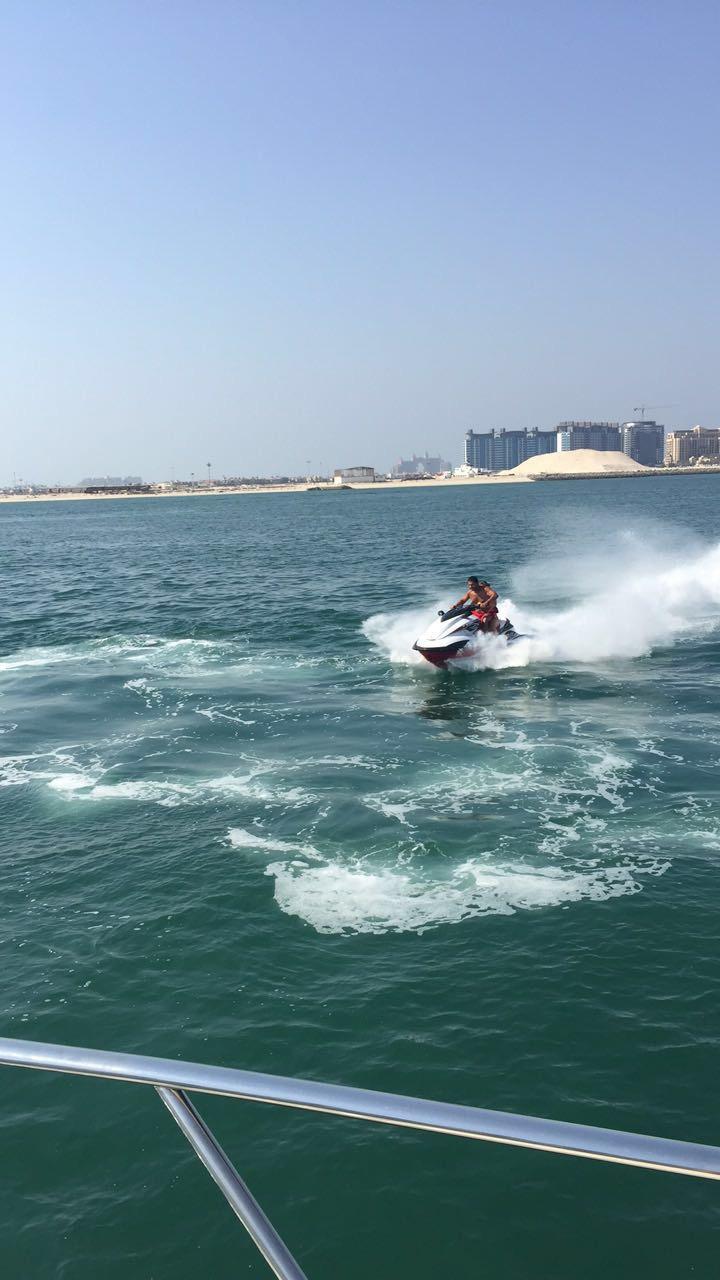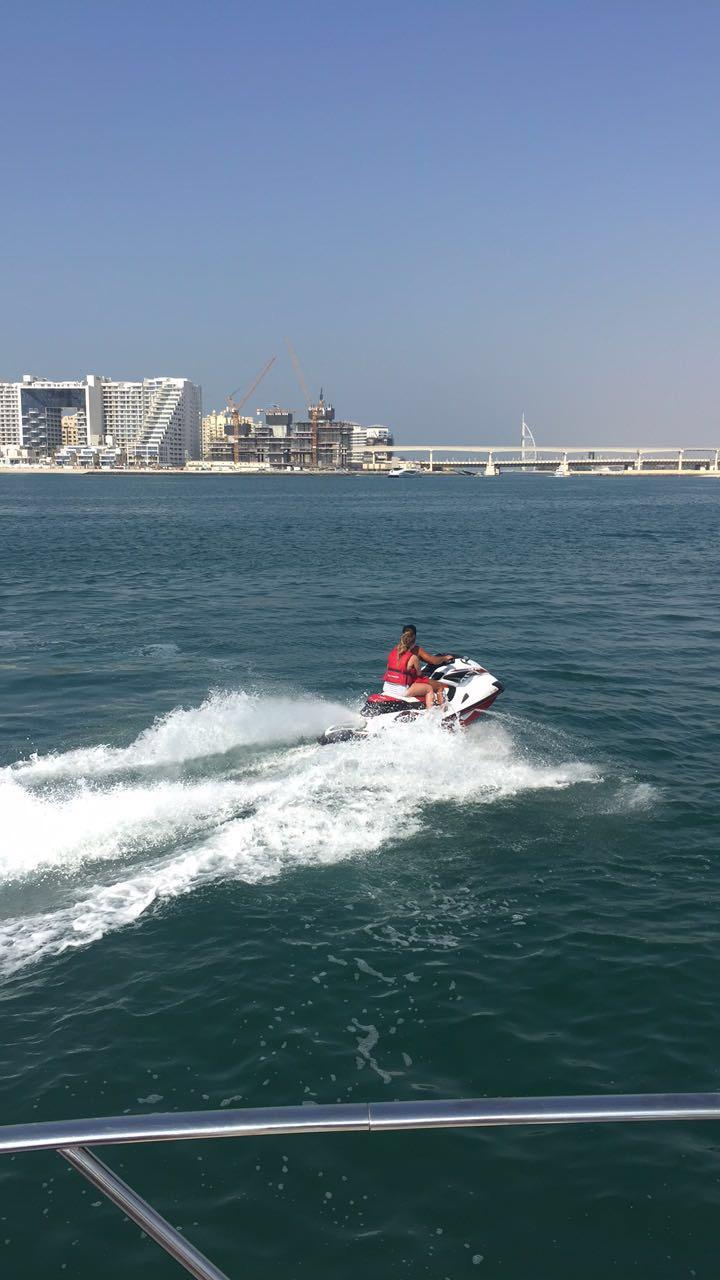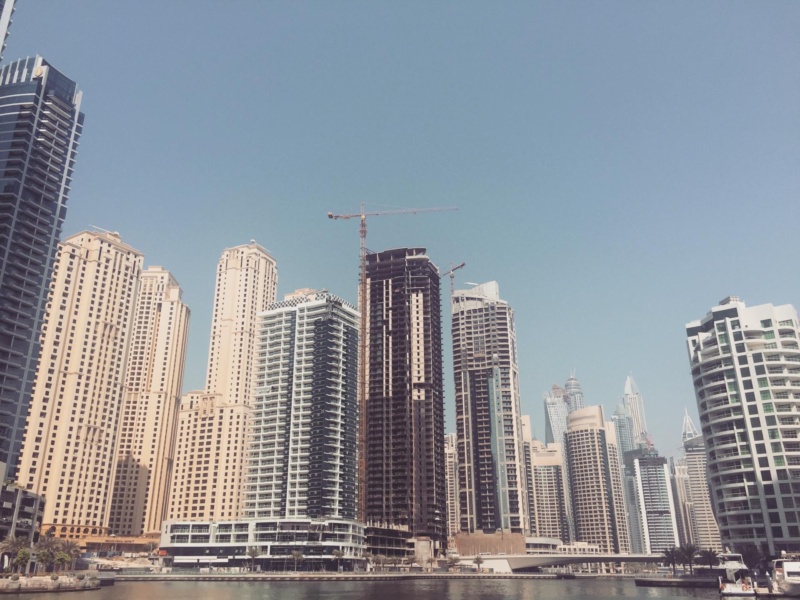 I would recommend doing something like this even if just for a couple of hours
Day 4 Night – Souk Madinat and Burj Al Arab
We thought tonight since our hotel is home to the Observatory with 360degree views a Dubai it was time to make the most of it. First stop of the night would be to do just that and go for a drink upstairs before heading out for the night.
When we were seen to our table we were offered to play a game of spin the wheel. This wheel decided what discount we could get off our visit.
The Discounts range from 20-40% off your meals, 2 for 1 offers, free bar snacks.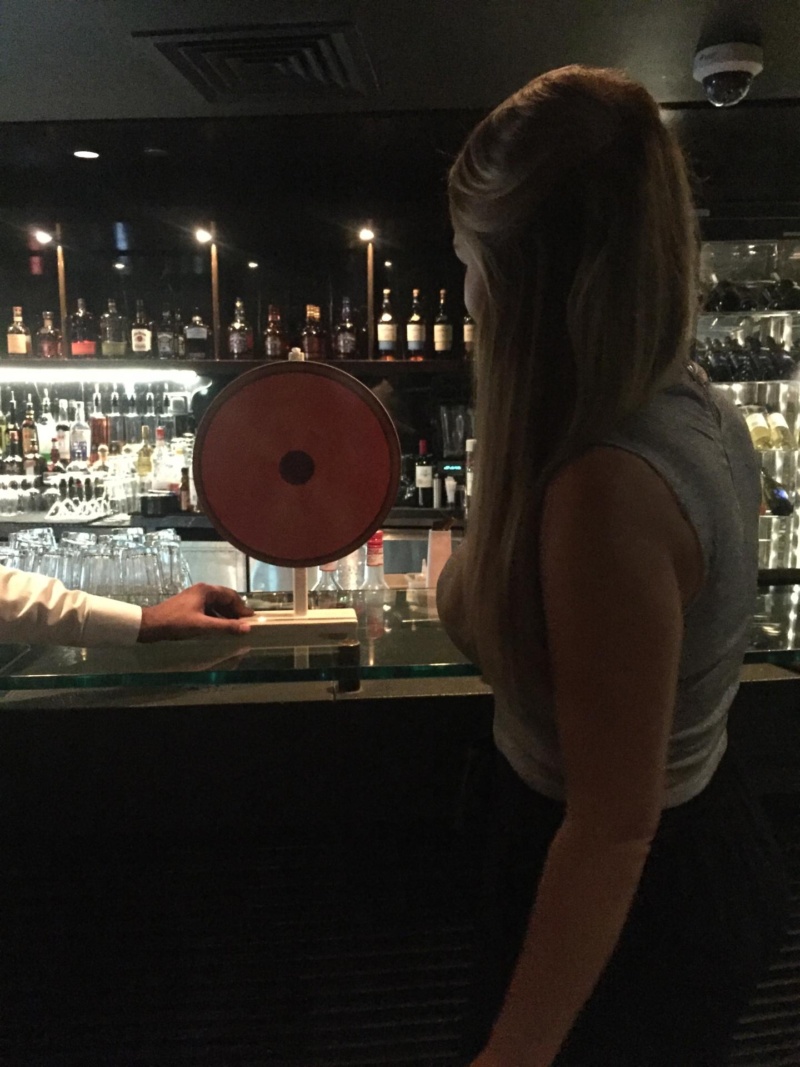 We won bar snacks… not ideal as we were going out for tea but a great starter for the night. Enjoying yet more cocktails with a view from the observatory and would recommend a visit if you are in the area.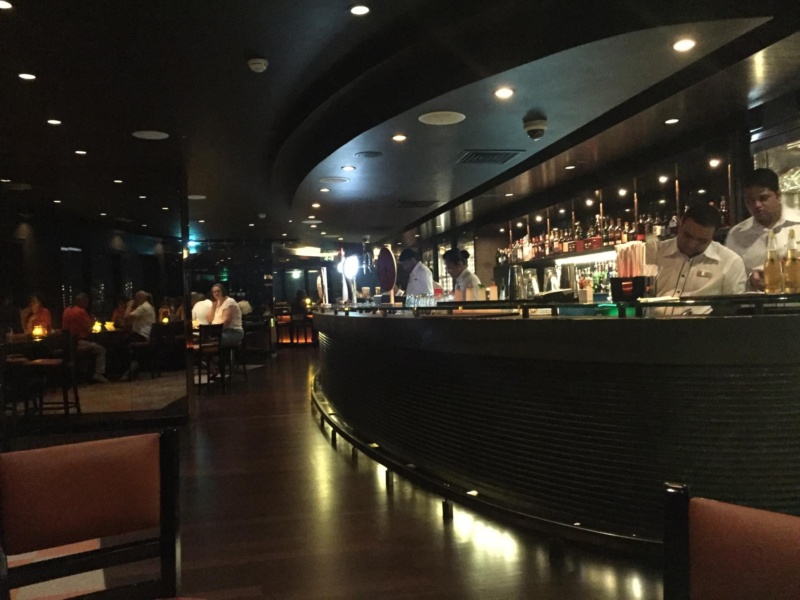 Souk Mainat
We headed over to the Souk located near the Burj al Arab for a few drinks and dinner. First calling in Trader vic's for some cocktails. Mine was a gin punch and it was amazing (and apparently very strong?).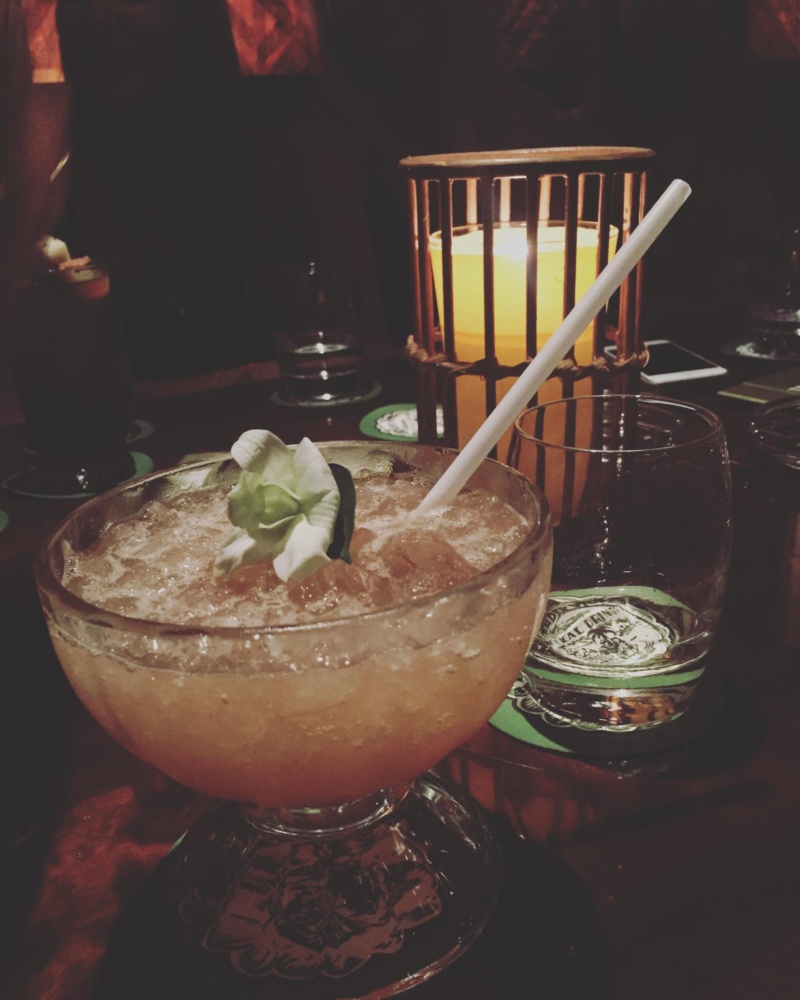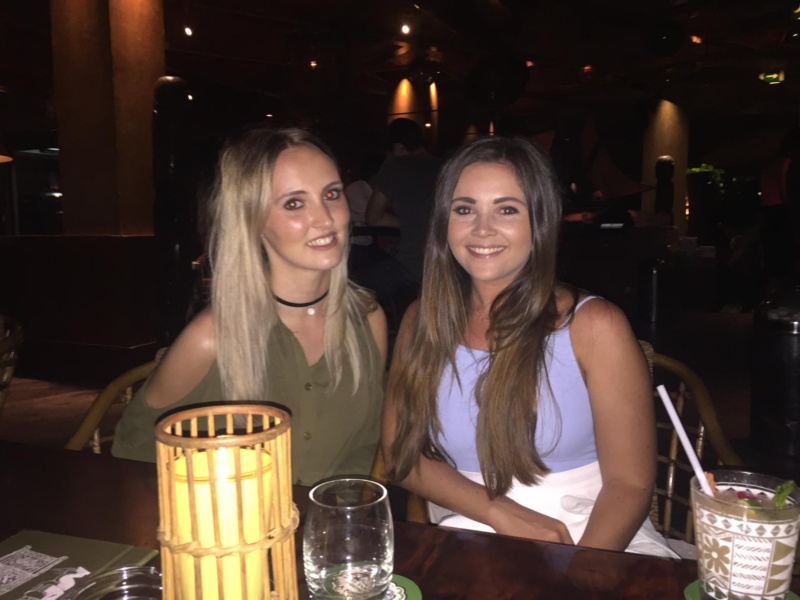 Next we had dinner at a noodle bar.. A nice change especially for me as Asian food is my favee!
I had duck pancakes to start and an amazing duck main was just what I needed!!
(the meal was nice but we had a bit of a disaster with our friend being allergic to nuts. She was told she could not eat there even though the menu stated only a few things had nuts in! She ended up only having boiled rice)
We called McGettigan's for a couple of drinks after. We chose to sit outside and enjoy the heat. But being sat in the middle of the Souk next to the river with no breeze it was boiling.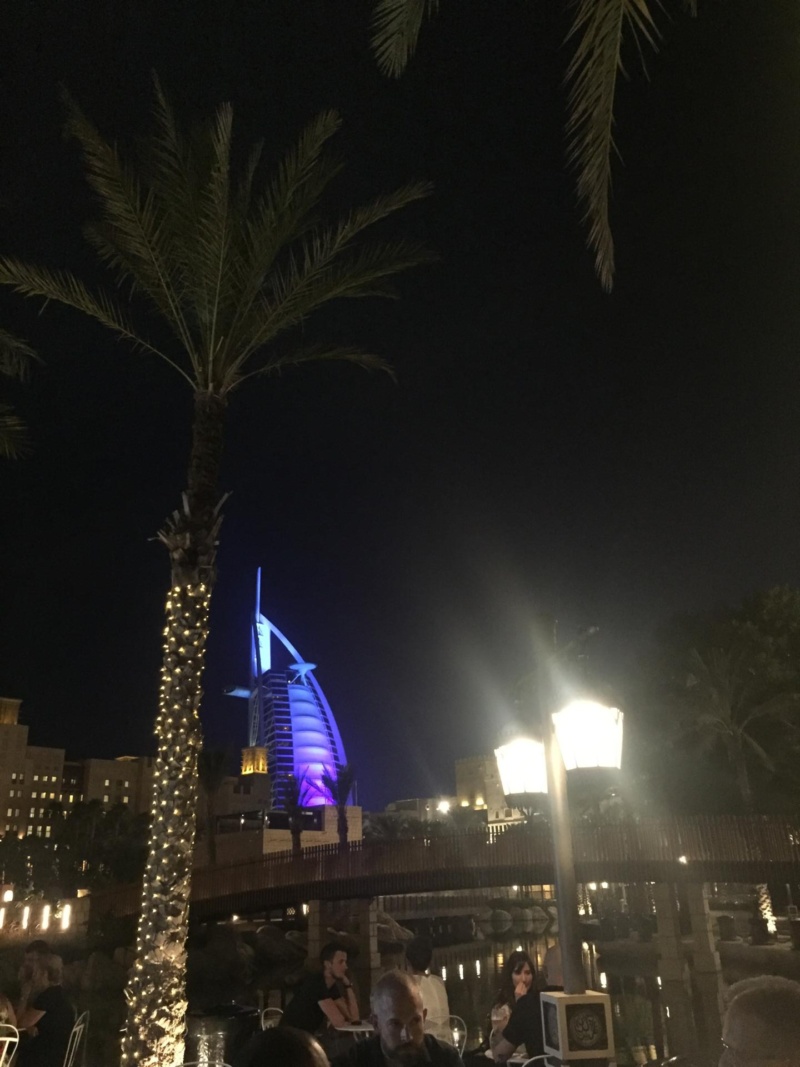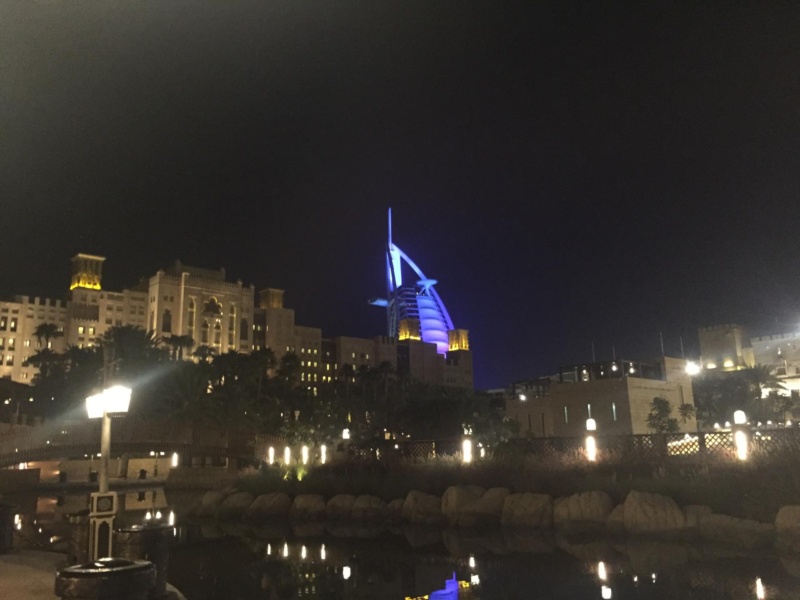 From where we were sitting we got a view of the Burj al Arab changing colour in the back ground it was such a fab setting! There are also lots of restaurants around where you can sit outside and watch the Burj al Arab whilst having dinner.
---
Stay tuned for Part 3 – days 5&6 where we head to one of Dubai's famous Brunches and visit the Burj Khalifa
---
Have you been to Dubai? What did you get up to in your time there? I would love to hear all about it in the comments below
Thanks for reading
Bethan
xox