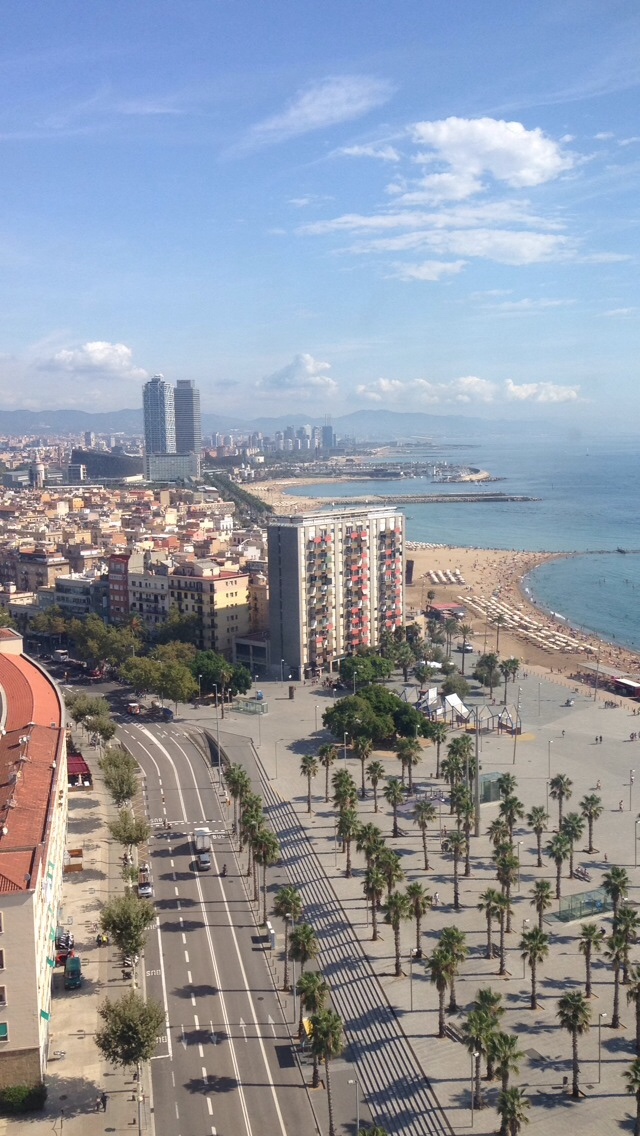 Barcelona, where the hustle and bustle of city life meets stretches of sandy beaches
Visiting Barcelona for George's birthday (what a great present from his parents). We were so excited and keen to start our five day trip ejoying tapas, wine and sun. We were drawn in by the city meet beach aspect, due to my love of the beach and George the city. What a compromise and what a city!!
Getting to Barcelona
We flew from Manchester with Monarch. Lovely surprise on the flight of being brought a bottle of champagne which was organised on booking… obviously this was part of the birthday celebrations – but a great way to start an early morning flight (its 5pm somewhere right?).
Where we stayed
Booked through Booking.com to stay at the Eurostars Ramblas which is ultra modern. It has a chic decor, parquet flooring and serves an excellent breakfast was the perfect hotel for us.
It's centrally located three quarters of the way up of La Ramblas, a street full of life that connects you to everywhere. The seafront promenade is 350 yards away, The Old Port is around 750 yards from the hotel. Barcelona's famous Boquería Market 7mins, Barcelona's Cathedral and the city's Gothic Quarter are a 10 minute walk. The many shops are only round the corner for all the shoppers reading!
The Highlights
Mont Jucic – There are different ways you can get to the top whether it be walking, bus or like us catch the cable car. You can catch it from the city up to the castle – this offered the most spectacular view. Having a picnic at the top overlooking the view of the city and the port. Then grabbing an ice cream before heading back down strolling through the gardens. My favorite thing whilst here…away from the hustle and bustle.
Magic Fountain (Font Magica) we visited on the way down from Mont Juic, this was spectacular. It is incredible and managed to get some great photos over the city of the fountain and its beautiful backdrop against Museu Nacional d'Art de Catalunya. A great place to visit on a boiling hot day (also does a great sunset show).
Boquería Market is Barcelona's famous market, possibly one of the most colourful markets I have ever seen and so much variety from fruit and veg to seafood, sweets and stalls where there are chairs where people sit for fresh tapas. We picked up a couple of fruit smoothies and sampled meats and cheeses as we went. A tip: stalls tend get cheaper the further in you go so if you are looking for a bargain venture in a little further.
More Highlights…
Park Guell a must see Gaudi's work of art, located in the centre of Barcelona is one of the cities biggest icons. With its lush gardens and beautiful architecture, it is such a beautiful place. You will have probably seen photos of this on travel guides. Bear in mind that the park is a massive tourist attraction and on a sunny hot day, like when we chose to go was very busy.
Basilica Of Sagrada Familia another masterpiece of Gaudi, still yet to be completed and has been 100 years in the making.. It is THE most impressive church I have ever seen. Due to huge queues photos I have are unfortunately only from the outside.
Parc de la Ciutadella we ventured to a a couple of times with a blanket and picnic to enjoy the sun and chill out in between sight seeing. Its entrance is at Arc d'Triompe. There are lots of areas to discover from fountains, statues and even a lake where we hired a little boat which George rowed us around the lake for €6. From here you can visit Barcenlona's Zoo which we enjoyed whilst it went slightly cloudy out.
Las ramblas was right on our doorstep at our hotel, it is Barcelona's most famous street. It can be very busy but it is lined with trees, souvenir stores, bars and outside cafes (if you are on a budget this street can be over priced). Great for a glass of Sangria and watch the world pass by. There is a small square Placa Reial 'The Royal Plaza' where you will find street performers and musicians. A very grand square!
Barcelona Beach
The beach, although we did not spend that much time there (mainly early or late afternoons) was a fab place to go. Ideal when your in need of a rest and a quick sunbath!
It was lovely to wander around the city and head to the beach to chill out. There is a row of beach bars that were amazing. We didn't go in them all but managed to grab a couple of cocktails and lunch from the lovely La Deliciosa Beach Club. If you fancy a cheaper option you are never too far away from a man selling mojititos on the beach! Which beach doesn't have this these days!? ….Wouldn't recommend on this occasion!
Foooood!!
For lunch we tended to grab sandwiches, pastries and what ever else we fancied from bakeries around the city.
Evening meals we went all out, the first night we enjoyed tapas in Placa Rieal the best dish by far being lobster paella at DO! (Pricey but it was a first night)
We had lovely meal at Palosanto Tapas, this place had a great atmosphere, amazing food and delicious Spanish wines. The perfect combo if you ask me? We were seated next to the pianist who was so good!! Made the evening a little more special.
We also had a meal on Las Ramblas (not sure where we just found one and sat down).. If you are going to do this eat later on so that its quieter and sit a bit further back from the street if possible so you don't have people staring at you and watching you eat!!
… Basically just tapas, tapas and…. Yes tapas!!
Thoughts on Barcelona
I enjoyed the time we spent in Barcelona (although it isn't my favorite Spanish city Shhhh). We walked EVERYWHERE, ate farrr too much, drank TOO much!! We enjoyed the sights, shopping, sand and sun the city had to offer.
Quick tip: If you want to see all the sights, do the hop on hop off bus! We wish we did our feet were in agony!!!
Want to read more about Barcelona check out fellow blogger over at Kumbear Xo post about her time at the LA MERCÈ FESTIVAL in the city! Her pictures are incredible and maybe a return to Barcelona should be on the cards!
---
For another Spanish city break idea why not check out my post on Madrid – A surprise birthday in Madrid
---
Let me know your thoughts on Barcelona and what you got up to during your time there in the comments below!!
Thanks for reading
Bethan
xox