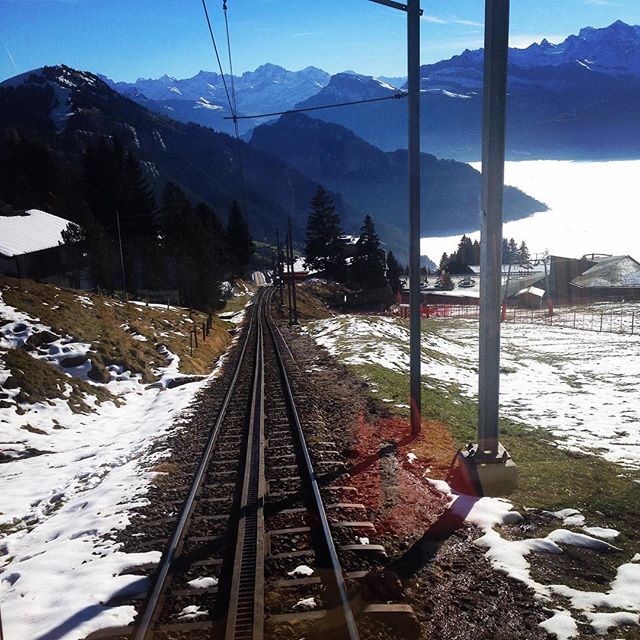 A weekend in Lucerne … visiting three towns in four days and sampling all the cheese and chocolate we could pack in during our short trip. One of my favourite city beaks to date!!

One Night in France
Arriving into Basel Mulhouse Freiberg airport on our bargain £32 flight with Easyjet. As we arrived late at night and had decided to stay close to the airport in Saint Louis at the Hotel et Spa La Villa K rather than going straight to Switzerland.
The hotel its self was a huge surprise.. our room was great, we couldn't have asked for more. The hotel has a vast range of spa facilities which we unfortunately couldn't take advantage of.. but I wish we could have!
We weren't expecting much at all as it was just a one night stop due to our flight arriving late.
On arrival we dropped our bags and went straight down to the Restaurant (à la carte). Ordering a local a bottle of wine and a cheese board immediately – it was absolutely perfect way to start the holiday. Its such a quaint French restaurant with a relaxed atmosphere. We were certainly starting as we meant to go on..
In the morning the hotel offered one of THE best breakfasts I have ever had in a hotel (and I've had my fair share!). The highlight for me were the amazing French croissants and a juicer to make your own concoction of fresh juices.
Inter Rail to Lucerne
After stuffing our faces we headed via taxi in to Switzerland to Basel train station to catch the train to Lucerne…
It was here that we realised when people said Switzerland was expensive it became a reality… two cups of tea came to £10! – a slight shock but.. that's Switzerland.
The train station in Basel was impressive, the trains also being a class above what we see back home.
Basel to Lucerne only took us around two hours. The arrival in to Lucerne took my breath away it was absolutely stunning and picturesque place, pictures do not do this place justice.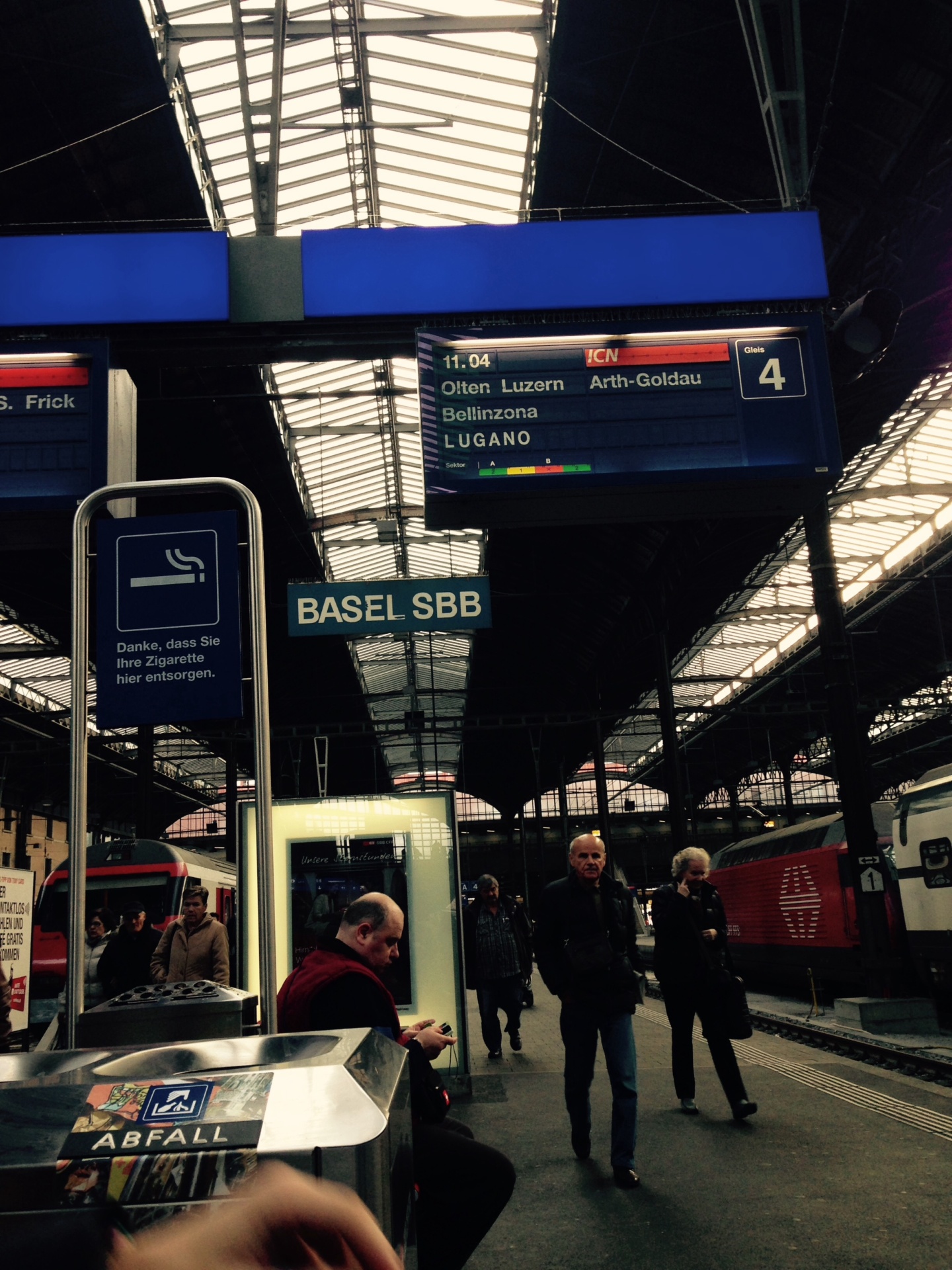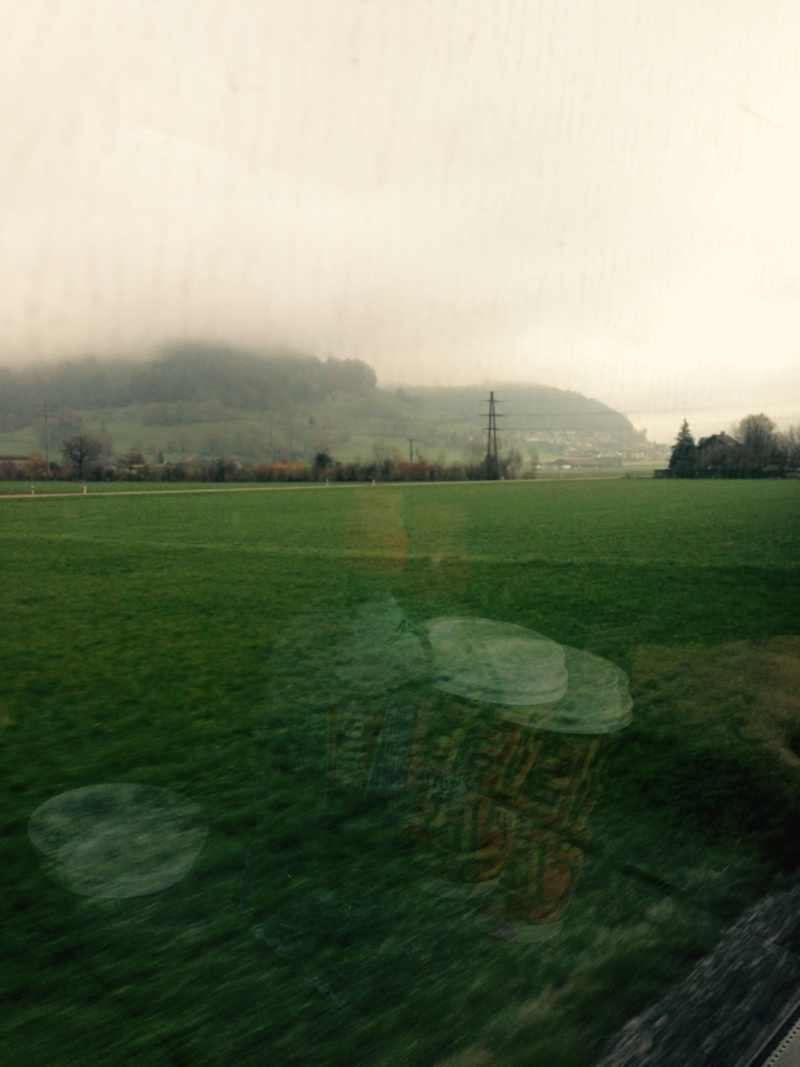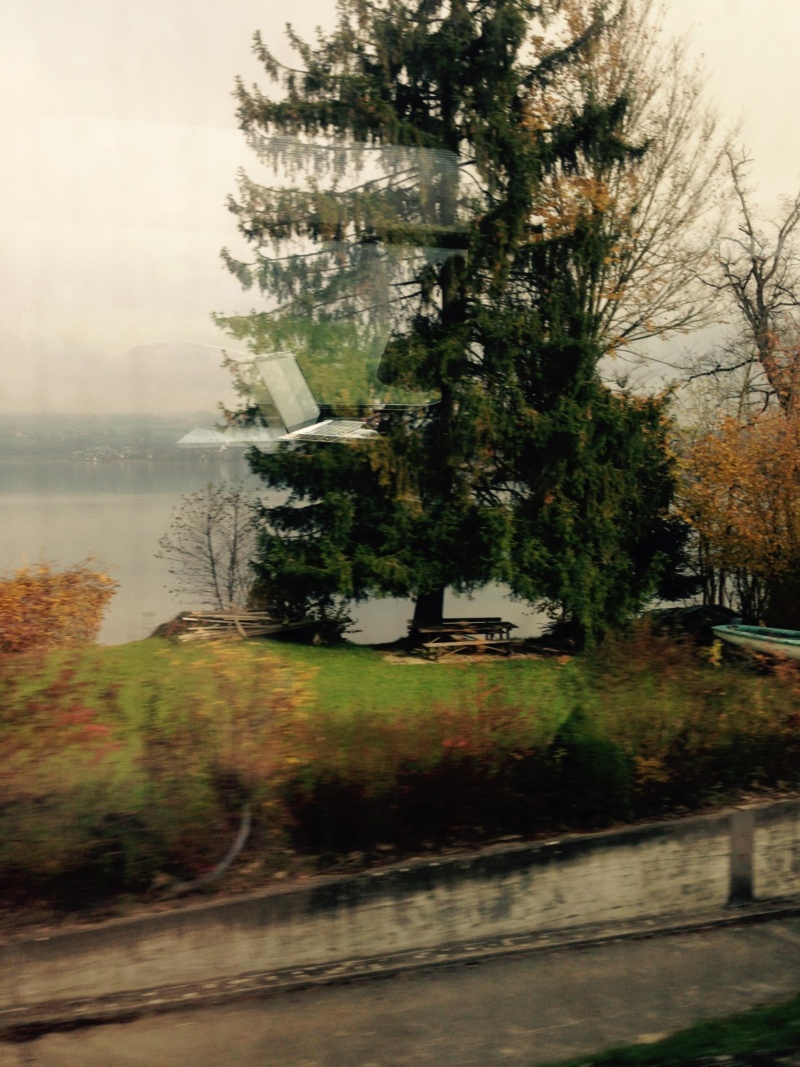 Arriving in the Beautiful Lucerne
We had booked our hotel with trusty Booking.com staying at the Ameron Hotel Flora Luzerne.
It is a modern and stylish hotel right in the middle of everything (150yards to Chapel Bridge, 350yards to the train station). It was perfect for what we wanted. First stop we just wandered the streets taking some amazing photos… of basically everything in sight.
We grabbed pastries and hot drinks from food stands, popping into little shops and generally having a good explore of our latest new city. I would highly recommend venturing into one of the many chocolate shops littered around the town. They sell all kinds of amazing chocolate with different flavours including fruits, nuts, sweets, fudge and cornflakes.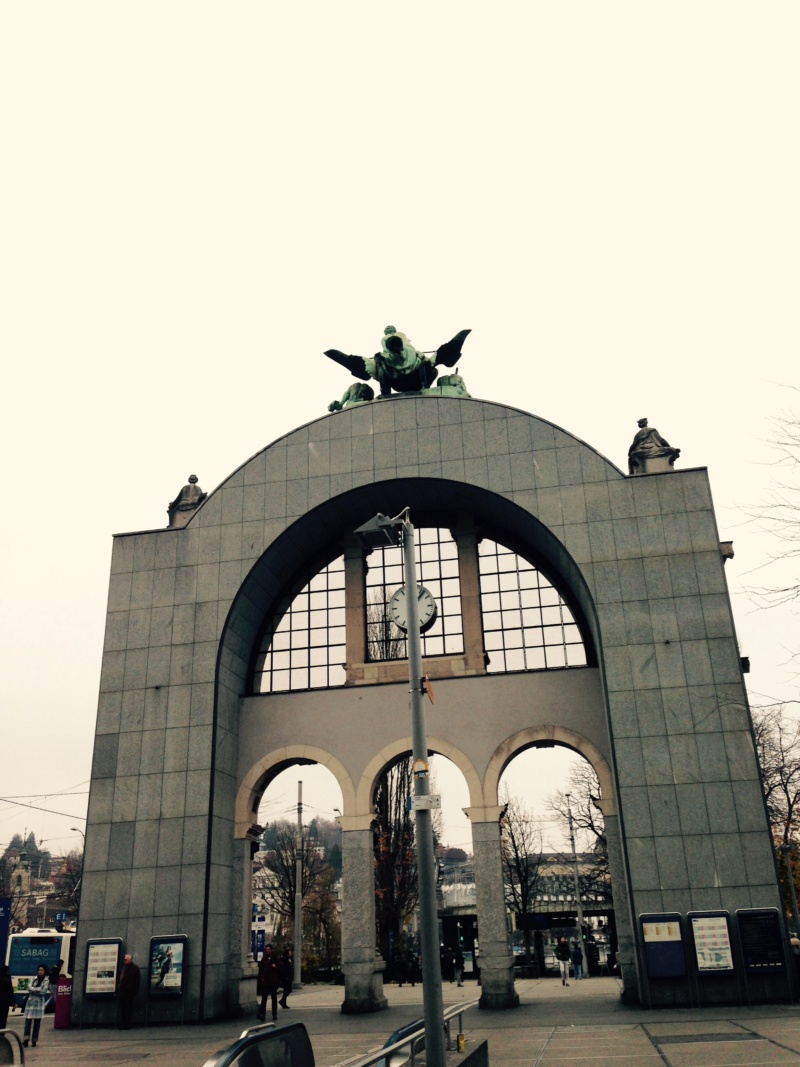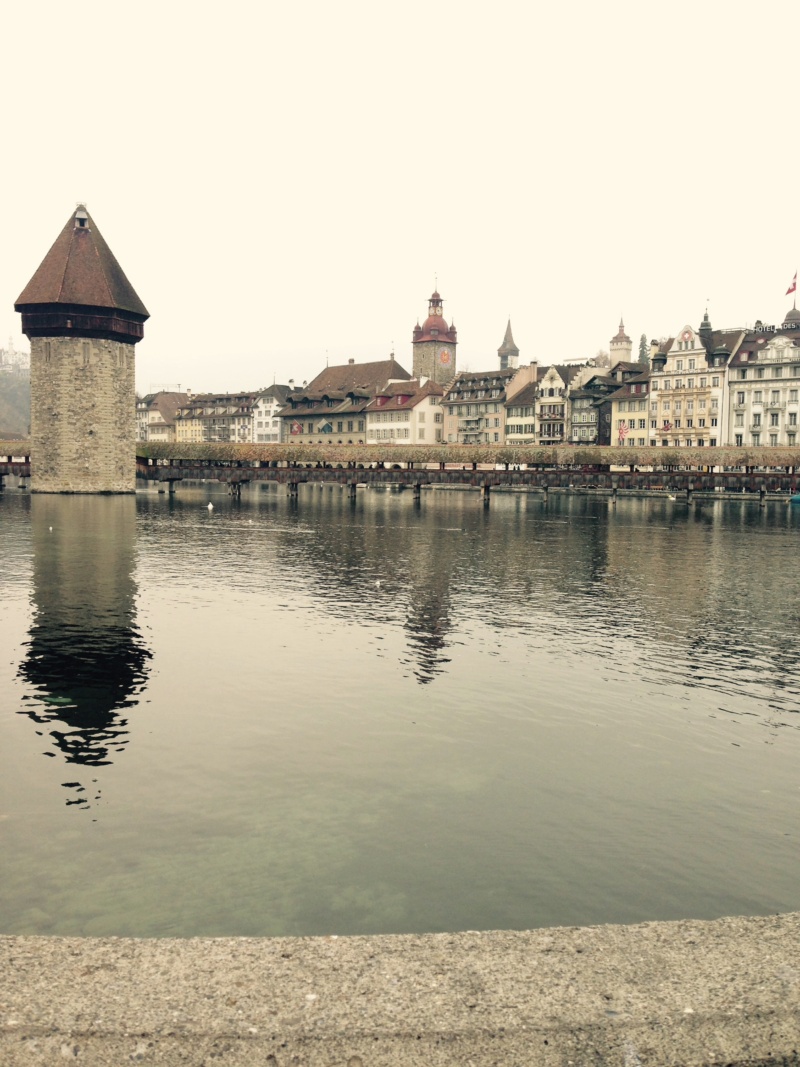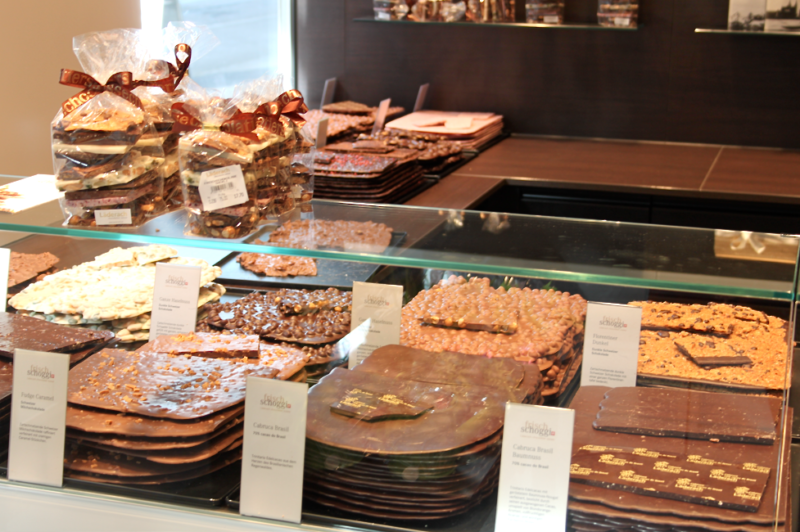 Things to do
When visiting Lucerne there is a vast list of things to do even in this small city. Everything in this town is so picture perfect, The city – The lake – The mountains lucerne has it all!

Below is Chapel Bridge (Kapellbrucke) the iconic bridge in Lucerne it was built in 1333 that is extremely picturesque, Hofkirche a beautiful Swiss church in the heart of the city. Walking accross Spreuer Bridge which linked our side of the river to the rest of the town and Kornmarkt…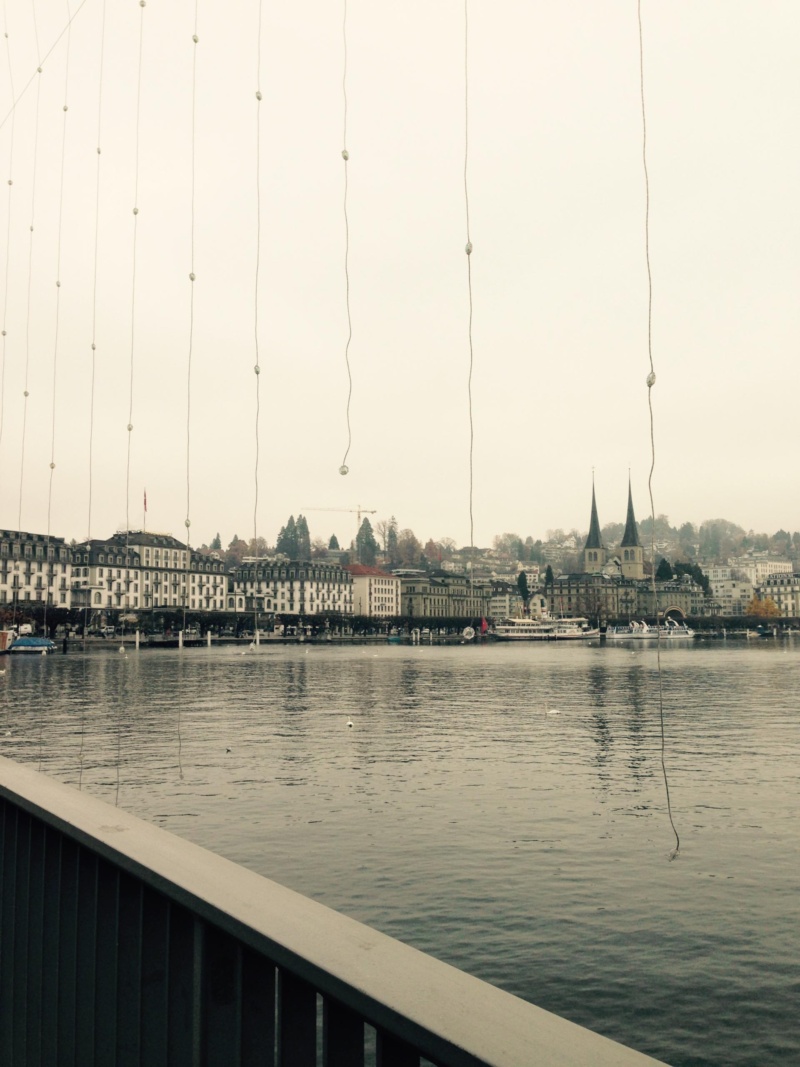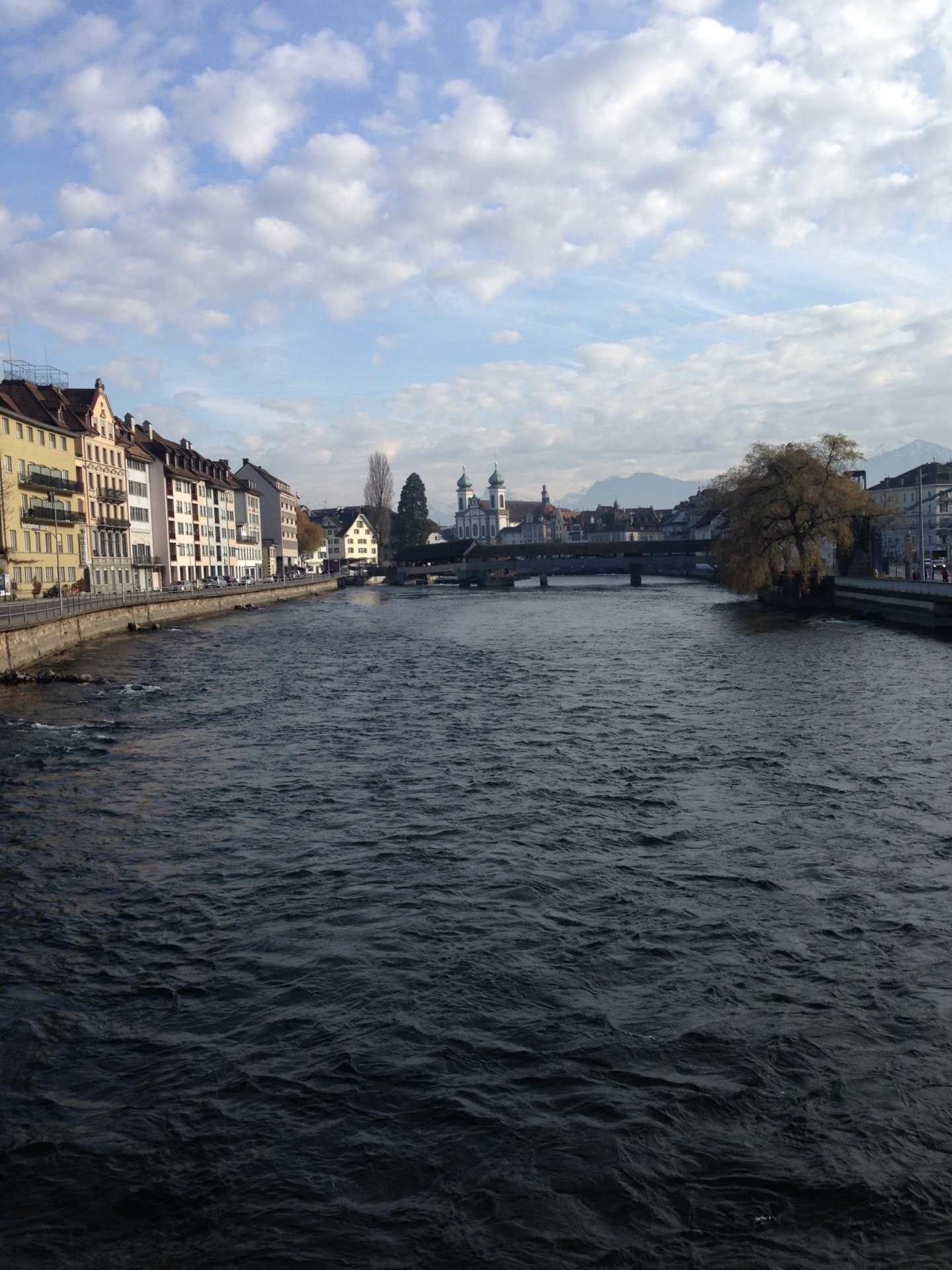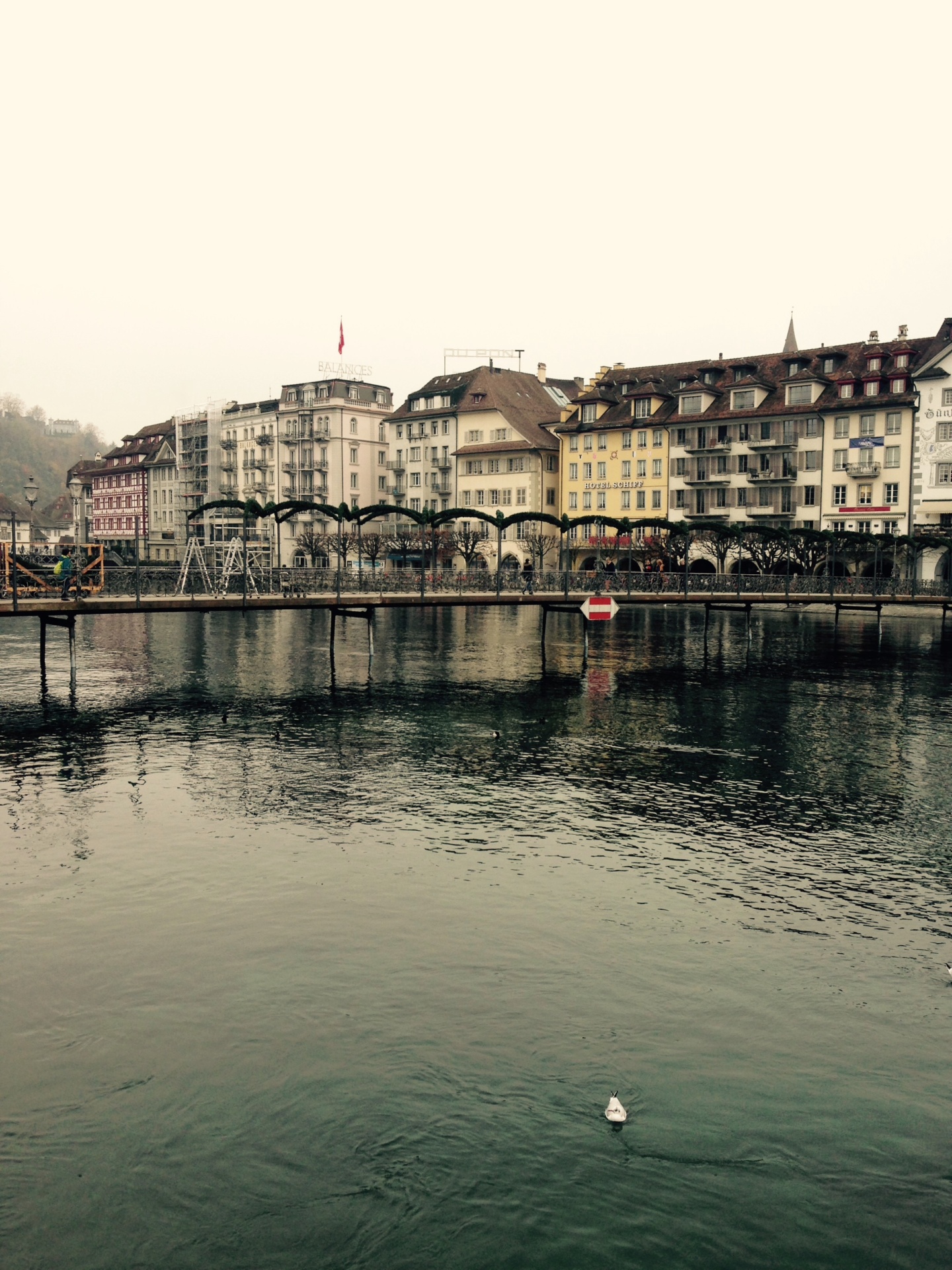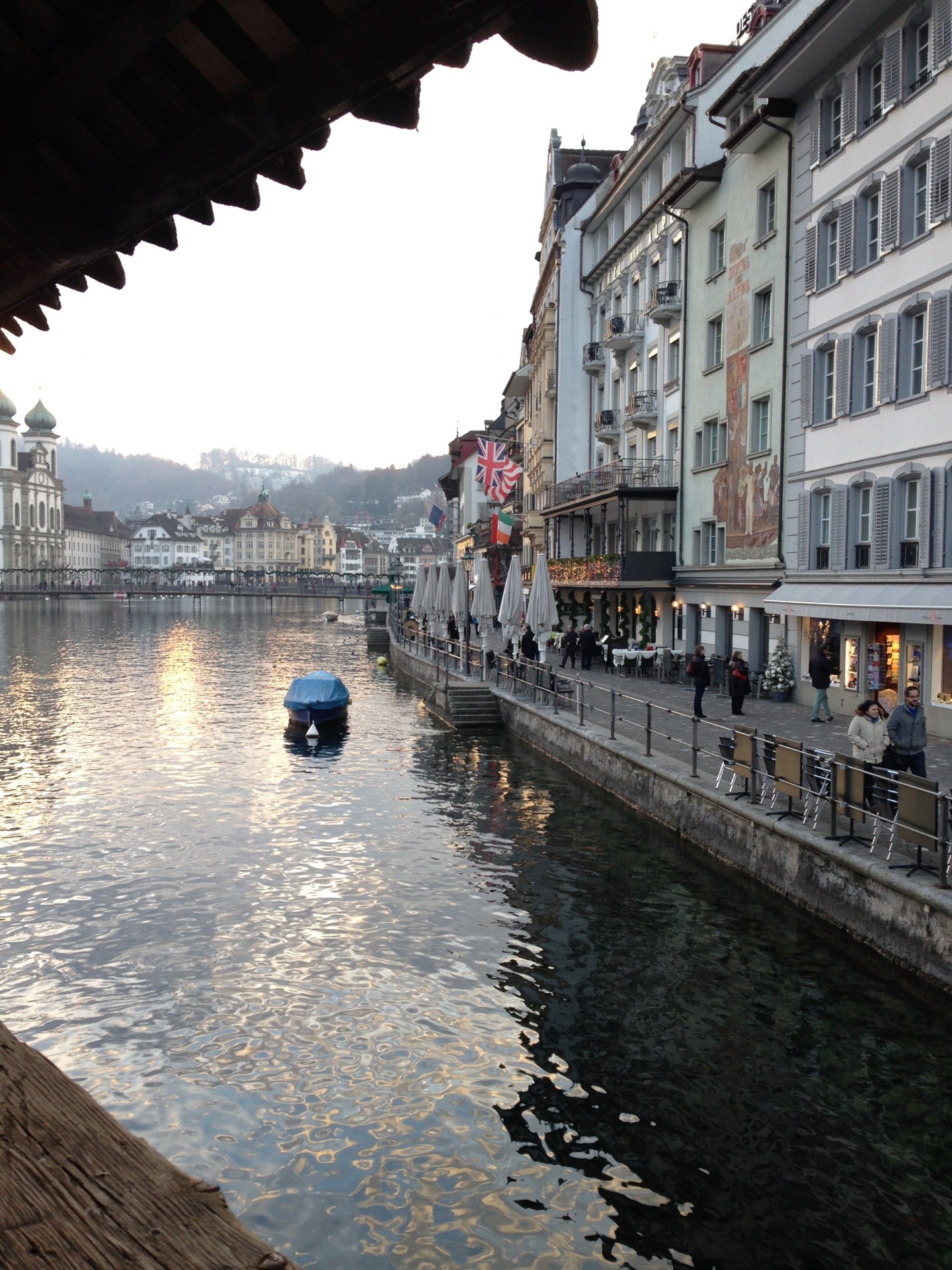 The views are just incredible!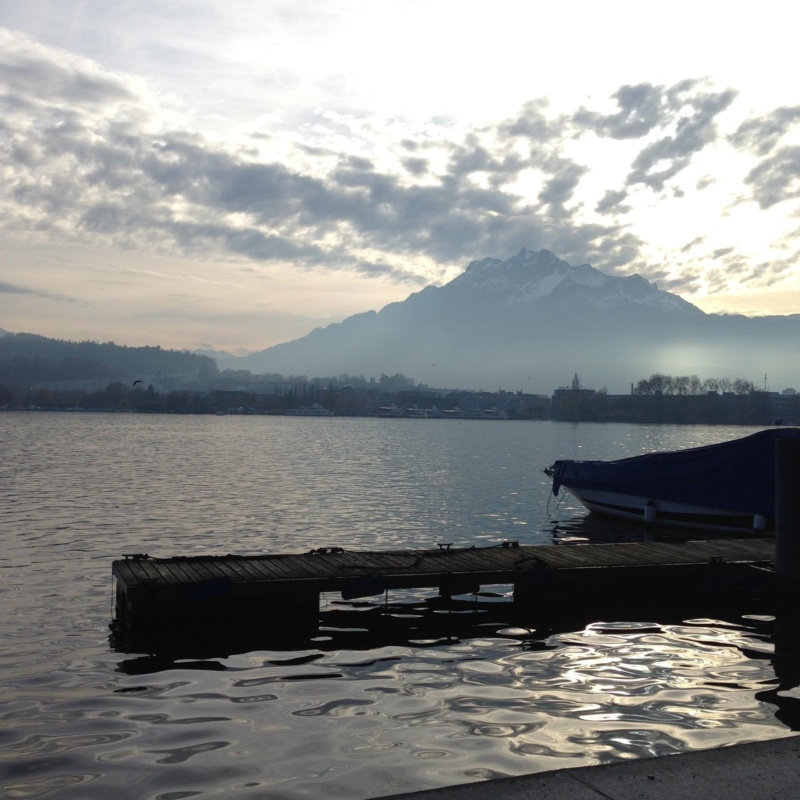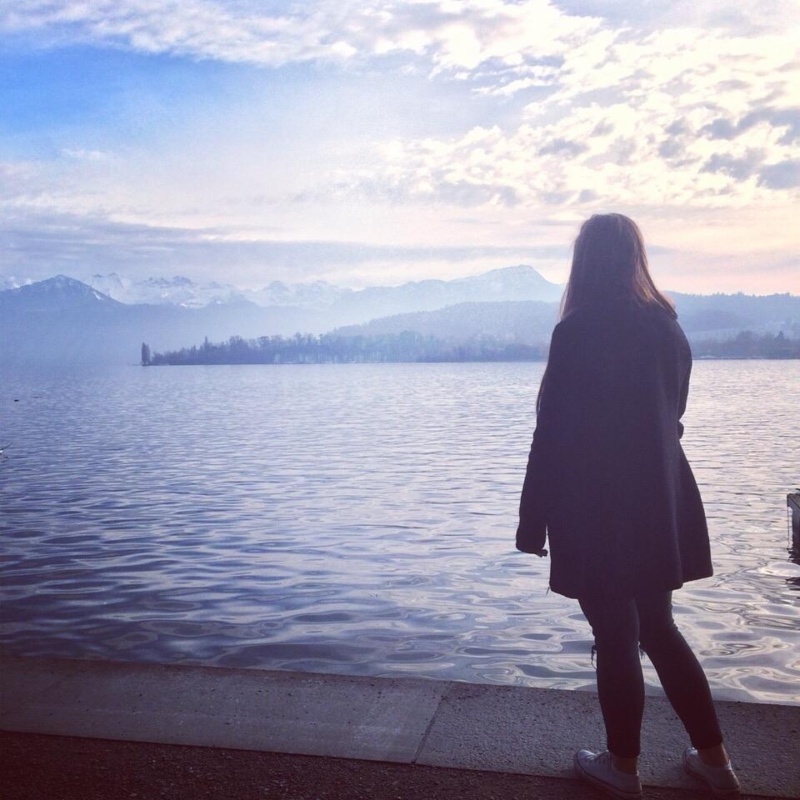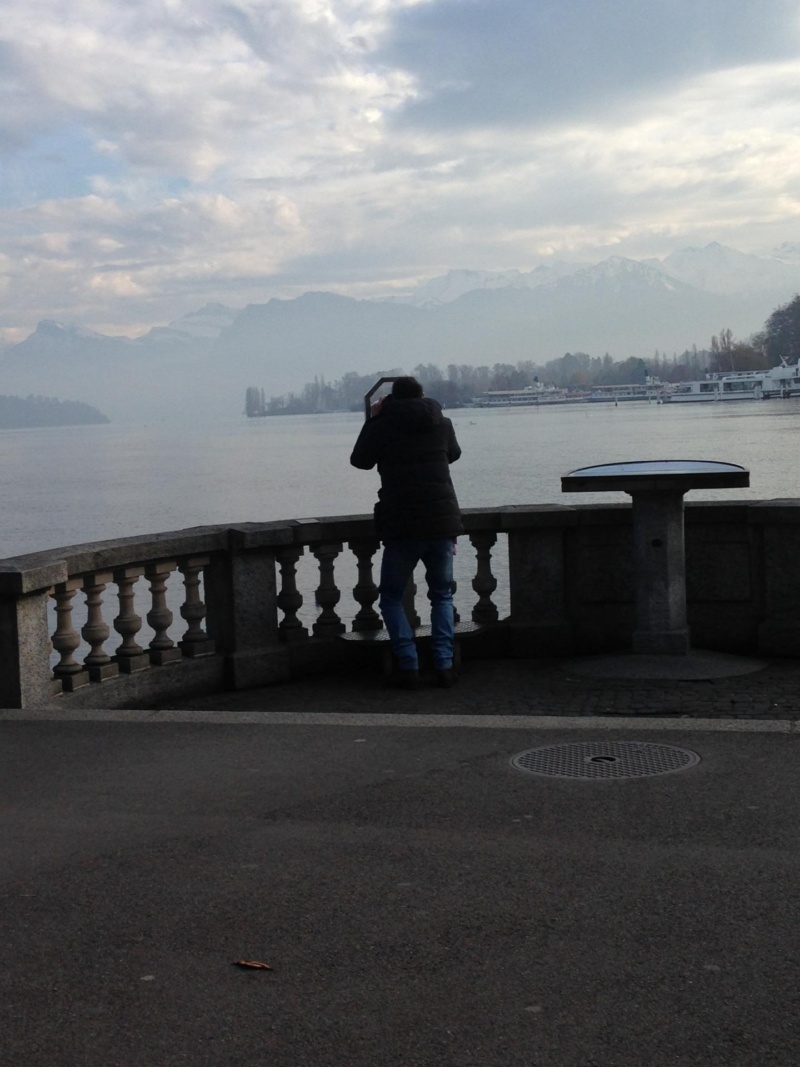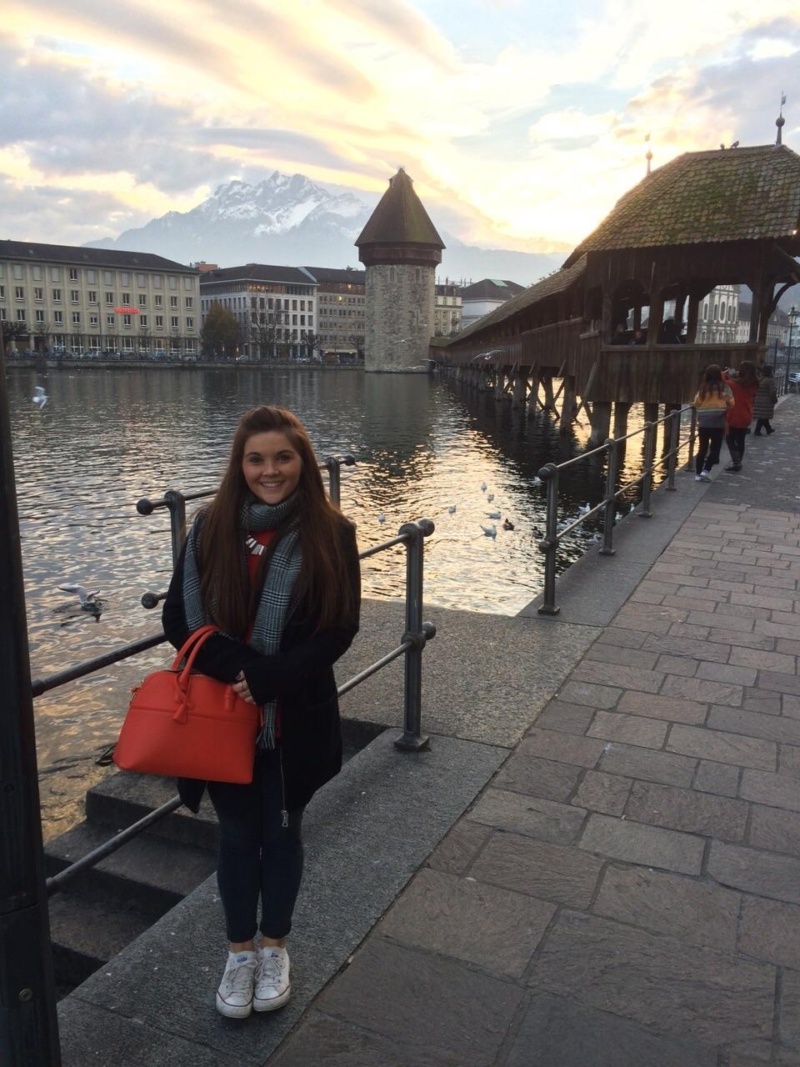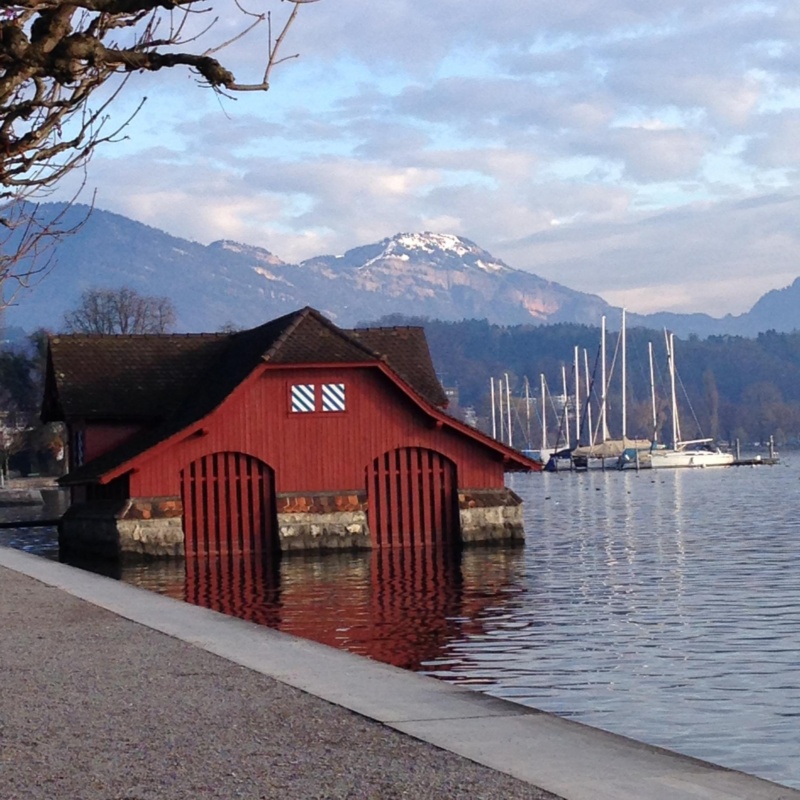 Lake Luzern with a beautiful back drop of the Alps behind, Old Town Lucerne with its many beautiful buildings, Glacier Garden (Gletschergarten) a cool museum very near to the Dying Lion of Lucerne Monument which we enjoyed whilst it rained, The Nine Towers has a beautiful view across Lucerne worth the walk.
The Nine Towers below has a beautiful view across Lucerne worth the walk. A part of the rampart walls built in 1386, the wall is still almost entirely intact. Three towers are open to the public: Schirmer, Zyt and Männli.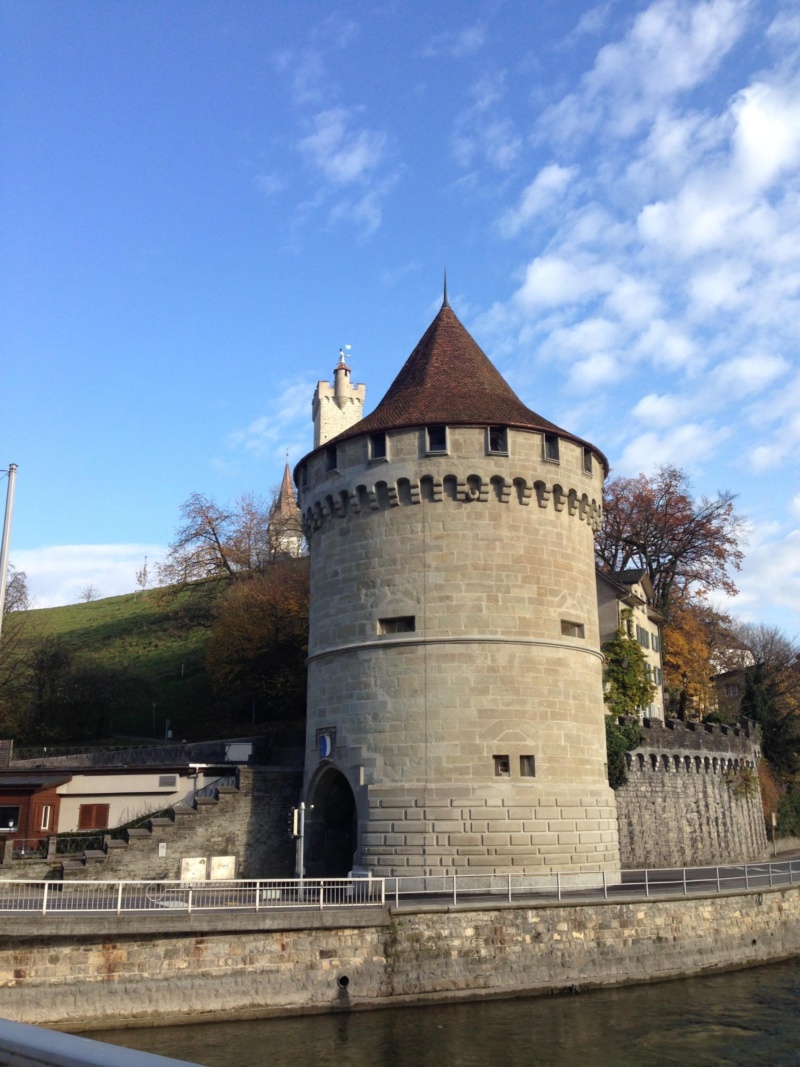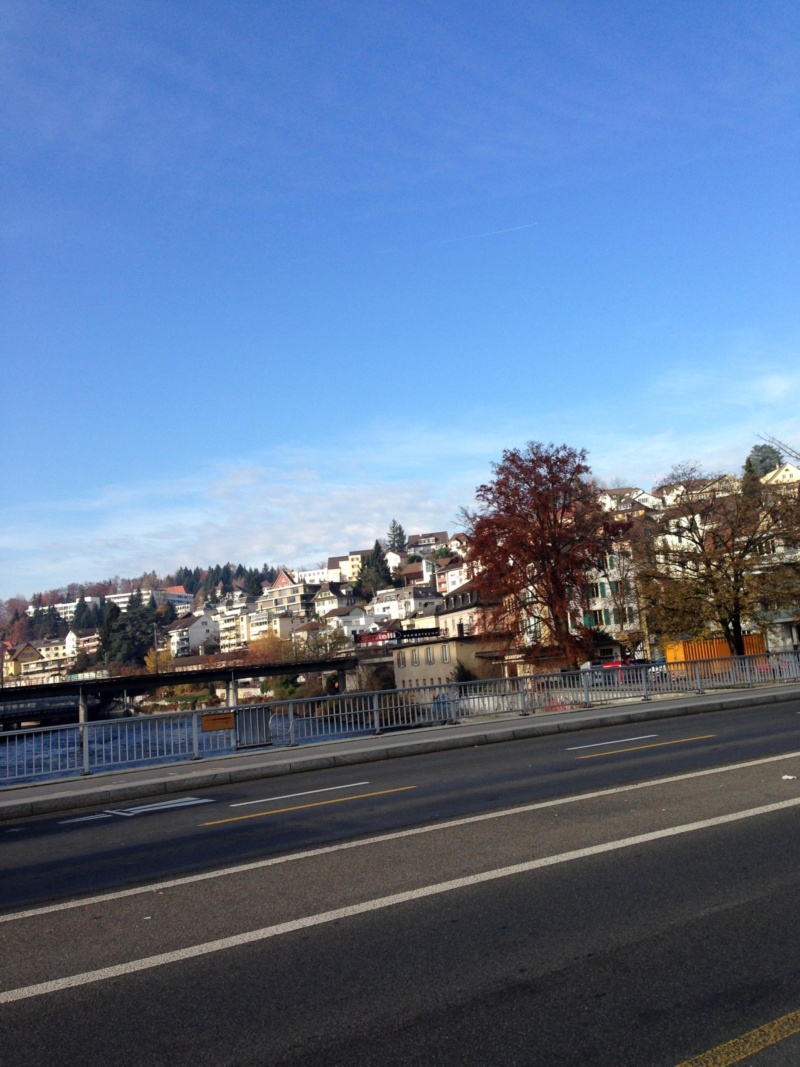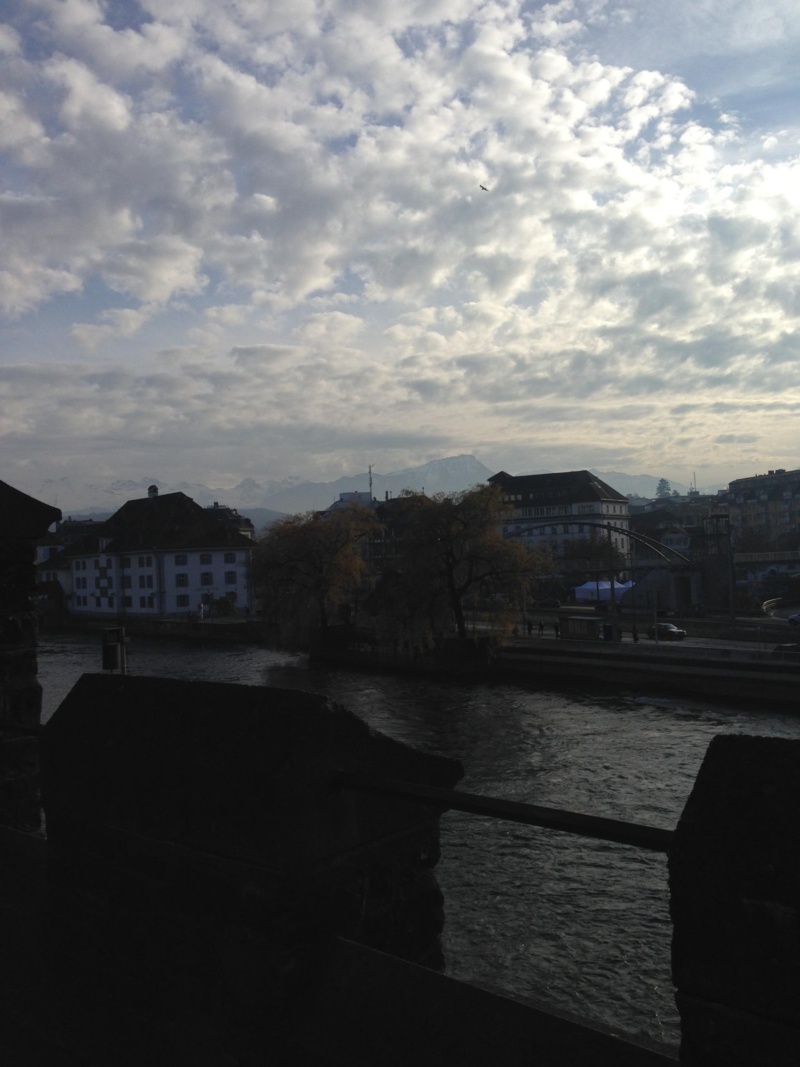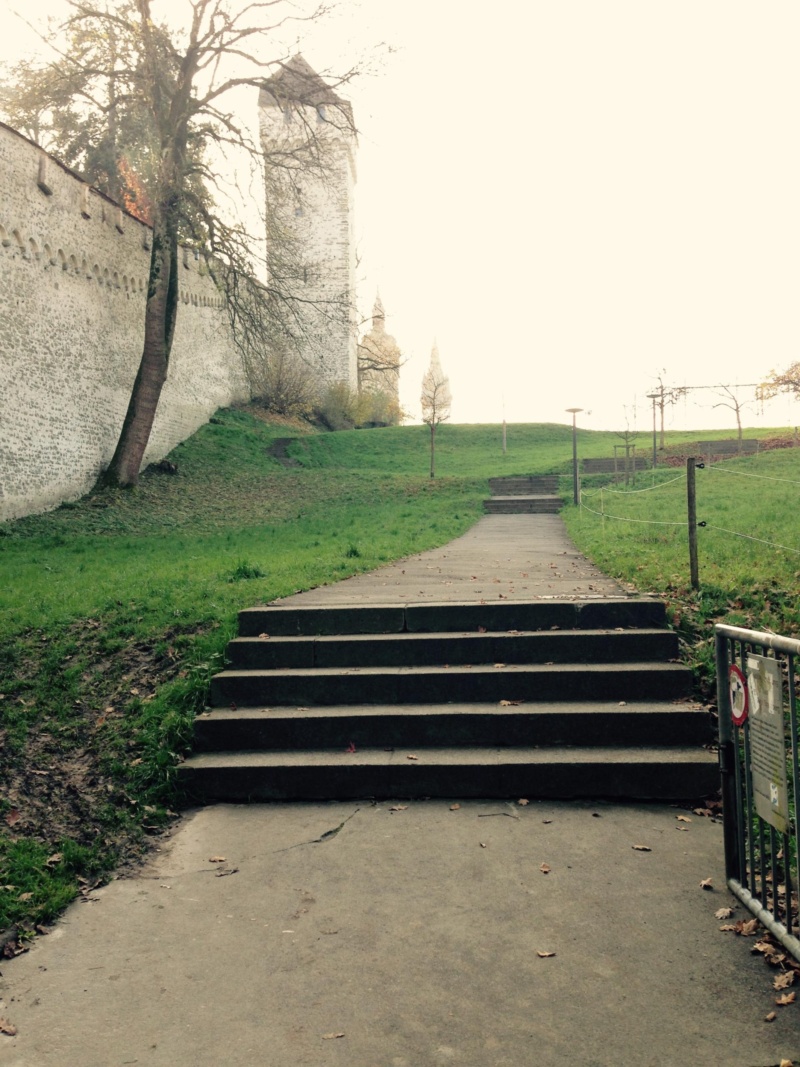 The Exploring continues…
After a day of adventuring around lucerne we headed out to the Christmas markets in the train station for a snoop around the stalls.
After a couple of mulled wines we went for an evening meal sampling cheese fondue at Rathous Brauerei, which was amazing and comes highly recommended.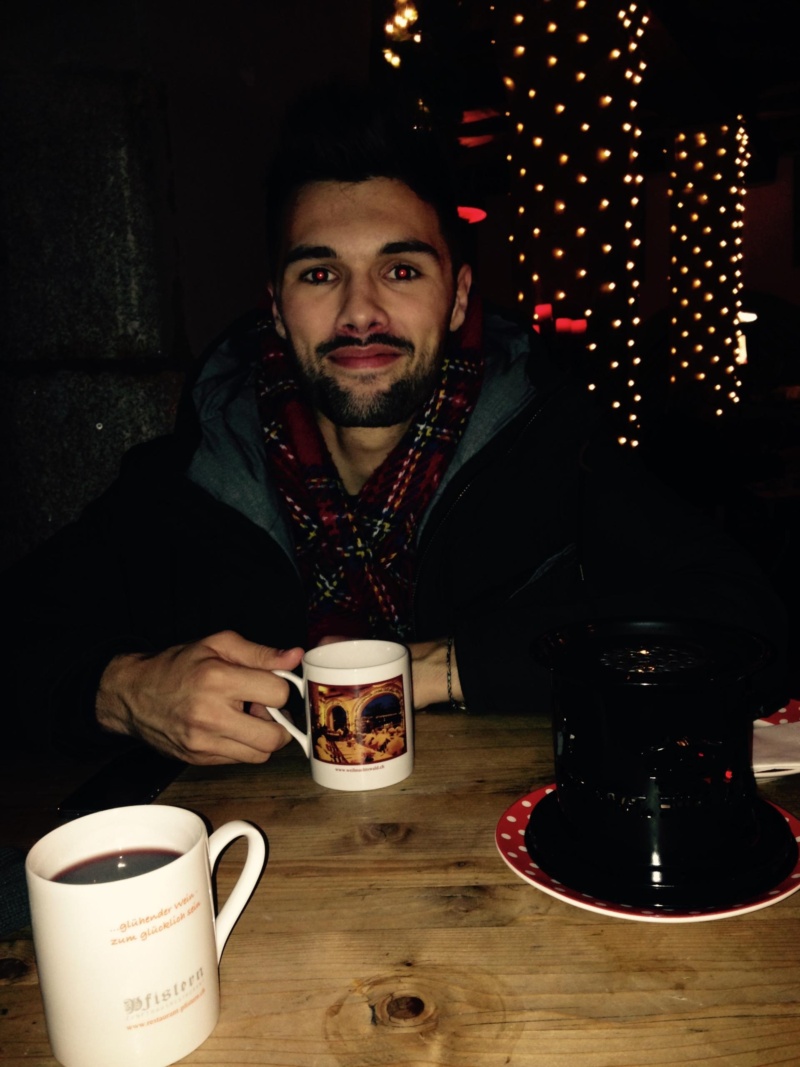 Sat outside along the River Reuss it was freezing out needing the much appreciated blankets, mulled wine and hot bean bags as well as our hot fondue to keep us warm. We loved this! You wouldn't be sat outside back home if you didn't have to!! But here in Lucerne, it was the norm with the outside areas busy and vibrant!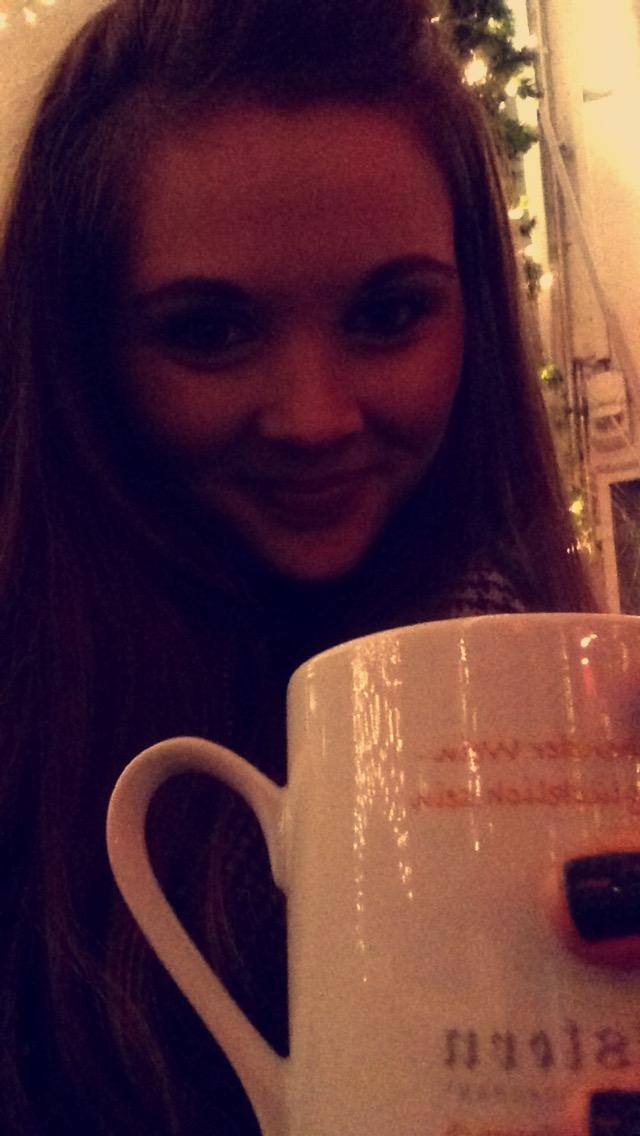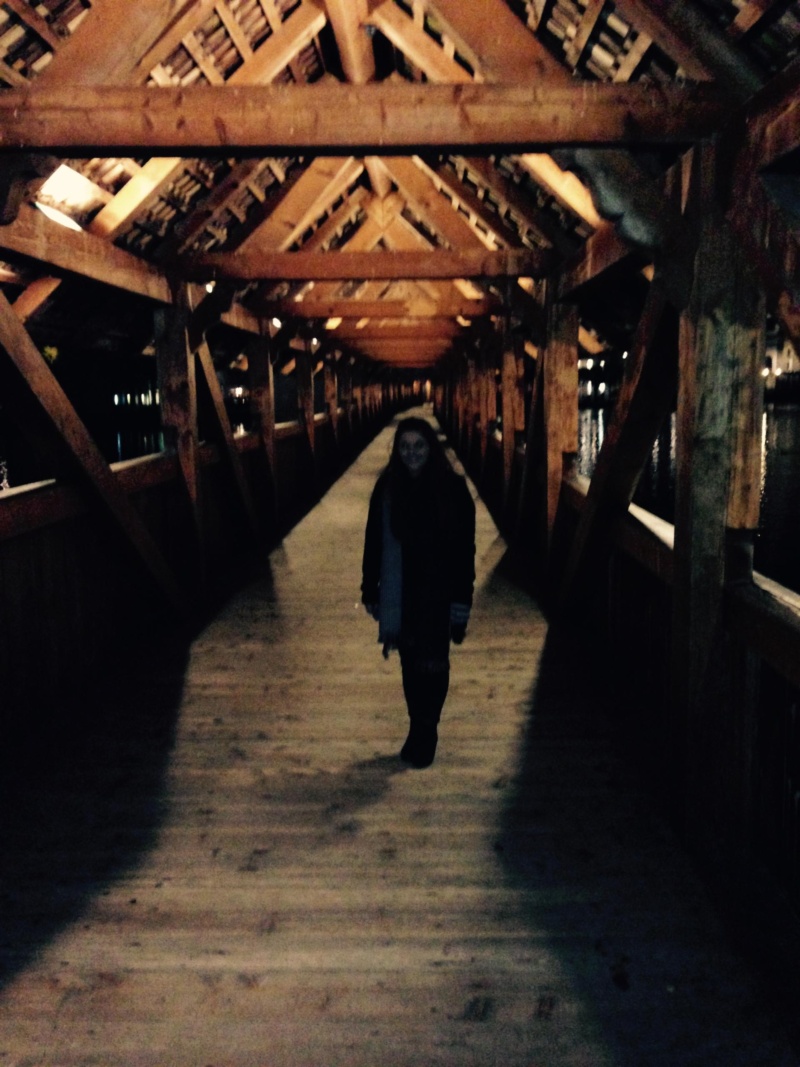 Adventure to Mount Rigi
On our last full day we decided to leave lucerne and take a day trip to Mount Rigi. We got the boat from Lucerne to Vitsnau.. which would have been amazing to photograph but it was so cloudy you coludn't see a thing!
on arriving we walked up to catch the Gondola up to Rigi Kulm and wow!! What a view!
I highly recommended this scenic route up the mountain!
With only a small covering of snow (as it was late November) on the mountain you were able to wander this level of the mountain taking beautiful photos! Surprisingly there is also a spa on this level to enjoy but we didn't bring our bikinis or trunks to get involved!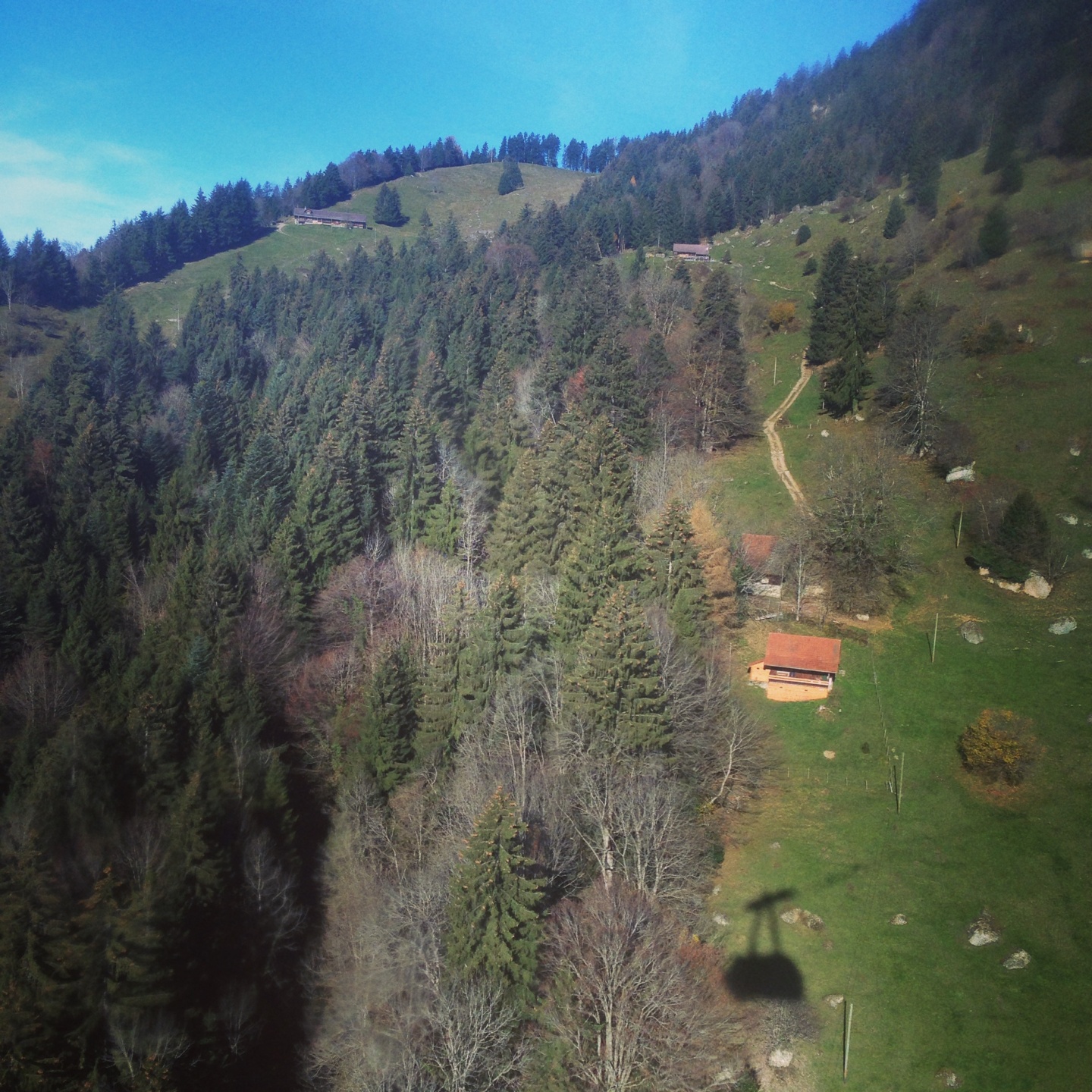 We caught the cog train up to the top… now this was one of the most scenic routes I have ever seen. If you find yourself in the area you must DO THIS! We ate lunch at the very top at a cafe sat outside and back down to the next level of the mountain.
The views up there are breathtaking!! Could not recommend this more to anyone considering it, it will be a place I will never forget. Take a look at the video of us going up the mountain on the cog train on my Instagram page!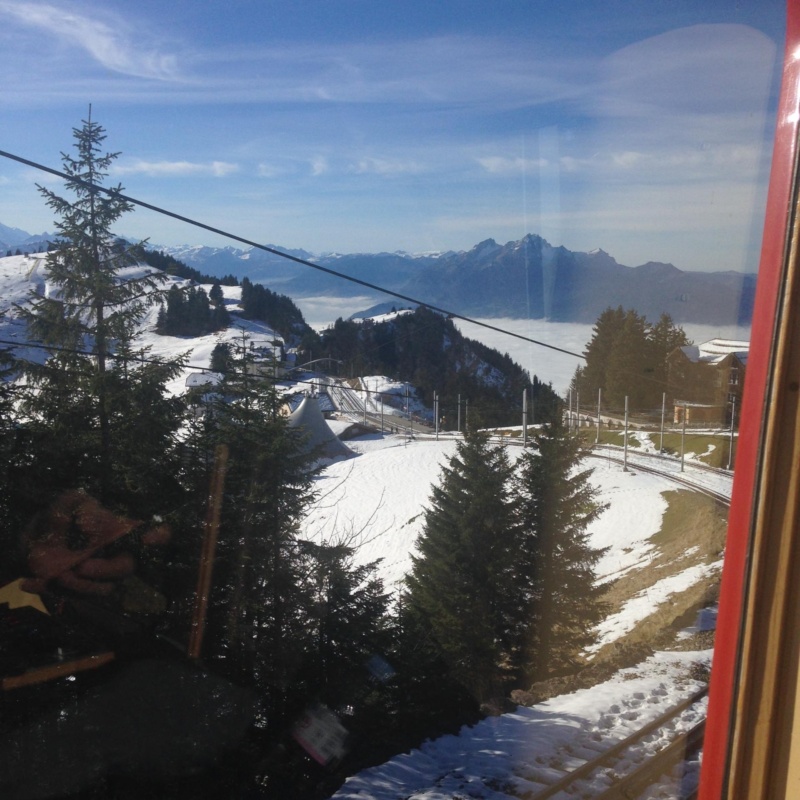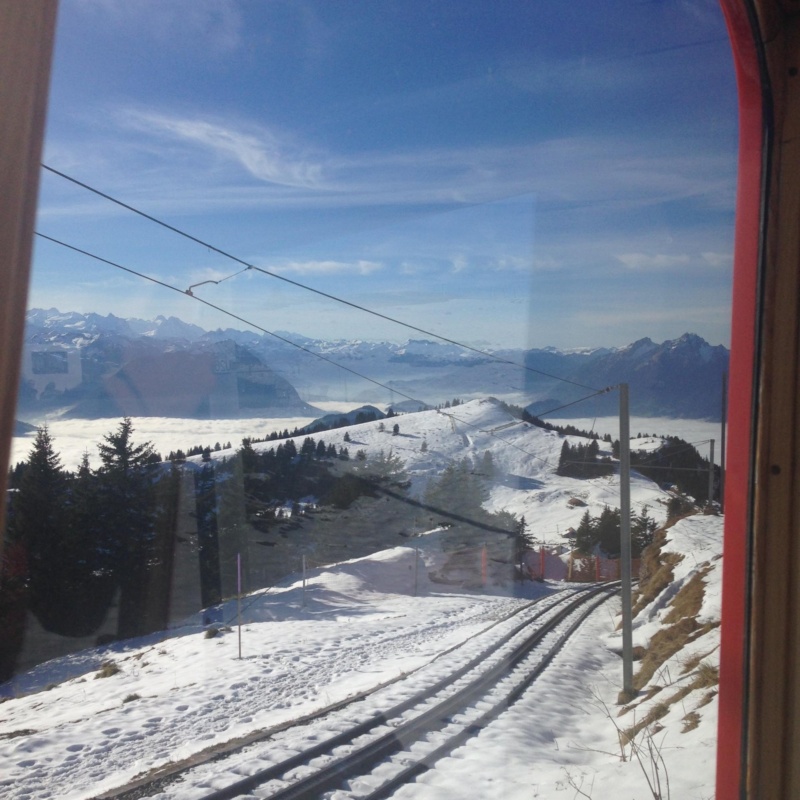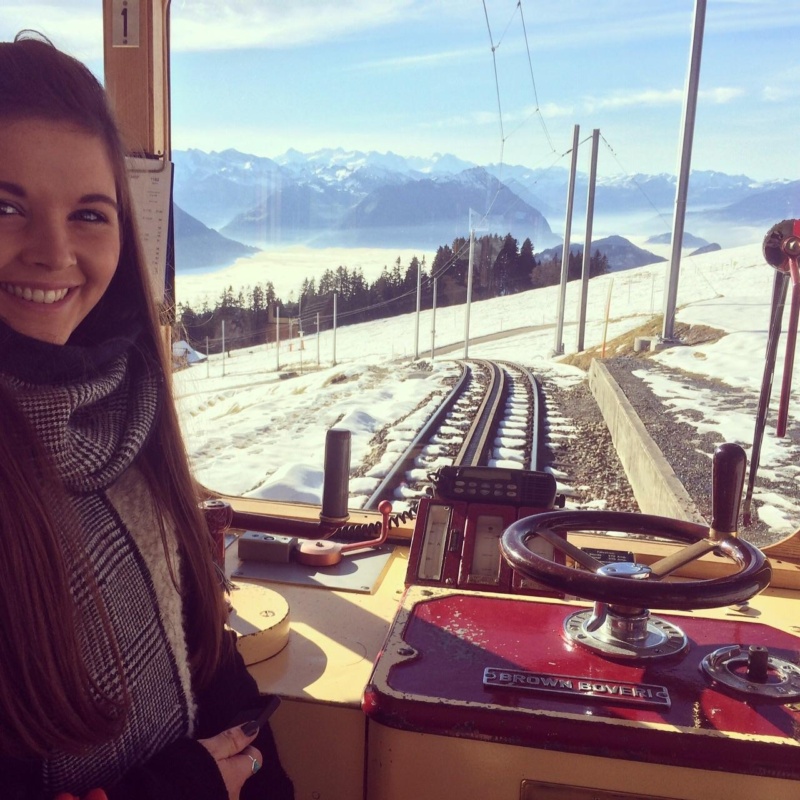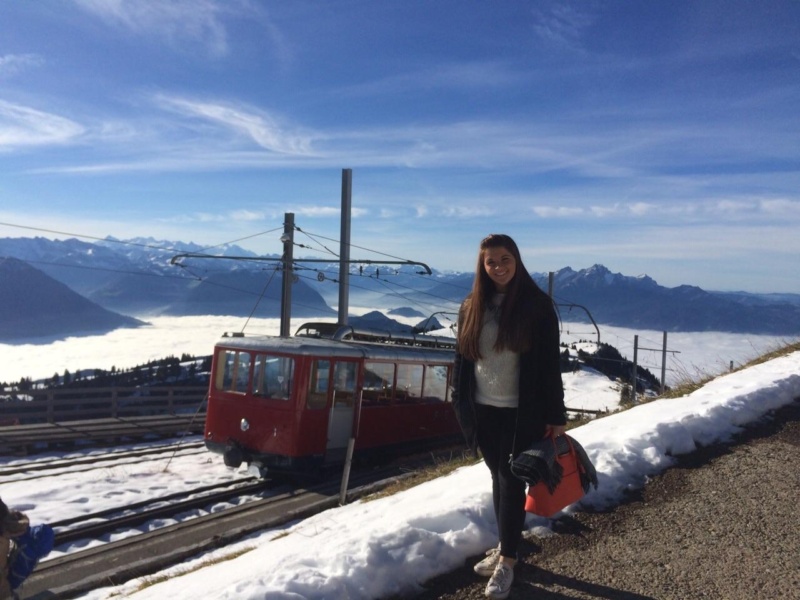 Upon getting off the train already the views were already impressive! I mean check these pictures out…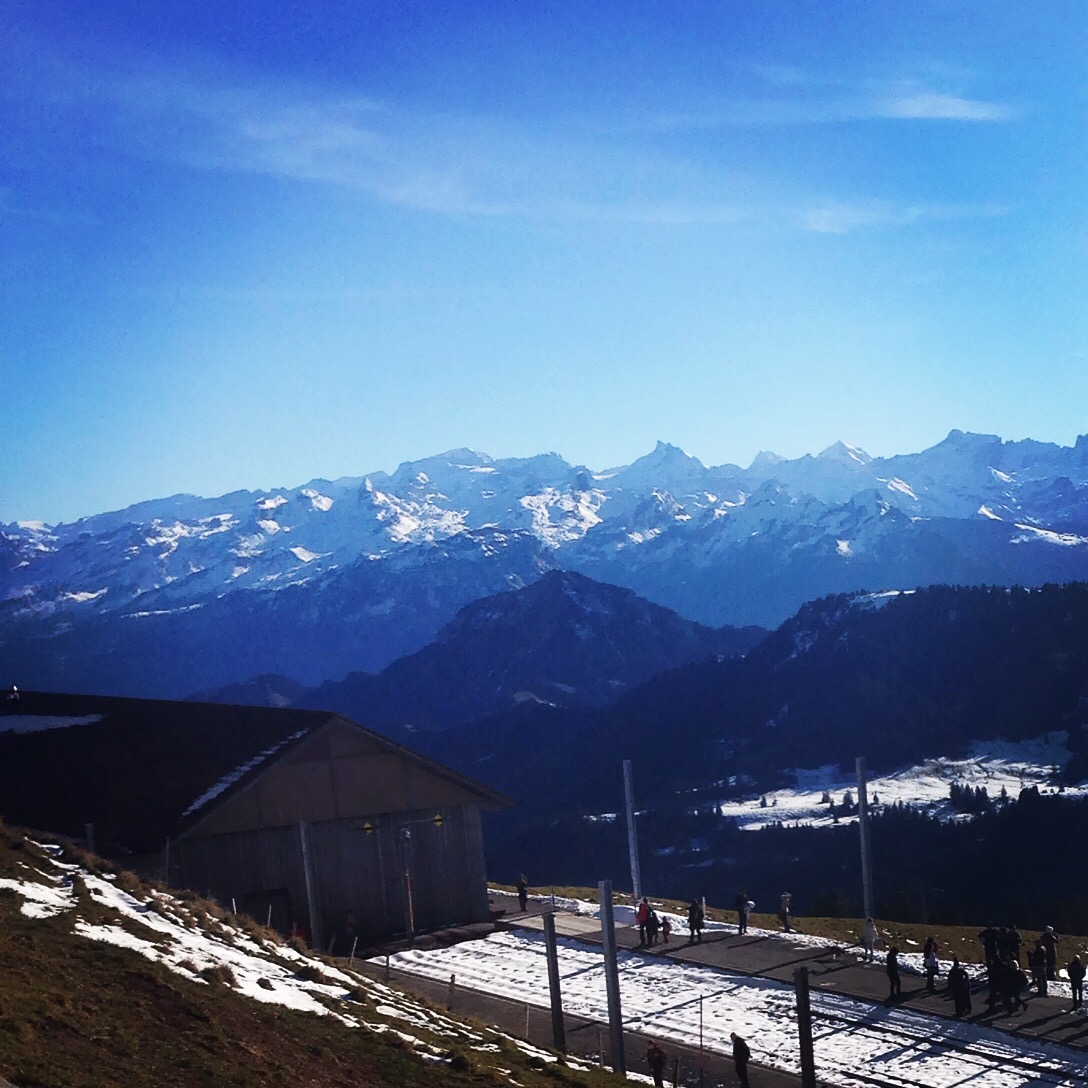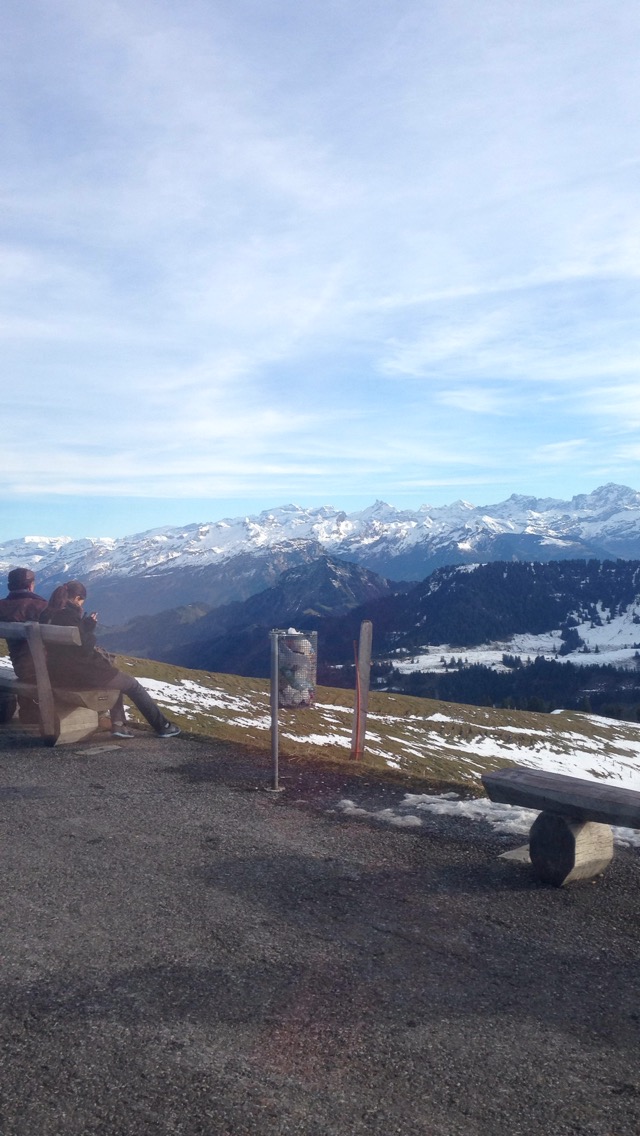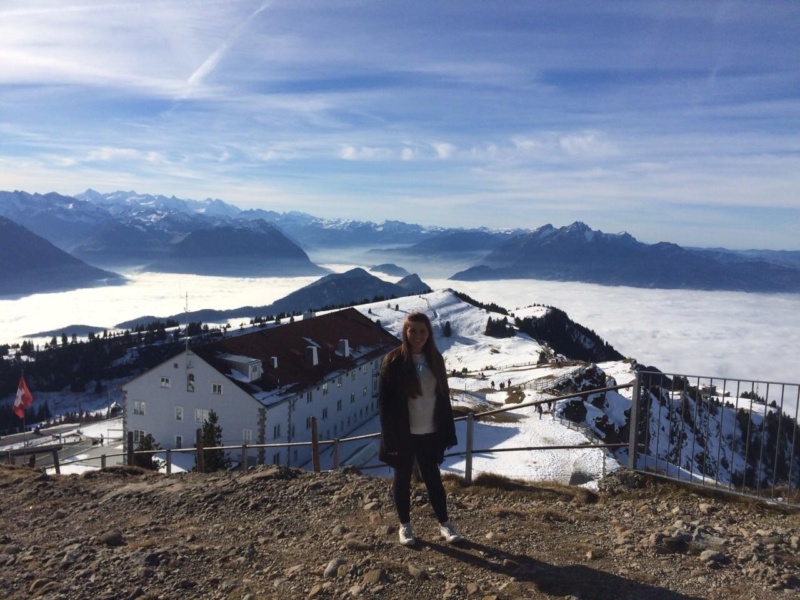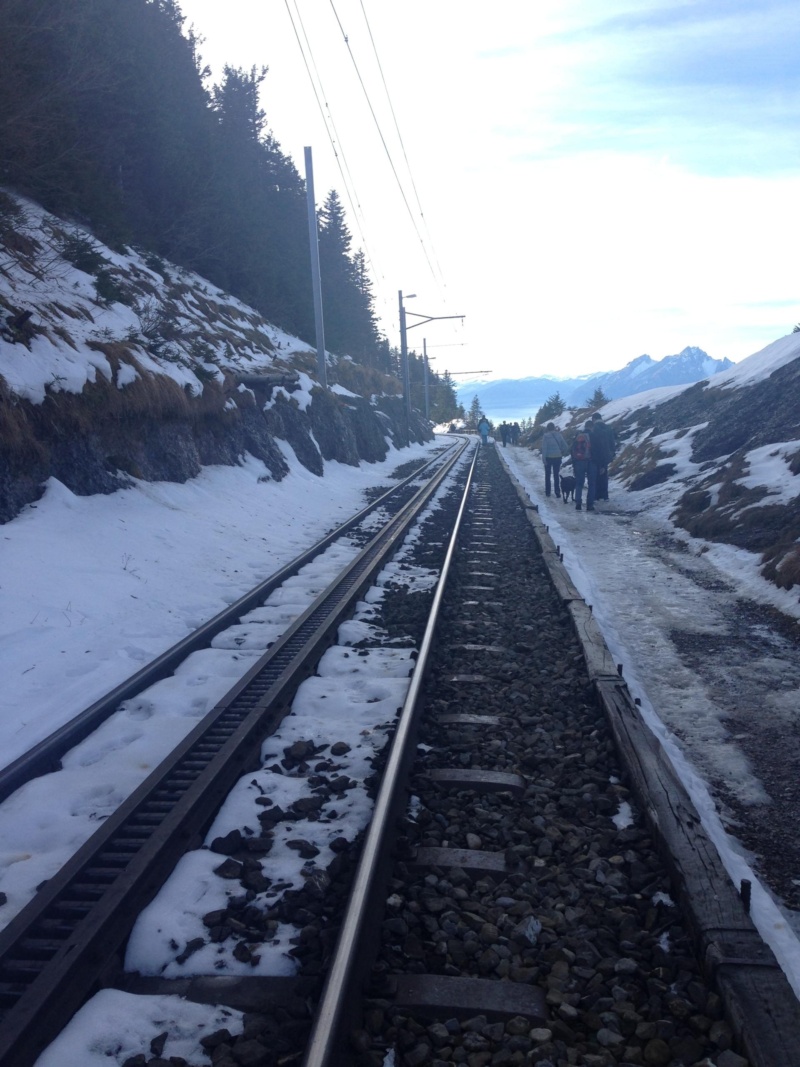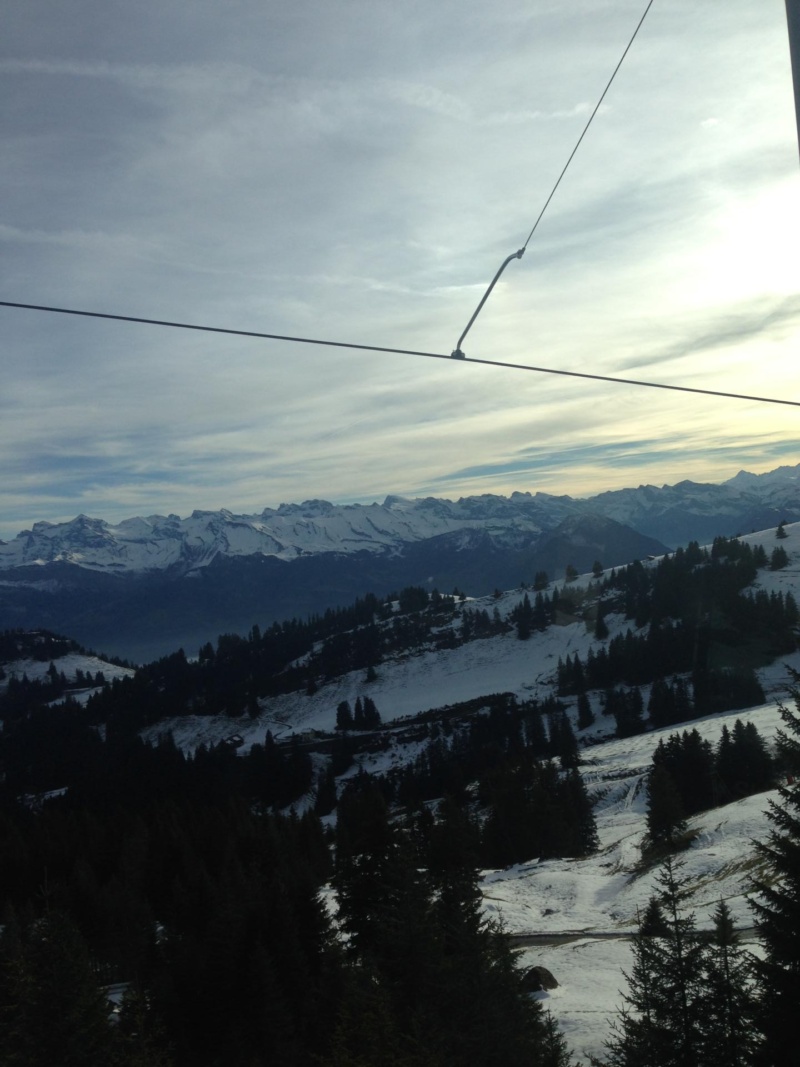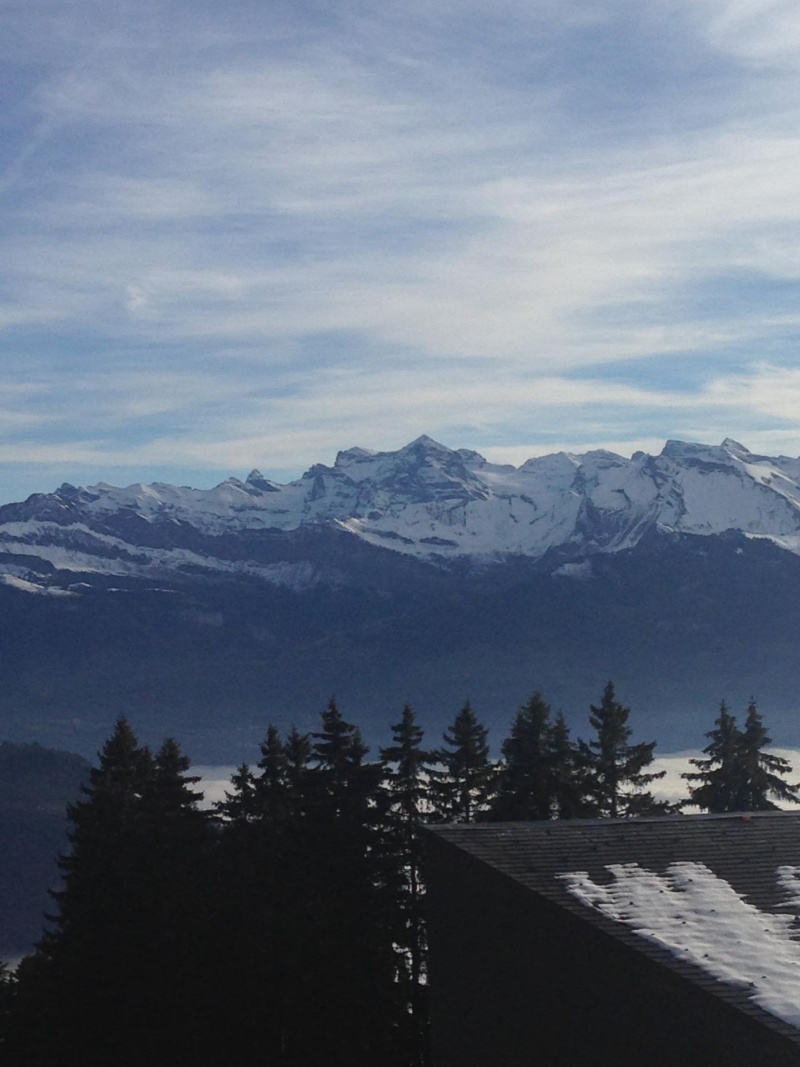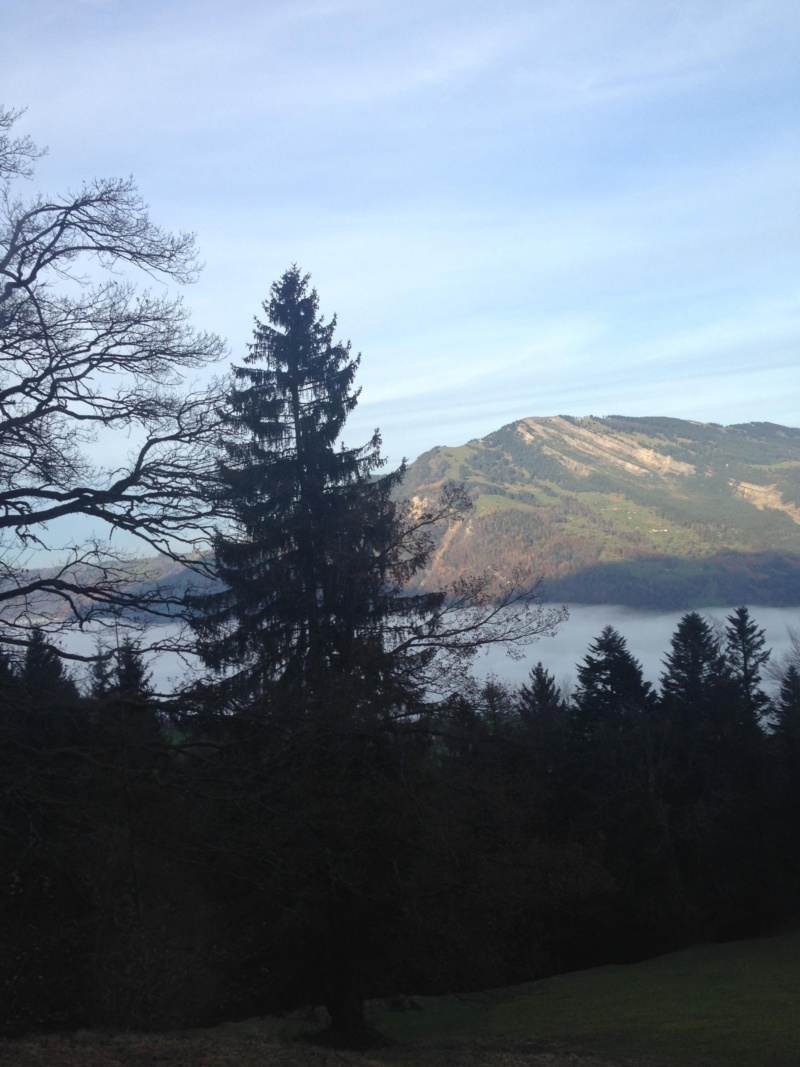 Post Adventure
Tired after the early start and adventurous day we needed feeding.. With us both craving pizza we headed out to an Italian we had spotted the day before Valentino, where we had a lovely meal and enjoyed mulled wine at the Christmas markets.
Heading back to Rathous Brauerei for a white chocolate fondue which was incredible. Our dipping choices were pieces of fresh fruit – so good! We then headed to and Irish bar along the river to catch the football that was on. Here a round of a local beer and a bottle of Magners set us back £18!!!
Last Few Hours in Basel
After the best few days in Lucerne, but we decided to spend our last few hours exploring Basel… it was quickly clear to us that this wasn't long enough! We wandered around the streets going to small cafes, looking in shops, eating more chocolate before heading home.
I would love to come back to Basel and spend more time here – which I am sure we will.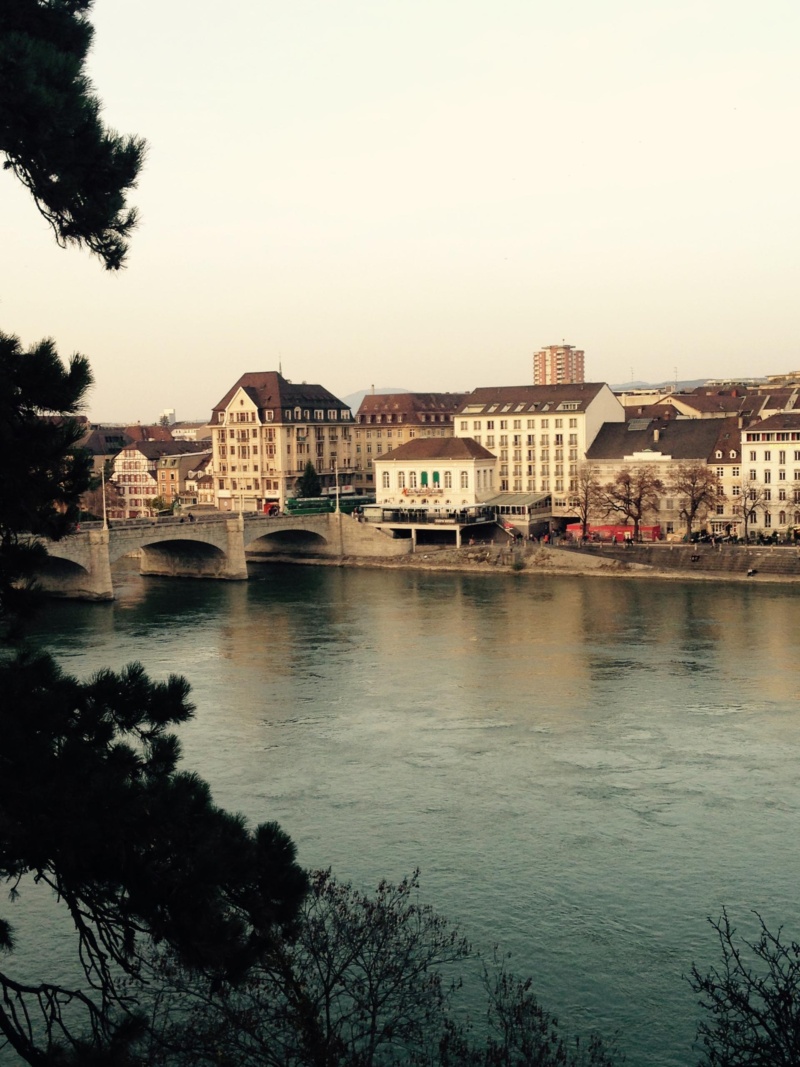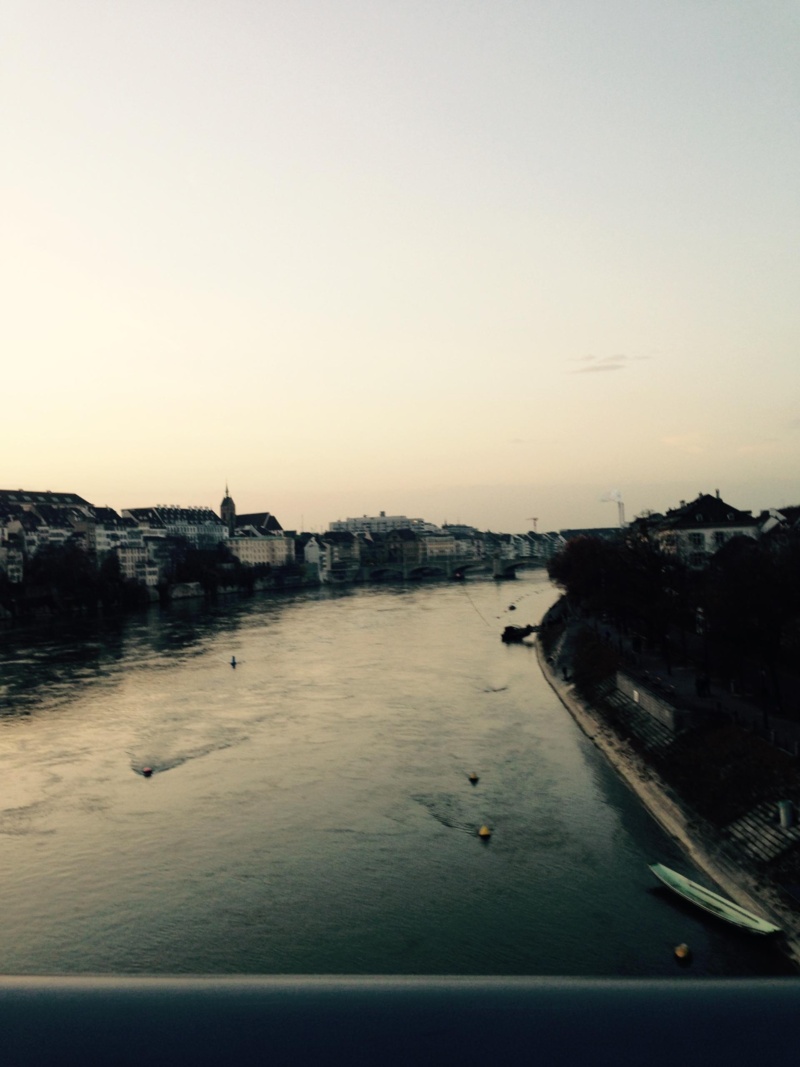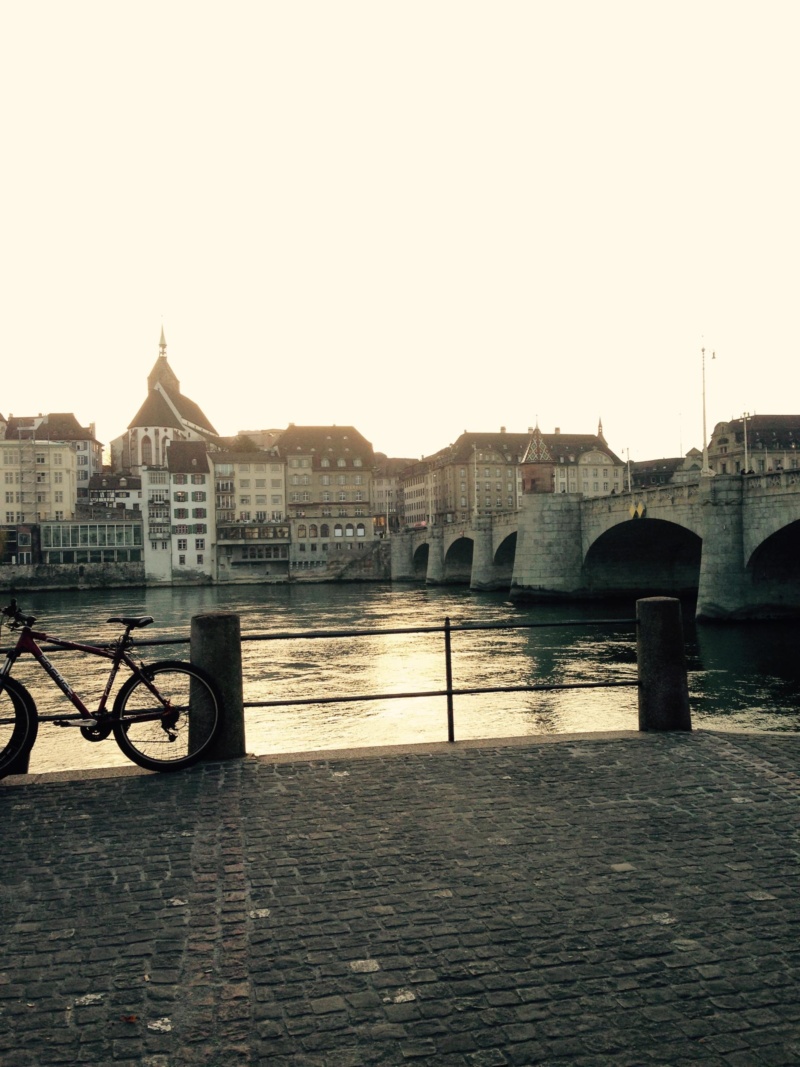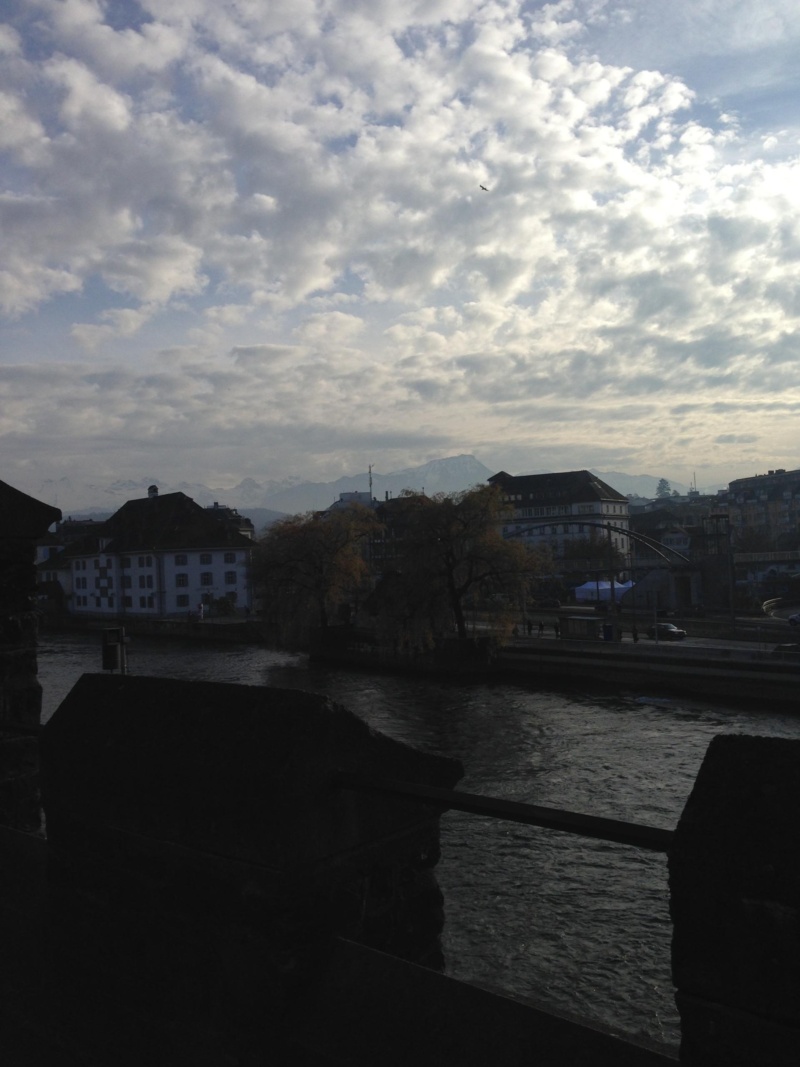 Thoughts on Switzerland
Lucerne in Switzerland has been one of my favorite places to date!!
It is picturesque setting, great shopping and of course the chocolate and cheese!!
I highly recommend visiting, although note we got a bargain with our flights and hotel. Switzerland as a whole is an expensive country and you will return with your bank accounts significantly lighter!! It is all worth it in my opinion! Advised for mid-range to luxury travelers.

Tweet me your experiences of Switzerland where you went and what you got up to in your time there!
---
Do you enjoy a festive break as much as I do? Why not check out my post about my time in Budapest? A weekend full of festive celebrations, eating at the Christmas markets, drinking mulled wine, sight seeing in the city and soaking in the roman baths!
---
For more of WanderlustBee's Europe Trips check out my other posts including Poland, Spain, Hungary and Ireland
---
Thanks for reading
Bethan
xox