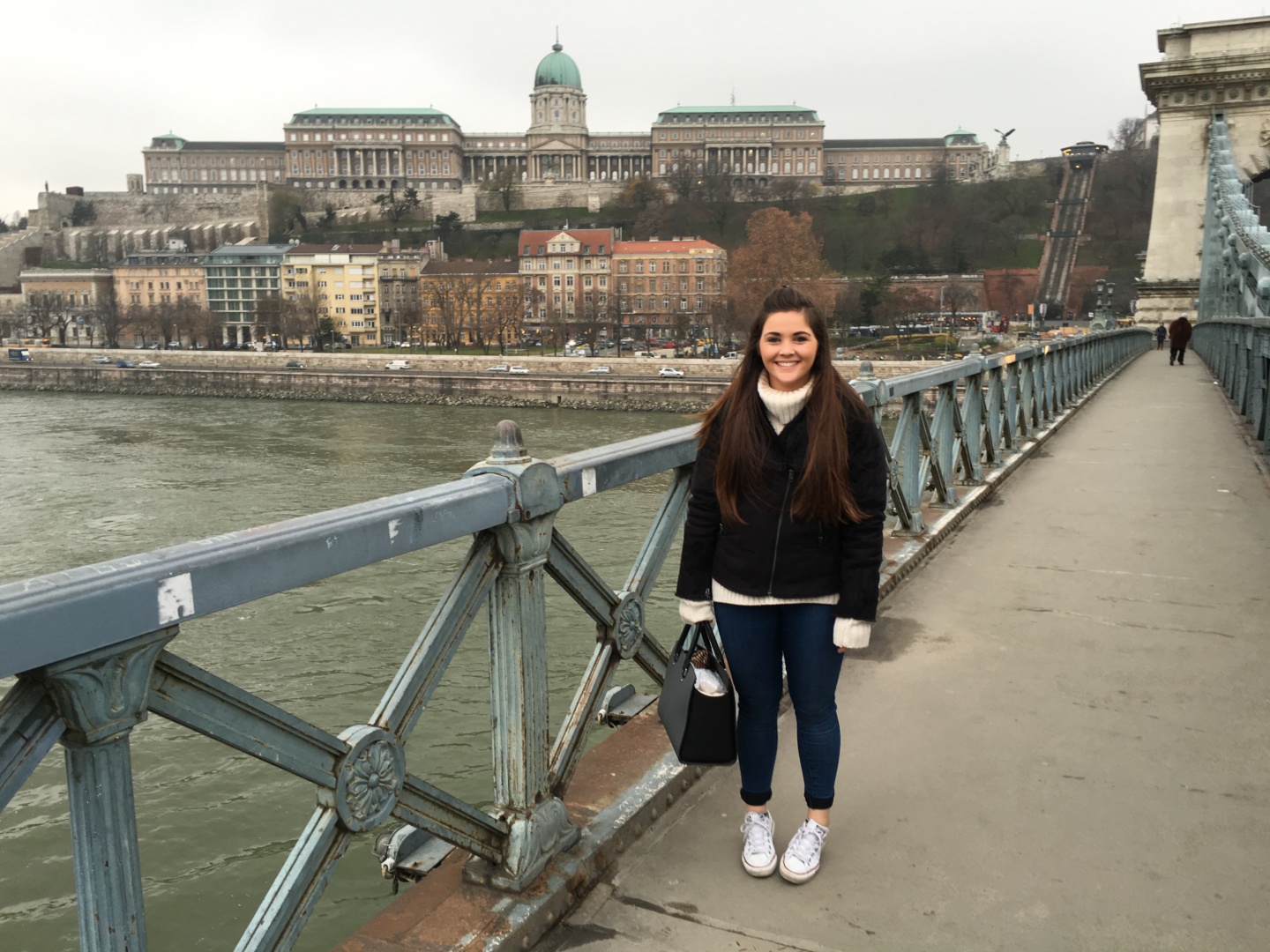 A five day break in Budapest whether in summer or winter this city is incredible no matter your budget. We chose to go for a weekend that was full of festive Christmas celebrations, eating at the Christmas markets, drinking mulled wine, sight-seeing and a soak in the roman baths.
Flying with Jet 2 (for the not so cheap price of £132- but it's cheap there so that cancels this out right?)
Where we Stayed
We booked with (of course) booking.com and chose to stay at the Hotel Zenit Budapest Palace due to its great location in the city (a two minute walk from the Christmas markets and shopping – ideal). The hotel is modern and stylish and only 50metres from the river Danube.
It's always a struggle searching for wi-fi on holiday making it difficult to use your maps and sharing your photos! The hotel offer a portable wi-fi device which you can use around the city – I think this cost around £5 a day… but worth it compared to your network charges!
Arriving later on we headed… you guessed it straight to the Christmas markets on Vörösmarty Square. Wow what a scene, stalls offering anything you can imagine from chimney cakes, strudel, beef stew served in amazing hollowed out bread bowls, hot wines or ciders and cheese! Besides the food stalls, there were plenty of Christmas decorations, bags, hats, scarves, gloves.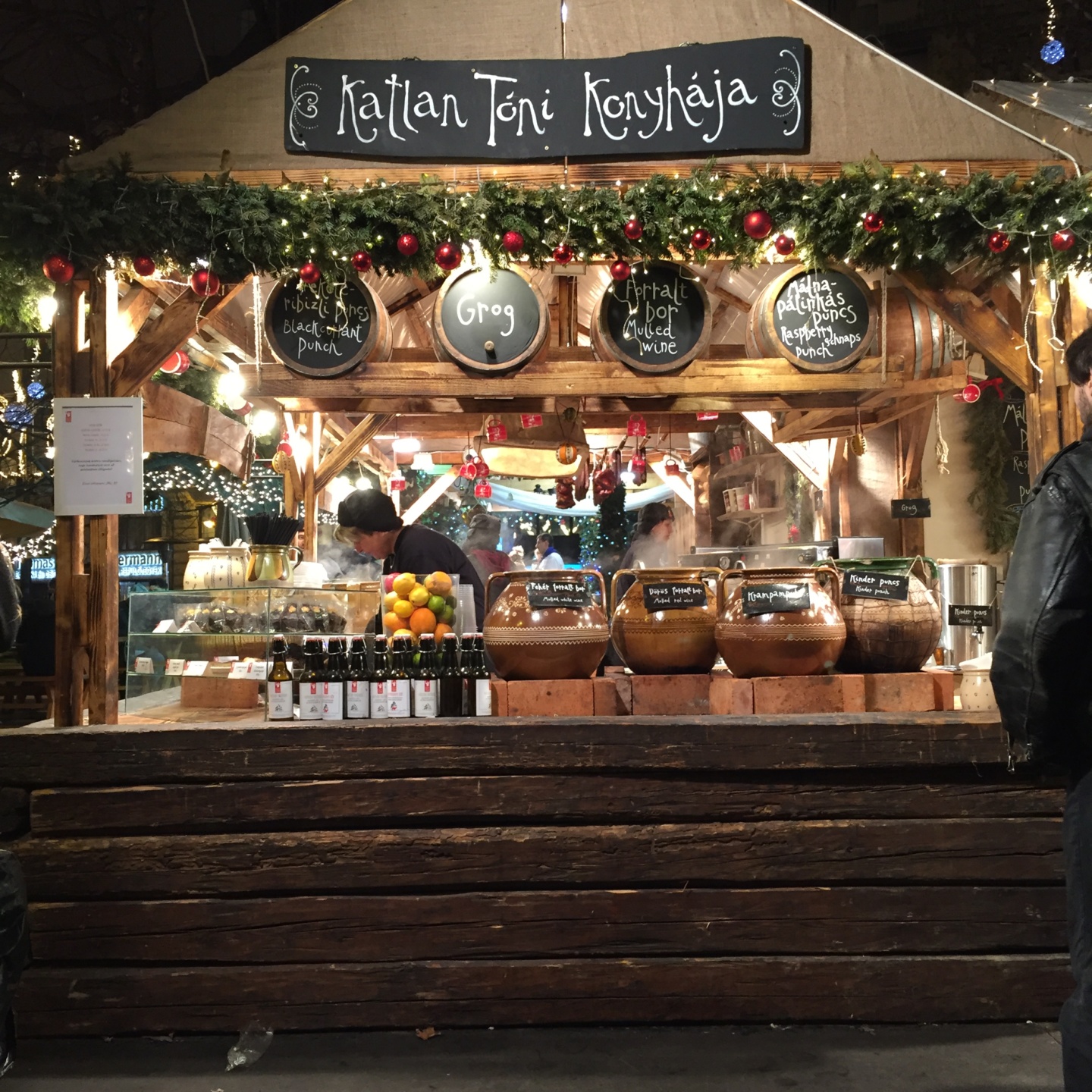 Top Sights To See
Chain Bridge is a spectacular sight not to be missed at day or at night in this beautiful city, it connects Buda to Pest across the river. There are great views from the Pest side of the city!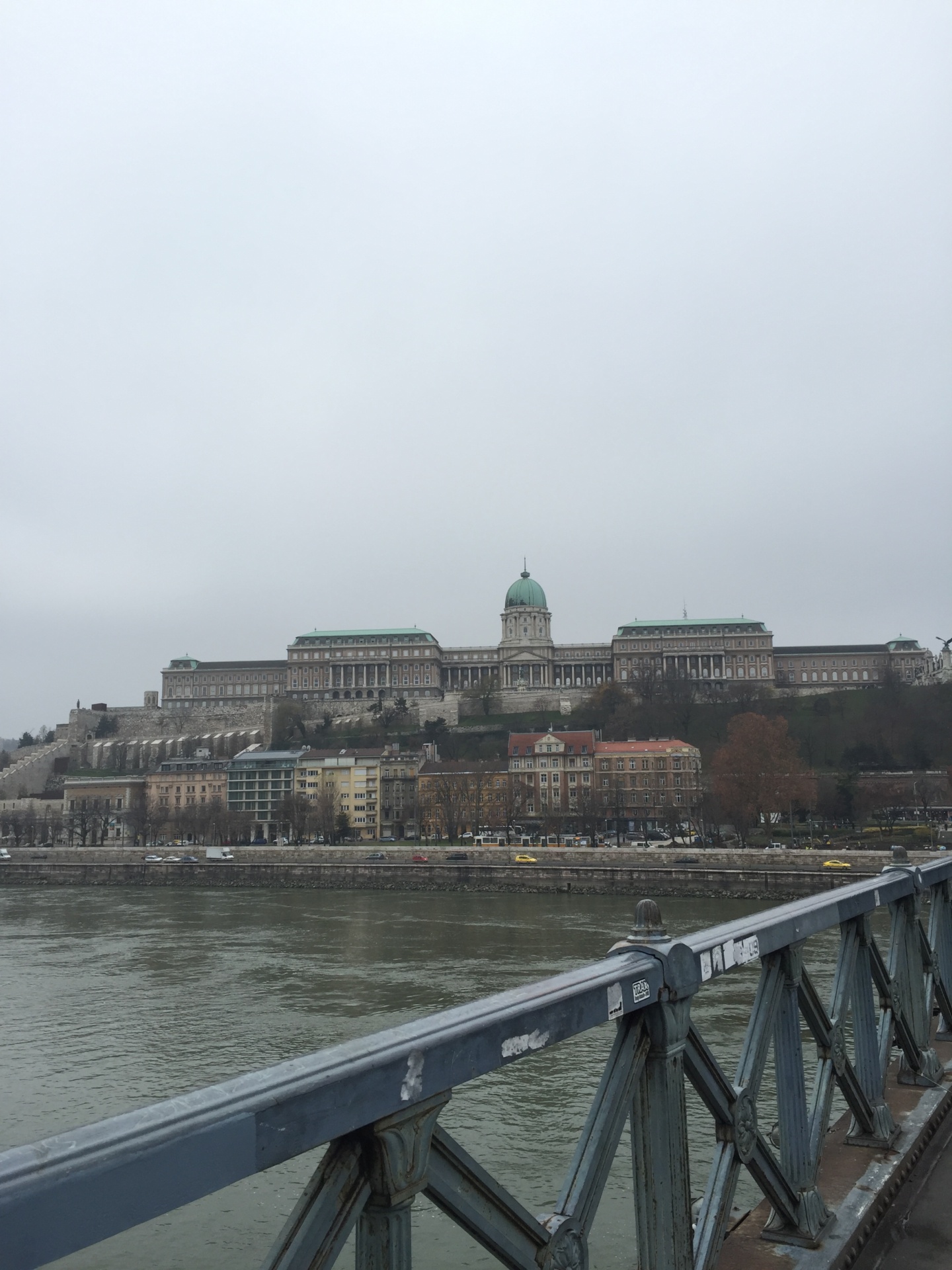 Vörösmarty Square can be found in the heart of Budapest at the northern end of Vaci Street. The main attraction here being the Gerbaud Cafe and the host to the Christmas markets.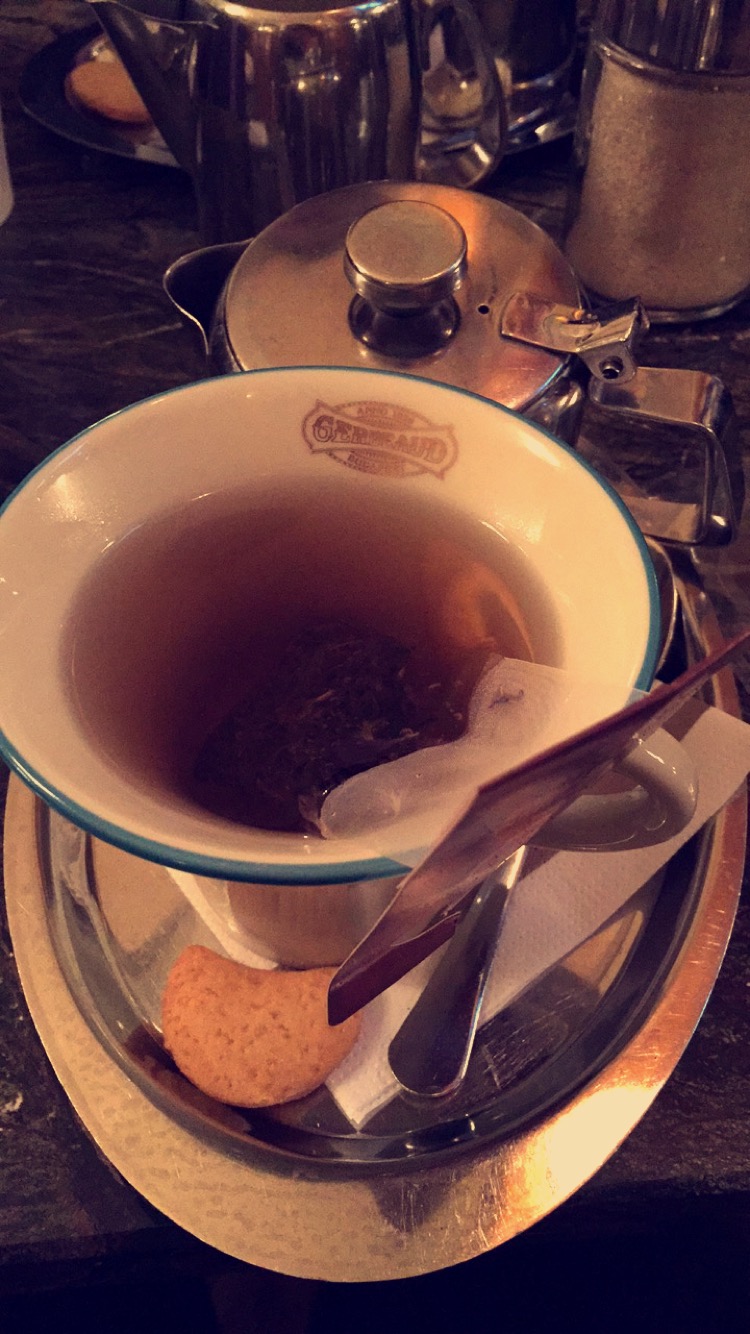 Gellert Spa
Visiting one of the many grand baths and spa's, we visited The Gellert Spa which is probably the most well known of the most famous thermal spa baths in Europe, and one of the leading natural hot spring spa baths in Budapest.
It was brilliant, famous for its lovely warm spring water pools, its architecture, and also for its spa treatments, and pampering massage therapies at reasonable prices. I could not recommend this more – The outside pool being my favourite (…except when you have to get out and run for your towel when its starting to snow!!) The pools are busy with some sights that will stick in your memory!
I highly recommend this you will love every minute of it as we did. It was £15 each for a day pass and access to all the thermal pools – and there is a café on the top floor.
Visit Castle Hill – there is a bus route up there but we chose to walk. Here you can find The Halászbástya or The Fishermans Bastion which you have probably seen in photos.. it is a fairy tale like towers, from here you will have beautiful panoramic views of the city as I mentioned before. These two places and the Gellert Baths are on the Pest side.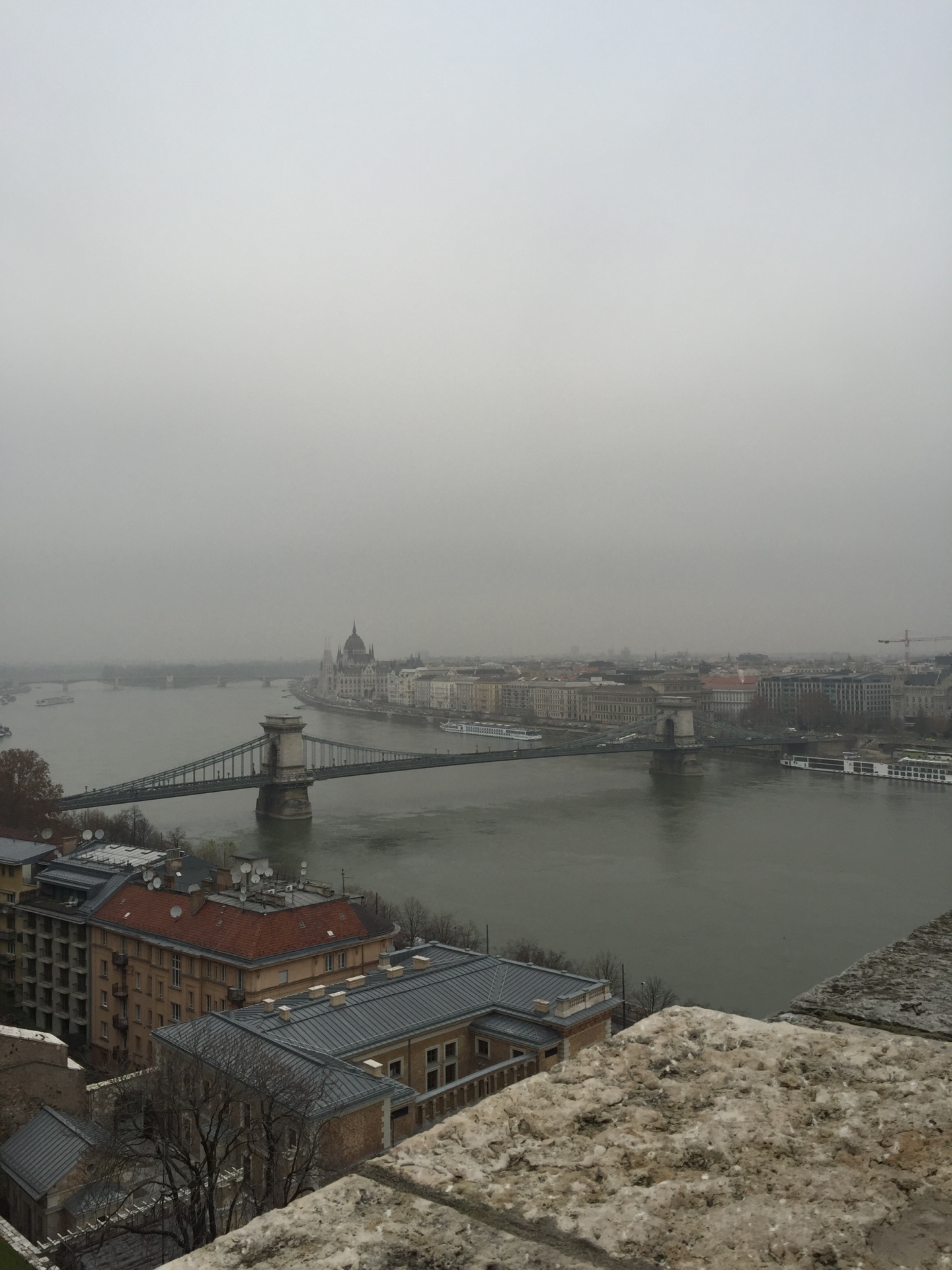 Our favourite place in Budapest..
Szimpla Kert on Kazinczy Street in the Jewish quarter was number 1 out of thousands of bars in Budapest on Trip Advisor! Couldn't not check this place out and we were AMAZED!
Without doubt one of the best bars I have been to!
There are 5 separate rooms inside all within one outdoor/indoor area… Split over two floors there is a Cocktail Bar, a Beer bar, Shisha area, an upstairs garden area and plenty of qwerky areas to sit! Very busy and hustling and had an amazing atmosphere.. We had heard of the ruin pubs and made it one of our checklist points to make it to this one!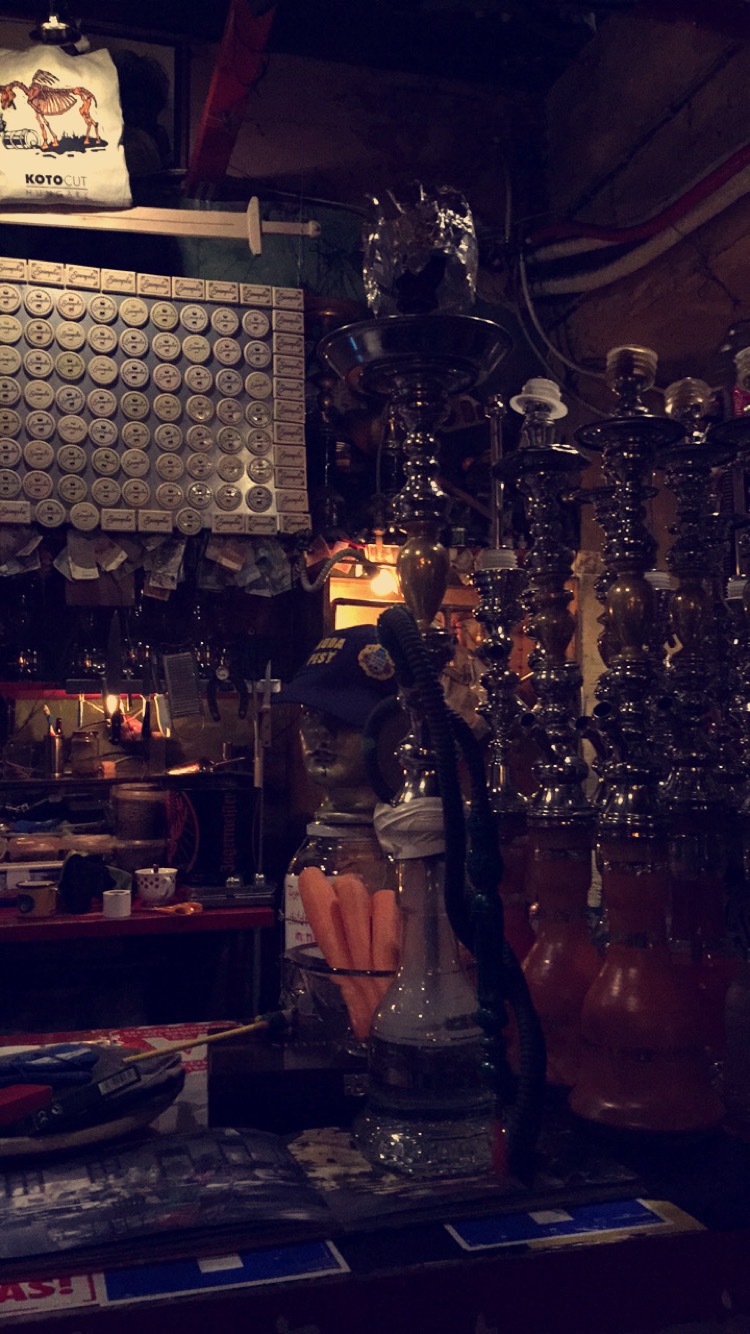 Day Trip to Szentendre, Hungary
We visited one of the nearby towns along the river Danube, Szentendre. This is a picturesque little town in pest country we visited for a morning. There were lots of little shops, cafes and stalls dotted about selling Christmas decorations and much more. I had the most amazing hot chocolate in Szamos Museum Confectioner's and we tried a few of the different cakes and pastries. Cheap and cheerful!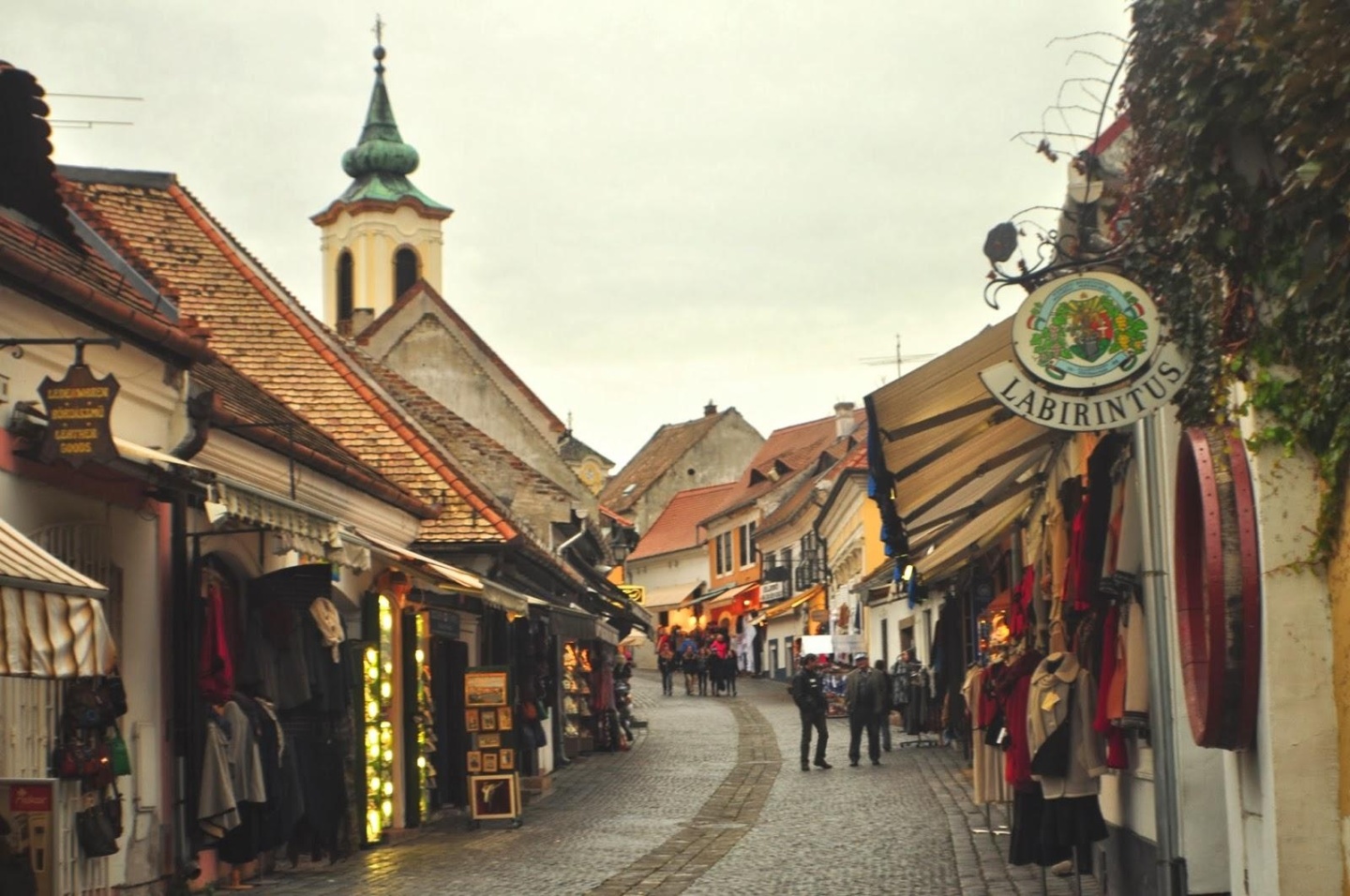 The town was so festive with so many Christmas decorations every where! We bought some Christmas baubles for this Christmas they are so pretty! I highly recommend a visit here if you are in the area!
Back in Budapest
If you walk along the Buda side of the Danube you will come to the parliament building, a spectacular sight. You cannot venture into the buildings but still impressive to wander around. Situated close to parliament is the shoes on the Danube which is a unique memorial to commemorate the horrors that happened in the city in the world war.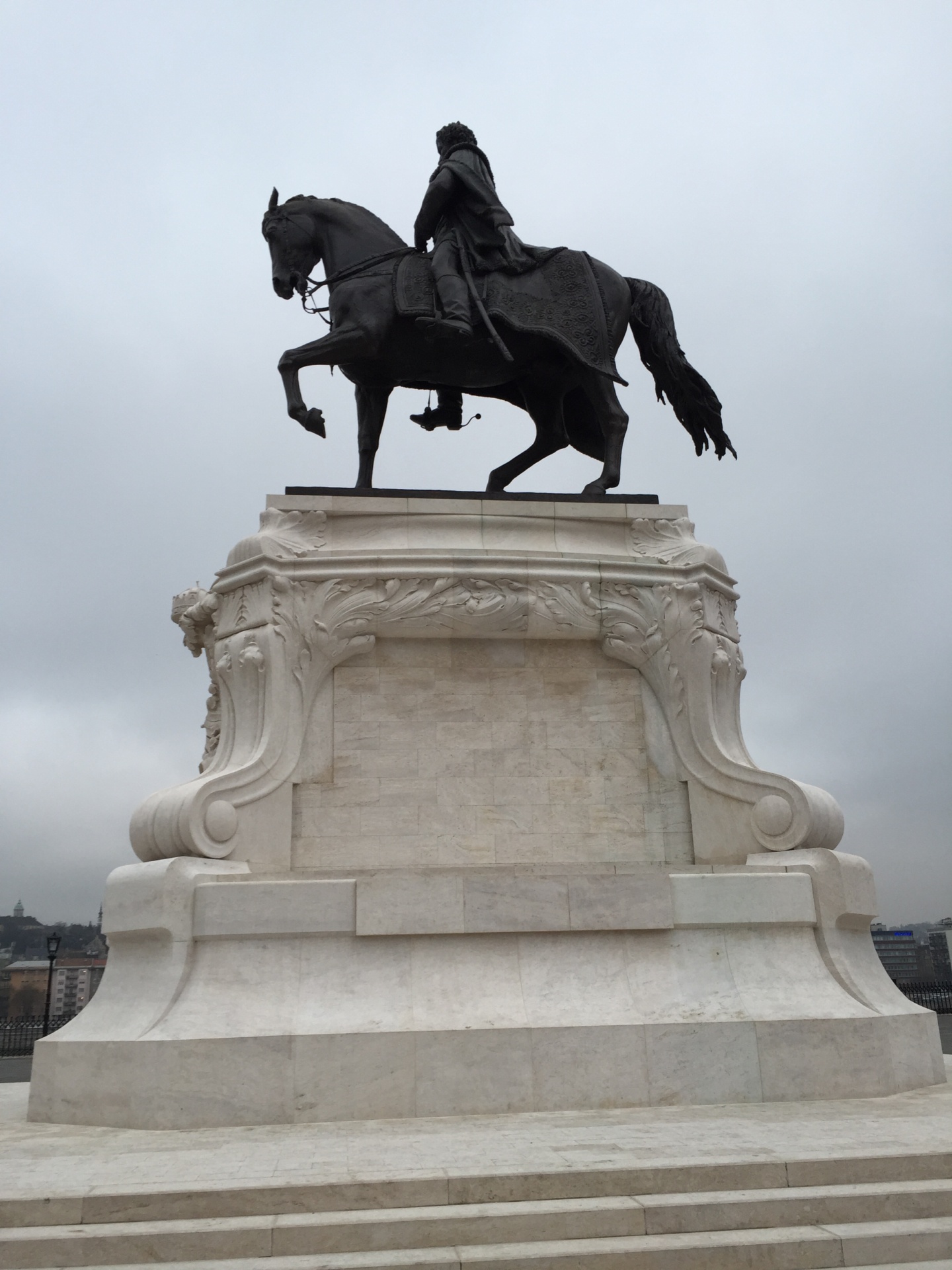 St Stephan's Basilica is secluded from the main streets hidden in a side street. It is an impressive building near to the square where you could find more markets and a small ice skating rink for children to enjoy.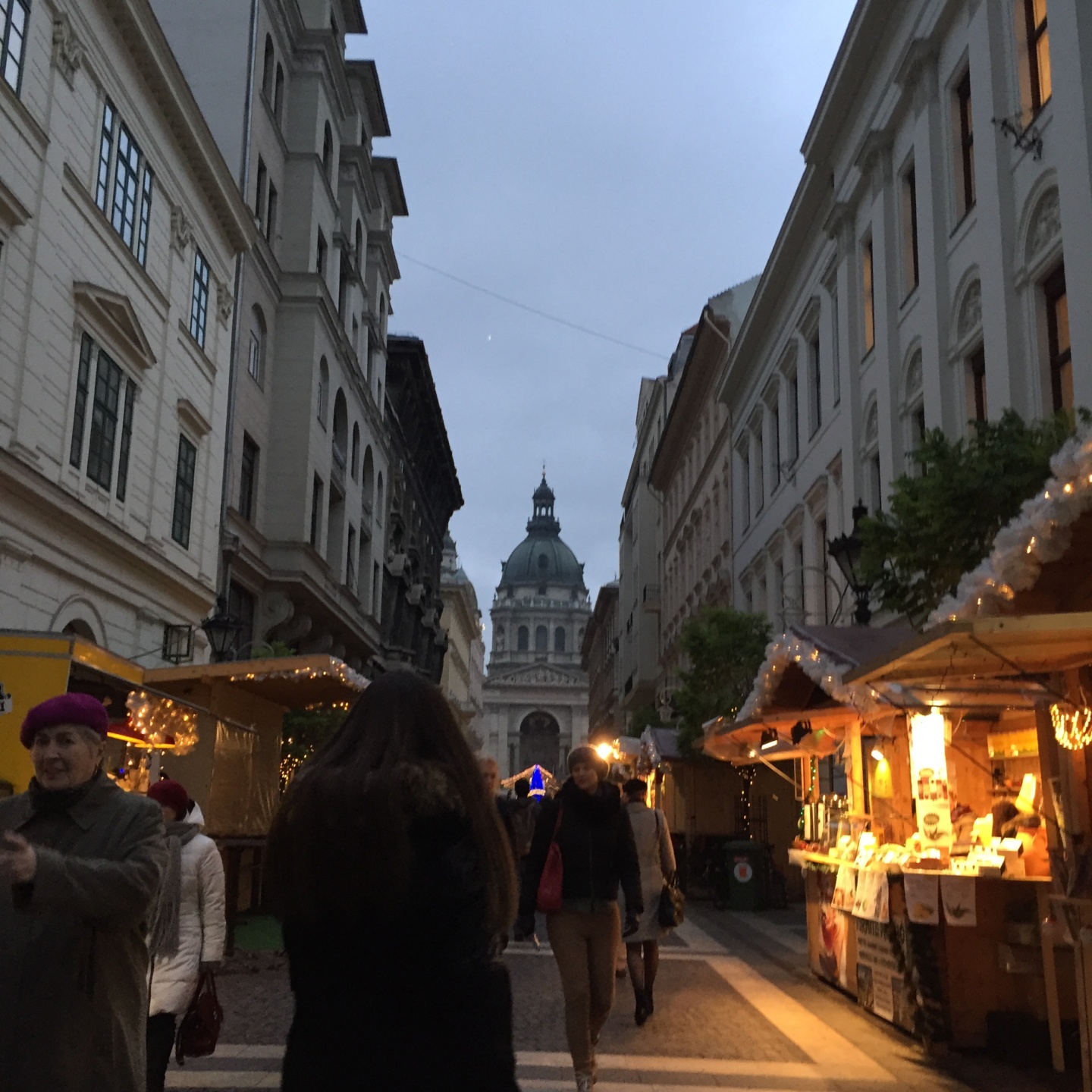 Hero's square, is quite a hefty walk from where we were staying but we did it (finally). I was really keen to see the monument of the soldiers who died in the many wars and go ice skating on the frozen lake.
Unfortunately when we arrived it was closed for use of the schools…cry! ………So instead we had a wander round the area through the park and got the underground back to where we were staying (highly recommended its SO fast compared to our walk there) Would have took it there if we had known!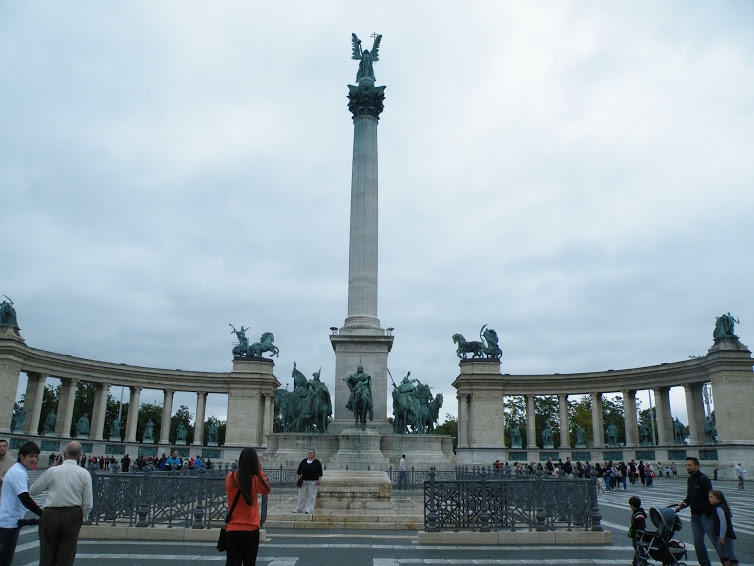 Evenings in Budapest
Places to Eat
Two of our four nights due to the time of year we chose to go we visited the Christmas markets for our evening meal. We were sampling different things each time whether goulash served in the hollowed out bread bowl, meats served with potatoes and smoked sausages.
For deserts we tried the chimney cakes (rolled in cinnamon sugar), strudel, chocolates and cheeses. The best part of eating outside in the cold was copious amounts of mulled wine (you were hard pushed to find us without one in our hands) in so many varieties and flavours. Without a doubt the best part of my trip!!
Tom-George is a lovely Italian restaurant where we enjoyed GIANT pizzas found close to St. Stephan's Basilica.
Ristorante La Botte which is on Vaci Utca offers authentic Italian or Hungarian food. I had the wood fired Italian pizza and could not recommend it more it was so delicious!!
Bars to Visit
During our trip there were many bars that we visited, I know I have already mentioned Szimpla Kert but I am going to mention it again.. You have to go here it is amazing!!
We visited Doblo wine bar which was a lovely rustic bar offering a huge variety of local Hungarian wines. If your interested platters or cheese boards. The atmosphere here is great with live music and lots of little areas and corners to sit in. All the walls are bare red brick which gave it a nice cosy feel. Loved this place!
I had seen on Instagram before going the Blue Fox bar which cocktails looked incredible. It can be found in the Kempinski hotel it has a luxurious decor and a nice atmosphere – Wouldn't recommend this bar though for the travelers on tight budgets! We didn't realise how much it would cost for two cocktails, but it certainly shocked us!! We wouldn't have minded if the cocktails we chose were nice… Totally chose the wrong ones, ones we hadn't tried before..
Thoughts on Budapest
All in all I totally loved every minute that I was in Budapest. We loved exploring during Christmas it is our favourite time of year and love visiting Christmas markets around Europe. Budapest is by far the best one we have visited. So many incredible things to pick up whether it be food or souvenirs. I could not recommend it any more whether in summer or winter this city incredible and highly recommend that you book a flight ASAP!!
---
Do you love a festive break as much as I do? Have a read of my another christmas break in Lucerne, Switzerland… or check out fellow blogger Bryony from Travels and More's festive trip to Bratislava – Here
---
Hope you enjoyed my latest post,
let me know what you thought about it in the comments below or on twitter
Bethan
xox