In December 2019 we flew out to Prague on our (almost) annual winter city break. Christmas time is one of my favourite times of the year, there is just something amazing about a winter holiday being rugged up wandering around a cold city getting all festive. Especially when it has Christmas markets involved. Over the years we have visited a few, Prague has been high on my list to visit for a few years but prices never came up very cheap. This Christmas we were in luck and bagged some cheap flights.
Winter breaks :
A Winter Break in Warsaw, Poland
A Christmas Break in Budapast, Hungary
A Winter Break in Luzerne, Swizerland
Getting to Prague
We flew out of Manchester on the 14th of December on a late afternoon flight. The flight prices came down and were £80 and timed so well for a city break, Thursday to Sunday.
Arriving into Prague at half past 8 we caught an Uber from the Airport to our hotel for the weekend. The Uber cost around £12 from the airport.

Our Hotel
Eurostar legends a newly opened hotel this is set in a historic building from the 19th century. It is located in the centre of Prague and offers spacious rooms. The hotel is ideally situated in the centre of Prague, this is a lovely, well run hotel. The rooms are immaculate and bathroom – nicely stocked with useful toiletries. Very quiet hotel, hardly a sound can be heard from any other guests.

The hotel's location is a 5 minute walk to the old town square (astronomical clock). There are a couple of bars/pubs next to the hotel.

The hotel was ideal for us and would highly recommend as it is close to everything and staff were very helpful. The only thing I would note is that the hotel does not have an onsite bar, which George was very upset about. Mainly due to the fact he likes to go for a pint whilst im getting ready. There is one very close by though.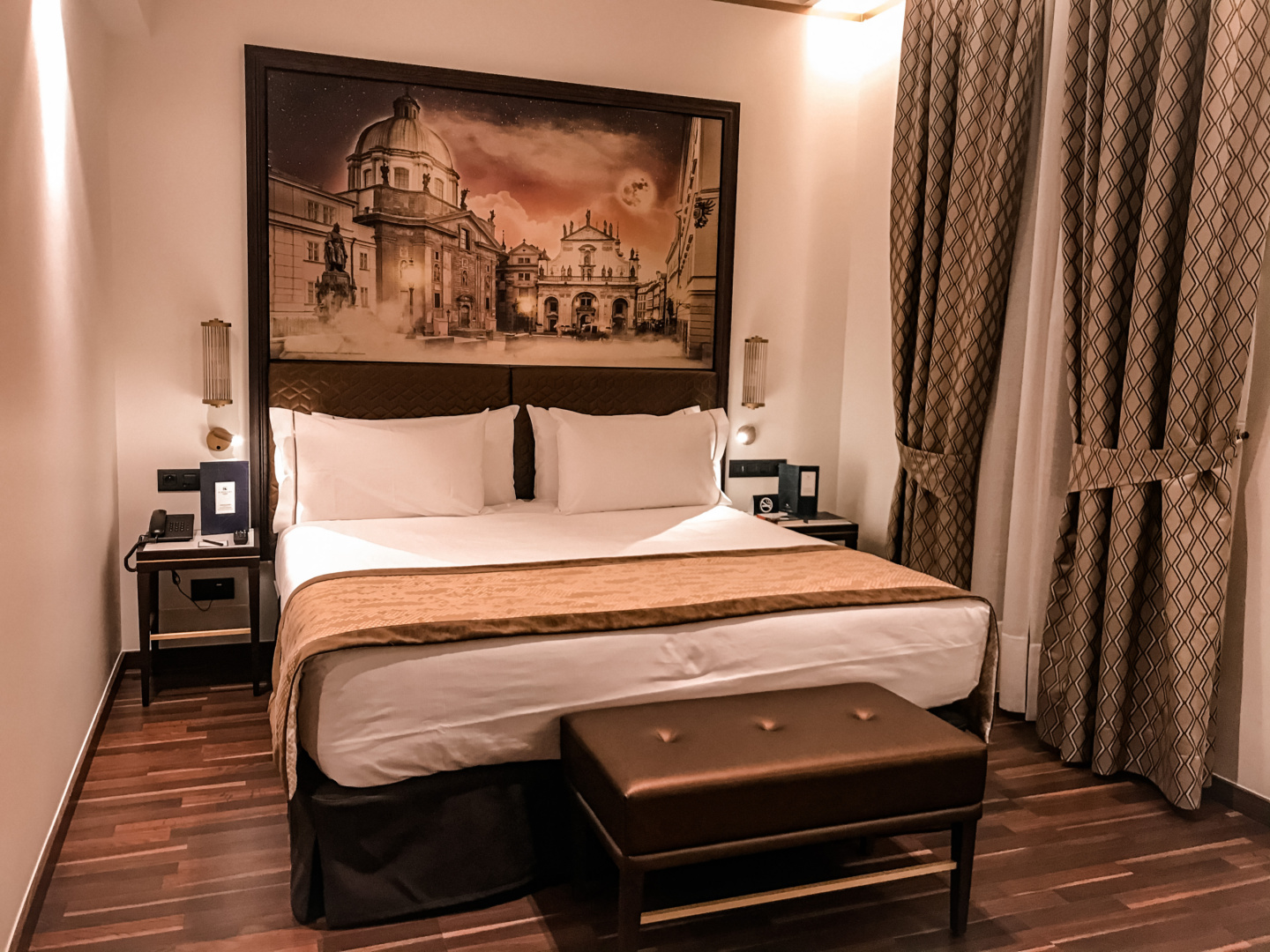 ---
---
Visiting The Christmas Markets

The Prague Christmas Markets are open every day from around the end of November to the end of the first week in January, including on Christmas Eve, Christmas Day and New Year's Day.

The main markets in Prague are held at the Old Town Square and Wenceslas Square (5 minutes walk from each other). There are a few more littered around the city on little spots.

The Prague Christmas Markets consist of brightly decorated wooden huts stocked with local handicrafts and traditional Christmas treats. There are many items on display; ceramics, jewellery, embroidered lace, wooden toys, scented candles, Christmas tree ornaments, hats and gloves, and puppets and dolls dressed in traditional costumes.
I love picking up locally made decorations and souvenirs to take home.

https://www.praguest.com/en/december-in-prague/prague-magical-christmas-markets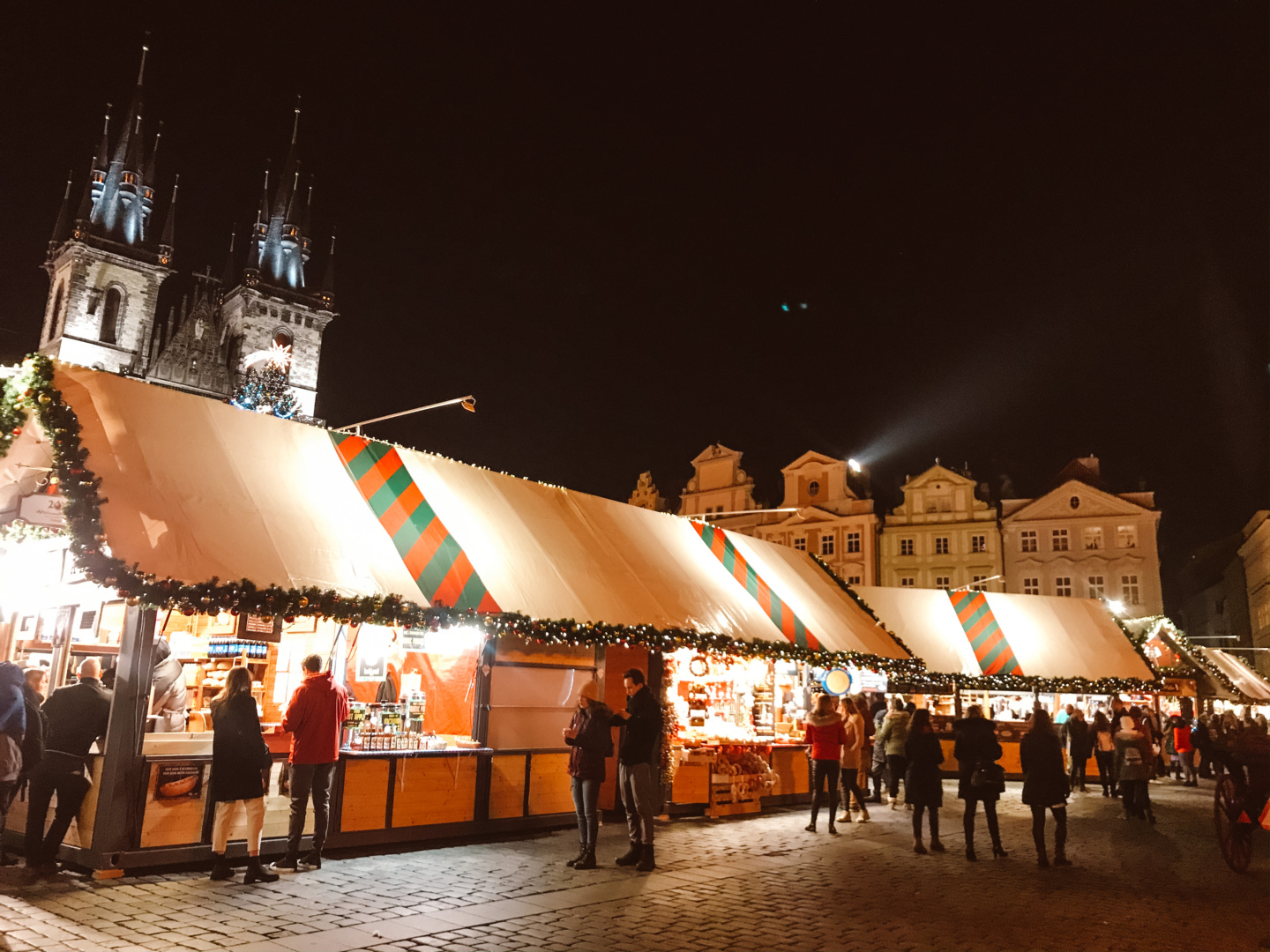 Day One – Hello Prague
Arriving into Prague late we didn't get out until after 9pm. Headed straight to the famous Prague Christmas Markets. The old town square is magical all lit up with the many market stalls. First things first a cup of mulled wine, (70Czech Koruna = £2.35). The Christmas tree in the centre of the old town plays the lighting ceremony every hour.

After looking around lots of the stalls and a few mulled wines, we bought some food from the market (130 Czech Koruna = £4.30) for a leg of chicken, bread and gherkins.

The Old Town Square was busy compared to other Christmas markets in Europe we have been to. It was like Manchester Christmas markets (in other words very busy) but we loved it all the same.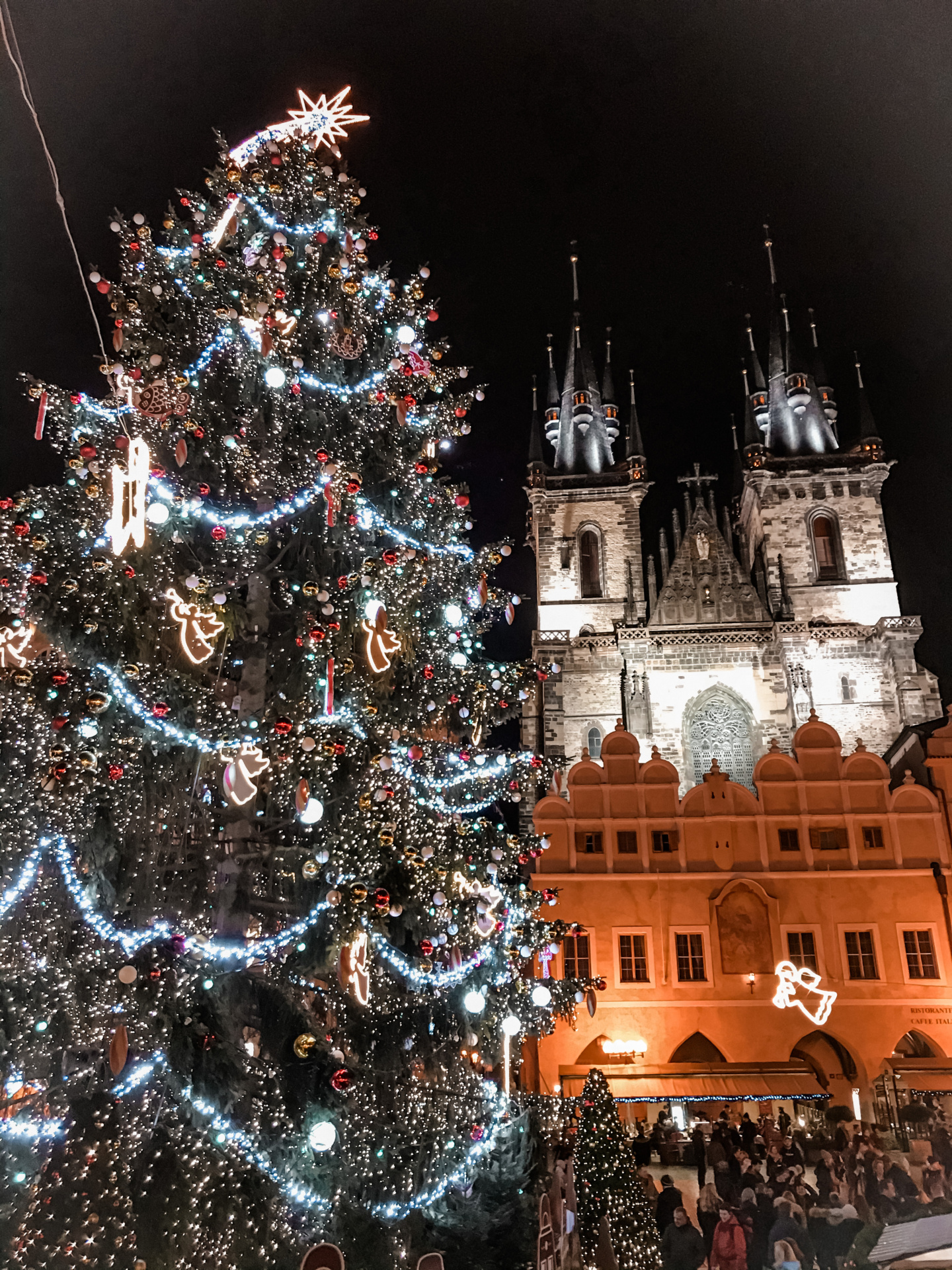 After standing outside for a few hours we needed to warm up and get inside a bar. I always have a list of top places I want to visit rather than planning my time in a city out. From my list of places to visit, we happened to be right near a few bars I had noted to visit. A number were right off the old square so were full but we went to visit the secret bar.
The Anonymous Bar had a big queue but we decided to wait in the warmth. The cocktails we ordered when we finally sat down were so worth the wait. Prague's Anonymous Bar is themed around the epic movie V For Vendetta and its cryptic hero's ubiquitous mask. It is located in a former stable house in Prague's historic Old Town. Anonymous Bar is hidden amongst the tourists haunts. The bar had a great atmosphere, although cocktails were on the pricy end at around 235Kr (£8).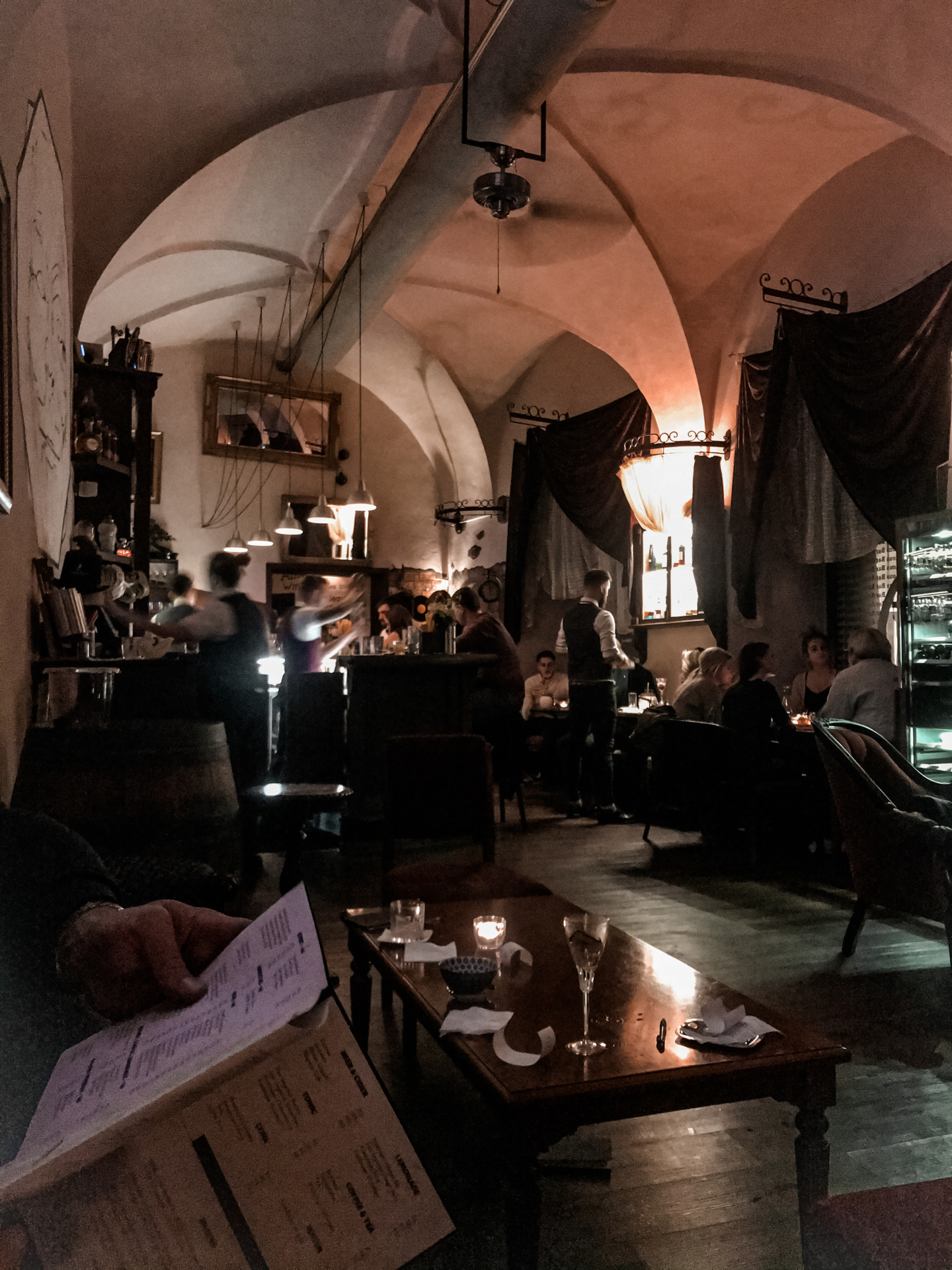 ---
Day Two – Exploring Prague
After breakfast at the hotel we walked out and wandered over the Namesti Miru (Peace square) to one of the other Christmas markets in the area. The square is over looked by the neo-Gothic Cathedral of St Ludmila. The market is more of a local market and is traditionally the first Christmas market of the year.
After a walk and a couple of cups of the mulled stuff we decided to make our way over to Prague Castle. A great area to wander around, then stopping for snacks and more mulled drinks to warm up.
We managed to pick up a few Christmas decorations along the way which is always one of my favourite things to do when on a festive holiday.
The view from Prague castle is beautiful over the city.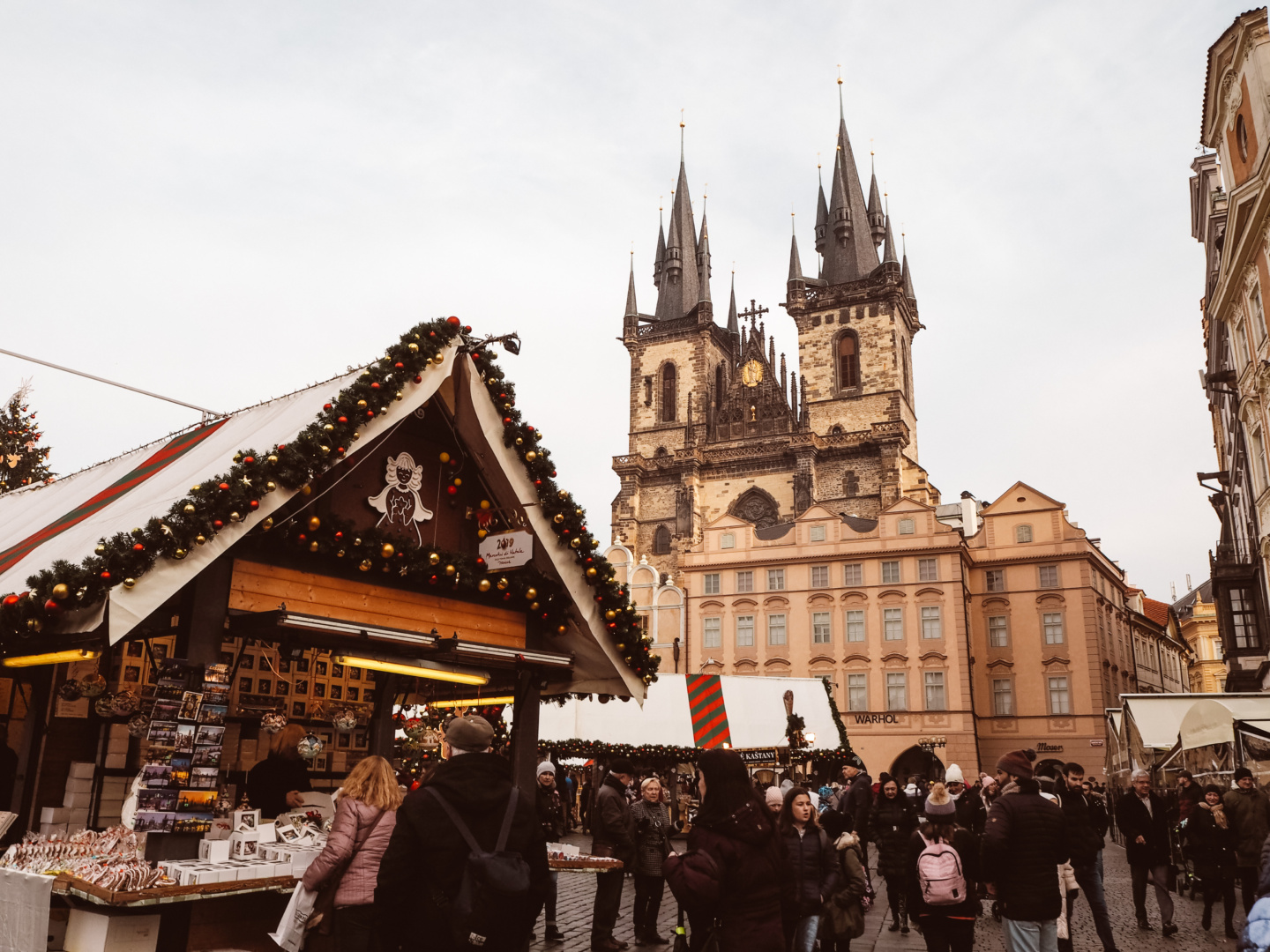 After many purchases and mulled wines
After visiting Prague castle we had an outdoor market to visit which I had read about when researching Prague. The Market – Manifesto Market, Manifesto markets are a must-visit cultural experience in the heart of Prague. Find pop-up design retail, and experience savoury bars and high-quality street food.
Costs are higher than other places in the city but its a cool little venue with igloo pods to sit in to keep warm. We had lovely food and mulled drinks to keep us warm as the sun set.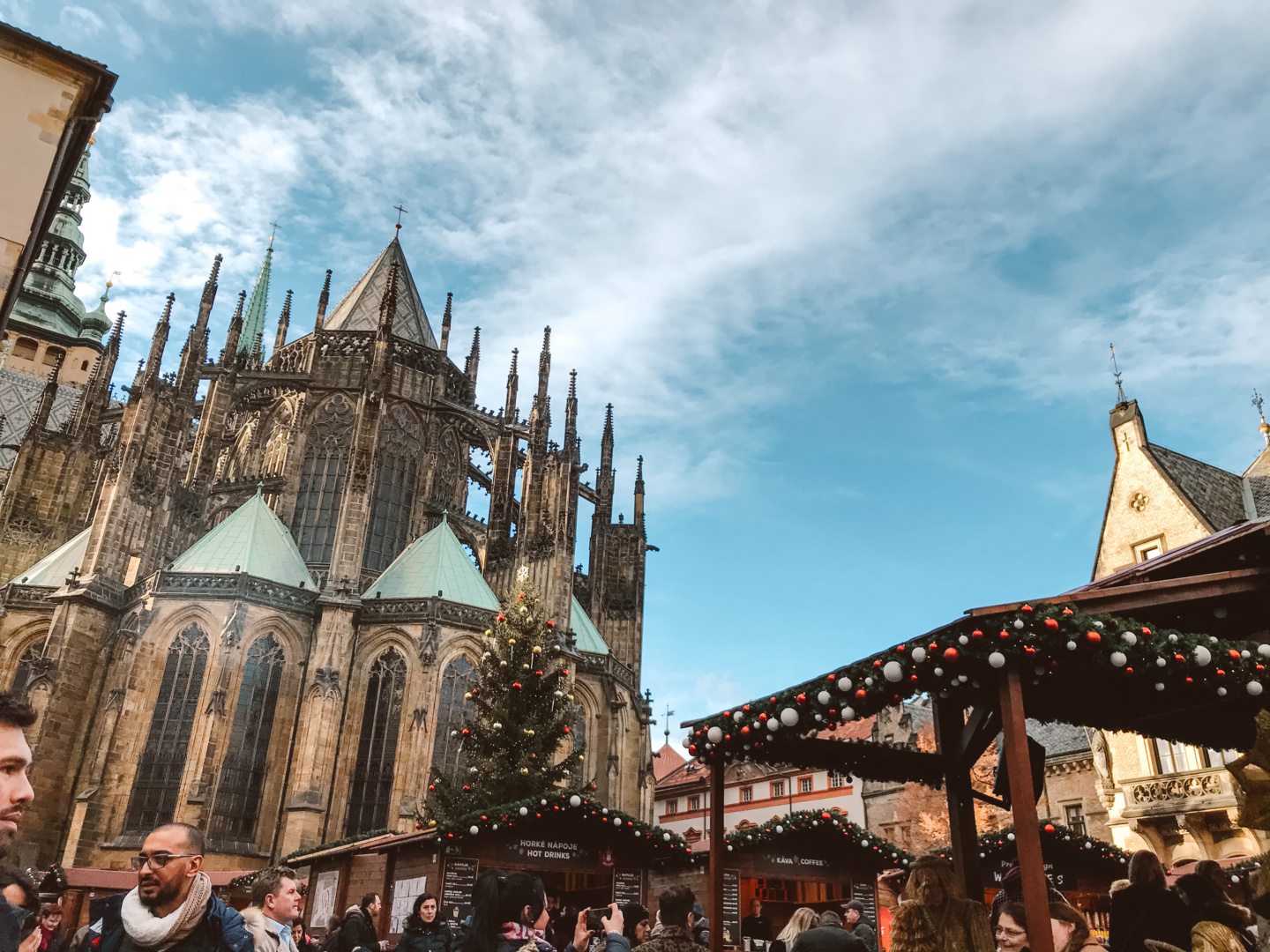 That night we visited Black Angels Bar, which we were not able to get into the night before. One of the things we do best whilst on holiday in a new city is plan a day trip to somewhere nearby. This year we lucked out by realising how close we were to Dresden, Germany. After a little research we decided the next day we were off to Dresden for the day. I had always been a dream of mine to visit Germany at Christmas.
After a day of exploring we had a few drinks, had another walk around the Christmas markets before calling it a night.
---
Day Three – A day trip to Germany
Read more about our adventure over to Dresden, Germany on a day trip from Prague.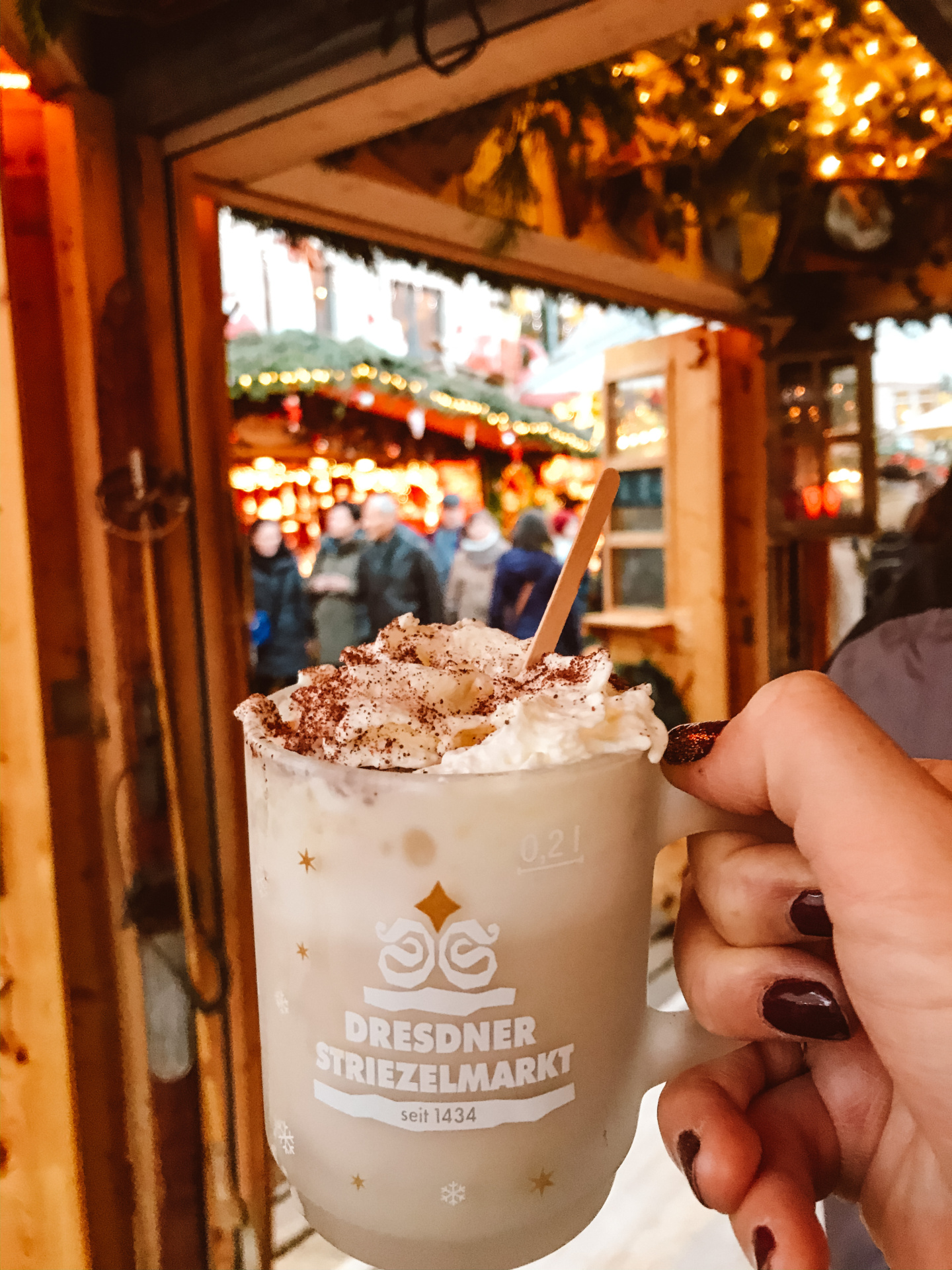 Arriving back to Prague around 8pm, grabbing food at our favourite stall in the markets (we ate here literally every night it was so good!!!
The food was so simple but just what we craved, also very cheap in comparison to what we normally spend on evening meals when normally on European holidays.
---
Day Four- Exploring More of Prague
For a change in the morning we explored more of the old town in the morning. We wandered around the shops having a good look, one of my many favourite things to do. Partly because you get to stay warm.

We walked along Charles bridge and decided to go up The Old Town Bridge Tower to see the view point over the bridge. With views across the bridge towards the Lesser Town and Prague Castle. It's also a great angle for watching the many thousands of people constantly crossing. Whilst we were up there it started to snow which was an incredible sight, although did not show up well on camera.
Afer a morning exploring and cold to our bones. We attempted to get in at Hotel U Prince for lunch. This Hotel is known for its rooftop view – Teresa Hotel u prince for being one of the top fifteen rooftop views in the world. Unfortunately it was fully booked and it was a long wait for a table. I am always dubious about making prior reservations when away, so this is one I regret I did not make. The view over the old town square is meant to be amazing ,and one I have seen many times on Instagram.
Instead we had incredible hot chocolates in the square at the hotel.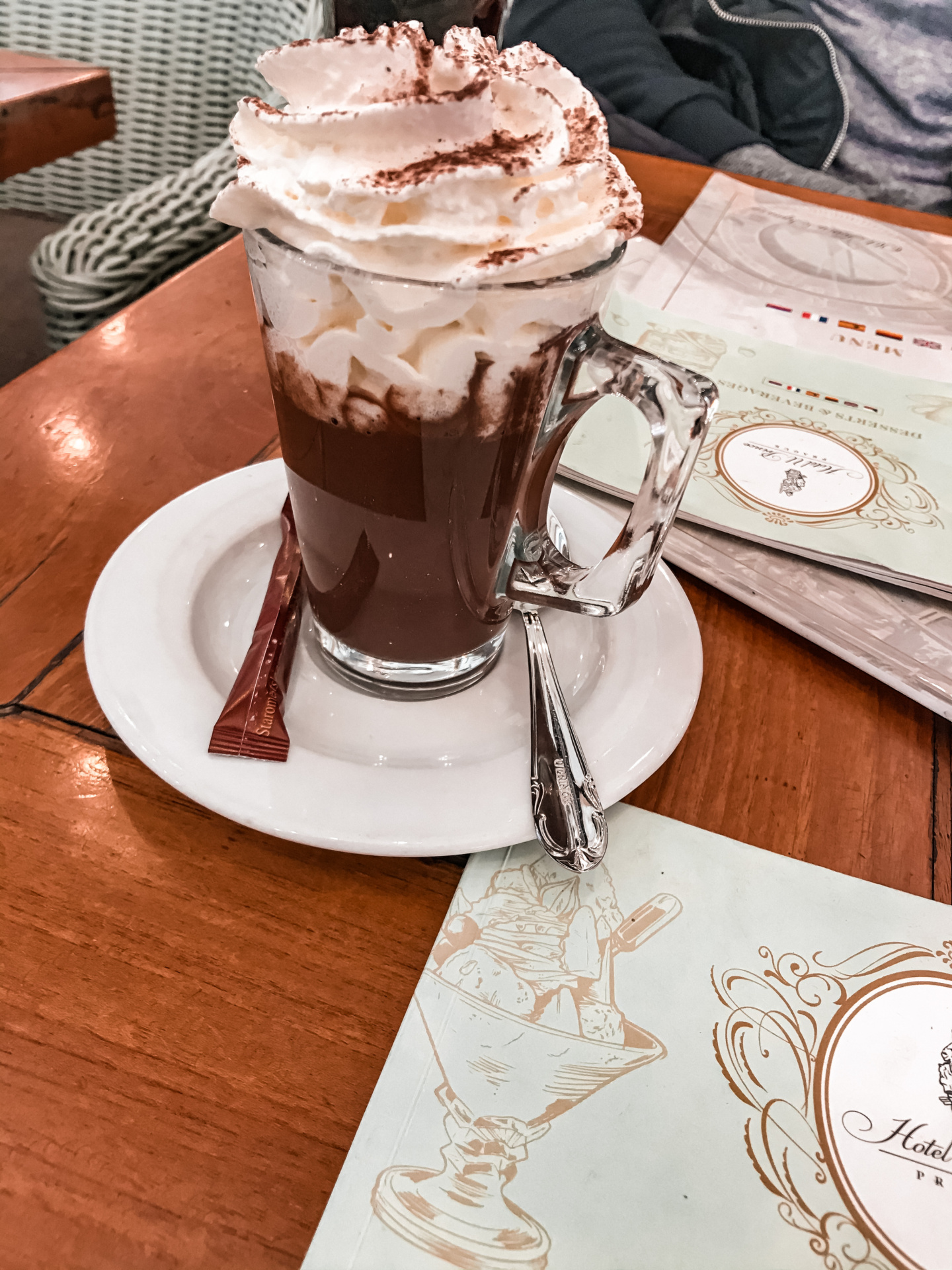 Later that afternoon..
The rest of our afternoon was spent doing last bits of Christmas shopping we needed, picking up snacks of mini dutch pancakes.
I had read about a little café/restaurant which miniature trains deliver your drinks to your table and decided to visit there for the afternoon. We were killing time to go up the old town hall tower.
At times on city breaks its great to just sit down for a bit which is exactly what we did here keeping warm.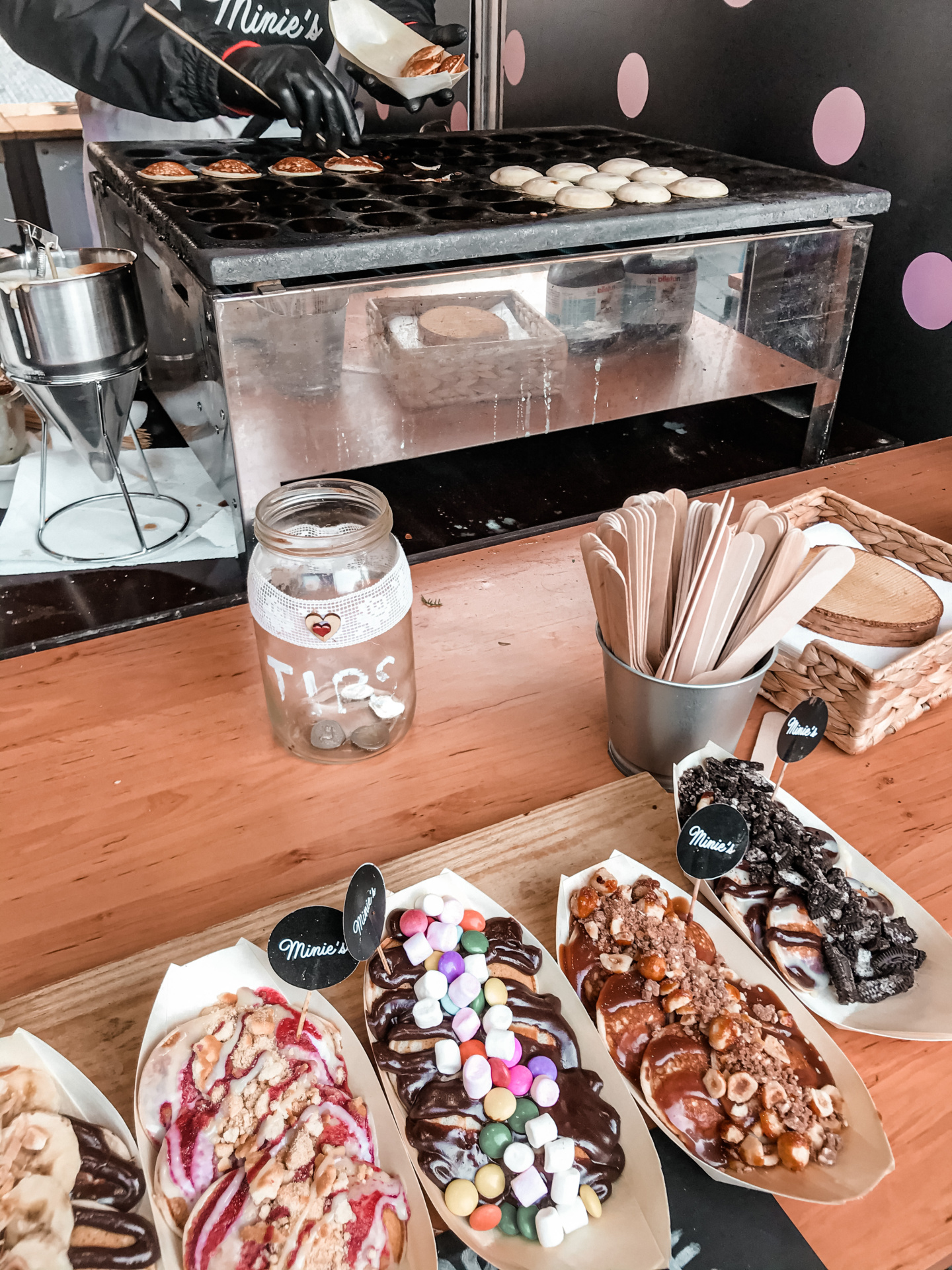 Once it was dark and we had waited forever in the world biggest queue. We visited The Old Town hall tower, The tower provides panoramic view of the city in all directions. Any time of the year it gives amazing views of the main square and church of our lady in one direction and Prague castle in the other. At Christmas time the tower gives a great view overlooking the Christmas markets. The view was incredible over the square!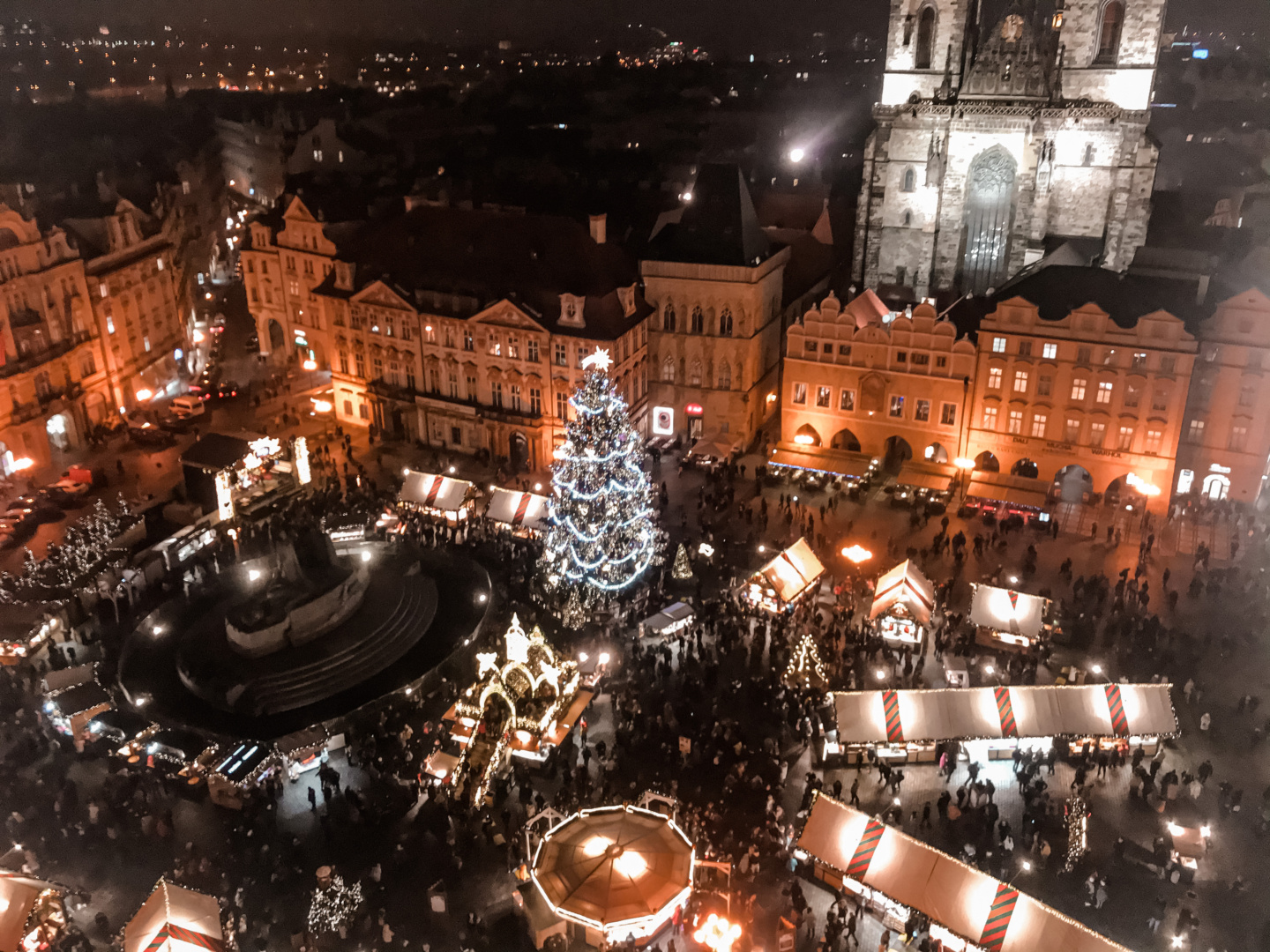 For dinner we ate at the Hotel U Prince in the square as the food had sounded lovely earlier. The food was lovely and were seated in a tented area with lots of heaters so we were lovely and toasty for the evening.
Our Thoughts on Prague
Whilst we do not have many recommendations on places to eat and drink in Prague as we mainly ate and drank at the market. If you are there at this time of year you will save a fortune doing this. We loved the Prague Christmas markets and although they were very busy at times there was lots of good food, drinks and crafts on offer. The highlight for us was visiting Germany as that was such an incredibly festive day. I would recommend a visit if you have time or any other excuse for another festive break.
Have you been to Prague's Christmas markets what were your thoughts? Or any highlights we missed out on let me know in the comments below ↓
Thankyou so much for taking the time to read

Bethan

XOX