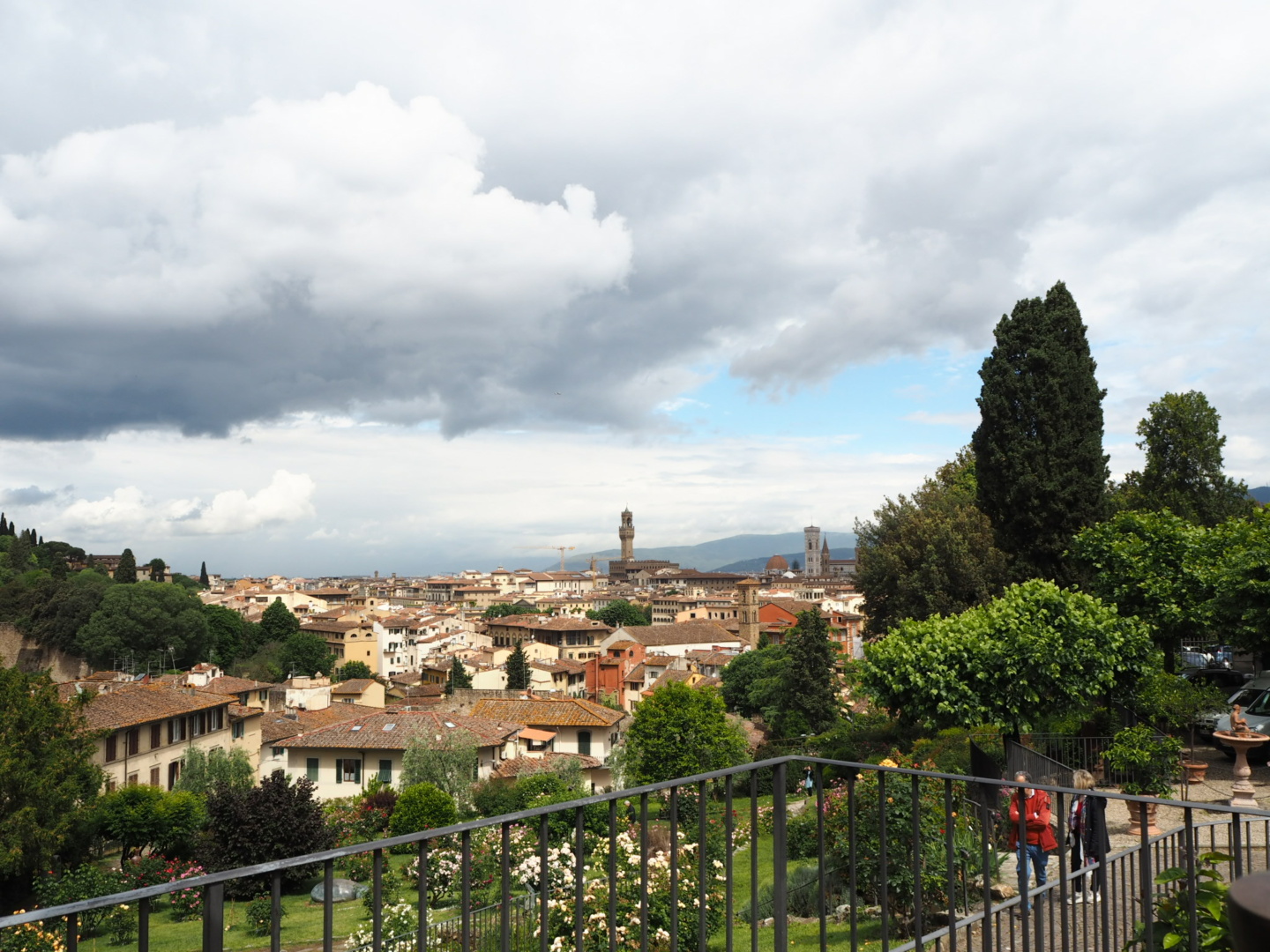 Like our holiday in Iceland (Three days in Iceland) the month previously, Our trip to Italy was a Christmas present to each other. This one was from George to me and I was so excited as I had never been to Italy before and was soooooooo excited to finally visit Italy for the first time. It is a place that's been on my list since there was a list.
Getting To Italy
Our flight from Manchester to Pisa was 8am. We got a taxi from the airport to the train station, as the wait for in between trains was long so we chose the taxi option. It was a set price of 9 Euros. From here we caught the next train from Pisa to Florence for £8.60. The train takes around an hour. On the train we actually received a text from Easy jet to say our return journey was cancelled, which made things a little more interesting.
Like a warm city break to Europe? Check this post out: Europe | Road Trip Highlights – Montenegro, Croatia, Bosnia & Herzegovina
Our Hotel – The Student Hotel, Florence
Once arrived in Florence we took another taxi to the hotel. We were staying at The Student Hotel, Florence. The hotel its self is very funky. They have everything, from the laundry, to the fitness club, to games. Room perfectly clean, so we enjoyed our stay at the hotel. The rooftop bar has a pool with panoramic city views.
TSH Florence Lavagnini is located in Florence, 450 yards from Fortezza da Basso and a 15-minute walk from Santa Maria del Fiore Cathedral.
We found it easy to walk every where from the hotel and was only 5 minutes walk to get dinner each night and wander in the day.
It was also a cheaper of hotels we could find in the city on a budget, there are also lots of Air B&B budget or splurge options also.
Day One – Hello Florence
Once bags were dumped off we went to explore our latest city, marvelling at the beautiful sights we found. We stopped for a drink at Ristorante La Posta and something to nibble to eat, before if began to rain. That's right it rained ALOT on our trip to Florence sadly.

We enjoyed a couple of wines and beers and a meat board at Ristorante Posta. To wait out the rain, and we did not complain one bit.
The rain did not let up after bobbing into a few shops to try and avoid the rain we stopped at a cafe to get a coffee and warm up. It was fair to day we needed a few coffees as we were frozen. The weather had predicted rain during our trip but I had not thought it would be Manchester level rain.

Side note we had not taken any coats, luckily I took an umberella. We did however reluctantly have to pick some up for the rest of the weekend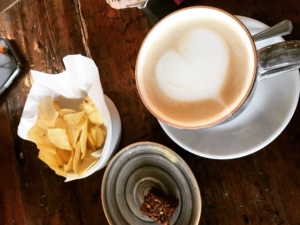 Back at the hotel to actually warm up as we were soaking and frozen. We had drinks on the rooftop of the hotel where the pool is with a view overlooking Florence. It as still pouring with rain, but the cocktails and view were lovely.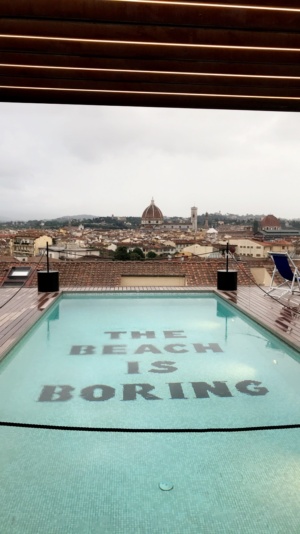 We wandered around to find somewhere to squeeze in for food, lots of places were full. We ended up eating near the Duomo at the little David. The food was nice but I don't think amazing to recommend.
We had two courses and a bottle of wine for 59 euros.
On the walk back towards the hotel we found La Menagerie a bar which we had seen earlier. We called in for drinks, the atmosphere was great and the cocktails too. Four cocktails for 32Euros.

I would highly recommend this place for a drink we loved our evening there.
My advice would be to book in advance where possible.
Day Two – Exploring Florence
Breakfast at the hotel before heading out to explore more of Florence in between downpours. Walking down through the city over Ponte Vecchio a Medieval arched river bridge with Roman origins, lined with jewellery & souvenir shops. As soon as we were over the rain was very heavy so we stopped for coffees in a cafe while it calmed.
For lunch we enjoyed lovely pizzas at Regine Pizzeria. We were just walking past and from the road we could see their amazing pizzas in the window. Looks like you could but slices from the road walking past. To once again get out of the torrential rain we opted to sit in. It would be lovely if the weather was nice to grab a slice and wander around in the sunshine. Our decision to sample paid off as our pizzas were amazing and also fairly cheap for lunch.
From there we walked to The Central Market in the rain and had glasses of wine 5Euros. Before heading back to the hotel. There is nothing a love more thank a market in Europe and we have now visited many (hopefully I will do a post on this soon). There are lots of places to buy pasta, pizza and much more including sweets, drinks.
It was really hard exploring the city whilst it was pouring down. In the sunshine exploring is easy wandering down side streets and bobbing into shops, the non stop rain makes this difficult. Museums are not really our thing and all of the queues are outside in the rain and was off putting as it was freezing. Instead we popped our heads into shops and cafe hopped. It is certainly one way of eating and drinking your way around the city.
That night we ate somewhere that has been recommended to us by some other guests are our hotel had eaten the night before. We did not want the same thing happening the night before, wandering around trying to find somewhere to eat. In the lively and crowded environment of the Central Market of San Lorenzo, in the heart of the city of Florence. The Tattoria Zà Zà offered some up amazing grub, truffle pasta yet again (as amazing) and wine each 59Euros.
Day Three – Exploring in the Sun
This was the day we were meant to get on a train and explore Pisa and Lucca on a day trip. As out flight had been cancelled we were not due to go home for an extra couple more days. Our delay was due to an Italian public transport strike and the day before there was the train strike and whilst we were there the airport staff. So we spent an extra day in Florence exploring as the weather had given a bit better, there was also sun.
Our first stop was Plazza Michelangelo, We walked up through the rose garden which gave an amazing view of over Florence. At the top the view over the city even better. We just about to get some pictures with actual blue sky for all of about 30 minutes. There was a little cafe at the top which we stopped for a coffee with a view, we sat here for a while before yet again more downpours of rain.
In the horrifically heavy rain once again we moved to the nearby hotel to take cover La Loggia del Piazzale Michelangelo. We ate lasagne with a spectacular view over The City of Forence.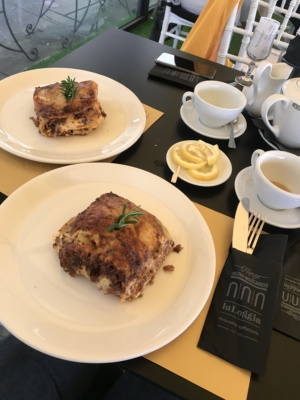 Believe it or not the sun actually came out for our walk back down to the city. On the walk down calling at a bar on the walk down to enjoy a vino to enjoy the sun actually coming out for a short while.
We enjoyed our last meal in Florence at San Lorenzo market. We hadn't thought ahead so had pizza it was a very cheap and cheerful a beer, wine two pizzas 20 Euros.
They were absolutely delicious!
Then picked up some sweets for the walk home. There are so many options for snacks, meals and drinks in the Market. It is well worth a visit for an afternoon drink or a cheap meal.
Thoughts on Florence
We had a lovely few days in Florence, the rain had put a very real dampener on the weekend. We had loved the food and not rushing round to everywhere possible. It was a relaxing foodie weekend just us day and it was lovely. I would love to go back and explore Florence and more of Tuscany in the sunshine sat in vineyards.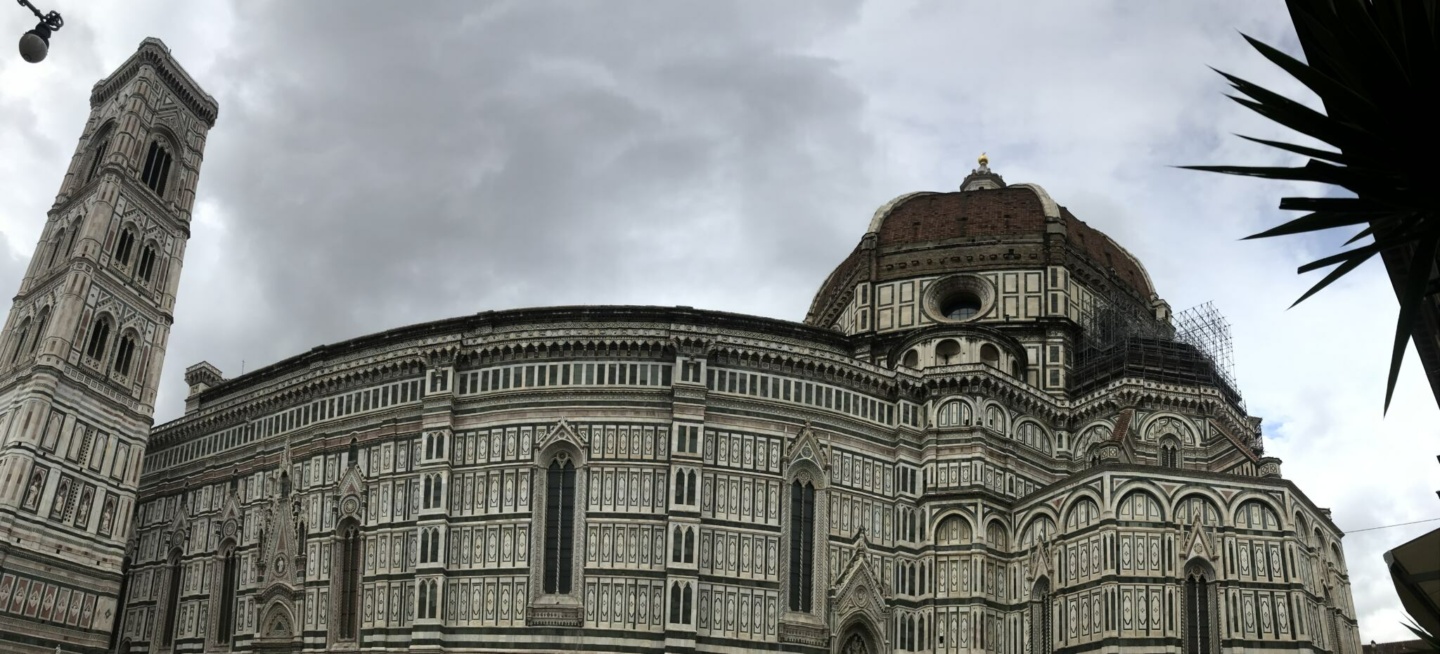 Due to the strike we now had the next two days to spend in Pisa thanks to Easy jet. Including a day trip to the Town of Lucca which was in our original plan to visit from Florence.
Have you been to Florence? I hope the weather was better for you What did you get up to there? How much did we miss?
Thankyou for reading
Bethan
xox
Sent from my iPhone