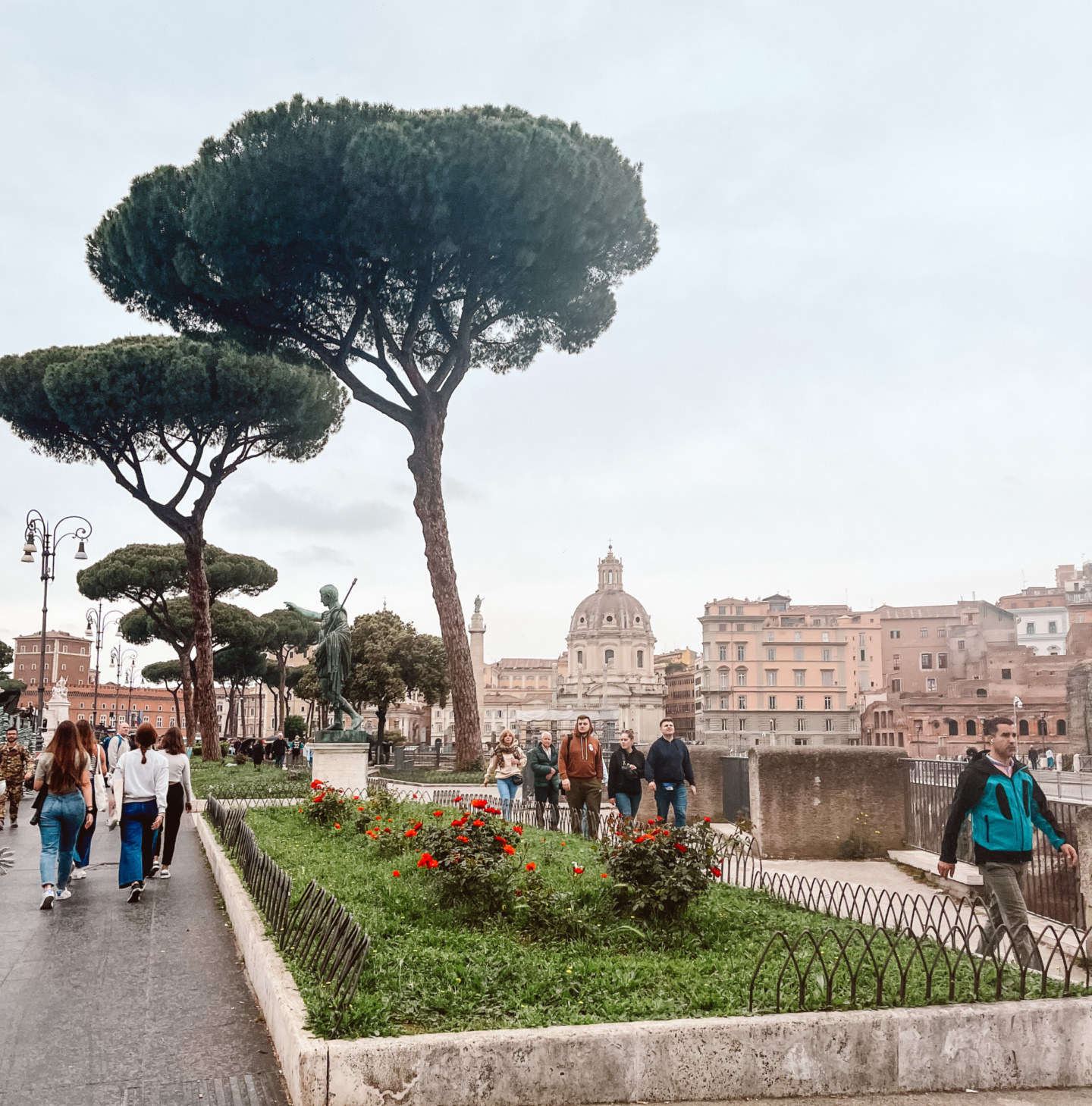 For the second half of our trip we flew to spend three nights in Rome, from three nights in Seville.
Now Rome is somewhere I have never ever been too bothered about visiting. I normally like smaller city breaks to quieter places and the crowds of Rome have always put me off. But Rome, it really took me by surprise. I was expecting crowds (we got them), but I expected it to be very pricey (which it wasn't).
If you want to read about out trip to Seville – Three days in Seville.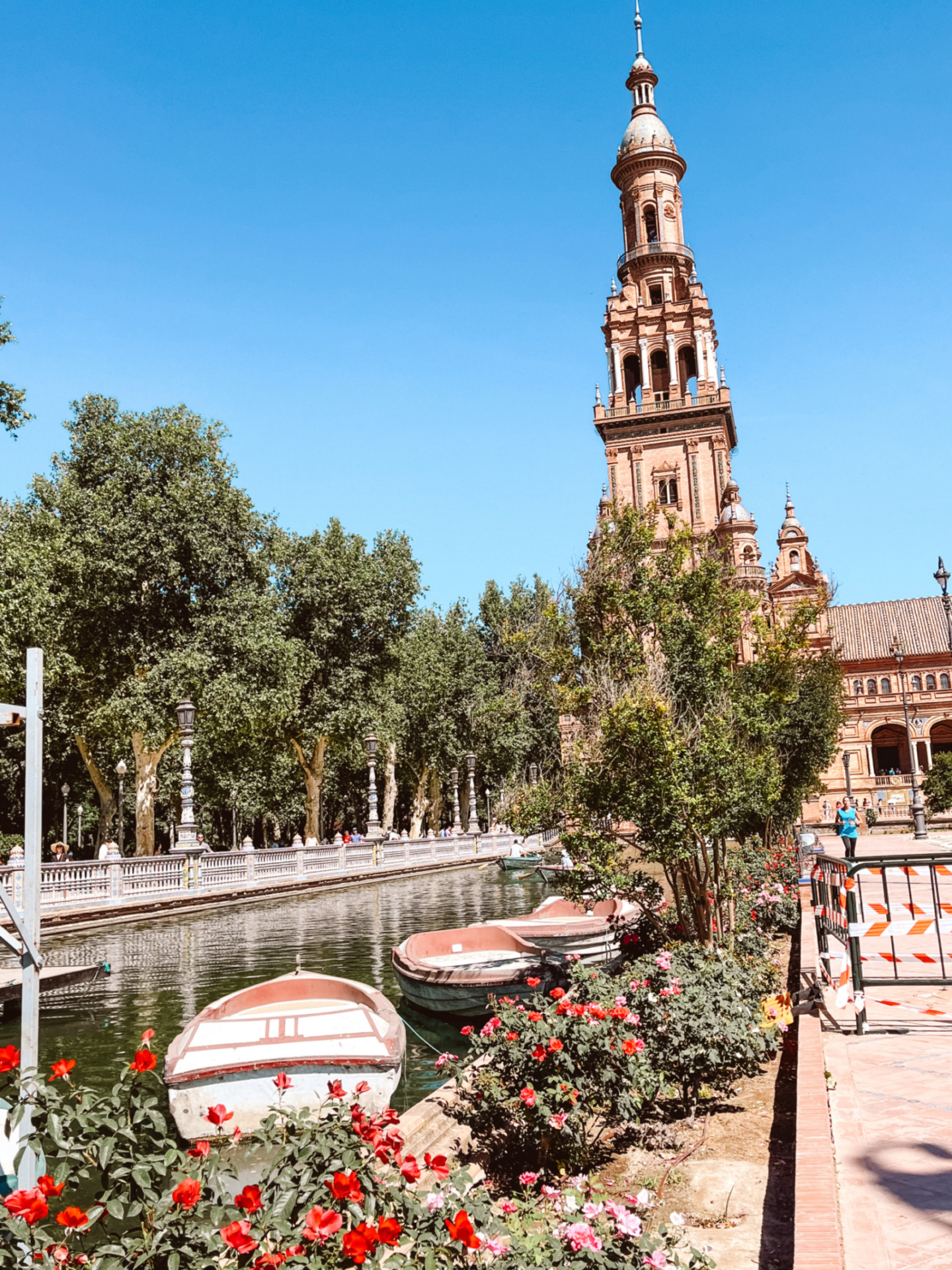 Stay
We stayed in an air B&B – (hotels were mega expensive), The cutest Air B&B in Trastevere. This was a cute location for us in the cobbled streets that are all over instagram. Everything we needed was close by, in the evenings we enjoyed the bars and restaurant's in Trastevere. The apartment was on the third floor with a terrace.
TRASTEVERE Brand new Charming studio with terrace
First Evening in Rome
We arrived into Rome at 9.30pm, we got a taxi to the Trastevere area and WOW it was busy and crazy. It was a Saturday night and Rome had just played football. On our wander of Trastevere we found what will become our new favourite bar – Bar Santa Maria. This bar is in Piazza di Maria. With wine or cocktails they bring lots of nibbles- 'Aperitivo' crisps and olives to enjoy. You are also able to order from the menu which we did on the first evening.- the bruschetta is so fresh and amazing.
We visited a couple of other places- one I have never found again or on google maps, but it wa super cosy inside with lots of lovely wine. Enjoy Midnight pizza for the stroll home at Appetito.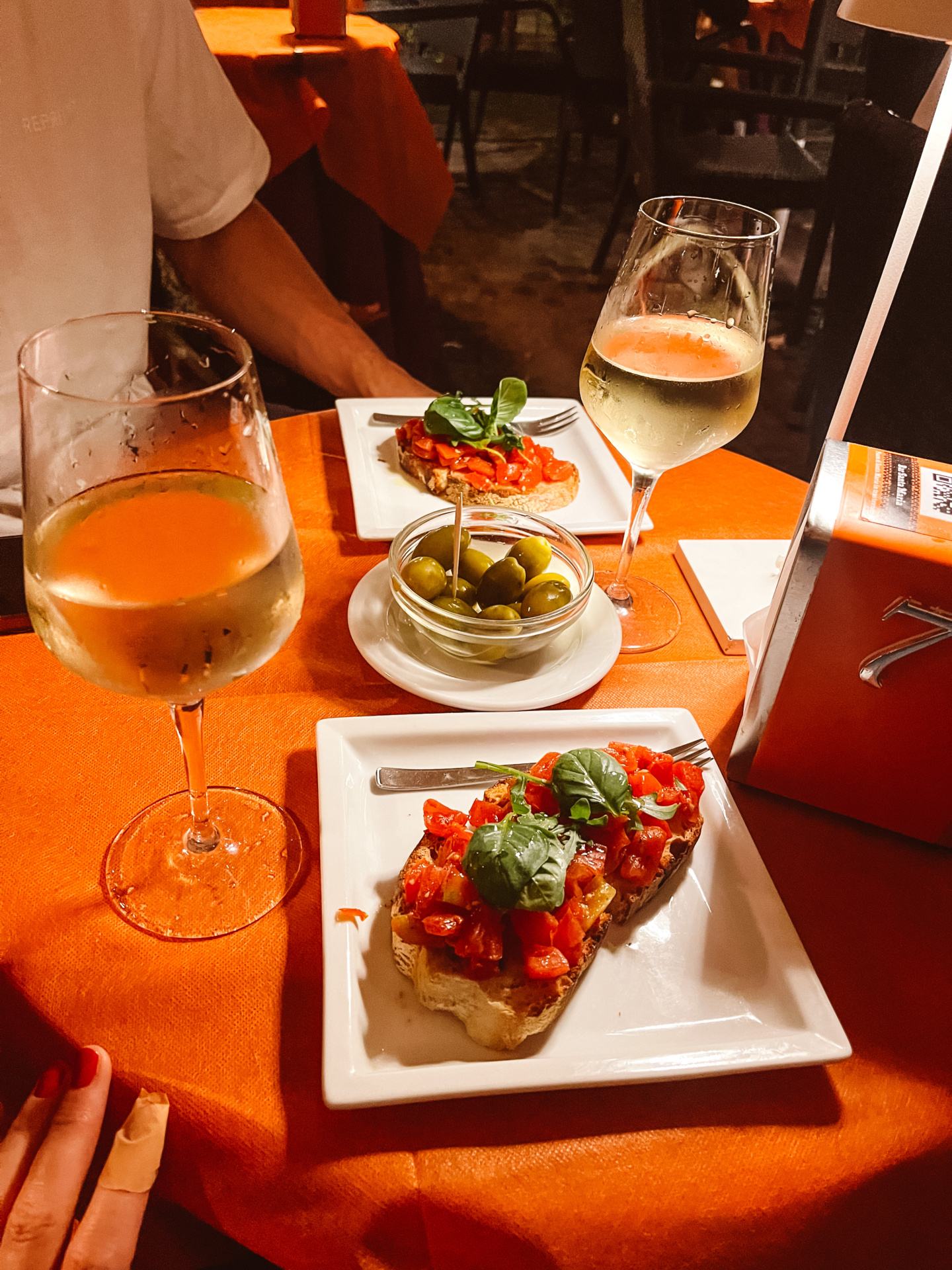 Day One in Rome
In the morning we woke up what we thought was early to see the Trevi fountain. In my prep I read if you get there before 11am the crowds are much less… I can confirm before 10am – not the case. It was soooooooooo busy!!!! From here we just wandered around some of the main sights of Rome. Grabbing nibbles and drinks along the way. We attempted to go to The Vatican, with the queue three hours plus it was a no from us.
The later afternoon we made it back to Trastevere for wine and a calmer atmosphere at Polpetta Trastevere. A Well earned sit down after 20,000+ steps.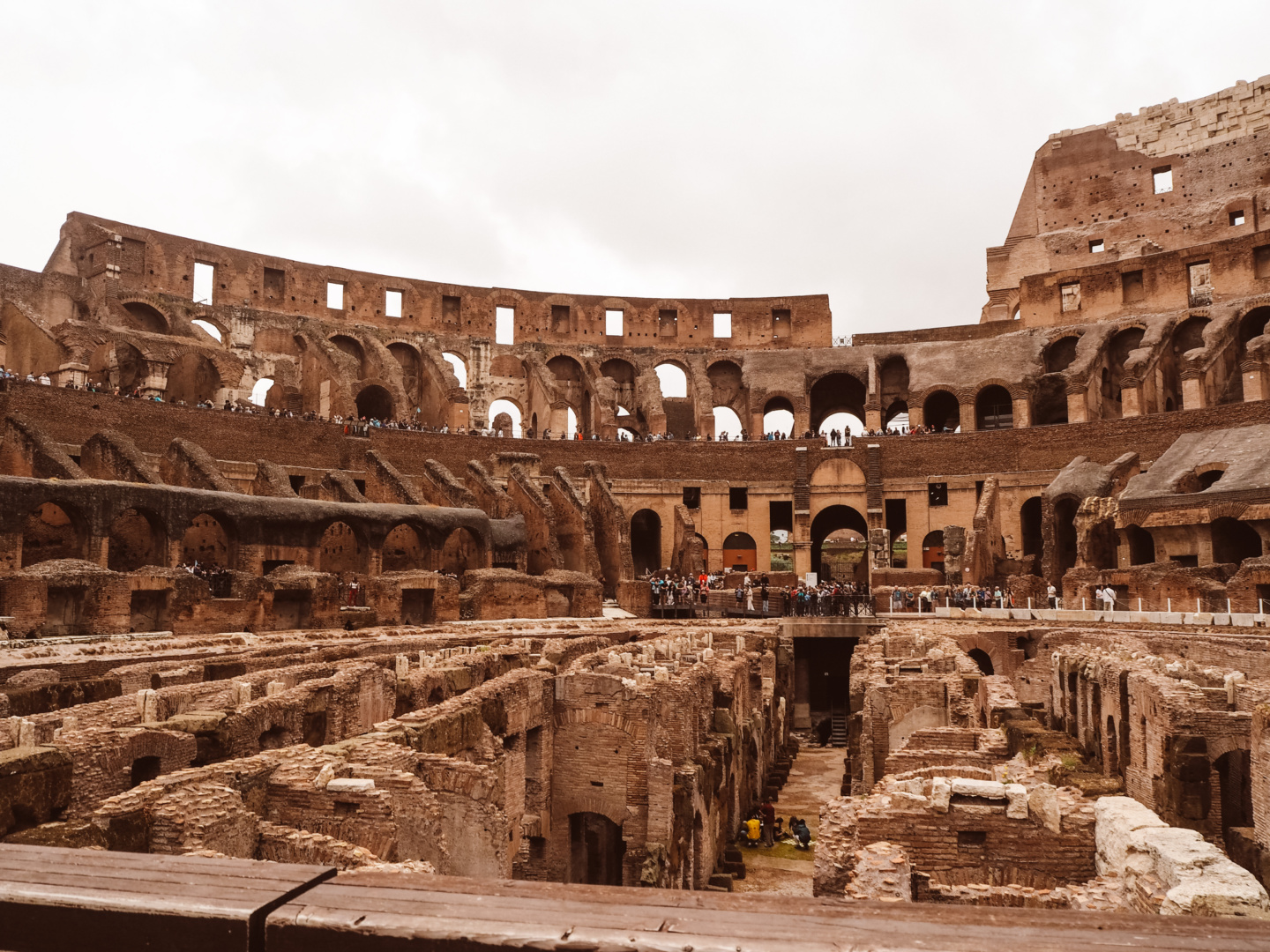 In the evening we went out for yet more Pizza and pasta at La Tavernetta 29 da Tony e Andrea. stopping for a drink first at Vecchia Trasevere which was super cosy inside, but we wanted to try and eat outside. In the evening we visited again to Bar Santa Maria. Before heading for yet more midnight pizzas at Appetito.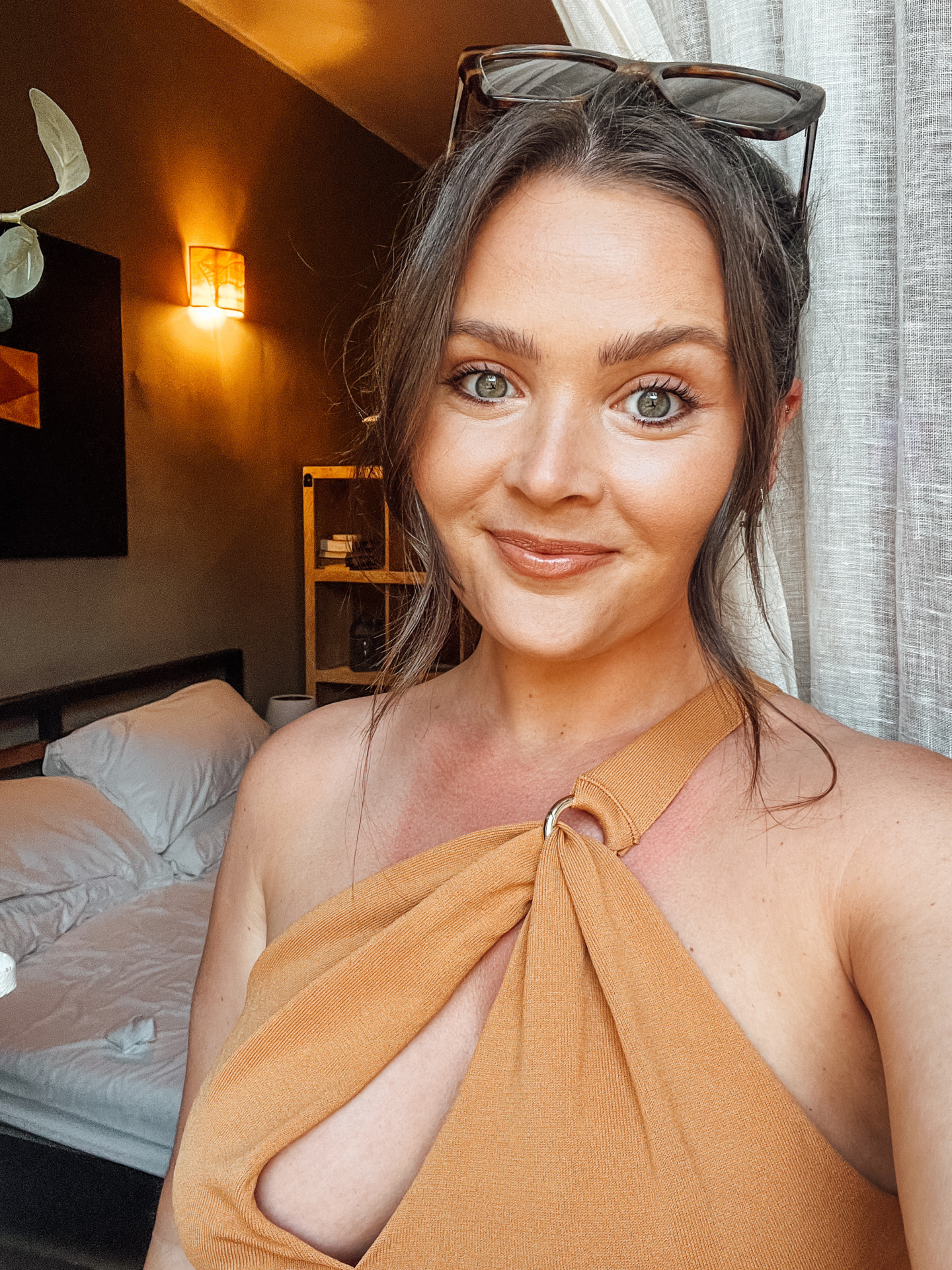 Day Two in Roma
Our day with an early start to make it across Rome ready for what may be one of our first tours ever. Waiting for the tour to start we grabbed coffee + pastries at Caffe Roma, wow these were incredible. With an incredible view of the colosseum from the ledge.
I managed to find a tour of the Colosseum that was only an hour which went through the gladiator gate and onto the main floor of the colosseum. Tickets for Colosseum & Arena Floor: Guided Tour
We actually really enjoyed to tour and glad we took one to learn more about the iconic place.
Touring is hungry work so from here more pasta, this time at II Giarino ai Fori. From here it started to rain and get steadily worse over the next hour. We tried to persevere sightseeing but it just was too wet. And we are from Manchester, so that's saying something!!
We had the most amazing cakes at a little restaurant near the Trevi fountain. (unable to find on google maps – Apologies!
We gave up with the weather and chilled at the apartment for a little while before heading back out into the sunshine. We had a delicious meal at La Scaletta, then had a few drinks at – Er Pizzicarolo. I wish we had another night to explore this street as there were so many bars in Trastevere.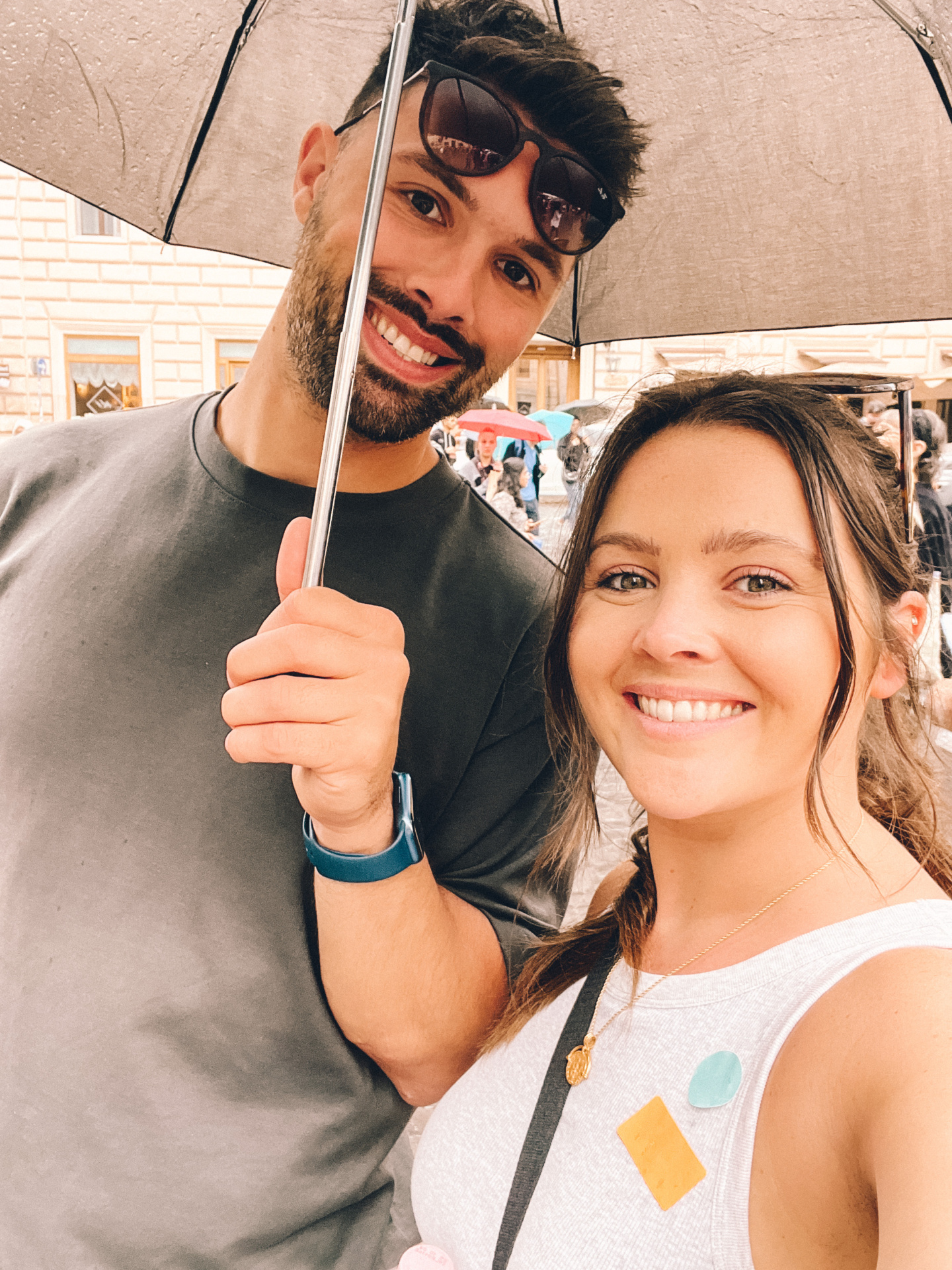 In the morning we enjoyed pastries on our balcony before heading back to Manchester after an amazing trip to both Seville & Rome.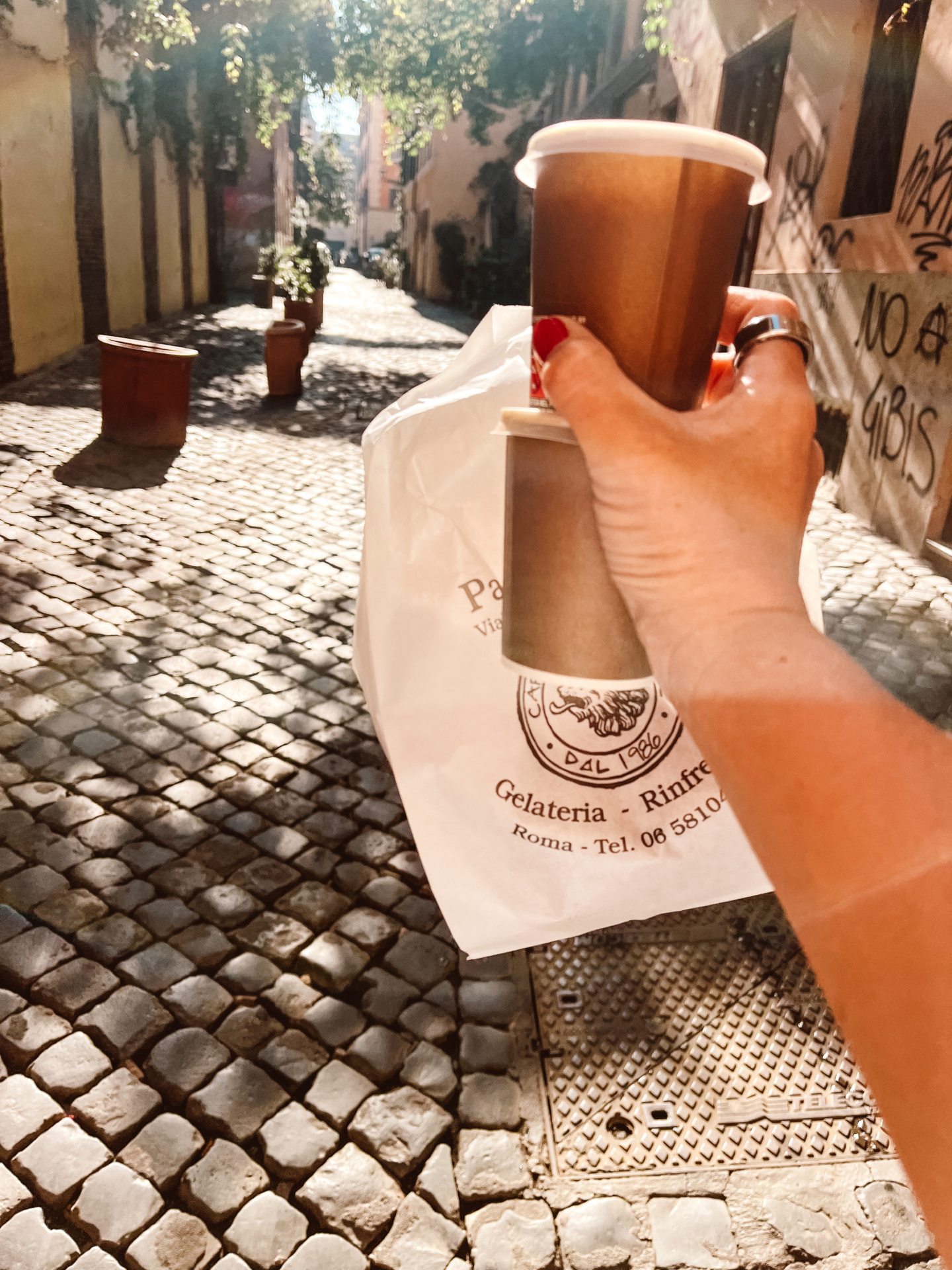 Thoughts on Rome
Rome blow me away, I really enjoyed the food and wandering around the city. I most of all enjoyed the Trastevere area and all the bars and restaurants here. I would have enjoyed another night or two in the city and to spend in Trastevere making our way through more of the cool bars along The Street Vicolo del Cinque.

Thankyou for reading
Bethan
xox